Tottenham's Left Wingback Situation: Perisic the Master and Sessegnon the Apprentice
The staple of every Antonio Conte side are his two wing-backs. At Juventus, Stephan Lichtsteiner would get himself on the end of Andrea Pirlo's arrow-like through balls. 
The transformation of Victor Moses remains the finest example of his coaching to date, and at Inter Milan he blossomed Achraf Hakimi into one of the world's finest. His partner, Ivan Perisic, was equally as reliable and productive. 
This is probably why Conte requested that Spurs snatch the Croatian up on a free before June; the Italian manager feels comfortable with players that he knows and trusts — no matter the age, reputation, or status. 
However, for Tottenham Hotspur last season, the improvement on the wing-backs was apparent, but not to the level he would ideally like. Where in a Conte side they are meant to be the strongest asset, it is probably Spurs' biggest weakness. 
How Cristian Romero, Rodrigo Bentancur, and Dejan Kulusevski Have Changed the Dynamic of Spurs' Ball Progression
Matt Doherty was starting to come into some very tidy form until his injury; the partnership he was forming with Dejan Kulusevski was a very promising one. 
Emerson Royal, however, isn't suited to this expansive role in the slightest — some opposition teams allowed him space on the ball so they could pack out the middle and stifle the narrow front three. This stalled Spurs' attacking rhythm in some games. 
On the left-hand side, Ryan Sessegnon has seen major improvements in his game and has put up his best performances in a Spurs shirt since joining in 2019. This is heightened when Sergio Reguilon has failed to make the position his own. 
The Spanish international is very erratic and is not technically assured on the ball, which is why in a Conte system that works on drilled patterns and constant automations, these flaws were highlighted. 
Ben Davies Is Antonio Conte's New Successful Experiment in Tottenham's Defense
However, he makes up for these flaws with energy and intent, but that's not enough, with Tottenham reportedly keen to sell the Spaniard this summer. 
So, where does this leave the left-wing back situation? Perisic is one of the best Conte wing-backs you could ask for, while you've also got Sessegnon, a 22-year-old who was showing signs he can develop into a highly functional wing-back. First of all, it's important to note what is required of a left-wing back under Conte. 
This role requires high levels of fitness and concentration as they are in charge of the highlighted areas below, which means the player must dominate the flank and make sure they own this space and not get beat in their individual duels. 
With Conte's strict system which allows barely any room for improvisation, the only situation where the left-wing back departs from the flank is arriving into the area late or dropping into to defend the left-hand side of the box in a back five when the team is in a deep low shape.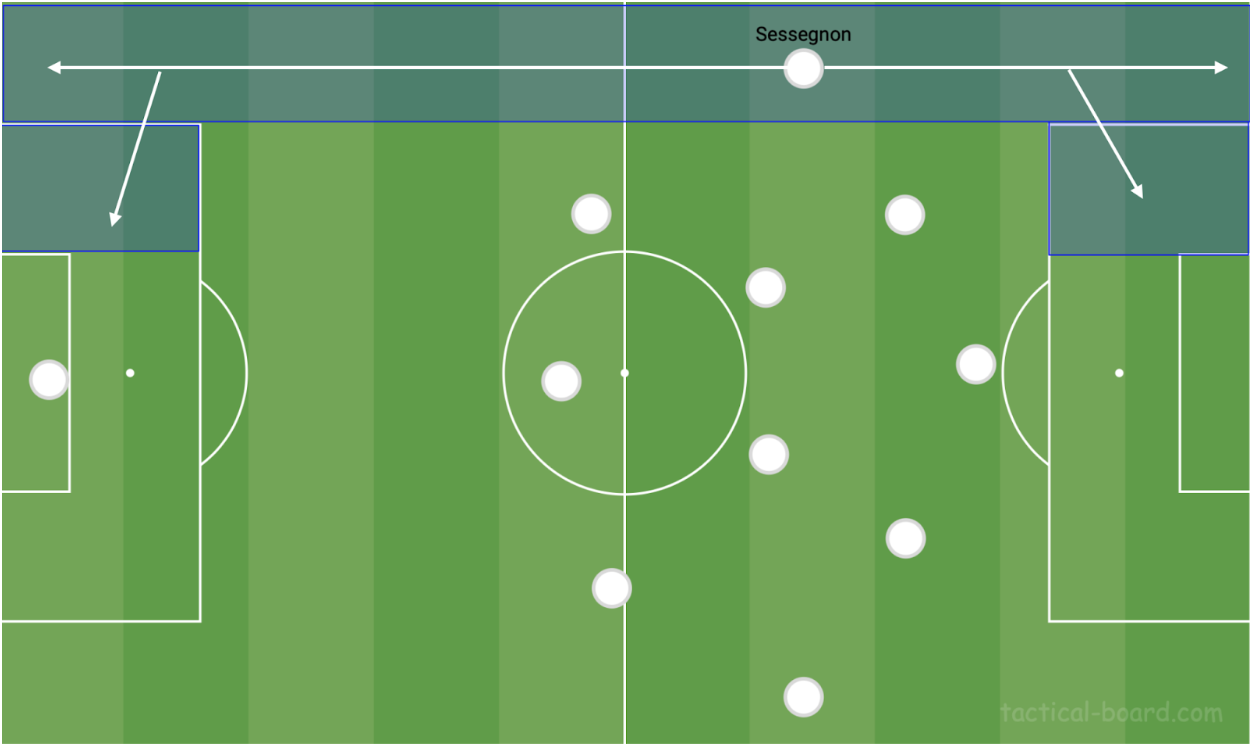 Ryan Sessegnon carried out these duties in a solid fashion. His best work has come off the ball when asked to protect Ben Davies at left-sided centre-back. The example below was Sessegnon's best defensive display; Spurs drew 1-1 at Anfield, implementing a deep back five to restrict Liverpool's entry into the box. 
Sessegnon was excellent in his role, he nullified Mohamed Salah (and Jordan Henderson or Trent Alexander-Arnold when they would drift out wide). As you can see below, when the ball was out on the left, he would shift in to protect the left-hand side of the box but would be ready to jump out into the space in front of him if needed.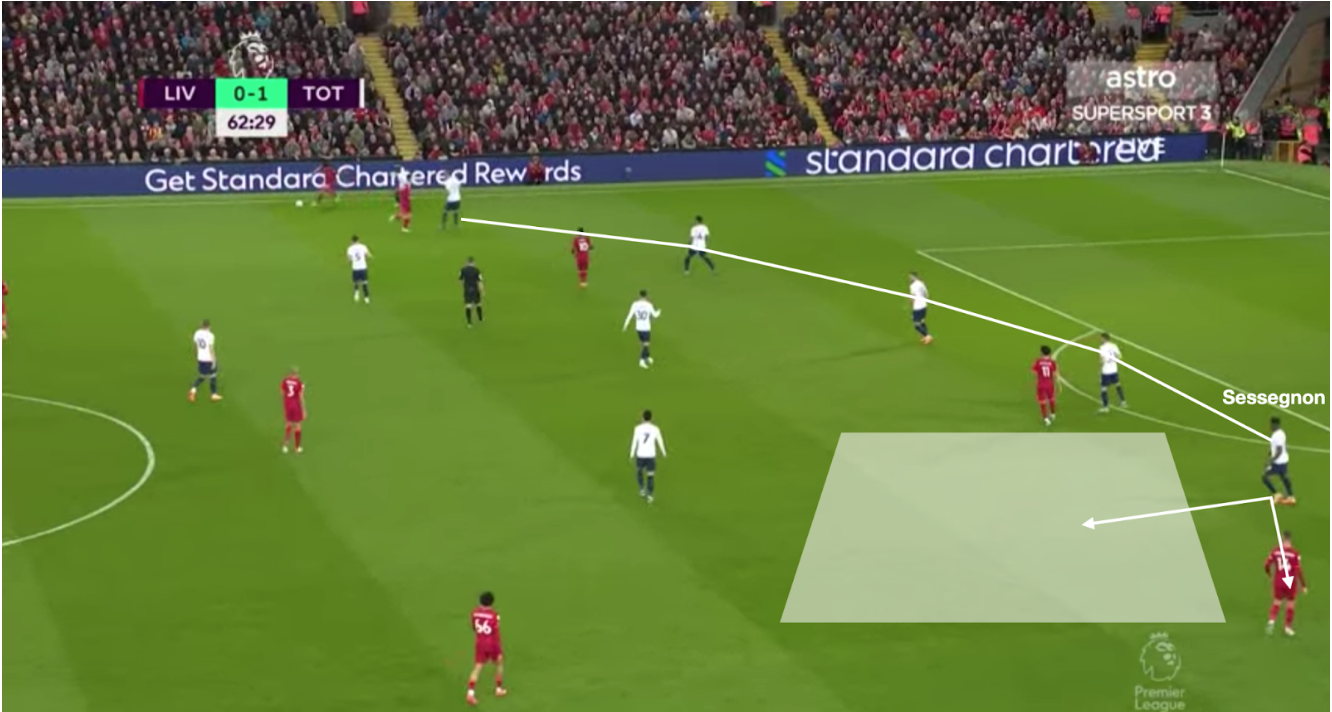 The 22-year-old has developed his one-on-one defending this season. He is a lot more aggressive in his actions, not allowing an opposition winger to beat him on the outside, often forcing him inside where he has a central midfielder to protect the space. Again, in the example below, you can see Sessegnon occupy himself in a disciplined defensive position.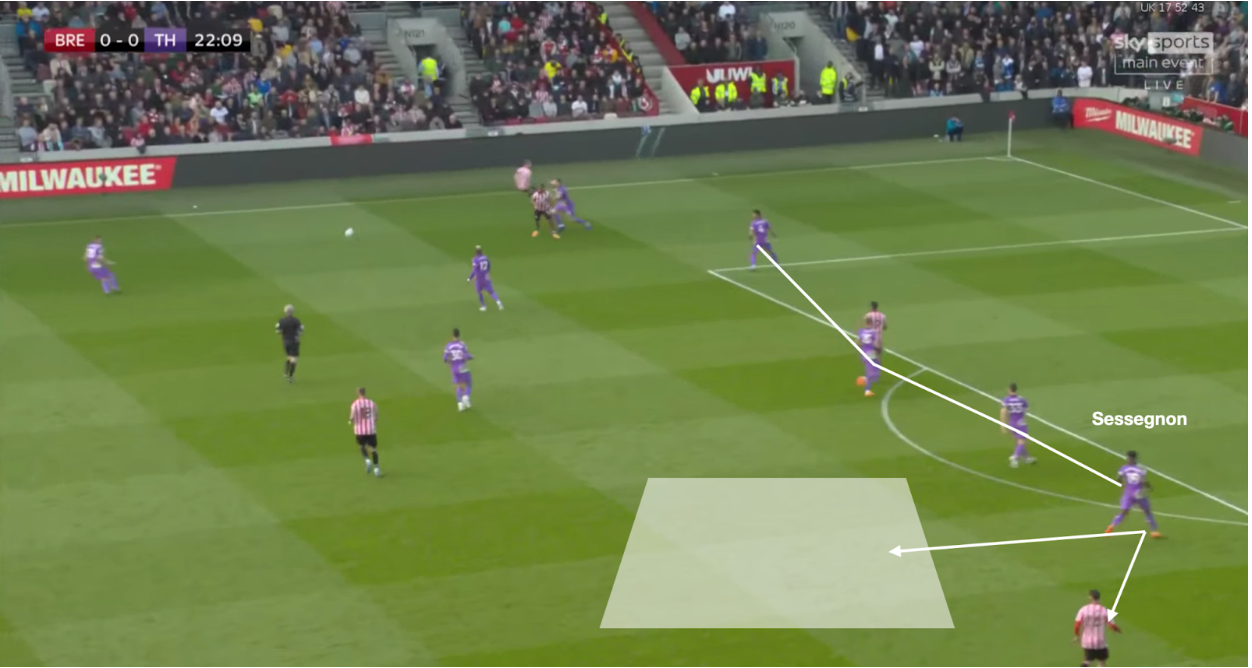 However, when they regain the ball and begin their first phase of build-up — Sessegnon will leave this position to become Spurs' attacking outlet on the left. He has improved in this aspect, but he is still learning his attacking trade, while Perisic has mastered it.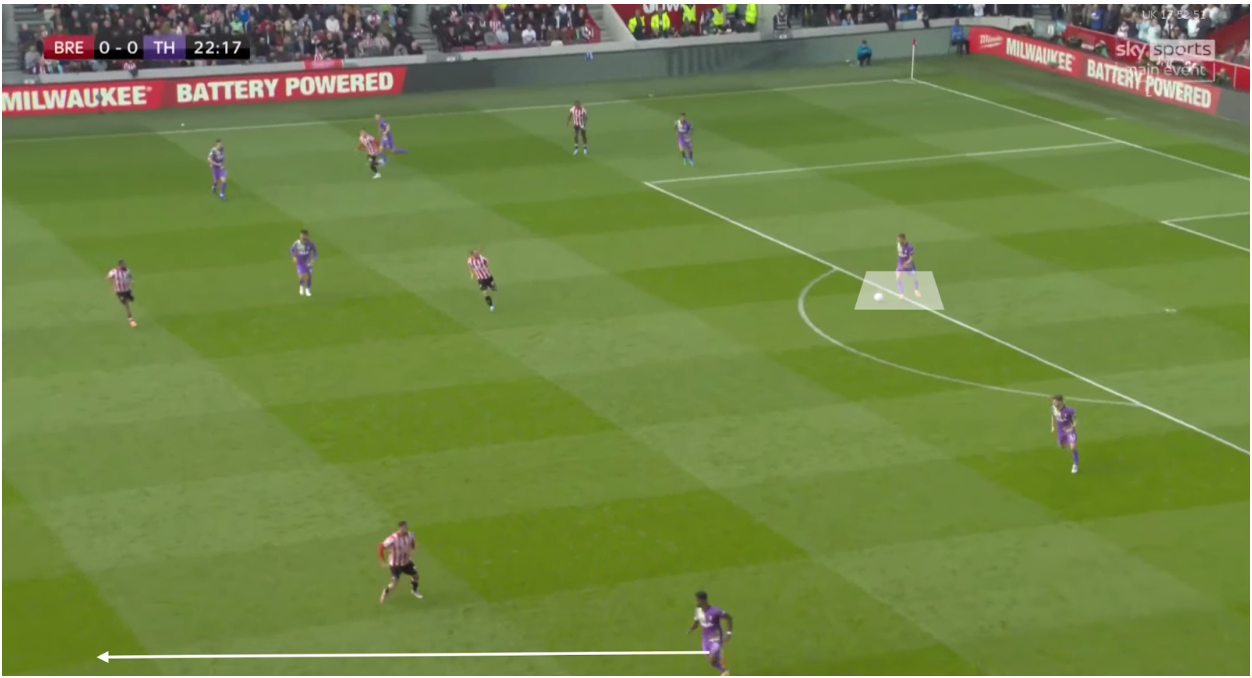 Due to his history of playing in a variety of different advanced roles and his general athleticism, Perisic's conversion into a wing-back — under Conte in 2020/2021 — was an easy one. His ability to take on a player, drive into space ahead of him, and then deliver a ball into the box is one of the best in the world. 
A key asset in delivering this pattern is the Croatian's ability to use both feet so effectively. In the example below, during a 2-0 win against Spezia, Perisic is shaping up, bouncing the ball along with his right foot. 
This leads a full-back to think he is opening up his body to come into the half-space — which he is capable of — but instead, he is quickly putting it onto his left foot, earning a bit of space to cross into the box. 
With runners coming in, he can generate a fantastic whip to locate them. This could be an incredibly dangerous tool for Tottenham with Harry Kane and Son Heung-Min especially dangerous in the box. It is a tool that Spurs don't utilize often enough.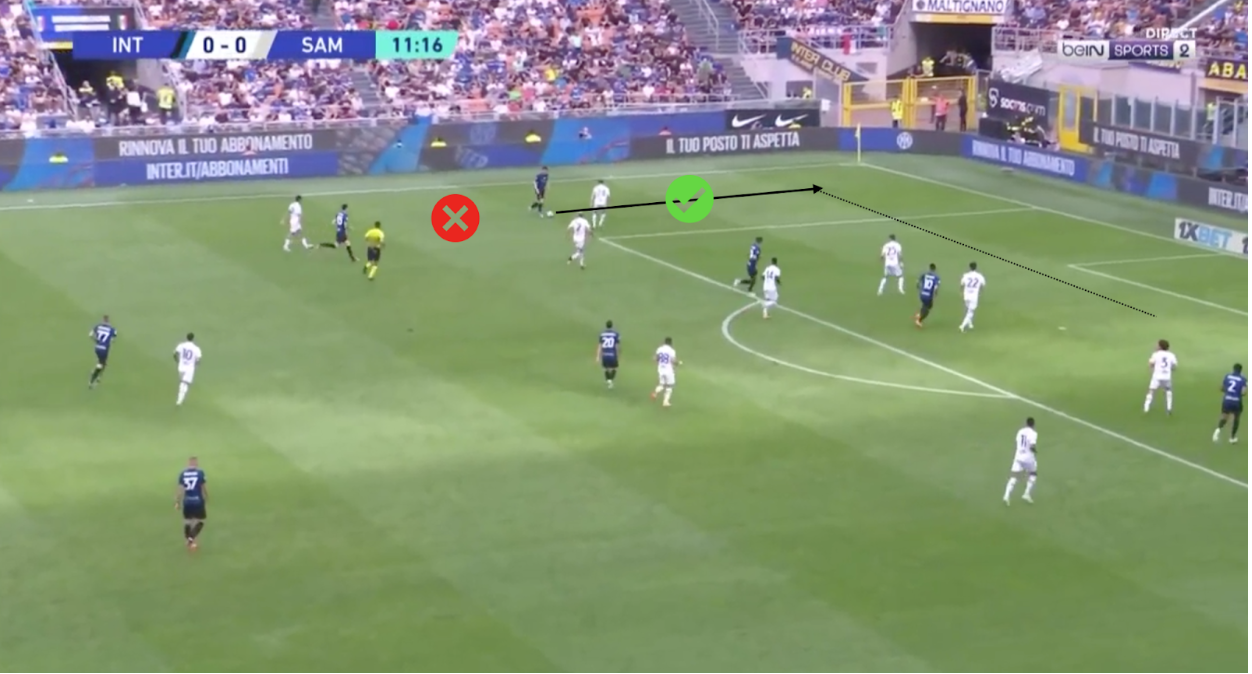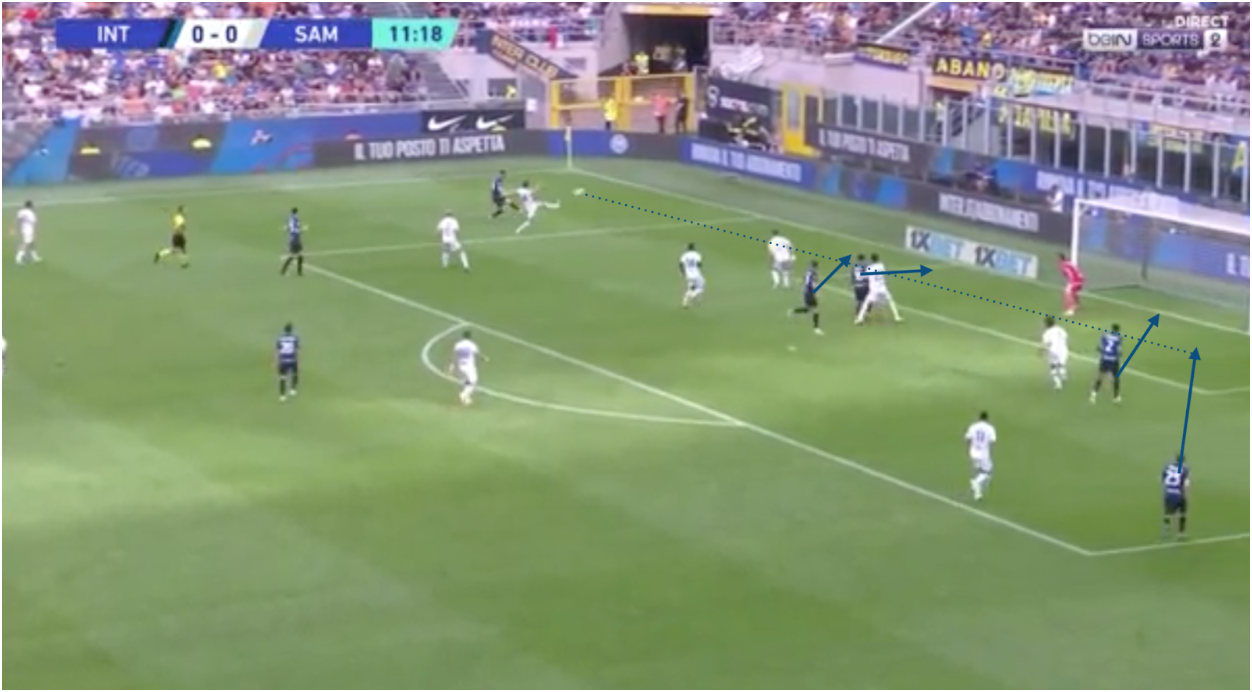 His general intention is always incredibly positive in the final third compared to Sessegnon. The 22-year-old struggles to show conviction in his attacking traits. He often will have the ball in a similar situation to the above, but instead, he will come back to play the safe pass rather than try to create a dangerous pattern.
These issues are mainly athletic and his mindset; he does not possess incredible pace, so the 22-year-old will struggle to explode past players and get some separation. However, his timing is brilliant, and he's very good technically so the feeling is that, under Conte, Sessegnon will only get better. 
The left-wing back conundrum is certainly a riddle for Conte to solve, but without a doubt, it is a fantastic riddle to try and crack. He has an ever-improving 22-year-old, whose upturn in form helped Spurs achieve the Champions League, but he now has a genuine world-class performer, who, despite being 33, still has plenty of gas left in the tank to take Spurs to another level. 
The question isn't who should start, that's painfully obvious. Perisic is a level above Sessegnon at the moment, but the riddle is how you handle Sessegnon's development. His evolution into the first team appeared to be set in stone; the narrative was written. 
Ivan Perišić Thriving in Wingback Role at Simone Inzaghi's Inter Milan
However, Perisic is a huge obstacle but it isn't a disaster. Due to his versatility, the Croatian could be implemented in multiple positions. His right foot is his strongest, so a switch to the other wing-back is possible.
He could also fit in behind Harry Kane if Heung-min Son or Dejan Kulusevski are injured. Also, the value of learning from a seasoned, experienced pro that has played at the top of the game cannot be underestimated. 
Oh, and Sergio Reguilon should probably leave. He would really suit La Liga and it feels like the right time to part ways, and for Spurs to squeeze some money out of him. The Spaniard is not a bad player by any means. 
However, for Ryan Sessegnon, he should not question his worth to the team; he has plenty to offer. As for the short-term, Ivan Perisic can transform Tottenham's dynamism from wing-back. 
By: William Furness / @W_Furness1
Featured Image: @GabFoligno / Giuseppe Bellini / Getty Images