Yves Bissouma: Brighton's Malian Midfield Dynamo
Everyone in England is looking for the answer on how to get to the top which, at the moment, is Liverpool and Manchester City. Arsenal have opted to trust the project of a young manager and develop young players. Manchester United have… actually, I'm not too sure on that one – maybe come back next season. 
Tottenham have lured in one of the best managers in the world in Antonio Conte to get back in the Champions League. However, and this may seem obvious – the answer to the riddle is simple: smart and clever recruitment is about 80% of it. 
Just look at Brighton: a club eternally caught between the third tier and the second tier of English football now competing with the big boys – Graham Potter's side are on course to finish in the top half which would be the highest finish in the club's entire history.
A few weeks ago, they went to the Champions League-chasing Arsenal and took three points off them. Seven days after that, they went to Conte's Champions League-chasing Tottenham, won, and didn't allow them a shot on target. 
How Cristian Romero, Rodrigo Bentancur, and Dejan Kulusevski Have Changed the Dynamic of Spurs' Ball Progression
How are they doing this? Well, brilliant recruitment backed up by brilliant coaching. And no one resembles this more than midfield maverick Yves Bissouma. 
In the summer of 2018, Brighton broke their transfer record of £15m (yes, that was generally their record!) to sign a talented but unproven midfielder from Lille. 
Chelsea, last summer, spent £95 million on Romelu Lukaku and, in a hypothetical world where this was possible, most fans with sense would now accept a straight swap deal between the two to sort their midfield issues.
Football is far too complex now for good player, big name = success. Just ask Manchester United. 
The signing of Bissouma should be a template to any other clubs. Find the gems lurking in foreign leagues, back your coaching to develop them into exactly what you want within a year or two. 
Bissouma, out of nowhere, is one of the best midfielders in the league and Brighton will make a good profit on him – perhaps not as much as they deserve with his contract up in 2023, but still. 
Here is why every top club should forget spending 60 million pounds or more on a big name and make a move for Bissouma instead: 
On the Ball
In an era of high pressing systems, it now must be standard for midfielders to receive the ball in tight spaces and evade pressure. Bissouma has this in abundance. 
Brighton, under Potter, will persist and play through the intense presses. Bissouma has a huge influence on this: he can anticipate a press, recognise open space, and will always try and progresses the ball. 
The 25-year-old is very comfortable presenting himself beyond the first press so his team can shift up the pitch and speed up build-up phases. 
The example below is a very good teaser for what Bissouma is like from a positional sense. His teammate is under pressure and needs to release the ball. Instead of coming to the safe side and possibly recycling the ball back to the goalkeeper, he takes up the vacant space to receive a progressive pass.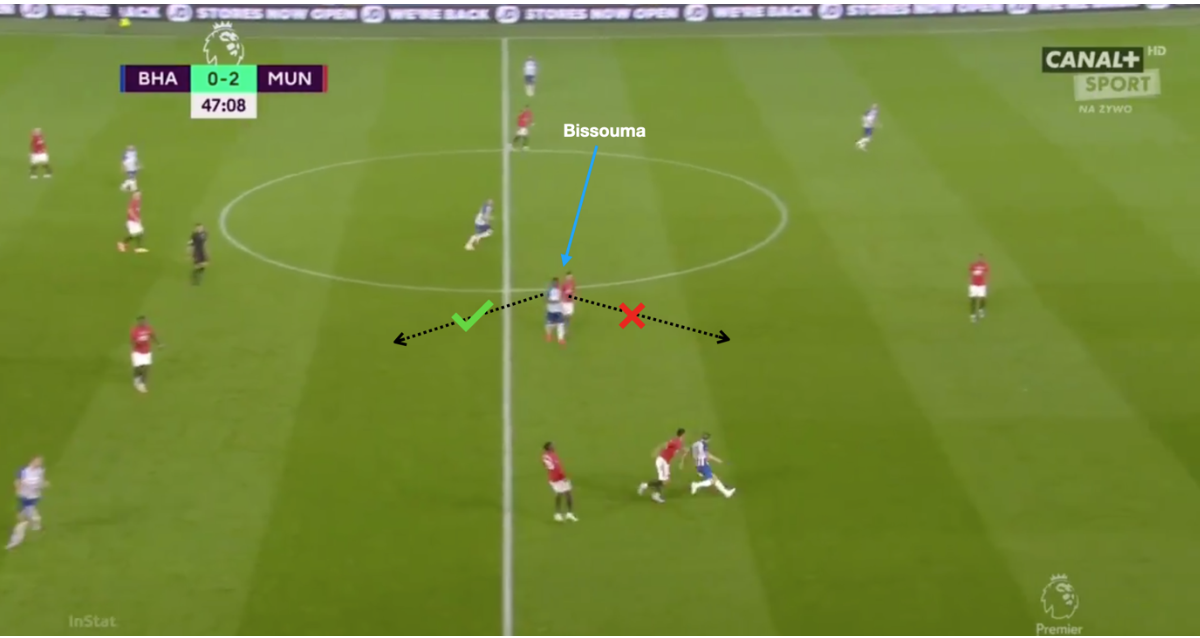 It's risky, but that's Bissouma: a safe option is the last resort. After this, he played a give and go which saw Brighton progress into Man United's half.  
The reason behind his bravery in receiving the ball in more progressive areas is a complete, almost arrogant, belief in his own ability. The 25-year-old is always very assured and confident on the ball, with the ability to drive balls forward or eat up some yards himself. 
One trait that stands out above the rest is the ability to start attacks with cross-field switches and balls beyond a defensive line: a very desirable feature for many of the top clubs who constantly attack with speed in behind. 
As you can see below, when he comes up against a side like Ralph Hasenhuttl's Southampton, who come with an aggressive high engagement line, affording Bissouma more than a second of space is a mistake because he can play long switches which causes the defensive line to work and move.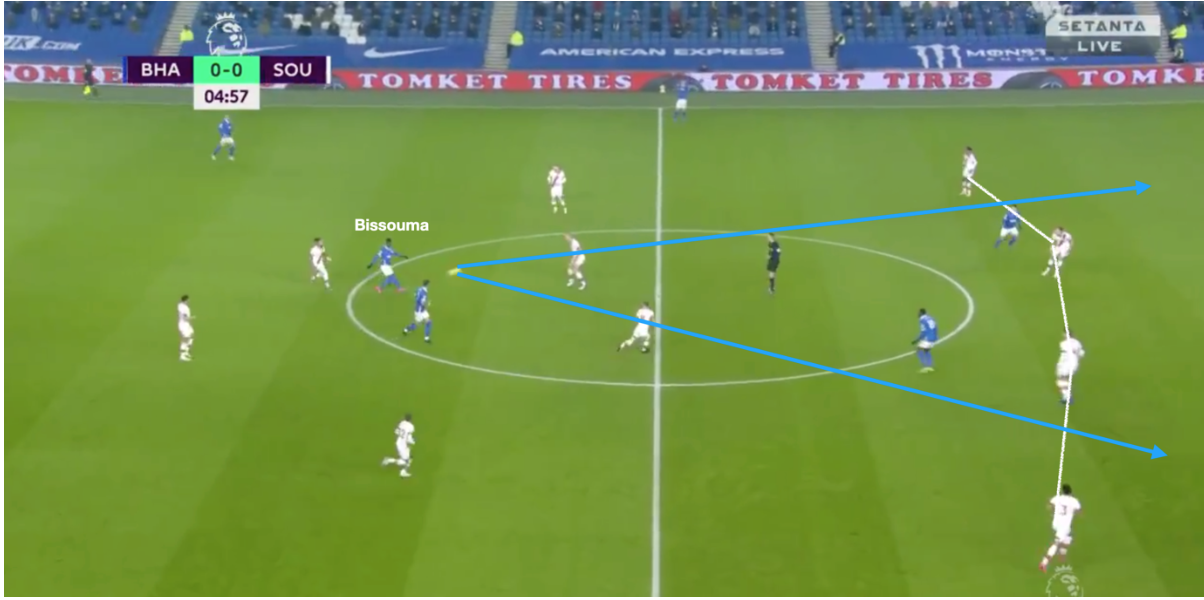 Within the blink of an eye, Pascal Gross is set through on goal. Give Bissouma time and you will pay.  This passing trait is highlighted when playing against a high line.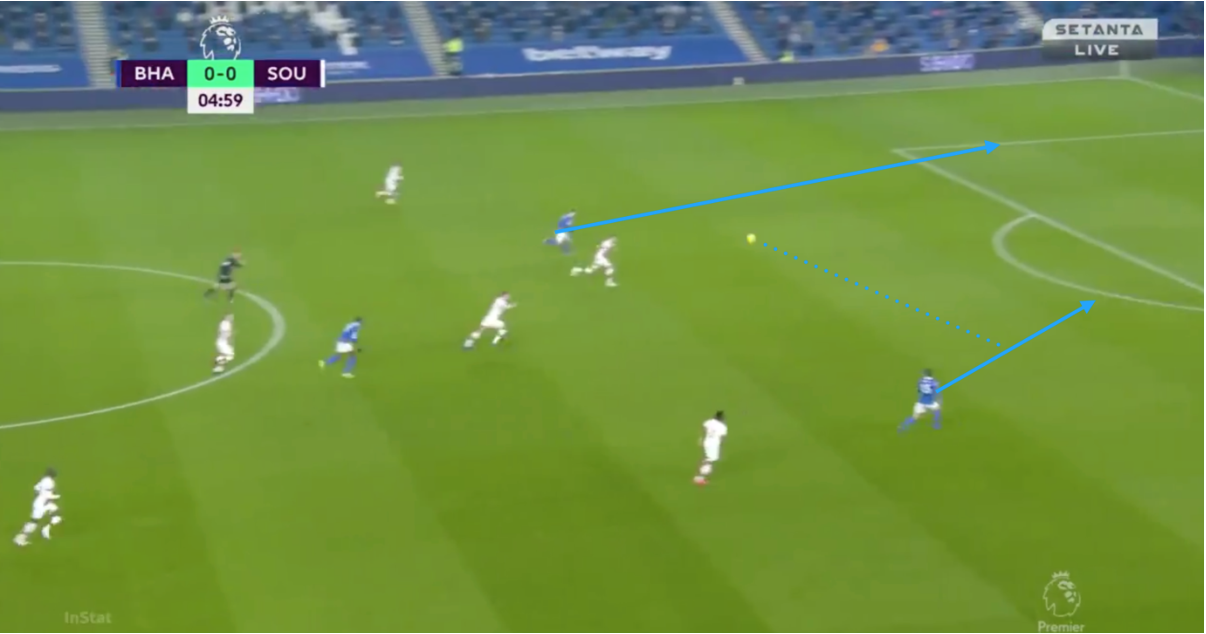 Here are a few more examples of similar patterns: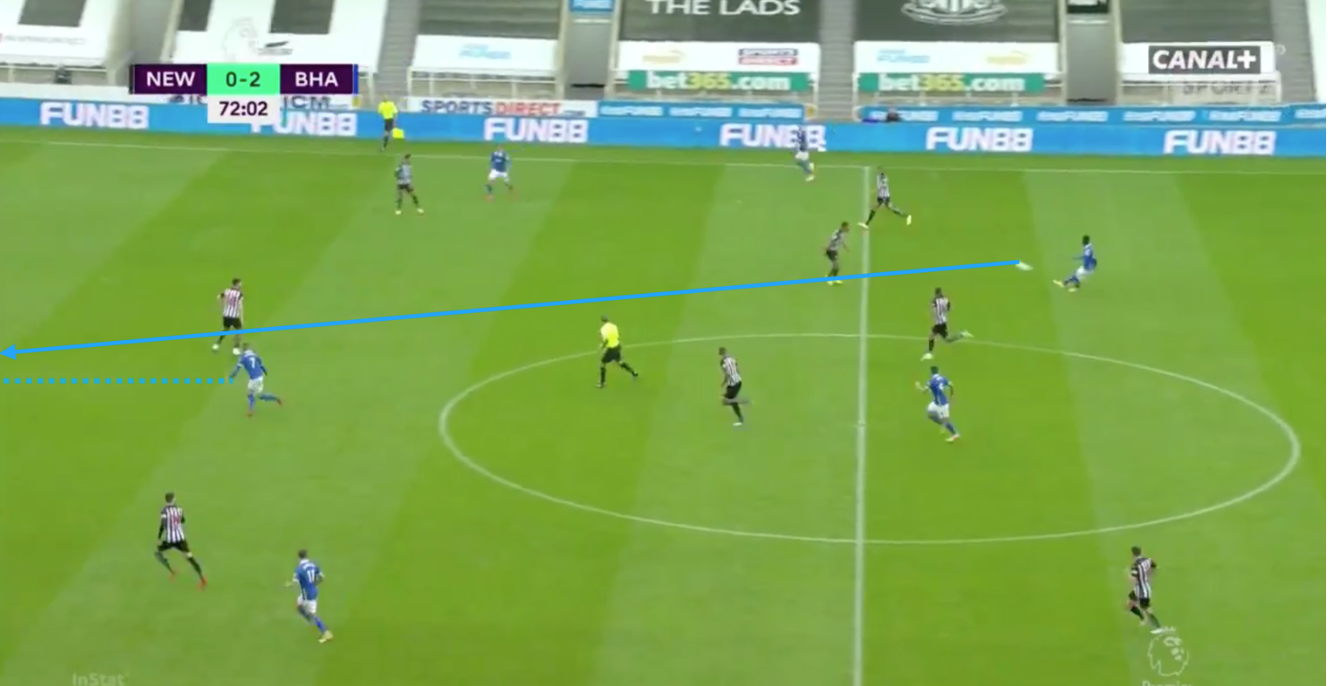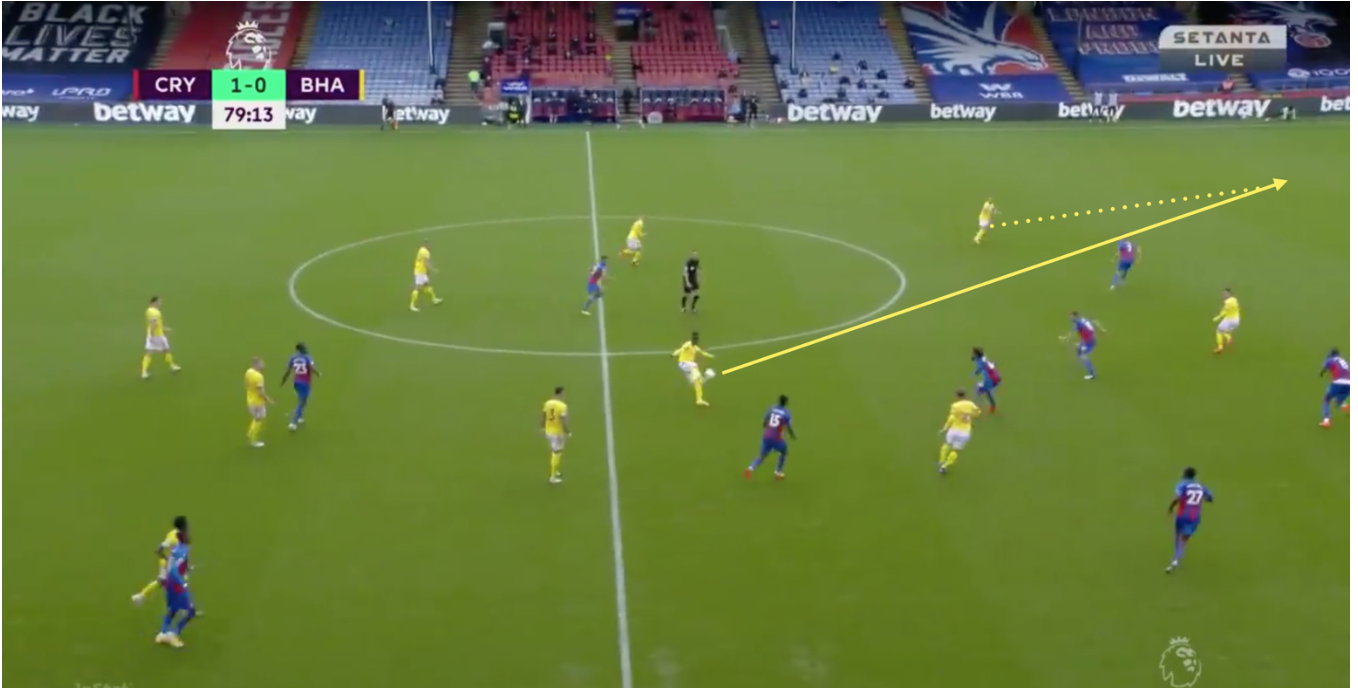 Now, what makes Bissouma so impressive technically is that he is not only fantastic at playing these kinds of passes, but the 25-year-old is also brilliant with his progressive dribbling; he uses his body and strength well.
In the example below from last season, West Brom are looking to prevent him from progressing the ball. Conor Gallagher is actively pressing him backed up by another teammate because he is very good at one on one situations: they have blocked him off from moving the ball forward and want him to play a safe backward pass.
However, Bissouma has other ideas. He feints his body one way, and then the other, to dance back around and create some space ahead of him – effectively taking two midfielders out of the game.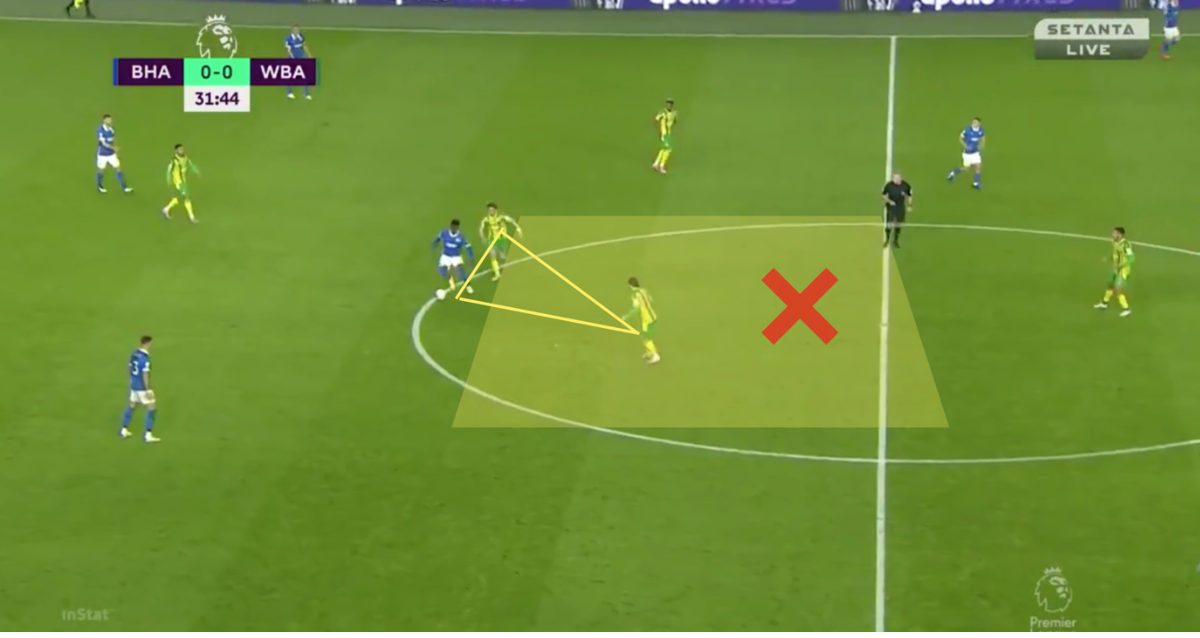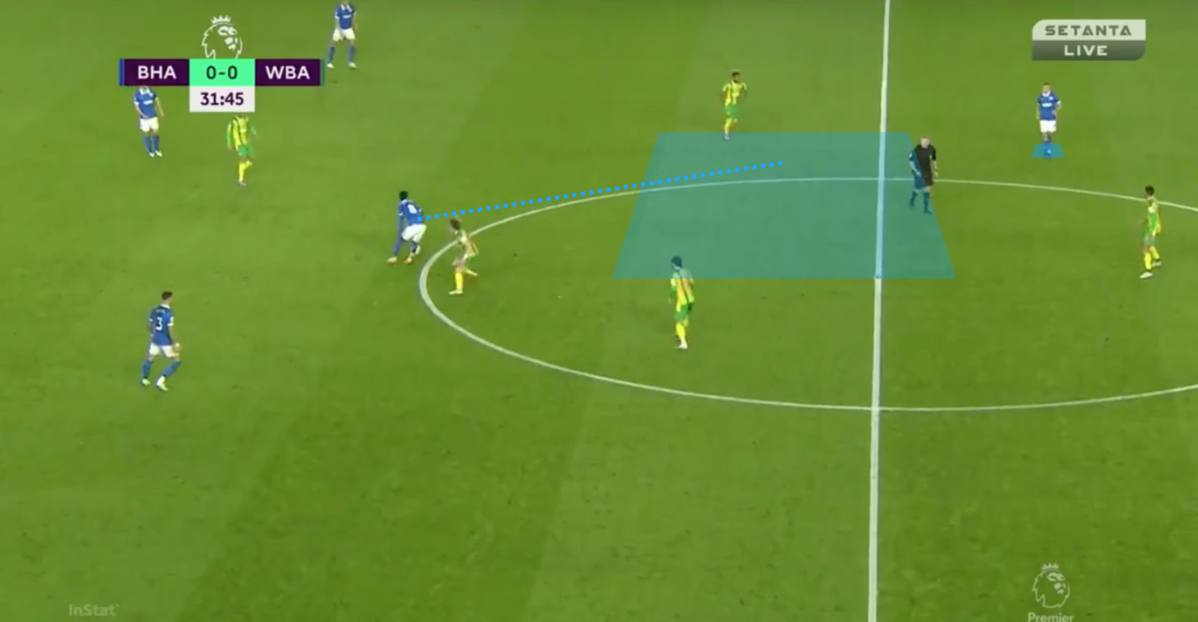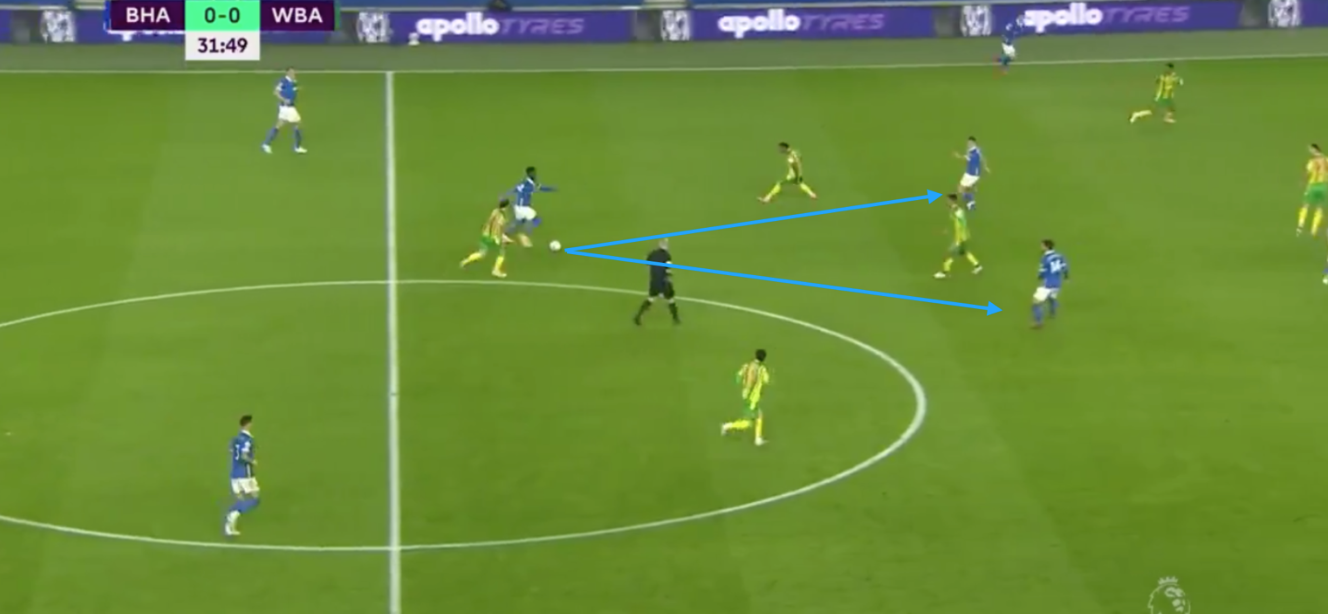 Suddenly, Bissouma has, by himself, shifted Brighton into the next phase of build-up. The remaining midfielders don't know whether to engage the flying 25-year-old, but this hesitation has left two players floating between the lines. Press him tight and he can spin you. Back off and he can pick a pass. So, pick your poison.
Off the Ball
It doesn't stop there. Bissouma's work off the ball is just as intelligent and savvy as his work on it. Whereas good work in possession relies more on the eye test, data is a good signal as to how effective someone's defensive work is.
 Bissouma ranks very high for tackles, interceptions, and clearances. This will not be a surprise to anyone who watches the Mali international constantly.

Photo: FBRef
Brighton press teams high in their off-the-ball structure, so Bissouma often must position himself all over the pitch and especially in advanced areas which could be uncomfortable for some. Based on his season heatmap, there isn't a blade of grass in the middle third that the 25-year-old hasn't covered.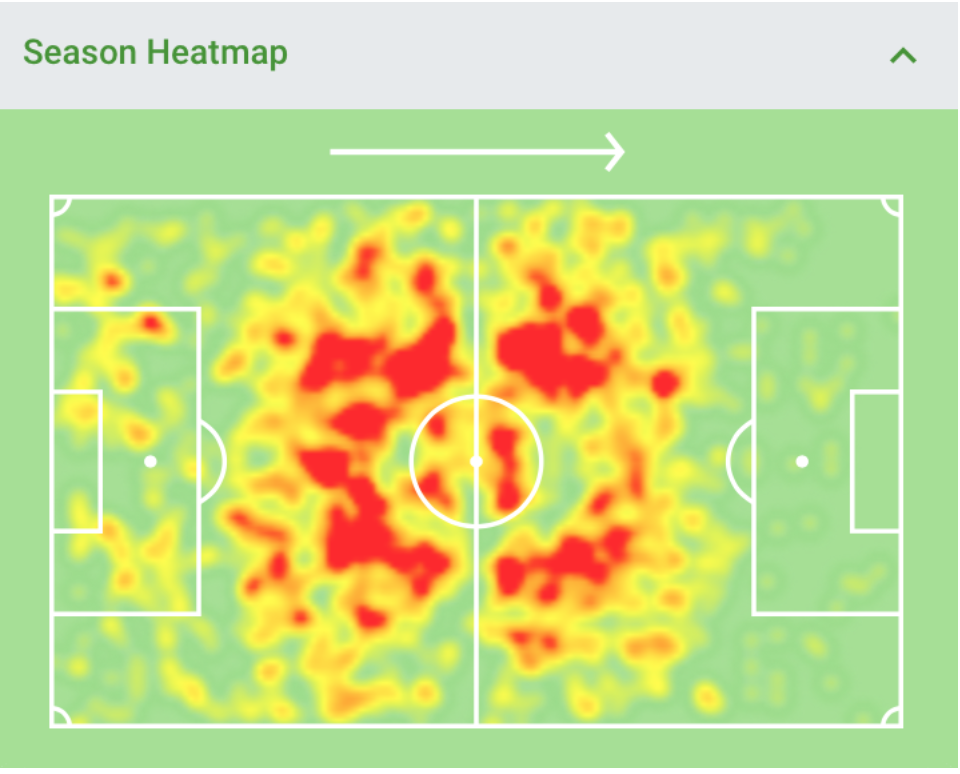 Photo: SofaScore
He doesn't press for pressing sake, or cover ground without intent: Bissouma is extremely intelligent in his defensive positioning. He is especially excellent at stealing the ball off opponents in transition. 
Bissouma's recovery speed is impressive. If he does get beaten or a player is escaping, he will back himself to get back and break up the play.
In the example below, a Southampton player escaped a trap by Brighton set up on the left-hand side and is now looking for a pass; potentially a dangerous one with the final third opening.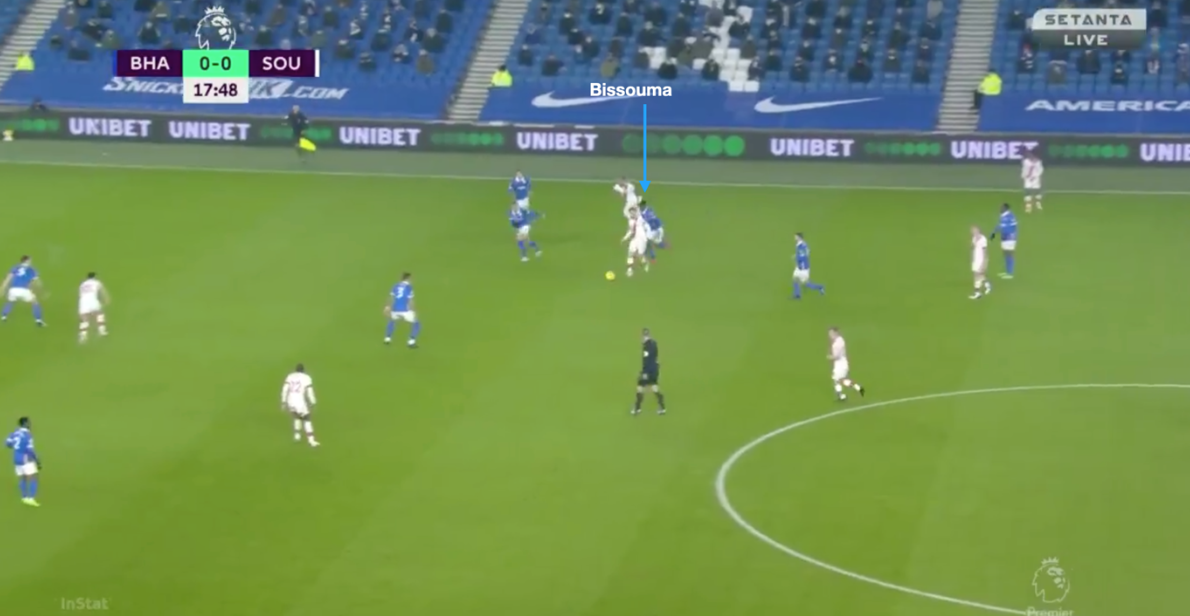 Sensing the danger, Bissouma rushes in and produces a wonderfully timed tackle to win the ball back.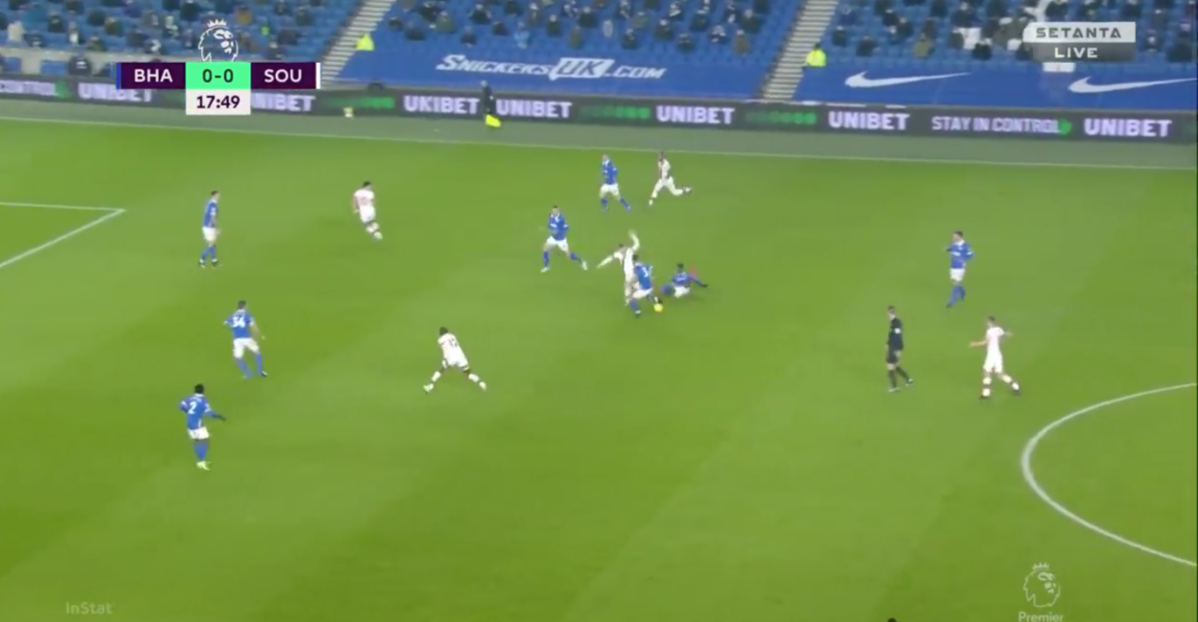 This is a small example but a very common one when watching him. Bissouma is constantly thwarting opponents just as they think they are about to produce a pass or a shot. As much as this helps Brighton in a defensive sense, it helps them from an offensive point of view. 
Winning the ball back in situations like this can help create dangerous transitions. As the modern era develops, attacking transitions is becoming important, and Bissouma can help any team start these begin these sorts of patterns.
Positional Sense
Due to being a very all-rounded player with many different traits, Bissouma is a very mouldable midfielder.  He can play as a six or an eight and has done so with Brighton. 
He can be a defensive-minded midfielder if you want, or a progressive one in a midfield three. Bissouma really is whatever you want him to be, and this trait can be so valuable as he can switch his role during a game to catch an opponent out.
He is as crafty and inventive as he is and measured. He can pull off moments of trickery but is equally a comfortable presence in midfield.
This is what makes Bissouma such a fascinating midfielder. He really does seem destined for a Champions League club, if they are smart enough to recruit him. 
By: William Furness / @w_furness1
Featured Image: @GabFoligno / Mike Hewitt / Getty Images