Javi Gracia's Culpability on Top of Peter Lim's Rubbish
Valencia's season has been largely uninspiring, but that has come as a surprise to no one at all. After a scarcely believable summer in which the club completely sabotaged itself by selling off – more like, giving away – a bunch of key players without signing anyone at all, many predicted a painful season for Valencia fans everywhere.
The fans themselves were enraged with the club's management, especially when iconic club captain, Dani Parejo, was given away to city rivals Villarreal for free. The pessimism sweeping through the fanbase was clear, but as is tradition with the fans, they refused to be completely hopeless. 
A Tribute to Dani Parejo: A Valencia Legend and a Club Martyr
After all, every negative presented an opportunity and they knew this all too well. When summer signing Hélder Postiga went goalless for months, there was the silver lining of the emergence of Paco Alcácer. When injuries and Mario Suárez turned Valencia's midfield into a vacuum, that opened the door for Carlos Soler to emerge. When highly rated loan signing Andreas Pereira disappointed, Gonçalo Guedes emerged and became the star of the team.
When Ronald Koeman wrecked the team and ousted three legends in 2007/08, a Copa del Rey trophy arrived. When Marcelino was on the brink in 2018/19, the season somehow ended with a Copa del Rey triumph and CL qualification. When the team looked completely dead in 2013/14, a crazy Europa League run happened, ending in the last minute of the semi final to an Stéphane Mbia header.
At every turn, whenever the club has experienced negatives, it leads to an unexpected positive. The fans know this all too well. It is on this backdrop that Valencia entered the season, with fans wondering what the unexpected positive would be for the season. Enter: Javi Gracia.
No, Gracia isn't that positive they hoped for, neither has he inspired it. One has no choice but to sympathise with him, to be fair. He came into the club on the back of promises by majority shareholder, Peter Lim, and widely despised club president, Anil Murthy. Of course, those promises were not fulfilled in the summer. The club sold key players and signed absolutely no one, much to Gracia's dismay.
Gracia was so upset by it that he tendered his resignation five games into the season but it was rejected by the club. According to reports, they informed him that he would have to pay them €3 million to get out of his contract. Realising that he could not afford that, he decided to stay, a less than ideal situation at the club. One gets the feeling, based on precedents, that this was exactly the scenario the club's top management wanted, crazy as it sounds.
A manager who wouldn't be motivated to do a good job, to punish the fans who keep clamouring for their exit and protesting against them and their decisions. That certainly explains why Gracia has still not gotten the boot despite a completely uninspiring season in which he has flirted with relegation. Not even his awful treatment of the club's golden boy, highly valued by top management, Kang-in Lee, has put Gracia's job at risk.  
The problem with Gracia isn't that Valencia have flirted with relegation, it is expected. The problem is how much he seems to have sabotaged a lot of things. One wonders whether it's intentional – which would call his professionalism into question – or if it's because he cannot be arsed, or if he just is this bad. Even Gracia's staunchest defenders from earlier in the season have turned on him.
His decisions have continued to baffle fans. He constantly picks anything but Valencia's best line-ups, making one head-scratcher of a decision after the other, every single week. His subs are made at the wrong time and it is almost always an infuriating sub that makes no sense at all. At times when the team is building momentum in a game, Gracia makes a sub that completely kills it.
In fact, he is known for taking off the best performing player on the pitch at such times or the main player offering any spark or creativity. It appears as though Gracia gives the players hands and then cuts off their legs as they try to move forward to use the hands. This does not even scratch the surface of how poorly he has done at Valencia.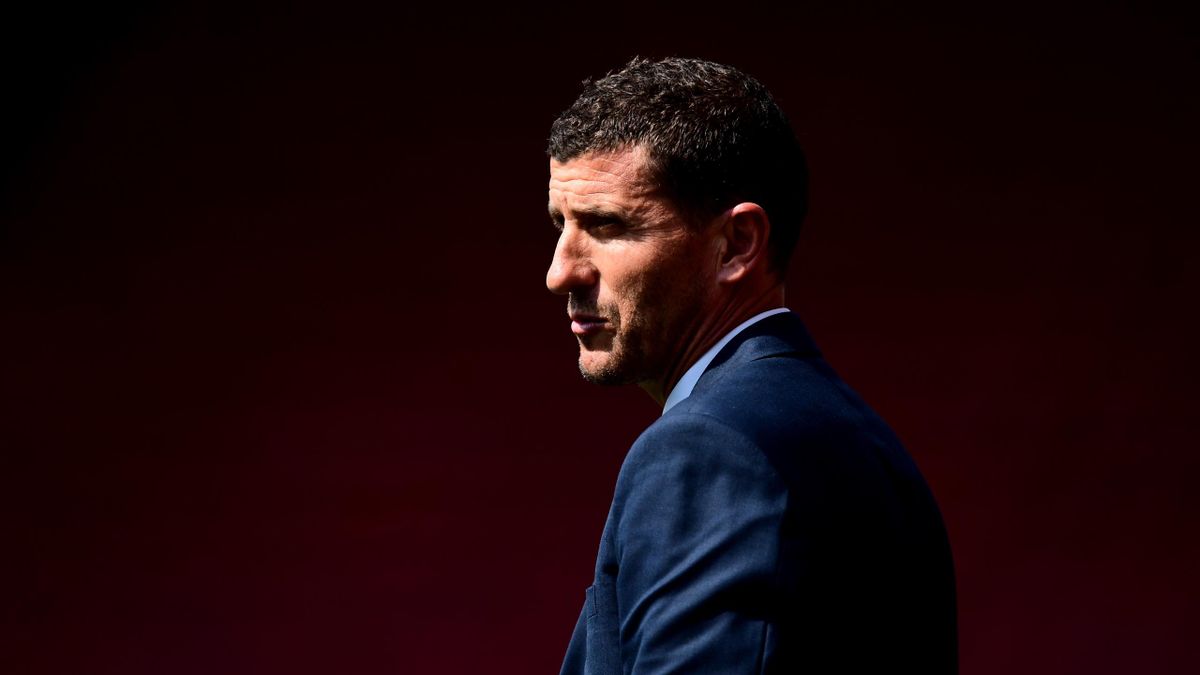 Photo: Getty Images
On the outside, everyone will point to the limitations he has had with key departures, no signings in the summer and underwhelming signings in January, as a reason for Valencia's poor season. While all of that is true, however, Gracia is just as culpable as Peter Lim, Anil Murthy and their Meriton.
The Valencia squad isn't world class. Hell, the team is young, naive and contains certain players who aren't ready for this level. However, the team is far better than what they have shown under Gracia. Having lost Coquelin and later Kondogbia, the most obvious solution to the gap created by their exits was Serbian Uroš Račić, a player returning from two impressive loan spells at Tenerife and then Famalicão.
Everybody knew that Račić was the obvious choice, and should have been made a starter instantly. Gracia refused to do it for weeks, instead electing to shoehorn players there, far from their natural positions. When he finally gave Račić his chance, the difference was clear. Frustrated fans heaved a sigh of relief only to see him continue to make more inexplicable decisions, notably his treatment of Kang-in, the most naturally gifted player Valencia have produced since David Silva.
The South Korea international began the season on fire, registering 2 assists in the season opener against Levante. By the next game, he was taken off at halftime with Valencia losing at Celta and Kang-in being one of the best players on the pitch. The weird treatment of the kid continued, with Gracia refusing to give him any continuity no matter the form he showed, sometimes benching him and leaving him there to throw on completely inept, below average footballers like Jason Remeseiro – a player who has never had a good game for the club. 
In truth, Kang-in might turn out to be Gracia's biggest crime, the one the fans never forgive. With a year left on his contract, it is looking increasingly unlikely that he would renew because of the lack of opportunities and continuity. What is more baffling about his situation is that he has been one of the team's best players when he has played and most of the time, the team's only source of creativity along with Carlos Soler.
With Soler having to sit deeper and fill in the hole left by Dani Parejo in deeper areas, Kang-in is the only player in the entire Valencia squad capable of creating down the middle, higher up the pitch, while dropping to give the midfield numerical superiority and engaging in combination play with Soler and Račić as well as the wingers.
Whenever he plays, the midfield works better and the attack looks more dangerous. Somehow, Gracia has refused to see that. There is a school of thought that Gracia is using the treatment of Kang-in to get back at Lim, engineering the loss of the club's prized asset. If this does happen, it is the club and its fans that will suffer.
There is so much more wrong with Valencia under Gracia, and so much he can do better despite the limitations. The team is structurally awful, showing the effects of poor coaching. There seems to be no attacking plan, the midfield is constantly playing with a handicap created by Gracia's system, the build-up is awful and the defensive setup is all over the place.
The forwards are starved, players who play well can't find any continuity, and the manager's in-game management has been below par. It is almost impossible to see any reasonable tactical automatisms when Valencia play.
One can blame quality limitations for a team's inability to overcome opposition but never for a lack of defined style and tactical automatisms. That is a coaching issue. If a coach cannot implement his ideas, however flawed the execution might be, with the resources he has been given, then he is not doing his job well. So far, that has been Gracia in Valencia. 
A lot can be said about Lim and the awful management of his Meriton Holdings at Valencia, and how much they have handicapped Gracia's work. However, Gracia himself has been culpable in so many ways and there simply isn't any way to hide from the fact that his time at Valencia has been greatly underwhelming and could be so much better.
Even if the club isn't winning games, the least the fans expect to see is good coaching, good team selections as well as in-game management, and reasonable decisions made by the manager. Valencia fans know the limitations of the current team, but they want to see their team play to the best of its ability, with the only thing causing the team to fail being those identified limitations of quality.
Unfortunately, Gracia's ineptness has multiplied the club's issues and given fans more to worry about beyond just player quality. As a certain Valencia fan loves to say, 'if we will lose a game, no matter the squad we put out, we have to go down fighting; knowing that we gave it our best with what we had and played at our best level'. Take note, Javi Gracia.
By: Astorre Cerebronè
Featured Image: @GabFoligno / Miguel Riopa – AFP