A Tribute to Dani Parejo: A Valencia Legend and a Club Martyr
Dani Parejo stood in the middle of Mestalla, on a podium, eyes closed for a few seconds then a hand up to his face to wipe away the little tears that threatened to come out. He struggled with emotions as chants of "lolololololo Dani Parejo" enveloped the stadium. It was everybody singing; the fans, his teammates, his coaches, physios, cooks, etc. Everybody associated with Valencia CF as at May 26th, 2019 was in that stadium celebrating and chanting Dani Parejo's name.
Well, not exactly everyone, but almost. Kang-in Lee was at the U-20 World Cup with South Korea, Peter Lim was somewhere on the globe. Still, Mestalla sang his name with one voice and Parejo took it all in, feeling all the emotions. The most important emotions this time; relief, fulfillment. He had come full circle and unlocked a new level with Valencia, a new bond.
This was the day after Valencia's Copa del Rey triumph over Barcelona, a night when Parejo shed tears at the final whistle and while giving an emotional post-match interview before walking up to lift Valencia's first trophy in 11 years.
Photo: Alex Caparros
A few seconds passed before he was mobbed by his teammates who jumped at him and sang his name and his praises. They huddled together, joined in voice by the Mestalla crowd, and sang their hearts out; "lolololololo Dani Parejo". It was clear, he was loved and respected by the teammates he led, and every Valencia fan in the stadium and indeed the world now had a new level of admiration for the club captain.
This was Dani Parejo's moment. All he had done had finally started getting appreciation but there was yet a new level of admiration to unlock and he did it a few minutes later. When his speech was done, and then manager Marcelino's speech was done, the regional Valencia anthem rang round the stadium as the local fans sang in the regional language.
You could see the local lads singing happily (Ferran Torres, José Gayà, Carlos Soler, Antonio Lato, Jaume Doménech) and the others who didn't grow up in Valencia (Daniel Wass, Gonçalo Guedes, Francis Coquelin, Rodrigo Moreno, Geoffrey Kondogbia) just taking it in. And then, there was Parejo singing along as well. 
This moment was significant because it said a lot about how much Parejo bought into Valencianismo, how immersed he had become in the culture, how invested he had become in the club and the city. Parejo was born in Coslada, Madrid and grew up in Madrid. He played for several Madrid clubs in his youth before moving up through Real Madrid's academy and later playing for Getafe. It was in 2011 that he finally left Madrid – a 5-month loan spell at QPR aside – and came to Valencia.
If no one knew what him singing the Valencian anthem meant, the locals definitely did. He was now one of their own, an adopted son of the city, not Valencian by birth, but Valencian by heart. In the stands were his wife, Isa, and his sister Natalia, who sang along with the crowd, overjoyed. They understood why hearing everyone chant Dani's name meant so much. His journey at Valencia had been anything but easy. He had come a long way and they had both walked that way with him, being his most fiery protectors.
Parejo arrived at Valencia in summer 2011 after two fine seasons at Getafe. He was a highly-rated 22-year old shouldering one of the biggest co-signs any youngster could have in Spain. The great Alfredo Di Stéfano had been a huge fan while he was at Real Madrid Castilla. He had predicted a great career for the kid while declaring that he was the best talent Castilla had ever seen. The short loan to QPR had angered Di Stéfano so much that he stopped attending B-team games in protest.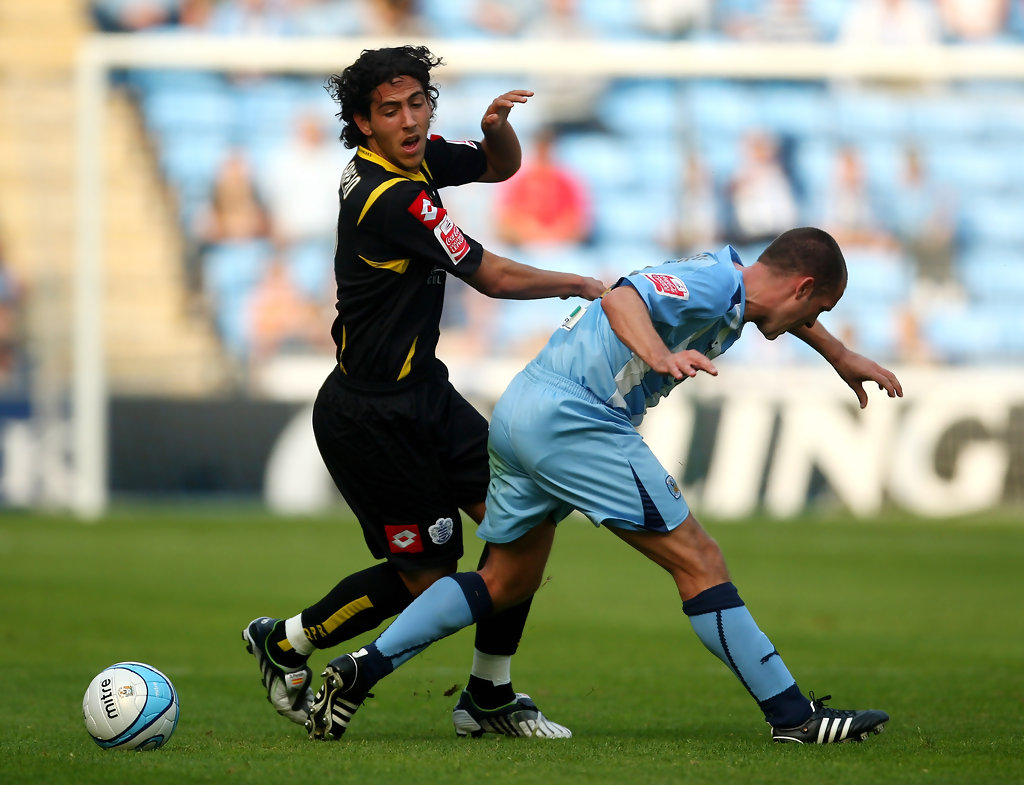 Photo: Richard Heathcote/Getty Images
That level of backing by someone of Di Stéfano's stature was huge for Parejo, but at 22, he was still well off reaching that expected potential. Unai Emery's Valencia presented a great opportunity for him to begin to fulfill whatever Di Stéfano had seen in him. They were an established top 4 club – the 3rd best team in Spain at the time – and had lost Juan Mata to Chelsea that summer. Parejo was one of the players expected to fill that creative void left by Mata and a lot was expected of him despite the paltry €6 million spent on him. 
Unfortunately for Parejo, he had a horrible first season in Valencia. He was largely inconsistent on the pitch and fans grew frustrated with his awful showings. The horrible first year was also full of drama off the pitch that alienated the fanbase from him. First, his very vocal sister, Natalia, grew tired of seeing him benched and put out a message on Facebook, ahead of a game, stating that she wanted Valencia to lose.
This drew the ire of the Valencia fanbase. Then Parejo himself got caught driving drunk after a night out, as the season drew to a close. He had been found to be significantly over the allowed alcohol limit after taking a breathalyzer test. He got fined by the club and apologised to the fans during a press conference where he admitted that he was dealing with personal problems which screwed him up.
That wasn't the end of the drama and the nature of those personal problems soon surfaced. His now ex-girlfriend, Aroa Martínez, went on a rant about him, shortly after their breakup, during an interview for a magazine whose cover she graced nude. It was exactly the kind of negative publicity he didn't need and all it did was add fuel to the fire.
Before long, there were rumours linking him with a move away from Valencia. That summer, Emery's contract with Valencia expired and he left the club. None of the moves materialised and he eventually remained at Valencia to work under the new coach, club legend Mauricio Pellegrino. It was the chance for a new start for him and hopefully a better season than the last.
Unfortunately, things went south under Pellegrino and he was eventually fired a few months later, after back-to-back 5-2 and 4-0 defeats against Real Sociedad and Málaga. Parejo's on-pitch inconsistency had continued and many fans had now given up on him. His future at the club looked bleak and it seemed like a transfer out of Valencia was all the future held for him. Enter: Ernesto Valverde.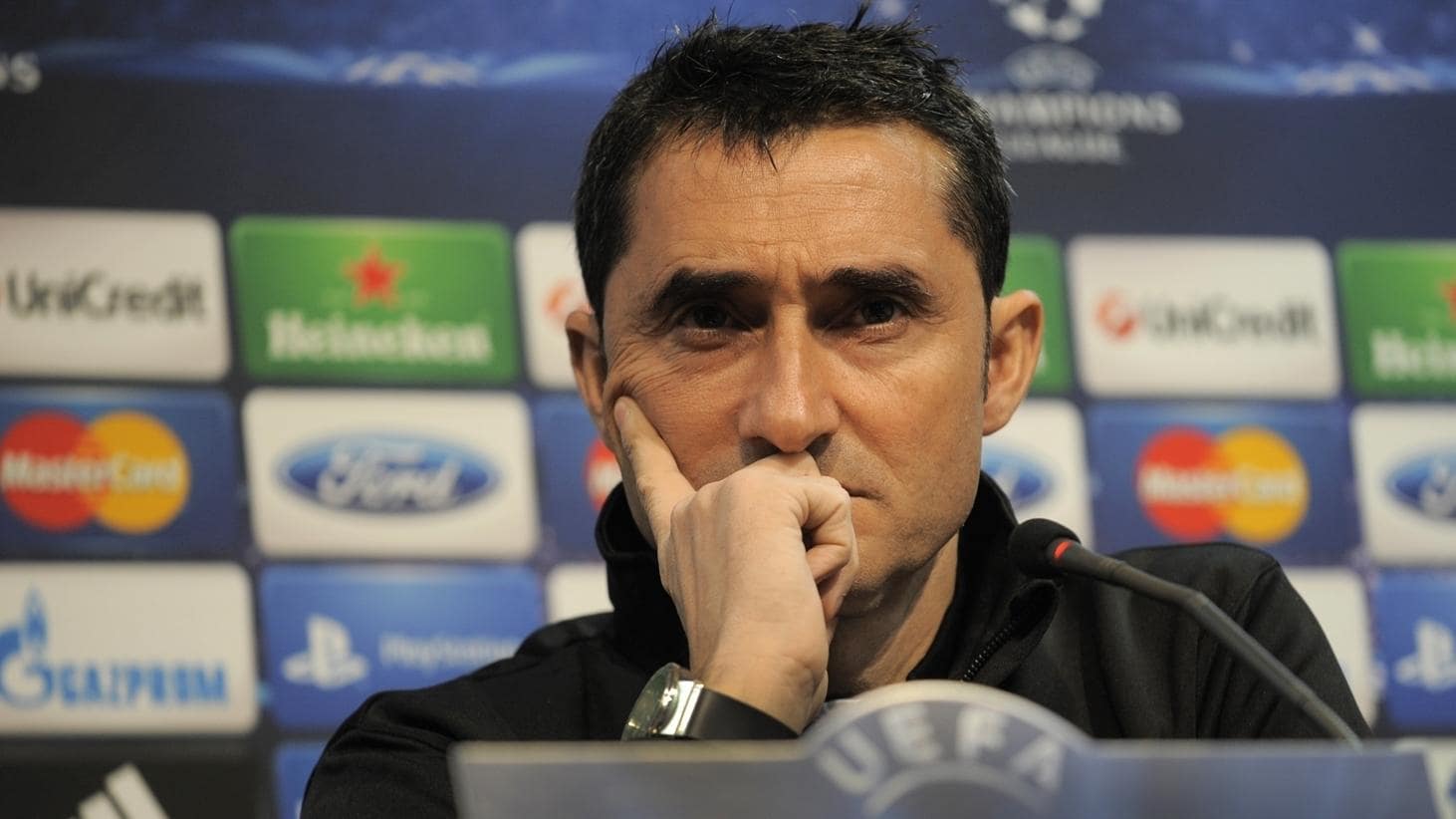 Photo: AFP/Getty
Parejo's career at Valencia took a complete 180-degree turn after they hired Valverde to replace Pellegrino. It was Valverde who found a role that suited him within the side and defied all opinions by trying things everyone had said simply couldn't work. Éver Banega and Parejo being too similar to work well together was one of them. Valverde played them together and it reaped great rewards. The rest of the season saw Valencia charge towards a UEFA Champions League spot, battling with an exciting Real Sociedad side that refused to let up.
Eventually, it came down to the final day and a defeat away at Emery's Sevilla ultimately cost Valencia. Still, it had been a remarkable turnaround for Parejo who had spent the second half of the season showing exactly why Di Stefano had rated him so highly. Valverde left that summer but Parejo was now a man reborn. 
He built on his impressive second half of 2012/2013 with a fine season in 2013/2014. The arrival of Seydou Keïta in January, with Banega sent on loan to Newell's Old Boys, proved to be key. It meant more responsibility in midfield for Parejo and an older, more experienced partner to boost his game. It worked brilliantly. And yet, there was a significant low that almost undid all he had shown all season.
A Europa League semi final first leg in Seville saw him go home in tears after a horrible showing. Valencia had lost 2-0 and Parejo had been one of the worst players that day. He recovered from that setback to deliver a fine performance in the second leg and was substituted with Valencia 3-0 up. A last minute Stéphane M'bia goal ultimately denied Valencia a place in the final.
The arrival of Meriton Holdings in Valencia – with new majority shareholder Peter Lim – in 2014 brought Portuguese manager Nuno Espírito Santo in. That summer, following the departure of certain players, Parejo was named captain ahead of the new season. He also inherited Banega's number 10 shirt and interest from Atlético Madrid was swept aside.
This year under Nuno proved to be Parejo's best season yet, and his most productive season ever. With midfield partners Javi Fuego and André Gomes, Parejo shone under Nuno as Valencia finished 4th with the joint-highest points tally in its history. Parejo scored 12 league goals from midfield – the joint-highest of any La Liga midfielder – and he became the first Valencia midfielder since Vicente in 2003/2004 to score double figure goals. 
Unfortunately, the following two seasons turned out to be the lowest of Parejo's career. It was a time when Valencia faced a lot of problems on the pitch and off it, and Meriton came under serious fire. The club flirted with relegation in both seasons, made disastrous managerial hires like Gary Neville and dealt with administrative turmoil. In all of that, Parejo was an easy scapegoat.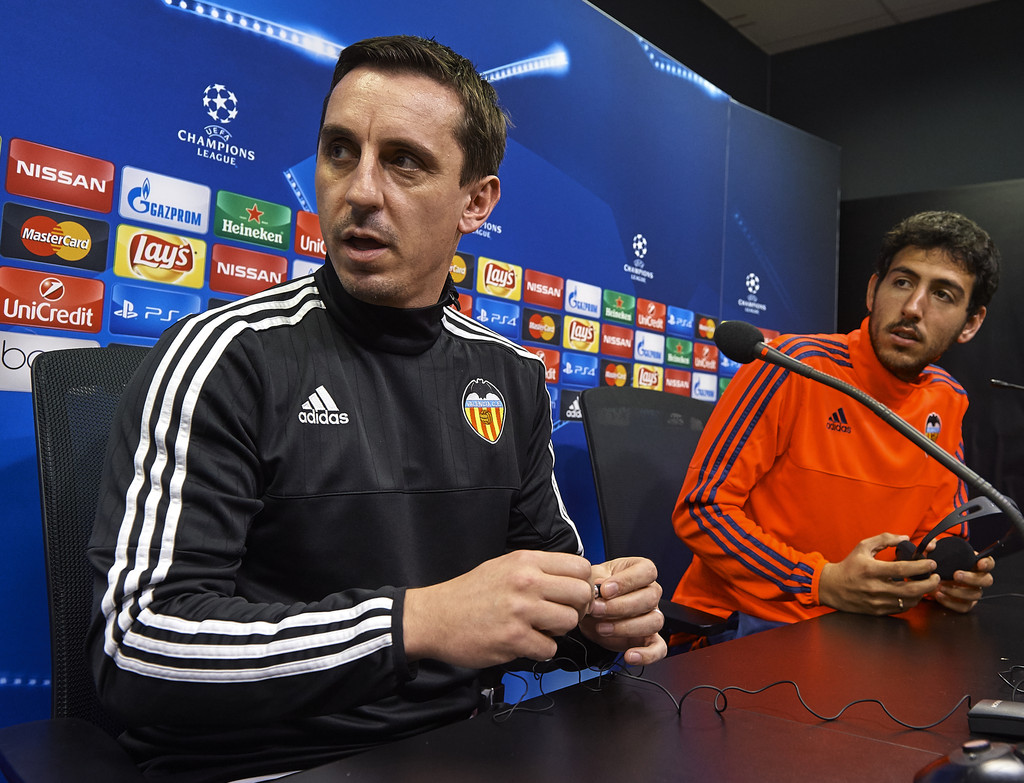 Photo: Manuel Queimadelos Alonso/Getty Images
Being the captain of the side exposed him to a lot of anger from fans who were frustrated about Valencia's situation. Fans were not happy because they felt he didn't do enough – didn't run enough, didn't show enough leadership on the pitch as the captain and wasn't consistent enough.
Parejo had also become a willing scapegoat for poor results and he endured a lot of abuse within those two tumultuous years, including being called a "dog" in the streets of Valencia while moving around town with his family. In summer 2016, Parejo started seeking an exit, reportedly instructing his agents to move him out of Valencia. He wanted out and was looking to force a move, as his relationship with the club and the fans was at an all-time low.
Things got a little tense and manager Pako Ayestarán kept him out of the team due to his conduct. Parejo later apologised and was brought back into the team. Later, in December, he was videoed slightly drunk in a club while holding a shisha pipe.
At the time, Valencia were 17th in La Liga with 3 wins in 15 games and they hadn't won a league game in 3 months. Their fixture with Real Madrid had been postponed that weekend because of the Club World Cup and Parejo had taken the opportunity to unwind. The fans were not amused.
This increased the pressure on him and the number of Parejo detractors within the fanbase grew. Earlier in the year, he had been stripped of captaincy by Neville, and many fans supported the decision, believing Parejo to be unfit to be captain. Many just didn't like him. His body language just wasn't considered great and he didn't seem to be in the mould of the more vocal, no-nonsense captains of the past such as David Albelda and Rubén Baraja.
Still, the accusation that he didn't run enough seemed to be founded more on his general grace on the pitch rather than a genuine lack of effort as he was one of the Valencia players who covered the most kilometers. Many also didn't seem to fully grasp his importance to the side. It didn't help that he had become slightly error-prone – one of the risks of his role – as he often lost the ball in the more dangerous areas of the pitch where he operated. 
By the summer of 2017, Parejo was finally on his way out of Valencia. His relationship with the club and its fans seemed to have fully broken down and he was finally tired of being the scapegoat. Sevilla were linked to him and the rumours got stronger with every passing day. The arrival of Marcelino García Toral killed that move.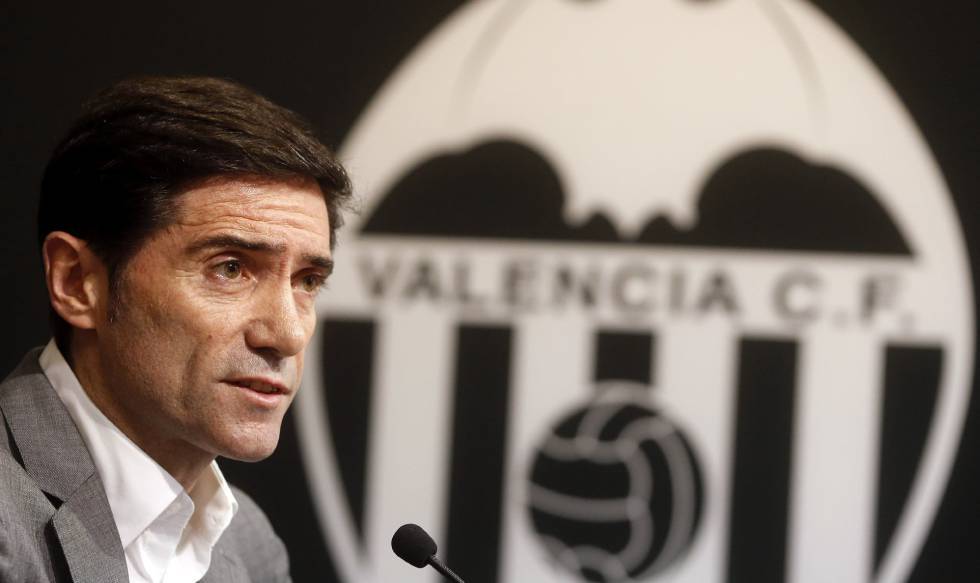 Photo: EFE
One of the first things Marcelino did was to convince him to stay, selling the new project to him. He insisted that Parejo was key to his plans and Valencia and had to stay. Soon, Parejo was reinstated as captain of Valencia, about eighteen months after getting stripped of it. His teammates unanimously chose him.
The new journey with Marcelino saw Parejo finally warm his way into the hearts of many Valencianistas. Surrounded by a team deserving of his talents, some stability and a manager who built the team around him, Parejo took centre stage and delivered two straight seasons of the highest quality. He ran the show for Valencia who went on to finish 4th twice in a row. Even criticisms of Parejo's captainship style faded.
Admittedly, he stepped up in several aspects and seemed to show more heart, passion and leadership expected of captains. The timid Parejo of old was gone and his body language also got more fiery. His effort seemed to become more visible as he tried to show more physically – pressing high up the pitch, diving into challenges and showing a lot of industry.
It is, however, worth noting that Marcelino's style of play demanded it. Every player had to 'suffer' without the ball, especially in the bigger games when Valencia willingly surrendered possession and kept a very organised mid-to-low block. Parejo was at the heart of things, directing and organising his teammates while initiating plays. Everything ran through him.
In January 2019, with Valencia struggling to get wins and Marcelino's job on the line, Parejo repaid the faith he had been shown by publicly backing his manager with his performances and goal celebrations. Notably, after scoring a badly-needed goal against Real Valladolid that sent the Mestalla into raptures, Parejo ran off to Marcelino and gave him a very emotional hug.
It was a gesture that showed, more than anything else, that the team was fighting hard for its manager. Even though Valencia conceded a late equaliser and could only draw once again, Parejo refused to back down. He put out a strong message on social media, telling everyone who cared to listen that it was not in his or his team's nature to give up. He stated that the group would continue to fight and that there was a lot left in the season.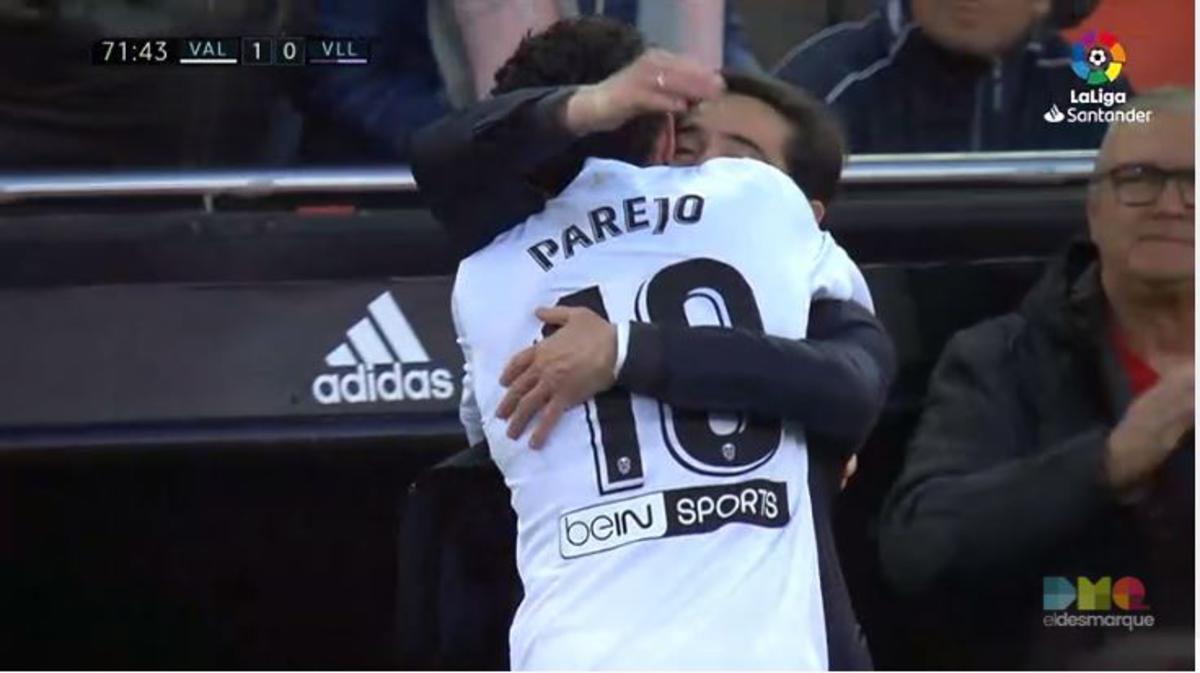 Photo: ElDesmarque
As far as he was concerned, they would fight to turn around a season that had gone awfully wrong, no matter what it took. It was the kind of leadership that Valencia fans had been hungry for, a captain who showed his face when the chips were down and rallied his troops to keep fighting at their lowest. The post proved to be prophetic and Valencia's season started to turn around barely a week later. 
By May, Valencia had snuck into 4th place and claimed UEFA Champions League qualification in the final two weeks, despite being out of the top 4 for 36 weeks. They had also secured a Copa Del Rey final clash with FC Barcelona. Parejo led his side out to their first final in 11 years and played a brilliant game until he suffered an injury in the second half, which led to him being substituted.
The image of him leaving the pitch in tears resonated strongly with Valencia fans and it was something they appreciated. The game ended with a Valencia triumph and a tearful Parejo went up to lift the Spanish King's Cup in front of Spanish royalty. This triumph and moment elevated him to a new echelon at the club. He had become a club legend in his eighth year.
A year later, he would leave Valencia a martyr after angering the club's unpopular management by questioning the awful sporting decisions being made by those in charge. The official statement announcing his exit was largely copied and pasted from the one released earlier in the day announcing Francis Coquelin's exit. Former manager Albert Celades, who had a torrid time at Valencia in his ten unremarkable months, got more words and posts from the club upon his exit. Parejo got nothing and even had to create his own tribute video thanking the fans.
In the periods of turmoil during the season, his legend grew, to the dismay of Meriton. The more he stood up for Valencia's interests, which seemed to be at odds with what the club's management seemed to prefer, the more his legend grew. It was the type of leadership the fans had always clamoured for, a vocal captain with heart and a 'sentiment' for Valencia and its interests. Unfortunately, it was the kind of leadership Meriton didn't want. They seemed to want a captain who went along with whatever they wanted, and helped them to put up a united front. That was not to be Dani Parejo.
As fans gathered at Mestalla in one voice to request the exit of Meriton following Parejo's sale, there was something different in the air. They hung banners saying "Parejo – Legend" and chanted his name, that familiar chant again; "lolololololo Dani Parejo." These fans had watched him give a deeply emotional live press conference from his home, after the club denied him an opportunity to officially say goodbye to the fans.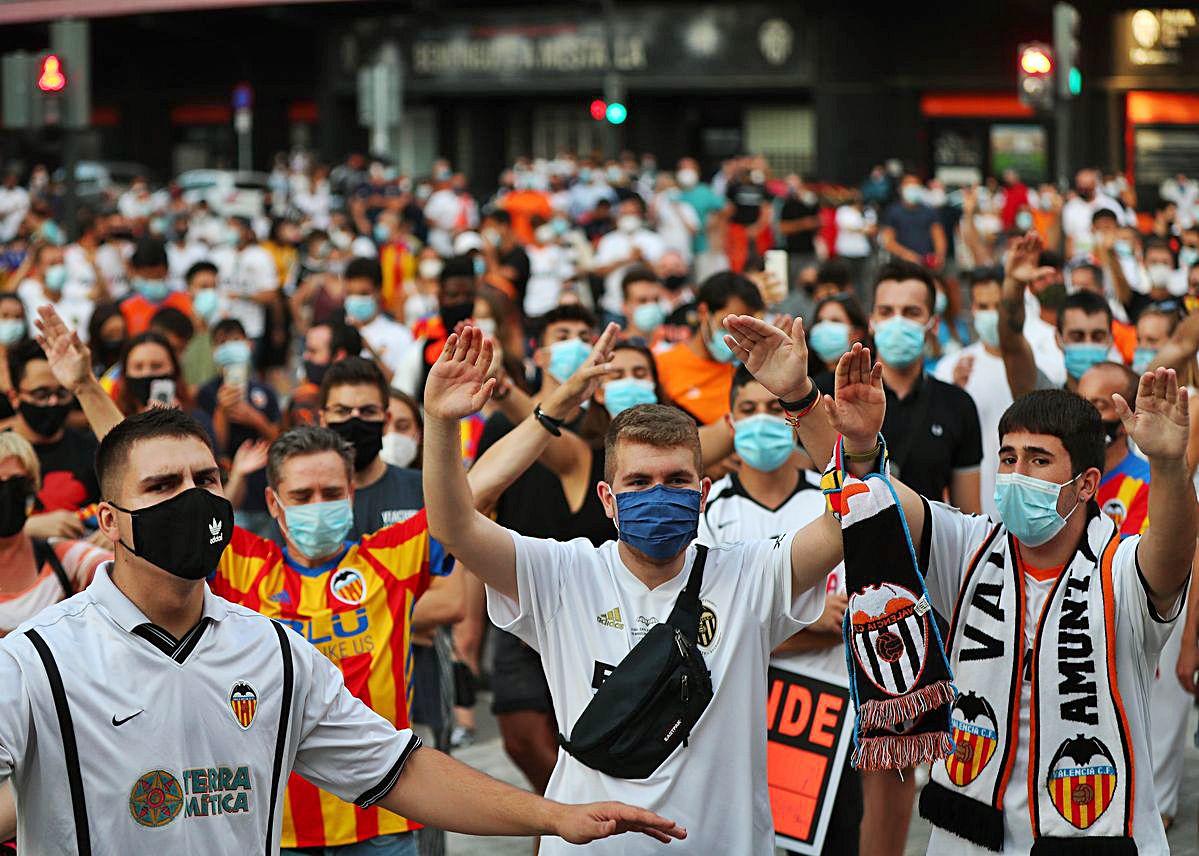 Photo: Levante – EMV
They had seen tears that could not be scripted, a broken captain who had always insisted that he wanted to retire at Valencia. They had seen a man who clearly had a deep love for Valencia and who insisted again that he did not want to leave the club. His son, Dani Jr., did not understand why this was happening, he had said, holding back some more tears.
Not even Parejo's biggest detractors within the club's fanbase  – yes, he still had those – could deny what they saw or pretend to not be touched by it. Natalia and Isa also put out posts thanking the fans for everything and getting heartwarming messages from everyone. The entire day had been a deeply emotional day for everyone. 
The Meriton-led management of Valencia moved in true Meriton fashion. Pictures surfaced on social media showing an empty spot in the club's megastore where Parejo's picture holding the Copa Del Rey trophy had reportedly hung before. It had apparently been taken down, while pictures of others remained.
It was like they were trying hard to wipe away the memory of Parejo at the club, just like they had done and were still trying to do with Marcelino – they even cropped him (Marcelino) from pictures of the Copa triumph. It is almost certainly counterproductive these days. They appear to be fighting ghosts.
Dani Parejo has left Valencia a fulfilled man and a legend. 383 games played (8th in club history), 169 wins (joint-16th in club history), 64 goals (28th in club history), 58 assists (10th in club history) and a Copa Del Rey trophy lifted as captain. In 2012, after his first season, this was unimaginable. Yet, he has somehow walked through fire at Valencia and come out a man.
One expects that time will be kind to him and his legacy at Valencia. In everything, it is a fact that Valencia's history will never be written without Dani Parejo featuring prominently. He defined the 2010s era of Valencia and emerged the club's most important player through a largely dark period.
History will remember The 'Coslada Prince' of Valencia, the one who arrived a boy and left a legend, the one who stood up to the worst management in Valencian history and got martyred, the boy from Madrid who became a Valencian citizen through heart. The Valencia of Meriton might not love Dani Parejo Muñoz, but the Valencia of the fans – the real Valencia – loves him dearly and he will always be one of us, uno di noi.
By: Astorre S. Cerebronè
Featured Image: @GabFoligno / Soccrates Images