"To Loan or Not to Loan?" The Trials and Tribulations of Youth Development
Decision time. You've spent days assessing your squad and plugging the gaps to create a title-winning side. There are only so many scout reports you can request before the day arrives. You've dived into the depths of your under-21 squad and examined your prospects to the minutest of detail. The question lingers in the back of your mind…the angel and the devil on your shoulders…do you, don't you?
This judgment day scenario only arises for us normal folk in Football Manager, but for the bosses of world football, it's becoming an increasingly important decision that holds the future of a potential pendulum swinging player. In the words of William Shakespeare… "to loan or not to loan?
It is not a simple yes or no, as there is a multitude of factors that make it one of football's biggest head-scratchers. Firstly, do they need him? With the pandemic, clubs are more likely to keep hold of their players than ever before. Whilst games are coming thick and fast, rotation is the only way to preserve energy levels and keep performance high. The opportunity for youngsters knocking on the door of first-team football has never been greater.
This season has seen a dramatic decrease in the number of players loaned out. Over the last 5 seasons, an average of 187.8 players have been loaned out by Premier League clubs. Compare that to this season when 162 players have been temporarily shipped off for extra game time or to rid the dressing room of another form of a virus; certainly the case of Mattéo Guendozi and Lucas Torreira at Arsenal. 
The decision of whether the manager needs the player comes down to risk more than anything. Arsène Wenger had a long history of keeping a handful of youngsters in and around the men's side feeding them baby-food portions of first-team action, a tactic Nuno Espírito Santo and Ralph Hassenhüttl have employed throughout the 2020-21 season. 
Chelsea and Manchester City have led the way this season in the number of players loaned out (39 when combined). On the opposite end of the spectrum Burnley, Crystal Palace and West Ham have only sent out 8 players between them. From the data, British managers are far less likely to send out their youngsters – especially in the current climate. Graham Potter is one to buck the trend (14 temporary outgoings this season) but perhaps that is down to his continental way on and off the pitch.
The individual club patterns of who does and doesn't tend to loan out their youngsters vary from club situation to managerial preference. Since joining Brighton two years ago, Potter has overseen 37 players sent out on loan. For budget-stricken Burnley, Sean Dyche in his 2nd Premier League tenure has only let 32 players go out on loan over 5 years. 
Nine times out of ten it comes down to the jurisdiction of the manager unless you have a meddling hierarchy (ahem Watford) but that's a debate for another day. For argument's sake, let's rid the manager of any in-club politics and allow him to make the decision how he best sees fit.
Ordinarily, Manchester City sends off 15-20 players out to their vast football network, but it seems Pep Guardiola put his foot down when it came to one player; his apprentice Darth Foden. Bursting onto the scene in a pre-season friendly back in 2017 where the Stockport Iniesta showed his Jedi footballing ability against Manchester United he earned high praise from his master. "His performance was on another level…he's special." 
From that very moment, Guardiola began his masterful mentoring of Phil Foden as he showcased him to the Etihad crowds in drips and drabs over four years. Guardiola's meticulous approach to the development of  Foden led to his coronation against Liverpool where he used the force to power a strike past Alisson Becker and confirm City's 4-1 over Liverpool. The Foden Awakens.
Going from one loan merchant to another, Callum Hudson-Odoi too has had to work for his chance in the first team. After being given his first taste of Chelsea action back in 2018, the starlet has made 48 Premier League appearances in 4 seasons, but under Tuchel it looks like his shackles may finally be off. 
Managerial preference can only get you so far. Typically for 'selling clubs' the opportunity to cash in whilst they can is often taken. Both Foden and Hudson-Odoi have had offers fended off, but if those prospects came through the ranks at Birmingham, for example, they may be busy practising German in their spare time. For Foden and Hudson-Odoi patience has been the key to their chances in the top flight, but many other youngsters in the league are not given such a stage to shine.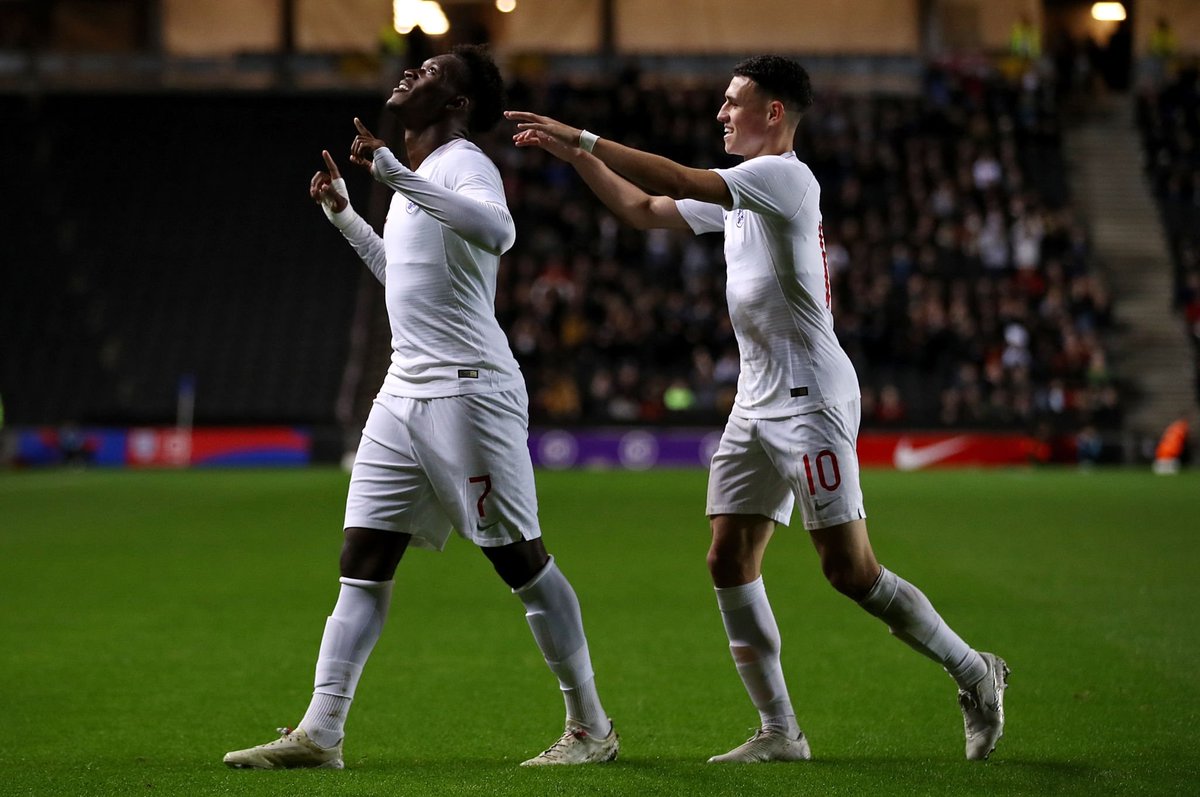 Photo: Tim Goode – PA
Sticking with the West London club, Hudson-Odoi looks to be an anomaly of Chelsea's revolving door of loan players going in and out of the club. Neil Bath, Chelsea's head of youth development, has an almost impossible job as his young talents are shipped off all over Europe. From Cobham's home away from home in Vitesse to Bristol City, Chelsea's youngsters are very rarely given first-team football straight from the academy.
Just ask Tammy Abraham, Nathaniel Chalobah, and Mason Mount to name a few. Before becoming Chelsea's no.9, Abraham had to score 48 Championship goals in just 78 games (Bristol City, Swansea and Aston Villa respectively) to earn a sniff of an opportunity. His teammate, Mason Mount is rightfully earning the plaudits of Premier League pundits and fans with his hard-working displays, but one of the reasons he was given a shot in the big time was because he earned his teacher's stars when he was with Lampard at Derby. 
The Blues' controversial loan philosophy isn't all sunshine and rainbows…far from it. The ruthless conveyor belt of youngsters leaving Cobham every summer for a year in the lower divisions has led to the stagnation of many careers. Lewis Baker, Izzy Brown, Todd Kane would all say their careers have no doubt fizzled out from their once sky-high ceilings when they graduated from Chelsea's academy. Between the three of them, they have been sent out on loan 23 times and only made 1 Premier League appearance for Chelsea. 
From the Blues' Young Player of the Year in 2014 to joining Trabzonspor, a graveyard for England's promising stars of yesteryear – Benik Afobe and Daniel Sturridge have played for the Turkish side. Ironically, José Mourinho stated on a pre-season tour in 2014 that "if Baker, Brown, and [Dominic] Solanke are not national team players in a few years, I should blame myself." Weeks after that statement Baker was sent up north to Sheffield Wednesday where he would begin the first of nine loan spells. Remarkably, he remains contracted to the club and is a longshot from a place in Southgate's side.
A player very much in Southgate's plan for the summer, another product of the home-schooling model, is Arsenal's Bukayo Saka who has thrived under the tutelage of Mikel Arteta.  The Spaniard's blueprint focuses on the day-to-day nurturing of players, honing in on the importance of first-team action. Emile Smith-Rowe and Eddie Nketiah have both benefitted from Arteta's inclusion of young talent making more appearances under him than any other Arsenal manager previously.
The pick of the bunch Bukayo Saka started to show promise under Emery, but it was Mikel's initiative to employ him further forward that has sent Saka on his way to being one of England's brightest stars. The full-back turned winger has been the saving grace in a deeply disappointing season in North London as his performances continue to draw comparisons to that of Gareth Bale, who also successfully made the switch from left-back to winger. 
Arteta's conundrum is that the failings of his Arsenal squad have led to a reliance on his wonderkid, a problem that Guardiola does not have. The difference between Foden and Saka's development is that Pep's pupil has been developed in a Truman Show-style way; everything programmed to the nth degree. For Bukayo, there is a necessity to perform week in week out despite only leaving full-time education two years ago.
Whether you are kept on at the club or shipped out on loan, both avenues are better than having game time stripped from you. Let's go back to career mass murderers, Chelsea. Coming through with Baker, Solanke, and Brown he was the brightest star; a towering midfielder with a domineering stride and an eye for a pass. The South London Yaya Touré made his debut at the Bridge in 2014 after 10 years of captaining the youth sides of Chelsea and England. The special one gave this special talent his first run out.
Now 25 years of age, he still plies his trade in West London but 2 miles away from where he made his debut. A less descriptive profile and you could've guessed a whole host of names but of course, the man in question is Ruben Loftus-Cheek. 
Just 54 Premier League appearances in 17 years with the club (joining in 2004 at the age of 8) as Loftus-Cheek has fallen by the wayside under 9 different managers since turning professional in 2012. He found his most comfortable footing under Maurizio Sarri in 2018/19 making over 40 appearances during the campaign. Yet, injuries and another manager change saw him fall back down the pecking order. Once again, it has been a London loan spell that has meant Loftus-Cheek has been able to get some proper game time under his belt but in the scope of his development, it may have come too late. 
Right, you can stop calling the number for crimes against football. Despite all these horror stories, there are myriad of players that have successfully found their way into the first-team. Whether they've impressed in training and youth football, like Curtis Jones and Mason Greenwood or earned their badges playing down the divisions like Harvey Barnes and Ben White.
Whatever pathway these youngsters are ushered down it is inevitably up to the drive and ability of the player. Leicester winger, Harvey Barnes, was allowed to spread his wings at Barnsley and West Brom earning a recall to Rodgers' plans where he continued his stellar form. But, and there is always a but, an unsuccessful loan stint isn't the be-all and end-all. Harry Kane had to endure four loan spells with none of them proving Kane to be the talent he is today. In fact, it was an injury crisis that opened the door for Harry as it had done for Marcus Rashford.
In a world as crazy as the footballing one, had it not been for a Roberto Soldado's hamstring injury in April of 2014 we may have been robbed of the greatest English striker since Alan Shearer. If only you were Dr. Strange and you could see the 14 million possibilities surrounding a potential loan deal. Mr. Manager, do you stick or twist?
By: Taylor Toney-Green
Featured Image: @GabFoligno / Clive Mason – Getty Images / Rob Newell – CameraSport