Why Alexander Isak Could Be One of the Revelations of the 2020/21 Season
In the beautiful Basque city of San Sebastián, the locals expect only the highest quality. 
Its lazy, winding streets are dotted with some of the world's finest restaurants, with its acclaimed pintxo bars racking up more Michelin stars for the city than you'll find anywhere else on the planet. Its three beaches, Zurriola, Ondarreta and La Concha, are each a surfer's paradise, with the latter often referred to as the best beach in Europe. And its culture, a charming mix of Spanish and Basque tradition shown through its architecture, music and literature, makes this city as enchanting as any other cultural capital of the world. 
Something that the lucky people of Donostia are less used to, however, is a quality of football to match their city's world-renowned culinary and artistic excellence. Their team, Real Sociedad, despite bouncing around La Liga's top ten, and occasionally flirting with European football, last won a major trophy in 1987, and are well used to seeing their star players – notably Antoine Griezmann, Asier Illarramendi and Álvaro Odriozola – move on to the two Spanish behemoths when at the peak of their powers. 
And, on paper at least, it was the same old story last year. Sociedad finished a respectable sixth, 14 points behind fourth-placed Sevilla, and once again had one of San Sebastián's shining stars, Martin Ødegaard, snatched away from them by Real Madrid, as the super-club cut their loan deal with Sociedad short after a string of sensational performances from the young Norwegian.
What the stats don't tell you, however, is the incredible change of atmosphere down at the newly renovated Anoeta, in southern San Sebastián. In 2017, work began to remove a colossal athletics track from the ground, which left Sociedad's fiercely passionate supporters miles away from the pitch in the dark shadows of the stands.
Now, with a brand-new "Kop," increasing capacity by 8,000 and bringing the feverish fans right up close to the action, Imanol Alguacil's exciting, young squad found themselves invigorated, producing some seriously good performances before the COVID-19 pandemic struck, helping them to a Copa del Rey final, and attracting admirers from all over the world with their expressive brand of football. Once synonymous with big, blue clusters of empty seats, last season, Anoeta bubbled with excitement every time their beloved team took to the pitch. 
Despite some poor post-lockdown form, though, which saw them slip down from the dizzying heights of the top four into their familiar top-half berth, the Txuri-urdin faithful have every reason to believe that this season could be one that finally brings them silverware and league success.
Yes, Ødegaard has been wrestled away from them, but one shining star was quickly replaced with another, as Sociedad sensationally swooped for the mesmerising David Silva, still at the top of his game in his twinkling twilight years. Mikel Merino is quickly turning into one of the best holding midfielders in the league at just 23 years old, and is looking very much like the future of the Spanish engine room.
Mikel Oyarzabal, an exciting talent, also still only 23, has just registered his most prolific season in a Sociedad shirt. And, best of all, despite losing Ødegaard, San Sebastián at least managed to hold on to its other prolific Scandinavian star. Their six-foot-five Swedish striker, Alexander Isak. 
Last season was his first with the Spanish side, joining permanently from Borussia Dortmund after a superb loan spell with Willem II in the Dutch top-flight, smashing in 13 goals and providing 7 assists in 16 Eredivisie games. And, while life didn't start quite as rosily for Isak in San Sebastián as it did in Tilburg, with the striker having to share minutes with the more experienced Willian José, it didn't take long for his undeniable talent to shine through. 
He opened his Sociedad account during a 25-minute substitute appearance at Espanyol, with a goal that showed him at his thunderous best. After latching on to a loose pass by Fernando Calero, the young Swede impressively galloped clear of a pursuing defence, before confidently sliding home a pinpoint finish into the bottom corner, with his supposedly weaker left foot. An impressive show of athleticism, close control and finishing that we would come to see time and time again throughout the campaign. 
His standout performance in a Sociedad shirt came soon after, on a night that sent shockwaves through Spanish football and captured the nation's imagination. Sociedad lashed four past the mighty Real Madrid – stunning the Santiago Bernabéu as they raced into 3-0 and 4-1 leads, with youngsters Ødegaard, Ander Barrenetxea and of course, Alexander Isak in the thick of the action. And again, it was a game that really showcased Isak's versatility as a forward, with two impressive finishes and a clever assist to sink the eventual Spanish champions.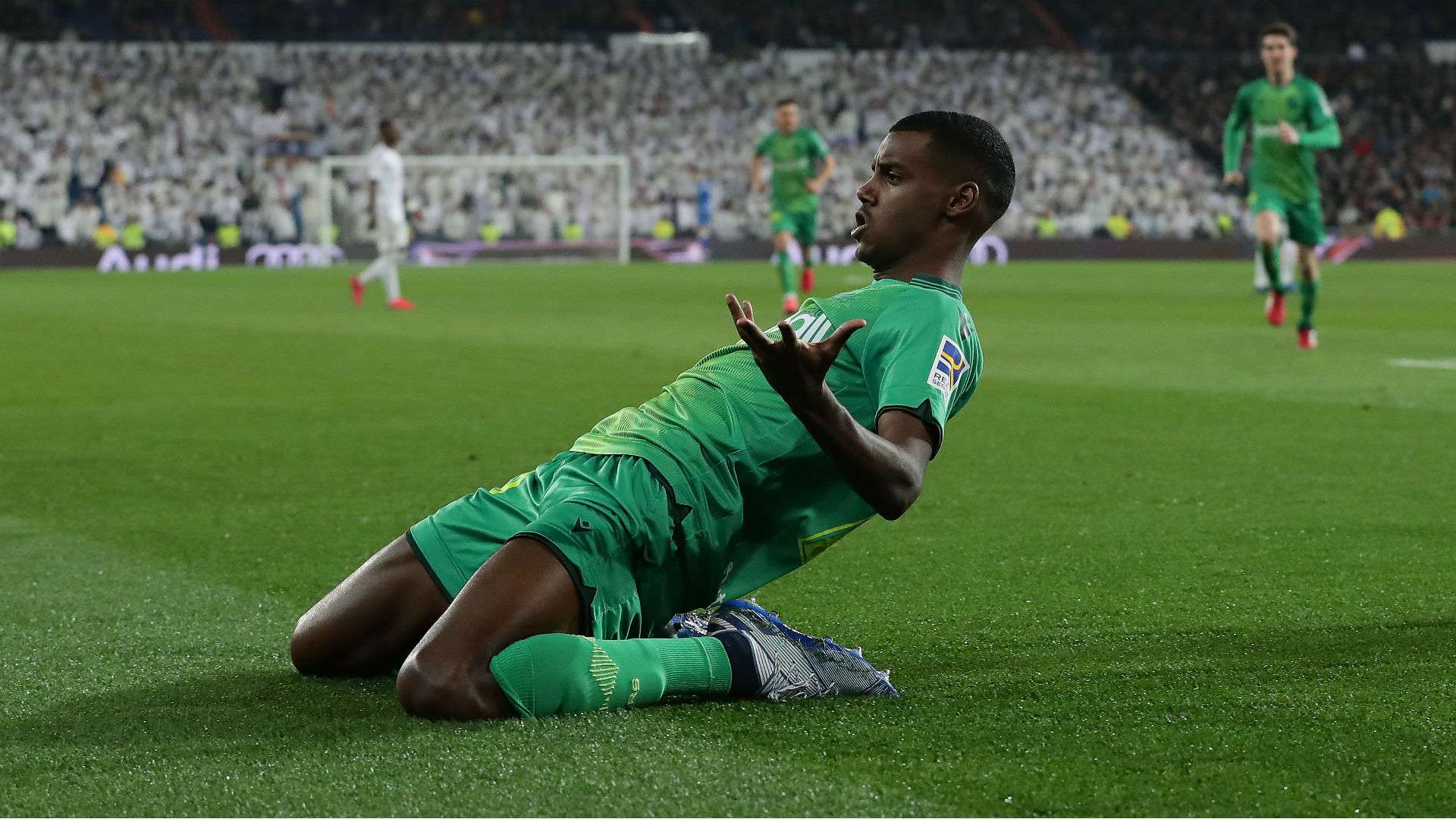 His first, after fantastic work from the tricky, elusive Barrenetxea on the by-line, was an emphatic, acrobatic left-footed volley that left Alphonse Areola stranded, showing not only fantastic technique and improvisation, but a great appreciation of space and striking awareness in his movement, drifting in behind Sergio Ramos in anticipation of Barrenetxea's stood-up cross.
Similarly emphatic, his second was a powerful drive high into the roof of the net at the near post, taking his time to pick out one of the few spots that Courtois couldn't reach.
The icing on the cake from the Swede came in the form of a precise low cross after a nice step-over to find Merino in the middle. It suddenly looked as if Isak, nonchalantly walking towards the corner flag after registering that assist, had been dismantling Europe's elite for years. At 20 years old. 
Remarkably, the big striker followed up his Madrid masterclass with an equally impressive match-winning cameo in the Basque derby three days later, pulling the ball back to assist Portu after a wonderful flick, before bundling home a late winner in front of Anoeta's cacophonous blue-and-white wall. The goals dried up slightly after that blistering week, but Isak finished his first season in Spain as the club's top goal scorer, with 16, including 7 in 7 in the Copa del Rey. 
What is perhaps more impressive than the quantity of goals that Isak scores, though, is the variety and unpredictability of his play. His finishing is more often than not explosive, with a fantastic ability to generate such power and precision with both feet – with six left-footed strikes to go alongside his nine with his stronger right foot last season.
Aside from his showstoppers at the Bernabéu, he produced another ferocious left-footed volley away to Espanyol, a laser-like drive into the bottom corner from the edge of the box at Leganés, and a beautiful, back-heeled flick to level the scores at Levante. Naturally, being Swedish, he's already been hastily dubbed the next Zlatan Ibrahimović, but standing at 6 foot 5 with the instinctive finishing ability that he has, it's not difficult to see why.
This season, then, is really starting to look like the one that finally turns the heads of the biggest clubs across Europe. Not only does Isak now have a season of La Liga experience under his belt, he is, of course, rapidly improving at the young age of 20, and now even looks set to be Sociedad's main man up top this season, with Willian José edging towards a move away. It will be fascinating to see what he can do with all the extra minutes he's earned.
Furthermore, with the equally exciting Barrenetxea looking set to enjoy more and more game-time, an effervescent winger blessed with fantastic pace and an eye for a cross, alongside the maturity of the improving Oyarzabal and the lively, direct Portu, he is surrounded by quality that can get the best out of him. And then there's David Silva, one of the greatest creative players Spain has ever produced, who will come in to play just behind him. So, not only plenty more minutes, but you'd imagine plenty more chances too.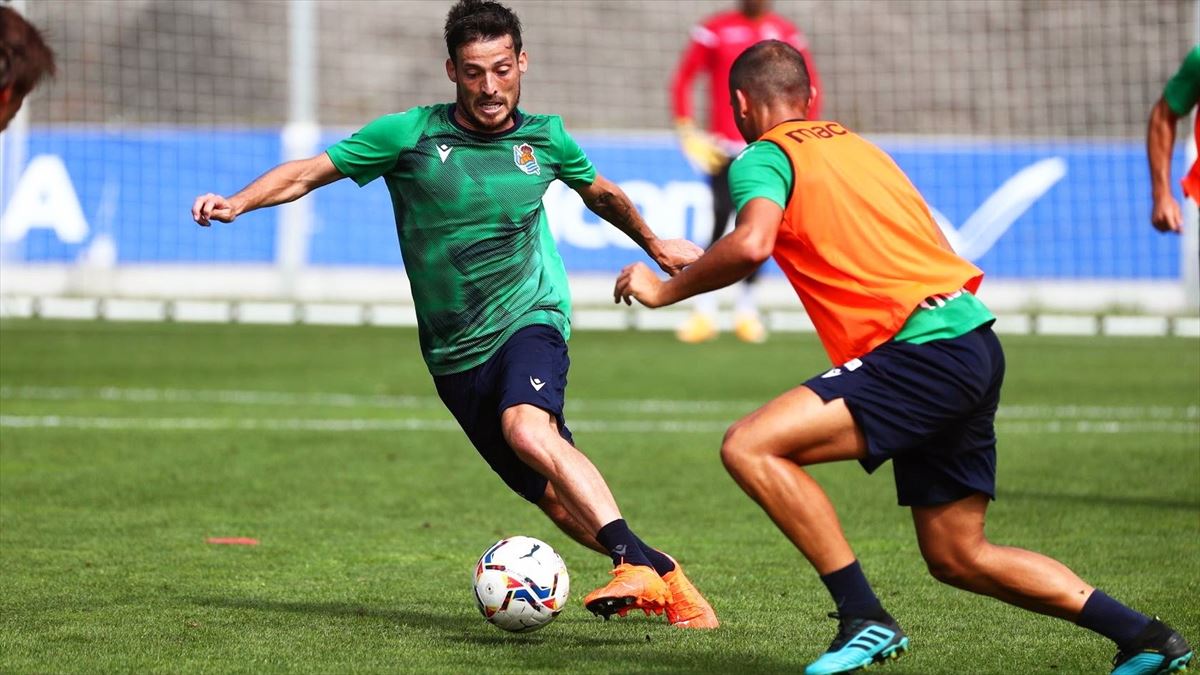 Photo: EPA
If anything is going to hold Isak, and indeed Real Sociedad back, though, it's consistency. I mentioned the impact of the fans before, but the statistics actually tell you that since matches started to take place behind closed doors, Sociedad's form dropped dramatically.
Before the stadium gates were shut, the Basque side sat fourth, only for them to pick up just 10 points from a possible 33 in the empty stadium games, including a four-game losing streak with disappointing defeats to relegation threatened Alavés and Celta Vigo. The fact that an agreement has been made with Athletic Bilbao to play last season's Copa Del Rey final only once fans have returned, tells you all you need to know about the close connection Sociedad's intense support has with their success. 
Still, despite a flat opening day draw to Valladolid, pictures of David Silva training with his Sociedad teammates for the first time yesterday, have understandably got San Sebastián buzzing once again. There's an intense pride amongst fans about Sociedad's youthful squad, alongside a growing optimism that they can continue to flourish this season, with that breath-taking Bernabeu battering still very much fresh in their minds.  
Conveniently then, it is indeed Real Madrid who they next welcome to Anoeta, next Sunday. Let's see if they, and indeed Alexander Isak, can shock the nation once again.
By: Thom Harris
Featured Image: David Ramos / Getty Images