Player Analysis: Martin Ødegaard
On April 13, 2014, Martin Ødegaard became the youngest ever player to debut in the Norwegian top flight at 15 years and 118 days old, coming on as a substitute against Aalesunds FK at the Marienlyst Stadion. It took him just 18 minutes to make his mark on the game; he picked up a loose ball at the end of the box, held off several defenders, before sliding a pass in for Thomas Sørum, who scored the decisive second goal to seal the victory.
At the tender age of 15, Ødegaard played a key role behind Strømsgodset's fourth-place finish, contributing 5 goals and 7 assists in 23 appearances and earning trials at Arsenal, Liverpool, Bayern Munich, Manchester City, and Manchester United. However, it was Real Madrid who won the race for him, paying a fee within the region of €4 million potentially rising to €8 million with bonuses.
The Norwegian was handed an eye-watering salary of £1.7 million-a-year according to local reports, before joining up with Zinedine Zidane's Real Madrid Castilla side. His time in the Spanish capital didn't quite start off on the right foot: Ødegaard was frozen out by Zidane in April 2015 after refusing to train with his teammates in the reserves on account of a contract in his contract that allowed him to train with the first team five days a week.
"Regrettably, some players have complained that the teenager 'can't be bothered' with his Castilla team mates and is only interested in being alongside Cristiano Ronaldo," reported AS.
However, after some early teething issues which saw him struggle with the language barrier, Ødegaard became a regular starter in the 2015/16 season as Castilla finished first in Group 1 of the Segunda División B, only to lose to eventual champions UCAM Murcia in the promotion play-offs.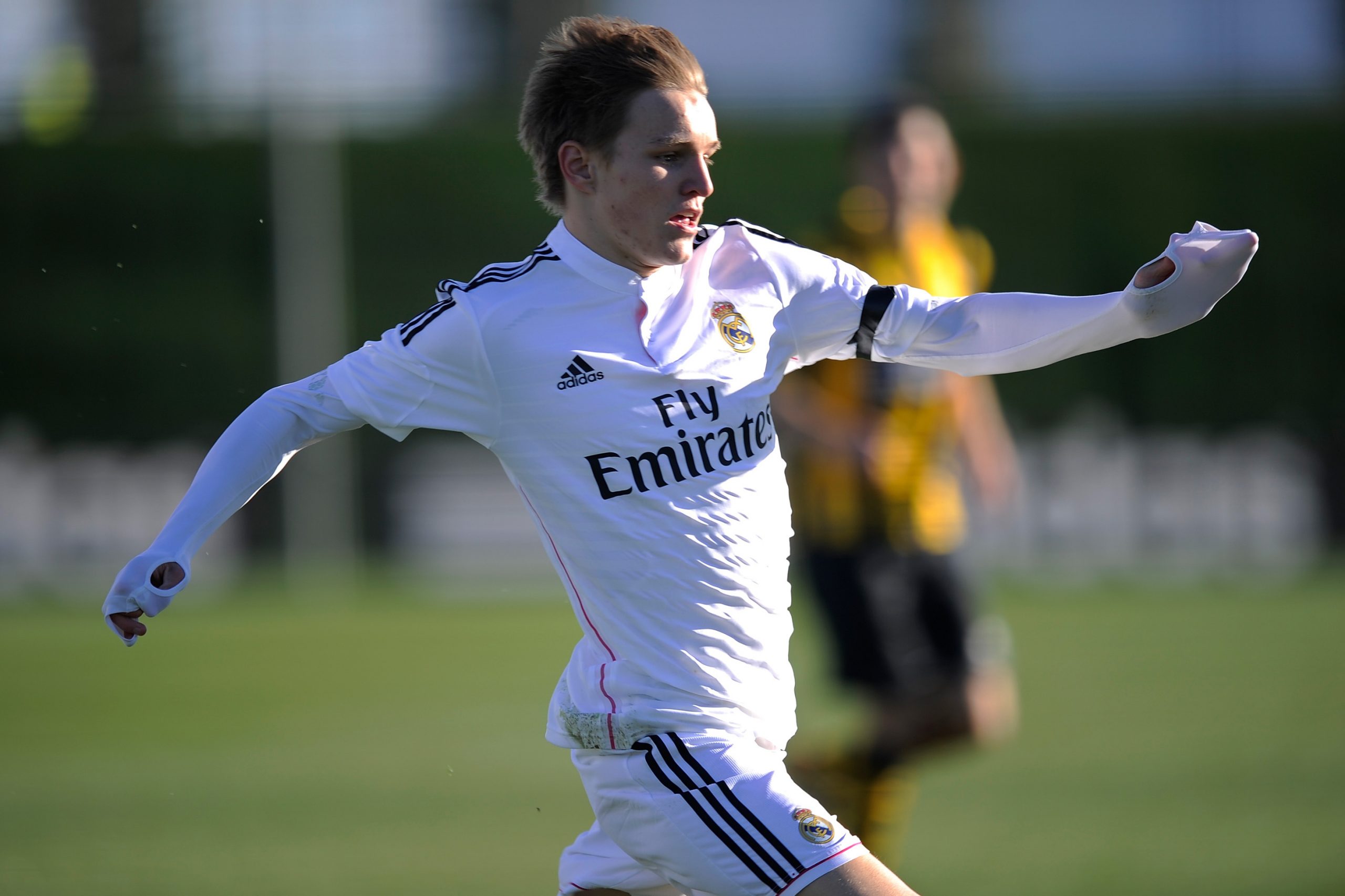 Photo: Denis Doyle / Getty Images
Ødegaard departed Spain for Holland on January 10, 2017, joining Eredivisie side SC Heerenveen on an 18-month loan. Once again, he struggled to impress during his first few months at his new club, but eventually won a starting spot under manager Jurgen Streppel in the 2017/18 season. The following season, he was sent out on loan again to another Eredivisie side, joining Vitesse Arnhem.
Up until his spell at Vitesse, Ødegaard had failed to convince Real Madrid supporters that he possessed the mental fortitude and efficiency to become a starter for Los Blancos. In fact, in his 2016 autobiography Quiet Leadership, ex manager Carlo Ancelotti called his signing a "PR exercise." "He could be the best player in the world, but I don't care because he was not a player who I asked for. That signing was to do with PR."
The then 19-year-old became one of the first names on manager Leonardo Slutsky's team sheet, cutting in from the right flank, creating danger on the counterattack, and finding his teammates with his pinpoint through balls and lethal set piece delivery. Ødegaard racked up 11 goals and 12 assists for Vitesse, leading them to the Europa League play-offs, where they would lose to Utrecht.
While he was linked with moves to Ajax and Bayer Leverkusen, the Real Madrid hierarchy decided it best for him to test himself in Spain's top flight, and sent him on loan to Real Sociedad for the 2019/20 season. At just 20 years of age, Ødegaard immediately became one of the deadliest players in La Liga, although he was forced to play through pain after suffering patellar tendinopathy from October onwards, causing his form to drop off in the second half of the season.
Despite his struggles with injury and his inconsistent performances, Ødegaard did well enough to convince Real Madrid that he was good enough for first team action. His two-year loan spell at La Real was cut short after just one season, and starting next month, he'll be competing against the likes of Luka Modrić, Isco, and Federico Valverde for a first-team spot.
Ødegaard has operated in a variety of positions throughout his young career such as the #10 position and the right winger, but this season, he's been mostly used as a right-sided interior midfielder in Imanol Alguacil's asymmetrical 4-3-3.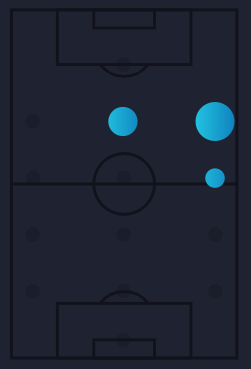 Photo: Ødegaard's Most Common Positions [Soccerment]
Statistical Profile
Before moving to the eye test, let's take a look at the underlying numbers to see just what kind of player Ødegaard is. Below is a chart of Ødegaard's performance in various metrics compared to all the midfielders in the top 5 European Leagues.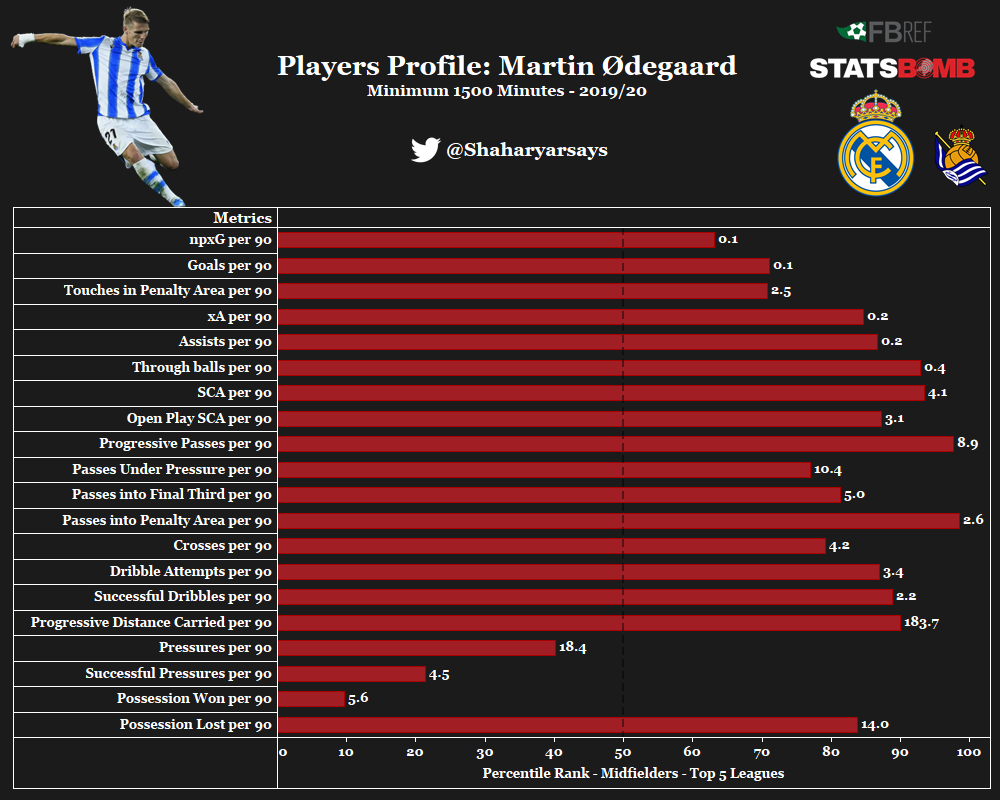 Straight off the bat, what catches the eye is that Ødegaard is performing exceedingly well in the creative metrics. He stands out in terms of Expected Assists, Raw Assists, Through Balls, Shot Creating Actions, Creating Shots from Open Play, Progressive Passing and Passes into Penalty Area, demonstrating that he is very comfortable in distributing the ball throughout the final third of the pitch. 
Moving on, we can see that Ødegaard is also adept in the ball-carrying department. He not only thrives at passing the ball around the pitch, but he can also carry the ball from deeper positions to cause problems for the opposition.
His goal-scoring numbers, although respectable, are nothing to write home about, with the Norwegian ranking in the 63rd percentile among midfielders in terms of Non-Penalty Expected Goals. For a player of Ødegaard's calibre, this needs improvement.
Finally, his defensive statistics are quite underwhelming. Although he is not tasked with as much defensive responsibility as his midfield partners Mikel Merino and Igor Zubeldia, he must improve in this area if he is to win a starting spot under Zidane. It should be noted, however, that Ødegaard's numbers have taken a hit and may have been skewed due to his chronic knee condition.
Ødegaard in Comparison to La Liga Midfielders
This season, Ødegaard has performed exceedingly well in La Liga, but just how well does he stack up against the other midfielders in the Spanish top flight?
Goal-Scoring Output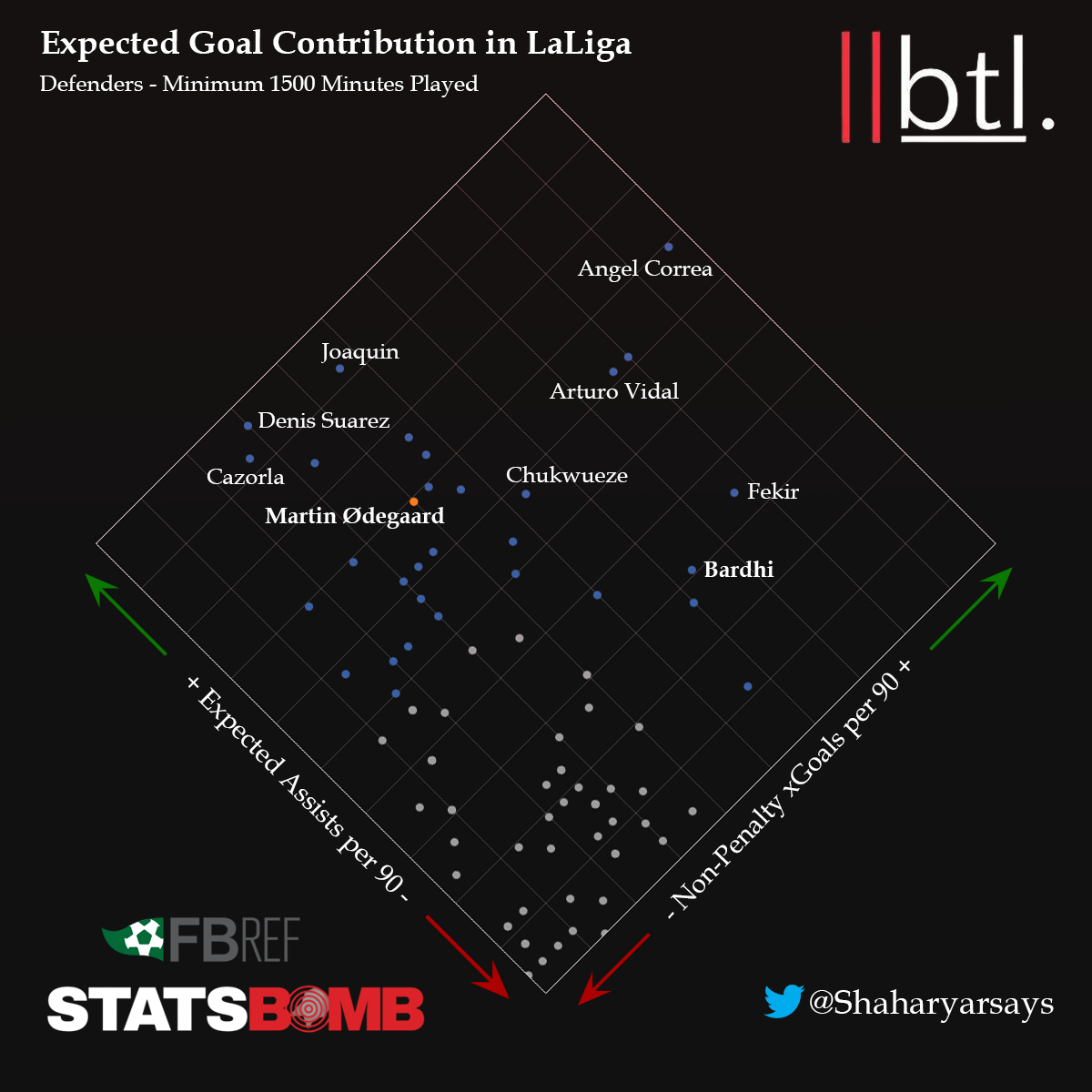 Despite performing at an elite level for the first half of the campaign, Ødegaard's goalscoring output has been poor. 4 goals and 6 assists is not a good enough tally for a player who is aiming to crack into the starting line-up of the Spanish champions.
Creativity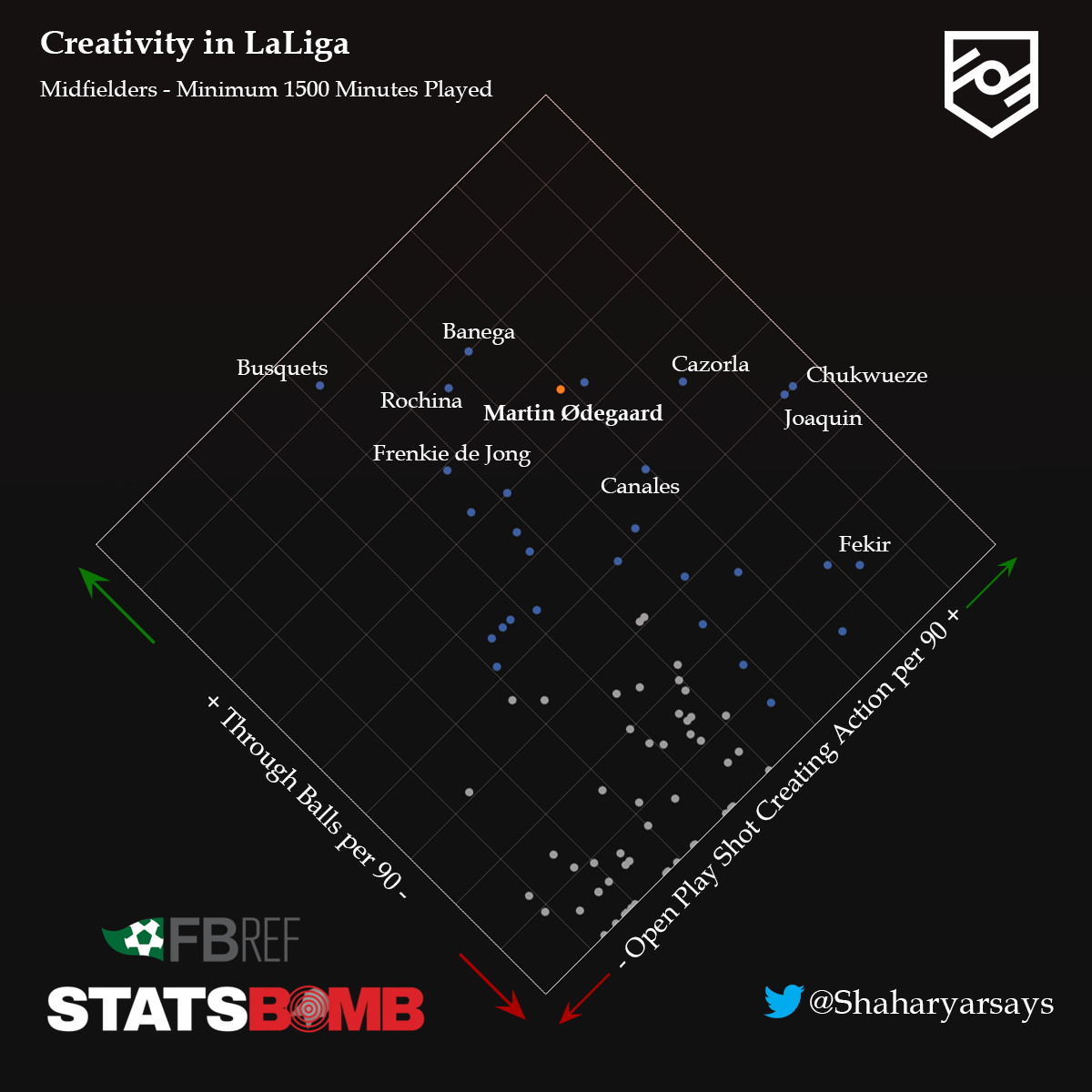 Since landing in San Sebastián last summer, Ødegaard has made a name for himself for knitting fine through balls through the tightest of gaps in the opposition's defence. He'll be expected to provide a hefty dose of dynamism and creativity to a Real Madrid side that was often too stale in attack last season.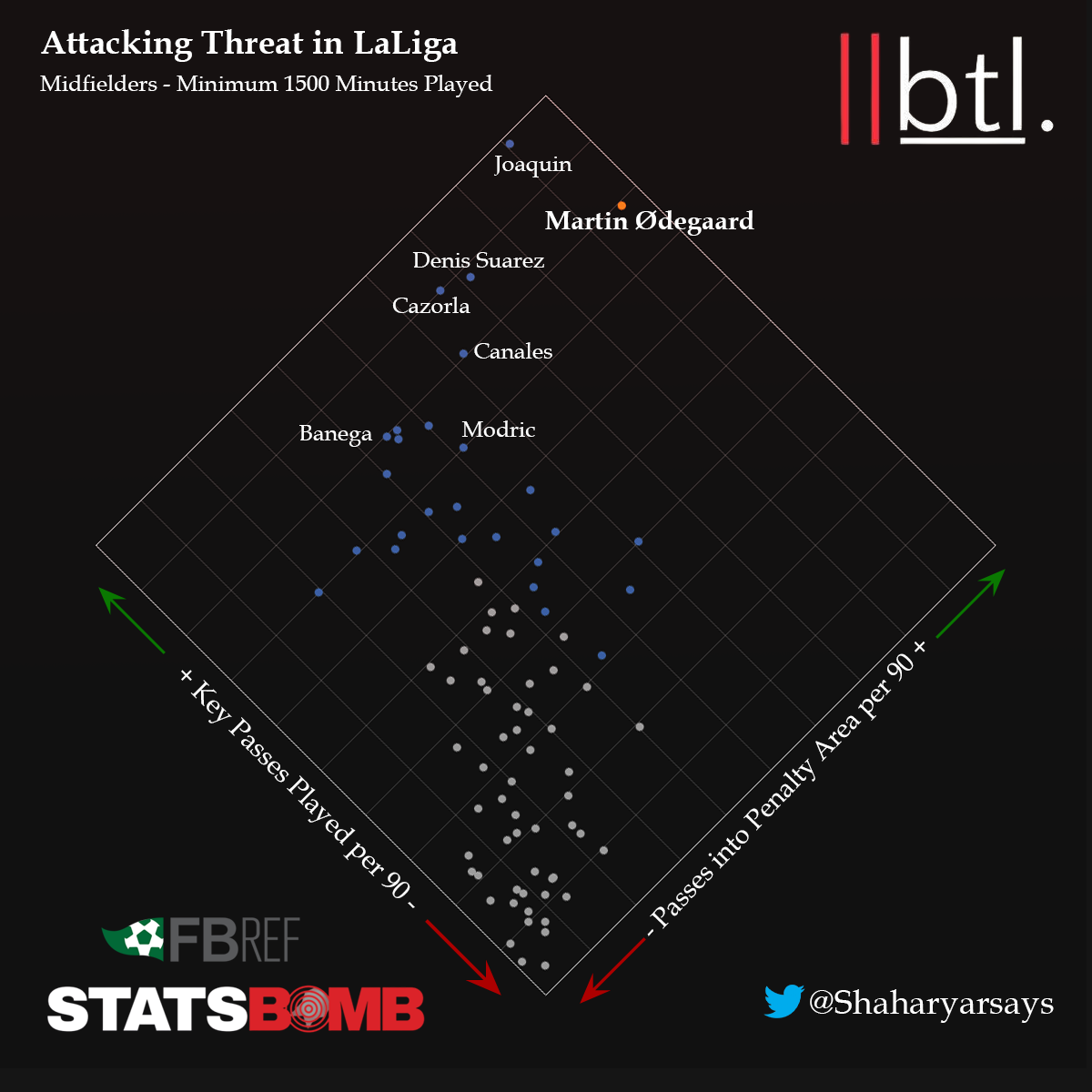 Whenever Ødegaard receives the ball, he immediately looks to advance play and slice through the defense with his pinpoint passing. This is highlighted in the below image, as he places just behind Real Betis's Joaquín in Passes into the Penalty Area, creating an incredibly high number of Key Passes.
Ball Progression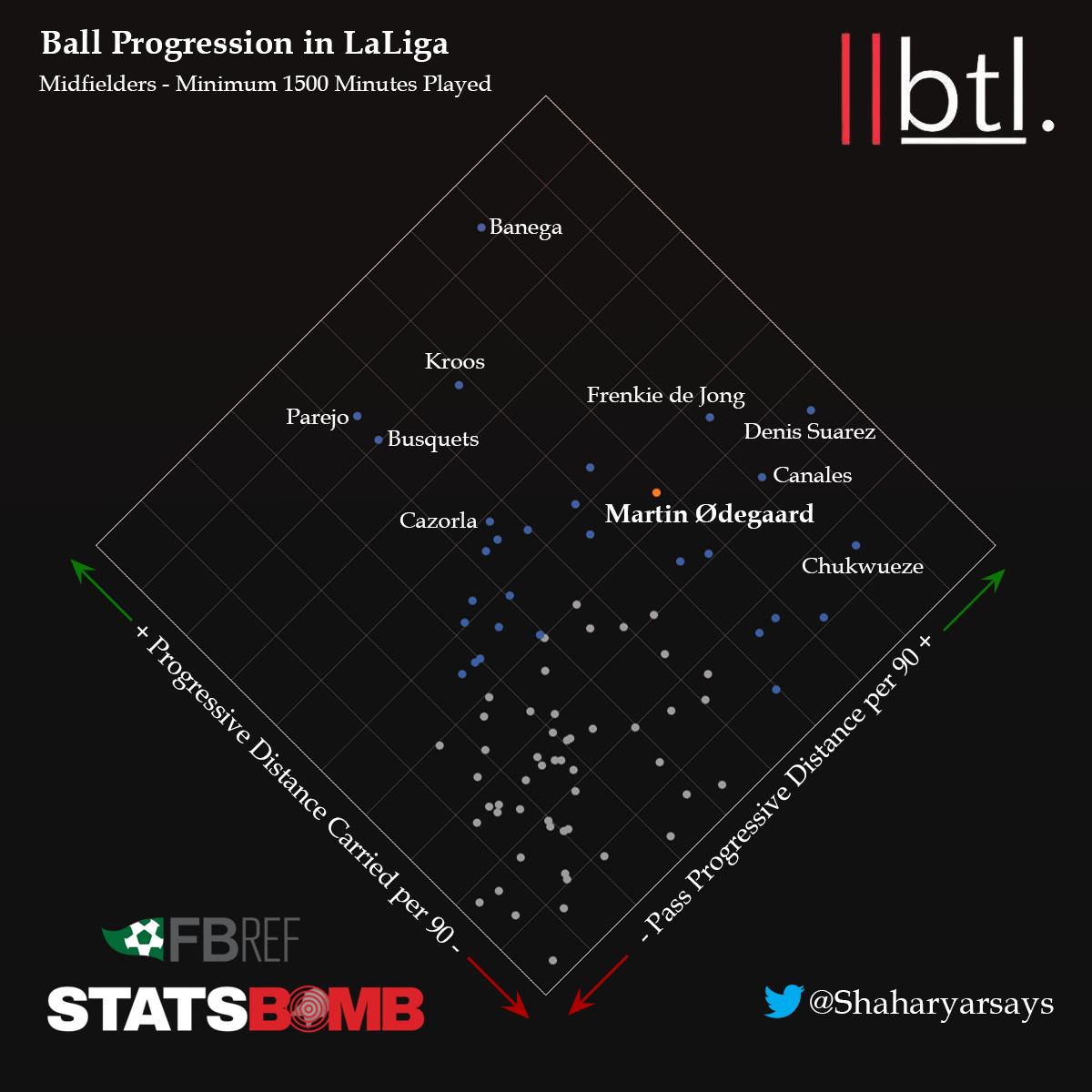 Since Ødegaard prefers to receive the ball higher up the pitch, he does not excel at progressing the ball up the pitch through carries, as midfielders who play in deeper roles such as Toni Kroos and Dani Parejo perform better in these metrics. However, Ødegaard still plays a vital role in the progression of the ball into the final third – either through carrying or passing.
Deep Progression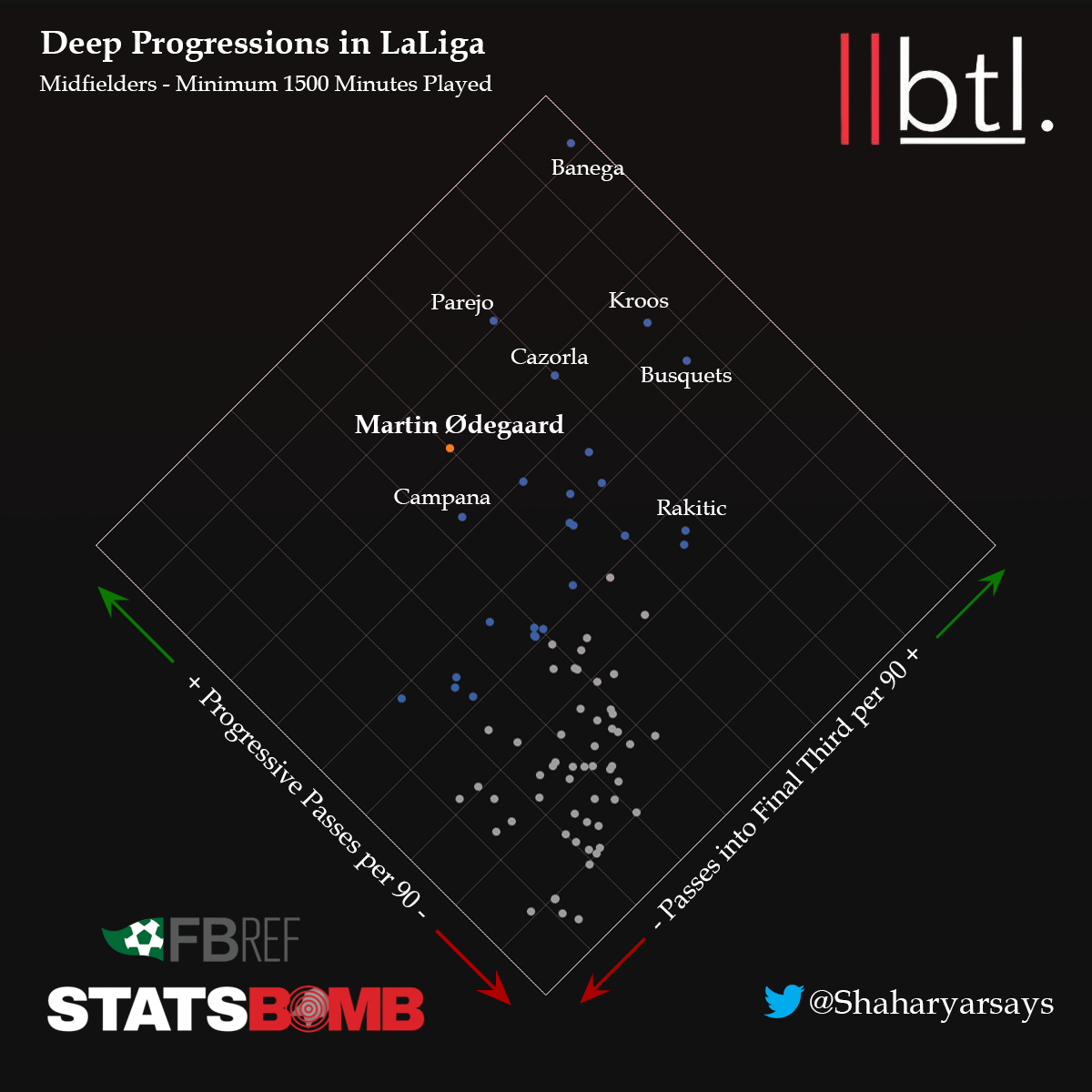 Despite playing higher up the pitch, Ødegaard performs considerably well in terms of progressive passes due to his attacking tendency. However, his passes into the final third numbers are relatively low since he mostly operates in the offensive third itself, thus, he isn't usually tasking with progressing the ball from the middle into advanced areas.
Whilst deep-lying midfielders such as Santi Cazorla, Sergio Busquets and Éver Banega naturally dominate this metric, Ødegaard still manages to hold his own despite his young age.
Evading Pressure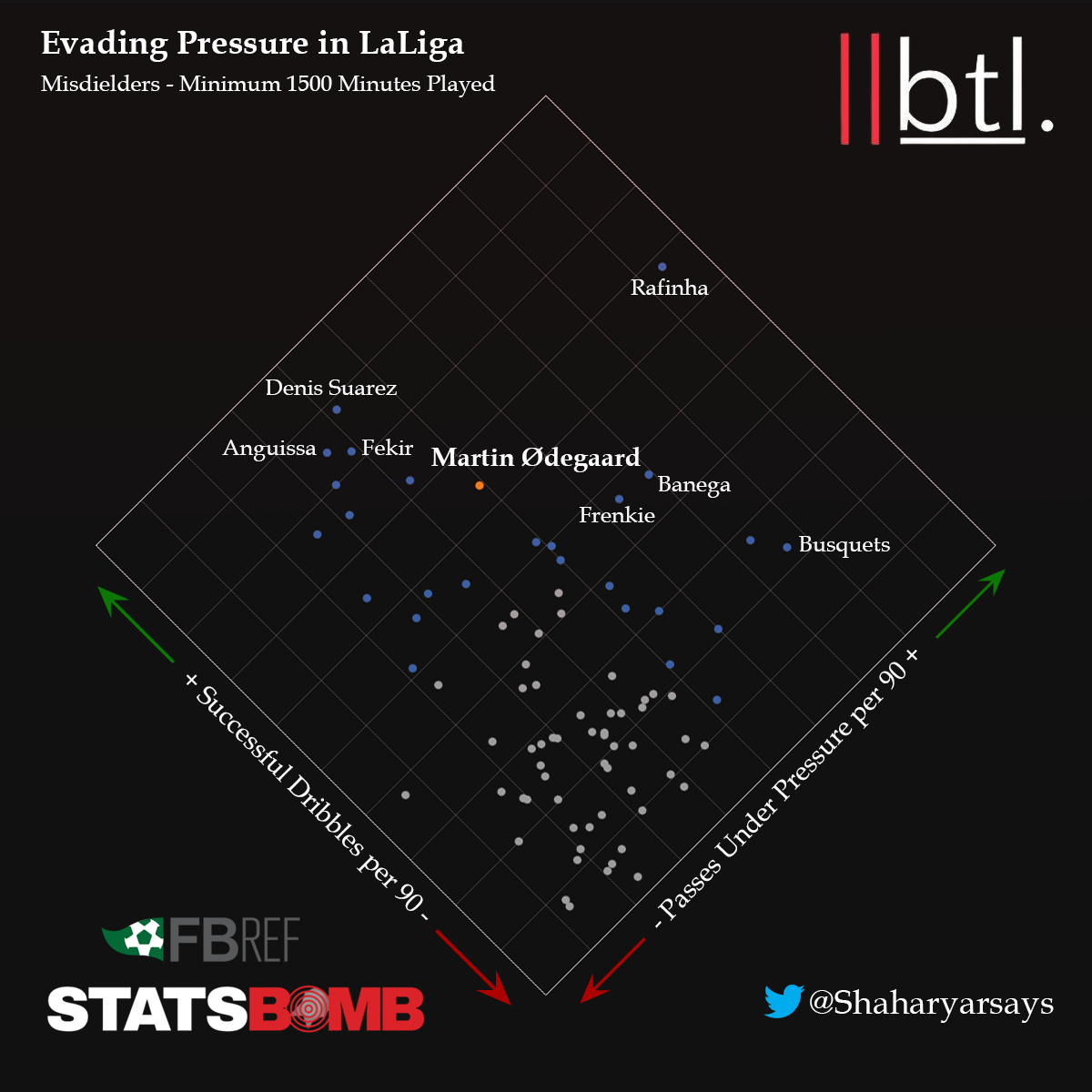 While Ødegaard doesn't excel in passing under pressure, he shows fairly well in terms of successful dribbles. We'll use the eye test later on to determine whether this is because he simply prefers to dribble under pressure as opposed to pass, or if it's because he has a serious issue with picking out teammates while being pressed by the opposition.
Net Progression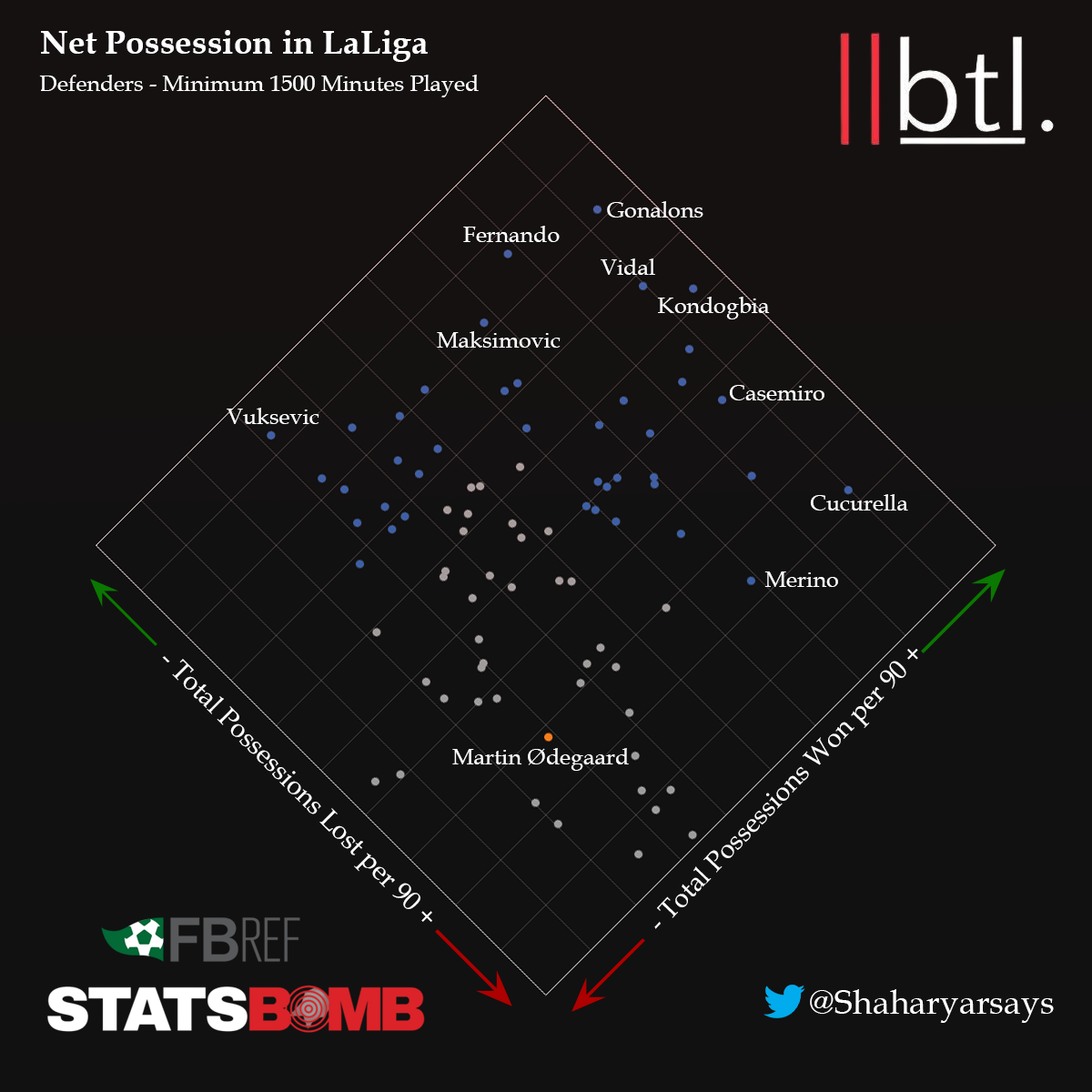 Net possession is the weakest part of Ødegaard's game. Playing as the most advanced midfielder in the 4-3-3, he naturally occupies a high-risk, high-reward function, which can explain why he loses possession so much. However, he needs to step up his game when it comes to winning possession; if he fails to do so, he'll struggle to find a place in Zidane's starting line-up.
Positioning and Movement
Whenever Real Sociedad is in possession, Ødegaard usually positions himself between the opposition's defensive and midfield lines. In doing so, he gives the opposition with two options: either they let him receive the ball and advance the ball without being hassled, or they leave their current positions to pressure him. 
In this example against Deportivo Alavés, Ødegaard receives the ball between the lines and he is immediately pressured by the opposing ball-near midfielder Tomás Pina.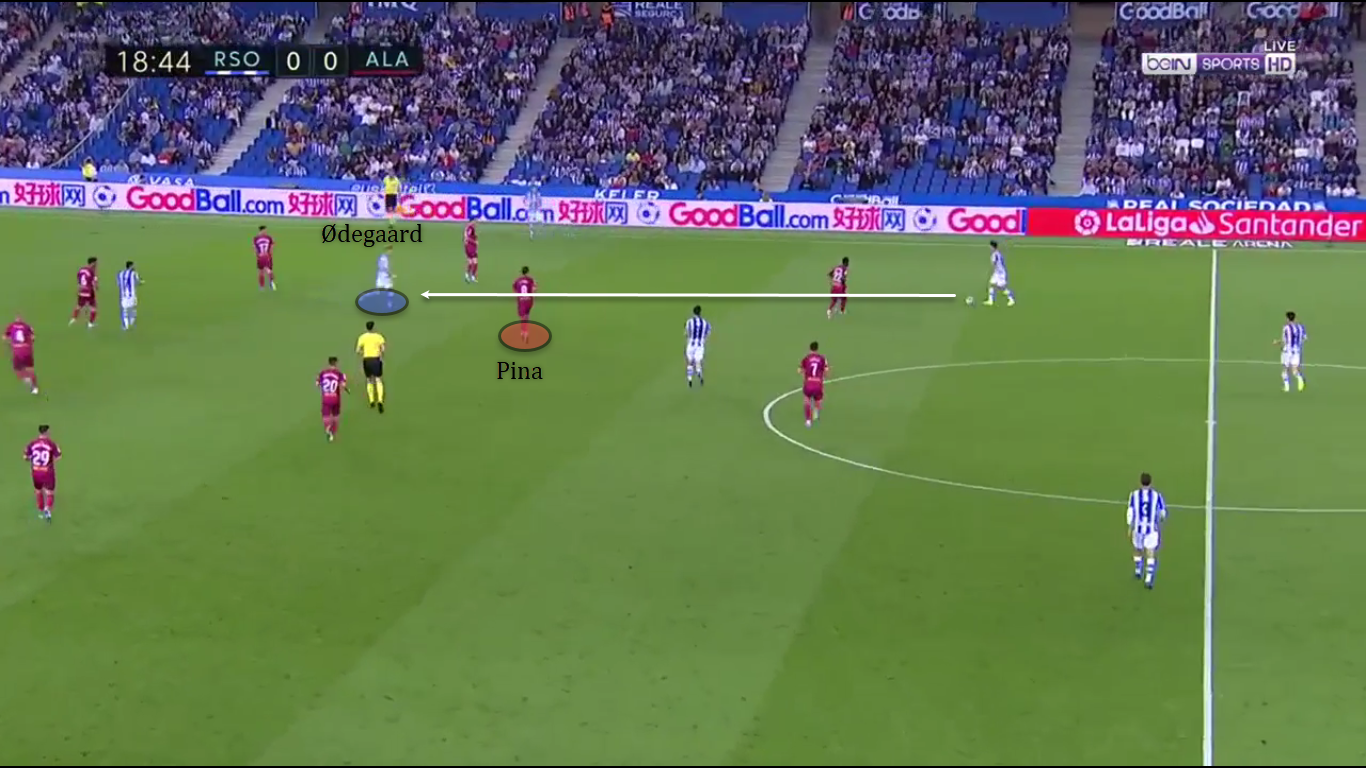 Ødegaard skips past Pina easily, and the Alavés defenders decide to sit back and cut off passing angles into the final third. The Norwegian has the time and space to deliver a sublime through ball past two lines of the opposition's pressure and into the path of Mikel Oyarzabal, who slides the ball past Fernando Pacheco into the back of the net.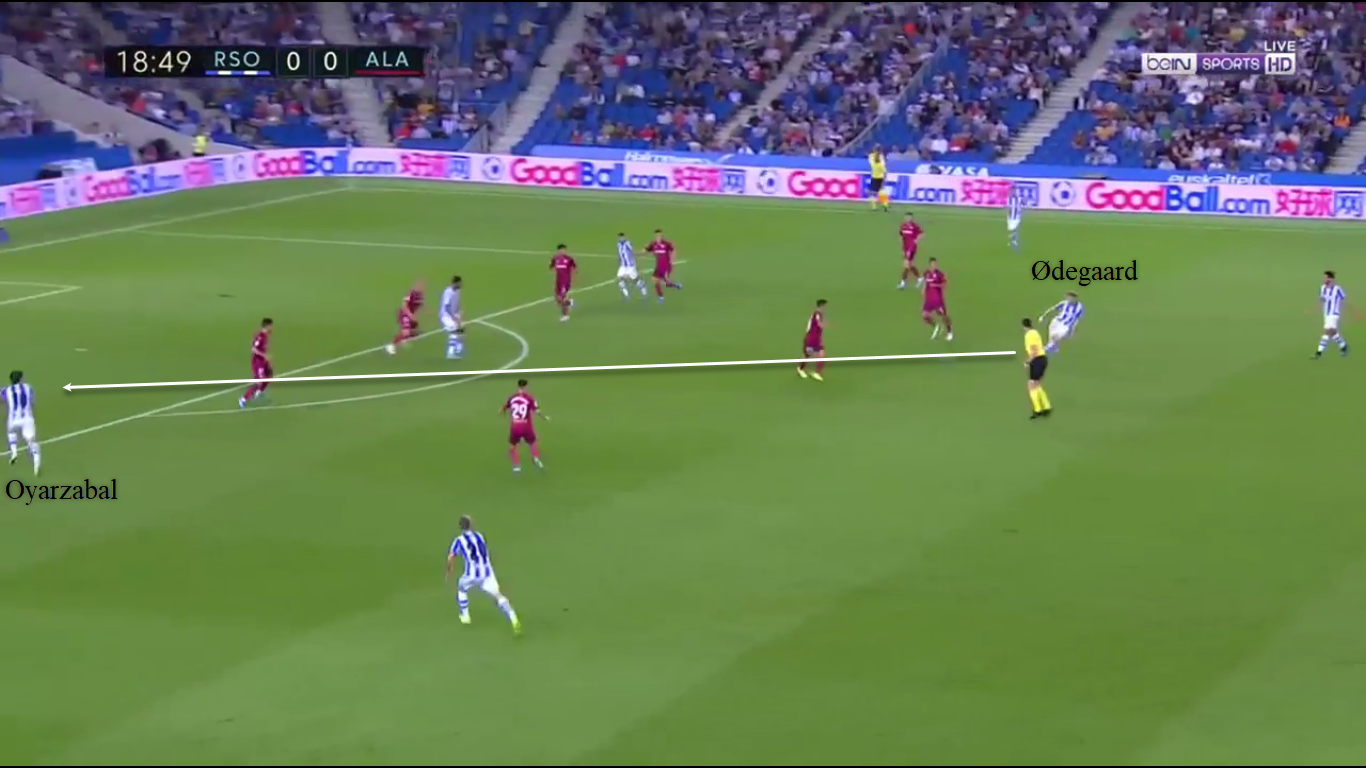 However, in cases where La Real are immediately pressured by opposition, Ødegaard responds by linking up with his teammates to disrupt the defensive line and create goalscoring chances.
In this example from the Copa del Rey Round of 16 fixture against Osasuna, Ødegaard drops in front of the midfield line to receive the ball, before playing a pass into the center forward Alexander Isak, who drops deep, dragging Osasuna center back Aridane with him.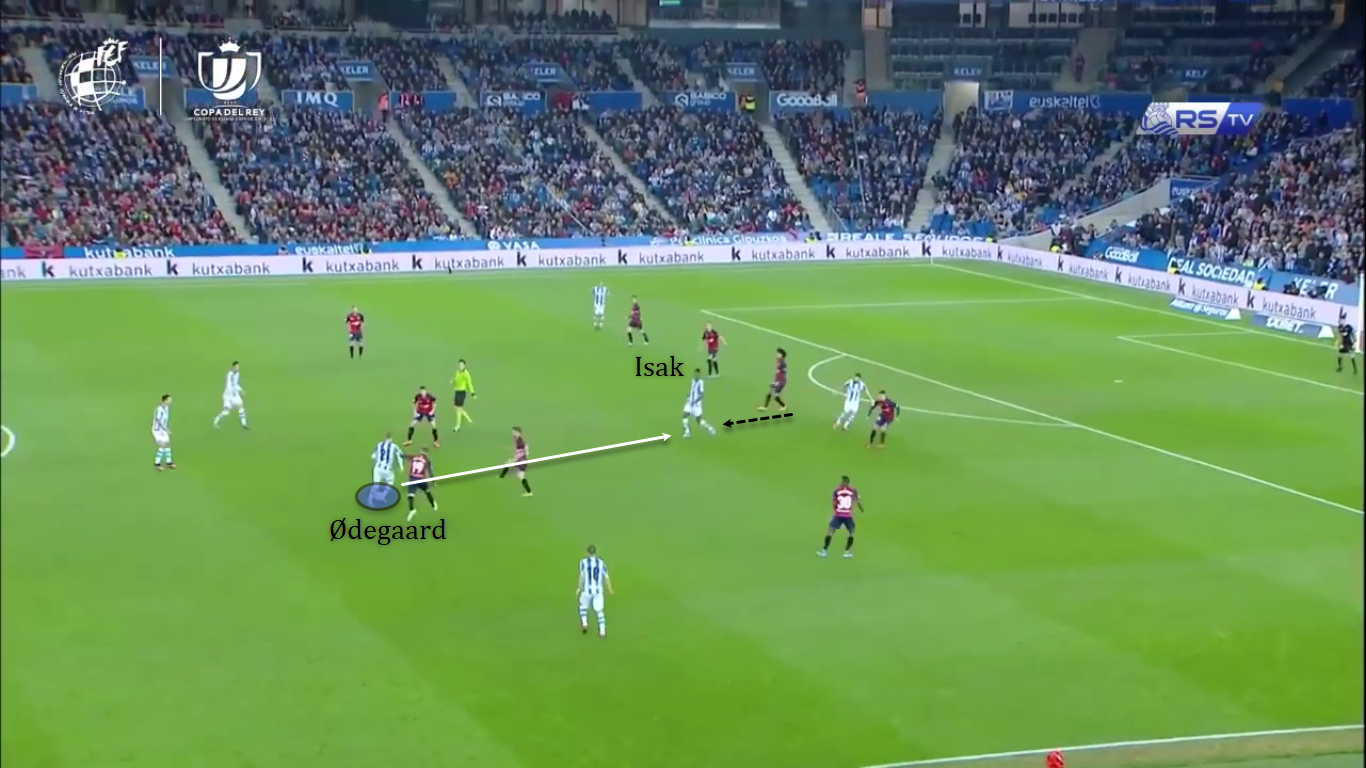 Ødegaard continues his run and receives a first time pass from the Swedish forward. He then plays a well-timed through ball into Portu's path, who ends up giving the ball away.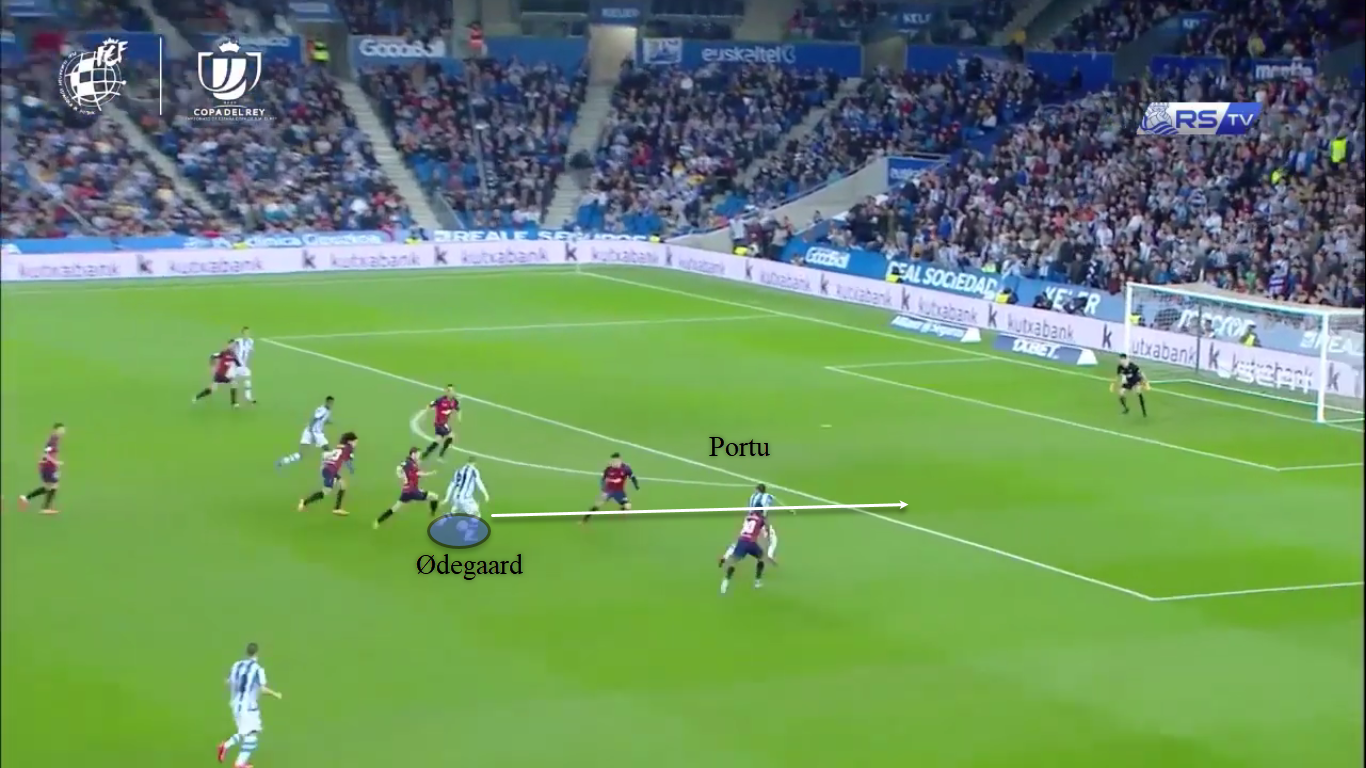 Alternatively, Ødegaard often finds himself in the right half-space or along the right touchline, ready to create wide overloads with the ball-side fullback and winger, who combine to drag the defenders out of position and exploit the space in behind.
In this example, La Real right back Andoni Gorosabel makes a run along the touchline which creates a temporary 3v2 against Alavés's opposite winger and fullback in Real Sociedad's favour. Portu makes a run towards the touchline, dragging Lisandro Magallán away, whilst Alavés left back Adrián Marín presses Gorosabel. This leaves Ødegaard free in the center, who receives the ball in the right half-space.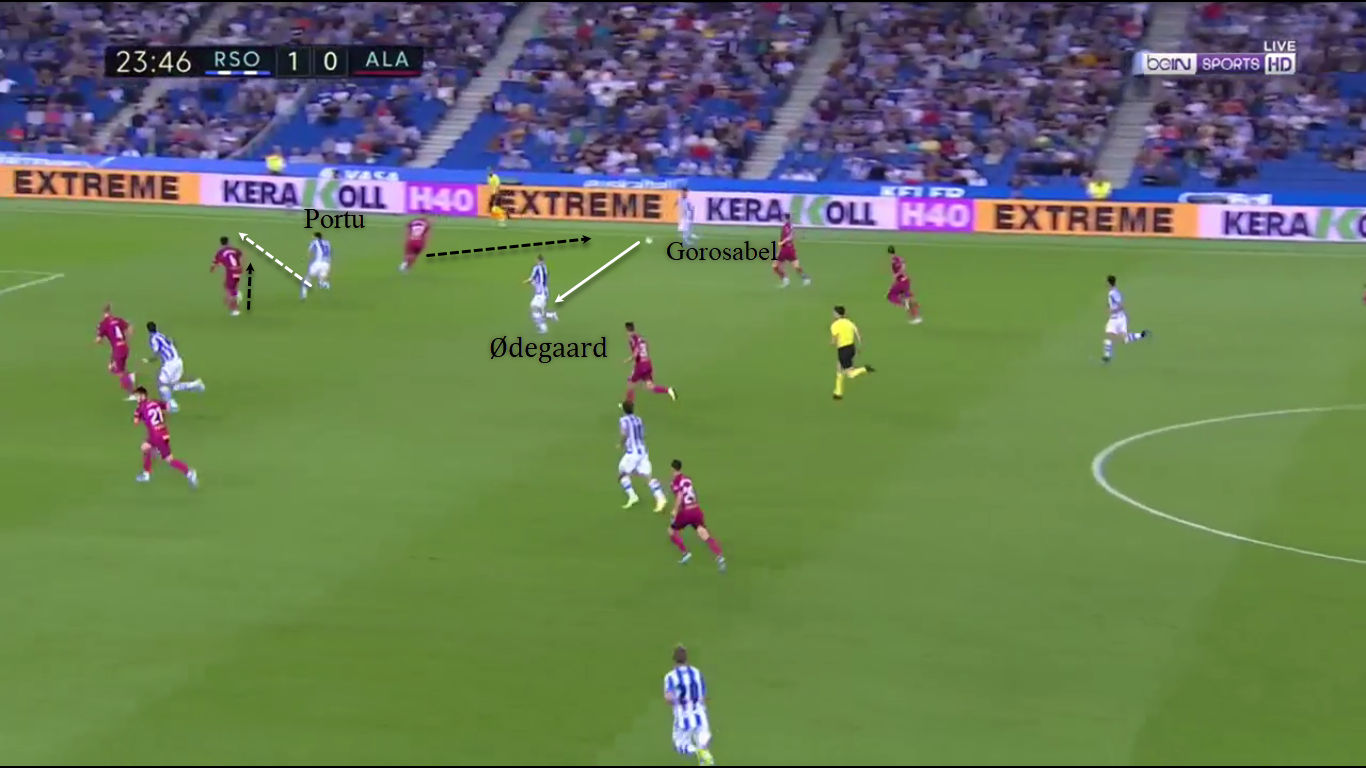 After receiving the ball, Ødegaard is immediately pressured by Alavés defenders, but he manages to play a through ball into Portu's path, who ends up crossing the ball into the box.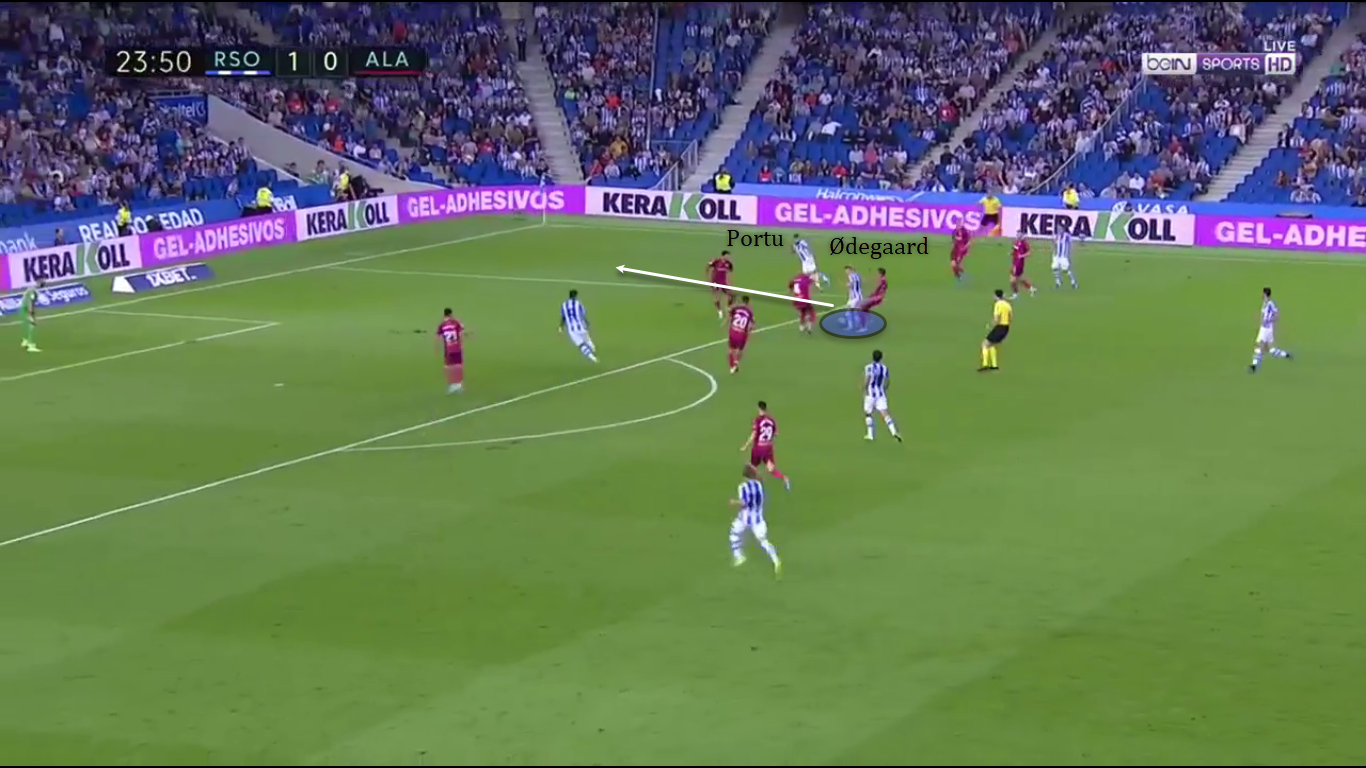 Real Sociedad create these offensive triangles throughout the game, using overloads to drag the opposing fullback out before exploiting  the spaces between the fullback and the ball-near centre-back. Manchester City use a similar methodology in the wide areas, with Kevin De Bruyne making a run in between the two defenders and before delivering an early cross for Sergio Agüero at the near post.
However, when La Real face complications in progressing the ball from the back, Ødegaard drops deep to provide himself as a passing option. Again, his opponent is left with a decision to make: whether to press him or stay in his position to remain compact. 
In this example, Ødegaard drops deep to help La Real's defenders progress the ball and evade Eibar's press. As he drops, he drags Papakouli Diop and Pedro León with him.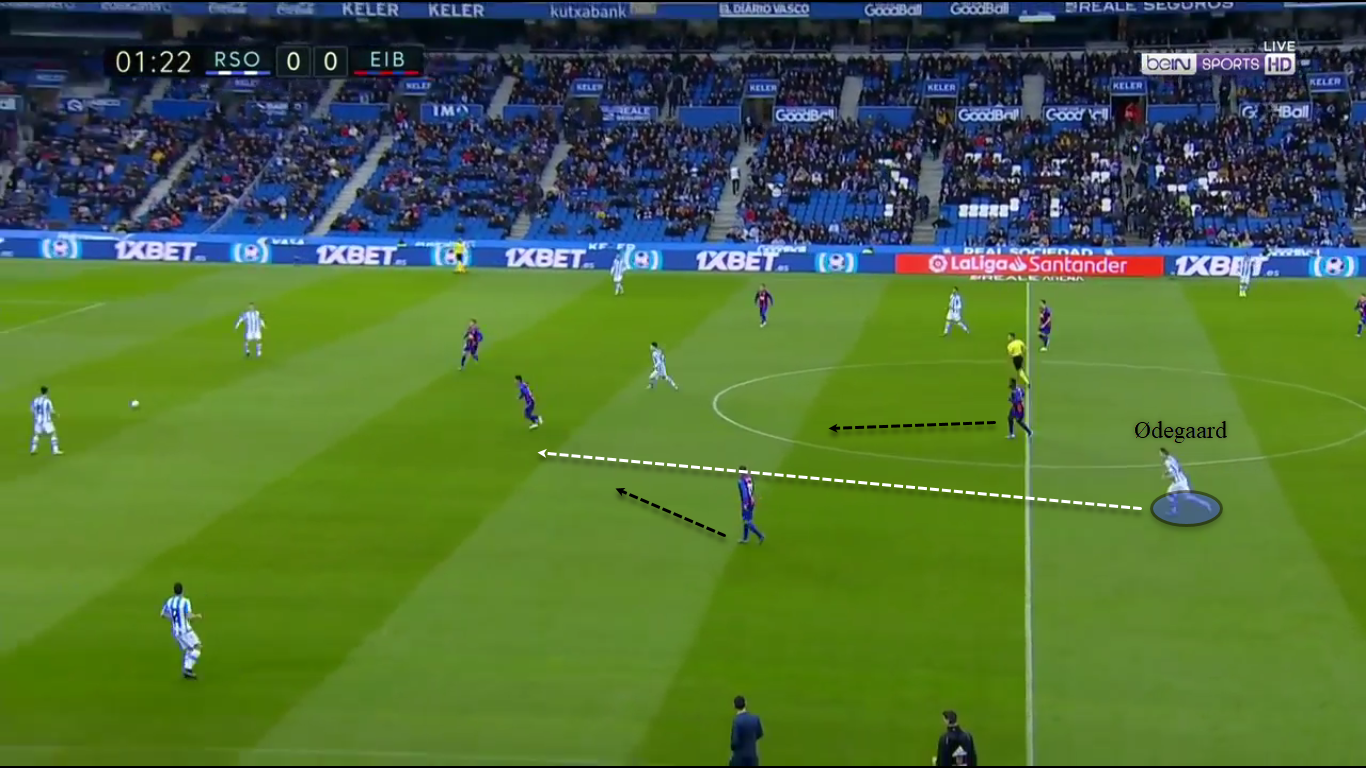 This opens up plenty of space on the right flank thanks to Ødegaard's movement. La Real right back Joseba Zaldúa receives and plays a pass into Portu who can then exploit the space that has opened up.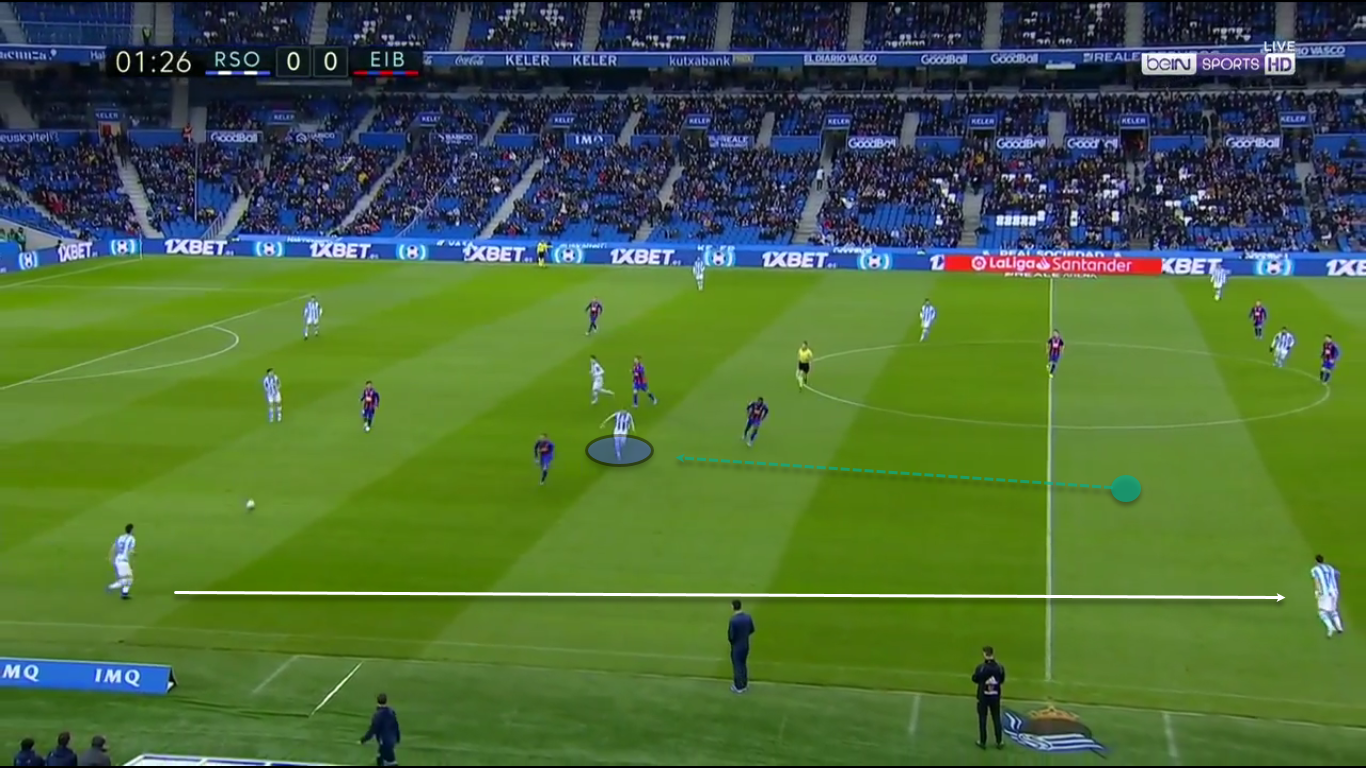 Creativity
While 91% of his passes come from his left foot, Ødegaard's predilection towards using his left is not a problem due to his ability to pull off brilliantly disguised passes from different angles. The Norwegian has the ability to deceive opponents by opening up his body before playing a through ball to his team mate at a different angle, similar to ex Real Madrid playmakers Mesut Özil and Guti. 
In this example, Ødegaard receives the ball without too much pressure from the opponent. He opens his body, making it seem as though he will play a pass towards the far post, but instead plays a laser-guided through ball between Osasuna's Aridane and Facundo Roncaglia and into the path of Isak.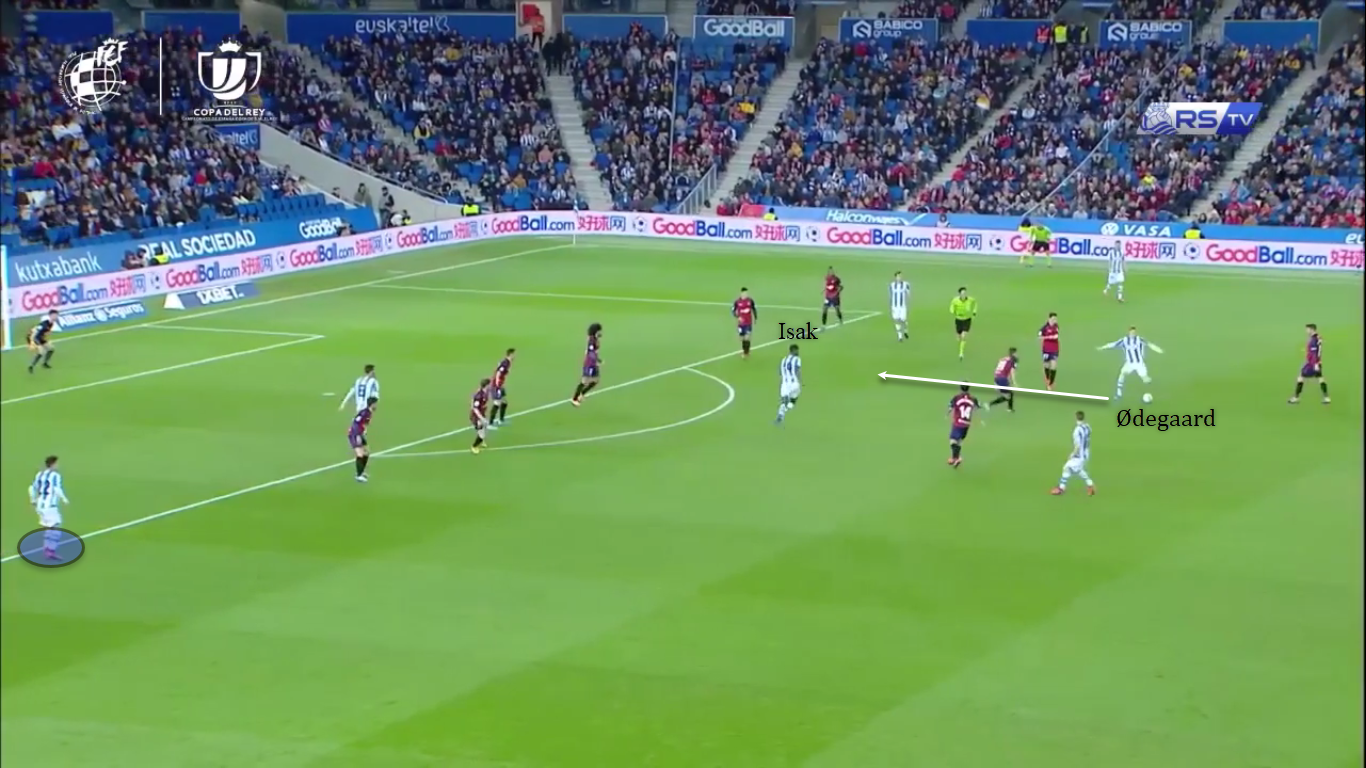 In this scenario against Athletic Club, Ødegaard opens his body up to give the impression that he will attempt a long ball towards the far post, but instead plays a disguised ball into Portu's feet, giving the Spaniard more time to receive and progress the attack.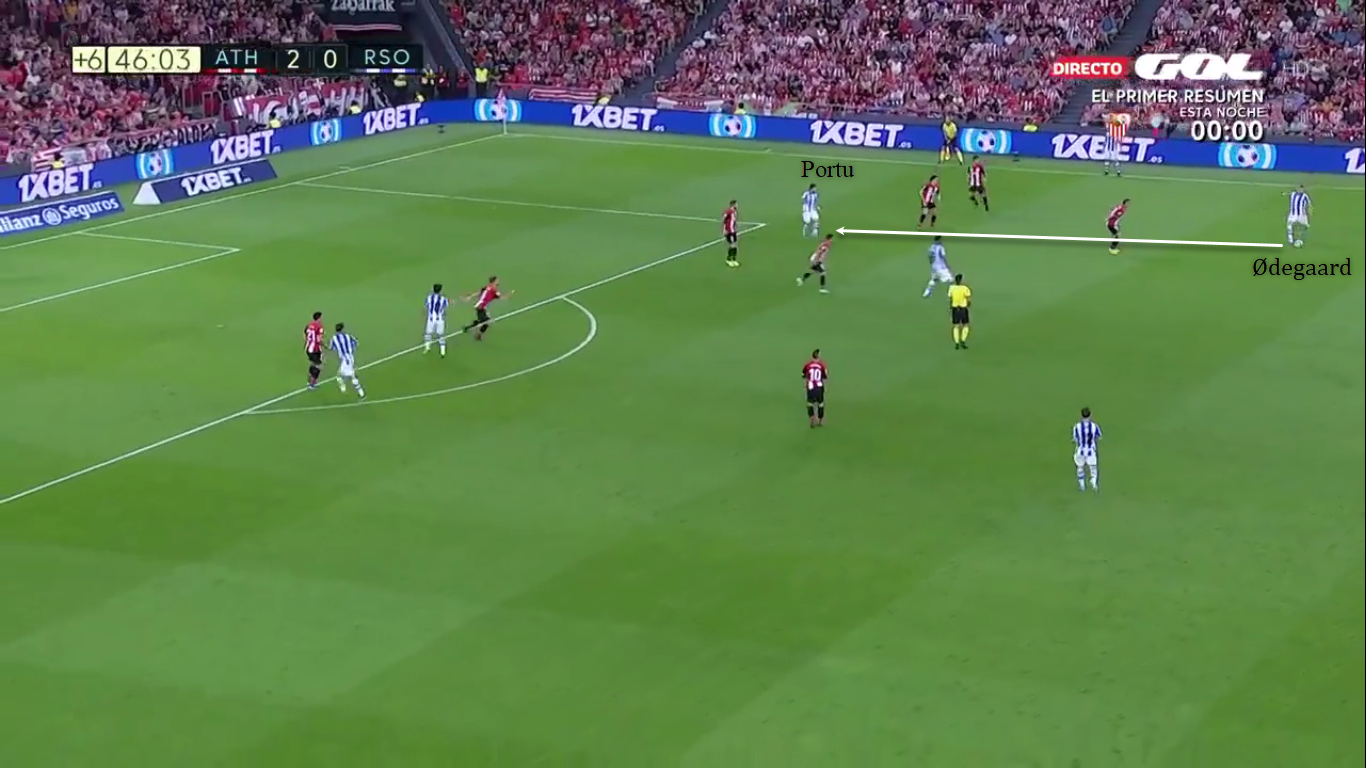 Not only does he have a great vision and understanding of his teammates, he is uncharacteristically composed in possession for a 21-year-old. Ødegaard can deliver his through balls even through seemingly non-existent gaps in the opposition's defence. 
In this example, Ødegaard receives the ball in space in a transition, attracting the pressure before playing a well-timed pass into Isak's path. Isak takes a shot with his first touch which goes just wide of goal.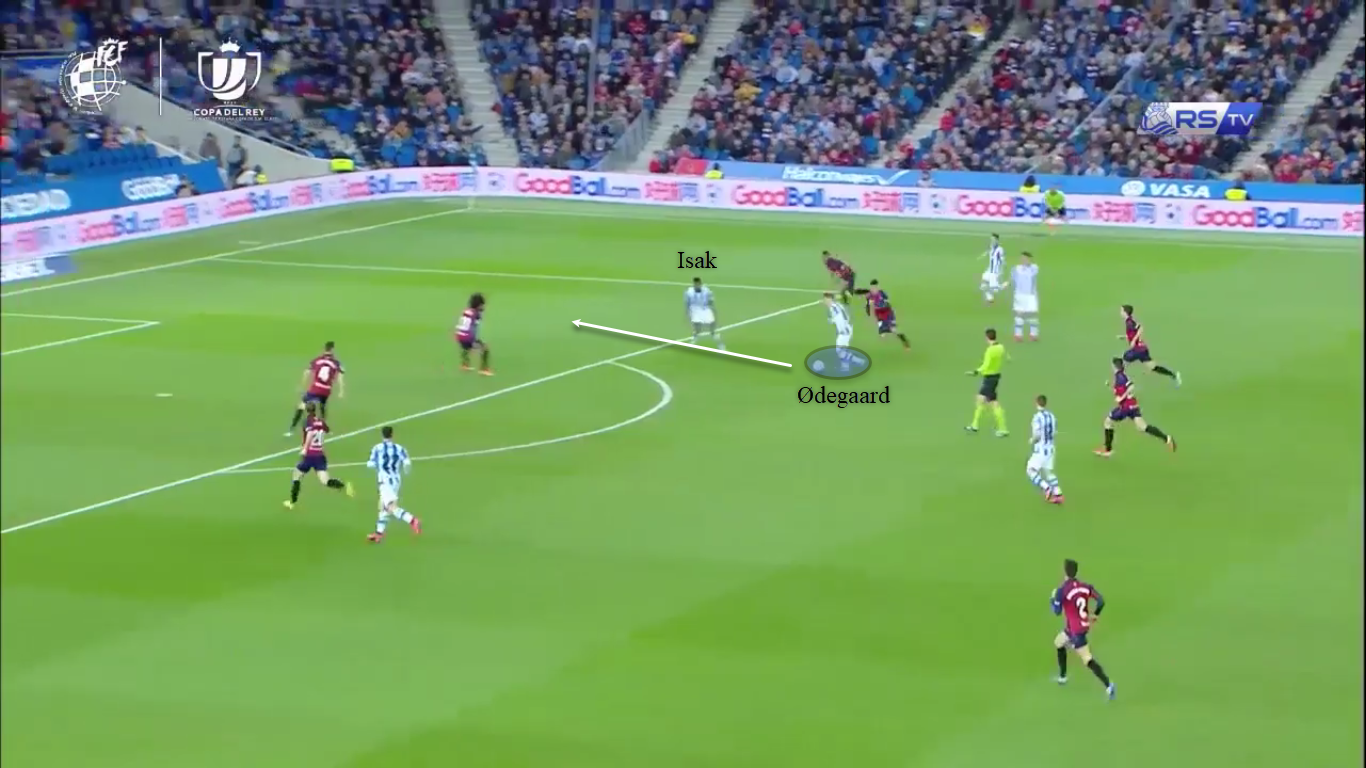 Due to his ability to knit passes together, Ødegaard attracts the attention of opponents before using his 'gravity' to play his teammates into space.
In this example, Ødegaard receives the ball and he is quickly pressured by Eibar's Iván Ramis and Gonzalo Escalante. Ødegaard simply plays a delicate pass into Willian José, who then finds Portu in space.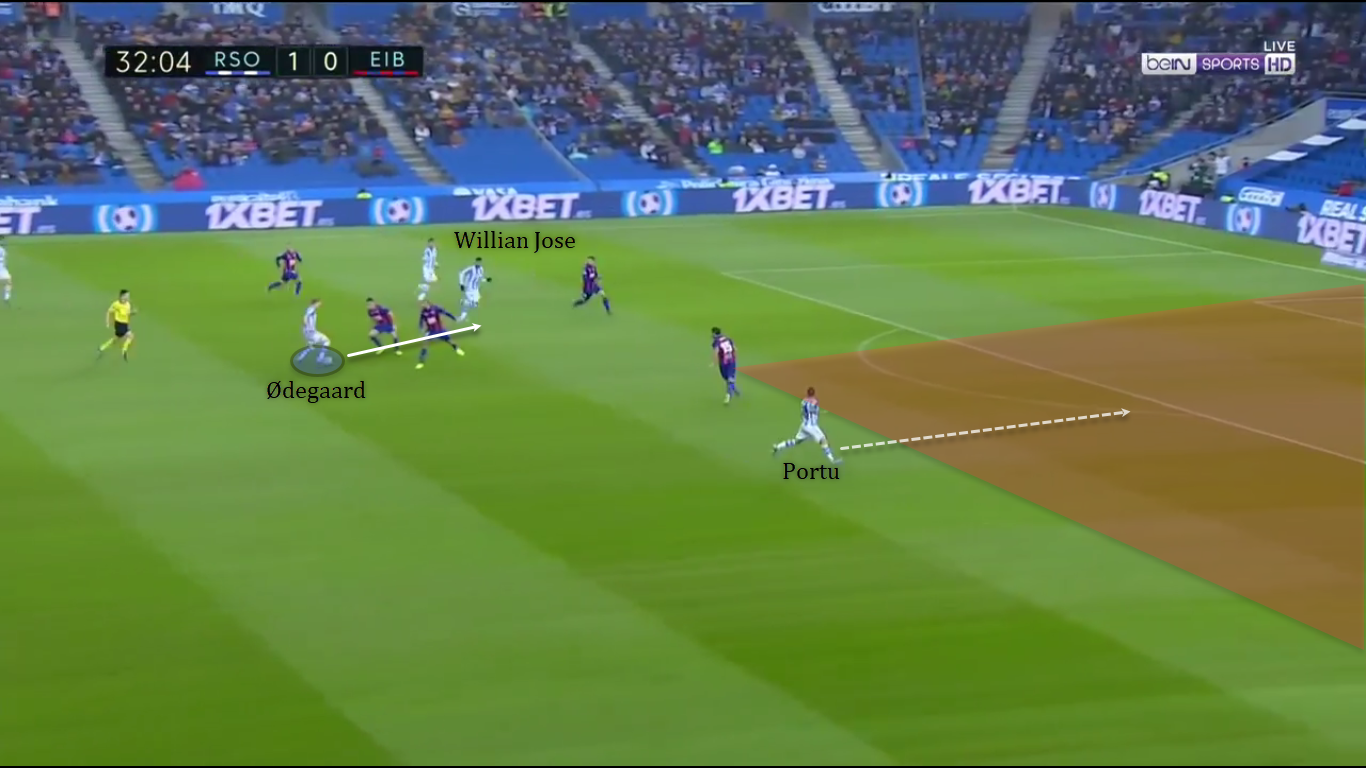 Ødegaard continues his run into the box and demands a cutback from Portu, who obliges, but his shot goes just wide of goal. This opportunity was created out of Ødegaard's ability to attract defenders towards him before making a quick, correct decision to advance the play.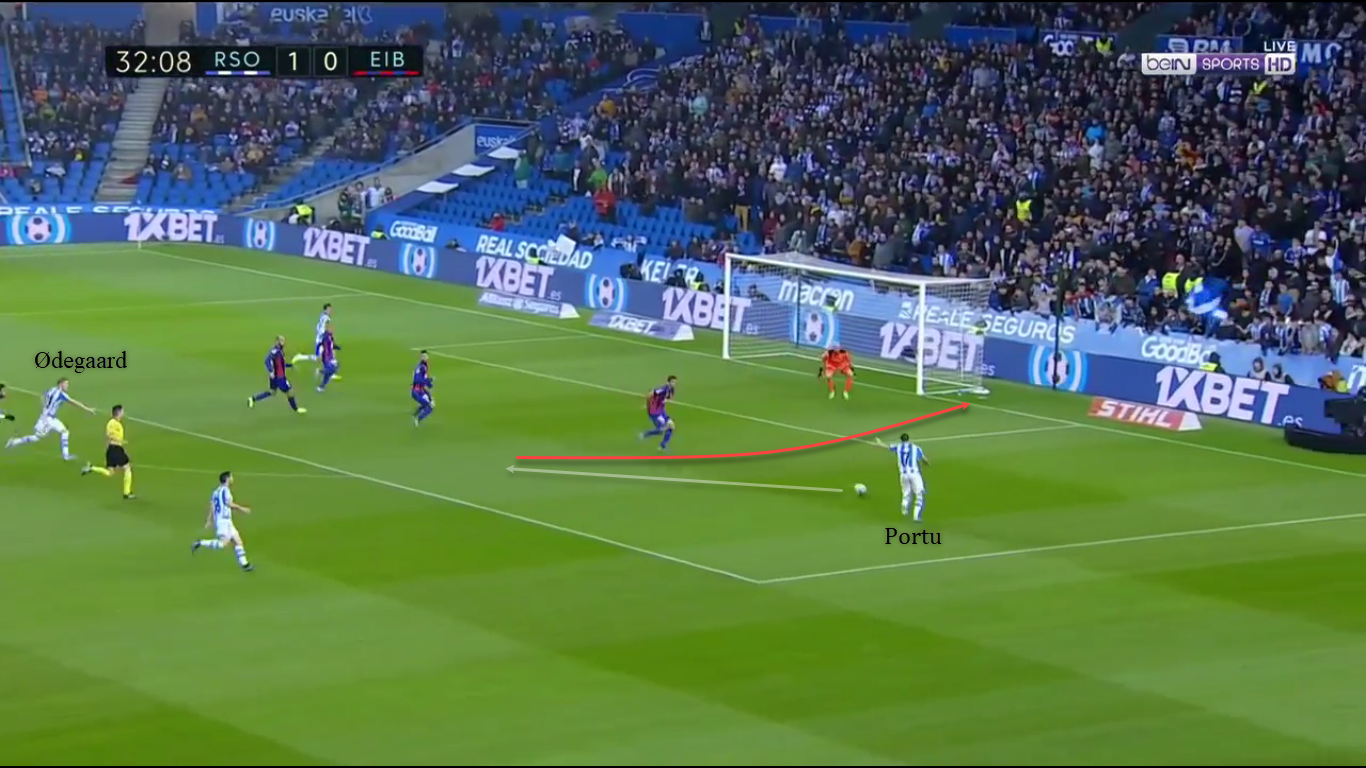 Not only is Ødegaard extremely mature for a 21-year-old, he is also extremely composed under pressure. Here, Ødegaard passes the ball to Isak and then makes a run in the opposite direction to receive a back pass from the Swede.
Isak plays another one-two, finding Ødegaard towards the byline, who then has the vision to not only see Portu making a run towards the far post, but execute this pass to near perfection. Portu receives in space and tees up a shot, which is deflected out for a corner kick.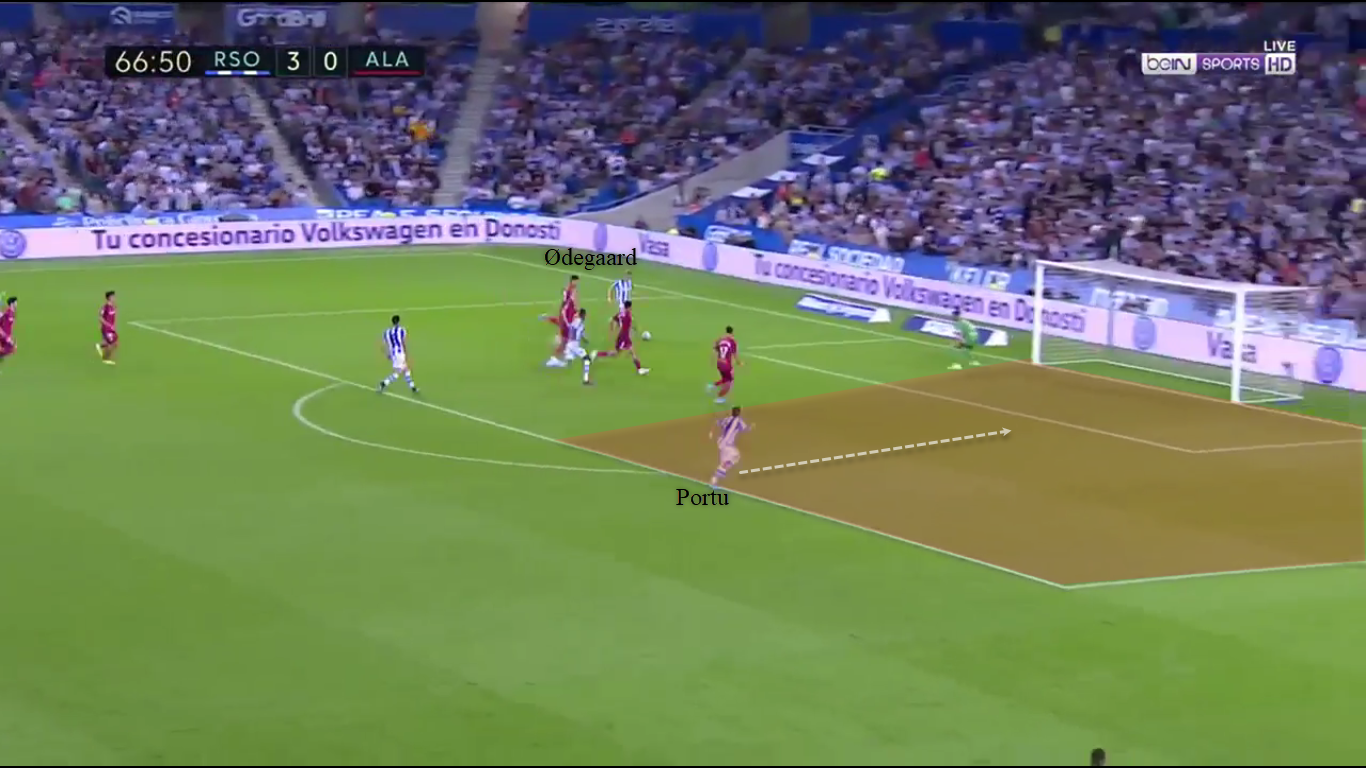 Dead Balls
One of Ødegaard's most lethal assets is his set-piece delivery. Although he hasn't taken many direct free kicks this season, attempting just four shots from dead ball situations, he has been extremely efficient from indirect set-pieces and corner kicks. In fact, Ødegaard's Expected Assists per Key Pass from dead ball situations is higher than that of Kroos, De Bruyne, and Trent Alexander-Arnold this season.
In this example, Diego Llorente distances himself from his marker before making a blind-side run into the six-yard box.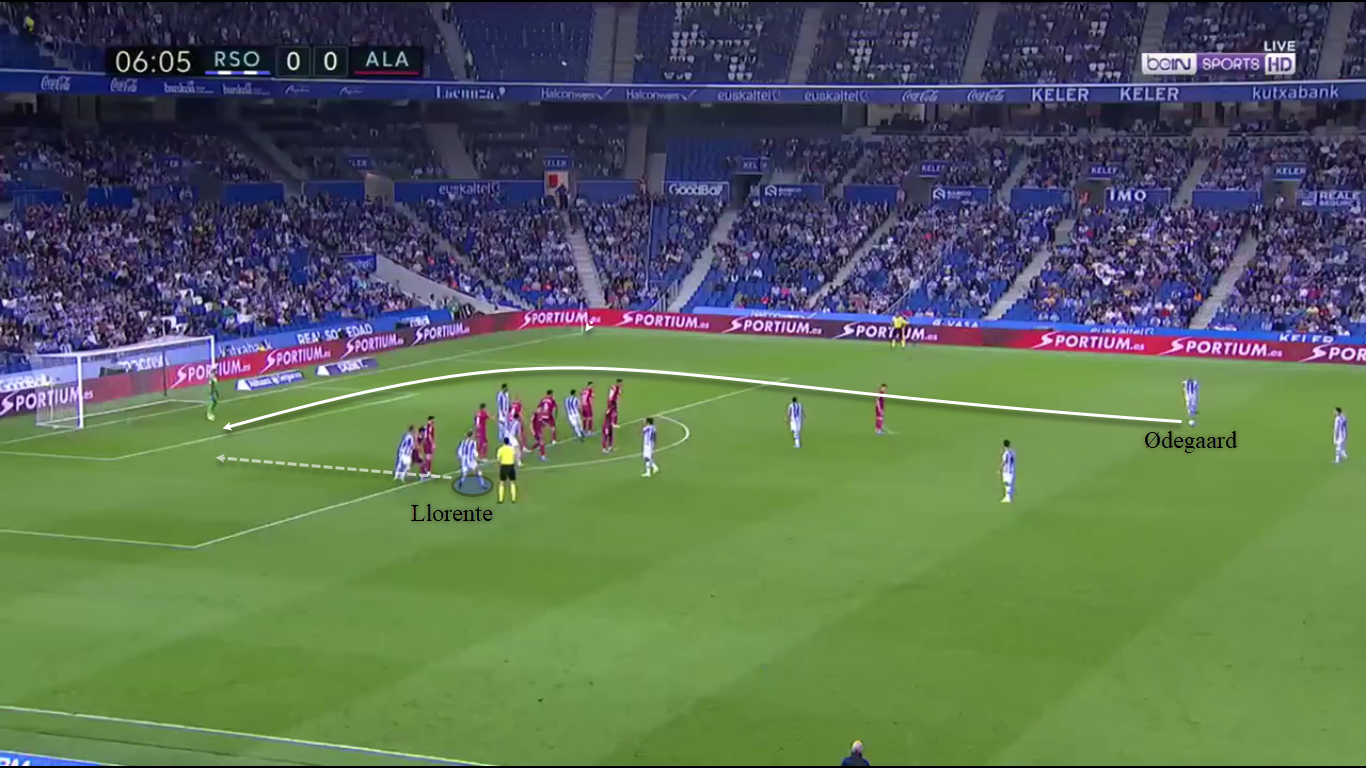 Although the free kick is taken from long range, Ødegaard's delivery reaches Llorente perfectly, but the Spanish center back ends up heading the ball wide.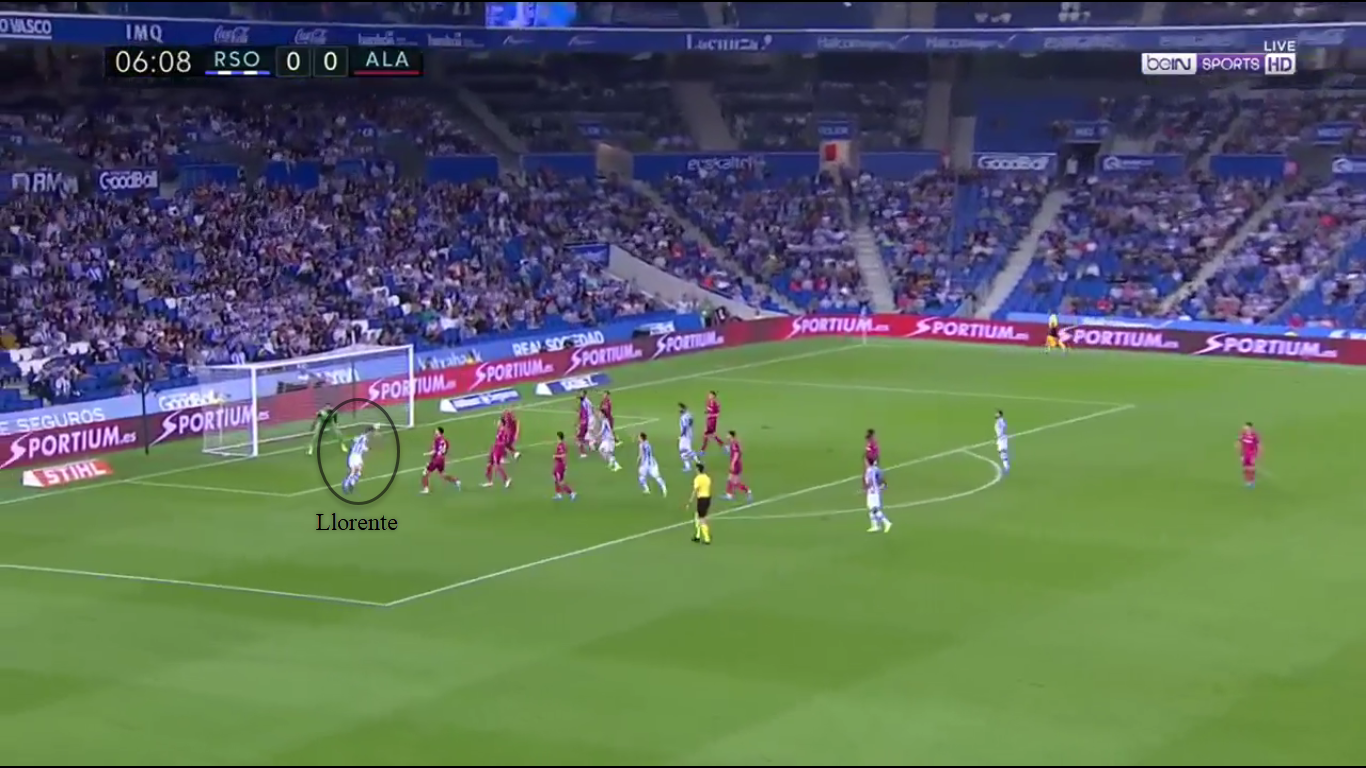 In this instance, Real Sociedad win a free kick at the edge of the box. Ødegaard curls the ball towards the goal and it falls perfectly for Robin Le Normand, who heads it past Eibar goalkeeper Marko Dmitrović and into the back of the net.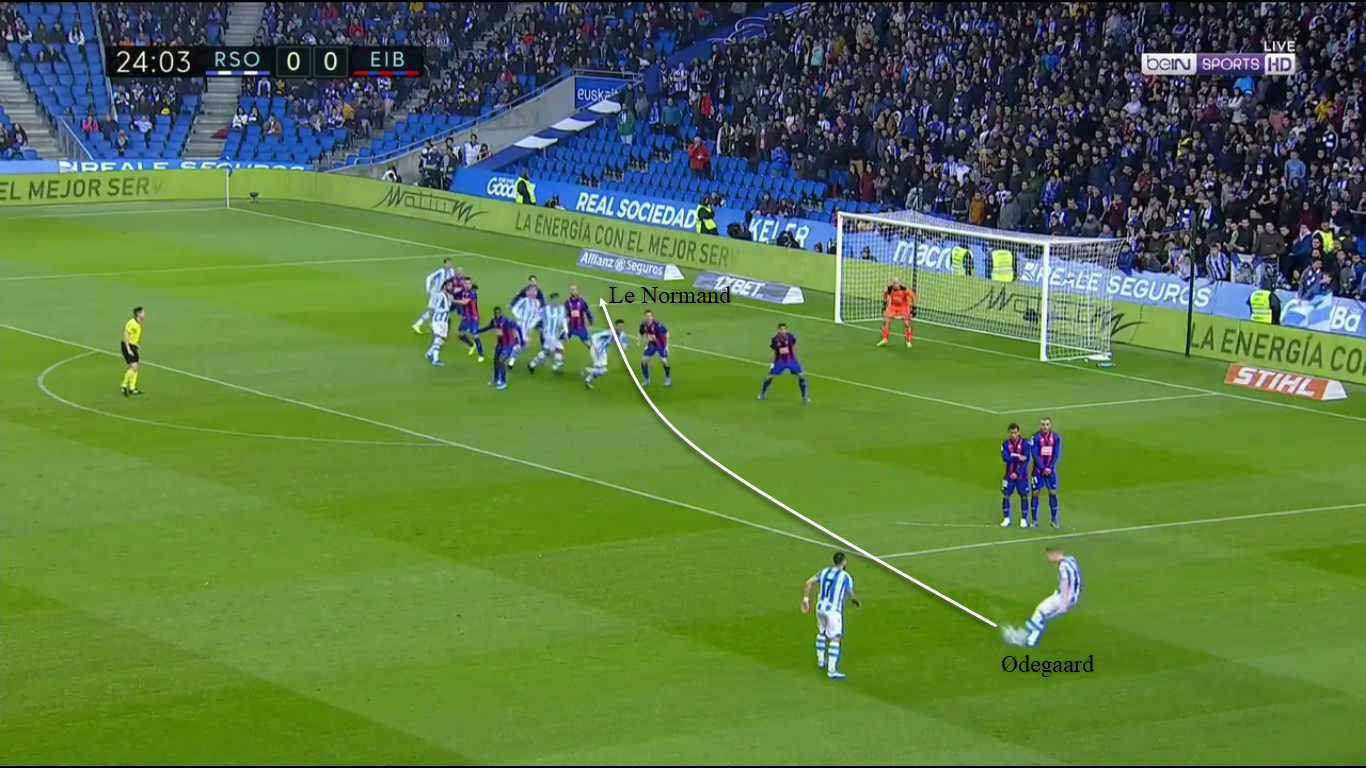 When it comes to corner kicks, La Real's players overload the near post, which not only limits the goalkeeper's control of the situation but also his vision. In this example below, they use a similar strategy. They overload the near post whilst Ødegaard delivers a curling ball which is headed home by Isak.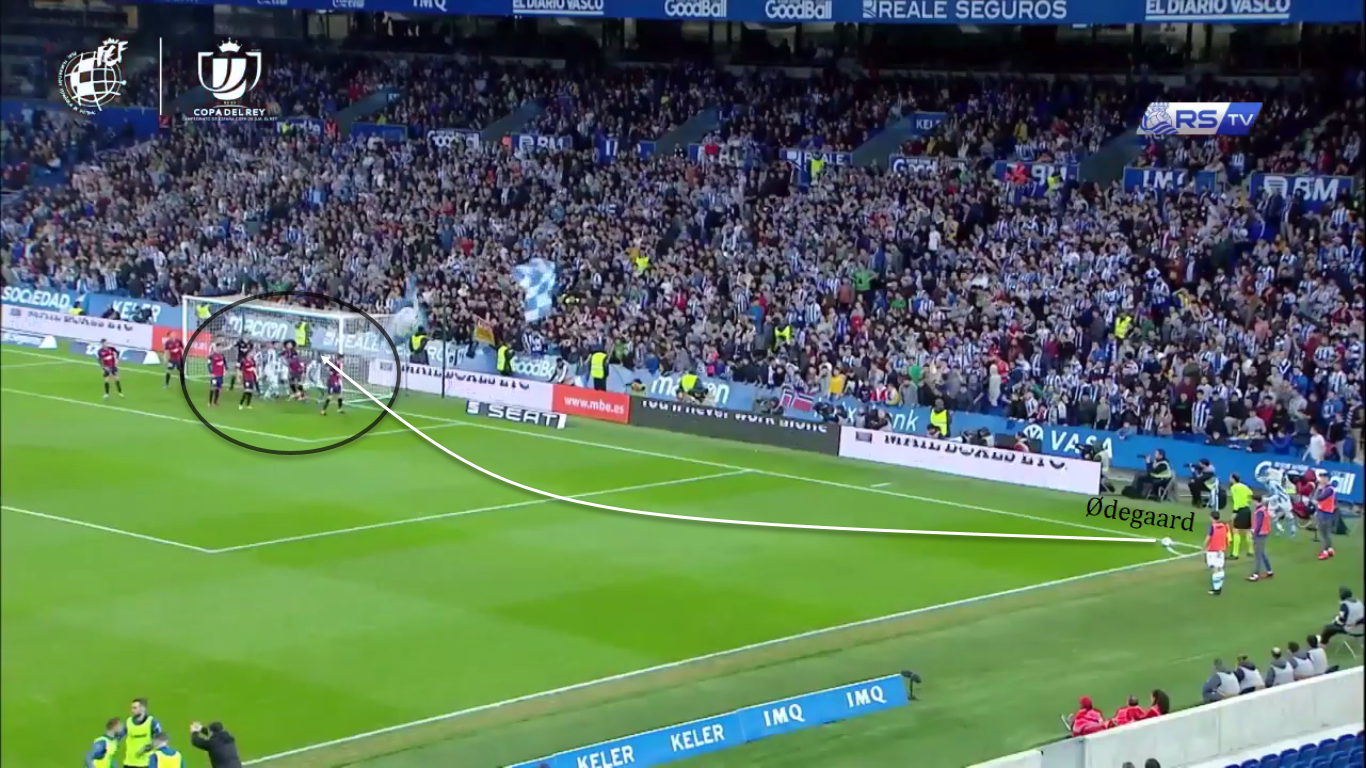 Defensive Involvement
This season, Ødegaard has been relieved of his defensive duties in order to maximize his attacking output. He has often been tasked with helping his striker, either Willian José or Isak, apply pressure to the opposition's centre-backs during the first phase of build-up. However, in the second phase of play, Ødegaard tends to drop deeper and tightly mark a deep-lying midfielder in order to stop the ball progression through the middle of the park.
Here, Ødegaard steps high to press Magallán as a pass is played into him and instructs Willian José to press Alavés's right-sided center back Rodrigo Ely. Magallán makes a back pass to Pacheco, who now has to boot it long.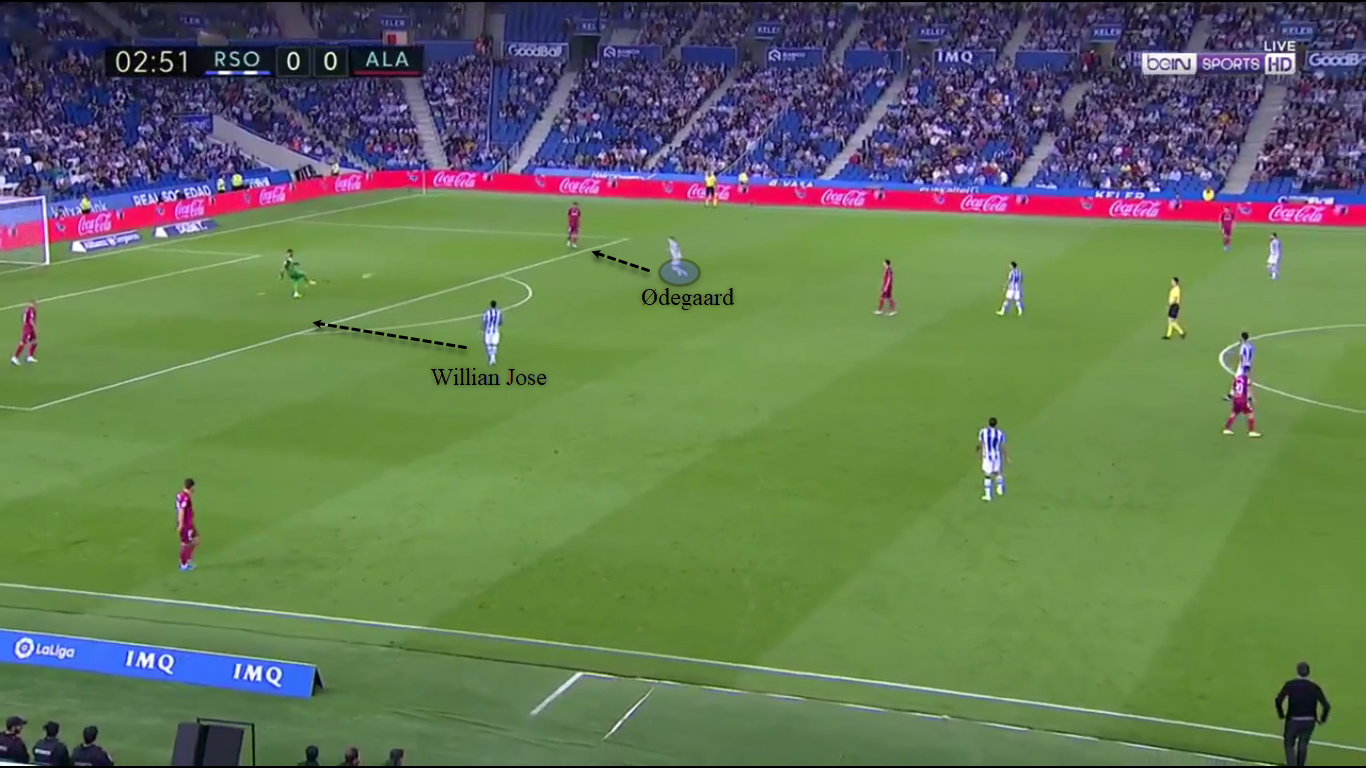 When Alaves are in controlled possession during the second phase of the play, Ødegaard drops to mark the deep-lying midfielder, Tomás Pina.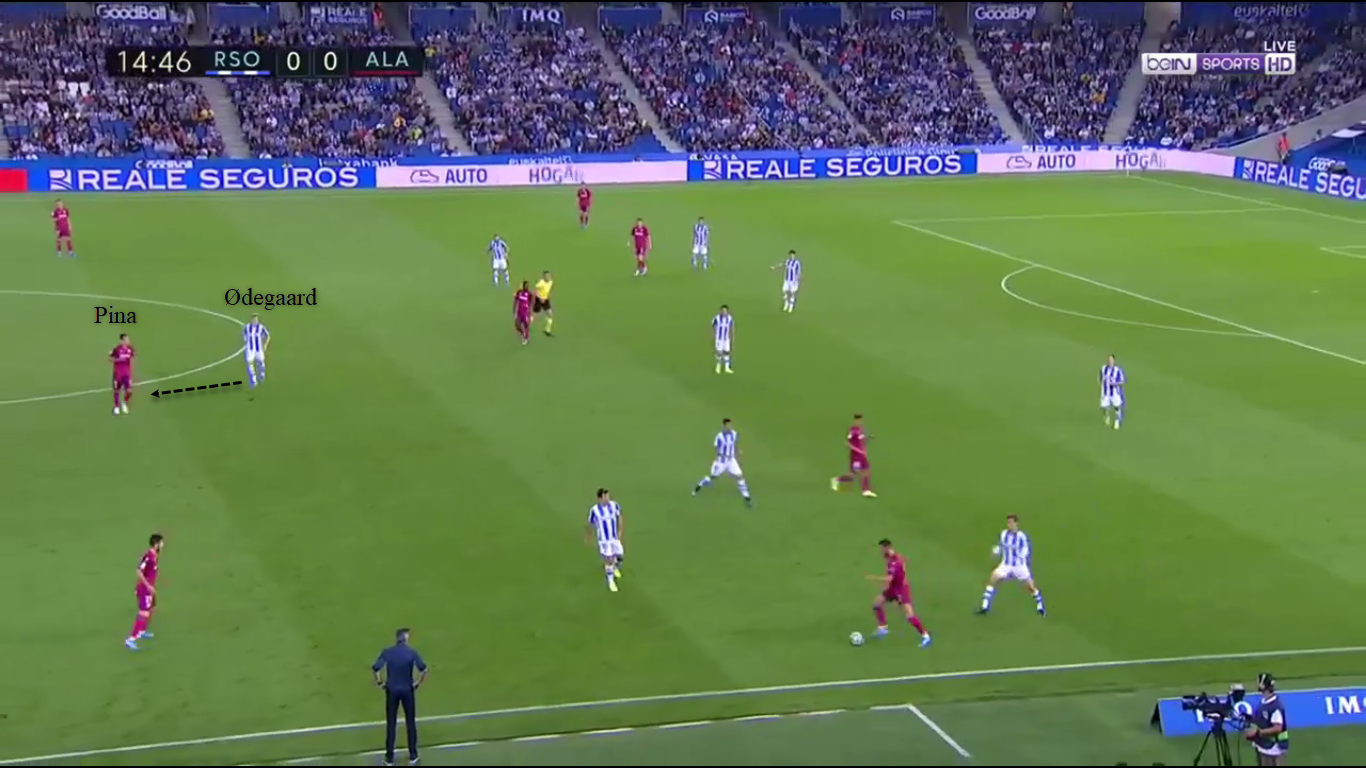 La Real usually press in a 4-4-2 system with Ødegaard joining the center forward in the press, and when they settle into a defensive shape, Ødegaard isn't heavily involved in tracking back. This is by design from Alguacil, because although Ødegaard isn't usually involved in this phase of the game, he doesn't shy away from a tussle when he is forced into it.
In the below example, Ødegaard presses Aridane high up the pitch whilst also instructing Oyarzabal to press Roncaglia. Aridane tries to play a risky pass which is intercepted by Ødegaard.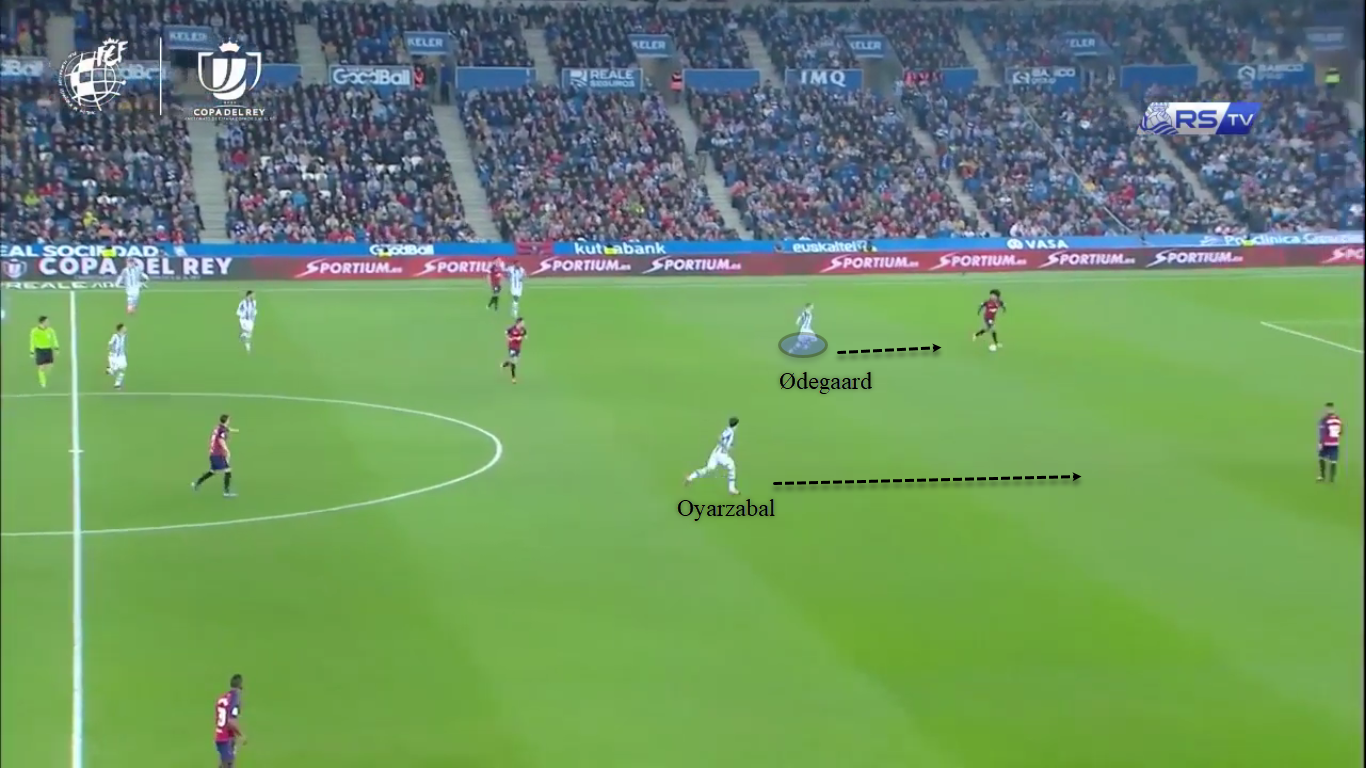 Ødegaard then plays a pass into Oyarzabal, who cuts inside and takes a shot. It took a brilliant athletic save from Osasuna goalkeeper Juan Manuel Pérez Ruiz to tip the ball over the bar for a corner kick.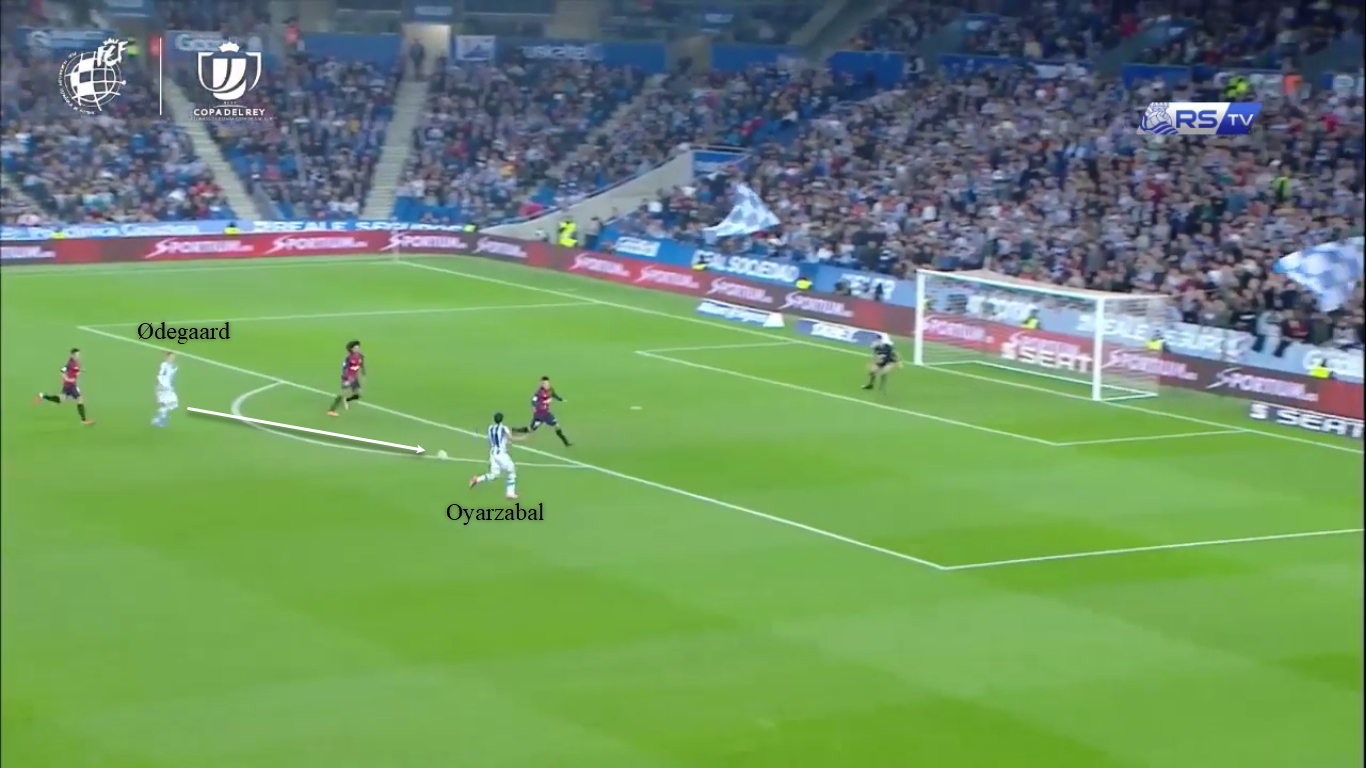 Areas of Improvement
Goalscoring Output
While Ødegaard enjoyed an excellent spell in the Basque Country this past season, there are still plenty of things he needs to improve upon if he is to make the step up from a world-class prospect to a world-class player.
Despite playing in a free role and being relieved of defensive responsibilities, his goalscoring output has not made up for his lack of defending. Ødegaard registered just 7 goals and 9 assists this season, a respectable amount for his age but still a far cry from his tally of 11 goals and 12 assists at Vitesse last season.
This can partly be attributed to his long-term injury and the pain factor as well as the fact that he was the sole creator in a possession-heavy team. However, Ødegaard must improve in this regard if he is to beat the fierce competition that he'll face at the Santiago Bernabéu next season.
For the sake of comparison, let's compare Ødegaard's shot map of this season to that of De Bruyne. The Belgian has scored 10 league goals from open play this season, compared to Ødegaard's three. 

Apart from the stark difference in volume, one thing that stands out is that most of Ødegaard's shots inside the box come from central regions. Unlike De Bruyne, when Ødegaard finds himself in the wide areas of the box, he usually prefers to pass to a teammate rather than attempt a shot. 
Indeed, the Norwegian needs to become greedier and more decisive when attacking goalscoring opportunities. In this example below, he could've easily taken a shot from this position but he instead decides to play a short pass into the path of the overlapping Gorosabel.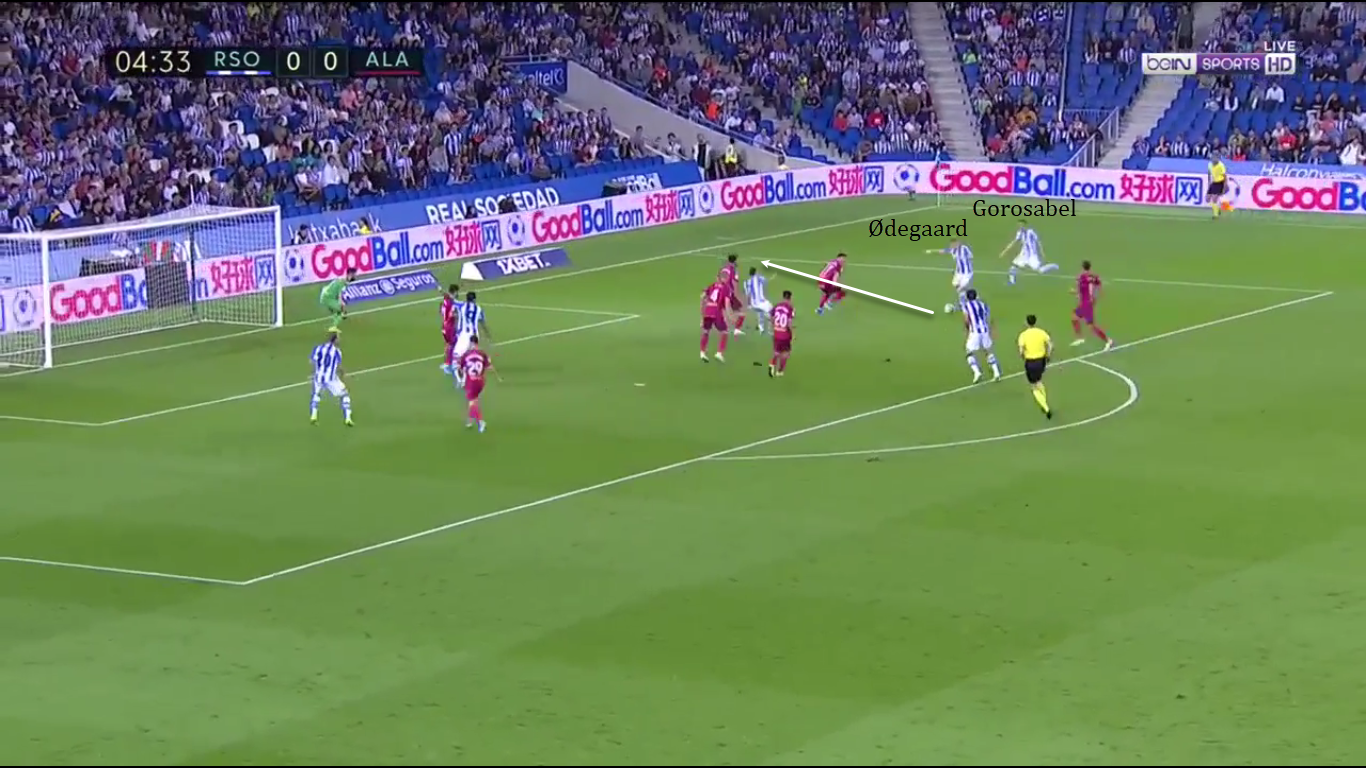 Real Madrid have struggled due to a lack of goals from midfield; Isco, Kroos, Modrić and Casemiro combined for just 19 goals in all competitions this season. However, if Ødegaard can improve on his current 1.7 shots per 90, he can provide Los Blancos with far more dynamism and end product from midfield.
Playing Deeper against the High Press
As mentioned previously, when opponents press Real Sociedad high up the pitch, Ødegaard drops deep to help his side in the build-up phase. This works out fine on most occasions, but when the opposition presses Ødegaard as he drops deep, this creates plenty of problems for Real Sociedad.
Although Ødegaard is efficient when dribbling his way through defences, he is not quite as comfortable in tighter spaces. As such, his progression can be easily blocked, forcing him to make a back pass.
In this example during the Basque derby, Ødegaard receives the ball deep to help them progress the ball, but he is immediately pressed from Raúl García and Iñigo Córdoba. Ødegaard fails to retain possession and loses the ball.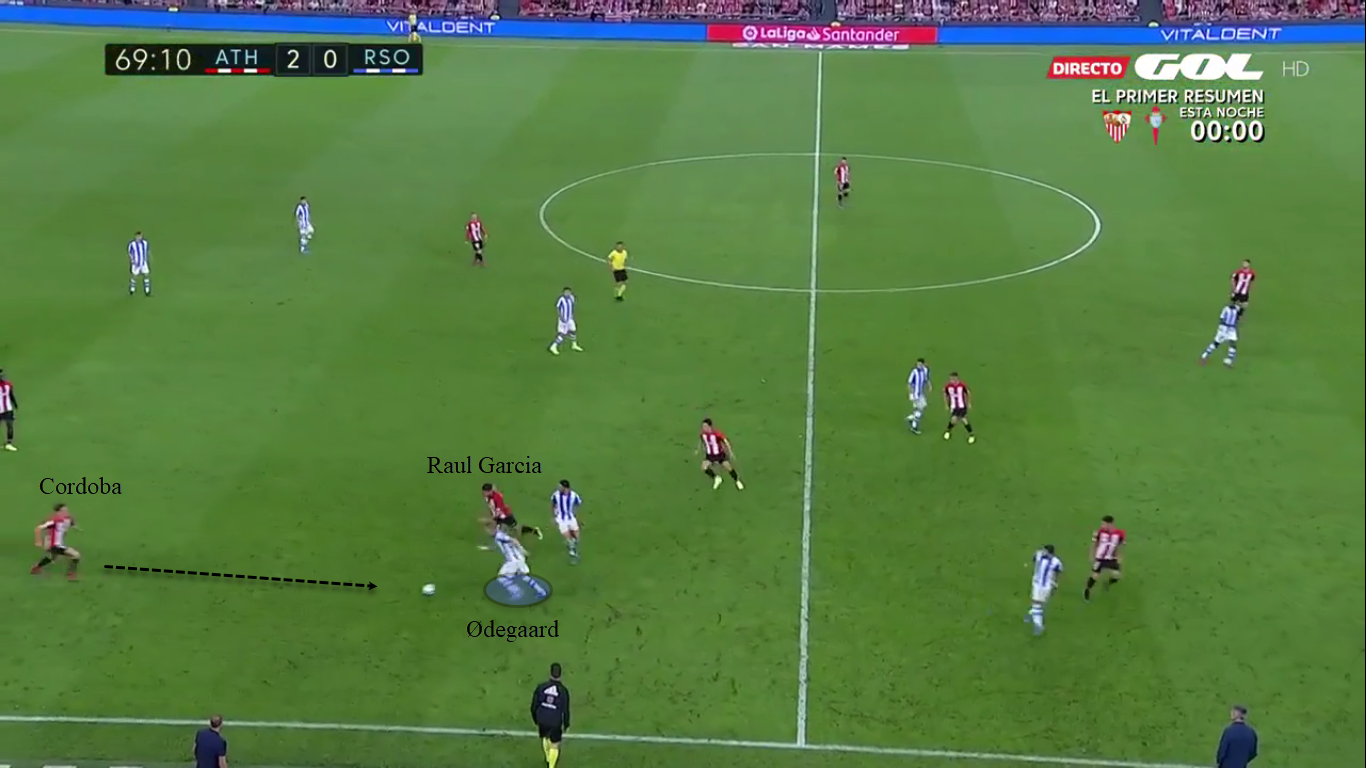 Furthermore, when Ødegaard does drop deep, La Real lose their primary creator, who moves into an area where he is less dangerous. As a result, their possession becomes stagnant, giving the opposition an even better chance of causing a turnover and regaining possession.
Although this problem will be minimized playing in a side such as Real Madrid that boasts multiple creators, Ødegaard's influence in the final third far exceeds the advantage he can provide in build up.
Defensive Effort
It remains to be seen what position Ødegaard will play under Zidane, who has mostly used a 4-3-3 this season but has also gone with a 4-2-3-1 and a 4-3-1-2 depending on the opposition. He could operate on the right flank, where he played at Vitesse in Slutsky's counter-attacking 4-4-2. Moreover, he could also play as the #10 in the 4-3-1-2, where Isco has often been utilized this campaign.
However, if Zidane does stick with his 4-3-3, Ødegaard could thrive in the same position that he excelled at under Alguacil; as the most advanced midfielder on the right side. Real Madrid achieved a historic Champions League three-peat with a midfield trident of Modrić, Casemiro, and Kroos, but with the Croatian maestro set to turn 35 years old in two weeks, it is clear that he cannot be relied upon to be a regular starter anymore.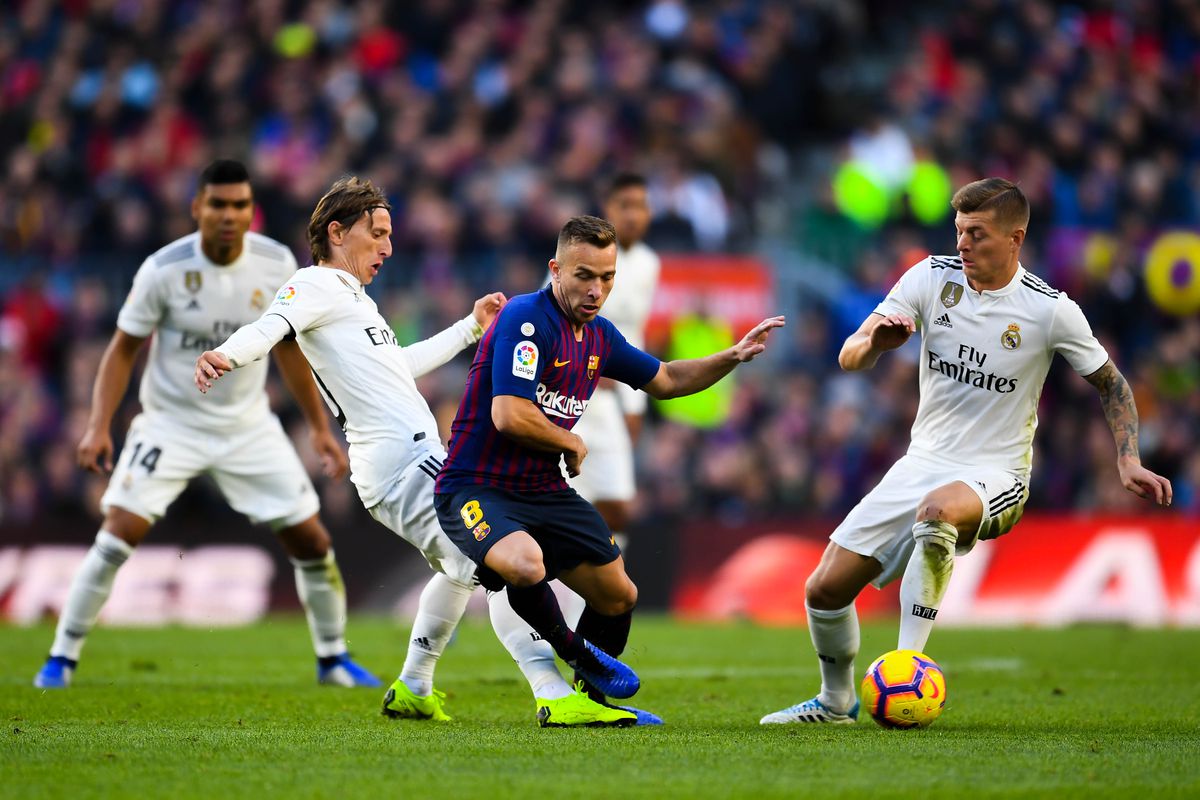 Photo: David Ramos / Getty Images
While Modrić was never the strongest, tallest, or fastest player, he compensated for his lack of physical tools with a relentless work-rate. If Ødegaard wants to follow in the Croat's lofty footsteps, he'll have to absorb these concepts and partner his lethal vision and close control with a selfless dedication to helping out on defense.
Conclusion
Martin Ødegaard has been a viral sensation for so long, it's easy to forget that he's just 21 years old. He has made leaps and strides in his development during his time at San Sebastián, and it should come as no surprise that Zidane cut his loan spell short after one season, realizing that he could not be deprived of his Norwegian prodigy any longer.
He certainly has plenty to improve on if he is to become one of the first names on the Real Madrid team sheet, but if the past 12 months are anything to go by, he has everything it takes to become one of the deadliest playmakers in Europe.
By: Shaharyar Atique
Featured Image: @GabFoligno / Soccrates Images / Getty Images