Analysing Gabriel Jesus: A Bomb Waiting to Go Off For Mikel Arteta's Gunners?
With the mighty weight of being Aguero's successor at City on his shoulders, Gabriel Jesus signed for English giants Manchester City in January 2017 for a reported fee of 33 million Euros. This was the Brazilian's first venture out in Europe, before impressing at Palmeiras at his home soil, Brazil.
Since then, he has gone on to score 95 goals in 236 appearances for the Citizens, quite an impressive record considering most of his appearances came from the bench as a substitute. However many are of the opinion that Jesus hasn't truly lived up to his potential, with his game time decreasing as time goes on.
He himself has expressed his desire to leave City in search of game time. And with Arsenal quite interested this summer, the general consensus is that he'll leave City, be it for Arsenal or not. As his time at City looks to be drawing towards an end, it begs an obvious question. Is Gabriel Jesus good enough?
Profile
The 25 year-old Brazilian is an extremely hard-working, versatile team player who can play in multiple positions in the forward line and even in the midfield. Though primarily a centre-forward, he has also been played as a right winger and left winger, and even as a attacking midfielder. According to understat.com, he has played 6400 minutes as a CF, 1100 minutes as a RW and 540 minutes as LW.
Be it as a winger or a centre-forward, he always likes to position him centrally, between the defenders. As a right winger, a large number of goals came from him inverting into central positions. But above all, the reason for his versatility, as I see it, is his impeccable technique and obviously, high work-rate. Now, without further ado, let's get into the dirty work.
Analysis
Gabriel Jesus is primarily a centre-forward, a fox in the box, if you will. He likes to position himself centrally and between two defenders, from where he makes use of his explosiveness to gain the upper hand. Considering the way he hangs around the defensive line, Jesus, surprisingly, isn't caught offside as much one would think, mostly timing his runs with perfection, thanks to his technique.
An advantage of him always pinning the opponent defensive line is that is opens up space in the halfspaces, filling it with the attacking players- midfielders (Bernardo, KDB) and inverted wingers (Foden), thus allowing City to take control of the game in the final third. 
He certainly makes the best use of his explosiveness and positional awareness to get into goal scoring positions.
He disguises himself brilliantly in the above example to lose the defender and makes an explosive dive towards the goal to direct de Bruyne's pass goalwards. It is his positional awareness that allows him to get into so many prime goal scoring positions, and of course, his ability to free space and finish off low crosses.
I have displayed only one example over here, but I'm sure, anyone who has watched Jesus play, has for sure, seen him score goals like these, from low crosses, several times. Slowly down his speed, he deceptively gets behind the defender to wrap his foot around a cutback or cross. Brilliance.
One of Jesus's most prominent traits is his smartness in making runs, the sheer technical brilliance of it. He also shares some similarity in the same, with Romelu Lukaku, the similarity being making false runs to deceive the defender and change direction at the last moment.
Initially running just behind the defender, he gives the impression that he is going to continue in that direction. However, he changes his direction deceptively, getting away from the defender and getting himself tons of space and as usual, finishing off a low cross by de Bruyne. Jesus has a natural tendency to get into central positions, something he displays even when playing as a winger, left or right.
Starting his run between the defenders on the right, Jesus drifts into the middle and finishes off a lay-off from Jack Grealish. With Aguero at City, we could see them frequently changing positions when he used to play on the wings to dismantle the opposition defence. His shot map (from understat.com) also shows the same, the ability to get into goal scoring positions.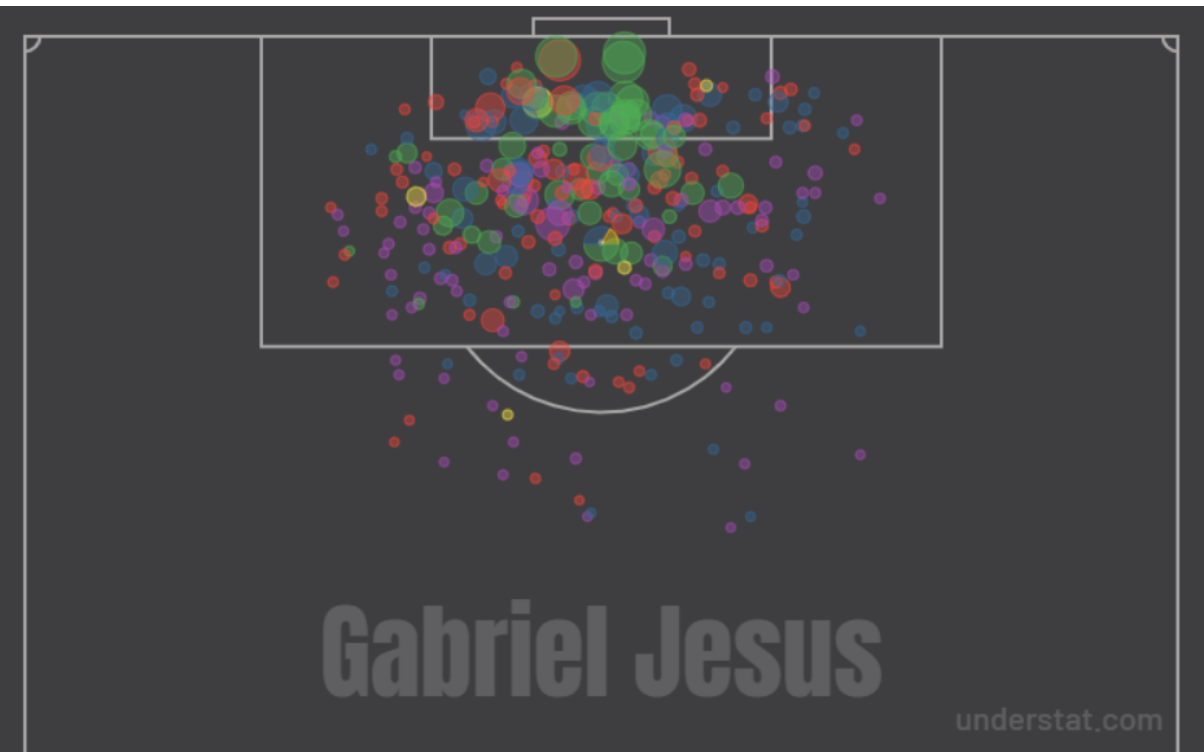 A large number of shots inside the penalty box- that's the biggest green flag you'll see in a centre forward, signifying ability to get into goal scoring positions. If he gets into goal scoring positions quite well, how is his shooting you may ask. Turns out, it's quite good too.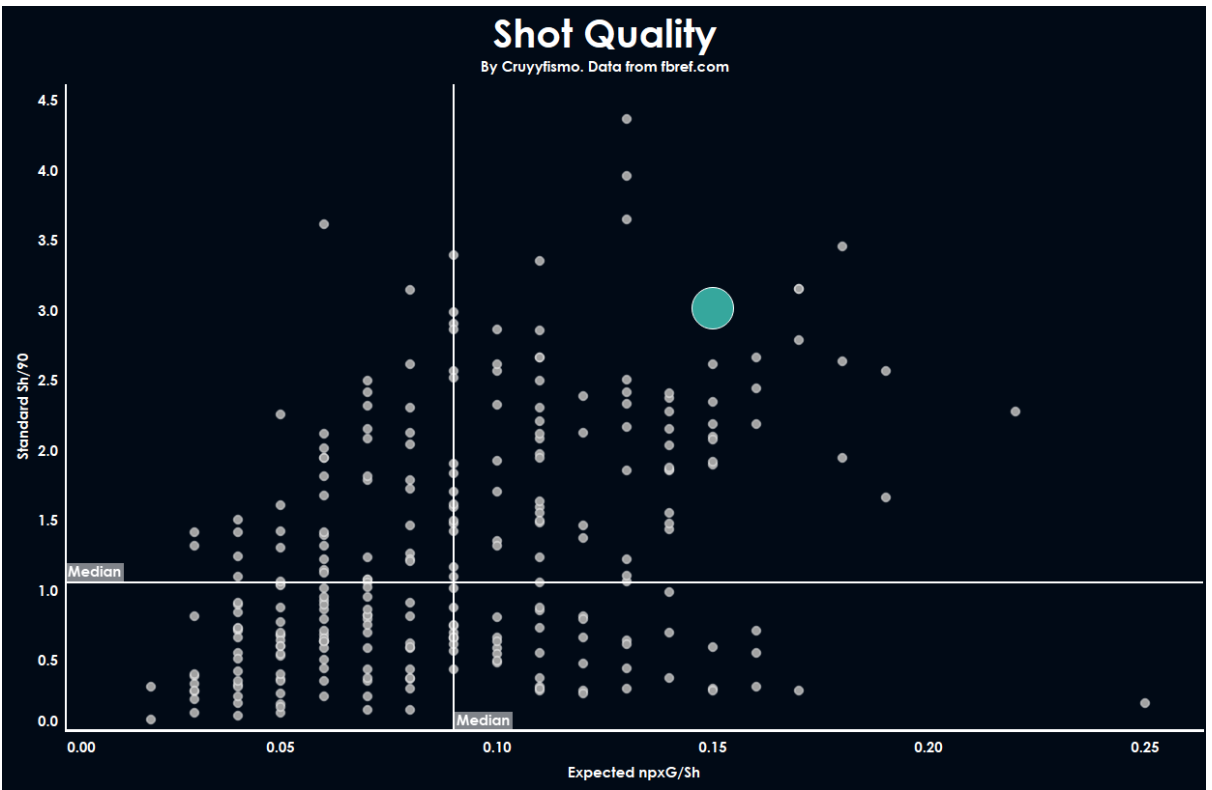 The 25-year-old ranks among the top in the Premier League in the 2021/22 season, having quite a high npxG/Sh, meaning he takes shots of high quality. He also has quite above average number of shots per game. But, goals and assists are not everything this young forward has in his arsenal; he is also quite a good passer of the ball, being sharp and effective with his passing.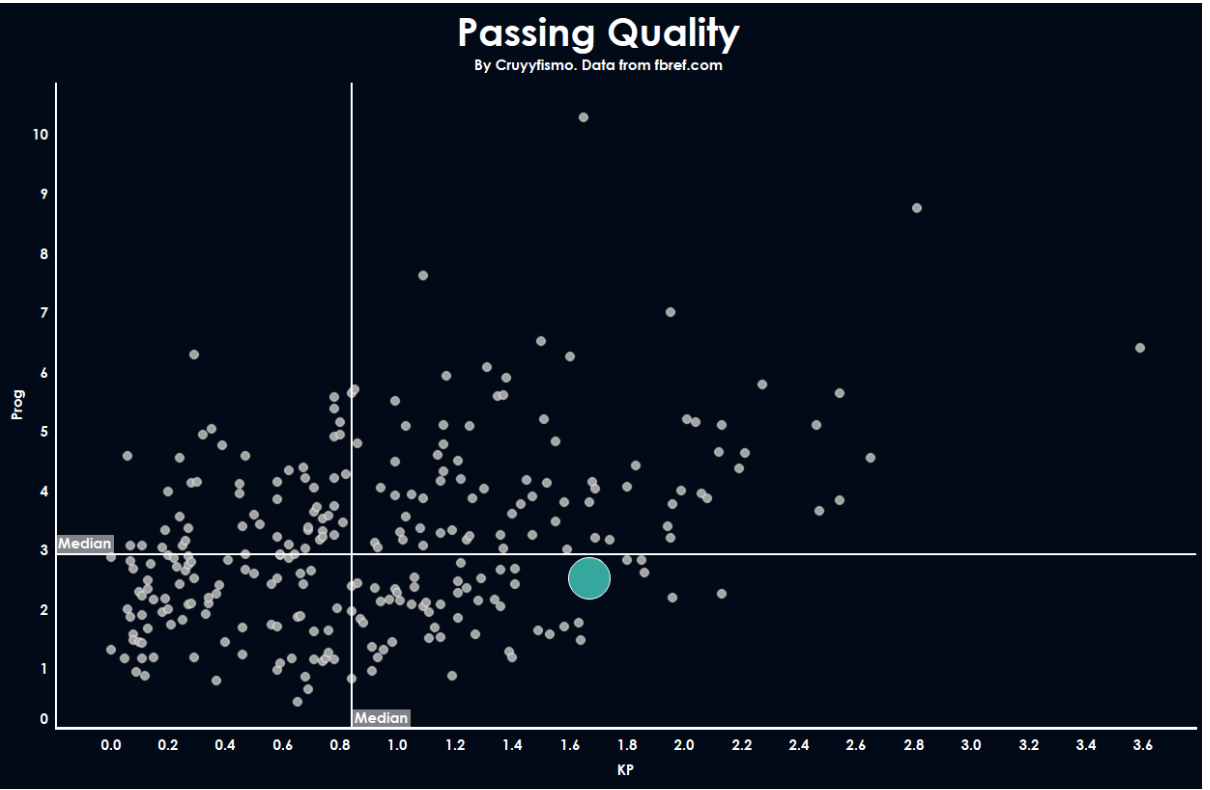 As you can see, he ranked quite high with respect to Key Passes in the Prem last chance, almost 1.7 Key Passes per 90, which is quite high considering the fact that he is primarily a centre-forward. He also drops down frequently to assist in play and is pretty comfortable with receiving the ball with his back to the goal.
In the above example, Jesus drops down to receive the ball from Gundogan with an extremely intelligent change of direction at the last moment to help in progression. Again, he is much aware of his surroundings to cut to his right, receive the ball in space and have a go at goal. The sudden changes in direction are very similar to that of Lukaku and very useful in losing a marker or buying oneself space.
As mentioned before, he is pretty comfortable in receiving the ball with his back towards the goal and possesses a killer turn, which on this occasion, he uses to get the better of Trent Alexander Arnold and score.
And coming to another aspect of his game- his work-rate. Jesus is the perfect example of a team player, working hard off the ball, pressing high and covering well. But, it has been sort of his own undoing at City, where owing to his workrate, Jesus has been  played out of position, as a right or left winger, by Pep.
That being said, it is a really important advantage of his that whichever team he goes to next can make use of. However, amidst all of his abilities, there is one concern regarding him. That being – his xG underperformance.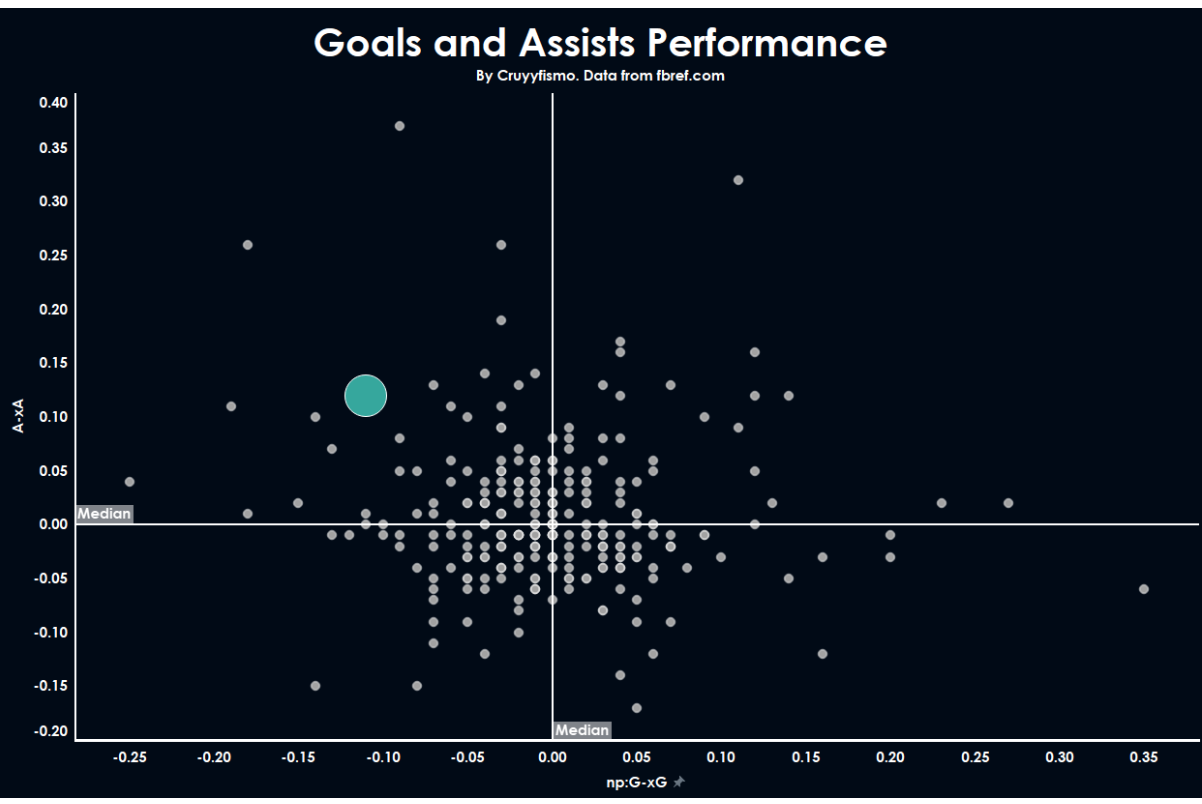 Ever since coming to City in 2017, Gabriel Jesus has always been underperforming his npxG. One season or two seasons, we could've called it an unfortunate incident, but when it occurs consistently over 4-5 seasons, it's more of a trend. That, much unfortunately, points towards inability to finish off chances in a clinical manner.
However, I think it's more of a confidence issue, with him not getting enough game time. Another reason is also his failure to convert penalties. His ability to get into goal scoring positions and high-quality shots are testaments to his abilities. Game-time is all he needs.
Conclusion
In conclusion, the 25-year old Brazilian will only get better as time progresses, having tremendous amounts of potential and technique, which should be done justice with ample playing time. For me, he is neither a conventional striker, nor a winger, but more of a wide striker, who starts wide but has the option to position himself centrally for making runs, thus effectively playing throughout the opponent third.
We saw Pep starting Jesus as a wide forward against Liverpool in the Prem, paired with Raheem Sterling, and needless to say, he did really well, even getting himself a goal to cap off a beautiful performance. He is being played as a wide striker in his National Team, where after a tough time and going 20 matches without a goal, he has been doing quite well.
Whichever team goes after him, should first clearly understand his profile before making a move, because his potential is far too much to be wasted deciding between which position suits him best. He needs a manager that trusts him. Under the right manager and in a team that can utilise him correctly, there's no stopping Gabriel Jesus' rise to the top.
By: Pramit Bardhan / @Cruyyfismo
Featured Image: @GabFoligno / Jacques Feeney / Offside