Analysing Luka Jovic: A Failure or Just Unlucky?
It's 2018. A young Luka Jovic has just taken the world by surprise, scoring 5 goals in a single match in the Bundesliga against Fortuna Dusseldorf.
He scored a total of 17 goals and got 5 assists in 32 games that season, something that was enough to fetch him a dream move to the Spanish giants, Real Madrid as a direct replacement to Cristiano Ronaldo.
Fast forward to 2022, the once-promising striker has barely gotten the chance to fully establish himself, getting just 872 minutes in 3 La Liga seasons combined and having just 3 goals and 3 assists in that time. He was also loaned out to his old club Eintracht Frankfurt once.
But, as things stand, Luka Jovic can't get into probably one of the stalest Real Madrid teams in the decade. So, what went wrong for him?  
Style Of Play
Luka Jovic is a right-footed striker (number 9) who best fits the role of a poacher, although he is pretty well-rounded. He has great goal-scoring abilities and can score from very few chances.
His linkup play is quite good and he frequently drops down to participate in the buildup. Weighing 85kg, he has quite a strong frame that he uses to hold onto the ball when he receives the ball with his back to the goal.
Although he works best in a two-striker combination upfront, preferably a creative striker, he can also be played in front 3 formations. During his second stint at Frankfurt, he was played alongside a more creative striker in Andre Silva, and a little behind Silva, arriving late at the edge of the box to crosses.
He is ambidextrous, being able to score with both his foot and his head, a part of the reason he was bought to replace Cristiano Ronaldo. Now, let's delve deeper.
Analysis
Running back the time machine to 2018, Luka Jovic had 22 G+A in 32 games that season, and was the league's 2nd highest scorer with 17 goals, behind Robert Lewandoski's 22 goals.
Since he has hardly played since then, it will not be fair to judge him based on stats after that. So, let's look at his 2018 stats, shall we?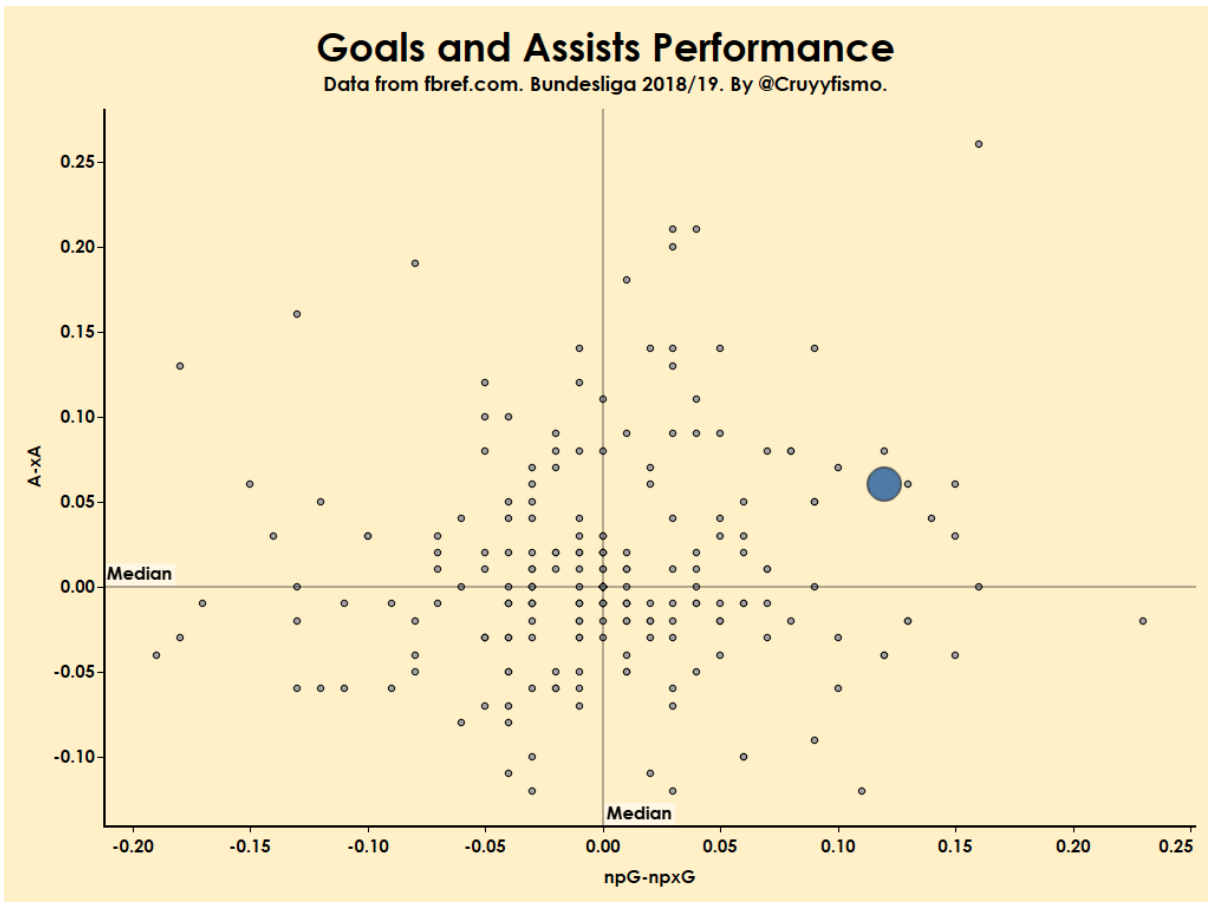 Turns out Jovic was overperfoming both his xG and xA that season, albeit by not too large a margin. Even if we factor in the overperformance, Jovic's dip in form could by no means be predicted during that time. However, he has hardly played, maybe he could score more consistently, if he got more playing time?
The video above is a perfect example of his direct and decisive movement to score. He kept running on the blindside of the defender, tricking him into thinking that he'll move straight into space and changes his direction at the last moment. Just the movement you'd like in your poacher.
Since we're on the topic of poachers, something important to keep in mind is that being at the right place at the right time to score goals is never easy, and should never be downplayed whatsoever. 
He also has an excellent reading of the game, knowing when to make a run or when to slow down at the edge of the penalty box and create space for himself.
In the above example, we can see yet another example of his trickery.
Bending forward, he gives the false impression that he is going to make a run inside the box, when in reality he just stops himself and receives the ball at the edge of the box to score. Elite understanding and trickery. And, when on the topic of scoring goals, let's talk about how cool he is in front of goal.
Although this is just one example I've used, I've personally seen him chip the goalkeeper countless times and score too. A chip is normally one of the hardest shots to pull off, requiring immense composure and calm. Jovic has just that. 
Ice-cold finisher.
Shooting is probably one of Jovic's biggest plus points, as he can score from anywhere and using any foot. He has a really good header too, which explains why he was bought in as Ronaldo's replacement.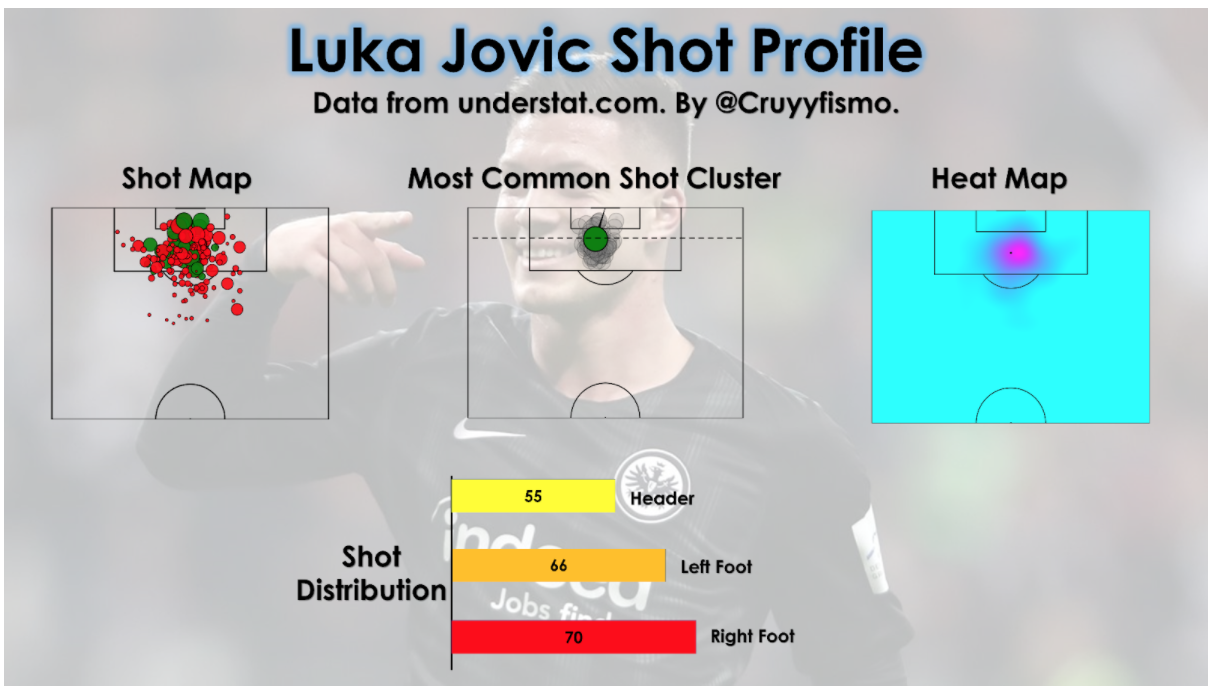 Jovic is ambidextrous, that is, can take shots with both of his feet, left and right, and in this case may I add, with his head too. His heat map and shot cluster, both suggest a central bias, which is an excellent thing for a centre-forward, suggesting that he takes high-quality shots from good positions.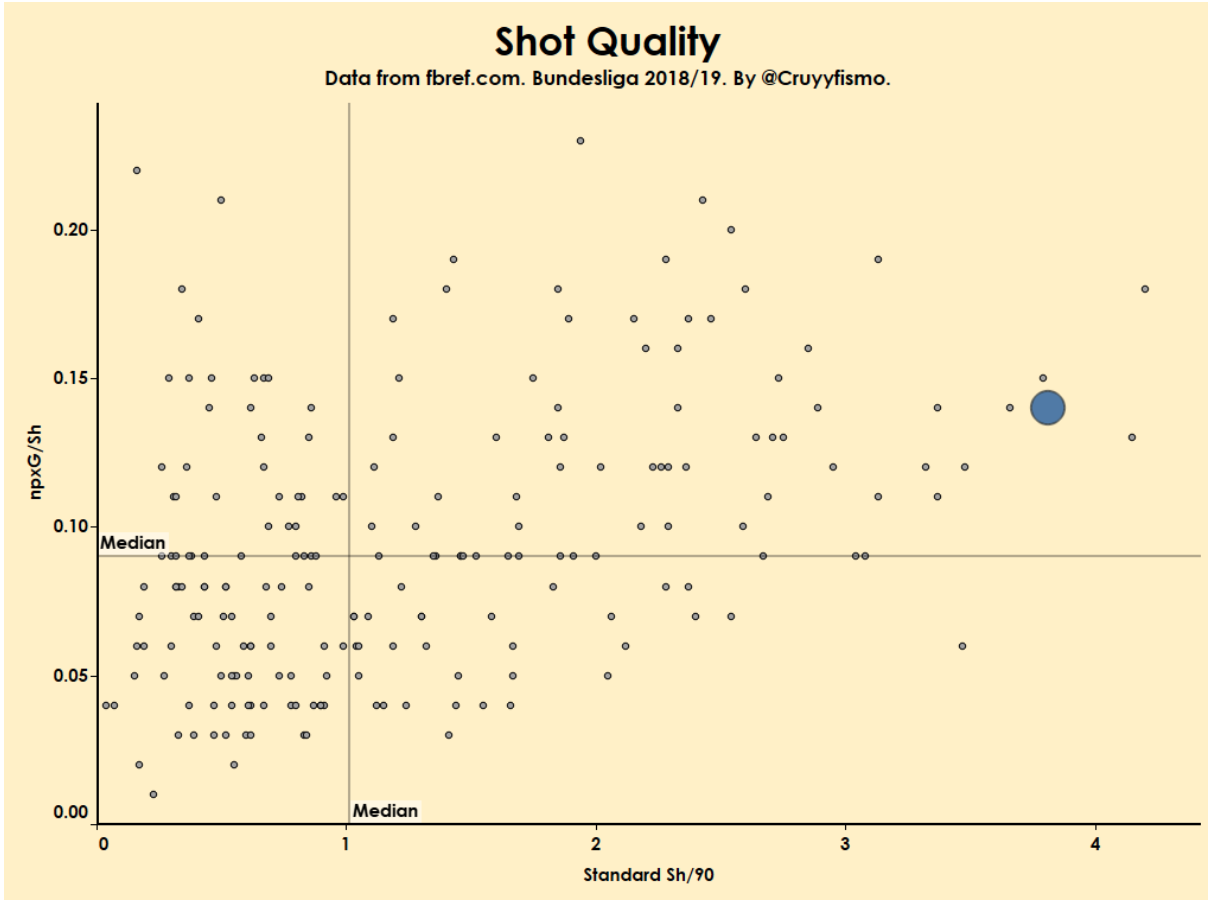 His shot quality from 2018 suggests the same. He took a high, very high, number of shots that season, and most of them were of quality above average as we can see his npxG/Sh being quite above the median for npxG/Sh in the Bundesliga.
He is also very athletic, and very determined to score, and that allows him to score in a lot of different ways.
Again, we can see his aerial ability quality coming into play. He frequently scores goals with his head and is also a threat from corners, not making it hard to see why Real thought of him to replace Ronaldo, having several similar attributes. 
With Real Madrid being managed by Zinedine Zidane at that time, and Zidane favouring a lot of crosses from his full-backs/wingers, an aerially strong striker was the need of the hour, and Luka Jovic was just that. But for one reason or another, it didn't work out.
Jovic ranked really high in terms of penalty box involvements in the Bundesliga in 2018, something that shows us again, why Real Madrid went for him as Cristiano Ronaldo's replacement. Since I've been talking about similarities to Ronaldo for a long time, here's an example.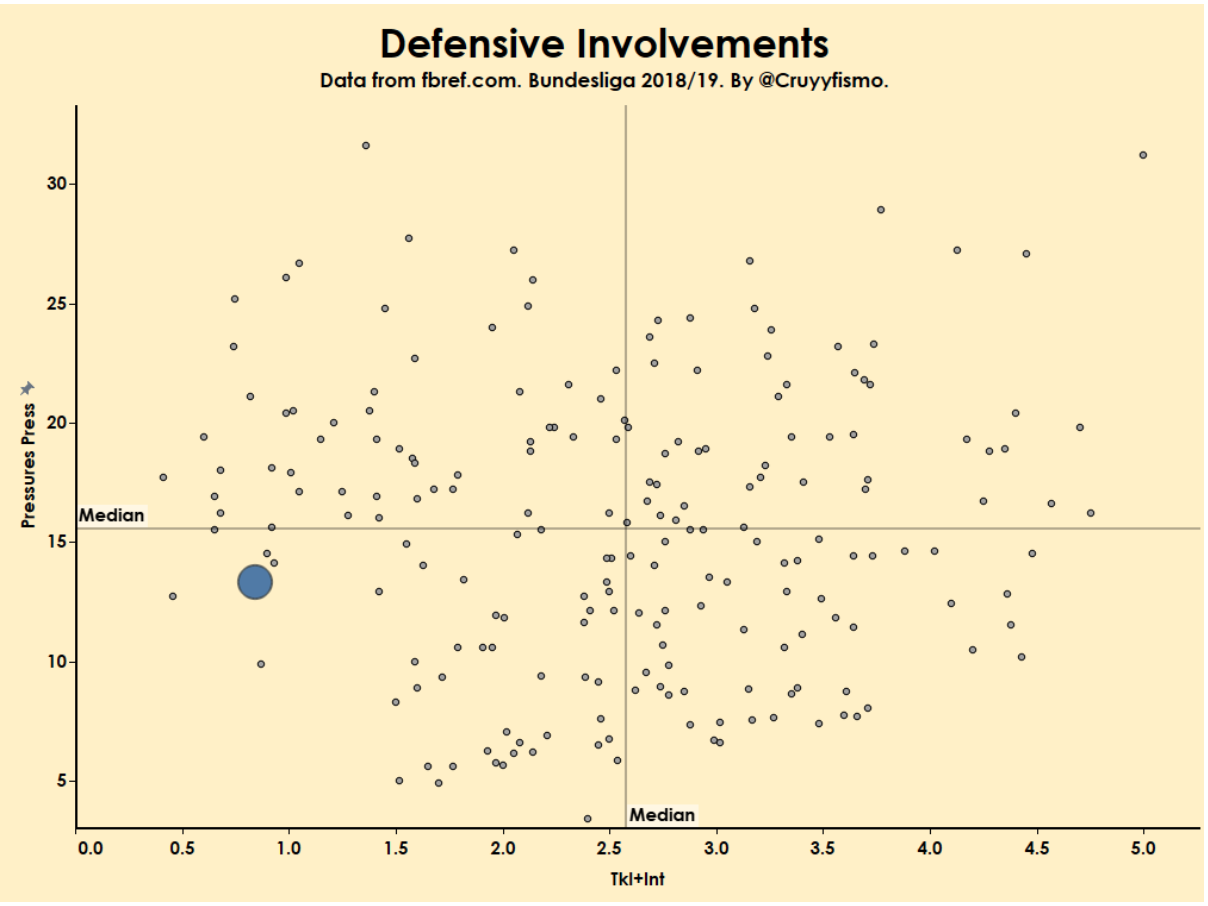 However, as we can see from his defensive actions in probably his best season till now, Jovic isn't much of a help defensively to the team, not making many tackles or interceptions or even pressures. But his positioning is often quite good, preventing opponent passes from being played. 
All this being said, Jovic certainly appears to be quite a good striker, especially a very efficient 9, but if there's something I'd want him to improve on, is his creativity- something that would make him a perfectly-well rounded attacker.
The importance of the typical fox in the box players in football is slowly but surely reducing, with teams preferring to play strikers more involved in the buildup.
Keeping that in mind, Jovic has to step up his creative and linkup play to really make the next leap of his career. Even though he actually did very well creatively during the 2018 season, particularly during the end, it was only the one time, thus not very sustainable. 
Conclusion
In conclusion, the 24-year old still has a lot to offer to football, but a move away from Madrid is absolutely essential. His unsuccessful time at the club was neither his nor Madrid's fault, it's just bad luck.
Karim Benzema: Is He Currently the Best Player in the World?
In fact, it was a very good decision bringing him in as Cristiano Ronaldo's replacement, both having similar profiles and Jovic having holdup play added to that.
However, Karim Benzema's sudden rise as the main striker meant that Jovic was sidelined. Benzema's creative play is far superior to Jovic, making it almost impossible for any coach to bench him for Jovic.
The only way to start Jovic is in a 3-5-2 set-up, with Benzema and Jovic pairing at the top. It should actually work very well, with Jovic already having shone with Andre Silva as his creative partner in an attacking duo in Frankfurt, but that would mean Vinicius Jr. playing as RWB.
With Carlo Ancelotti certainly being quite dogmatic, he would surely not want to sacrifice Vinicius's goalscoring, however unsustainable it might be, to start a young, untested and most importantly, unsettled striker in Jovic. 
As things stand, Jovic immediately needs a move away from Madrid to kick start his career, something I still believe to be quite promising, to somewhere where he can get more playing time and a manager who trusts in him.
He would fit in at probably any team needing a goalscoring threat, while not asking much of build-up quality from the striker. Something like Diogo Jota, but much more to offer in possession. 
Even though not getting playing time at Madrid, he has certainly shone whenever he has played and even scored goals. Can't stress this enough, but his dream move to Madrid was always meant to work out, but several other factors emerging meant it was sabotaged. 
Now, all that's left to see is if he can pick himself up after the disappointment and start again, because certainly, the potential is still there.
By Pramit Bardhan / @Cruyyfismo
Featured Image: @GabFoligno / Quality Sport Images / Getty Images