Andrey Santos: The Next Gem From Vasco's Academy?
Born on the 3rd of May, 2004 in the gigantic city of Rio De Janeiro, Brazil, Andrey Nascimento dos Santos is yet another youngster to break through from Vasco's academy and get minutes at the club. Vasco have long held a policy of integrating youngsters whether be it because their academy is very good at producing players capable of playing at the required level or[and] the fact that they have issues financially.
In recent times players such as Gabriel Pec, Figueiredo, Caio Lopes [now at Levante], Bruno Gomes [now at Internacional] and countless others got their chance to impress and showcased a level worthy of either starting for Vasco at the Serie B level or moving on to pastures new be it Brazil's Serie A or foreign clubs.
It has been quite a successful way for the Rio club to maintain some profit while they have their other financial woes bothering them. While things changed with the new ownership from a financial POV, the policy continued and players such as Figueiredo and Gabriel Pec slowly became regular starters for the club, whilst during the Carioca championship, other youth prospects such as Ulisses and Riquelme were getting regular minutes. 
However, one player emerged recently and has been stealing the spotlight as arguably the best of those mentioned above and that's exactly Andrey. At just 17 years old he debuted for the men's team against Volta Redonda on the 7th of March, 2021 in the Carioca championship in the 85th minute.
Vasco: The Brazilian Giant Set for Another Season in the Second Tier
As he didn't really have time to impress and with other players ahead of him he returned to play for the U20s of Vasco where he showed bags of potential, playing 28 times, scoring six goals and assisting another two.
He was given his due shot in the last round of the Serie B in a meaningless game against Londrina. Vasco lost the game 3-0 and fans booed the players off for an appalling season that saw the side remain in Brazil's second tier so it was far from the dream debut. 
2022 came about and the youngster, obviously being just 18 at the time, was once again behind in the pecking order so he had to wait for his chance. And he did. He was handed some minutes against Fluminense at the end of February before impressing against Ferroviaria in the Copa do Brasil and Flamengo again in the Carioca championship.
Those impressive cameos saw him become an option on the bench which should be enough for any youngster breaking through the team…but not Andrey. Luckily for him, manager Ze Ricardo recognised his talent and handed him a surprise starting spot v Ponte Preta on the 28th of April and he hasn't looked back since.
Slowly but steadily, Andrey grew into a very important player for Vasco and has formed a fantastic midfield trio alongside veteran Nene, who people might remember from his PSG days and combative defensive midfielder Yuri Lara.
Having been slowly integrated and placed into a fantastic environment to grow, Andrey took his shot and has been producing performance after performance so much so that he quickly received an international call-up for the Brazil U19 squad.
He's been getting linked with a move to Barcelona and although some may say he isn't really ready as he's playing in the second tier of Brazilian football, they do forget Gabriel Martinelli was in the 4th division with Ituano before his move to Arsenal and his impressive Paulistao performances was what got him that move so there is a different time for everybody. Now let's take a deep dive into his characteristics.
Position and Profile
Sitting at 180 cm [5ft 11] Andrey occupies the central midfield area in what is more of a box-to-box role. Due to his level of work rate and ability to cover a vast amount of ground due to his big frame, Andrey impacts both phases of the game equally as evident by his heatmap below.
He's formed a solid midfield trio along with the likes of Nene and Yuri Lara. With the former offering the creative spark and Yuri being a top-notch defensive midfielder, Andrey's free to roam and do as he please playing in what managers love to call "the number 8 role".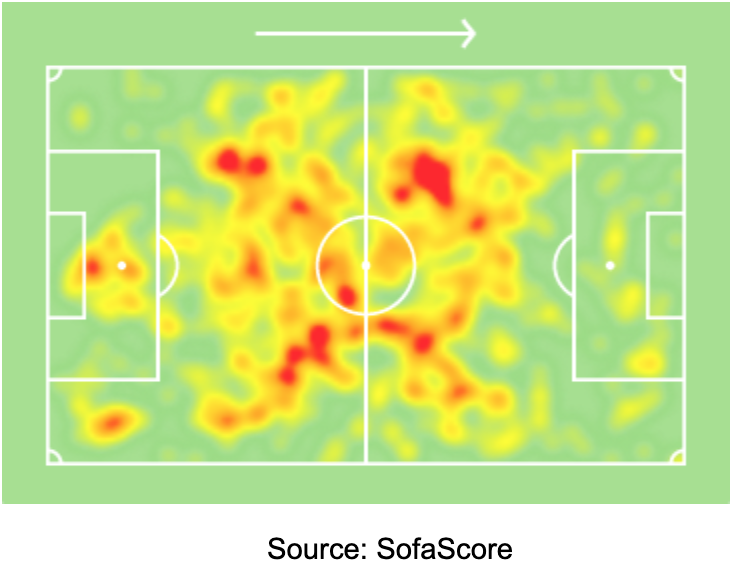 Playmaking and On-the-ball Ability
I feel Andrey's best attribute is him being able to carry the ball quickly due to the fact he's got a big frame and a huge step when running. As such he makes up ground at a faster level to others both offensively and defensively and is therefore able to aid quick transitions, especially when granted open space.
His ability to dribble past people is also good enough because of the said frame as he's able to shield the ball and use his long legs to beat people in difficult situations that resemble a 50-50 ball.
With this in mind, he's slowly becoming an excellent ball carrier for the side and the main outlet when the side transitions quickly from defense to offence. On an average-per-game basis he completes 64 % of his dribbles with a total stat of 3.2 per game which is quite something for an 18-year old. 
Passing
Andrey's passing isn't something unique and that shouldn't be deemed a flaw. Far from it. The young Brazilian tends to opt for simplicity and that in itself is fine given what his role is in the squad as described above. The main playmaker of the side is Nene.
Creativity stems from him and the wingers. Andrey isn't expected to be a young Cesc Fabregas or Luka Modric finding passes in behind the defense and between the channels. He keeps play flowing, as mentioned, by stringing it from defense to offense.
He's able to find passes in between the lines and is also capable of switching play consistently hence why he's become so key to Vasco's tactical scheme. On the ball the player attempts roughly 23.9 accurate passes per game which equates to 74 % of his total passes.
10.5 of those are in his own half while 13.4 are in the oppositions'. He rarely relies on long balls with those adding up to about 37 %. As said, his key passes fluctuate from 0.5 to 0.8 but with it not being his main role in the side that at the moment is fine. 
Finishing
Given his role Andrey isn't really the one you should expect to be chipping in consistently with goals but to be fair to him he has at least two goals every season since 2019. In 2021 he even scored six times for the U20s. A quick look on YT for those can provide you with a variety of ways to finish by the youngster including a beautiful back heel in one of the U20 games for Vasco.
He mainly uses his dominant right foot, shooting outside the box as evident by his 1.3 shots per game of which only 0.4 are on target or basically 1 of 3. That being said if there is a way to perfectly describe him it was the goal v Nautico [Here] where he picked the ball up in his own half, drove into space before a cool one-two saw him slot the ball into the corner reminiscent of Thierry Henry. 
Defensive Ability
As stated, Andrey is active on both sides of the field and having been used as a lone-Defensive midfielder/number six before he is no stranger to what is needed from him on the defensive side of the game.
Due to his aforementioned stature, he's able to be a fantastic 1v1 defender both on the ground and in the air. He makes 0.9 interceptions per game and a whopping 2.7 tackles per game. What makes things even better is that most of the time, he's successful in these duels achieving a 63 % success rate on his ground duels [amounting to about 6.8 per game] and 53 % of his aerial duels [amounting to about 1.8].
It's his frame that makes things too difficult for certain matchups as he's big enough and long enough to cover a large portion of the area surrounding him that he could be dribbled past hence why he can easily win the ball provided he's positioned well, something which has shown over the course of games. 
He's also a fantastic option on set-pieces. The majority of the time both Vasco and Brazil's defensive scheme on corners is zonal marking so Andrey is often placed at the front post in order to intercept crosses at the front post.
If the ball comes in from a more central area [be it a free kick or something else] he's often placed at the heart of a 3-4 man defense that suffocates the opposing targets and makes their life difficult if they want to get a header on target.
Things to Work On
I honestly wouldn't say there's much the youngster can't do. In terms of raw tools and characteristics he has a lot already in his locker and that in itself is very impressive. He looks to be a fantastic box-to-box midfielder in the making and can easily keep on producing at an elite level provided his development carries on the way it has.
That being said, he's a bit too confident when the ball is at his feet. Be it in his passing ability, as simple as it is, or be it because of his confidence when dribbling, Andrey often loses possession of the ball. Tactical intelligence shows that he doesn't do it in dangerous places most of the time but it's still quite often as he does it 11.5 times per game.
Another issue is he often commits fouls that result in him picking yellow cards. He's one yellow card away [five in total] from a second suspension in his 12 games so far. [Serie B has suspensions for every 3 YCs] This in itself shows a bit of a rashness that can easily get polished with age but is very much a thing to keep an eye on.
Overall, Andrey Sanos looks to be another fantastic prospect to have come out of Vasco's academy and with links to European clubs already heating up, I feel we may soon see him move and here's to hoping that he doesn't opt for a quick transfer that will bring him money but rather takes his time to develop and move when the time is right.
Obviously, the youngster still has said time on his side and things could go either way as we've seen with so many talents that were destined for greatness only to end up falling short of expectations. Provided, Andrey's development carries on the way it has been so far, however, he's definitely one to watch for the future.
By: Peter Pankovski / @23Pankovski
Featured Image: @GabFoligno / Daniel Ramalho / CRVG