Can Martin Ødegaard Finally Cure Arsenal's Creative Troubles?
Creativity: the use of imagination or original ideas to create something; inventiveness.
It ebbed and flowed through the veins of the Arsenal midfield during the Arsène Wenger era. Ranging with personnel, from Robert Pires, Dennis Bergkamp and Cesc Fàbregas to Mesut Özil, Santi Cazorla and Aaron Ramsey. It was finesse, decisiveness, and a sharp edge that could cut through any defensive block in every area of the pitch. Attacking patterns coloured with intricate passes, elusive movement, delicate touches, and a quick tempo that would have even the best defenders chasing shadows.
The 2020/21 campaign was a stark contrast. Illustrated in Big Chances Created, Arsenal ranked 12th in the Premier League with 45 chances, below West Ham, Brighton & Hove Albion, and Aston Villa. The club has only ever been outside the top five of this statistic twice in the last eleven seasons, which have both come in the past two years (both 12th). It is a damning reality of the current Arsenal team, a club once so widely admired for their footballing expression and chance-creating ability.
One of the bright prospects who has been brought in to solve the creative drought is Emile Smith Rowe. He transformed Arsenal's attack during the dark winter months when the Gunners found themselves tumbling down the table; he helped bring fluidity in transition, creativity, and more attacking impetus. 
The youngster quickly became un-droppable and ended the season with four goals and seven assists (all competitions). He has since been rewarded with a new contract and granted the number 10 shirt, an ode to both his potential and importance to the side. But the Gunners have recognised that burdening Smith Rowe the complete creative responsibility would be a dangerous gamble to make, hence, their restless hunt for another creative presence.
Murmurs of interest in Leicester City's James Maddison filtered through the media, with the club keen to strike a deal for the playmaker. However, as the window progressed, stumbling blocks became apparent, and with the Arsenal squad desperate for more additions in other positions, they turned to another of their primary targets, Martin Ødegaard, who spent six months at the club on loan last season.
Upon his arrival last season, the 22-year-old immediately took the number 10 mantle with Smith Rowe shifting onto the left to accommodate the Norwegian, and he ended the campaign with two goals and two assists in 14 starts. Depending on the game's climate, the two would often interchange their roles (along with Bukayo Saka) throughout the match.
Still, Ødegaard generally concentrated on the right half-spaces of the pitch to cut in on his stronger left foot. This provided more support for Nicolas Pépé/Saka and brought balance to the team, which tended to lean towards the left-flank because of the overlapping runs of Kieran Tierney and Smith Rowe's affection for drifting to this side as well. 
Despite the circumstances of his arrival, stats-wise, Ødegaard topped Arsenal's shot-creating action (SCA) charts on a per 90-minute basis with 4.62 SCA per 90 and trailed only Willian in goal creating actions (GCA) per 90 with 0.70 GCA per 90.
He also led the Gunners in key passes per 90 (passes that led to a shot) with 2.38 per 90, a testament to his vision and foresight, a quality that has been sparse since the acrimonious split with Özil. Here against Crystal Palace, he shows off his passing ability illustrating great technique and creativity: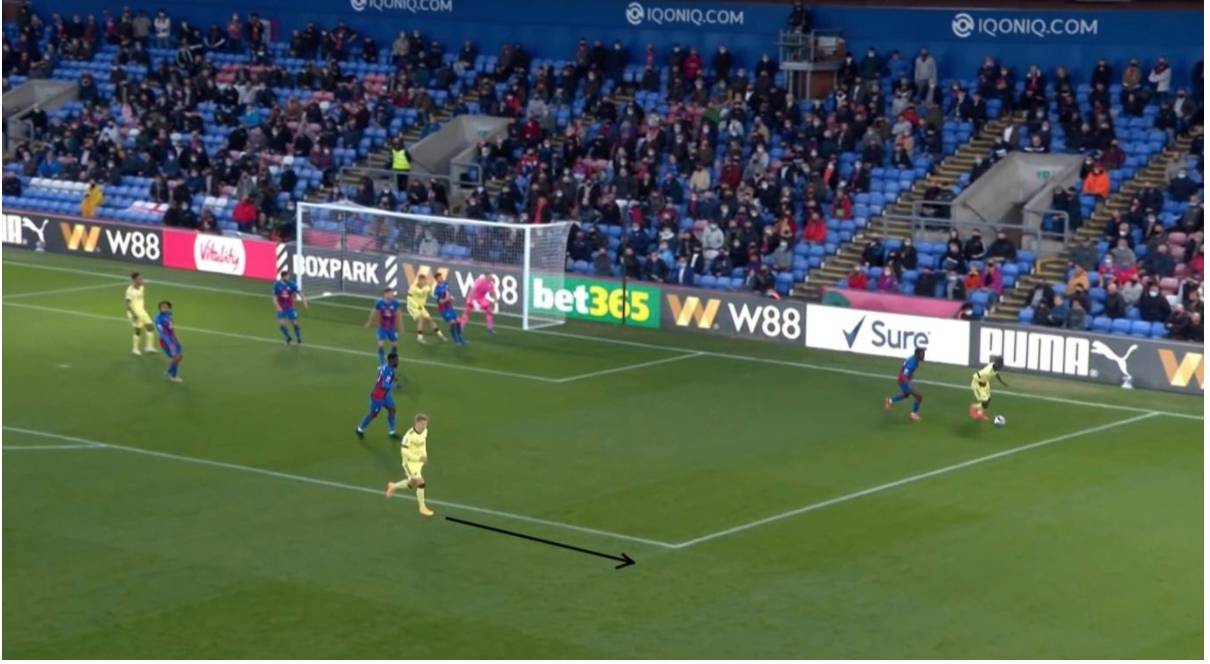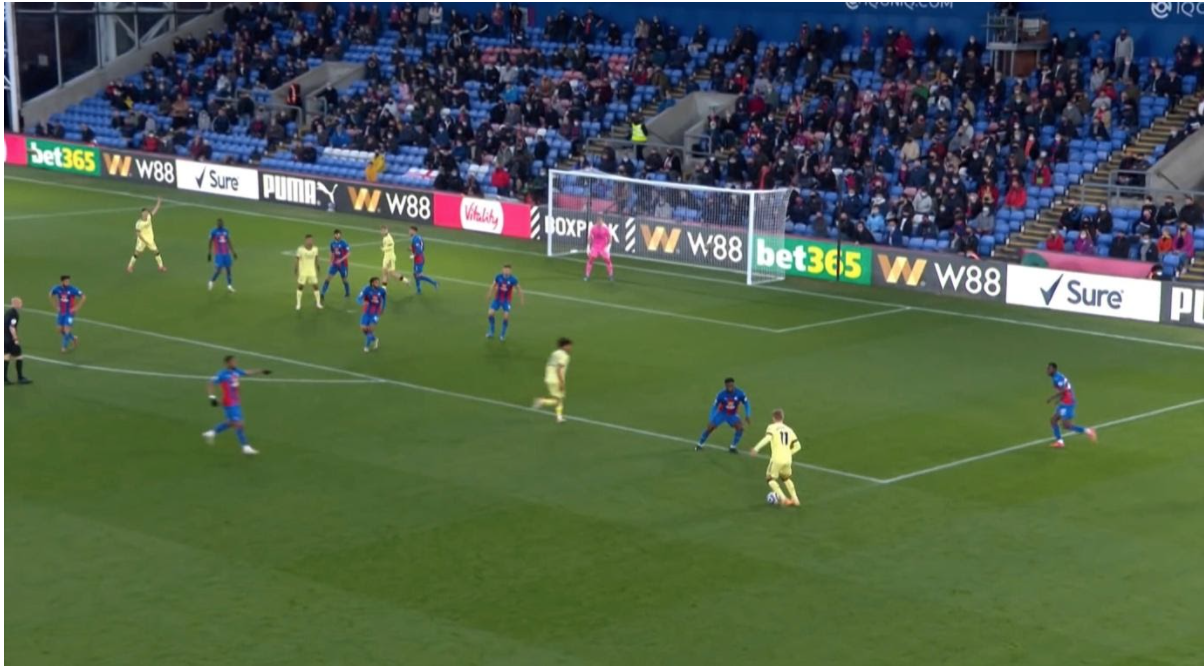 Martin Ødegaard helps support Nicolas Pépé by running into space before spotting Gabriel Martinelli's run and prepares his cross for the Brazilian forward.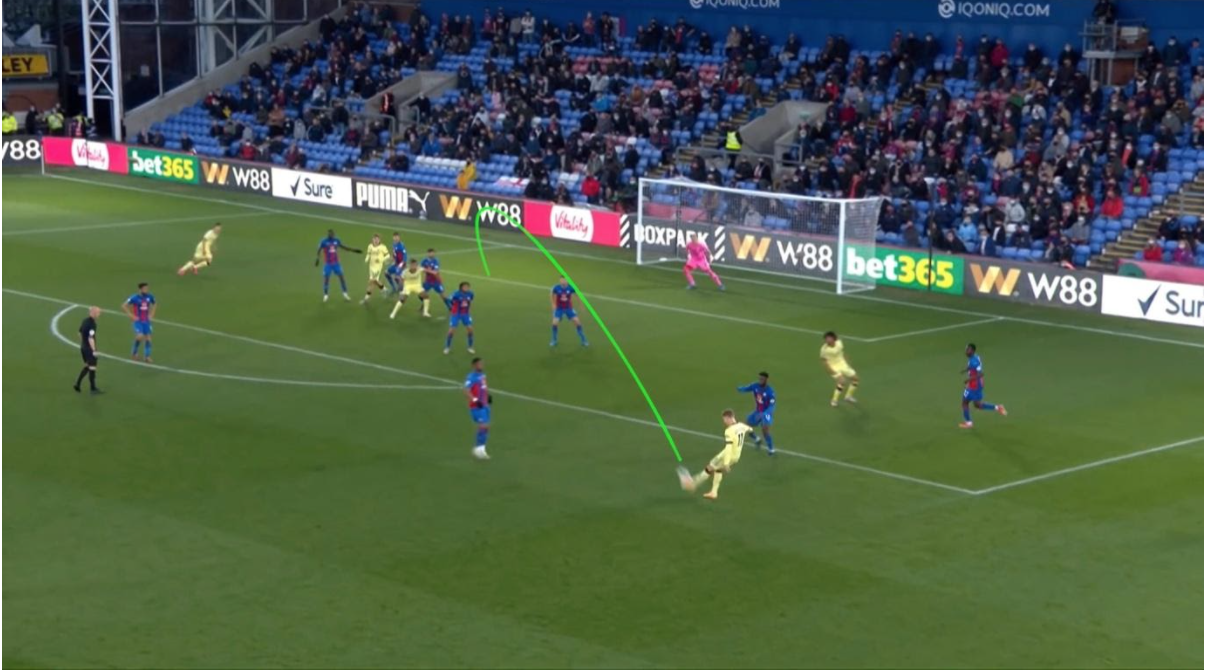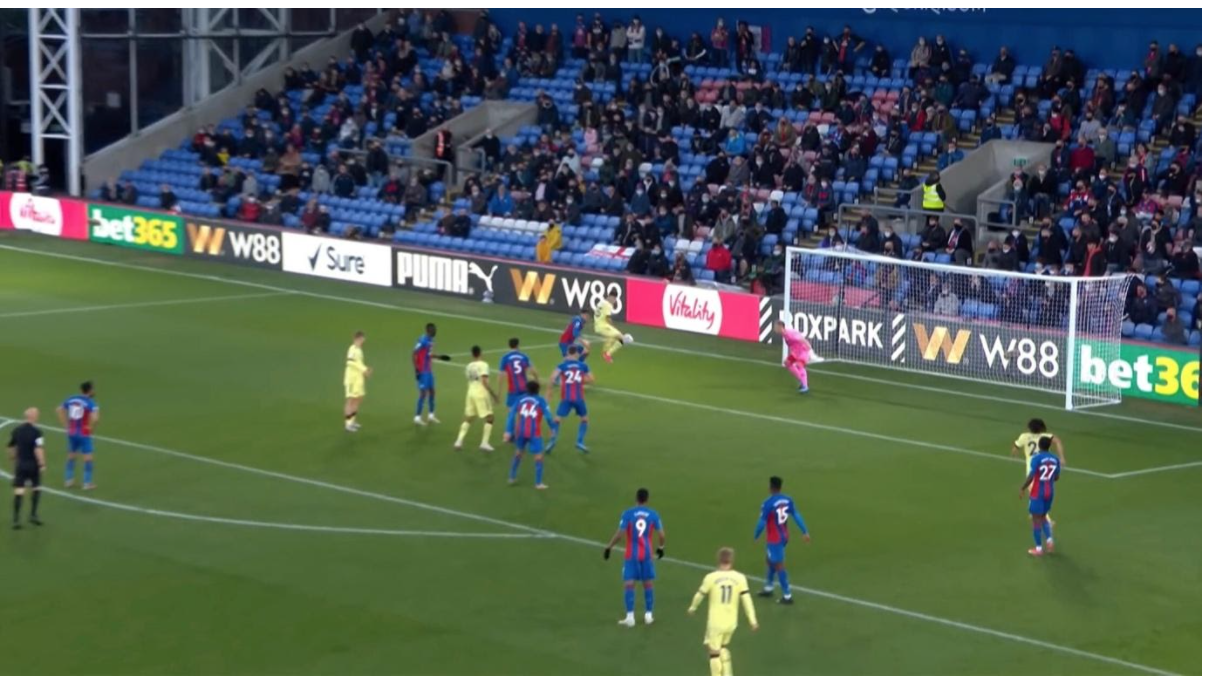 The Norwegian plays a delectable pass over the top with little space between the defence and goalkeeper. He puts it on a plate for Martinelli, who takes the ball in his stride to touch it round past the keeper and put Arsenal into the lead.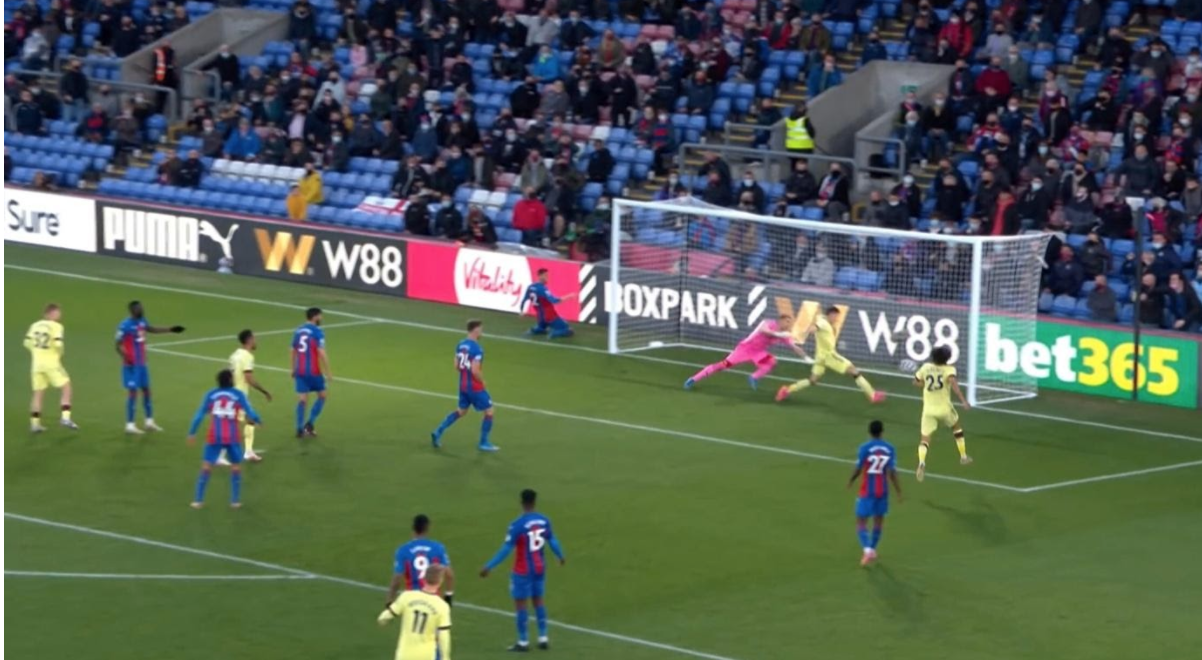 However, one area Ødegaard did shy away from last season in a similar vein to Özil was in his shooting. He took 1.47 shots per 90 whilst Maddison took 3.17 (per 90), Bruno Fernandes 3.19 (per 90) and Kevin De Bruyne 3.56 (per 90). If he can improve his shooting threat, he would become a more unpredictable profile to defend against and create more issues for the opposition.
An added motivation for signing Ødegaard would have been his work rate. He applies unyielding pressure on defences, ticking Mikel Arteta's all-important non-negotiable box and is the trigger that frequently forced Arsenal to press their opponents higher up the pitch. He was also a central figure in the team's leadership, often the face of post-match interviews and vocal on the pitch. Arteta praised his character:
"I'm not surprised at all. He's got this personality, he's a really humble and easy-going guy but at the same time, he's very, very professional and very dedicated. He leads by example, which normally a captain should do."
Unfortunately, for Ødegaard, he suffered an ankle injury just as he started to grow more comfortable in the team. He would go on to miss four games and failed to get back into rhythm in time for Arsenal's key semi-final Europa League fixture in which they were knocked out by Villarreal CF.
Conclusion
There is still apprehension among the fanbase regarding Ødegaard's ability to contribute the goals and assists required to crack the top four like a Bruno Fernandes per se. During his loan stint at Arsenal, the Norwegian was incredibly safe and assured on the ball, a trait that can be very important but also detrimental when looking to 'force the issue' to score.
He has illustrated the ability to be persistent in his search to deliver an end-product despite dire circumstances such as the game against West Ham, but he needs to be more consistent in his efforts. His injury history is also a worry given the number of games he has missed (25 matches and 246 days in total), a less congested fixture list should enable him the rest and recovery time he lacked last season, giving the Gunners hope he can keep healthy.
Despite these concerns, the reported fee of €35 million potentially rising to €40 million with add-ons, is an unexpectedly sensible deal with Real Madrid. He will slot directly into Arteta's starting eleven with little trouble, and at 22-years-old there is still a lot of untapped potential for the Gunners to benefit from.
He brings ball security, vision, impeccable passing, and is another desperately needed creative player. Additionally, if he can become more consistent in his end-product, he will be a massive boost to the team and a player that Arsenal can build around. 
Ødegaard becomes the fourth Arsenal signing in this transfer window as they continue to establish a young more balanced squad of players for the future, with Aaron Ramsdale all but announced. However, Arteta will need his Young Guns to perform now more than ever as they look to bounce back from their woeful opening weekend against Brentford.
By: Toby Rathborne / @TobyRathborne
Featured Image: @GabFoligno / Stuart MacFarlane / Arsenal FC