Conor Gallagher: The Latest Cobham Product Who's Thriving On Loan in the Premier League
Chelsea fans often rave about their youth academy, with good reason too. The likes of Fikayo Tomori, Marc Guehi and Tammy Abraham have come through the academy and are now thriving away from the club. A fact that Chelsea fans lament.
However, with their talent factory being as endless as it is, another one of their academy products, who is still on their books, is currently tearing up the Premier League with Crystal Palace. The player in question being, Conor Gallagher.
The boyhood Chelsea fan was awarded Chelsea's Academy Player of the Year for the 2018–19 season. A prestigious award and a huge sign of his potential, due to the amount of talent and competition is amassed at the youth academy.
Subsequent loans at Charlton, Swansea and West Brom showed his potential. However, this season, whilst at loan at Crystal Palace, the midfielder has shown himself to be one of the division's brightest talents, so much so that the Surrey-born midfielder has caught Gareth Southgate's eye and has won three international caps for England.
Crystal Palace has undertaken a cultural change that emphasises more on youth and vigour. Employing Patrick Vieira, and signing the likes of Marc Guehi, Michael Olise and Eberechi Eze show this. However, none have performed better than Conor Gallagher.
Lining up as a right central midfielder in a 4-3-3, the midfielder has shown his defensive tenacity, high footballing IQ, brilliant engine and goalscoring nous regularly for the South London outfit, as he has helped them to 9th in the table. 
The 22-year-old is a technically gifted midfielder. His excellent close control allows him to help escape any attempts by the opposition to press him.
For someone who is 1.82m he is unexpectedly agile as well. Combine this alongside his muscular frame which allows him to shield the ball, and athletic abilities, he is very hard to knock off the ball.
Gallagher's dribbling success rate of 61% shows this, which is staggering for any player, never mind a central midfielder who dribbles more than 85% of players in his position in the league. His dribbling ability means he is one of the rare midfielders who prefers to progress play with his ball-carrying ability rather than passing it.

In this picture, he controls the ball in central midfield and has four Liverpool players in proximity, with Jordan Henderson closing him down from his blindside.

Gallagher's excellent close control and agility has allowed to him to evade Fabinho and Henderson's press, yet he still has another player in front of him.

His quick burst of pace and muscular frame has allowed him to burst past and hold off the Liverpool players to play it to Jordan Ayew.
Alongside his unbelievable close control, defensively, the Cobham graduate is in simple terms, monstrous. For Crystal Palace, he quite often acts as a pressing trigger, using his high engine and tenacity to hunt down opposition players.
This tenacity and aggression are shown in him winning 59% of his tackles in the Premier League. This has also come with him making the second most number of fouls, with 50, which is shown in the 8 yellow cards he has received this season.
A by-product of the instructions he has been given and his own relentless pursuit to win the ball. Alongside his high engine, he also has the tactical nous to play different roles defensively, all of this makes him one of the toughest players to play against in the Premier League.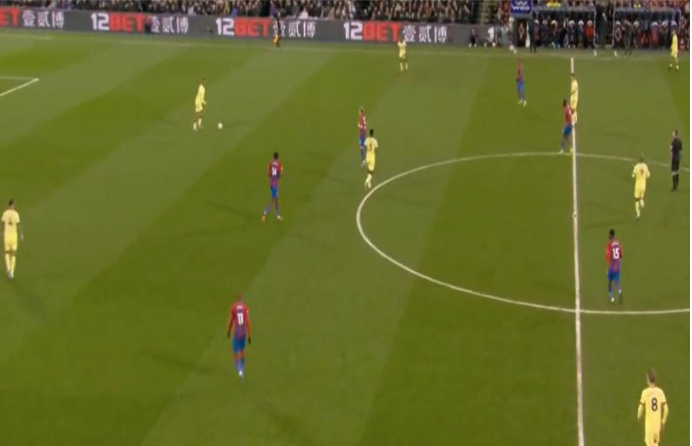 In their latest 3-0 win against Arsenal, Crystal Place set up in a 4-4-2 shape off the ball, with Gallagher being the second striker. In this image, he is cutting off any passing lanes to Thomas Partey, thus stifling Arsenal's build-up play, which the Ghanaian is key to.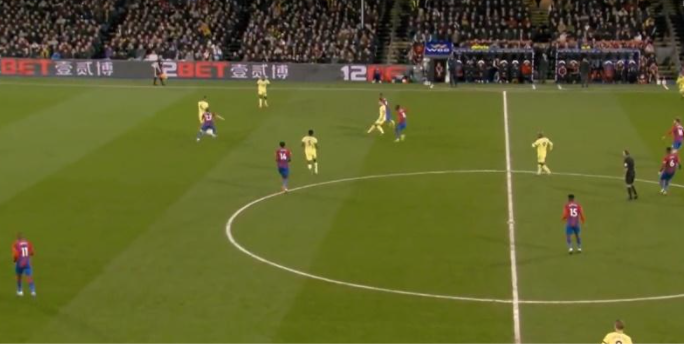 Noticing Gabriel's hesitation, Gallagher presses the Brazilian, which is a signal to the other Palace players in the area to press as well, acting as a trigger.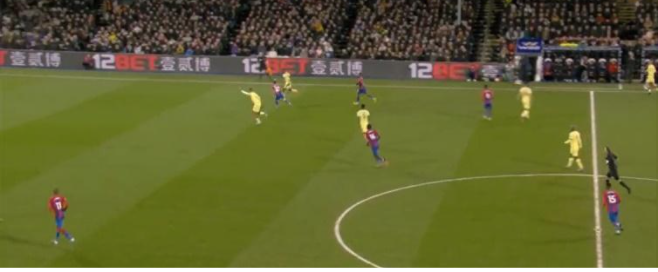 Gabriel then passes to Nuno Tavares, who under pressure by Gallagher and Jordan Ayew, is forced to pass it back to Aaron Ramsdale in goal. This happened all night which led to Arsenal's build-up being suffocated and allowed high turnovers of the ball in Palace's favour. All of this started due to Gallagher's footballing IQ of when to press and when to cover Partey in the build-up. 
Nevertheless, although his technical ability and defensive tenacity have stood out, Gallagher does the brunt of his damage in the final third, as what has caught everyone's eye this season, is the Chelsea loanee's goalscoring ability.
His ability to make excellent runs into goalscoring positions and finish confidently, has led to Vieira comparing him to Chelsea legend Frank Lampard. Reaching the heights of Chelsea's top ever goal scorer seems highly unlikely, but Gallagher looks likely to reach double figures in the premier league this season, an excellent feat for a 22-year-old central midfielder.
Currently, he has eight goals and three assists in the Premier League, with five assists in all competitions. Brilliant numbers for any central midfielder in the league, never mind for one in midtable. 
His goal contributions have been significant for Crystal Palace this season, often being the first to score or sealing the game in their favour. For example, his 2 goals against West Ham rescued a point against the Hammers, and his second goal against Wolverhampton sealed the game for them.
However, what showed Gallagher's prowess perfectly was his performance against Manchester City. His goal and assist in a 2-0 victory against the current champions is a perfect example of how he can stand up and be counted on in the biggest of matches.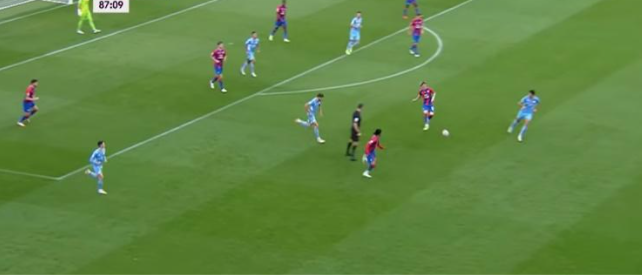 In the 88th minute, with Manchester City chasing the equaliser, Gallagher wins the ball on the edge of his own box and sets Michael Olise away on the counter.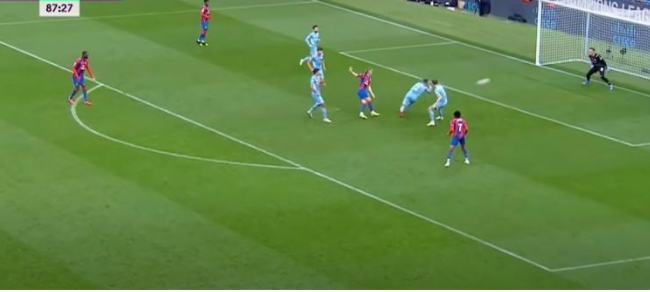 Instead of resting on his laurels, Gallagher makes a lung-bursting effort to join the counter. After an exchange between Michael Olise and Wilfried Zaha, he receives the ball near the 6-yard box and finishes it off the post, leaving Ederson no chance and sealing a famous win for the Eagles.
It is not only inside the box that Gallagher is a threat, as he can shoot excellently from outside the box as well, as he has shown this season. An example of this is his second goal a 3-1 win against Everton.

Again, showing his relentless to win the ball, Gallagher counter presses the Everton player and wins the ball back.
Immediately after winning it back, without any hesitation, Gallagher then lashes it top corner, leaving Pickford in goal no chance of saving it. Relentless to win the ball back and quality to put the goal in the top corner, a goal which perfectly encapsulates the England international.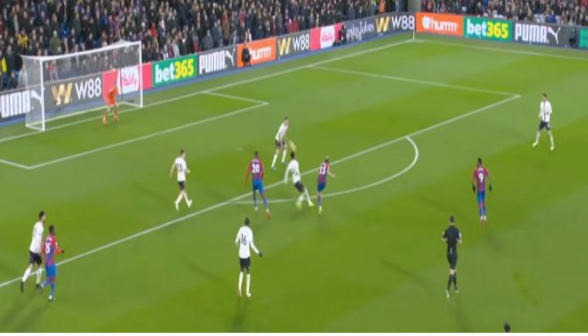 Even though it is not a major strength, the Chelsea loanee can support his team mates as well with his passing in the final third.
One example is against Burnley. Gallagher makes a run past Christian Benteke to stretch out the opposition defence and open space for the Belgian. Once Gallagher controls the ball, he finds himself with two Burnley players in front of him.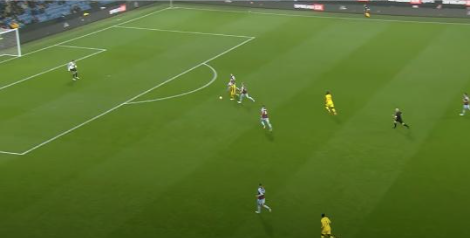 However, after a little flick, again showing his brilliant close control, the England international then passes it to Benteke who slots the ball in. Showcasing that alongside scoring, Gallagher can also set up his teammates on the odd occasion.
Even with all these strengths, the Cobham youth product still has elements of his game that needs improving. The glaring improvement which is needed is his passing.
He averages 35 passes per game with a passing accuracy of 82%. 35 passes per 90 ranks in the bottom 12 percent of players in his position in the league, and earlier on in the season he had a 76% pass accuracy which ranked him in the bottom 8 percent.
It's clear he needs to improve his range of passing as he much prefers playing the ball short rather than being the one to switch the play.
Improving his range of passing will allow him to strengthen his creative threat as he won't have to rely on his athleticism to allow him to get into creative positions for his teammates. A better passing ability will also give him a greater chance of breaking into the Chelsea team.
Being in a team that sits in a low block counterattacks as much as Palace, means his defensive tenacity and lung-bursting runs into the box are perfect. Yet, in a team like Chelsea, which is expected to have most of the possession in games and need their midfielders to break down deep blocks, Gallagher will need to improve on his passing range and creativity. 
Currently, Chelsea play in a 3-4-3, and I do not believe Gallagher would play well in a pivot or would that be the best of his abilities. He needs the freedom to break into the final third at a breakneck pace to wreak havoc, not patiently sit and recycle possession and try to probe past a deep block.
However, one of the world's best coaches in Thomas Tuchel could help him improve in possession and prove me wrong, as he has done a lot of people already in his short stint in charge of Chelsea with so many other players.
If Chelsea were to do what they normally do and not give Gallagher a chance and sell him for profit, there would be a long list of suitors, including Chelsea's rivals wanting to buy the Surrey-born midfielder.
There is one elite team in the Premier League which doesn't rely on their midfielders to supply their front line and who's midfield needs fit Gallagher like a glove, and that is Liverpool. However, I doubt that Chelsea would sell such a young talent to their rivals, considering his performances this season.
Whether at Chelsea or another team, there is one thing that is certain, the future is bright for young Conor Gallagher.
By: Abu Yasin / @Abuy2j
Featured Image: @GabFoligno / Robbie Jay Barratt – AMA / Getty Images