David Luiz: One of the Most Disrespected Names in World Football
There are many misconceptions amongst casual fans of football, perhaps none more so than the belief that David Luiz is a disaster of a defender. Of course, there are certain statistics that don't help his case – the Brazilian has conceded more penalties and more red cards than any other Premier League player since making his Arsenal debut. However, like all aspects of football, stats don't always tell the full story. 
When the Premier League finally returned to our screens post-lockdown, Arsenal traveled to Manchester City, where Luiz was called upon from the bench following an early injury to Pablo Marí. However, it was a game to forget for the veteran, who produced a calamitous display, committing an error that led to the first goal before giving away a penalty and being sent off. It was undoubtedly Luiz's worst performance in an Arsenal shirt as they went on to lose the game 3-0 – not the ideal restart Mikel Arteta wanted. 
Luiz's future was up in the air following the defeat with his contract expiring later that month, with pundit Jamie Carragher even saying it was probably the last time we'll see him play in the Premier League. But much to everyone's surprise, the 33-year-old was offered a one-year extension. The club was heavily mocked for the decision, but over the last eight months, it's become clear how much the Gunners have needed him – and not just on the pitch.
Arteta has praised Luiz's influence in the dressing room, particularly with the younger players such as Bukayo Saka and fellow Brazillian, Gabriel Martinelli. "He's a great example for them (the youngsters)," lauds his manager. "They all listen to him because of who he is and what he's done in the game. But also because how he behaves every day, how professional he is and how he goes about the job. He is one of the key role models that we have in our team."
The Brazilian defender was instrumental at Wembley in both the semi-final and the final of the FA Cup last season, helping Arsenal win the prestigious trophy for the 14th time. His experience and leadership were evident in these big fixtures, organising a defence that Gary Neville once described as primarily "un-coachable". 
It's also time to debunk the "finished Chelsea reject" narrative. In the season prior to joining Arsenal, the former PSG defender started 36 of Chelsea's 38 league games, helping Maurizio Sarri achieve a 3rd place finish. He was at the heart of the defence which saw the club reach two cup finals, including the win over the club he would go on to join in the Europa League final.
In that time, he was only dribbled past on average once every five games – the best record of any defender at the club. He also racked up the most clearances, as well as completing the 3rd most passes per game with an impressive success rate of 88%. Of course, this wasn't quite the title-winning David Luiz of the 16/17 season, but he still had a lot to offer. 
After the hierarchy opted to switch from Sarri to Frank Lampard, the new manager idealised a fresher approach at the back, preferring options such as Kurt Zouma and Andreas Christensen. As a result, Luiz told the club he wanted to leave and controversially switched from blue to red, who were heavily short of quality in defence following Laurent Koscielny's departure to Bordeaux.
During his first season in North London, Luiz was part of a back four mainly consisting of Ainsley Maitland-Niles, Sokratis Papastathopoulos and Sead Kolašinac – three players who have since been moved on by Arteta. In this period, he registered the most clearances and ranked 1st for most accurate long balls. Additionally, the Brazilian was only dribbled past once every four games and despite widespread criticism the defence did actually improve compared to the season prior, conceding marginally less goals.
Fast-forward to this current campaign and Luiz is still proving to be a solid squad player, with the Brazilian yet to be dribbled past in 18 league appearances. In fact, he is the outfield player with the most minutes played in Europe's top 5 leagues with being dribbled past. Of course, this is quite a misleading stat and doesn't exactly depict how good of a defender one is, but it is impressive nonetheless and destroys the myth that Luiz is guilty of diving into tackles too often. Interestingly, Luiz only performs 0.6 tackles per 90. 
Luiz plays a key role in Arsenal's build-up play, which has proved to be one of the most efficient of Premier League teams. Comfortable on the ball, Luiz provides a calming presence when playing out from the back, something the other centre backs don't quite possess yet.
He also has it within him to pick out a long diagonal pass to the wide players further up the pitch. His numbers for both long passes and progressive passes are up there with the best in the Premier League for centre backs – completing 12 long passes per 90 minutes and just shy of 4.0 progressive passes per 90, only bettered by Thiago Silva, Aymeric Laporte and Adam Webster.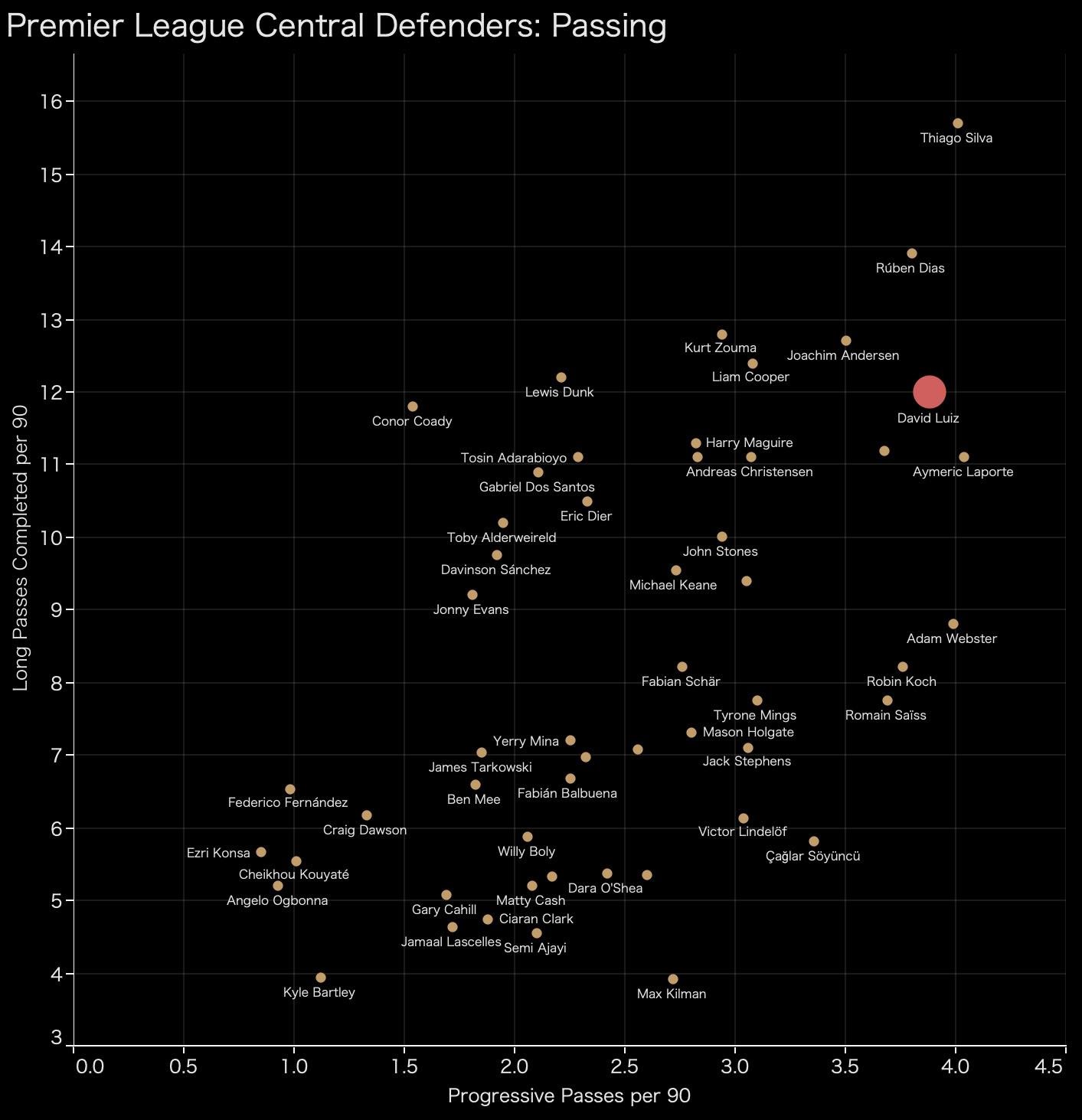 David Luiz's long passes completed per 90 vs progressive passes per 90 compared to other Premier League centre backs. Minimum 10 x 90 minutes played (@TomQuartly).
The veteran has continued his big match form from last season into this campaign, producing stellar performances against Manchester United and Tottenham. Not only has his commanding defensive contribution stood out, but his influence in possession has been key.
His pass map in the recent North London Derby illustrates the amount of successful long diagonal balls the Brazilian pulls off, picking out the likes of Kieran Tierney and Héctor Bellerín in space, and kickstarting an attack for the Gunners.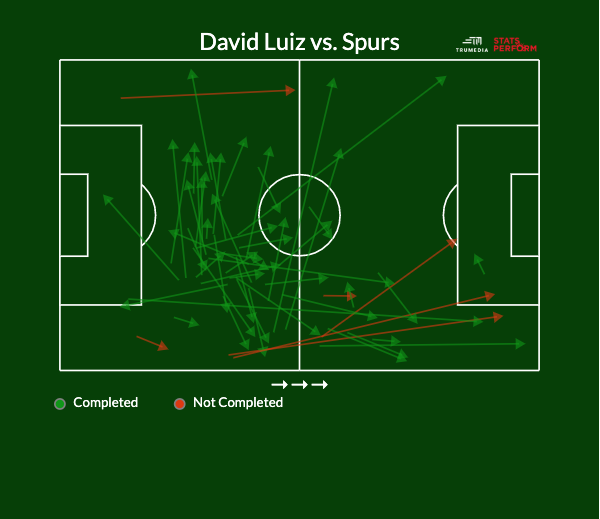 David Luiz's pass map during Arsenal's 2-1 victory over Tottenham on March 14.
When passing options are limited and space is ahead of him, Luiz has the ability to drive forward progressing the play before offloading it to an attacker. There are only a handful of centre backs in the top 5 leagues that yield a longer distance of progressive carries per 90 than the Brazilian.
Exciting young talents Edmond Tapsoba and William Saliba top the chart, followed by a cluster of defenders that mainly consist of Manchester City players (Aymeric Laporte, John Stones and Rúben Dias). For Luiz, this is especially impressive when you consider Arsenal are 15th as a team in terms of progressive carrying distance.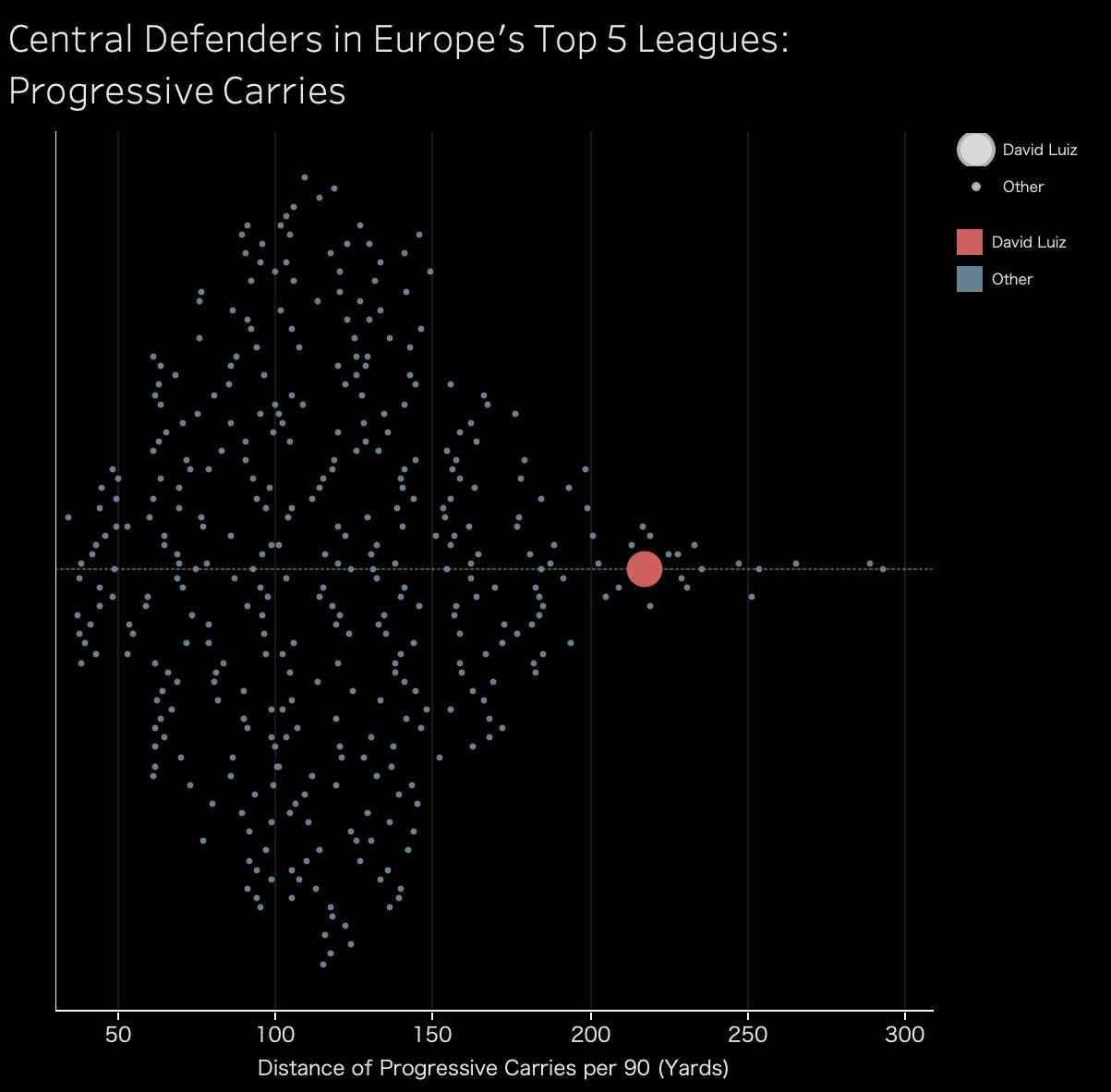 David Luiz's distance of progressive carries per 90 in yards compared to other centre backs in Europe's top 5 leagues. Minimum 10 x 90 minutes played (@TomQuartly).
In conclusion, Luiz's consistently solid performances shouldn't go unnoticed despite certain statistics misinterpreting him as a calamity. The Brazilian has proved to be a key influential figure on and off the pitch for Arteta's side and has proved to step up in the big games – something Arsenal have been criticised for lacking in recent years. 
His winning mentality is second to none within this Arsenal squad. When the Gunners appear to go into 'panic mode,' they start rushing and forcing things. Luiz is usually the one that calms things down – he was even seen gesturing to his teammates to calm down on the ball when defending important leads against both Tottenham and Olympiakos. 
Having won the number of trophies and accolades he has, there is no doubt he was world-class at a time. And whether he is or not now, he will likely go down as one of the most underrated Premier League defenders in history. With four league titles, three FA Cups, two Europa League titles and a Champions League title, Luiz is arguably one of the best defenders of his generation. 
The 33-year-old seems to have matured more and more during his time in North London. However, as soon as an unfortunate decision goes against him, such as the red card against Wolves, he's back to being a 'bomb scare' again. Yet the reality is, in over 200 Premier League appearances, he's only made 4 errors leading to goals – only one more than Virgil van Dijk has in 165 appearances.
Ultimately, a couple of disastrous moments have overshadowed his contribution to Arsenal's rebuild and have brought an excellent Premier League career unfairly into question. David Luiz's current deal is set to expire in the summer, but with William Saliba's Arsenal future still uncertain under Mikel Arteta, it wouldn't be much of a surprise if the defender remains in North London for one more year.
By: James Lloyd
Featured Image: @GabFoligno / Pool / Getty Images