Declan Rice: A Younger Version of Jorginho or Kanté, or Both?
A lot of the elite clubs are interested in signing holding midfielders, who will remain at the club for the next decade. Unfortunately for them, it seems the market for talented holding midfielders is very scarce. Fernandinho (36), Nemanja Matić (33), Sergio Busquets (33), Idrissa Gueye (31) … the list of holding midfielders that have already gone past their peak is strong.
This concern for many clubs is how to replace them, and if a new signing is required who to pursue. For Chelsea and Manchester United, both clubs have been keeping tabs on Declan Rice, a 22-year-old West Ham United player. The Blues are very interested in bringing the Englishman to Stamford Bridge, but is he a player that could replace either Jorginho, N'Golo Kanté, or even both?
In this article, we will be looking at how Rice has performed in the 2020/21 season for West Ham United, by analyzing his style of play and comparing his Premier League statistical numbers with both Jorginho and Kanté.
A Brief History
Born in London, United Kingdom in 1999 to parents of Irish descent, he grew up in Kingston upon Thames. He enjoyed football so much as a child, that any gift he requested related to the sport itself.  In 2006, he took a trial at Chelsea's Academy and was successful.
While insecurity crept in as he had to see his teammates as rivals, he still managed to progress through the ranks. Unfortunately, when he reached the under-14s, he struggled to cope with the highly competitive environment, so he was released from the Academy.
While Declan went through depression in 2014, he was still determined to carry on playing and he was eventually called for a trial at West Ham United's Academy, which was successful. He signed his first professional contract in December 2015, a year after joining the Hammers' Academy, and started featuring for the under-23s. Not long after, he started to collect club achievements.
In the 2017/18 season, he started to regularly feature for West Ham's First Team, with his senior debut taking place in August 2017. At the end of that season, while he was named Runners-Up in the Hammers' Player of the Year award, he won the Hammers' Young Player of the Year award for a second consecutive season.
In December 2018, Rice made his 50th senior appearance for West Ham, and after hearing about Man City's interest in him, the club offered Declan a new contract to extend his stay until 2024, with an option for an additional year, which he signed. Now, let us move onto the role Declan Rice has at West Ham United.
Style of Play
Tactically speaking, the Englishman plays a deep-lying playmaker role for the Hammers. During his time in the First Team squad, he was originally a center-back but gradually progressed into the defensive midfield role and is currently the club's vice-captain, behind Mark Noble. From there, we can assume that Rice is a defensive-minded player.
Rice works best at winning the ball and protecting the defense, by delaying and breaking up attacks, especially when the opponents break on the counter. His ability to play with either foot allows him to handle his opponents in a skillful manner and sprint in either direction, should his opponent attempt to beat him for pace.
His tenaciousness, his strength in the challenges, and his aerial presence not only makes it more difficult to beat him one-on-one but also allows him to slow down counters, which gives his teammates enough time to re-position themselves for the defensive phase.
Culminate this with his ability to spot danger, cover a lot of ground, and make a lot of tackles of interceptions, traits often found in ball-winning midfielders, and you can understand why he is held in similar regard to N'Golo Kanté. 
N'Golo Kanté; Europe's Finest Midfielder, Fiercest Competitor and Chelsea's Most Irreplaceable Asset
It also shows why Rice is a very efficient counter-presser and looks to win the ball back quickly once possession is lost, before providing it to more attacking teammates. This ability allows them to take positions further up the pitch, as they have faith that he will be able to deal with the counters.
While the amount of dog work he does for West Ham is overlooked, as it results from his good positioning, what catches the eye more is his ability to transition the play from defense to attack, especially once he regains possession.
Not only is Rice fast, but his strength also allows him to carry the ball forward, launch counters, and break the lines before providing it to a more attacking teammate. Rice also uses his skill to go past opposition players that attempt to close him down, leading them to tactically foul him to prevent him from moving further forward.
Even though he can retain and recycle the ball, Rice has a very good passing ability, and it is still improving. His transition from centre-back to midfield has forced him to be more aware of his teammates' positioning. He can play vertical passes when possible and diagonal long balls to a forward-positioned winger. 
He may seem conservative with his passing, by making simple passes to his more attacking-minded teammates, but he can play dangerous balls into forward areas. These passing traits are often found with deep-lying playmakers, so you can understand why he is held in similar regard to Jorginho.
As said before, Rice has a good aerial presence, but not only can it be used to defend set-pieces, it can also be a threat in attacking ones. He is very effective at making near-post runs where, if the ball reaches him, he can aim it towards goal, but is also very effective when challenging for loose balls.
What this style of play analysis shows is that Declan Rice isn't just a holding midfielder, he seems to be a mold of Jorginho and N'Golo Kanté. But statistically speaking, has Rice reached the heights to compete against either one of those players?
Statistical Analysis
In order to properly analyze Declan Rice, we will look into the passing, possession, defensive contributions, and chance creation statistics, in the 2020/21 Premier League season. We will also compare those statistics of two Chelsea players mentioned in the style of play segment: Jorginho and N'Golo Kanté. Note that the statistics shaded in green show that one player is performing better than the other two on a specific statistic.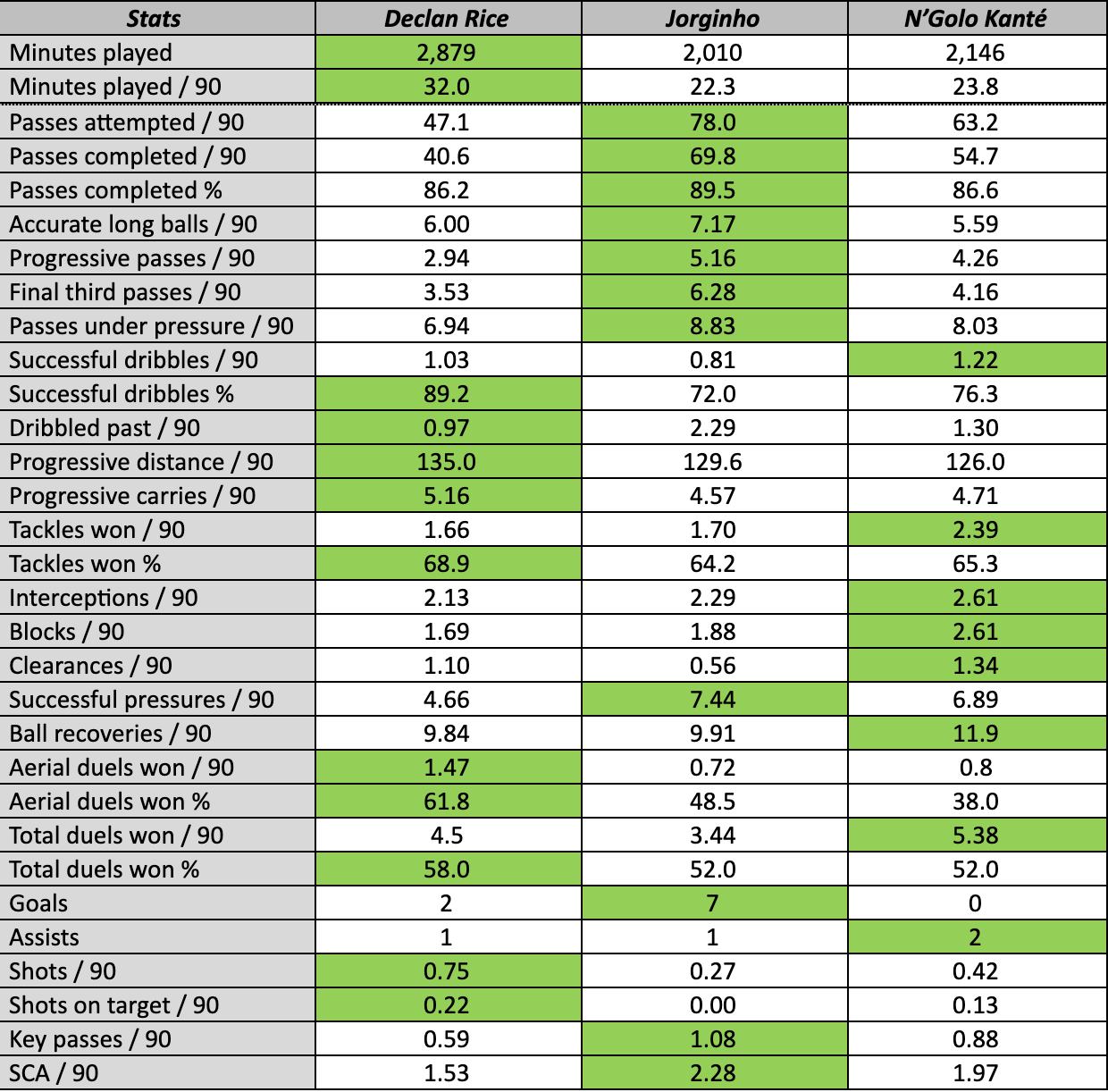 [All statistics were used from FBref and SofaScore]
The first thing we notice is that Rice has more game-time minutes than the other two players mentioned, which is further evidenced by the fact that Declan has started in 32/32 games he played in, more than Jorginho's 23/28 and Kanté's 24/30 started games they played in. For the Italian, the lack of game time is down to him being out of favor by Frank Lampard in the first part of the season; while the Frenchman's absence was mainly due to injury. 
In terms of passing, Jorginho is comfortably ahead compared of the other two, with Kanté also ahead in all but one statistic compared to Rice: accurate long balls per 90. While I did explain that the Englishman's passing is improving, it clearly has not reached the heights of either one of the Chelsea pair. This problem could stem from West Ham's style of play of playing a more direct approach instead of building from the back.
In terms of possession, Rice performed better in the dribbling and ball-carrying statistics, apart from the successful dribbles per 90 where Kanté performed better. Despite how rare it is to see the Englishman go forward beyond the ball, as he needs to remain close to his midfield partner in Tomáš Souček, to deny space for the opposition between the lines and penetrative passes through the central space, he enjoys making bursting runs in order to drive the team towards goal, which is another argument to justify the N'Golo Kanté comparisons.
As for the defensive actions, Kanté is the one that performs better than the other two in most of those statistics. The ones where his counterparts perform better at are the following: the successful pressures per 90, where Jorginho is better at; the aerial duels won, the tackles won percentage and the total duels won percentage, where Rice is better at.
It is not a surprise to see the Englishman dominating the aerial duels won statistic given his height, physique, and aerial presence; but to see the Frenchman performing better than the West Ham player shows how much more dog work does the Chelsea player do. However, given Kanté's age of 30 to Rice's 22, he has more years ahead of him to improve that side of his game.
Finally, in terms of chance creation, while Jorginho has more goals (all of which came from penalties) than Rice, his shots and shots on target per 90 are higher. However, the priority of a midfielder is not to create goals, it is to provide assists, which Kanté has more of, as well as to create key passes and shot-creating actions for their team, where the per 90 stats are higher for the Italian. 
Even though the Englishman is forced to remain near the defense, he does provide line-breaking passes to the attacking midfielders, so it could be that either those passes are not further enough up the pitch to create goalscoring opportunities or West Ham are forcing him to play too deep.
Conclusion
Declan Rice is a key and influential figure for West Ham United so is it easy to understand why the Hammers may value him at £100 million. In addition, there are similar traits between the Englishman and Jorginho, with his desire to play conservative passes but having the ability to play dangerous balls. There are also similar traits to N'Golo Kanté, with his ball-carrying and ball-winning abilities, his desire to protect the defense and to do the dog work.
However, when comparing the statistics with both Chelsea players, it is hard to justify why the Blues should be spending such a figure to sign Rice. It is true that part of it could be blamed on West Ham's style of play, but even then most of his passing and defensive actions are not better than either the Italian or the Frenchman.
The Blues currently have a strong partnership pairing in the pivot and arguably have the best midfield duo in Europe, so if the club were to pay such a high fee for a central midfielder or holding midfielder, the player would need to be a regular First Team starter. In addition, Chelsea is well stocked in that midfield area of the pitch, with the likes of Mateo Kovačić, Saúl Ñíguez, Ruben Loftus-Cheek, and Trevoh Chalobah capable of serving as cover for Jorginho and N'Golo Kanté.
Therefore, I believe that a move from Chelsea for Declan Rice is not likely to happen this season, but it is more likely that the Blues will keep an eye on his performances throughout the 2021/22 season and will try to make a move for Rice next summer.
By: Alexander Huyberechts / @cfcalex98
Featured Image: @GabFoligno / Craig Mercer/MB Media / Getty Images