Dwight McNeil: Burnley's Diamond In The Rough
The Clarets, known for their exceedingly low budget and utterly defensive tactics, have maintained relatively stable Premier League status since 2016, even managing to finish 7th in the 2017–2018 season in order to participate in European football the following season.
However, their security has been in jeopardy this season; as Burnley currently sit in the dire 18th position, a relegation battle against Newcastle, Brentford, Leeds United, Everton, Watford, and Norwich City is well underway, with a multitude of teams competing for scarce Premier League spots. 
As for Burnley, the strategy of sound defending in the penalty box and rare counter-attacks for a hard-fought victory has been faulty in recent years.
Still, with the signing of target-man Wout Weghorst from Wolfsburg, youngster Dwight McNeil and Ivory Coast international Maxwel Cornet have created a formidable attack for Burnley that strikes lethally on the break despite averaging only 0.88 goals per game.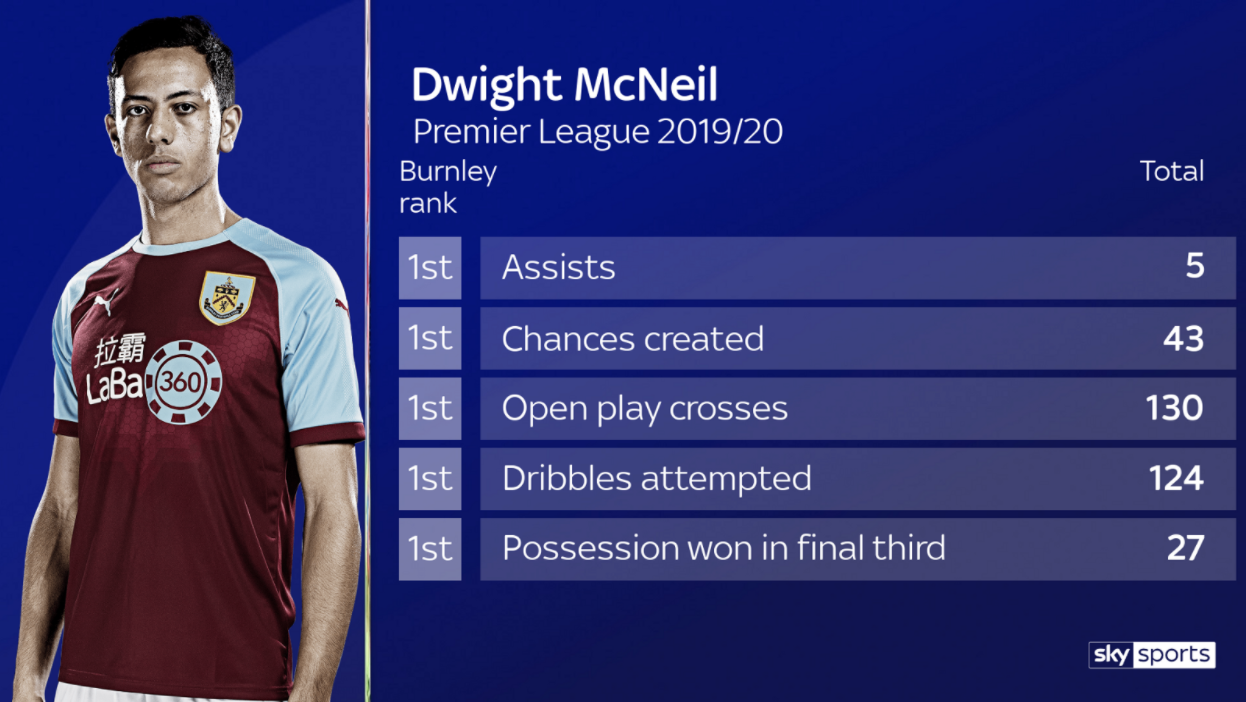 McNeil was hailed as Burnley's sole creative outlet before Cornet's move from Lyon. (Sky Sports)
Prior to the arrival of Cornet, McNeil had adapted to Burnley's dull play-style of sitting back with multiple players behind the ball, soaking up pressure for the majority of a match, and attempting to break the deadlock with long balls over the top.
On many occasions, Burnley's hopes rested in McNeil's ability to swivel past multiple defenders and create chances from wide positions. 
While McNeil has been accompanied by a stronger strike force in the 2021–22 Premier League season, he has only managed to produce 1 assist without netting any goals; this decline in output can be attributed to a multitude of factors, including the threat of relegation, a lighter creative burden, and tactical changes.
Yet, McNeil has shown glimpses of brilliance in spite of Dyche's limiting schemes, individually dictating matches through his expertise on the ball time and time again. 
Coveted Assets
Throughout McNeil's rise to stardom at Turf Moor, the English winger has garnered attention from several other Premier League clubs, including Aston Villa, Everton, and Crystal Palace. In response to transfer rumors, Burnley have slapped a £40 million price tag for McNeil's talents, scaring off any potential suitors in the January transfer window. 
"[McNeil is] recognized by our fans and ourselves as a player who can really take a game on," Dyche mentioned. "When you're younger, you think you've got to do something outstanding all the time, have lots of touches, or weave and dribble, but it's finding that balance, remembering how good he is, and finding that freedom to play."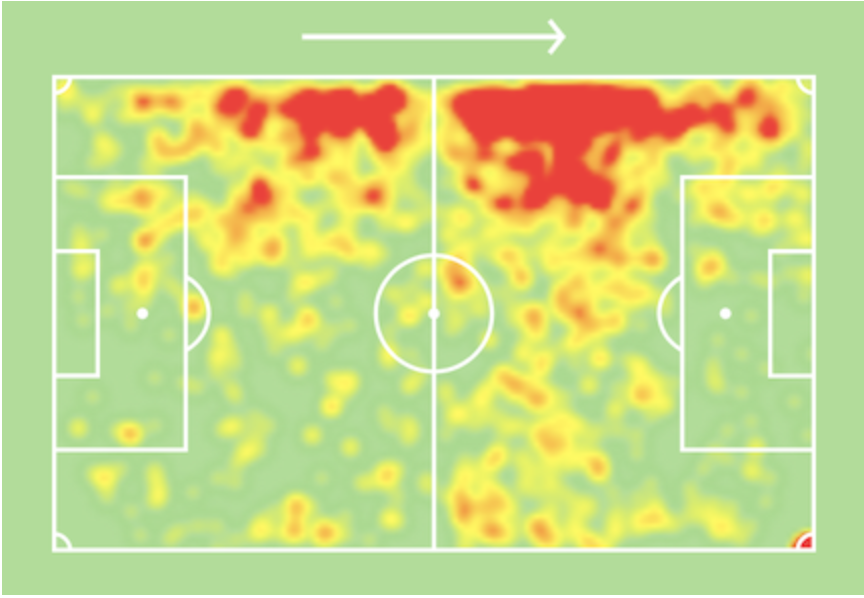 McNeil's heat-map displays versatile functionality in his preferred left-wing position. (SofaScore)
In Dyche's conventional 4–4–2, McNeil is deployed to the left of Weghorst and Cornet, although he is capable of switching flanks or replacing either one of the center forwards. Consequently, his role is to stride forward from deep areas when Burnley win the ball back, lofting crosses into the box on the break. 
As such, McNeil ranks 2nd in the Premier League this season for both crosses and carries into the penalty area, with 87 and 19, respectively, from 26 starts.
Compared to attacking midfielders and wingers, his ability places him in the 93rd percentile for crosses, 91st percentile for switches, and 87th percentile for long passes attempted, with metrics averaged over 90 minute intervals.
Operating as the architect of Burnley's attack, McNeil links up with fellow winger Aaron Lennon on the right to penetrate the opposition defense from wide areas.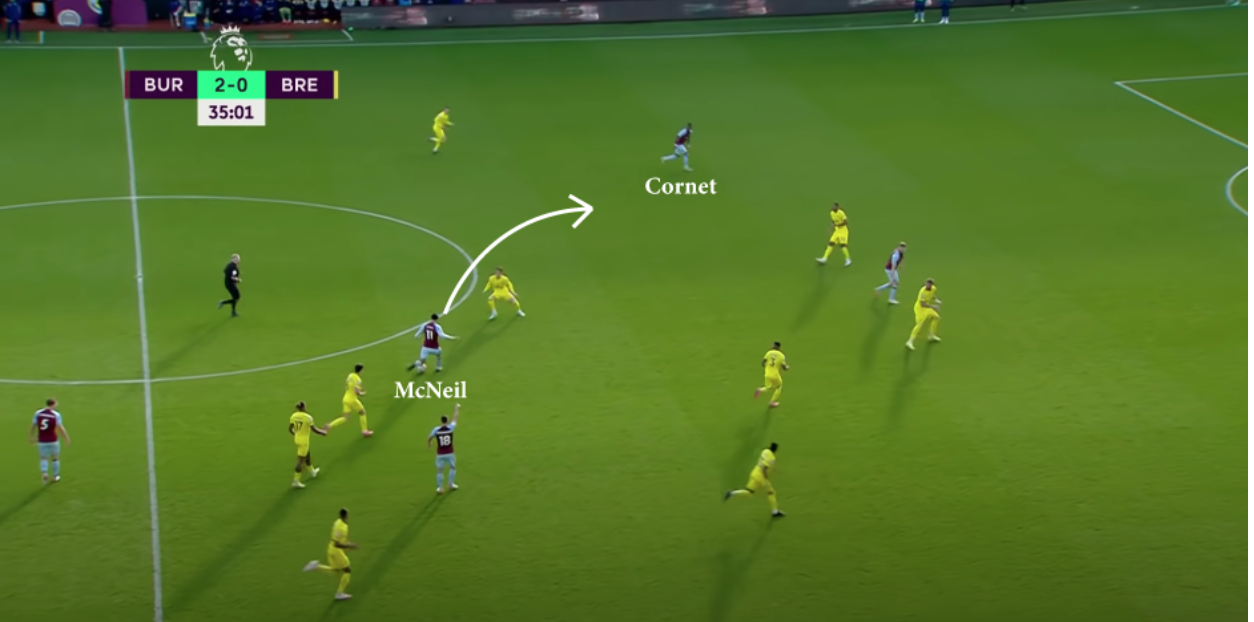 McNeil notches an assist for Cornet in a comfortable 3–1 win over Brentford. (NBC)
However, with a 67.2% pass completion percentage, McNeil sits in the dire 10th percentile compared to others in his position, highlighting an underdeveloped portion of his game.
Likely due to the volume of long balls and crosses in Dyche's system, McNeil's lack of refinement in the passing department can still be polished as the youngster gains more experience and continues to grow in the top flight.
Another major flaw is McNeil's clear goal drought this season, stemming from an absence of instinctive poaching and confident finishing in front of goal.
Even though the winger has accumulated 1.6 expected goals thus far in the campaign, he has yet to find the back of the net, a worrying statistic for a Burnley side seemingly devoid of scoring. 
"Apart from not scoring a goal, the bravery to come and get the ball while being questioned for probably the first time is part of his development," Dyche commented on McNeil's poor performance in a 4–0 loss to Chelsea. "Just because he misses a chance doesn't mean he hasn't played well, but that's part of his growth as a footballer."
System Limits
With Burnley maintaining a league-low 38.9% possession on average, McNeil is limited to a makeshift left-midfield role without freedom to roam forward and create chances.
Even so, the supposed winger only records 1.19 shots, 1.98 progressive passes, and 1.83 touches in the opposition penalty area per 90 minutes.
In comparison, Everton's Anthony Gordon, despite being plagued by his team's abhorrent form, maintains 1.85 shots, 2.63 progressive passes, and 3.17 touches in the opposition penalty area per 90 minutes.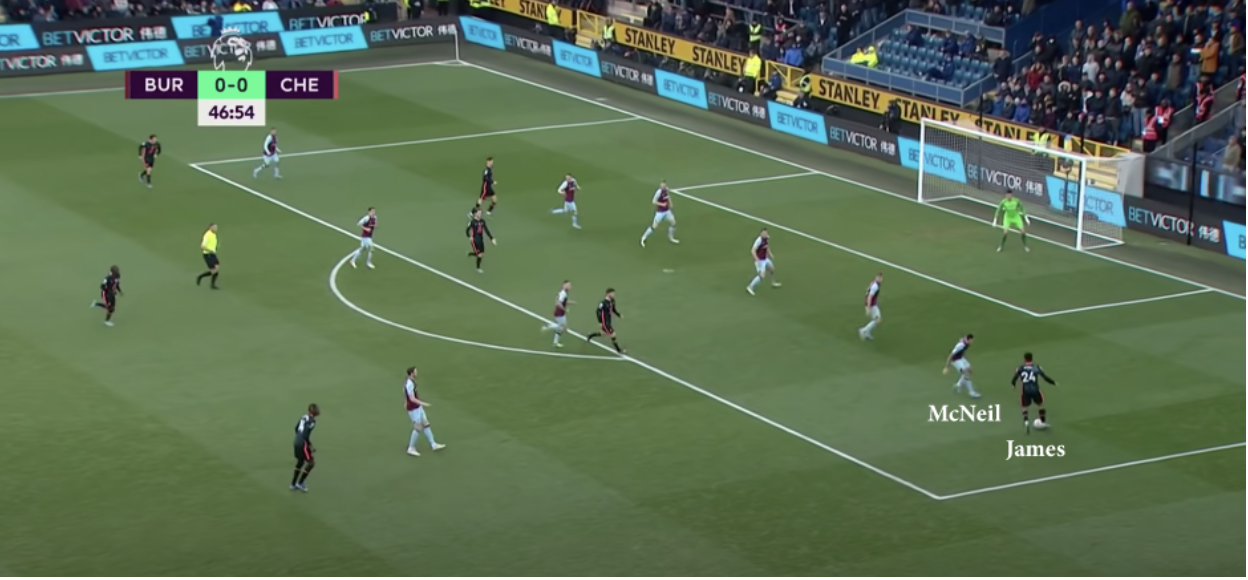 Reece James isolates McNeil for a one-on-one before cutting past and slotting home. (NBC)
Playing as an auxiliary wing-back against possessive teams, McNeil ranks highly in multiple defensive categories, standing above the 95th percentile in interceptions, blocks, and ball recoveries per 90 minutes. As a result of Dyche's system, McNeil has the awareness and agility to track back, providing support for left-back Charlie Taylor. 
Evidently, McNeil has potential to develop into a wing-back for a stronger side such as Tottenham Hotspur, where wing-backs Ryan Sessegnon and Sergio Reguilón have fallen out of favor.
His natural crossing ability, combined with effective defensive capabilities and slick maneuvers in tight areas, is suitable for a positional change in the future.
With McNeil also being placed on set-piece duty for Burnley, the player is a threat from multiple dimensions, evidenced by his 30 corner kicks and 29 passes from free kicks. 
"With [the England Under-21 team], he has played at wing-back, which is a new position for him," former manager Adrian Boothroyd claimed. "He can play in a number of positions, but his super strength is delivering crosses because he is a striker's dream.
"As a player, he always has the ability to keep the ball, he will get you up the pitch to win you free kicks, and his crossing quality is as good as I have seen at this level."
While McNeil is still finding his feet in the Premier League, he has settled into Burnley's system with ease, emerging as a consistent and dependable starter for Dyche.
Still, as the danger of relegation looms overhead, McNeil must contemplate the prospect of taking a step forward in his career, especially if Burnley are eliminated from the first division. 
"The business comes first, but there's also a bit of moral fiber there and we can't stop a player from having that opportunity," Dyche remarked about McNeil's potential departure. "It will only happen if the numbers are correct, so if anyone wants to come for any of our players, they better have a war chest."
By: Jason Cheng / @jcheng025
Featured Image: @GabFoligno / Adam Davy – PA Images