Emmanuel Dennis: The Menacing Hornet
For a lot of people, Emmanuel Bonaventure Dennis introduced himself to the football world by mimicking the renowned 'Siuuu' celebration at the Santiago Bernabéu stadium as if to taunt the home supporters, something many won't dare to do, but which shows the kind of character he is.
Two years later, while playing in the Premier League against Manchester United, he mimics Harry Maguire's celebration after putting United to the sword and likely contributing to the dismissal of Ole Gunnar Solskjær. 
This player profile aims to show Dennis' journey from Yola, Nigeria to Premier League stardom in England's capital city. Why he's been nicknamed "Dennis Menace" and why, for the first time, it appears he's finally found his people in London.
From Yola, Nigeria to Eastern Europe
Emmanuel Bonaventure Dennis, who was born in Yola, Nigeria, made his first move into professional football in 2010, at the age of 13 after joining Accademia di Abuja and spending 6 years in one of Nigeria's indigenous football academies before taking the next step and moving to Ukraine.
After a successful trial period, Dennis joined the Ukrainian team, Zorya Luhansk in March 2016. Later that year, in July 2016, he made his debut for the club, scoring in a 3-0 victory over Olimpik Donetsk. Dennis spent a year in Ukraine, where he contributed to 6 goals in 22 league appearances. 
Club Brugge
Dennis made the decision to move up after a year with the Ukrainian team, this time joining the Belgian big boys club, Brugge. Over the years, the Belgian side has become known as a steppingstone club for African nationals and unbeknownst to football fans, he was set to be the next starlet.
Nonetheless, as aforementioned, football aficionados around the world got a glimpse of what the now Watford man was made off, following his goal against Real Madrid at the Santiago Bernabéu Stadium.
The Tactics behind Union Saint-Gilloise's Belgian Title Challenge
During his four years at the club, he made 85 league appearances, scoring 19 goals, and getting capped 3 times for Nigeria, before joining FC Köln in Germany for an unsuccessful loan spell and then joining Watford in the summer of 2021. 
Watford
With a remarkable start in England's capital, Emmanuel Dennis' impact since joining Watford in the summer from Club Brugge has been nothing short of astounding. 
The Nigerian has taken the league by storm with his contributions of 6 goals and 5 assists in 15 games, and in the process, has helped his club collect crucial points on the board as they strive to avoid relegation to the championship. 
Dennis got off to a flying start in the Premier League with a goal against Aston Villa in his Premier League debut. He has followed that up with further imperious performances against the likes of Leicester City, Norwich City, Everton and Manchester United.
The most memorable of the aforementioned performances were against Manchester United and Everton, in which he had two assists and a goal in both clashes. This is illustrated in the diagram below: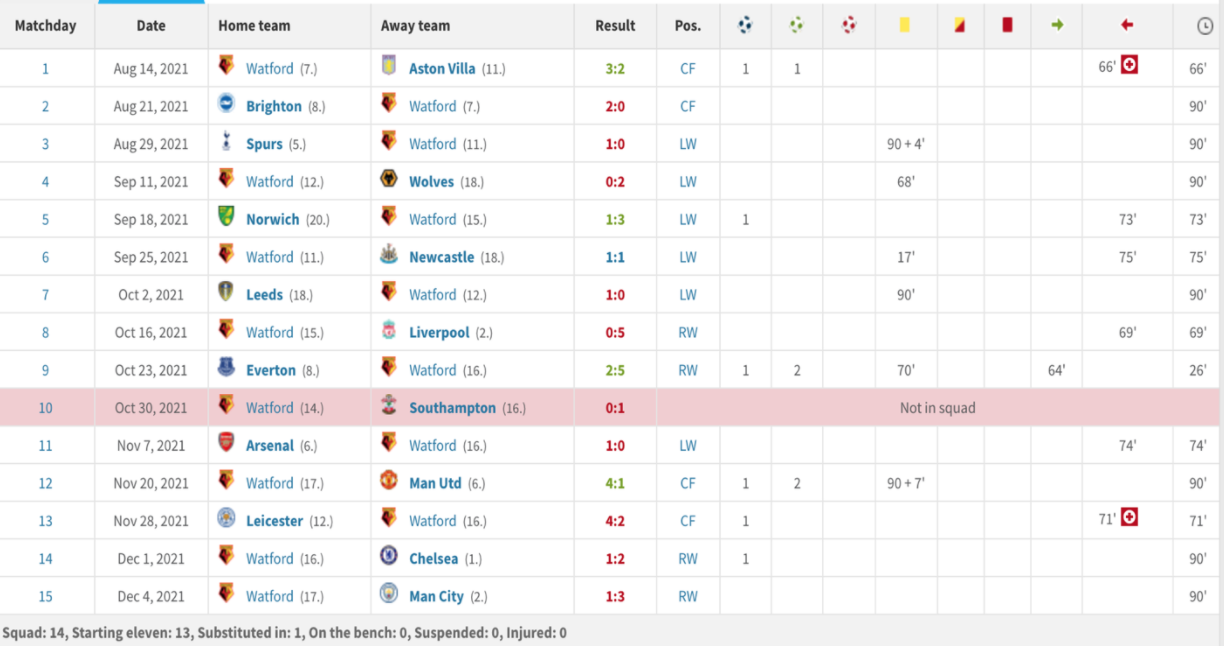 Photo: Transfermarkt
This pacey attacking hitman who plays both as a striker or on the wing (predominately on the left-wing this season) has proven to be a real handful for defenders all around, has topped the goalscoring and assist statistics for Watford. 
It's been incredible to see him translate his finishing expertise into the Premier League. So far, this 24-year-old has been effective in front of the net. Dennis has been firing on all cylinders for The Tinkerman's men, whether it's demonstrating calm in 1 v 1 situations, finishes from tight angles, cheeky tap-ins, superb headers, placements, or drilled shots. This will be highlighted below.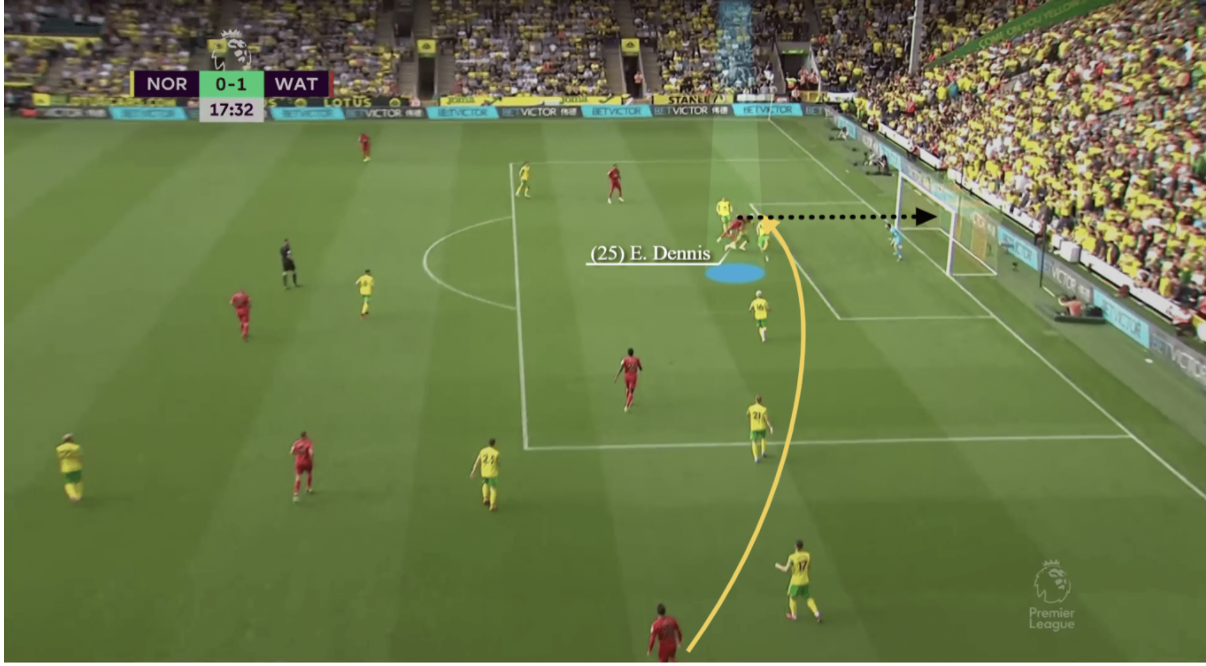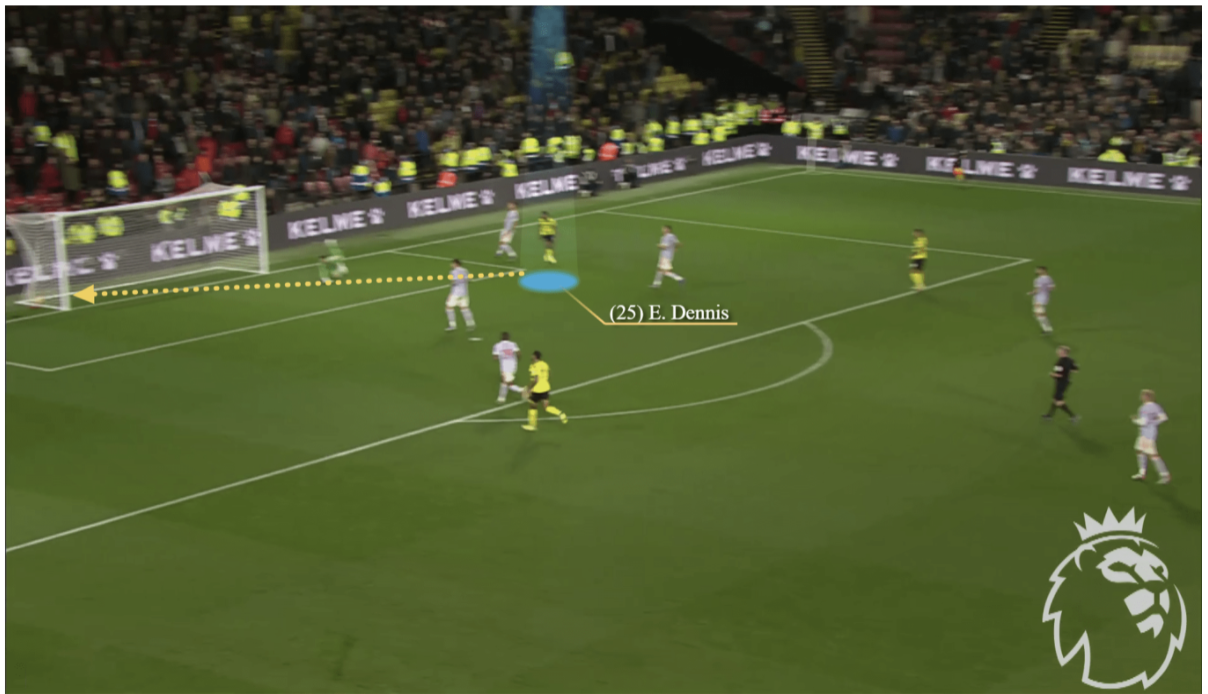 When he's in range, he's dripping with confidence and isn't scared to pull the trigger. From an xG reading of just 0.26 per 90, Dennis has accounted for a solid 0.51 goals per 90. When you consider that he has been played primarily from the left this season, these are amazing stats.
Strengths
A fine reader of the game, quick at picking up the flight of the ball, and aware of his teammates' tendencies. These qualities have guaranteed that he is in the right places at the right time to help his team with his goalscoring touch. 
He is aware of the positioning of his opponents inside the box, and the rate at which he finds separation, within the 18-yard box, to be an option has been fascinating to watch. He can sniff out the ball watchers or the preoccupied before making them pay by moving into the empty areas and making them an option.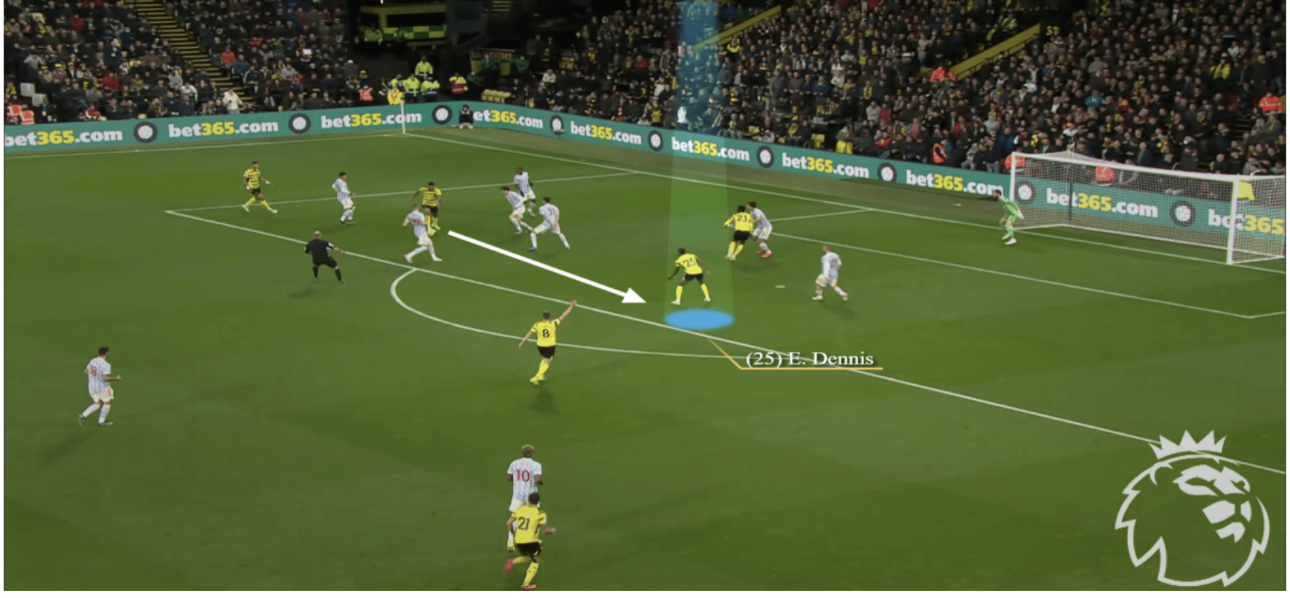 Another major threat of the menacing hornet is his ability to run in behind, his blistering pace is employed not only to gain ground but also to intelligently time his runs. As a result, if there's a gap and the ball is on a teammate's preferred foot; he moves with swiftness to get a jump on his man.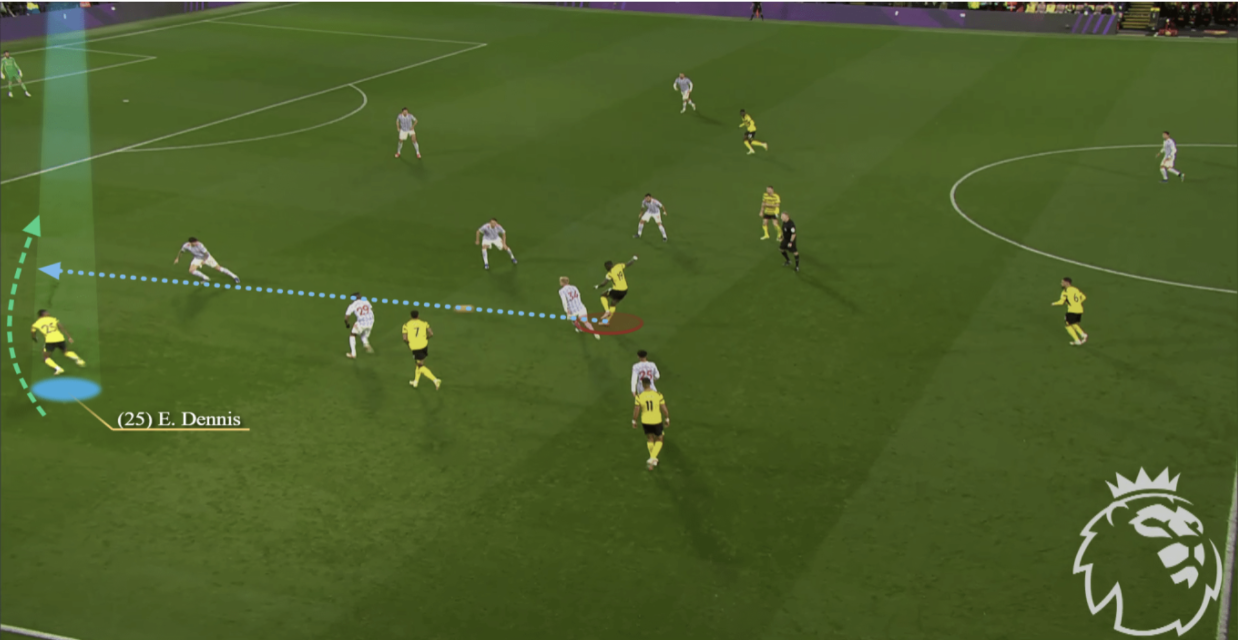 Lastly, as an astounding dribbler, his unique technique, pace and agility keep his opponents constantly guessing and makes him a challenging adversary to contend with. Opponents always have to be alert to handle him as he has a solid first touch and possesses a nice repertoire of moves that include shimmies, fake shots, step-overs, passes and hesitation moves.
It's been a sight for sore eyes to see how he protects the ball under pressure and weaves away from danger with his great physique and balance. As mentioned earlier, his 5 assists so far highlight what a competent passer he is. He has provided his running teammates with an array of passes, from balls on the ground or air, to accurate crosses and cutbacks as well as some nifty layoffs.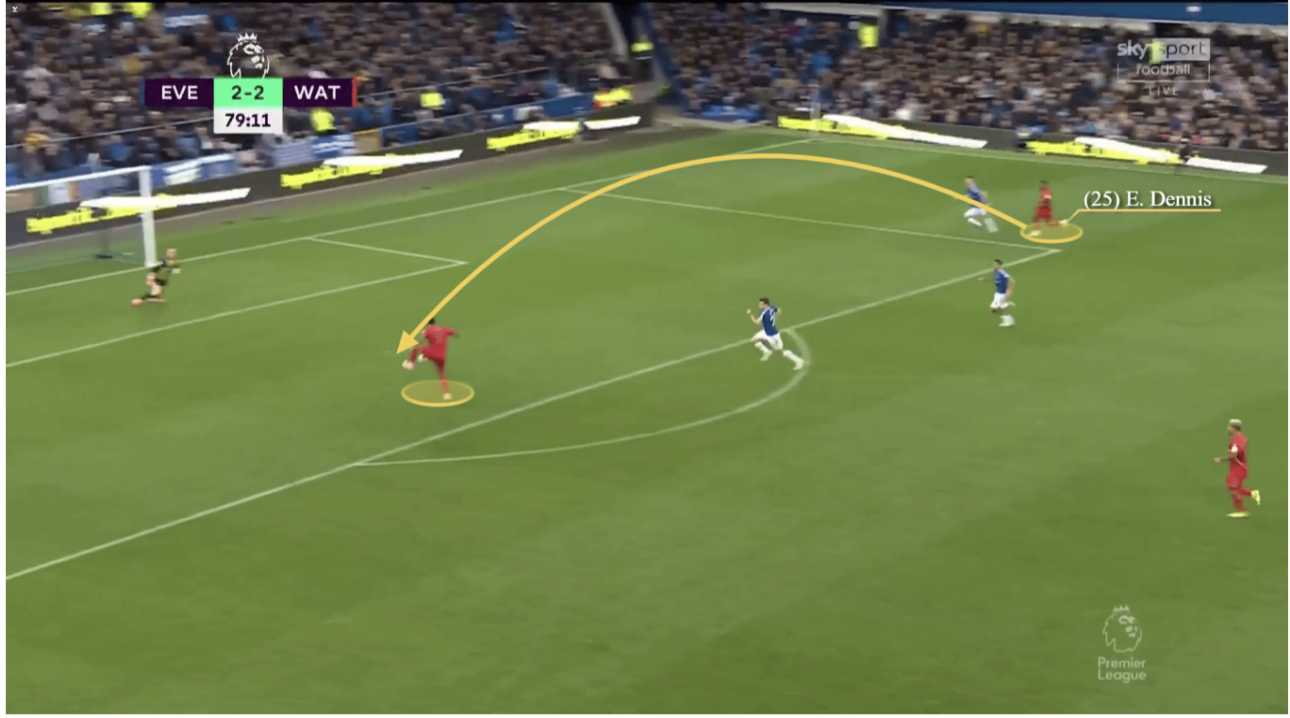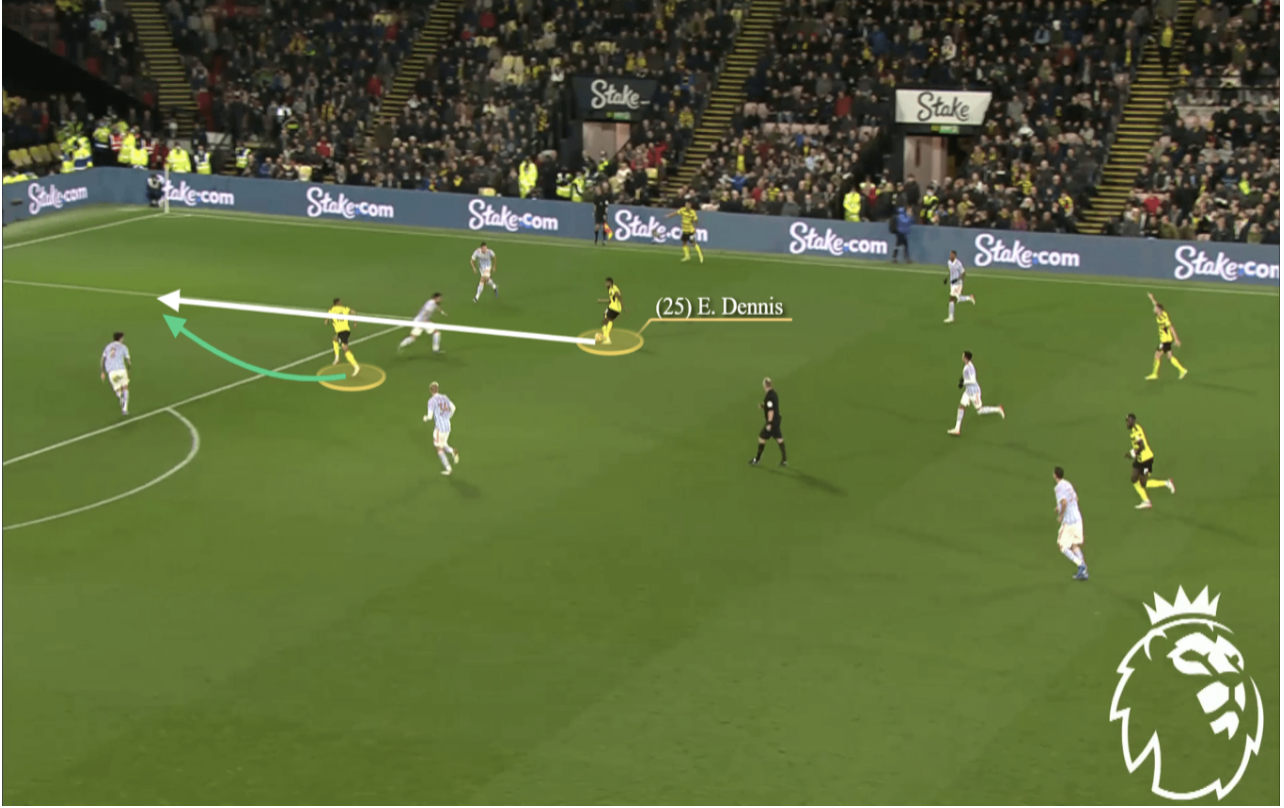 The Numbers
The last season was disappointing for Dennis, with no goals in 18 league appearances across his time in Belgium and Germany. Coach Markus Gisdol made claims about his work rate during his time in Germany, but that has been a thing of the past at Watford. 
The Hornets have a quick front three in Emmanuel Dennis, Ismaila Sarr and Joshua King, who are a challenge for defenders, with or without the ball because of their eagerness to run the hard yards.
This trio is among the top 20 players in the league, that have averaged the furthest sprint distance per 90 minutes this season, with Dennis (321 metres) trailing Sarr (344 metres) and King (357 metres) among players with 600+ minutes on the pitch. Of course, only Leeds has more players in the top 20 than Watford, with Leeds having 5.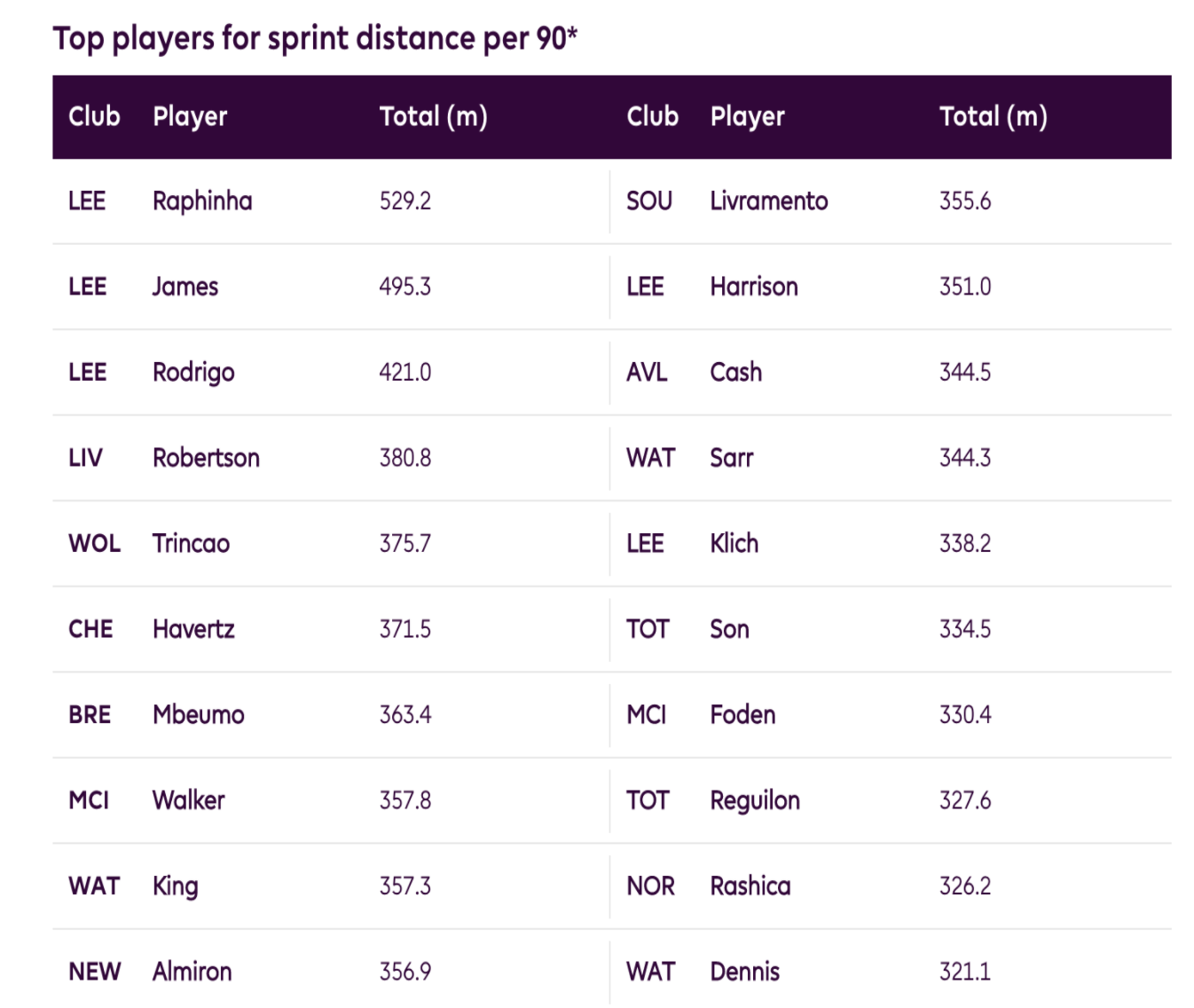 Photo: Premier League Website
He made a huge impact to Watford's cause, with 2.21 shots per 90, 2.20 dribbles per 90, 1.87 headers won per 90, 0.76 shots assists per 90, 3.48 touchers inside the box per 90, 1.95 progressive runs per 90, and 1.36 fouls suffered per 90.
Attitude Problems and Finding His Tribe in Watford
Before joining Watford, Dennis had been criticised for being a hothead with attitude problems, from leaving the team bus because he wanted to sit on his favourite seat, to giving Belgian police the middle finger after being pulled over for speeding and lastly, not being called up to the national team due to fallouts with the team coach.
These issues, however, seem to be behind him, with his Watford coach recently praising him saying: "Dennis is a very talented player. He's fast, has good skill, always runs straight to the goal – I love these kinds of players." Maybe all he really needed was a coach like Claudio Ranieri to bring out the best in him and act as a good support system. 
Conclusion 
After joining Watford for just €4 million from Club Brugge in the summer, the man with vast Champions League pedigree is definitely loving life in the Premier League. It would be intriguing to watch if this development continues well into the season, having quickly adapted to what is regarded as the toughest and finest league in the world and scoring against the likes of United, Chelsea, Leicester City, and Everton.
By: Louis Thompson / @_LouisThompson
Featured Image: @GabFoligno /
All in-game photos provided by The PFSA – Football Scouting Experts.