Hayden Hackney: Middlesborough's Revelation in Midfield
Only the most loyal followers of Middlesbrough or lower-league aficionados would have been aware of Hayden Hackney this time last year, as Scunthorpe fell further adrift at the bottom of League Two, spiralling towards the inevitability of non-league. Fast-forward to today, and he is omnipresent in Michael Carrick's well-oiled Middlesbrough machine pushing for promotion to the Premier League.
Hackney was born in Redcar, just east of Middlesbrough. He joined Boro's youth setup at Under 10's and has rarely look backed since. Featuring in all age grades and scoring a famous winner for the U23's in their inaugural Checkatrade Trophy game. This, along with other performances with the U21's and U23's earned him his first professional contract in 2019.
He made his senior debut in a cameo appearance in a FA Cup third round tie against Brentford-but failed to breakthrough to the first team squad on a regular basis despite traveling with them often. Ultimately, amidst a slight crossroads in his career, Middlesbrough opted to send him on loan to (at the time) League Two dwellers Scunthorpe United.
Michael Carrick Showing Early Signs of Promise as a First-time Manager at Middlesbrough
Hackney racked up 31 appearances for the Iron who would ultimately peril to relegation into National League. Speaking to the club's media, Hackney said "Personally, I've learnt a lot. It's been my first loan move, playing league football and have learnt more about the defensive and physical side of the game…This season's situation has hurt me. I don't like losing games."
Perhaps some of his breakthrough this season can be accredited to the physical hardening and adversity he faced whilst on loan at such a young age- which he has been able to harness; in addition to his innate quality as a footballer.
Although Hackney's spell on loan was by no means straightforward, in fact he was banned for 6 games after a retrospective review of live footage showed Hackney to spit on one of Exeter's players. However, he impressed sufficiently for Scunthorpe to negotiate an extension to his loan which was previously only from the start of the season to January.
As a returning loanee, Hackney would have had high hopes to grasp his opportunity to filter into the first team. Yet, this was not the case. Chris Wilder seemingly alienated Hackney from his plans and subsequently, he failed to make an appearance under him. Hackney's unconventional breakthrough was the product of interim coach Leo Percovich.
The Uruguayan only served as the interregnum between Chris Wilder and Michael Carrick for a matter of 21 days.. On his second day in charge, he was tasked with managing the team as Birmingham visited the Riverside. They scraped a 1-0 win and this was Hackney's first feature of the season; Hackney has featured in each and every one of the 31 games since.
This January, Hackney earned himself a new three-and-a-half-year contract with his boyhood club and is a vital piece in Michael Carrick's puzzle and will irrefutably continue to be for the foreseeable future until he moves onwards and upwards the footballing pyramid.
So Lays the Question…What Makes Hayden Hackney the Player He Is?
To first answer this question, I have referred to his playing statistics this season, compared to his companions in the Championship. The numbers are indicative that Hackney is a strong and extremely frequent progressive passer who is unparalleled in terms of his accuracy. Additionally, he has the inclination to progress upwards from his traditionally withdrawn position and push forward; whether it be with or without the ball.
He is an extremely proficient creator responsible for a great proportion of Middlesbrough's assists this season; albeit an evident caveat to this is that at the time of writing his real performance in assist is disproportionately greater than his current Expected Assists (xA) numbers on a per 90 bases.
Therefore, we can attribute some of this to his teammates converting chances (created by Hackney) at a rate deviated from the mean- which in the long run is likely unsustainable and will be prone to regression. The data highlights an attacking proclivity which portrays his semi-regular tendencies to shoot.
Defensively, the statistics suggest that he is a hyperactive defender, who is extremely keen to interrupt play but in the rawest sense is slightly inefficient in doing so — winning only 27% of his defensive duels. That being said, the given statistic is only a loose indicator and a 'win' of a duel is usually black-and-white and does not account for a breaking up or prevention of progression in a duel which is equally valuable. All of these inferences are drawn from the diagrammatic exemplification below.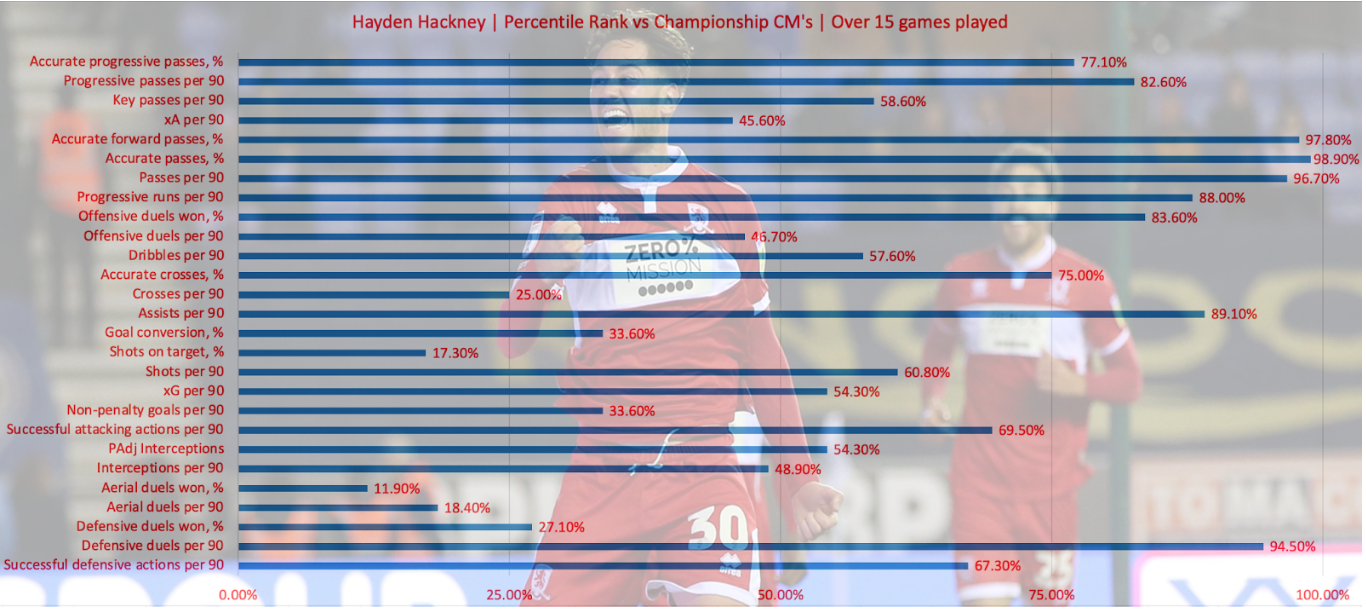 Hayden Hackney is predominantly deployed as the leftmost defensive midfielder in Carrick's 4-2-3-1. Preternaturally, Hackney is dominant on his right foot. This allows for Hackney to use his dexterity to invert and open new, previously unachievable passing lanes which can be hugely effective in dismantling defences and breaking the lines. Hackney has a degree of proficiency on his left foot and it is by no means underdeveloped.
Structurally, in the first phase of build-up, Hackney often drops in front of the centre-back pairing and offers himself as the first, most penetrative and direct option for progression- formulating a 2-1. This 2-1 structure facilitates the full-backs progressing up their respective flanks which provides an alternative route in the second phase.
Hackney positions himself cleverly; often just inside one of the half-spaces which acts as a signal for his midfield partner to synergistically place himself slightly more advanced asymmetrically. Hackney possesses an impressive passing range- which allows him to distribute the ball effectively upon his reception- rarely misplacing a pass as the aforementioned data- in reference to 'Accurate Passes, %'- further alludes to.
Furthermore, Hackney is proficient in tight spaces and when pressed upon receiving in the first phase- his close ball control and agile nature often allow him to negotiate these situations and come out of the other side and then pick a pass.
Many would suggest that his outstanding numbers, in terms of accuracy, in addition to his progressiveness is the by-product of a risk-averse nature or an inclination to make the easy pass- but from watching Hackney it is evident to me that he sees his primary responsibility as a penetrative one in the spirit of provision for his teammates. His ability to interconnect with teammates is outstanding and as a facet of his game will be invaluable as his career progresses.
How Carlton Morris Became the Main Man in an Already Established Luton Attack
Hackney's defensive proactivity relates to his tenacity and controlled aggression in duels conjugated with strong technical ability, in that he can often perceive the movement of his opposite number prior, this anticipation allows him to hover close to the player and jump in upon a loose touch. Sometimes, he will ultimately fall short of dispossessing his opponent but his ability to slow players down and limit their forward momentum is invaluable- especially in such a domineering side as Middlesbrough which can often be liable to the counter-attack.
It may be perhaps too early to draw such a comparison (between a Champions League winner and a 20-year-old) but Hackney's technical eloquence and unsurpassable work rate evokes a similarity, epitomises and is reminiscent of his head coach, Michael Carrick. In essence, I see Hackney as a protégé of Carrick and under his supervision and coaching, his playing level is set to increase exponentially.
Hackney has featured for England at U15 youth level, with his allegiances in limbo between England and Scotland ever since. Irrespective of his choice to represent, it will not be long before Hayden Hackney breaks through on the international scene, having been nominated for the EFL Championship Young Player of The Year in his debut season in the second tier.
By: Max Nicholls / @maxnicholls14
Featured Image: @GabFoligno / Will Matthews – PA Images