How Carlton Morris Became the Main Man in an Already Established Luton Attack
In the majority of sports underdog stories, the team triumphant in defeating the odds relies on building consistency throughout their core over a number of years in order to create chemistry that can eclipse superior quality.
On the back of a sixth-placed finish going into the summer of 2022, it looked as though Luton Town had cultivated that core and would continue their pursuit of promotion in an even stronger position going into 2022/23. However, from then until the end of January, they have lost key defenders in Kal Naismith and James Bree, a once-important attacker in Harry Cornick, and Nathan Jones, the manager that brought the club to the level above many perceived as their peak.
In the summer of 2022, the signing of 6″2 striker Carlton Morris to partner the 6″4 Elijah Adebayo also signified a strange shift from the more conventional combination of Cornick (5″9) and Adebayo that brought 36 goal contributions last campaign. Last season, Luton were the sixth-highest scorers in the Championship with 63 goals, helped massively by their talisman Adebayo, who netted 16 times from the focal point of their attack.
Nathan Jones' Luton Town: From Betrayal to the Brink of the Premier League
Consequently, the signing of a fellow number nine in Morris, who impressed in a similar role at Barnsley last term, raised the question as to how this team would go about appeasing two centre forwards who would be expected to lead the line week in, week out at Championship level.
Would they be rotated? Would they start together and clash in positioning and movements along the last line? These were both feasible possibilities for the Hatters, and an initial teething period that saw them score just once – courtesy of defender Dan Potts – in their opening four league fixtures raised alarm bells.
In theory, it is a partnership more likely to fail than it is to succeed. These are two centre forwards who like to play on the last man, pin themselves to full-backs and/or smaller centre-backs to win headers and drag their team up the pitch by holding up play, even when they find themselves isolated, before getting into the box to be the target for crosses from wide.
The reservations did not last long though, as it quickly became apparent there was a formula for Morris and Adebayo to complement each other well in what has become one of the most intriguing and threatening forward dynamics in the division.
With 42 games of the 46-match season gone, Luton sit in third place, eight points from second place and, crucially, 11 points from seventh-placed Blackburn Rovers, who have a game in hand, meaning they are comfortably in the play-offs. Adebayo and Morris have contributed towards 34 of their 53 goals so far, but just how have they managed to get it so right?
A look at their respective stats doesn't make the picture any clearer either; their heat maps are strikingly similar, they also rank in the bottom 20 percent on FBRef for pass completion percentage, and the top 20% for successful take-ons, progressive passes received and aerials won.

This is a fairly accurate reflection of their roles, they are both more adept at carrying the ball, playing with tunnel vision in transition to beat their man and playing short passes into teammates rather than lifting their heads and attempting more difficult passes, so the patterns of how they contribute to a team and the scenarios in which they succeed are mostly similar.
Despite being nearly identical, what Morris and Adebayo's respective heat maps do show is their willingness to venture into any attacking areas – be that wide or central, deeper or on the last man – comfortably, which makes it easy for both of them to adapt to the other's movements in order to make the most telling contributions to the team.
Adebayo in particular has had to take a back seat at times, dropping into the hole to play as a support striker or hovering towards the back post when crosses come in, both of which have given Morris the freedom to operate in spaces where he is most dangerous – making runs off the last man and getting into the box to take chances.
This isn't to say the favour hasn't been returned by Morris either. Adebayo's speed over short distances is a key attribute to his movement off the last line of defence, and in a free-flowing Barnsley attack last season, Morris thrived when facilitating runners ahead of him, which has served his relationship with Adebayo well.
Versatility, adaptability and an unselfish, disciplined streak are the key aspects that make this dynamic so fruitful. A duo both of whom are capable of being the target man, the support striker and even an inside forward means that every member of the opposition back line are constantly on alert, and often in for a torrid time when facing this Luton side.
This example from their 3-1 win over QPR in October epitomises their equally rounded contribution in the final third. The attack begins with Morris challenging for an aerial ball whilst Adebayo hangs right to receive a flick-on, which eventually comes when Jordan Clark runs ahead of Morris to collect the ball.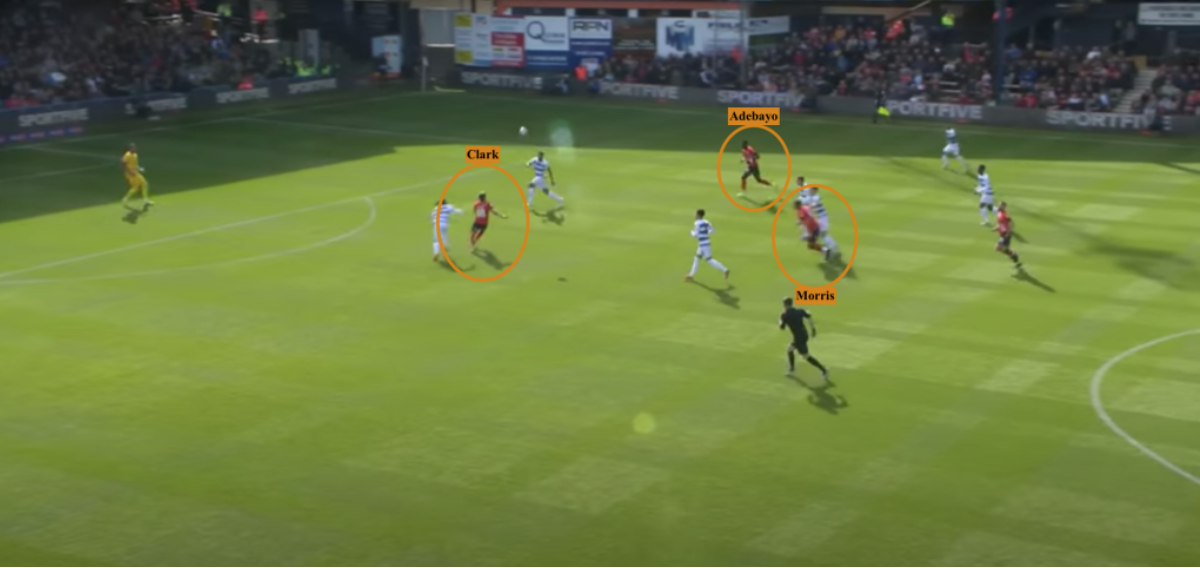 As Adebayo receives Clark's pass, Morris then spots another driving midfield run from Allan Campbell and hangs back to reach Adebayo's cross as it flashes across the goal dangerously.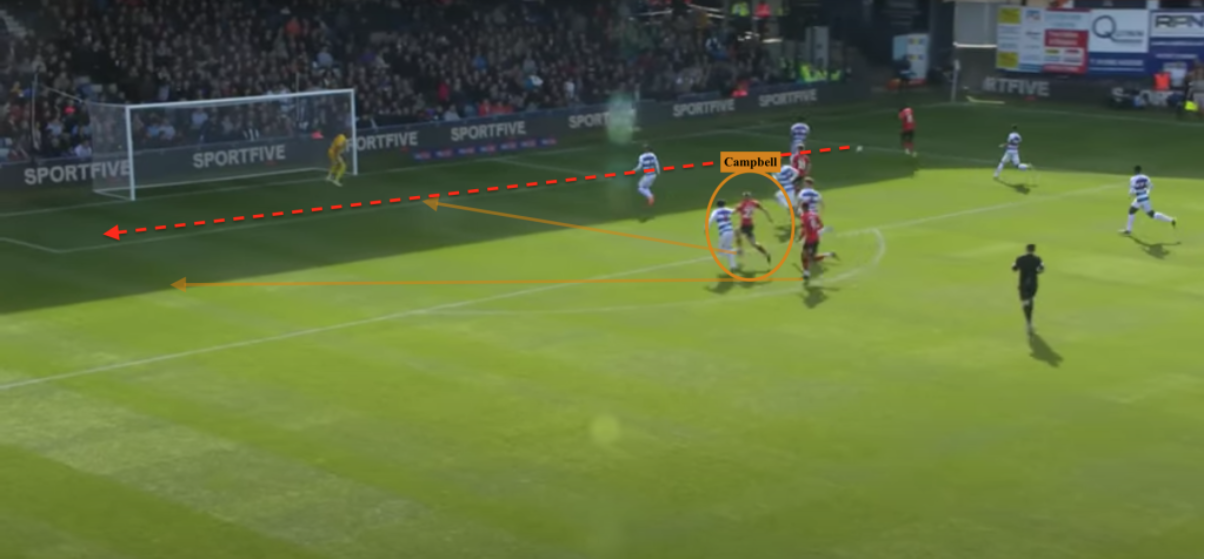 From there, Morris stands up the defender and delivers an equally threatening back-post cross, where Adebayo is waiting to nod home from close range.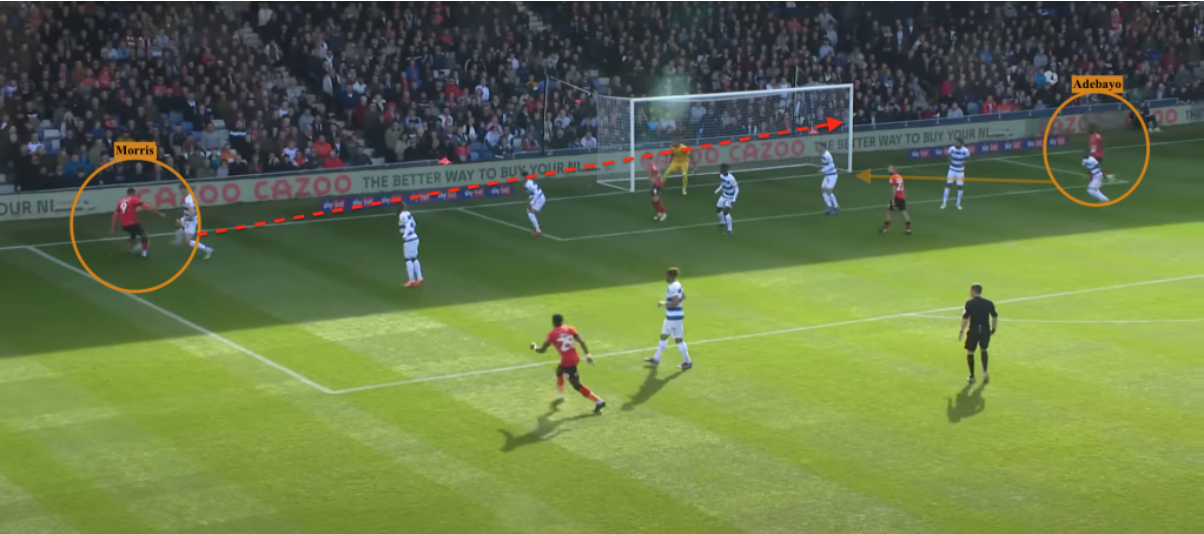 The intelligence and understanding it requires to consistently be where the other isn't, and do what the other doesn't in attacking scenarios cannot be understated. These are two players with varied skill sets that through good coaching, communication and a bit of compromise have done with ease what many deemed to be difficult to pull off.
That partnered with the fact that Luton have conceded just four in their 10-match unbeaten streak – a run which features games against promotion rivals Sheffield United, Watford and Millwall (twice) – Rob Edwards has a well-balanced team brimming with confidence and momentum as the play-offs fast approach.
Middlesbrough's Michael Carrick is rightfully stealing the limelight for the impressive play style he has implemented in such a short space of time in his first managerial role, but the job that Edwards has done since arriving at Kenilworth Road in November is just as noteworthy.
Although an unsuccessful stint at Watford put a short-term taint on his ascent, it is easy to forget that this is a man that managed in League Two this time last year who now has Luton sitting third in the Championship. If anything, his time at Watford only heightens his quality as a manager to bounce back so emphatically when his stock was reduced. Among the many aspects of the game Edwards has instilled at Luton, getting Elijah Adebayo and Carlton Morris to work consistently in tandem as a front two is definitely the most remarkable.
Whether Luton Town can continue to write increasingly eye-catching chapters in their underdog story remains to be seen, but with the range of circumstances by which Morris and Adebayo can be effective in this eleven, anyone is beatable, and anything is possible for the Hatters. 
By: Brad Jones / @bradjonessport
Featured Image: @GabFoligno / Matthew Ashton – AMA / Getty Images