How PSV and Cody Gakpo Have Pushed Ajax for the Eredivisie Title
It takes a lot to topple Ajax off of the Eredivisie at the best of times, let alone when they've only conceded just five (!) goals in 20 games. Yet until PSV succumbed to a 1-2 home loss to Erik Ten Hag's side on the 23rd of January, Roger Schmidt's side were doing just that.
They followed that up with a dismal 2-1 defeat to AZ Alkmaar on Saturday, with Armando Obispo giving the hosts an early lead, before goals from Bruno Martins Indi and Jesper Karlsson gave AZ a comeback victory.
PSV will be looking to get back to winning ways as they brace for a packed February schedule that will see them play NAC Breda in the KNVB Cup, travel to Vitesse and Sparta Rotterdam and host Heerenveen in league play, and face off against Maccabi Tel Aviv across two legs in the UEFA Europa Conference League.
Currently, PSV trail Ajax by just five points, and the man responsible for over 30% of their goals is Cody Gakpo. The 22-year-old flying Dutchman has taken a significant leap forward this season, along with most of the rest of his teammates.
Though Schmidt recently announced his impending departure for the end of the 2021/22 season, the German can leave the Netherlands proud of what he has accomplished. PSV look notably different to how they did when he arrived, and Gakpo (along with Mario Götze and Ibrahima Sangaré), has been one of the biggest beneficiaries of the Schmidt era.
PSV's Freedom in Attack
It's taken a while for Schmidt to fully implement his ideas. Famed for his pressing philosophy that was moulded at places like RB Salzburg and Bayer Leverkusen, the-then 52-year-old joined PSV in March 2020.
He got an extended summer to work with his side ahead of the 2020/21 campaign after the 19/20 Eredivisie season was cancelled due to COVID. For most of his first campaign, PSV lined up in a 4-2-2-2 system.
This drew criticism though from Dutch media, as PSV lost some games in a disappointing manner. When they lost 2-0 away in AZ Alkmaar in the final 10 games of the season, criticism reached a fever point.
Fans found PSV frustrating and inconsistent, especially compared to Ajax. They went on to win the Eredivisie with a comfy 16 point lead over second-place PSV.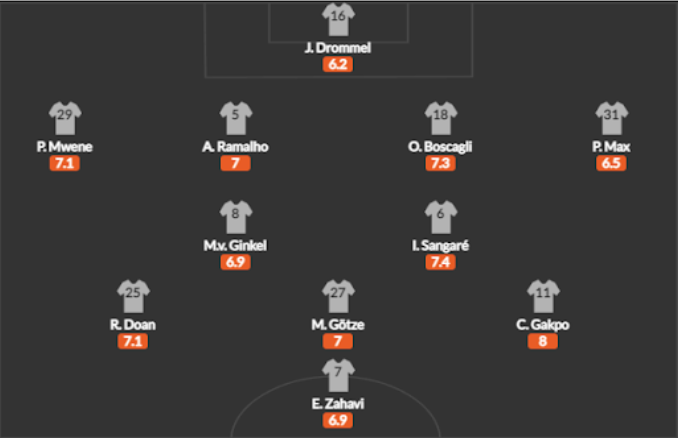 PSV's most-used formation/lineup, used 15 times in the 21/22 Eredivisie season [WhoScored]
Now gone is the 4-2-2-2, as well as Donyell Malen, Pablo Rosario, Denzel Dumfries and Mohamed Ihattaren. Van Ginkel and Phillip Mwene marked notable arrivals, but more importantly, the practice of last season in intense pressing has paid off.
Watch PSV now, and they can provide a blueprint on how to squeeze teams and synchronise their press in an effective manner. They've gone from conceding 0.99 XG per-game to 0.89 XG per-game.
When PSV do have the ball, there's shades of the modern Crystal Palace. Though there is an emphasis on timing & discipline out of possession, with the ball the attackers are encouraged to take their time to make what they believe is the right decision.
The midfielders are encouraged to pass vertically where possible, leading to situations where PSV attempt bold passes into forwards, who have the freedom to take danger to the opposition by themselves.
No side is attempting more dribbles per-game in the Eredivisie than PSV. Although PSV as a side hold just a 54% dribble success rate, it emphasises the attacking freedom Schmidt has given his players. Gakpo's drive & snapshot in the Europa League this season showed the confidence the players have in trying riskier manoeuvres.
Cody Gakpo has 15 goal involvements for @PSV this season (7G, 8A) 🔥🔥🔥#UEL pic.twitter.com/YgaPaNyYim

— UEFA Europa League (@EuropaLeague) October 28, 2021
Only Feyenoord are attempting more shots outside of the box in the Eredivisie this season too. PSV have gone from 2.18 goals per game to 2.4 goals per game, and have outperformed XG by 4.4 goals. That may feel unsustainable long term, but right now the freedom is paying off. No side in the Eredivisie is scoring more goals outside of the box per game either.

That freedom is needed. The vertical passing that Schmidt subscribes to doesn't always pay off against sides that sit deeper. They know what to expect, and PSV cannot always counter attack them quickly. That spark of magic to unlock a tight defence has been helpful in PSV scoring more goals.
PSV's Attacking Arsenal
The talent in PSV's armoury of attackers has been eye-catching and exciting this season, especially since a lot of players have come from seemingly nowhere to perform.
Ritsu Doan was on loan at Arminia Bielefeld last season, and the Japanese 23-year-old has come in to contribute four goals. No one too could have predicted the Portuguese winger Bruma, formerly of Galatasaray and Leipzig, to return from loan at Olympiacos and blast teams away like he has on occasion this season.
Yorbe Vertessen is another exciting talent who is just reaching everyone's radar. The 21-year-old Belgian right-winger has outperformed his XG by 2.4 this season (currently with 6 goals at the time of writing). He's an optimistic player, regularly chasing down balls and trying shots from tighter angles. Vertessen has stepped up as Madueke has succumbed to off-the-field issues.
Mario Götze may just have the four goals and assists in 17 matches, however he has caught the eye in some games too. He was brilliant vs Ajax recently. His place in the side could be under threat though after the arrival of Joey Veerman from Heerenveen. The 23-year-old Dutchman currently has 10 goals and assists this season, with three already coming for PSV.
Goal! 2-0, Yorbe Vertessen⚽️ pic.twitter.com/FnbI9l6gel

— psv op 1 (@psv_op_1) September 11, 2021
Topping PSV's table for goals and assists is none other than Cody Gakpo. Born in Eindhoven, Gakpo has been with PSV since he was just eight years old. It's taken a while for him to steal the spotlight from players like Donyell Malen, as he finished last season with just nine goals and assists in 23 games.
This season though, he has been terrific. With six goals and ten assists, he's third in the Eredivisie for goal contributions. Critics will point to the fact that five of his assists have come from set-pieces.
However, with Bergwijn, Depay, Robben and Mertens the previous holders of the left-wing position in Eindhoven, Gakpo has a strong pedigree. Lifting the hood on the headlines reveals a player with a unique profile.
Just How Good Is Gakpo?
Watching Cody Gakpo play and move around the pitch in an odd way makes you wonder about the potential of Kai Havertz. Both attackers are 6ft 2, but both look like they want to play as a smaller, nippier attacker. Gakpo is rarely the man getting into the box for a high cross. Despite only two outfielders being taller than Gakpo in PSV's squad, he's the man who takes the corners for PSV.
What Gakpo has over Havertz is raw speed, and that's helped by the balance between his body weight and agility. His height helps him shield the ball, but Gakpo is light enough to dance through tackles and sharply fake defenders.
He retains the sharpness of a winger with a lower centre of gravity, while adding the bonus of a stronger player who can hold his own in more physical matches.
With that in mind, it's easy to see why only three other players in the Eredivisie are completing more dribbles p90 than Gakpo (3.1 p90) according to WhoScored. His agility, combined with obvious strength on his weaker left foot, makes him an unpredictable potent attacker.
🇳🇱 Cody Gakpo with his first international goal 👏

The first of many? 👀@OnsOranje | #WCQ pic.twitter.com/6yfZETwget

— UEFA EURO 2024 (@EURO2024) September 7, 2021
Gakpo can cut inside and shoot, as we have seen, but he can also go on the outside and comfortably cut the ball back with his left foot. In fact six of his assists this season have come from non-set-piece crosses, and Gakpo has played exclusively off of the left-hand side.
This is a player who can contribute both in directly creating chances, or by unsettling blocks with his escaping runs. Only Dušan Tadić has created more big chances in the Eredivisie than Gakpo's nine.
Where Next For Cody Gakpo?
BTL recently spoke of the growing anxiety about shopping in the Eredivisie from Europe's top five leagues, when we profiled Jesper Karlsson. The vacuum of confidence shown by Myron Boadu and Calvin Stengs in Ligue 1 this season has cemented fears birthed from inconsistency from Hakim Ziyech and Steven Bergwijn: the Eredivisie is an unreliable market.
Jesper Karlsson: Will This AZ Alkmaar Product Buck Recent Trends?
Perhaps this does mean that 22-year-old Gakpo will struggle to make it in a top European league. It probably dampens the hype from articles touting Arsenal, Liverpool and Manchester United as potential destinations. Especially after what happened with Memphis Depay, it's highly unlikely Manchester United fight to land a man who has a contract running until 2026.
What it could mean though, is that another European team is able to sneak in and steal Gakpo while the giants hesitate. If Newcastle are looking for a player to devastate off of the left-hand side while Allan Saint-Maximin does so off of the right, Gakpo could be an interesting pick-up.
The same goes for Napoli. They successfully picked up Hirving Lozano from PSV back in 2019, and this season the Mexican right winger has netted seven goals and assists. With Lorenzo Insigne leaving Italy, Luciano Spalletti could do with a reinforcement for the left hand side.
Where Gakpo goes next is up to him. Marco Van Basten recently came out and urged Gakpo to stay in Eindhoven and build up on his foundations, instead of hastily moving abroad. However, if a team can promise Gakpo Champions League football, something he is yet to experience at PSV, that may be enough to tempt him away from his home of 14 years. 
By: Alex Barker / @EuroExpert_
Featured Image: @GabFoligno / Soccrates Images / Getty Images