Jesper Karlsson: Will This AZ Alkmaar Product Buck Recent Trends?
Eredivisie talents automatically command scrutiny nowadays. For every Frenkie de Jong and Memphis Depay, there's a Davy Klassen and Justin Kluivert. Unlike those, and mixed successes such as Steven Bergwijn and Donny van de Beek, Jesper Karlsson hasn't been made in Amsterdam or Eindhoven. This 23-year-old's 14 goals and assists this season have come at AZ Alkmaar.
Again, Tottenham fans may think we've been here before. Vincent Janssen's infamous 2016 departure to White Hart Lane blackened the mark against the Eredivisie, while other big-money moves for AZ's Alireza Jahanbakhsh, Myron Boadu and Calvin Stengs have failed to set the world alight.
Karlsson's talent is clear though. Not only whispered in comparison to a young Cristiano Ronaldo, due to their similar running styles, Karlsson has built up an impressive ground of support in the Netherlands. FootballOranje's Dutch Football Expert Michael Stratham had this to say when asked about what sets Karlsson apart from other talents.
"When games are tight, Karlsson can often make the difference, whether it's a typically-powerful shot from distance, or using his excellent close control to work some space for a cross. I have no doubt that Karlsson will go on to move to a bigger club than AZ in future, but what will hopefully set Karlsson apart the 23-year-old from other Eredivisie exports is his drive to improve in the way he has done for AZ already."
Who is Jesper Karlsson?
Born in Falkenberg on the southwest coast of Sweden, 6 hours drive from Stockholm, Karlsson started playing for a football team as early as 4 years old. He's been looked at as a high-profile talent since he started playing for Falkenberg in the Allsvenskan aged just 18.
Described in Dagens Nyheter, Sweden's top Newspaper, as an 18-year-old super talent', Karlsson would play over 100 times in the Swedish top flight before his 22nd birthday.
In that time he scored and assisted 42 goals, working out at a goal contribution every 148 minutes. For context, that would work out at 23 goals and assists in a Premier League season if Karlsson played every minute.
Numbers like these will stand out to keen analysts, and AZ Alkmaar's recruitment team has some of the best in the game. They're advised by Billy Beane, the famous mind behind the explosion of 'Moneyball' and known to make transfer decisions based on underlying numbers like expected goals.
Jesper Karlsson was brought to the northern Dutch city in September 2020, for a fairly measly £2.34 million. He's currently worth nearly three times that fee based on Transfermarkt's figures. Karlsson was injected straight into an attack that branded itself on its energy and productivity.
Only Ajax had scored more goals than AZ in the 2019/20 season before it was abandoned due to COVID-19. Thankfully 22-year-old Karlsson stepped straight up to first-team level, scoring and assisting in each of his first five games.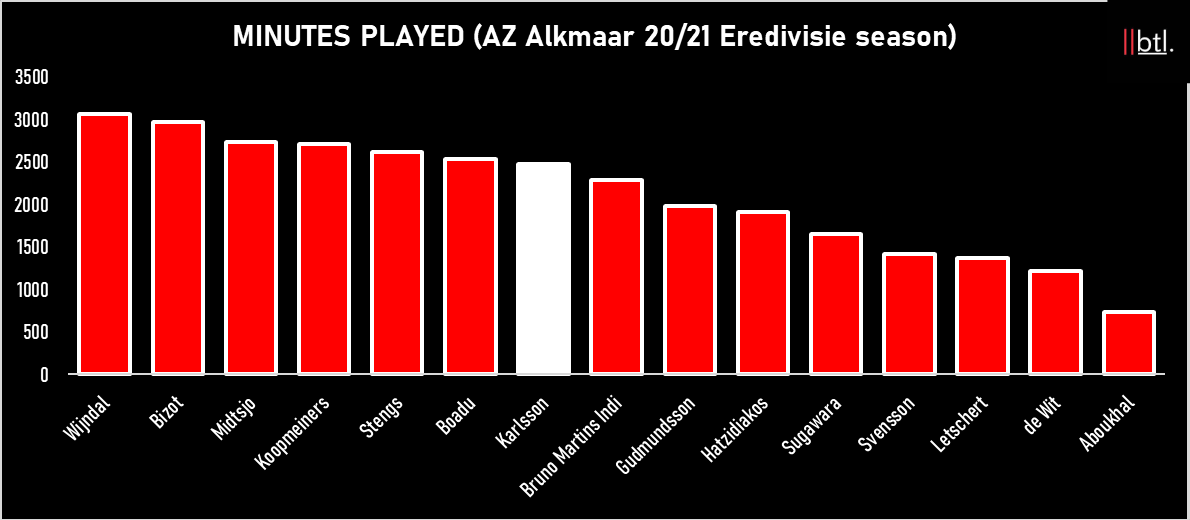 Though Arne Slot left the club in December 2020, Karlsson still finished his first Eredivisie season in fine form. 11 goals and 9 assists is a great return for a debut campaign, but it was clearly just the foundations. Karlsson is just five goal contributions off last season's total, with just under half the games played.
Can He Carry His Goals Elsewhere?
Karlsson feels a little reminisicent of Arjen Robben. Perhaps the Swede was even inspired by the Dutchman, as the way Karlsson persistently cuts inside from the wing (left wing in his case), feels as predictable as it did dangerous for the former Oranje star.
Arne Slot's Abrupt Dismissal at AZ and the Fight to make Feyenoord a Champion
Not only that, when comparing his data this season with last season's right-winger Calvin Stengs, Karlsson can appear wasteful. Over 52% of Karlsson's shots have come from outside the box in the Eredivisie this season, something analytical heads in football would wince at.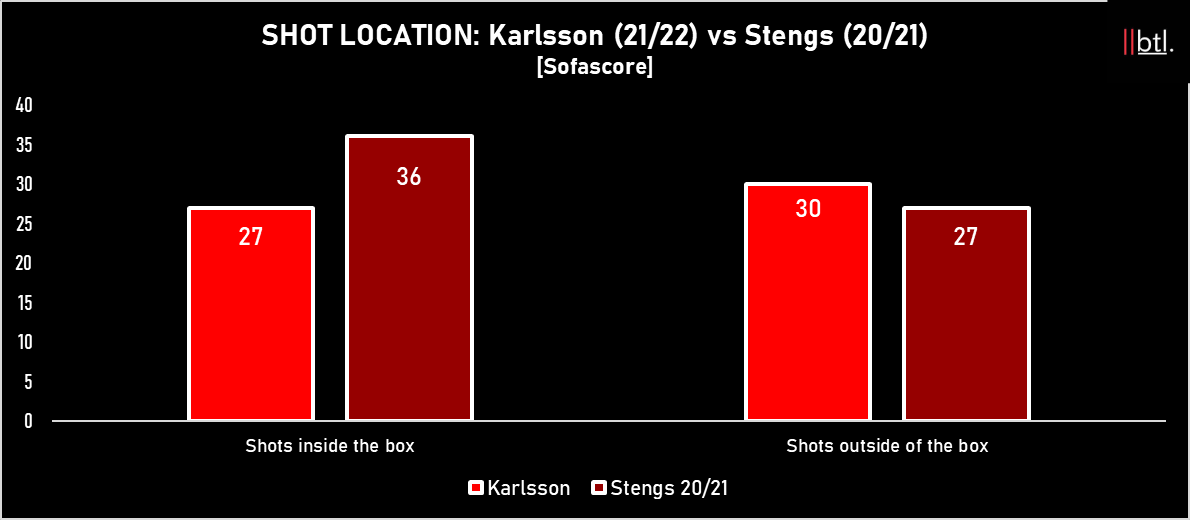 It's possible more tactically-switched on defences could stifle Karlsson's attempts to drive inside and shoot at goal. There's evidence to that theory, as Karlsson has just four goal contributions in 12 Europa League & UEFA Conference league appearances.
Yet the Swede is more deceptive than given credit for. His goal against VV Venlo last season is hard evidence as to why he should continue to be a dangerous goal threat in a tougher league. Though given way too much time before eventually taking his shot, the way he feinted the two opposing defenders is a nice insight into his deceptive body language.
Goal Appreciation Tweet

Jesper Karlsson #11#AZAlkmaar#Speelronde 23 #Eredivisie pic.twitter.com/54OG2JhZQf

— Eredivisie Indonesia (@eredivisie_indo) February 23, 2021
At 5ft 7, Karlsson's low centre of gravity allows him to change direction quickly as he glides across the pitch. There's some nice variety to his finishing too, as Karlsson will also fire low efforts to the near post, sometimes catching goalkeepers off guard.
That variety strictly applies to where Karlsson's shots end up though, and not where they arrive from. Although Karlsson is happy to use his weaker foot when needed, he seems incessant on using his stronger right foot as much as possible.
In fact, according to Whoscored, a generally reliable data provider, only 4.6% of Karlsson's shots in Holland have come with his left foot. That's across two seasons, with every single one of Karlsson's 57 shots in 21/22 coming from his right foot. That's a pretty staggering statistic.
What Else Can He Bring to the Table?
There was another young, exciting left-winger who recently played in the Eredivisie. Chidera Ejuke notched up 13 goal contributions inside 24 appearances at Heerenveen in the 2019/20 season. He also liked to cut inside, rather predictably and somewhat like Karlsson. He was also a fairly exceptional dribbler. Now, Ejuke is at CSKA Moscow aged 23-years-old.
What separates an Ejuke from a Karlsson though, is the latter's creative ability. While the Nigerian Ejuke created just 3 big chances in that 19/20 season, Karlsson has already created 6 for his teammates, matching his tally of 6 assists in 21/22.
His assist recently against Willem II documented his quality away from driving at defenders. A beautifully weighted ball forward found Dani de Wit with a precision that no defenders in the world would have seen coming.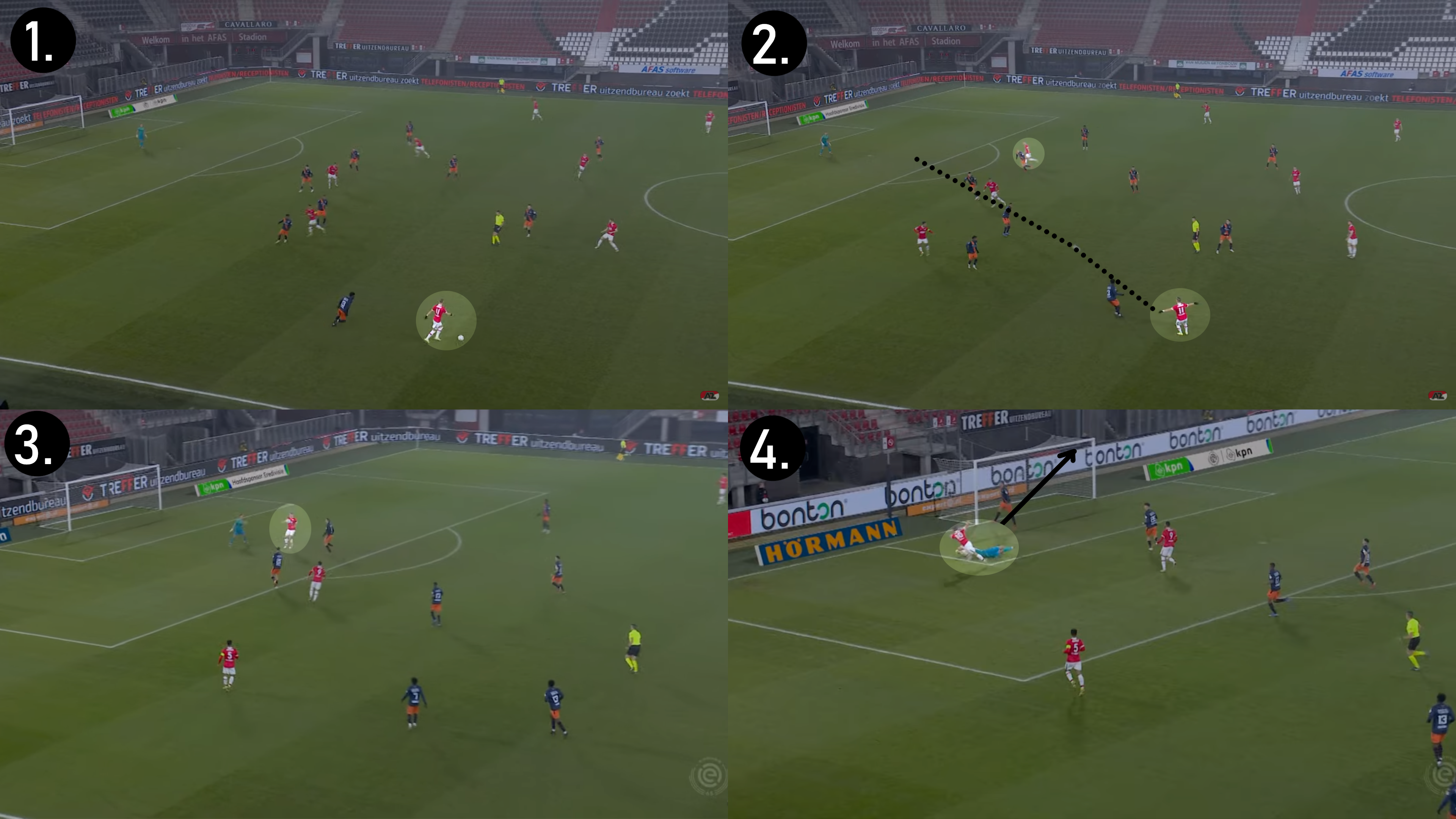 Importantly, Karlsson isn't simply thriving off being a big fish in a small pond. While Karlsson is topping the squad in shots, dribbles and key passes per 90 minutes, an equal amount of Alkmaar possession passes through the right-hand side as well as Karlsson's left-hand side (36%).
One question mark over Karlsson would be how he adapts to a more aggressively pressing, ball-dominant side. AZ have deviated from the days of 2019/20, where only 5 teams won the ball in the final third more than them in the Eredivisie [FotMob]. They currently sit 12th in that regard.
Though they sit a little higher in possession rankings, holding 57.3% of the ball, the step-up in opposition quality in the top 5 leagues is huge. Karlsson is unlikely to be able to help press sides like West Ham and Everton into submission. That said, Karlsson did quickly adapt to the Eredivisie, so his ability to learn quickly shouldn't be underestimated.
When Could He Leave?
Tied down till 2026 after recently extending his contract, Karlsson may not leave the Eredivisie for another year. Then again, the 23-year-old spoke recently of AZ's awareness of his ambitions, telling Fotbollskanalen,  "I'm happy and in a good place right now, but of course, I have high dreams.
If he continues his current contribution rate, Karlsson will finish the Eredivisie season on 28 goals and assists. That would be two goal contributions higher than Steven Bergwijn's best tally in the Netherlands [18/19 season], so if Karlsson can keep this up, he should be taking steps closer to those high dreams pretty soon.
By: Alex Barker / @EuroExpert_
Featured Image: @Juanffran / BSR Agency – Getty Images
Special credit to Football Oranje's Michael Statham (@EredivisieMike) for his help with the article.