How Richarlison's Role Has Changed Since Being Deployed as a Striker
Under the stewardship of one of this era's defining managers, Carlo Ancelotti, Everton have taken considerable strides towards gate-crashing the constructed 'top-six that has largely monopolised England's continental qualification places in recent years. This is viewed as a key goal of Farhad Moshiri's upon his takeover in February 2016.
Of Moshiri's investment into the playing squad, Richarlison's £35 million transfer fee in the summer of 2018 was the second-largest in Everton's history, and one that was greeted with excitement from the blue side of Merseyside despite the fee for a player with limited senior appearances in Europe whose performances had faded during the second half of the 2016-17 season.
During his time at Watford, the young Brazilian had proven himself to be one of the brightest young talents in the Premier League during his breakout season at Watford, which following several seasons at Everton, have graduated to reported interest from Catalan giants Barcelona. Since signing from the Hertfordshire-based club, the attacking player has highlighted his versatility, being used across the entire front line by both Ancelotti and his predecessor Marco Silva.
For a large part of this season, Richarlison has been playing in his 'favoured' left-wing position, despite the Italian's constant tinkering to Everton's set-up throughout the season. In recent weeks, system changes and an injury to Dominic Calvert-Lewin has seen Richarlison operating as a striker.
How Dominic Calvert-Lewin Became One of the Premier League's Deadliest Strikers
This article will look at Richarlison's role as a striker, and what it has meant for Everton as they continue to push to secure European football for when fans return to Goodison Park. The main areas I will focus on are Richarlison's role out of possession, in attacking transitions and in the attacking third.
Out of Possession 
Everton has set-up in a variety of formations in the course of the season, demonstrating tactical flexibility and a willingness to change the team's shape in response to the opposition and the players available to Ancelotti. The tactical flexibility has endured during Richarlison's stint as a striker, with the Merseyside outfit changing between a 4-3-1-2, 4-diamond-2 and 3 at-the-back formations.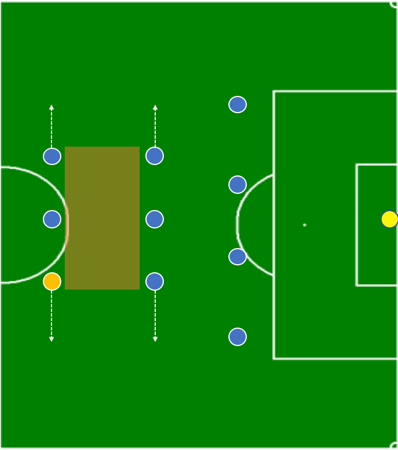 When Everton have been setting up in a 4-3-1-2, out of possession, the team has been structured in a narrow 4-3-3 shape out of possession designed to emphasise compactness between the lines. Richarlison has been operating on the left of the front three in this system, as shown by the above visual and as demonstrated during the 3-3 draw vs. Manchester United on February 6.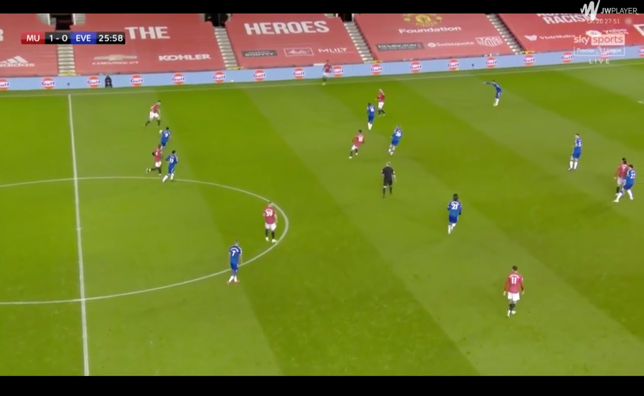 Richarlison's main role in this system out of possession, in conjunction with the other two forwards which are usually his strike partner and the no.10, is to block passing lanes into the key central areas and to cover spaces laterally, two key components of Ancelotti's use of the narrow 4-3-3 shape out of possession.
As the first line of defence when the opposition's defenders are in possession, Richarlison's role of blocking passing lanes into the central areas from the defenders on his side of the pitch disrupts the central progression of the ball into the so-called golden areas of the pitch to the midfielders and forwards, instead, forcing the opposition to focus build-up play wide initially or recycle the ball in areas where it is not dangerous. 
Furthermore, his athleticism, intensity to his play and knowledge of pressing triggers make him an effective presser, allowing him to cover spaces laterally to his side when the ball is in play there, or upon certain triggers higher up the pitch. In the below image, Richarlison has pressed Aaron Wan-Bissaka on the flank as the Everton team shift over with his press, demonstrating his role in laterally covering wider areas.
This is structurally important, as the narrow nature of the system employed by Ancelotti requires the wider players in the two blocks of three to cover wider areas, in an attempt to prevent the ceding of too much time and space to opposition wide players.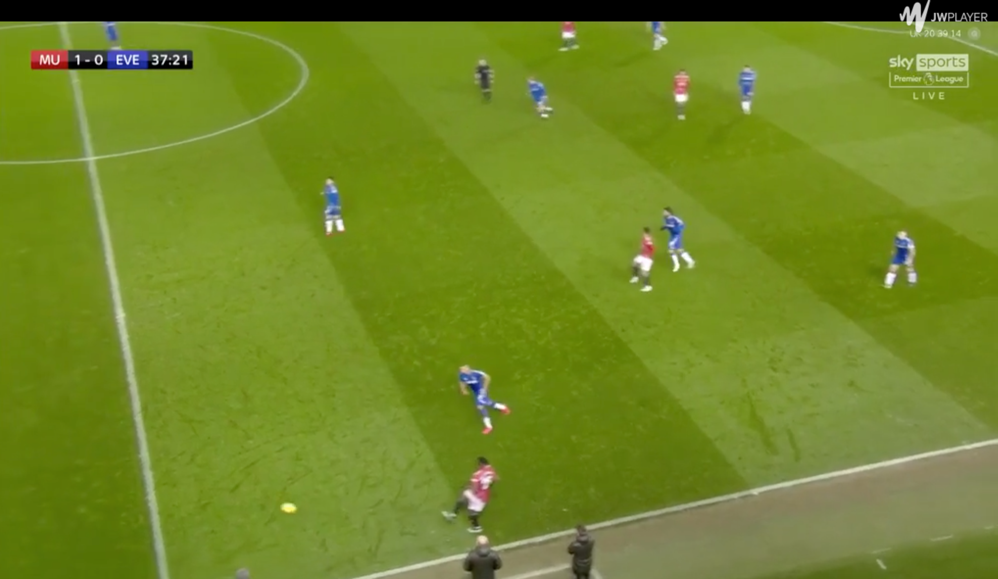 Supporting the notion of Richarlison's effective press are his pressing statistics, which highlight him in the 82nd percentile for successful pressures when compared to other forwards in the PL this season (note this calculation will include Richarlison's pressing statistics when utilised on the left-wing). Both of these skills require tactical discipline, a skill that the Brazilian forward has in abundance. 
How does this differ from when Everton used him as a left-winger? Positionally, Richarlison is taking up a narrower and higher position out of possession, where he would typically be completing a more man-oriented job of tracking and pressing the opposing full-back.
A subsequent impact of this change will typically mean Richarlison does stay higher up, which as noted later in the article, forms a central part of the additional threat he carries within this system. However, whether by design or through Richarlison's natural tendencies as a winger, he has continued to provide Lucas Digne with defensive support, particularly during times the opposition is sustaining attacks and Everton retreat into a low block with limited spacing between the three units.
Attacking Transitions
Richarlison's higher starting point has meant that he has become an early target in attacking transitions, passing into the vacated space where either the full-back has pushed on, or the inside channel between full-back and centre back, where Everton can release him into space or isolate him against an opposing defender. In the early exchanges of the Manchester United game, this was a tactic employed deliberately to help release pressure on Everton and progress the ball. 
For example, in one of the below images, a failed breakaway attempt highlights a clear desire from Richarlison to attack and penetrate the space highlighted which was vacated due to Manchester United's attacking expansiveness, which is facilitated by his higher starting position. The other example, Richarlison makes a forward run into the vacated space in the Manchester United half, with an early ball played direct into him in space, pitting him 1v1 against a recovering Wan-Bissaka. 

In these circumstances, Richarlison can thrive and utilise his skill set that he has developed playing as a winger. The 23-year-old is quick, well-balanced and can dribble both ways due to being able to use his weaker left-side comfortably, meaning he is very difficult to defend against when he is carrying the ball. He is also fairly explosive in the way in which he can stand up and take on the defender.
When in transition, he is also typically taking up similar positions to what he would have been if he was playing as a winger, attacking the defender at similar angles. As such, his role in quick transitions and more chaotic phases of play are relying on skills that Richarlison has honed on the wings, effectively playing to his strengths.
At times, it is evident that Richarlison and Calvert-Lewin need to be more aware of the other's position as they seek to work in tandem in transitions. The Englishman is very strong in the air and can be an option for more direct play into him, often winning the first flick-on and holding the ball up, or creating a 'second ball' opportunity to retain possession in the opposition half.
In both these situations, Richarlison needs to anticipate these opportunities and situate himself closer to Calvert-Lewin to collect the ball in these scenarios. Having played together for a large portion of last season upfront, and in the recent weeks, this is a simple adjustment that might allow Everton to either sustain attacks or retain possession higher up the pitch.
Tactical Analysis: Carlo Ancelotti's Top-of-the-Table Everton
It is important to note the counter-attacking approach employed by Everton during these games, with a majority of these games coming up against opposition harbouring similar, if not, loftier ambitions in the Premier League this season. Subsequently, there is more space available to counter in as both Manchester clubs play more expansive football, which provides Richarlison more space on the counter.
These type of match conditions will allow Richarlison to thrive centrally, whereas, when playing against a low block with limited space, the young Brazilian's ability to play as a striker will require greater refinement when he will be operating in tighter spaces and having to be more physical in his approach, as demonstrated by his ineffectiveness at times against Burnley, who defend in a low block.   
In Build-up 
As a result of his more central position, and being deployed as the striker, Richarlison's role in the build-up and progression of the ball is fairly limited, particularly in structured build-up. Likely due to his relative inexperience in the role, Everton's second-most expensive signing tends to struggle to be an effective presence in holding the ball up and playing with his back to goal.
He is a lot more comfortable in receiving the ball when out wide, or in a position in space where he can then drive and carry the ball, which is expected of a player who has predominantly played as a wide forward throughout his career. At times in the 1-2 defeat to Burnley, Richarlison drifted into wider positions in the build-up play to be involved as when he was occupying central positions when Everton had the ball, the Brazilian could not create the angle to receive the ball from the midfield, which led to the Blues recycling possession wide.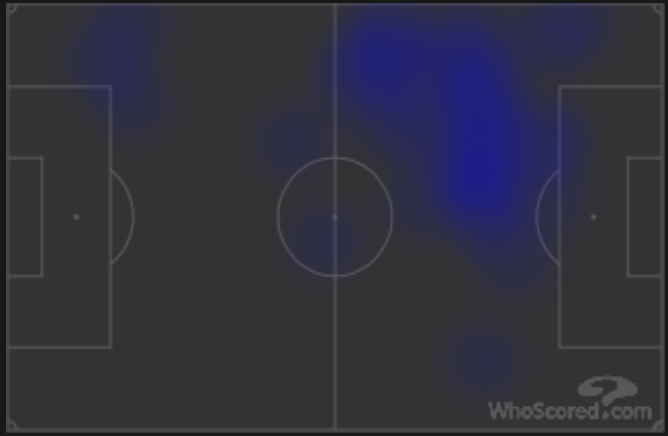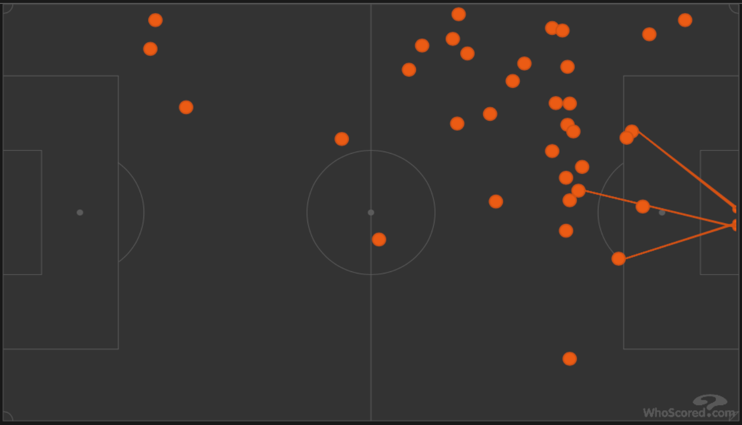 Photo: WhoScored
I would caveat this point with Everton seemingly having a limited plan for central ball progression, and having midfielders that do not particularly excel at this, aside from James Rodríguez when fit and playing in the number 10 role.
Attacking Third
There is a very rigid set of instructions for the Nova Venecia native when it comes to Everton in the attacking third. The directive for Richarlison is to attack the box and stay central. Rather interestingly, this directive appears to be a consolidation of the positions he prefers to occupy in attacking positions when he was wide. The Brazilian's npxG per shot is 0.13, which ranks favourably compared to other wingers (78th percentile), but poorly to other strikers (33rd percentile).
As seen from the below shot map, a large portion of his shots in the league this season have been from within the box and he has already displayed a penchant for popping up with goals from crosses into the box. If anything, playing more centrally should increase the likelihood of Richarlison being in these positions, which has been evident in his recent goalscoring run.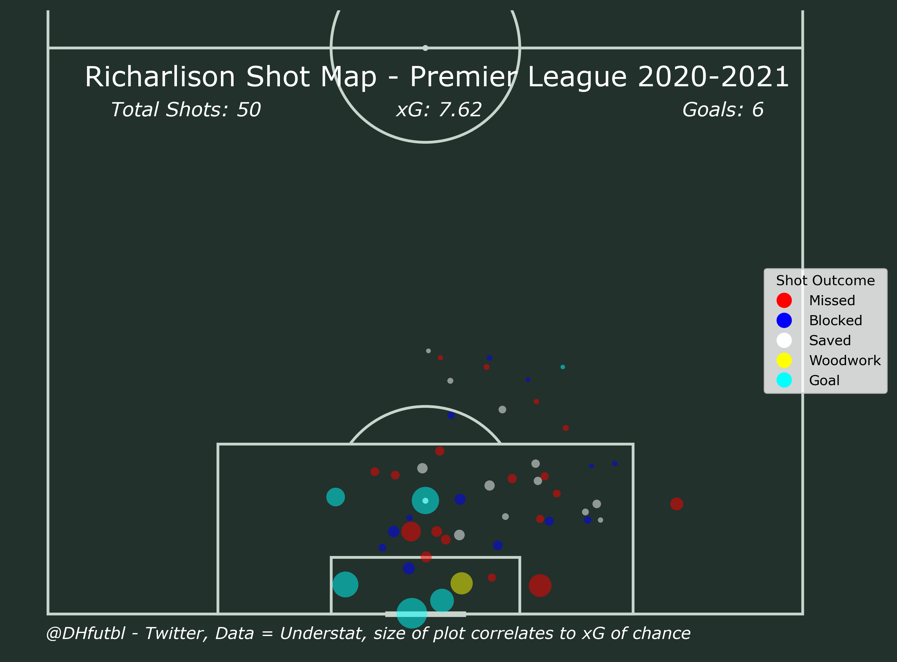 Structurally for Everton, Richarlison's narrow position in the attacking third also caters for another one of the Merseyside club's key attacking outlets, Lucas Digne. As noted, Richarlison has been primarily playing on the left-hand side of a front two. An increasingly common term that has been doing the rounds on Football Twitter is 'cheat codes'. These are essentially players' attributes, combinations teams can employ etc that will consistently produce favourable outcomes for your team.
The Frenchman's quality of delivery from the left-hand side is potentially one of these cheat codes, who if given the time and space can consistently deliver quality attacking output, as demonstrated by ranking in the 98th percentile for Assists p90 and the 83rd percentile for xA p90 across FBRef's measured population over the past year, although note Digne does take set pieces. A simple but effective ploy of Richarlison staying narrow and drawing the defenders into more narrow positions will free up space in good positions for the influential Frenchman.
For context, xA essentially considers several factors and measures the likelihood any given pass would end up being an assist per Opta. This is a good metric in helping understand how active individual players are in the creation/build-up phases, although can be influenced by a player's position and whether they take set pieces etc. 
When both are available, the first-choice strike paring will be Richarlison and Dominic Calvert-Lewin. Calvert-Lewin has already surpassed his previous career-high of 13 Premier League goals this season, in just 25 appearances, with Ancelotti's work on refining the Englishman's game reaping significant rewards. For someone like 'DCL' to thrive, he lives off service into the box and the majority of his goals are from within the width of the two posts.
Richarlison on the other hand can penetrate the space behind the defensive line, adding another dimension to Everton's attack. The dynamic forwards' goal against a Liverpool team that typically holds a much higher defensive line highlights this, with Richarlison initially holding his position between CB and FB before timing his run and penetrating the space behind Liverpool's defence.

As and when the ball dropped to Rodríguez, Richarlison had already started his motion towards making this attacking run, demonstrating clever movement, the timing of movement and willingness to run in behind. If deployed centrally for a prolonged period of time, the angles and positions Richarlison will be penetrating will be more central, likely increasing the chances of taking a higher-quality shot.
With Richarlison occupying positions that will be more conducive to attacking output, as evidenced by the uptick in his goalscoring in recent weeks since he has been deployed in a front two, as well as his ability to complement Calvert-Lewin and provide more space for Digne, the Brazilian's role change should hopefully give Everton more consistent and repeatable attacking options.
Conclusion
For the last six weeks, through a combination of injury lay-offs and tactical switches, Richarlison has been operating as a striker in a pairing upfront. Whilst this seems on paper a significant switch, it appears to be within a system where Carlo Ancelotti is looking to rely on his strengths, such as his movement, pace, ability to carry the ball and technical ability to both the attacking and defensive benefit of his Everton team.
Arguably, this move represents a 'tweak' to the Brazilian's role, as opposed to the more wide-sweeping connotations of being moved from a left-winger to a striker represents, emphasising the importance of roles and systems over a basic understanding of positions in modern football.
By: @DHFutbl
Featured Image: @GabFoligno / Peter Powell – PA Images
Credits to FBRef.com for the percentile rank data, WhoScored.com for the heat and touch maps and Understat.com for the underlying data for the shot map used in this article.