How Trevoh Chalobah Has Made The Leap at Chelsea
Two years ago, Fikayo Tomori had just broken into England's senior squad off the back of several excellent performances in the Premier League for Chelsea. A year later, with Tomori now frozen out of then-manager Frank Lampard's lineups, fellow Cobham graduate Marc Guéhi was embarking on a sensational loan spell at Swansea City, staking his claim for a long-term place in Chelsea's central defense. 
Fast forward to today and both Tomori and Guéhi are long gone from Roman Abramovich's payroll. But with Trevoh Chalobah signing a new deal through 2026 last week, the club appears to have finally settled on a homegrown defender to keep in its squad long-term. 
Chalobah's emergence in 2021 has been a surprise to most Blues supporters, including even the most committed followers of Chelsea's highly successful youth teams. The former England U-21 international has enjoyed productive but unspectacular loan spells each of the last three seasons, primarily playing in midfield for Championship relegation strugglers Ipswich Town and Huddersfield, and then for Lorient in Ligue 1. 
All indications were that the club would facilitate another loan this season, but mature performances in the UEFA Super Cup victory over Villarreal and the domestic opener against Crystal Palace—capped by an emotional league debut goal—kept him in Thomas Tuchel's plans. As it is for so many young fringe players at über-wealthy superclubs, the key to Chalobah sticking around has been fit.
Has Trevoh Chalobah's Emergence Made Jules Koundé and Unnecessary Transfer Target for Chelsea?
Deployed almost exclusively on the right of a back three, the 22-year-old has displayed the composure on the ball you'd expect of a converted midfielder. That ability is essential in Tuchel's system, with the German manager prioritizing slow, deliberate buildup play to help monopolize possession and control matches. So far this year, Chalobah has attempted 60.1 passes per 90 minutes in the Premier League—ranking in the 74th percentile among center backs—and completed them at a 90.1 percent clip.
"For us so far he only played in the back three," Tuchel noted amid the youngster's breakthrough in August. "So for right now I would say these are the three positions where he can achieve the most at high-level football."
That hunch seems correct. Chalobah's control and turning agility aren't perfect in tight areas, which will probably keep him out of the midfield discussion in a high-possession team. But at center back, he has the support of his wingback, defensive partners, and the ever-available Jorginho to escape pressure and keep the ball ticking around. 
That's just the baseline for Tuchel's defenders. Chelsea's midfielders and forwards play extremely narrow in their 3-4-2-1, so opponents will often try to defend by packing their attackers in the center of the pitch rather than pressing the Blues' center backs 3 vs. 3. When that happens, the team relies on its defenders to progress the ball by moving into the spaces outside the opponents' defensive shell. 
On the left side, Antonio Rüdiger leads Premier League center backs in progressive carries, carries into the final third, and carries into the box so far this year. And Chalobah is no slouch himself in this regard. When his wingback partner stretches play high up the field, the young Englishman can exploit the vacated space with driving, long-legged runs. 
It doesn't always look pretty, but Chalobah is both quick and composed with the ball at his feet. He ranks in the league's 91st percentile for progressive carries and the 93rd percentile for carries into the final third. That's a valuable new avenue for connecting defense and attack at a position where the other main option is Azpilicueta, a reluctant dribbler even at his athletic peak. 
Chalobah's midfield background has been useful defensively, too. His athleticism and pressing ability allows him to push up against forwards and wingers dropping into the half-spaces, and his composure and long legs help him keep opponents contained. He leads all Premier League central defenders with 1.59 dribblers tackled per 90, and many of his ball wins come in the attacking third. 
His technique in one-on-one duels isn't overly aggressive either. He'll often shadow dribblers toward the touchline, giving the wingback and closest midfielder time to track back and box them in. That ability is central to Tuchel's pressing philosophy, which seeks to stifle opposition counters by hemming them in on the sideline. 
Teams that try to test Chalobah in behind also stand little chance. His speed going backward is just as useful as when the ball's at his feet, and while he still needs to gain experience judging long balls into space, he's yet to give away a chance from these situations in 813 total minutes. 
To be sure, the youngster still has plenty to work on. Chalobah has won just 47 percent of his contested headers in the league, an abysmal number for a 6'3" center back. It's no surprise his shakiest match this year came against Brentford's aerial bombardment in a 1-0 Chelsea win. Bees striker Ivan Toney dominated Chelsea's right half-space in the second half, as the analytics community's favorite team targeted Chalobah through the air.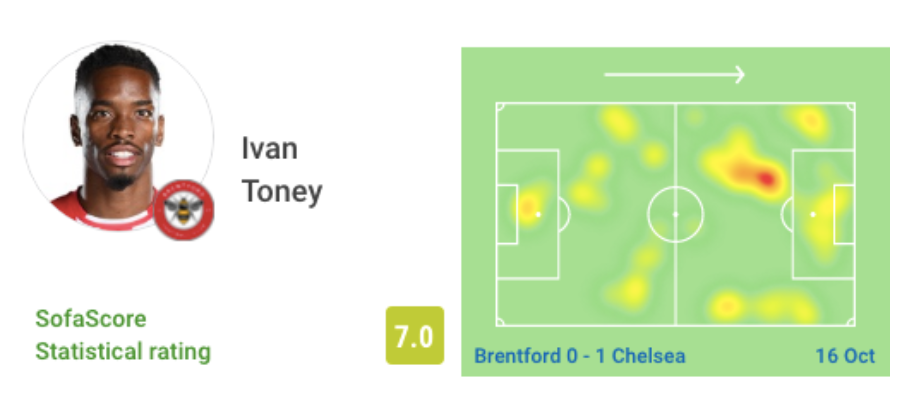 Photo: SofaScore
The 22-year-old will need to bulk up to reach his full potential, but in the meantime, keeping him on the outside of a back three in a possession system minimizes the number of physical duels he has to win. 
He also lacks the long passing range of a Rüdiger or a Thiago Silva. But passing often improves with age, and with two partners—often those exact two—at the back with him, he doesn't need to be responsible for through balls or big switches.
Because it's so early in his career with the Blues, Chalobah's ceiling is tough to gauge. He belongs at this level, but you also wouldn't trust him as a pure sweeper or to shut down elite inside forwards one-on-one like Rüdiger.
At the same time, he stepped right into the shoes of Kurt Zouma, a dependable (and expensive) Premier League defender who Tuchel deemed unsuited to his style. The Cobham graduate's floor is clearly quite high. He's a young role player who needs some support from teammates, but that's what he's getting in this shockingly stable Chelsea environment. 
He's also showing a similar set of skills to Sevilla's Jules Koundé, the player Chelsea reportedly bid the farm for in the summer. The club shouldn't let Chalobah's emergence stymie that pursuit. With Silva and Azpilicueta nearing the end of their careers, and Rüdiger and Andreas Christensen nearing the end of their contracts, the Blues still need reinforcements. Koundé, a France international at age 22, is an exceptional prospect, and there's space for him and Chalobah both. 
Even if the new contract doesn't change Chelsea's future plans, it does at least make the club's decisions to part with Tomori and Guéhi more palatable. Tomori is faster and more two-footed than Chalobah, but he also brought in £25 million in a pandemic-depressed market. Guéhi is younger, stronger, and better suited to a back four, but who knows if he would have contributed to Chelsea as quickly as Chalobah has?
The club now has a solid homegrown player with the technical and physical skills to fill an immediate role, and plenty of time to grow. Chalobah has already saved face for the Chelsea executives who let some quality defenders walk this past summer with no direct replacements. Now, he's made their decision to invest in him for five more years an obvious one.
By: Nate Wolf / @_NateWolf
Featured Image: @GabFoligno / Justin Tallis – AFP
All statistics provided by StatsBomb via FBRef.com