Ivan Perišić Thriving in Wingback Role at Simone Inzaghi's Inter Milan
Croatian winger Ivan Perišić has been at Inter since 2015 bar a loan spell at Bayern Munich and he has produced his fair share of quality performances.
Although he had consistency issues in the past, the 33-year-old was also known for showing up in big games and scoring decisive goals. However, his consistency with the Nerazzurri has improved since he returned from the German giants after the 2019/20 campaign.
After playing a starring role under Antonio Conte as a left wing-back in the 3-5-2 and helping Inter win the 2020/21 Serie A title, Perišić has maintained that form under Conte's successor Simone Inzaghi throughout this season as well.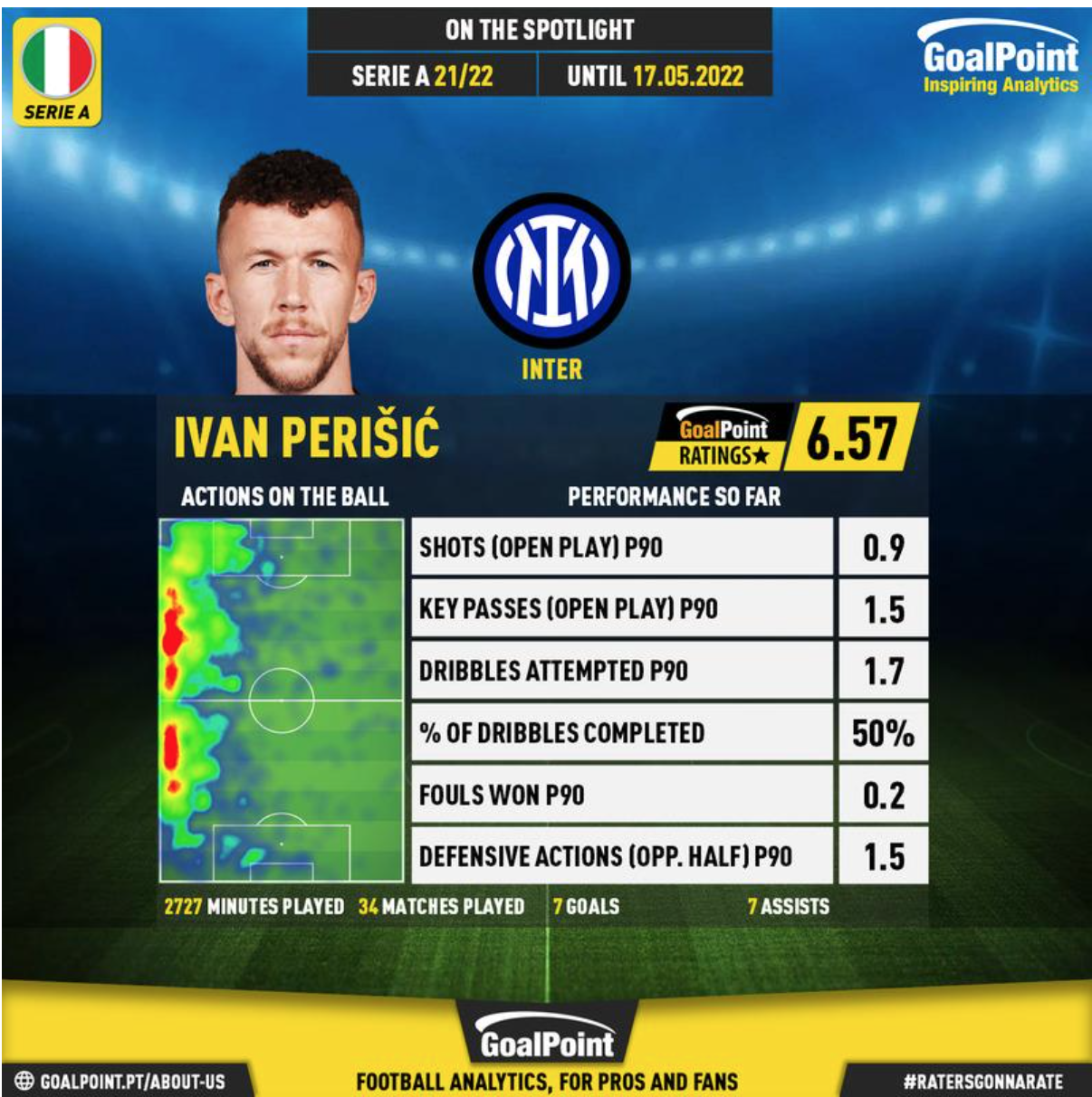 Photo: Goalpoint / @_Goalpoint
Up to Week 37 of the 2021/22 Serie A season, the Croatian veteran has scored seven goals and supplied just as many assists in 34 matches according to GoalPoint.
He has also completed 50 percent of his dribbles as well as averaging 1.7 attempted dribbles, 1.5 key passes in open play, 0.9 shots in open play, 0.2 fouls won, and 1.5 defensive actions in the opposition half per 90.
Although Perišić has made a name for himself as a left-winger in the 4-2-3-1 or 4-3-3 formation throughout his career, he has demonstrated the ability to adapt to new role with some extra tasks to perform.
The heat map illustrates that he still possesses the stamina to patrol the whole left flank despite his age. Being one of just two players in a wide role in the Inter team, the Croat has to perform well in both the defensive and offensive phases of the game, which he has done in a stellar manner.
As also shown by the heat map, he spends an even amount of time in both halves of the pitch. Despite the defensive responsibilities he needs to undertake, this has not compromised his ability to go forward and make an impact in attack.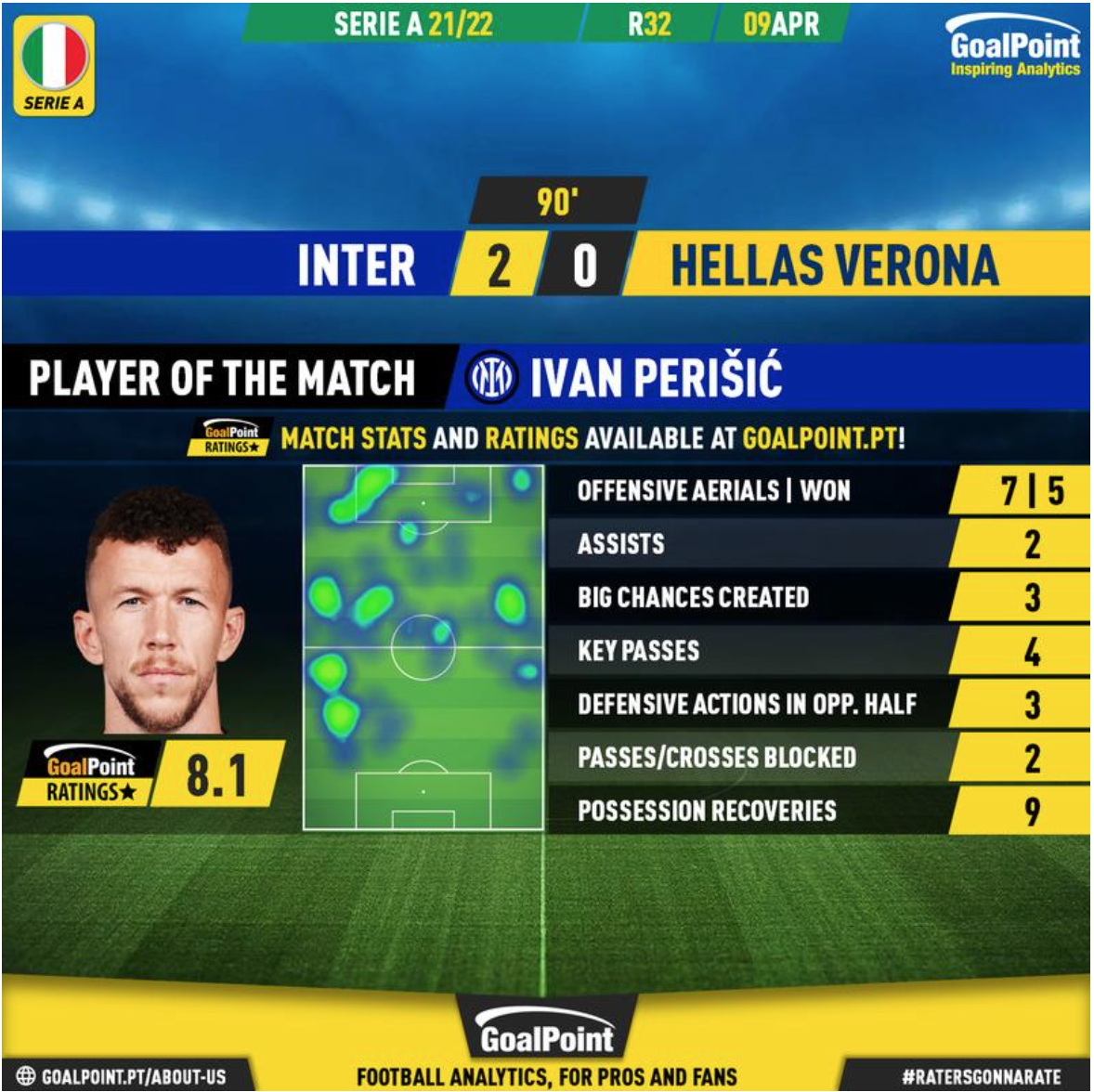 Photo: Goalpoint / @_Goalpoint
Perišić produced arguably his most complete performance of the 2021/22 season in Inter's 2-0 victory against Hellas Verona in Week 32, demonstrating his importance to the team when it is defending as well as when it attacks.
According to GoalPoint, he made nine possession recoveries, two blocks, and three defensive actions in the opposition half. Offensively, he won five out of seven offensive aerial duels, made four key passes, created three big chances, and most importantly, provided assists for both Nicolò Barella and Edin Džeko.
His stats clearly show that his ability to win the ball back against Verona was impeccable and he was still able to serve the team as a creative outlet. Meanwhile, his heat map in this match is different from his heat map for the season so far. 
Instead of patrolling the flank against the Veronese side, he was able to position himself in different parts of the pitch depending on the task that he had to perform in a particular situation.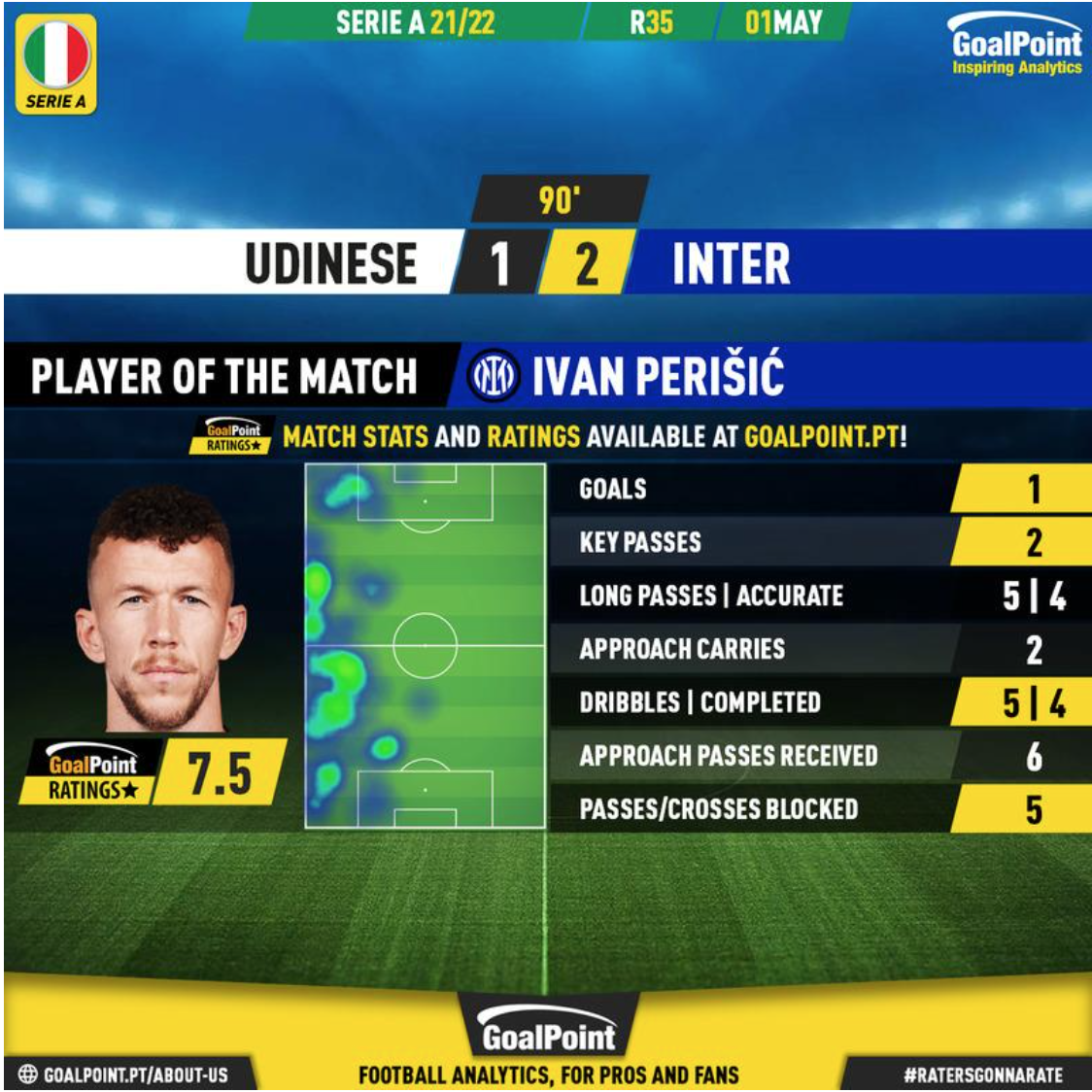 Photo: Goalpoint / @_Goalpoint
Perišić was also influential in Inter's 2-1 victory against Udinese in Week 35 of the 2021/22 Serie A campaign, where he also scored the opening goal after heading in Federico Dimarco's corner into the net.
According to GoalPoint, he made two key passes, two approach carries, five blocks, and received six approach passes. He also completed four out of five dribbles while four out of five long passes were accurate. It is clear that the Nerazzurri can trust him to do something with the ball and he can be effective as well as decisive.
The heat map in this game indicates that Perišić remained on the flank for the vast majority of the match against Udinese and he was also situated in his own half more than the opposition one. However, his statistics in this game show that he utilized his time in the opponent's half very well.
Although the 33-year-old has produced some great performances in the league, nothing can compare to his heroics in the Coppa Italia Final against Juventus.
According to Opta, Perišić completed the most dribbles and the most key passes for the match with three each, and he also had a successful passing rate of 84 percent. The Croatian veteran played for the whole match but he truly made a difference in extra time after the score was level at 2-2.
Perišić had been involved in the play leading up to the penalty which allowed Inter to force extra time. He headed the ball towards Lautaro Martinez, who then got into a tangle with Juve defender Leonardo Bonucci, and Hakan Çalhanoğlu converted the spot kick to force extra time. 
The Nerazzurri got their second penalty of the final nine minutes into extra time after Perišić had sent in a cross from the left, Denzel Dumfries headed the ball into the middle of the area, and Stefan De Vrij was fouled by Bianconeri defender Matthijs De Ligt. 
Çalhanoğlu was taken off before extra time so Perišić stepped up to take the penalty and he sent his kick into the top left corner of the net. Three minutes later, the Croat sealed the victory after controlling a pass from Dimarco with his first touch and then volleying the ball into the net just before it dropped to the ground.
Perišić's contract with Inter expires in the end of June and he is expected to leave with both Chelsea and Juventus reportedly eager to sign the 33-year-old. Whoever signs the Croatian veteran will be getting a player that is in an excellent physical condition at his age and has shown little signs of slowing down as yet.
Inter has already found a replacement for the Croatian winger, having signed Robin Gosens from Atalanta in January. Although the German international is a natural fit in the left wing-back role, it should not be denied that Perišić's impact in big games and experience would still be missed.
An Italian double could be likely for Inter at the end of the 2021/22 campaign but it seems that the Nerazzurri will lose their domestic league crown to city rivals AC Milan.
Even if Inter does not win back-to-back Serie A titles, Perišić has still had a great season from an individual perspective and that performance in the Coppa Italia Final should leave a lasting memory for the Nerazzurri fans.
By: Vito Doria / @VitoCDoria
Featured Image: @GabFoligno / Giuseppe Bellini / Getty Images