James Maddison: The Jewel in Leicester City's Crown
James Maddison, as always, confounded his critics and admirers at different points of the 2021-22 season. He ended the campaign as the jewel in Leicester City's crown, integral to their rebound, but started it as a thorn in the side of Brendan Rodgers, dropped from the starting eleven due to shoddy workmanship off the ball.
With the Coventry-born midfielder entering the peak years of his career, it is not unfair to ask questions about what kind of player the 25-year-old is or might yet become.
Is Maddison a dedicated playmaker, capable of extracting every grain of potential at his disposal, or a luxury player, destined to obtain cult hero status despite failing to reach the lofty heights expected of him?
The former Aberdeen loanee straddled the aisle last term, starting on the wrong side before making an enlightened switch when his teammates needed him to step up.
Maddison scored 18 times and provided 11 assists in 53 appearances, averaging 0.4 goals and 0.25 assists per 90 across 4,009 minutes of play in all competitions last season. Taking only Premier League fixtures into account, he accumulated a personal record 12 goals and seven assists.
However, it is worth noting that he scored only once before November 24, was substituted in each of Leicester's opening five games of the year and spent the next two matches stapled to the bench. As a result, his first 90-minute performance arrived in a 2-2 draw with Southampton in early December.
Although recurring injuries played a role in Maddison's meagre offensive production, he was dropped on account of lacklustre defensive performances. Rodgers challenged the 5-foot-8 midfielder to reengage with Leicester's press – and he delivered.
"He knew in my teams you have to run, you have to work," Rodgers said of his crisis talks with Maddison. "And when you add that together for him, the intensity, the running, the work, you see how efficient he is. He's one of the top English players over the last two seasons… You can't argue with his talent – and his quality – and how he's maturing as a footballer."
Rodgers, when asked if he was impressed by Maddison's bouncebackability, added: "Listen, it's all down to the player; I always like to be clear and give players clarity on where they need to improve. He's the type of boy that you can do that with, he's very honest."
"He was in a vulnerable place, but he showed great courage to recognise that. And it's just about stripping back his game, getting the work into his legs, and focusing on that: everything else then comes with James because he's so talented. I love watching him play and I really enjoy seeing him in games, taking the ball, and how he can manoeuvre past top players, the threat he has, the confidence he has."
Despite his blistering form in the second half of the season, Maddison remains outside Gareth Southgate's circle of trust and will not suit up for the Three Lions in June. But why? He outproduced many of his positional rivals, including Emile Smith Rowe, Phil Foden, and Jack Grealish, while languishing in midtable and switching between roles.
Adaptability is part of Maddison's appeal: he operated in six positions across the final five weeks of the Premier League season, per Wyscout. While he's undeniably at his best as an attacking midfielder through the centre, his technical ability and positional awareness help him thrive amid evolving tactical demands.
The one-time England international is at his best when making passing plays. He averaged 4.38 passes into the final third and 2.77 passes into the penalty area per 90 in the Premier League last term, on par with Mason Mount's output in a Champions League-calibre squad.
Maddison is difficult to defend against because the quality of his passing and control makes him a double threat. He is always looking to make dangerous plays in the attacking half, with opponents unable to risk standing off him due to the possibility he will pull off a line-breaking pass.
This feature of Maddison's profile fits Leicester's approach, as his ability to stretch opposition defences reinforces the verticality integral to the success of last-shoulder forwards like Jamie Vardy and Patson Daka.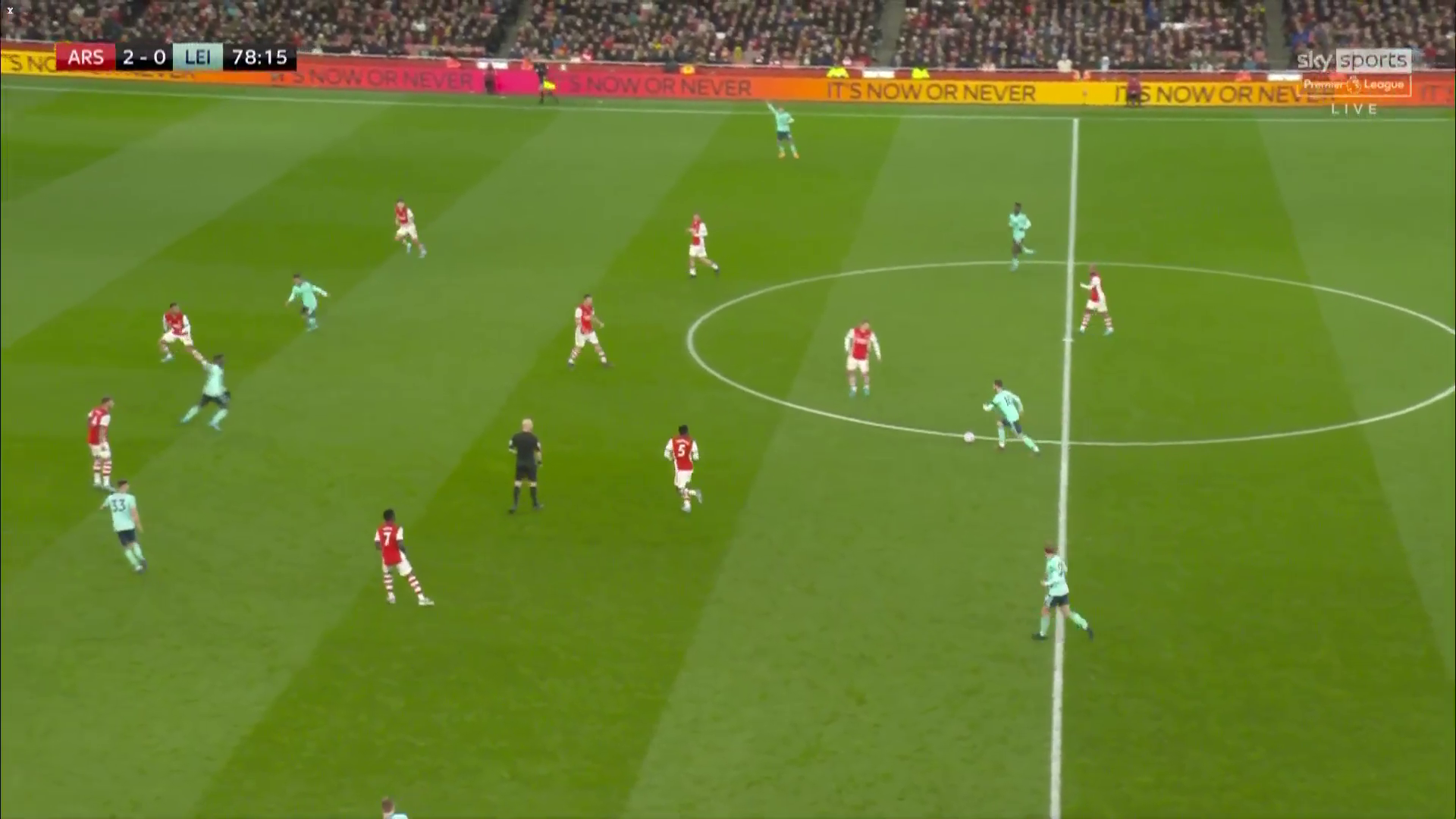 Maddison put his ball-playing ability to use in a 2-0 loss to Arsenal, lifting a through pass into the final third when handed space and time by opposition midfielders.
He displayed every ounce of his playmaking ability against Watford, producing a dominant display in a 5-1 win despite switching from right midfield to the centre at half-time. He amassed a goal, an assist, five crosses, and 33 touches in the first half alone. 
Maddison's assist to Vardy was textbook, curling the ball over Watford's defence to create a scoring opportunity. Although the Hornets' defensive efforts were deeply flawed, Leicester's No. 10 deserves credit for weighting the pass perfectly:
"He has been absolutely outstanding over these last few months," Rodgers said of Maddison's performance. "He had a period in the season where we talked through his game and the levels he needed to get to in terms of intensity. You see when he does that it elevates his game and gives the team confidence. He has consistently shown he is one of the top players at this level."
Maddison also provides a scoring threat from distance, as exemplified by recent strikes against Chelsea, Brentford, and Burnley:
However, he added another string to his bow last term, becoming a credible late run option, as illustrated with goals against Southampton, Watford, Norwich, and PSV:
Maddison's all-around play in the final third has come on leaps and bounds since first entering the Premier League with Norwich. He is not a prolific dribbler, averaging 3.69 per 90 in 2021-22, but frequently uses close control to recycle possession, especially when operating in central areas.
His defensive contributions have also improved since his heart-to-heart with Rodgers, making 1.67 interceptions and 2.29 loose ball recoveries per 90 last season. He is not an effective aerial presence, winning just 18.2 percent of his duels, but completed 114 pressures, effectively turning over possession for his side.
However, Maddison's reputation proceeds him. His rocky start to the season added new weight to criticism of his work rate and (lack of) defensive effort, underpinning Southgate's decision to leave him out of the England squad. 
Is that fair? Possibly not, considering his impact in the final third – but erasing negative labels has always been one of football's hardest tasks, especially for so-called luxury players. However, it's an assignment Maddison must complete before November to stand a chance of sneaking onto England's World Cup roster.
"He has finished the season very well, but we just feel we are very happy with the players that have been with us," Southgate explained. "He is competing with Mason Mount and Phil Foden and these types of players in the role where he is at his best. It's one of the positions where there is a lot of strength in depth, and you may have to leave players out who may be equally as deserving."
According to Rodgers, Maddison "can't do any more" to re-enter England's fold. But that theory will be tested next season: we have not seen the 25-year-old at his best yet.
By: Luke James / @LukeJames_32
Featured Image: Juan Castro – Stephen White – CameraSport – Getty Images