Scouting Report: Donny van de Beek
Donny van de Beek may have played his final game for Ajax after he was absent from Erik ten Hag's squad for Saturday's friendly against Eintracht Frankfurt and absent against Union Berlin.
The midfielder has been heavily linked with a summer exit and former Manchester United goalkeeper Edwin van der Sar, currently Ajax's CEO, confirmed earlier this year that United were one of many clubs interested in his services.
He was left out of the squad to face Frankfurt on Saturday evening and before kick-off boss Ten Hag confirmed the player's omission was down to developments over his future. While Barcelona or Real Madrid seem to have cooled their interests, Manchester United have been heavily linked with the player.
I will break down for you his style of play, his strengths and weaknesses as well as show you how the Dutchman would fit at United if he was to be bought.
Tactically Versatile
Van de Beek has played multiple positions this season, as seen below. While his main position is as an advanced playmaker in a 4–2–3–1, the 23 years old has also played as a box-to-box in a 4–3–3 or in a double pivot in a 4–2–3–1.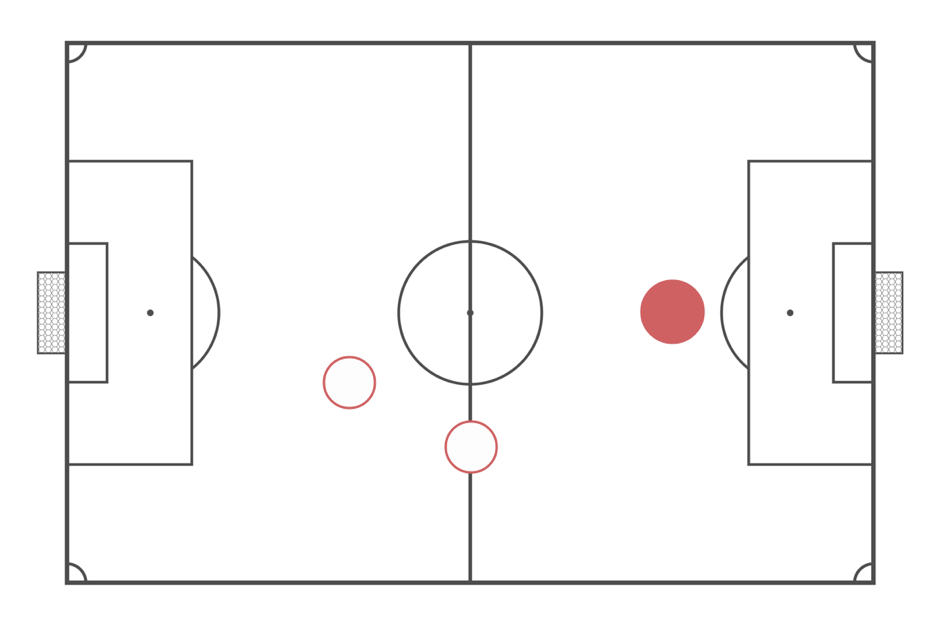 The Ajax midfielder operates more on the right-side albeit he drifts where he thinks the game asks him to be. Even when playing as an advanced playmaker in a 4–2–3–1, he likes to drift where he feels his teammates need him, a bit like what Bruno Fernandes can do at Manchester United.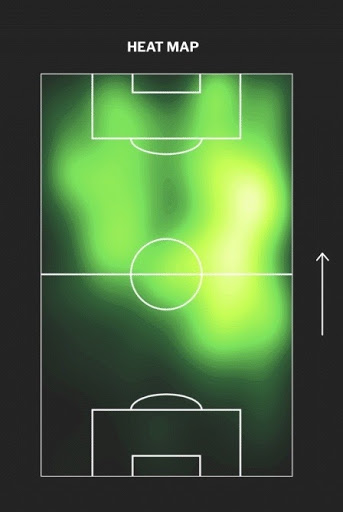 While his 2019/20 heat map shows him operating on the right side, we can see that his 2017/18 heat map depicts him as a box-to-box, which means he can play multiple positions and is used to playing different positions.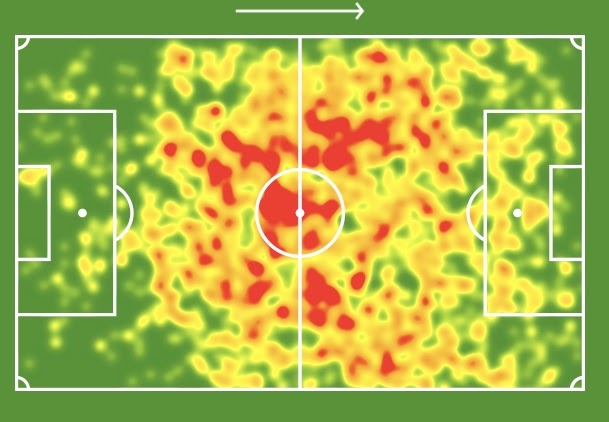 When playing in a pivot, the midfielder was tasked with either playing at the base of a diamond in buildup (first pic) or dropping in the middle of a back three to find teammates higher up the pitch (second pic).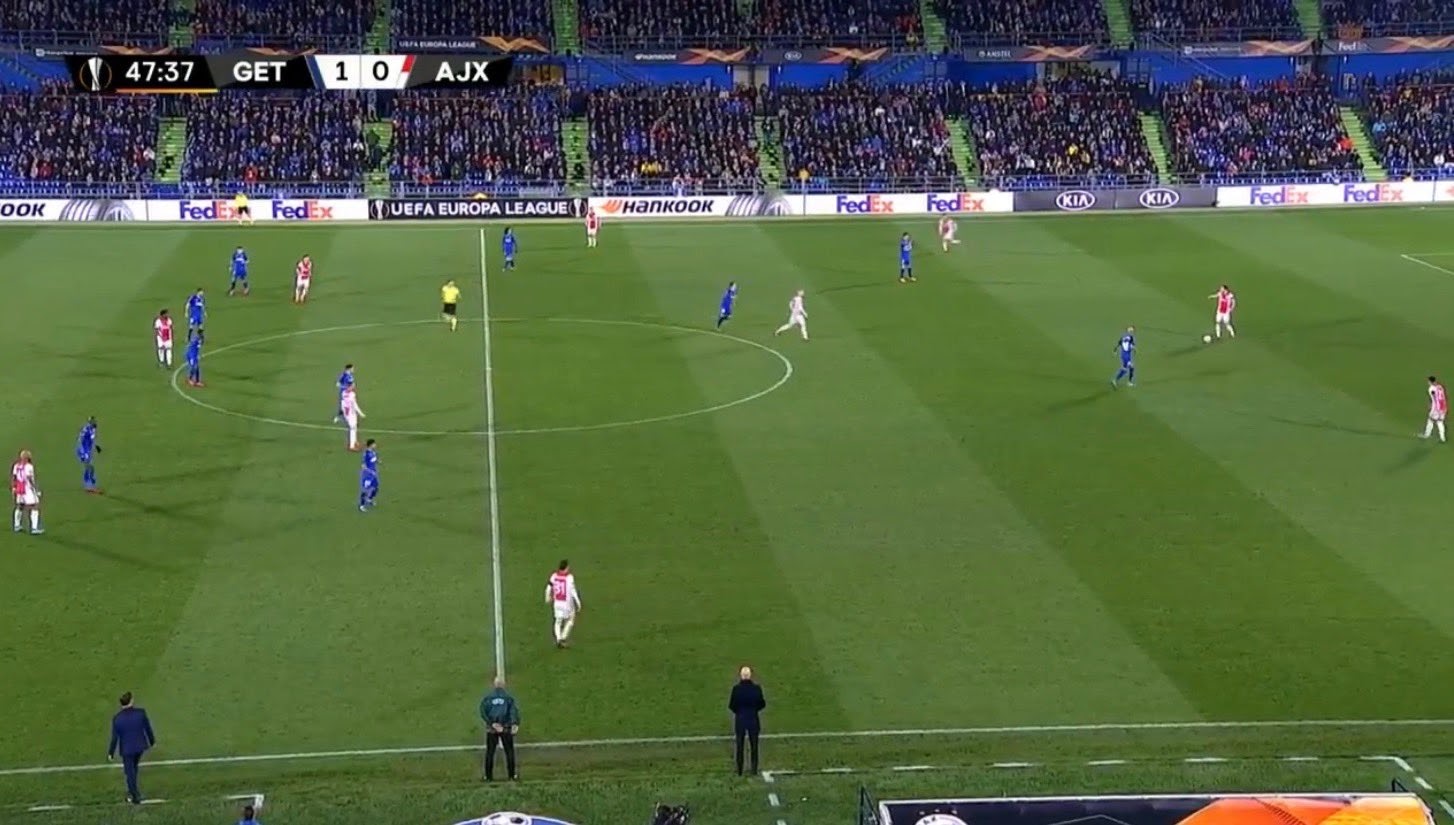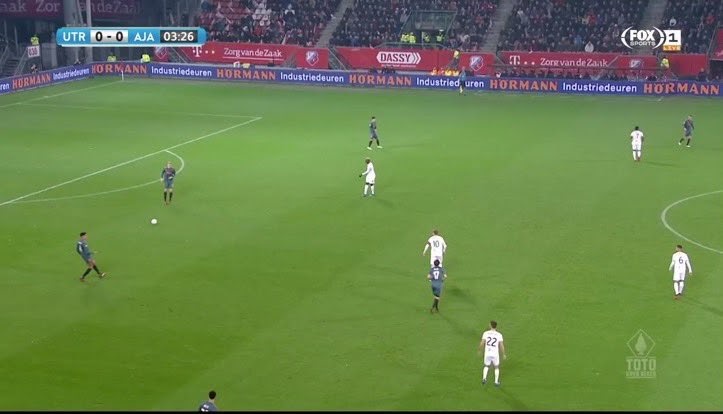 While Van de Beek isn't slow on the turn, he isn't the fastest. It means that he won't be targeted nor would he be an issue in buildup if played deeper than usual as he can turn himself to face the opponent's goal. Although it's only one game, I will break down for you the stats of his game against Getafe where he played in a pivot.
Out of Ajax's 467 attempted passes during this game, Van de Beek only attempted 29 of them. His partner in the pivot, Lisandro Martínez attempted 47 passes, the third highest amount in this Ajax side. He also didn't progress the ball much with only 1 progressive pass and 2.35 meters progressed by passes, which is a very low amount. For comparison, Martínez had 6.19 progressed meters per pass. Defensively, he only regained one pressure during the whole game and made only one interception.
What we could gain from this rather small sample size is that the 23-year-old doesn't dictate play from deeper areas and is rather looking to progress the ball to get rid of it as fast as he could. He doesn't get heavily involved in possession either, even when he plays deep. This is why I would rather have him as a box-to-box in a pivot if he has to play there if an injury crisis occurs. Otherwise, I would play him as an advanced playmaker in a 4–2–3–1.
Intelligent Player
Van de Beek's standout attribute is his intelligence, whether it is on or off the ball. He almost always makes the right decision to progress the play for his team as he spots vertical lanes so well. There, he decides to run into the vacated space and is picked up by one of his teammates.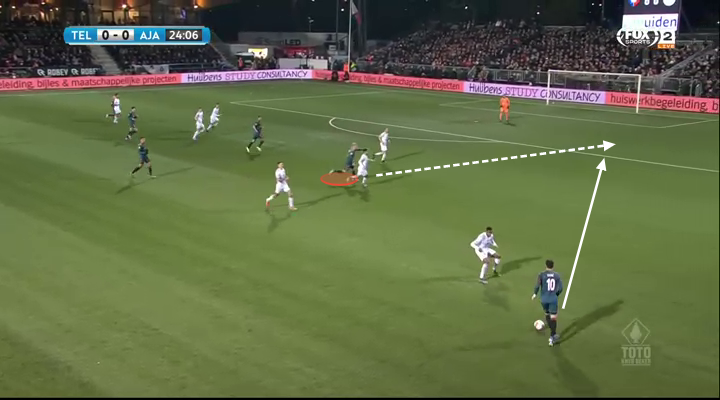 In the situation below, instead of helping short, Van de Beek decides to get away from his teammates to help him as his teammate will have more space to get away from his marker.
He then finds a teammate on the other side who finds Van de Beek. The Dutchman always seems to make the right choice as even if he gets away from the ball, he will always find a way to receive it.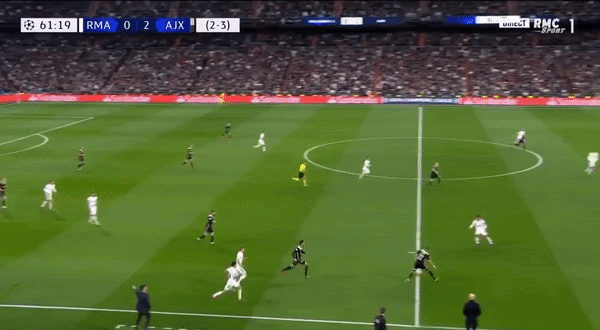 His off-the-ball movement is by far his best asset but this ability to sense the game from Van de Beek is either due to him being one of the best off the ball players in Europe or because his great off the ball movement is looking even better in a positional play system where teammates will always look for the vacated space to pass the ball into. Ajax also aim to make space infield as they look to stretch the opponent's backline. This is something Van de Beek will likely not get as much somewhere else.
And when I say his off-the-ball movement/spatial awareness is particularly impressive, I don't say it lightly. He always scans to see where he can go away from pressure to receive or to make space for his teammates. When Ajax overloads space somewhere and he spots a hole he could go into, he will go there. He almost always makes the right decision in this regard.
The video below is the best example you can find to highlight Van de Beek's off-the-ball prowess.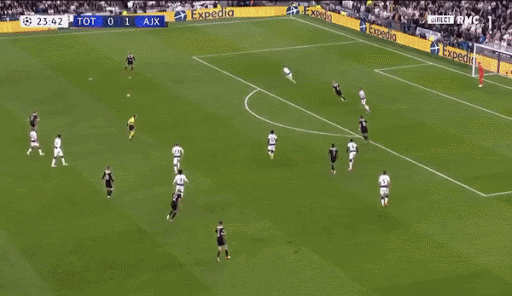 He always scans the pitch to see where his teammates are and has seen Dušan Tadić in his back, therefore he decides to let the ball pass then makes a run in behind Spurs' defensive line. This shows great awareness from him and his scanning of the pitch is a recurring occurrence in his game. Mauricio Pochettino was quoted as saying by Spanish publication El País:
"But he has a dynamic in the game, he gets behind Tadić, he arrives into the box, he works, he scores goals."
Van de Beek is also very good at positioning himself into pockets of space to receive the ball and exploit his intelligence on the ball as he is good at finding teammates through little flicks in and around the box, as highlighted below.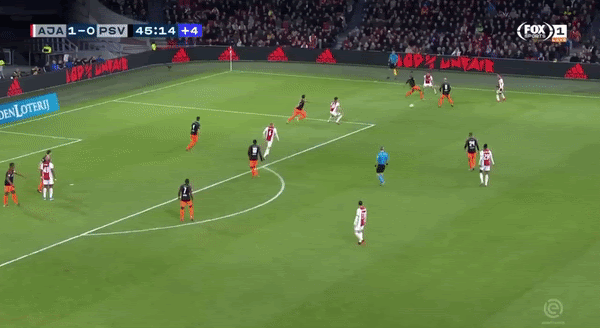 Lack of Creativity
While Van de Beek excels in his off-the-ball movement and can be intelligent with the ball, he isn't a particularly influential player on the ball and doesn't create much. It was a blessing for Van De Beek to have a playmaker like Hakim Ziyech at Ajax who can find him in behind the opponent's defensive line by through balls.
Van de Beek is responsible for 5.6% of the passes of his team. As a comparison, none of Andreas Pereira, Jesse Lingard or Bruno Fernandes have less influence than Van de Beek on their side. Lingard, who has the lowest between all three is still at 7%.
Regarding his creative numbers, it isn't much better. Van De Beek was at 2.27 SCA (Shot-creating actions: The two offensive actions directly leading to a shot, such as passes, dribbles and drawing fouls) per 90 minutes and 0.38 GCA (Goal-creating actions: The two offensive actions directly leading to a goal, such as passes, dribbles and drawing fouls) per 90 minutes in the Champions League the last two seasons. He would only be 10th in the entire United squad in terms of SCA and 6th in terms of GCA.
Adding to this, they mostly come from actions in and around the box rather than through balls from deeper areas. He prefers to stay closer to the box to receive and then either make a cross or a cutback, which is seen below.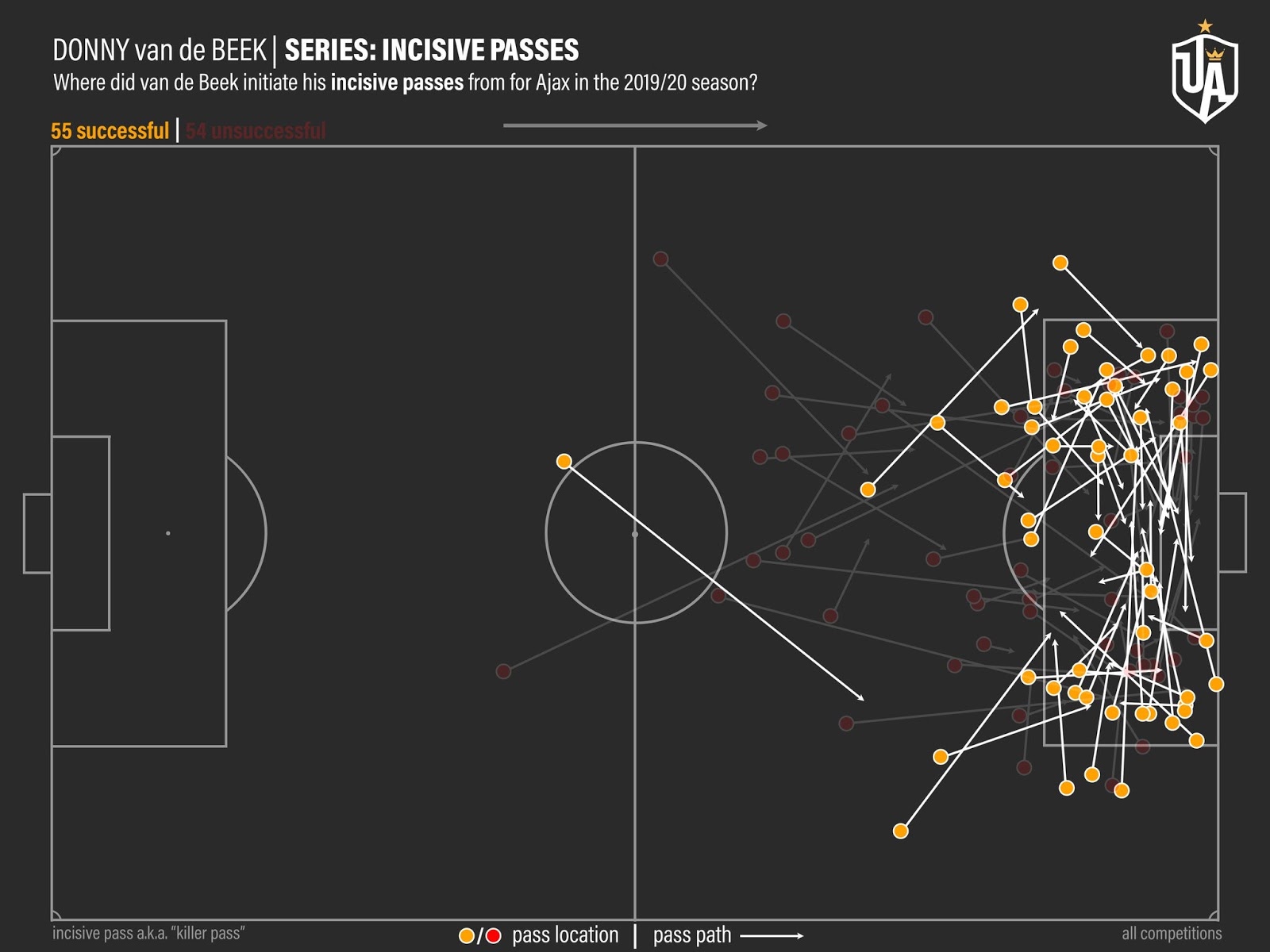 Photo: @utdarena
However, when he is deeper, he doesn't try through balls and will rather try to find obvious passing lanes. He doesn't take many risks in possession.
It's a good thing his off-the-ball movement creates space where he could pass the ball into as it will often create chaos in and around the box. Although he doesn't take many risks in possession, there are encouraging signs as he often reaches his targets when he passes the ball. Indeed, he ranks third out of 29 advanced playmakers for passing accuracy into the final third with 88% accuracy in the Champions League this season. He also ranks ninth out of 29 with a 60% passing accuracy for passes into the penalty area.
We already established that Van de Beek often likes to get away from the ball to be more decisive in the final third rather than in the second phase. We also established he isn't particularly creative and doesn't take many risks.
My assumption from this is that he is particularly aware of what he does well and what he doesn't do well, which is why he doesn't want to get more involved. You have to remember he is only 23 and still has time to improve as he is young but more importantly can improve since he is a decent passer of the ball. His 0.54 nPxG+xA per 90 minutes in European competitions since the start of his career also shows he is able to contribute to his team's goal record despite his flaws.
Off-the-ball Work rate
Van de Beek has been praised with his defensive work rate but I must say I wasn't as impressed as I thought I would. He definitely presses well and also has a relatively high volume (17.6 pressures a game with 31.5% of these pressures regained in the Champions League over the last two seasons) but what I really liked about him is that he knew when he had to press the opponent. He didn't do it for the sake of it, there was a purpose behind his pressures.
Below, we can see where he applies pressures the most.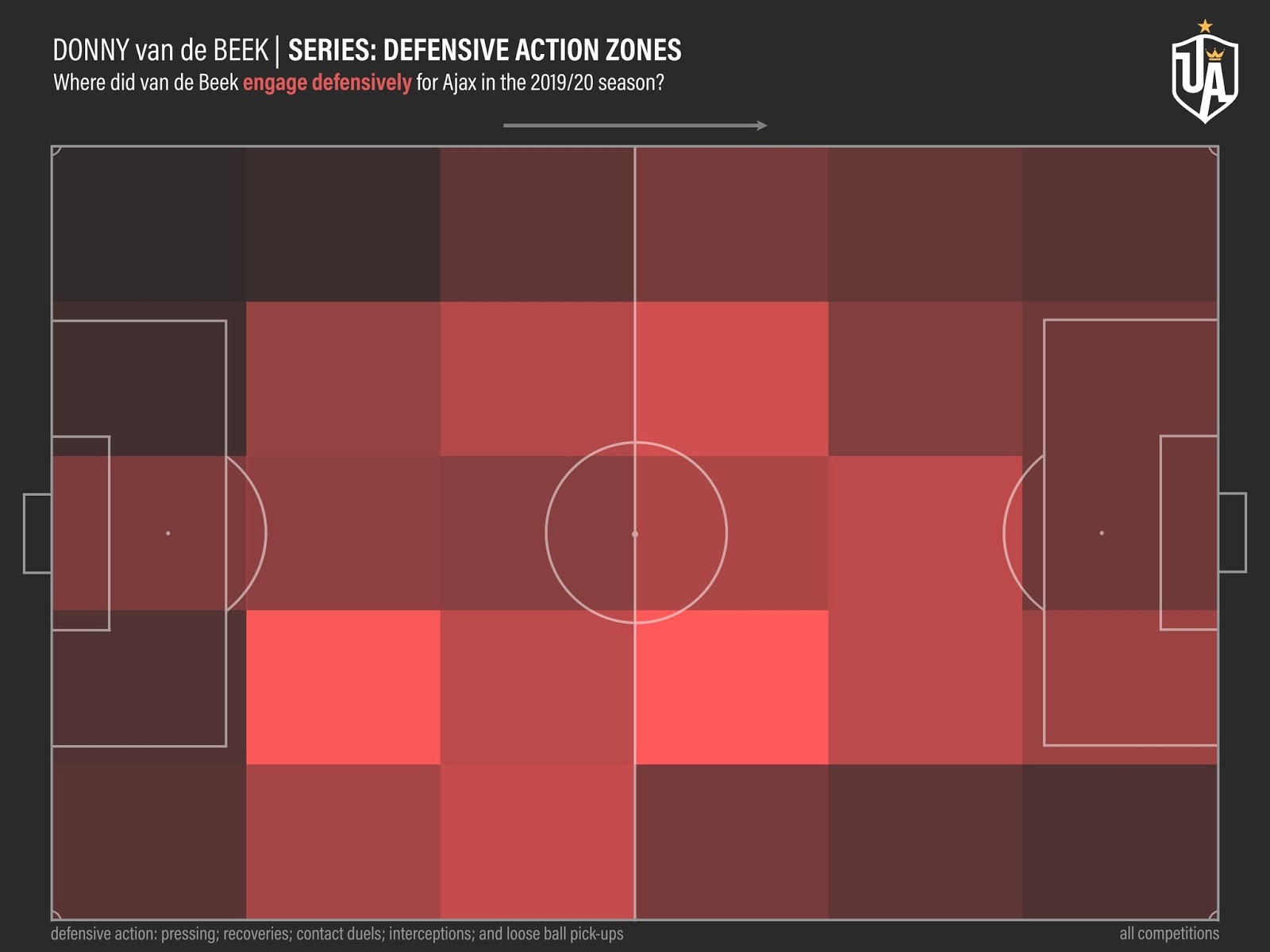 Photo: @utdarena
How Would He Fit in at United?
It has been the debate within the United fanbase: will he be a stop gap until United get Sancho next season or will he be a depth signing to add to Jadon Sancho this season? Well, my take is it would be better to get both this season. Let me explain why.
Firstly, Van De Beek's best position is either as an advanced playmaker in a 4–2–3–1 or as a box-to-box in a 4–3–3. Bruno Fernandes already occupies this spot but if Sancho was to stay at Dortmund, Van de Beek's quality would make him hard to keep on the bench. He will likely alternate with Mason Greenwood but the dynamics would change according to which one of the two would start the game.
Bruno Fernandes and Van de Beek are intelligent enough to coexist although it would require Fernandes to stay a bit wider on the right side than he is used to while Van de Beek will stay central, as an advanced playmaker. Since the restart, we have often seen Marcus Rashford staying wide to deliver a cross but not enough people would be into the box. With Van de Beek, this could change.
He has a tendency to stay into the box to receive even though he could offer a passing lane outside the box, as highlighted by his 4.4 touches into the box per 90 over the last two seasons in the Champions League. It would be more than useful as United only have Anthony Martial and Rashford who touch more times the ball into the box per 90 minutes.
Adding to this, United often struggle to sustain pressure without creating overloads in deeper areas against low blocks. This is why we often see the situation below, where Martial and Fernandes have to drop deeper to offer passing lanes. While United keep the ball, they can't be dangerous enough higher up the pitch.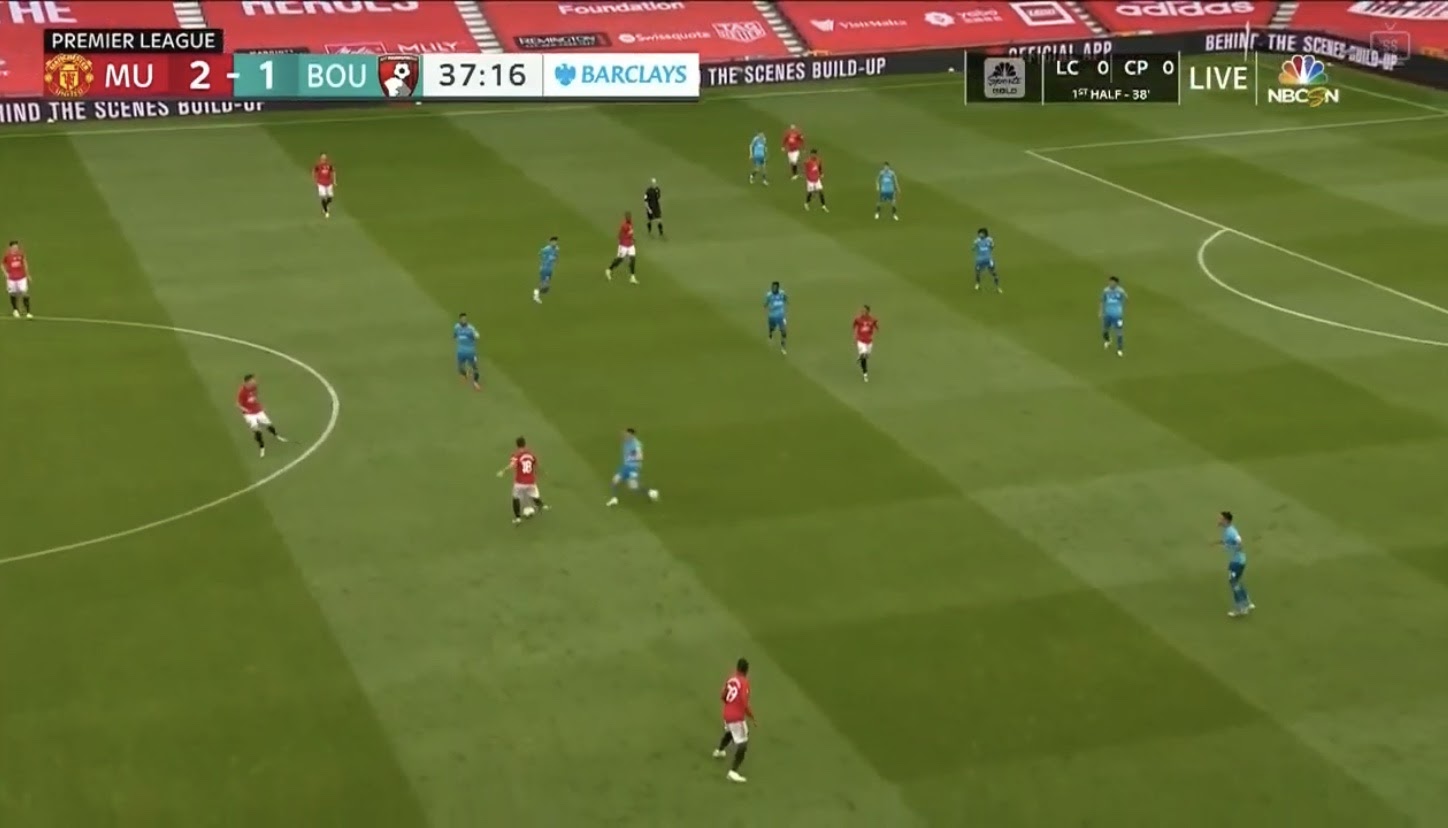 With Van de Beek making a run in behind the opponent's defensive line in this case, United would add another dimension to their attack.
If Sancho comes, Van de Beek would provide multiple things. Firstly, he will be a good depth player off the bench when United need a goal. He could also start games when Fernandes needs rest. Finally, he would also be able to play in United's pivot for cup games if needed.
Conclusion
I'm a fan of what Van de Beek will provide off the bench but he isn't someone who will take the ball and make something happen by himself. He is more about being in the right place at the right time, which is something United will definitely need.
As seen through the radar below, Van de Beek isn't really a ball progressor, nor is he about a high volume passer. However, his spatial awareness will make him a special addition to United's bench and he can also be a good option in Cup games or if Fernandes needs rest.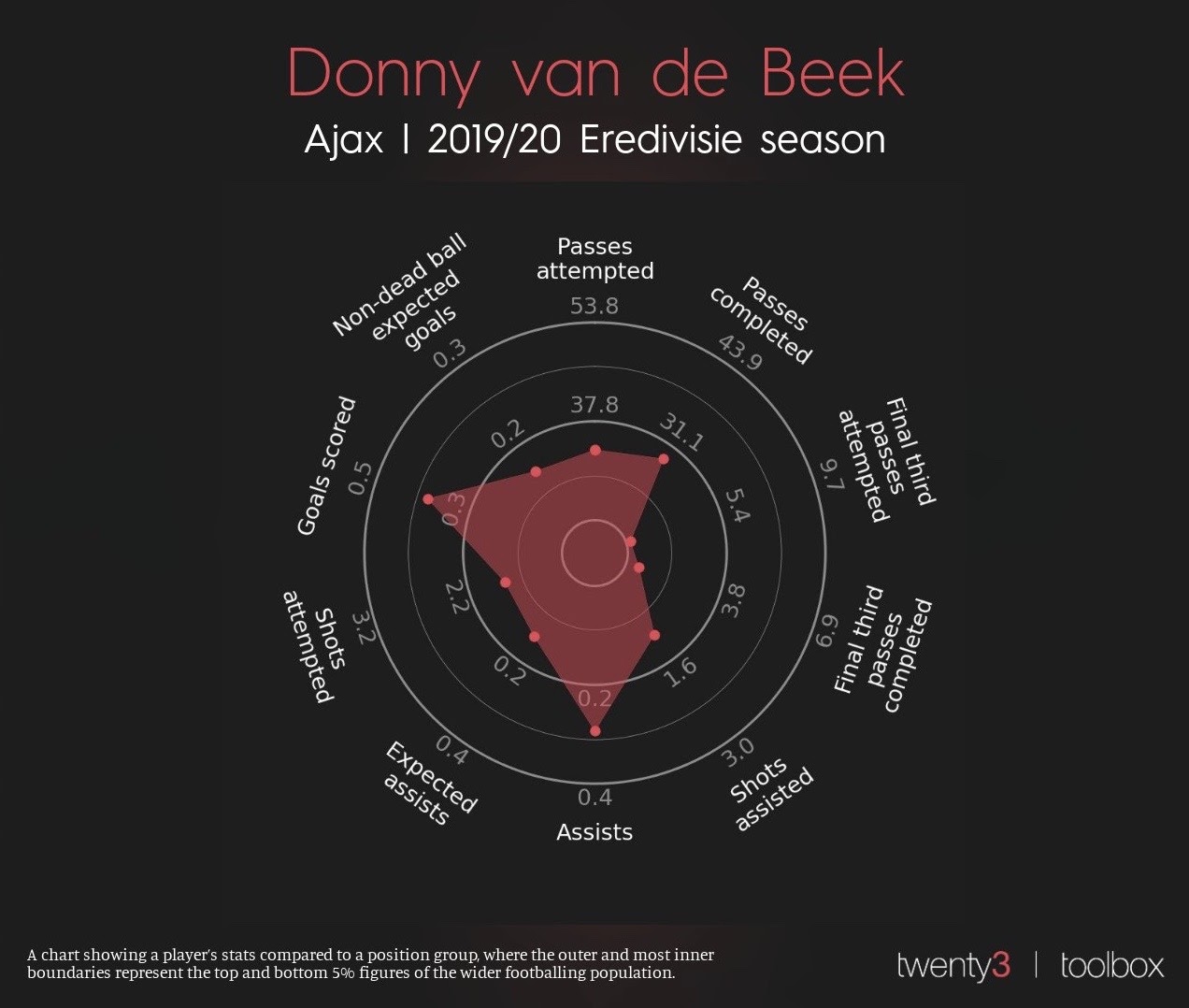 Photo: twenty3sport
By: @JKFootb4ll
Photo: @GabFoligno