João Pedro: Watford's Brazilian Talisman in Attack
Almost every season in recent memory has brought to light a great gift given to the Championship and its fans. Through the combination of a small enough sample size of top-level quality and the ambivalence of Premier League clubs has allowed a handful of far superior players to slip through the net and into the second tier.
In 2019/20, we were graced with Jarrod Bowen for half a year at Hull City after he dominated the division the season prior. In 2020/21, it was Norwich City's Emi Buendia before last season saw Harry Wilson wreak similar havoc where he didn't quite belong. As we edge towards the 11-game mark of the current campaign, it is already apparent that Watford are the beneficiaries of a certain Brazilian who fits this bill perfectly.
It was a turbulent summer from start to finish for Watford which saw more than 20 players exit, and after Rob Edwards became the club's 16th manager in 10 years under the ownership of Gino Pozzo, it was clear that some stability was needed, but wasn't expected to arrive immediately due to the turnover of players.
The deluge of departures was expected to start with Watford's standout front three from their Premier League relegation last term, which consisted of Emmanuel Dennis, Ismaila Sarr and Joao Pedro. Yet somehow, the latter two remained.
Although a lack of security remains in certain areas of the squad, the presence of Pedro and Sarr, alongside a 39-year-old up-and-coming manager in Edwards, signifies an unfamiliar feeling of hope moving forward for the Hornets, especially given the club's stubbornness to fend off multiple advances from Premier League teams to sign the pair.
Nathan Jones' Luton Town: From Betrayal to the Brink of the Premier League
Even with the possibility of them leaving in January, Watford have already done enough. There was potential that the months between now and 2023 could have caused significant damage to a club in transition. But with Joao Pedro in particular, an unstable team has been carried composedly into a new era where the alternative could have been chaos and temporary crutches in the form of panic buys dragging them through.
Across 10  games that have seen Watford use 21 players and six forwards in an ever-changing front two, Joao Pedro has not only been a constant threat leading from the front, but a key ball progressor from deep and a force of infectious energy that has driven the team to early success in so many aspects.
Within these opening matches, Watford have arguably had the toughest start of any team in the division, having already faced promotion hopefuls Sheffield United, West Brom, Burnley, QPR and Middlesbrough. As a result, they have found it difficult to win the midfield battles and force the issue through central areas against technically superior direct opposition.
The double pivot used either in a 3-4-1-2 or 4-2-3-1 typically includes Tom Cleverley, Edo Kayembe or Hamza Choudhury, none of whom could be considered strong passers of the ball, which is where Joao Pedro becomes so crucial.
When Watford have possession in midfield with the opposition in shape, Pedro has two options. He can hover in between the defensive and midfield lines, hopeful of a forward pass that rarely comes, or he can retreat to find pockets of space, making the lives of teammates easier and drawing a player with him before receiving the ball and showcasing his true quality.
Whether he picks up possession out wide, often further back than Watford's wing backs, or in the half spaces with one or two opponents swarming him, he is so effective at beating the press, breezing past players and putting his team on the front foot seconds on from unfavourable positions.
Players with such flair can often be pressed aggressively by opponents and overwhelmed physically without the space to work their magic, but Pedro's strength, speed and intelligence to use his body to bounce off players when on the move means he's impossible to contain.
This is also showcased in his ability to play long passes in behind the defence with expert precision, and Watford's new strikers are already on high alert when Pedro gets on the ball, making their move knowing it will likely come their way.
In the following series of clips, you'll notice that almost every time Pedro receives possession, he has seven or eight opposing players to beat, and within seconds he has created an opportunity out of almost nothing. First up, the Brazilian's ability to glide past players with an air of grace that is so easy on the eye:
Pedro's passing is similarly efficient and elegant in equal measure:
As you can see, try to get touch tight and he'll turn you inside out, give him half a yard and the consequences can be just as devastating. 
At 20 years old, Joao Pedro is already terrorising the Championship with frightening regularity, and as the stats show, there's no one better in the division right now.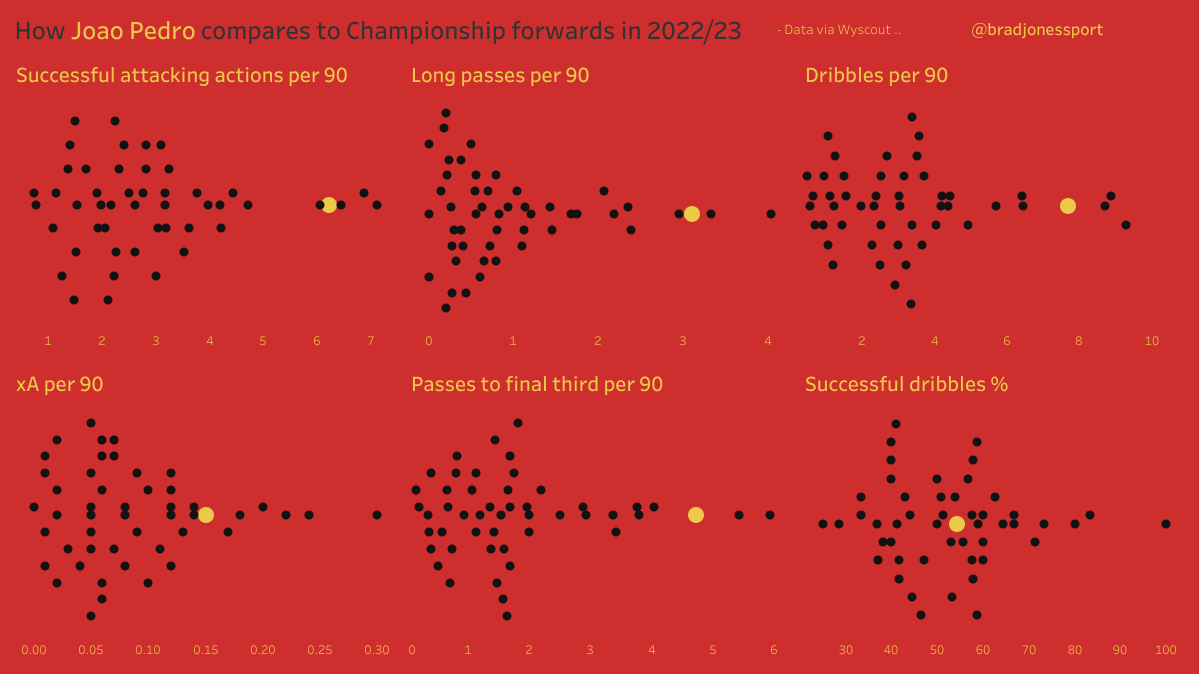 It comes as no surprise that Pedro ranks in the top 10% for dribbles, long passes and successful attacking actions per 90 in the Championship. The multifunctionality of his game adds genuine substance to the mesmeric skill you see on the surface. He doesn't just pass the eye test, he flourishes when it comes to quantitative analysis, and indeed, an assessment of his character as well.
It is no secret that Joao Pedro is too good for the second tier, he's probably well aware of it himself. But after a Premier League move didn't materialise, he didn't sulk and lose motivation, he understands that there is still work to do to reach the top and has looked as happy as ever in a Watford shirt in spite of the sunnier possibilities circling him.
After the transfer window closed, the forward immediately reassured Watford fans by telling Watford Observer: "I feel part of a family. I hear the songs, I feel the love and I truly appreciate it." before going on to say: "Promotion is the objective. We need to win the Championship."
Emphatic words reinforced by excellent performances on the pitch. For his loyalty, and the feeling of love he exudes on and off the pitch for the club, Joao Pedro is a fan favourite in every sense.
As a result, an accurate comparison for Pedro in terms of temperament and relative talent is Harry Kane. So central to his club's short-term level of ambition, so central to every phase of his team's attacking system also. However, it is the quality front of goal which separates the two so significantly.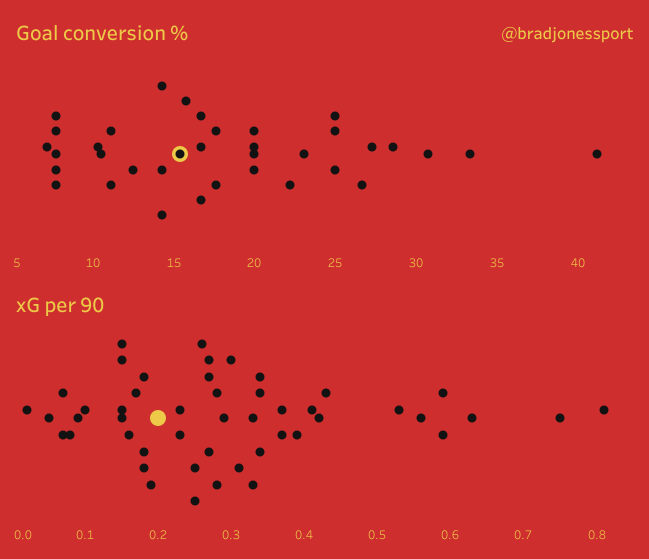 As displayed by the graphs above, there is still work to do in order for Pedro to become a complete forward, his finishing is quite erratic as adrenaline tends to take over when he finds himself in goal-scoring opportunities with time to work with. This is a very minor concern, though. He's still only 20, and even Kane found himself in a similar predicament throughout his formative years.
Whether Watford's Brazilian magician reaches the heights of Tottenham's number nine remains at least a couple of years from possibility, but the signs are certainly promising. One way or another, Joao Pedro should be playing Premier League football this time next year.
He's quickly building a portfolio of work on par with Wilson, Buendia and Bowen. With Ismaila Sarr and new signing Vakoun Bayo alongside him, as well as the imminent return from injury of loanee Keinan Davis, Rob Edwards has assembled an attacking arsenal that will only see Pedro become increasingly influential.
It seems almost unfair to unleash a player so blatantly a class above alongside such capable options, so as fans of the Championship we should enjoy him as much as we no doubt will in hindsight. Just be sure to dread the day it's your team on the receiving end of it. 
By: Brad Jones / @bradjonessport
Featured Image: @GabFoligno / Charlotte Wilson – Offside