Kobbie Mainoo: United's Rising Star Ready to Take the Premier League by Storm
Ahead of Manchester United's pre-season opener against Leeds last week, in an interview with MUTV, United manager Erik ten Hag boldly stated his desire to consistently bring more academy products into the first-team squad. "Man United is famous for bringing young kids into the first team," said the Dutchman. "Last year [Alejandro] Garnacho made it, and I always hope for a minimum of one player to come into our squad and compete for a starting position."
A number of contenders have stepped up to the plate and delivered impressive performances in United's friendlies against Leeds and Lyon, but there's one contender who has particularly stood out – dynamic midfielder, Kobbie Mainoo. Mainoo already made his senior debut under ten Hag last season, as a substitute against Charlton Athletic in the Carabao Cup.
Further appearances off the bench followed – vs Reading in the FA Cup and Leicester in the Premier League – and in addition to his impressive pre-season performances, a squad number change (73 to 37) indicates more first-team minutes could well be on the cards for the 18-year-old. However, perhaps the most crucial factor in Mainoo potentially making the step up is that he possesses key attributes and strengths that the rest of the United squad lack, and he could become instrumental in addressing specific issues within the team.
Manchester United's Slight Tweak in Build-up Structure and Its Ripple Effects
Mainoo is often compared to another former United player and fellow academy product, Paul Pogba, and there are definitely similarities and differences between the two. During Pogba's second stint at Old Trafford, it often felt like he was being forced into deeper positions, limiting his potential. Mainoo, however, is poised to thrive in these roles.
In his appearances for the Manchester United Under-21s, he has consistently demonstrated his versatility, performing well as a 6, 8, and 10. Importantly, versatility is one of the attributes which Erik ten Hag values most in a midfielder, and has recently said as much about new signing Mason Mount.
Under Ten Hag, United often form a 3-1-6 shape in settled possession, and Mainoo can slot in nicely to support this. He is adept at dropping in as part of the back three, comfortable receiving the ball as the single pivot, and contributes effectively further forward too.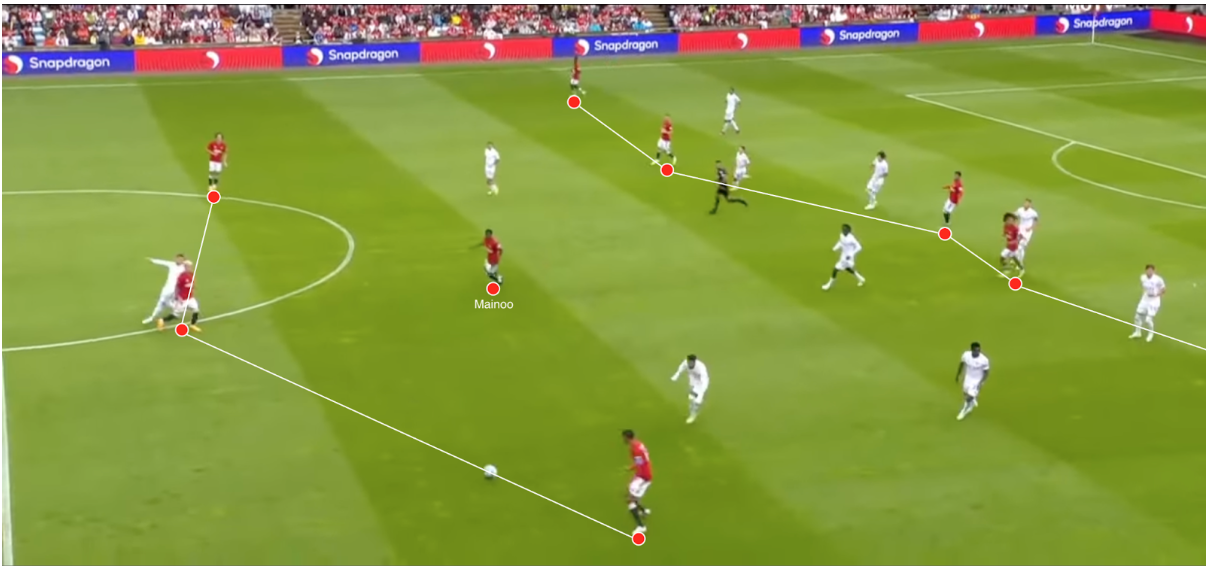 Mainoo as the single-pivot in United's 3-1-6 vs Leeds
One of United's greatest struggles last season was in the first phase of the build-up, and they were particularly vulnerable to opponents with an organised high press. This was a crucial factor in heavy away losses to Brentford and Liverpool, and was ultimately one of the deciding factors in the FA Cup Final defeat to Manchester City. Mainoo brings attributes that can be extremely helpful in addressing this problem.
For a player who only turned 18 in April, his physical attributes are genuinely outstanding and could be vital in supporting him step up to Premier League football in 23/24. Despite standing at just 5'9" he is incredibly difficult to outmuscle and dispossess. He shields the ball phenomenally, allowing him to easily ride challenges, and he is fantastic at turning and changing direction with the ball.
Manchester United have found it difficult in recent years to strike a balance between physicality and technicality in midfield, often leaning too far in one direction or the other, but Mainoo has the technical attributes to match his physical qualities. The Red Devils have desperately needed midfielders that are comfortable and confident when receiving the ball under pressure in deep positions, and Mainoo thrives at this.
Mainoo is fantastic at drawing and evading pressure, and his decision-making for releasing the ball at the right time is excellent. He is also very good at controlling the tempo and seems to have a natural instinct for either speeding up or slowing down the play. He also has incredible close control. To use a bit of a cliche, the ball seems stuck to his feet at times, so he is an excellent dribbler. This, combined with his physical qualities, makes him a very effective ball carrier, for both evading pressure and progressing play.
Mason Mount: How Does the Englishman Fit Into Manchester United's Set-Up?
In terms of his passing, Mainoo is fairly productive at getting the ball into the final third. This mostly comes via switches of play or longer balls over the top, but he could do with improving the quality and volume of his passing in between the lines. That being said, he is just 18 years old, and only the world's elite midfielders are able to consistently break lines with quality. He will undoubtedly improve in this area as he becomes more experienced, particularly playing under ten Hag.
Despite his obvious qualities, it's important to remember that the step up to the Manchester United first team is a big one. Ten Hag will be careful to integrate him gradually, as he did with Garnacho last season. Mainoo cannot, and surely will not, be expected to step straight into the starting eleven and instantly solve United's problems. Realistically, the club should still be looking at bringing in a new face in the transfer window to address their midfield issues.
However, if Mainoo continues to impress with his pre-season performances, it won't be long before we see him racking up more first-team minutes. His versatility, complemented by his unique attributes, presents a solution to United's specific tactical difficulties, and under the guidance of Erik ten Hag, the stage is set for the young star to thrive.
With a new Premier League season on the horizon, there's nothing stopping Kobbie Mainoo from taking the next step in his career, and becoming the latest United academy product to etch his name into the Old Trafford history books.
By: Jake Lane / @jakerslane
Featured Image: @GabFoligno / James Williamson – AMA / Getty Images