Marcos Leonardo – A Diamond in the Rough
Santos have had it rough these last few years. They are arguably one of Brazil's most emblematic clubs not only due to their trophy cabinet but because of them bringing through their youth ranks two of the best, if not the best ever Brazilians to ever grace the game in Pele and Neymar. And yet this famed club due to a big mistake a couple of years ago has suffered financially and as a result has been on a downward spiral for years. As such, they've had to rely largely on their academy and youth integration that will bring them profit to help their sustainability, and over the last couple of seasons they've managed to successfully do just that.
Regardless of where in their development processes names such as Lucas Verissimo, Kaio Jorge, Rodrygo, and Kaiky spring to mind as just some of the youngsters to have come through at the Vila Belmiro club. However, this is not an article on Santos and their overall situation and how they're gracefully trying to keep producing some of the best talents in Brazil. No. This is an article on one of their most recent gems to burst onto the scene. 
Marcos Leonardo Santos Almeida or most commonly known as Marcos Leonardo has been the club's starting striker for a good two years now and has been quite impressive ever since being given the reins. Born in Itapetinga, a municipality in the state of Bahia, on the 3rd of May, 2003, Marcos moved early on in his career to CT Rei Pele. Now unlike other articles I've written, this is the part where I talk about the player's ups and downs and youth level…Not really with Marcos though.
Since coming onto the scene and developing in the youth categories of the side he's always been about goals. Prior to him being introduced into the senior squad for the first time he managed to net 13 goals in 17 appearances in the U17 squad when he was just 16. His goal-scoring prowess was enough to warrant him finishing the season with the big boys in the U20 squad but he only managed six appearances largely off the bench.
A year later, in 2020 he started off great and just after 3 games with the U19 in which he scored thrice he was brought into the Senior squad with a view to get minutes whenever possible. He didn't have to wait too long. He was introduced against Recife in the 79th minute as the side went on to win 1-0 and just 3 days later he was given another 15 minutes against Palmeiras. He was even given his first professional start two weeks after that v Sao Paulo and despite being subbed off at halftime, it didn't put him off.
He got his head up and kept training and a month later he was introduced vs. Goias where he scored his first professional goal. He carried on being slowly integrated under Cuca, getting minutes in all three competitions that the side played in [Serie A, Cup, and Libertadores] netting 8 times in 25 total appearances for the club. To bring more stats into context his total minutes featured were just 862 and yet the player managed 0.32 goals per game which was an impressive number and yet Marcos was just starting.
A year later, he managed a pretty similar feat once again – 10 goals in 40 appearances over 4 competitions doubling his minutes to 1870. His stats took a hit with 0.18 goals per game but he was still mightily impressive and Santos had seen enough to trust him with the starting Striker position. Despite everything going on it was enough for Santos to see that the talent was quite evident and Marcos was thrust into the starting XI, and he didn't look back. In 57 appearances he scored a whopping 21 goals with 5 assists and literally dragged Santos over in an above-average season and since then has been one of the most prolific strikers in the Brasileirao.
But what makes the striker tick? What is he good at and what makes him such a valuable asset and why is he one of the most underrated strikers in world football right now? Let's dig deeper.
Player Breakdown
Naturally, Marcos Leonardo is a Striker who combines pure poacher instincts with solid on-the-ball ability. He doesn't solely rely on movement into the box and final third in order to get his goals and impact the team's overall performance. He does tend to move well in between the half-spaces and drop deep in order to try and be part of the play rather than an isolated attacker waiting on his chance to pounce on any through ball given. 
Photo: Marcos Leonardo's heat map [SofaScore]
The player's heat map is quite evident. Leonardo opts to occupy the central areas of the pitch dropping deep to collect the ball and aid his side in build-up. He sits at 174 cm but is relatively physical as he doesn't get bullied off the ball often if it is under his control and with that stature he's also quite speedy when having to rely on movement without the ball. Below we can see his pie-charts from 2022/2023 which shows just how complex and "all-round" he really is. [Courtesy of @ChicagoDmitry on Twitter and his McLachbot]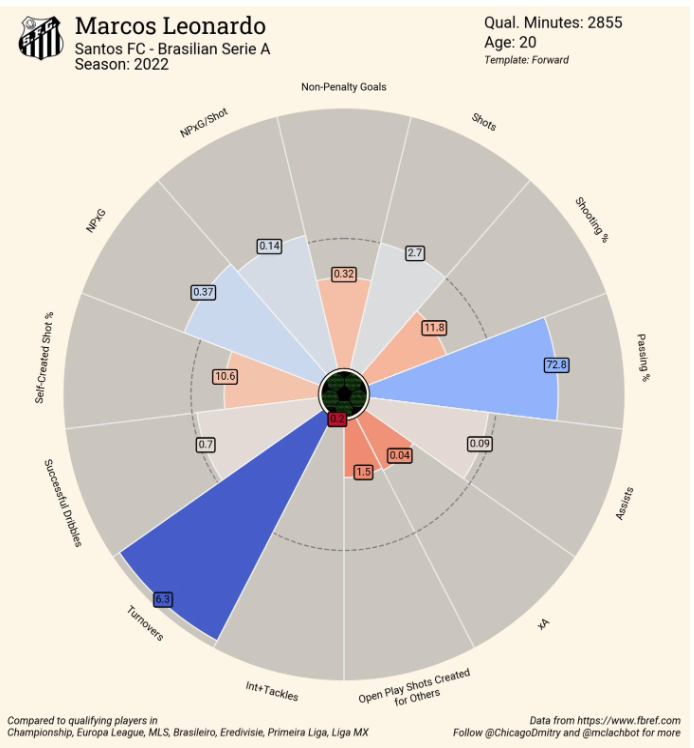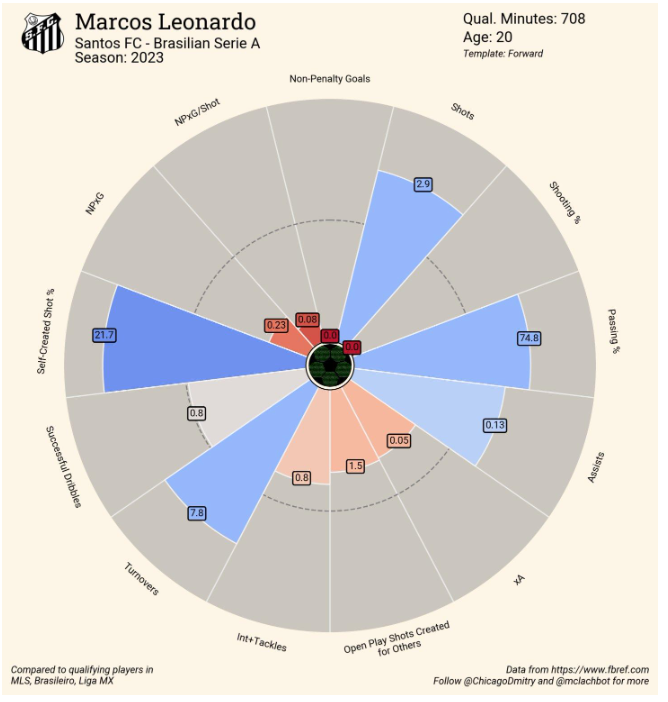 Finishing
The thing that makes Marcos stand out is undoubtedly his finishing. We'll get to his positioning and movement without the ball when it gets to that but Leonardo is a player quite capable of using both of his feet to finish as well as his head. He possesses a wide variety of ways to place the ball in different areas of the goal. In his locker, there's chip shots, goals into the bottom corner, and well-placed shots with power. Everything.
It might sound like an over-statement and trying to overrate him but he really does have an array of ways to beat the opposition goalie and that's something that really, really stands out regardless of everything else. What surprised me most is that he didn't over-achieve or underachieve on his xG last year scoring 13 goals in the Brasileirao with his xG being exactly the same – 13.17. He also managed to score 5 times in 5 games in the U20 2023 World Cup only not managing to get on the scoresheet vs. Nigeria. 
Movement and Positioning
A lot of what makes Marcos Leonardo the striker that he is is the fact he has the ability to move very well without the ball. In the below image via wyScout is where the player has largely taken his shots off and where he's placed them and a majority of his successful ones are a result of exactly that. Smart movement without the ball to get on the end of deflected shots, headers from corners, or whatever else happens to which he's quick to anticipate the movement of the ball and where he'll need to be in order to take advantage of that.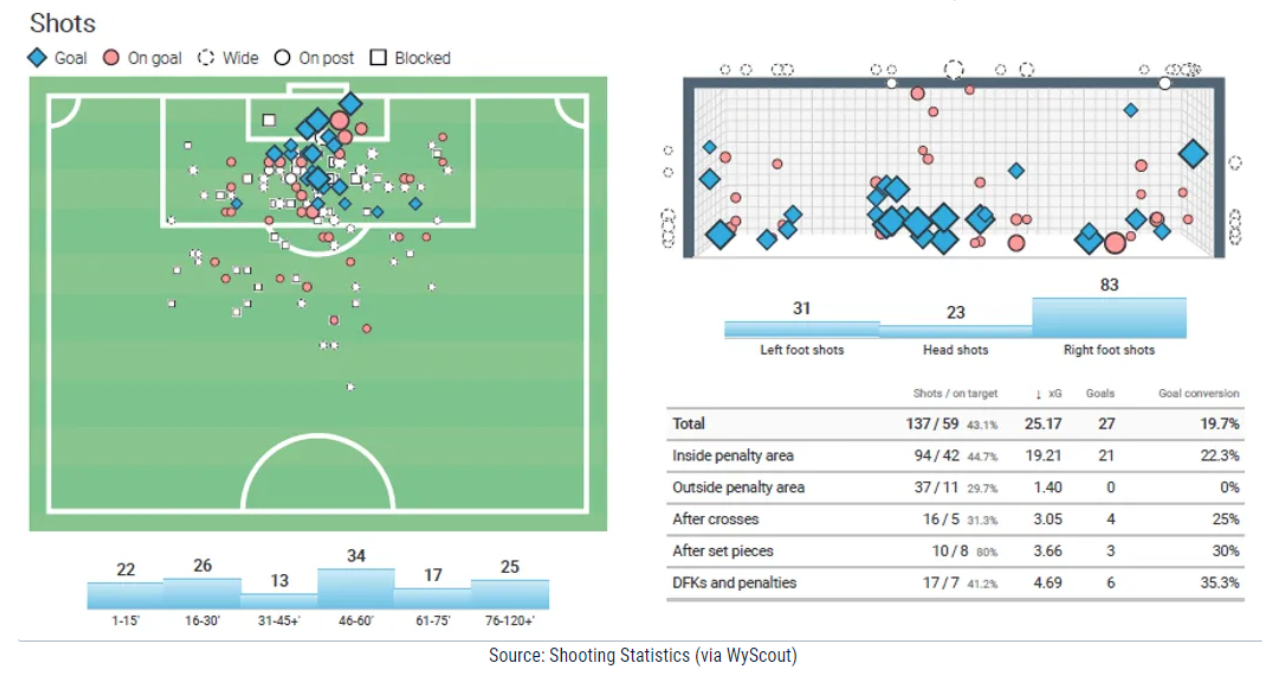 Another underrated asset that he has, to which sadly there is no actual stat to showcase other than the "offside" one perhaps is that the player often manages to use his intelligence coupled with his speed to avoid an offside trap or just being in an offside position. In 2022 alone he was only caught like that on average of 0.5 times for the whole season and it's the same for this season as well. It goes to show that he's well aware of his surroundings just like it was stated above. A true "fox in the box" [and not just there evidently]. 
Passing
Part of what makes Marcos such a complete package striker, to a degree, is his ability on the ball as well. As he aims to drop deep, pick up the ball and move it quickly or just aim to quickly distribute his passing ability shines most of the time. On the ball, he takes roughly 23.3 touches per game and he delivers 7.8 to 8 accurate passes per game, 5 of which are in the opposition half. Now, granted that's not a very high number but you have to bear in mind that Santos often are on the back foot and Marcos Leonardo despite his slight physical issues is tasked with distributing the ball quickly and with his back to goal.
This often means that he may not have a teammate in good vicinity or position in order to receive the ball or too much pressure ultimately ends up affecting his delivery. Still, despite that in the advanced positions that Marcos plays in he possesses the ability to successfully execute very difficult passes and is also often on the receiving end of situations where he manages to find a teammate in a better position to shoot on goal or even score. He managed to snag 5 assists last season and has already provided three this year with his xA ranking being 1.75, a great number for a striker in a team on the current level of Santos.
The Brasileirão is back for another season, with the likes of Fluminense, Internacional and Corinthians seeking to end their title droughts, and Palmeiras looking to repeat their title.

This season, we've got you covered with a weekly Brasileirão round-up from @crawford7martin. pic.twitter.com/WuA19EOs2N

— Breaking The Lines (@BTLvid) April 18, 2023
It has to be noted however that there are issues, albeit small ones such as his first-touch passing which needs to be worked on, as that often leads to the ball being misplaced or even lost if Marcos rushes the pass unsuccessfully executing it and sometimes he does often go for difficult shots rather than a pass which whilst being a great show of confidence it also says a lot about his slight lack of vision for better-positioned teammates that may benefit from a pass in behind. 
Heading and Aerial Ability
Coupled with what was said above about his movement without the ball, Marcos Leonardo gets on the end of plenty of headers and although he needs to work a bit on those he certainly doesn't shy away from being a nuisance "on the second floor". Despite sitting at 174cm he wins plenty of headers and again, yes, there is a need for improvement on how he places the ball when he gets his head to it but the more impressive thing is that often times he just knows how to create separation from his marker using his speed and off-the-ball movement.
Oftentimes you'll see him take a step forward or step backwards and trick his opponent before launching himself in a completely different direction in order to be left wide open or at least available. To further add to that he has very impressive jumping ability in any position required of him. [Backwards, forwards or sideways].
Yes, he's unlikely to win pure 1v1 duels due to his stature and physicality or lack there off but at the same time, he's quite capable of threatening the opposition's goal if the ball is delivered to him in a good enough position. To put it into perspective a little, he's managed to win only 32 % of his aerial duels on average – that's 1 in total. That being said he scored 5 headed goals last year alone and even managed to miss a couple of good opportunities to further add to that tally. 
Dribbling Ability
Being relatively shifty, another underrated asset that is possessed by the youngster is his dribbling. More often than not when receiving the ball he does attempt to beat his marker in 1v1 situations in order to progress the ball further down the pitch. As mentioned above his good speed coupled with acceleration and good ball retention makes for a pretty menacing dribbler, especially against slower opponents.
He manages 0.6 successful dribbles per game which amounts to 50 % of his attempted dribbles per game. His agility helps him turn quickly when with his back to goal as well and that provides him with momentum to carry on progressing the ball and therefore get even more ground under his feet. It is worth noting however that in some instances he does tend to opt to dribble rather than pass and therefore ignore a better-situated teammate but that comes back to the above point of his slight lack of vision. 
Defensive Contributions
More often than not the player finds himself as the main pressing trigger for the side. With that in mind, he is a very aggressive presser and he does not tend to give up on trying to pester his opponent into committing a mistake. When that does benefit Santos, the player chases up loose balls and may win possession in very advanced areas of the pitch, enabling the side to use a higher defensive line [if needed] and perhaps a more aggressive pressing style.
The bad side of it all is that he often falls for fake passes or because he isn't a naturally defensive player he doesn't tend to tackle the opponent well often resulting in free-kicks which are largely unneeded. Even if it doesn't blow you away on the stat sheet with his Interceptions and tackles per game being 0.1 and his possession won is just 0.3, that's still a very underrated part of his game as Santos aren't often the side to engage in such high press which goes to show that Marcos goes out of his way to contribute to the best of his capabilities. 
Overall Conclusion and Player Comparison
As stated, Marcos Leonardo is a diamond in the rough. He has a phenomenal pure feel and knack for the goal. His awareness and off-the-ball movement are superb and his ability to create his own shot due to his high level of technique and dribbling ability means he can be a nuisance from various different positions. To further add to that his mobility makes him very difficult to man-mark or pressure as he can easily shift the ball quickly and move into areas against much slower opponents.
As stated above, he's also a great pressing asset and someone who can very much aid sides that aim to have more aggressive pressing patterns and are of the belief that winning the ball very high up the pitch is key to effectiveness. He does need work and coaching. Both tactically, physically, and mentally there are areas to him and his overall character that need to be touched upon but he's one of those strikers that can easily become much more than what is expected of him with just a little bit of work and persistence. 
In terms of player comparison, I'd say he mostly resembles a young Lautaro Martinez. It's not exactly a nailed-on comparison though as his movement on the ball does tend to be a little more rugged than that of the Argentinian and I really struggle to name someone else who'd fit the description but yes, that is the player I'd most likely compare Marcos Leonardo to. His ability to execute different finishes whilst also being a fantastic link-up player.
To round it off, it only goes to show that the player has been linked with a variety of different teams. Manchester United and Arsenal on one hand, Lazio and West Ham on another and I think it perfectly describes just how much of a project someone like the young Brazilian is. That being said, all that is asked is a chance and some proper coaching. Everything else is in his locker and he's ready to become one of the most prolific strikers in Europe if worked upon and "sharpened" into the diamond that Santos have yet again managed to dig up!
By: Peter Pankovski / @23Pankovski
Featured Image: @GabFoligno / Ricardo Moreira / Getty Images