Andre Trindade – The Modern-Day Defensive Midfielder
Remember Felipe Melo? The robust defensive midfielder who was pretty much a walking yellow/red card and was your creative midfielder's worst nightmare because of a potentially career-ending crunch tackle? Yes, that Felipe Melo, cut from the same cloth as Nigel de Jong, Mark van Bommel, and others, who's currently plying his trade at Fluminense at age 39 at the end of his long career.
What if I told you that he was idolized by a certain young midfielder who broke through in the senior Flu squad in 2020 and has since been the next young Brazilian to be close to a move to "European pastures?" However, despite holding him very high up in his list of players to look up to, Andre Trindade da Costa Neto, better known as just Andre, looks nothing like Melo and is the modern-day defensive midfielder that almost any club in world football would want and this is his story and profile breakdown. 
Andre wasn't born in Rio, though, instead, he was brought up in Algodao, a district in Ibirataia, in the state of Bahia, Salvador. His footballing career began at the Futuro Certo school and at the age of 10, he already had the chance to participate in a tryout for Bahia Esporte Clube, one of the slightly bigger teams in Brazil. The tryouts were in the neighboring city and he quickly impressed, earning a move to be further evaluated in the state's capital of Salvador.
Luckily for Andre, he had relatives there so the trip was easier and reaching the youth team's training grounds didn't pose much of a problem as it typically would for other kids in Brazil. That being said, the player showed flashes of his talent and was immediately enrolled, staying at the club for two years.
Ironically, he was far from a defensive midfielder back then and was even playing as a striker, scoring seven goals in eight games in the local Bom Jesus da Lapa tournament. His performances were good enough to catch the eye of Fluminense scouts, who were quick to snap him up and bring him to Rio de Janeiro.
The Brasileirão is back for another season, with the likes of Fluminense, Internacional and Corinthians seeking to end their title droughts, and Palmeiras looking to repeat their title.

This season, we've got you covered with a weekly Brasileirão round-up from @crawford7martin. pic.twitter.com/WuA19EOs2N

— Breaking The Lines (@BTLvid) April 18, 2023
At Fluminense, however, the player initially floundered. Struggling to settle into a different environment, with no relatives surrounding him, he was unable to make his mark at the club and unable to lock down a starting spot. He grew frustrated with his role, and things didn't change much when a managerial change saw young Andre moved into midfield, a role which he wasn't really fond of…initially.
Fast forward a year later, suddenly and seemingly out of nothing, things changed and he showed rapid signs of improvement, even being granted the captain's armband in what was called the "Golden Generation" of the club. Some notable names there included players such as Luiz Henrique [currently at Betis], Rafael Navarro [currently at Palmeiras] amongst others. The side won the Carioca U17 Championship whilst also finishing as runners-up in the Taca BH Cup and Copa do Brasil.
Over the next few years, the player went on to manage over 80 appearances for the youth categories of the sides, slowly progressing through their ranks as one of their best options. And as the player developed and was excelling for the U23 squad, he was involved with the senior team for the first time in the Campeonato Carioca being named to the bench for the game v Flamengo on the 12th of July, 2020.
Eventually, the player was given his debut in the 87th minute in a 1-0 win v Atletico-GO on the 17th of September before three days later being granted his first start v Sport, but as he was cautioned early on and with the side losing, he was hooked at half time. He had to wait a month and a half for his next appearance which came in the 50th minute v Internacional, and he went on to play a couple of more times in the next few games before the season drew to a close. 
This is where you'd expect me to tell you that he then went on to start getting more and more minutes for the side and eventually become this ready-made talent that he is now…which sadly isn't the case. With the coach still being Ailton, Andre started the first two games of the Carioca Championship but over the course of the season, he was behind in the pecking order to players like Wellington, Yago and Hudson whilst also having to outperform another youngster named Metinho.
Pitbull de Raça – Why Joao Gomes Could be a Revelation in Wolves' Midfield
He even dropped back down to playing mainly for the U23 and U20 squads after the arrival of new coach Roger Machado with speculation mounting over his future with potential moves to Clube de Regatas and Botafogo being discussed. However, it was then that Hudson picked up a serious injury and a move didn't materialize as he was reinstated back in the senior side… and he didn't look back.
Having impressed in training, Machado handed him a start v Fortaleza. He went on to rack up a couple of starts and appearances off the bench here and there, but it was then that Machado was replaced by Marcao as coach of the side, and Andre's "rise" began. Shifting to a three-man midfield, he was immediately established as the focal point, playing just in front of the defense. He finished the season with 36 total appearances for the side, racking up a goal and an assist and impressing with his ability to win the ball in various different ways whilst also being technically astute.
He slowly started to build up on all his attributes and as such to become a much more complete player for the profile he suited and that didn't go unnoticed with 2022 being an even better year for the player. Being consistently compared to youngsters in his age bracket such as Joao Gomes [then at Flamengo, now at Wolves] and Danilo [then at Palmeiras, now at Nottingham Forest], Andre edged them out in five of the categories that were statistically presented come the end of the footballing season in Brazil.
Despite all three of them playing pretty much a similar role for their sides, the Fluminense youngster bested them in ball recoveries, short passing, long passing, dribbles made and duels won. According to SofaScore, he also had the highest number of interceptions and recoveries with more than 200 to his name whilst also completing 92 % of his short passes and 78 % of his long passes.
He went on to make his 100th appearance for the club in a 2-0 loss v Atletico Mineiro on the 1st of October and was eventually voted in the Ideal XI of the Serie A and  ESPN's Silver BallIdeal XI, [an award presented by journalists in the industry covering Serie A]. Over the course of the season, he went on to feature 60 times with 2 goals and 2 assists to his name. And even now in the 2023 season, Andre has somehow been even better with new coach Fernando Diniz improving on his performances but also on Fluminense in general with the Tricolor looking as one of the best sides in South American football. 
Andre has been linked with the likes of Milan amongst others and has been the subject of a bid made by Fulham in January which was rejected as he promised that he will remain until the end of the year with Fernando Diniz, but it's clear for everyone to see that Andre's talent lies at a European club where he'll get the worldwide recognition that Danilo and Joao Gomes have begun to "endure". But what makes him such a touted prospect and which are the things he excels at? Likewise, are there any weaknesses in his game or things he can improve on? Let's take a look below. 
Player Breakdown
Profile and Position
Sitting at 176 cm, Andre is a defensive midfielder who prefers to use his right foot. He's largely played in the position right in front of the defense in a 4-2-3-1 / 4-3-3 as the "number 6" in the double-pivot [even if his shirt is number 7]. He's very dynamic and mobile, and his size gives him the ability to be shifty and quick in his dribbles when carrying the ball out of the back and progressing into the final third. Because of his technical ability on the ball, he's largely seen waltzing forward and attempting to be as creative as possible whilst maintaining his defensive duties, as evidenced by his heatmap below.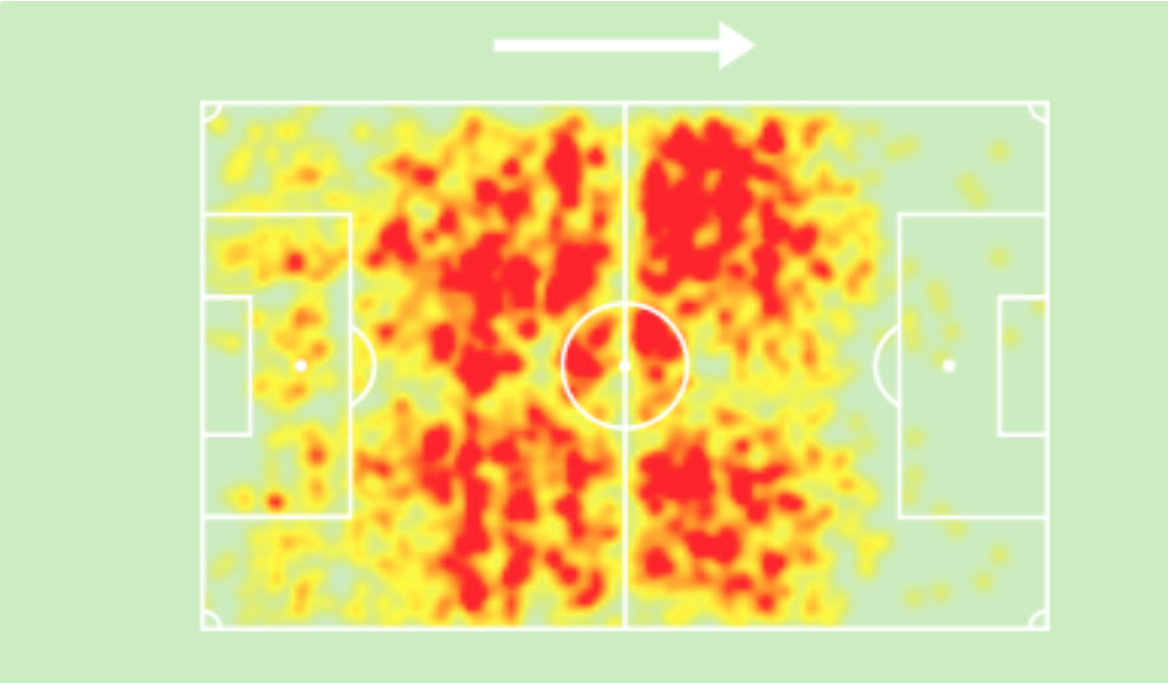 When it comes to pluses and minuses with him before we delve deeper into those said areas, we can reference these two charts courtesy of @ChicagoDmitry and his app McLachBot which also uses FBRef stats for conversion.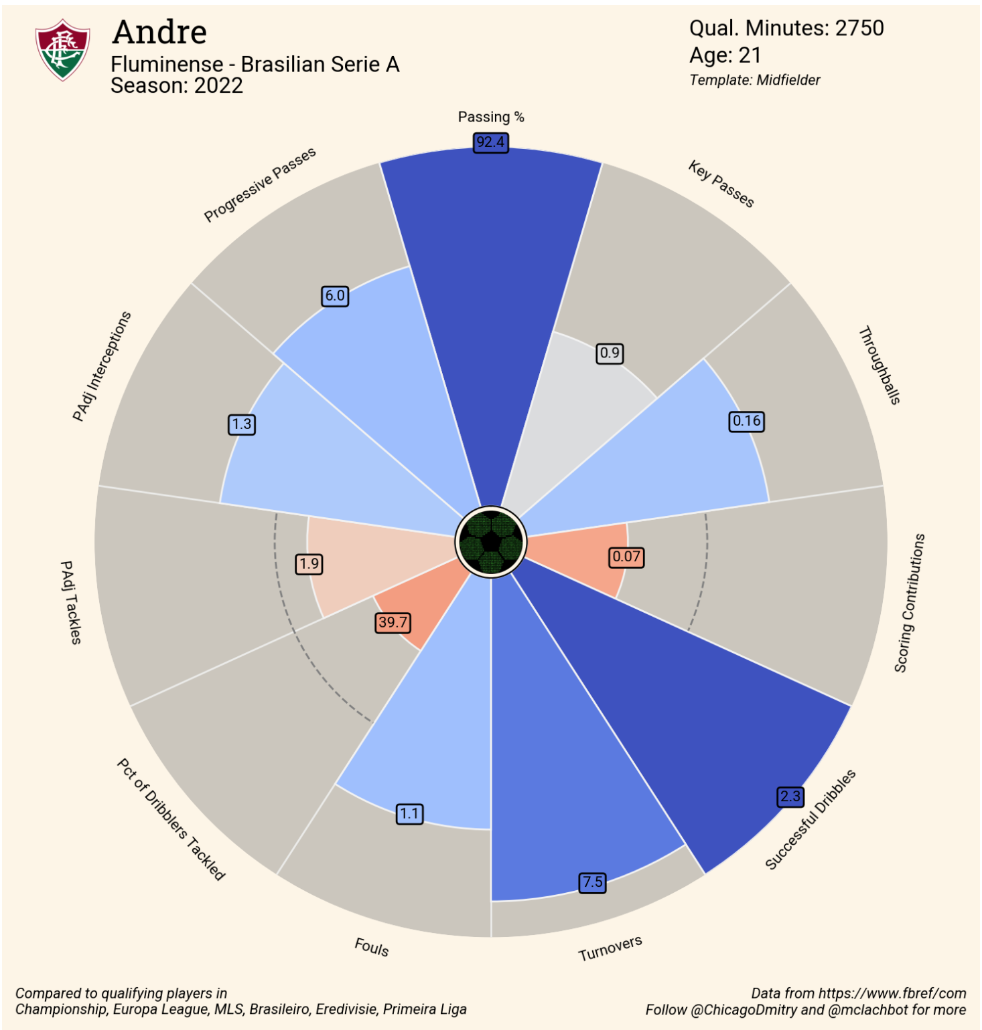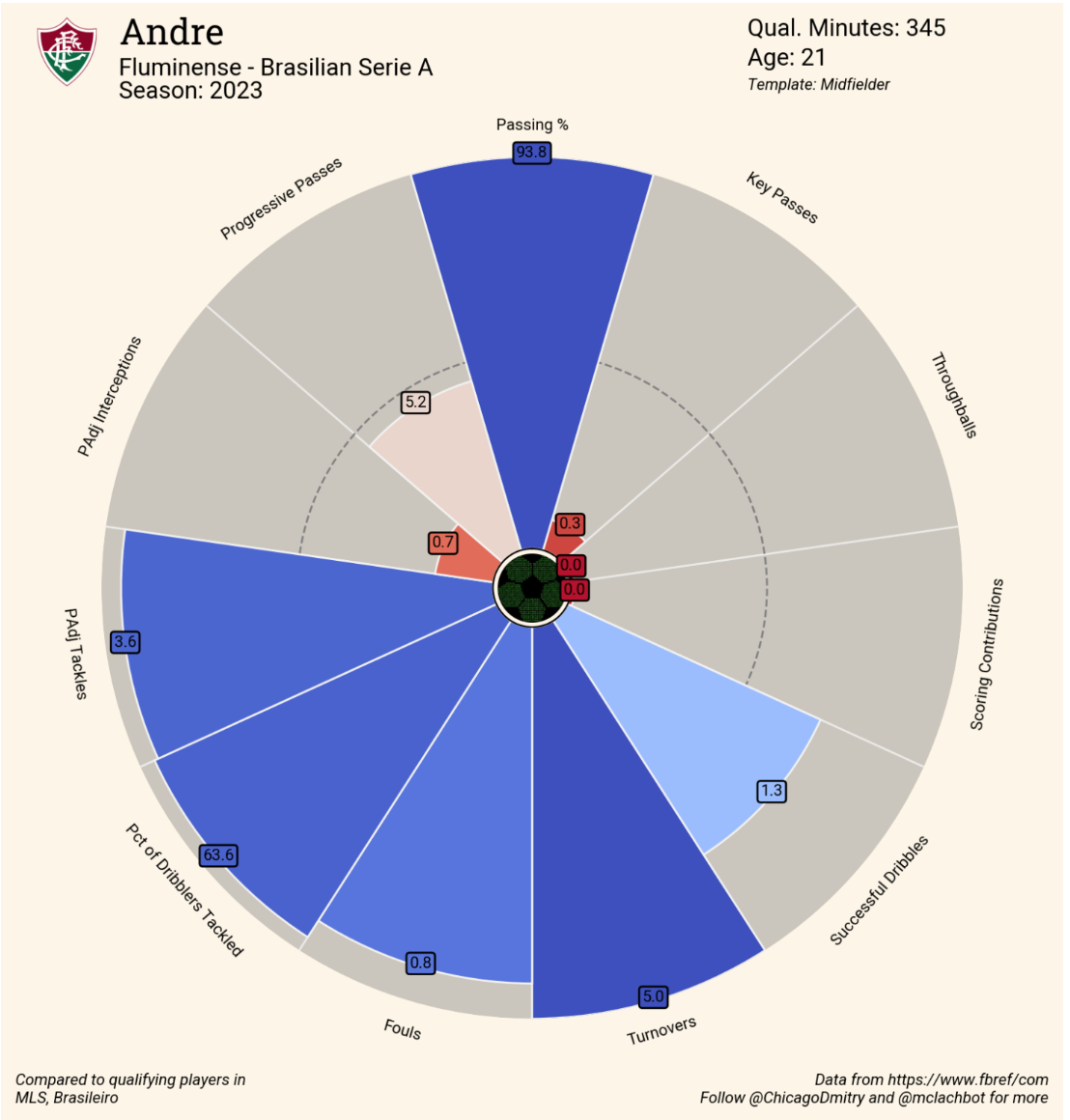 It's evident that the player's consistent ability to tackle, take people on, and pass the ball is what is key to his success, but with that comes a solid amount of turning the ball over that needs to be worked on as Andre sometimes trusts himself too much via the pass or the dribble, in which case possession is lost and may put the opposition in a position of danger for his own team. 
Tackling
What I find most fascinating about Andre is the fact that his ability to tackle opponents rarely relies on him having to go to ground. He is constantly aware of which side of his body he has to shift in order to not be beaten in a 1v1 situation. When facing a counter-attack or anything of sorts, he uses his speed in order to catch up to opponents and pluck the ball away from them. It's a fantastic attribute to possess when the side presses high up the pitch, but he's also the main man when it comes to defending transitions.
Furthermore, he manages to excel when it comes to tackles and interceptions and it immediately shows up on the stat sheet. With 5.6 total duels won, of which 5.3 are on the ground and 2 tackles attempted per game, you can tell immediately what his main task is – win the ball and place it either to a teammate or progress by himself. He's also managed to only be dribbled past, on average, once per game. 
Passing/Playmaking
It might sound like it from the title above but no, Andre is most certainly not a playmaker or a creative focal point for his team. He has a high percentage of successful passes, yes, but most of those are aimed at keeping possession tight and the side in control, rather than needle-threading balls that aim to split defenses open. In a way, the young player resembles Arsenal's Jorginho by moving a lot and trying to keep recycling play through him, but most of his passes are sideways/backwards in order to keep beating the minor/major press and subsequently tiring out the opponent.
That being said, it's no knock on him and it doesn't mean his game is solely based on that, but he's not someone who Flu hope to have creating from deep. Andre is smart, he knows who to pick out with his passes and when, and he aims to quickly distribute the ball to another receiver on the flanks or in the middle who can progress the ball even quicker, or simply just recycle it to a defender/full-back and move into space in order to receive. As such, he manages roughly 86 touches per game with a good 66.4 accurate passes per game, which is 92% of his total passes. He splits 34 of those in his own half and 32 of those in the opposition half, showcasing said quick distribution whilst also giving away the key areas he occupies when receiving the ball.
In comparison, he rarely attempts more long-range passes, although he's quite successful with them [3 successful on average – 77%]. It begs the question why he doesn't attempt it even more as in comparison Joao Gomes [1.2/63 % but a low number] and Danilo [2.6 but 54%] have both struggled when it comes to consistency in that department. Below is a chart of all of Andre's touches in the last 5 games of Fluminense, demonstrating how active he wants to be in the all-round game rather than just being a pure destroyer.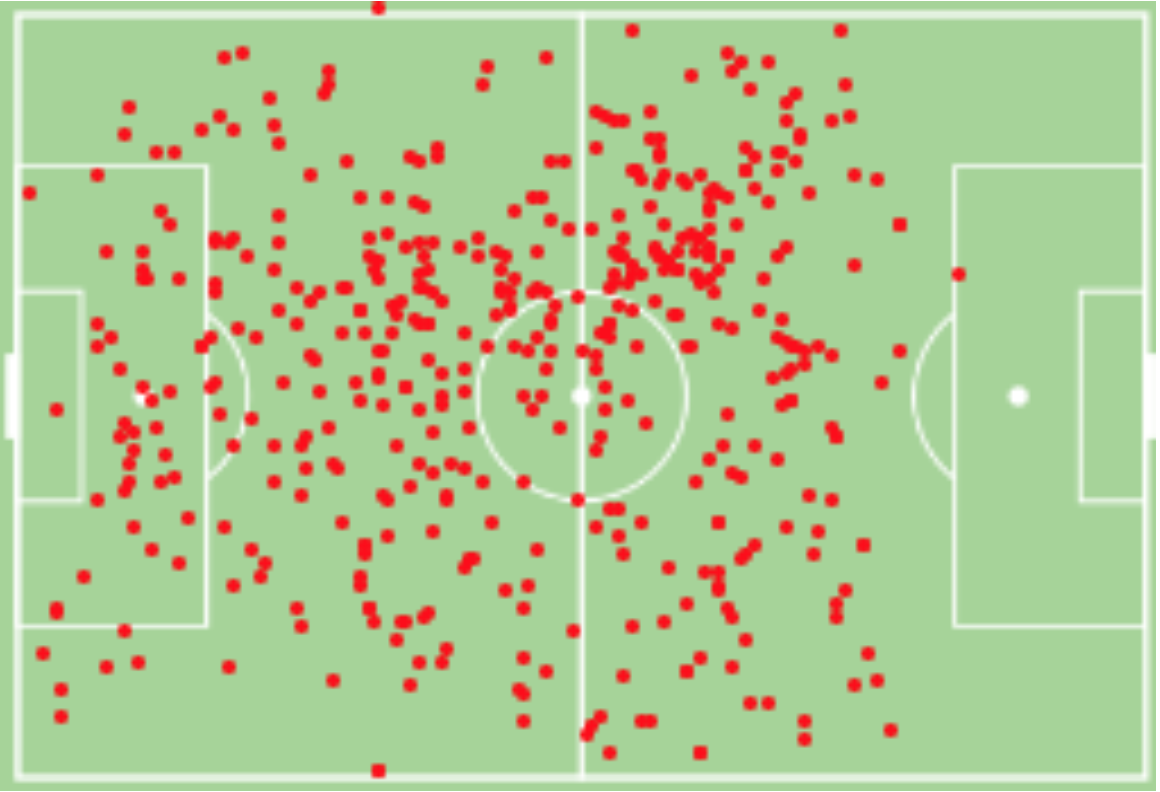 Dribbling
Similarly to Joao Gomes during his time at Flamengo, Andre is also tasked with moving the ball high up the pitch if no option is available. Due to his size and his shiftiness, one of his best attributes is his dribbling. As he aims to beat opponents 1v1, dribble out of the press or simply just progress play in a different way, Andre is surprisingly crafty, racking up 2.3 successful dribbles last season and 1.3 this year, although in a shorter period of time.
His short frame and ability to use his weaker foot in tight spaces help him turn quickly whilst keeping his balance and beating his opponent. That being said, it's where one of his main flaws arises. As much as Andre is very good on the dribble and very confident in his ability to beat his man, he sometimes becomes overly confident.
Trusting himself to move past his marker with the ball at his feet is what sometimes gets the better of him as he's quickly dispossessed, which in turn leads to quick transitions against Fluminense. He is working on improving that aspect of his game, but he carries on having a bad "turnover" stat as seen in the chart above, and in 2022, he's managed to lose possession off a bad pass or dribble 8.5 times which is a definite issue for someone sitting in front of the center backs.
Shooting
Due to the nature of his game and position, Andre really isn't someone you'd see being placed in areas close to goal. Yes, his debut goal in 2021 v Flamengo was a tap-in, but his other two goals in his professional career are long-range efforts. As such, the young midfielder has worked largely on his long-range shooting ability rather than finishing 1v1 and that's quite evident.
If able to steady himself or off the dribble, Andre's right foot can be a cannon, but he rarely gets to be able to showcase that part of his game. He only manages 0.8 shots per game, of which only 0.3 are on target with him being pretty much "spot on" with his xG of 1.01 and him subsequently scoring…once [out of 25 attempts from outside the box and a measly 3 inside it]. The interesting fact is that said goal actually came with his weaker left foot rather than his right.
Heading/Aerial Duels
It'll come as no surprise that Andre is rarely a key figure when it comes to set-pieces and by that, I do not mean taking them, nor is he a defensive juggernaut aerially given his stature. He manages to win about 0.3 [33%] of his aerial duels and has last been involved in offensive set-pieces…in 2020, before his Fluminense professional debut. He won't shy away from a "battle on the second floor" but that is a testament more so to his character rather than anything else.
Weaker Foot
There never really has been talk or a debate on whether Andre is "one-footed" and that's simply because he is not. Be it off the dribble or when setting himself for a shot, or both, he never shies away from using his weaker foot. It's something that adds a lot of value to his ability to beat his man and progress the ball into space and his eventual passing angles, as it means that the player can distribute the ball with ease in various situations and not have to worry about "adjusting" his body to either side. There isn't a metric to judge weaker foot distribution/ability on yet, but the truth is, Andre is probably the most capable player when it comes to weak foot play out of all three between him, Joao Gomes, and Danilo. 
Physicality
Despite his small stature, Andre is deceptively strong and has adjusted to the needs of Fluminense's defensive midfielder position by bulking up and adding muscle in order to cope with these physical demands. Rarely does Andre get outmuscled or bullied when it comes to sheer physical strength. Yes, he can have his issues when defending the ball aerially, but when it comes to shielding it and keeping it under his control on the ground, Andre will rarely be beaten pound for pound and surrender it effortlessly the way other midfielders his size may do. 
Discipline
By discipline, I do not mean the player is an issue in the locker room, but rather, his ability to pick up yellow cards at an alarming rate. In 2022 alone he picked up 18 yellow cards and 1 red, and in 2023, he's already on 7 yellows and 2 reds. That is a big issue and a huge red flag when it comes to tactical discipline and his ability to transition to an even more fast-paced game. I realize that it comes with the territory, being a defensive midfielder, and we did mention his idolisation of Felipe Melo, but it's one massive warning sign that has to be noted and another thing he needs to work on along with said turnovers and errors. 
Player Comparison
It is tough to compare Andre to another player due to his unique profile, position, size, and style of play. Numerous names spring to mind, but he differs from all of them one way or another. He's not a Bruno Guimaraes type ball-carrier and dictator of play to be compared to him, nor is he a Gary Medel-regen who aims to just win the ball by any means necessary and then everything else comes after. There are minor shades of N'Golo Kante, but the Frenchman was always more of a box-to-box midfielder rather than a DM [and as such Joao Gomes is more comparable to him].
The player or should I say players I'd mostly look for when trying to find an adequate comparison are a) Joshua Kimmich before he developed a lot on the ball and became much more technical and subsequently acquired ven more duties when in possession, largely under Pep Guardiola and b) a much more defensive Matteo Kovacic who is known to carry the ball well in tight spaces and progress the play, but is poor in terms of defensive awareness [obviously, Andre isn't the latter]. It's hard to put an exact spin on it but somewhere in the middle between those two is where you get Andre. 
Conclusion
I firmly believe that next January is when Andre will finally move to Europe and to a club that values him a lot. What you can get with him is exactly like I've stated in the title of this article – the modern-day defensive midfielder – capable of doing everything and shying away from nothing when it comes to his responsibilities both on and off the ball.
Undoubtedly the player needs to be worked and coached when it comes to some aspects of his game and also tactically but he's still 21, with the world at his feet. He may not get an immediate jump to a really big club but so too have Joao Gomes and Danilo and they are already turning heads in the Premier League. Europe is waiting for you, Andre, don't make us wait!
By: Peter Pankovski / @23Pankovski
Featured Image: @GabFoligno / Buda Mendes / Getty Images