Vitor Roque: The New Aguero?
Victor Hugo Roque Ferreira or simply Vitor Roque is a player who has made quite the noise around Brazil and recently in Europe for the past couple of months. Despite at the time of writing him not even being 18, Vitor already has 13 goals in 47 appearances at senior level and has clubs from Europe swirling around for his signature.
Born in Timoteo, Minas Gerais on the 28th of February, 2005 Roque began his footballing career at the age of six enrolling in Cruzeiro's "football school" which is located 247 km away from Belo Horizonte. He initially started off as a defensive midfielder and stood out from the get go before being promised a better career progression through the ranks of the America Mineiro academy and leaving for it at the age of 10.
Even there, however, he carried on playing as the defensive midfielder garnering attention left and right as despite his position he scored eight goals in the U14 Mineiro Championship and won the Cruzeiro Internacional Cup with America's U15. It was a little later in the same year that Roque's bureaucratic problems would start creeping up. On the 4th of September, 2019 Roque didn't turn up at America's training ground.
Pitbull de Raça – Why Joao Gomes Could be a Revelation in Wolves' Midfield
Cruzeiro had struck an agreement with the player's agent via a company named "Link Assessoria Esportiva e Propaganda" in which they were going to pay 500k Reals to acquire Roque back. Such a transaction isn't approved by FIFA and it quickly spiraled into a lawsuit that saw Cruzeiro excluded from certain youth competitions such as the U15 Nike Cup among others. Still, on the 22nd of May, Cruzeiro and America reached an agreement on the settlement with the player's rights being divided by the two clubs and Roque joining Cru. 
As he joined Toca do Raposa he started transitioning into the striker role because of his unique ability to finish and he was quickly spotted by Barcelona scouts amongst others. At the U17 level, he was the top scorer in the Mineiro Championship with 11 goals as the side finished runners-up whilst in the U17 Championship he netted another 10 in just 12 games.
The talent was there and Cruzeiro quickly opted to offer him his first professional deal with a clause of 300 mil. Euros [1.6 bil. Reals] for domestic clubs. He was also called in to train with the first team towards the start of October as the Serie B was ending and Cru weren't going to be promoted.
He made his professional debut later that month in a 0-0 draw with Botafogo but unfortunately, that lasted only 18 minutes as he sustained a muscle injury. As he was leaving the field, the youngster couldn't help but show his emotions and frustration at his poor luck but then manager Vanderlei Luxemburgo asked the crowd to applaud the youngster which they most certainly did. 
Kicking off 2022 Roque represented Raposa at the Copinha but only scored once in five appearances with other players, most notably Endrick grabbing the spotlight. That wasn't really a problem for the youngster as he went on to score his first goal for the senior team in a 2-2 draw with Vila Nova in the Mineiro Championship along with two more in the Copa do Brazil v Sergipe.
With those goals, Vitor engraved his name in Cruzeiro history as he became the youngest player to ever score in the competition for the side at just 16 years, 11 months and 25 days of age. He aided the side as they reached the final of the Regional tournament before going on to play just two more games for the club..before, you guessed it, another bureaucratic issue popped up. This time it was with regards to his move to Athletico Paranaense. 
As the player was still under 18 years of age, his contract is a bit more complex when it comes to transfers and etc. so the Celeste club had engaged in negotiations on how his deal would change come the moment he turns 18. His manager, Andre Cury stated there was no such intention so there was a lot of back and forth with the truth being somewhere in the middle.
To make a long story short, on a very eventful day, on the 10th of April, Roque finished up training before boarding a flight to Curitiba in the afternoon. He sent an e-mail to people from Cruzeiro citing an unilateral termination, coupled with a letter signed by one of his agents Ehler Pessoa and one signed by his parents as he was still a minor.
The club's board realised they can only charge for a fee in court and on the very next day, Paranaense had announced him as their player for a fee of just 24 million Reals. This was the side's biggest transfer in their history. It was also agreed that Cruzeiro would pocket just about half of the transfer fee whilst America Mineiro would grab 35% and his family the rest.
Known for their development, most notably with Bruno Guimaraes [who wore number 39 and Roque picked that as he was a fan of the player], Roque was immediately introduced, featuring in a 1-0 loss against Atletico Mineiro on the 17th of April. A month later he scored his first goal for the club v Cuiaba on the 29th of May.
His debut in the Libertadores was also excellent having been introduced as a starter over the injured Pablo v Libertad and within just five minutes, Vitor had scored. The side went on to win 2-1 and advance. His meteoric rise was highlighted by a season average stat of 0.35 which was higher than Neymar's at that age which was 0.29.
Roque had already featured in 40 games scoring twelve goals and assisting thrice. The highlight of his season was the fact that the player started the Libertadores final but an early red card for one of his teammates saw an already heavily favoured Flamengo dominate and him barely being used before leaving the field around the 60th min. 
Despite a small slump towards the end of the season, he scored v Btoafogo in a 2-0 win before kicking off 2023 with Brazil U20's Copa America campaign. Despite Andrey Santos stealing most of the highlights there along with Marlon Gomes, Roque netted 6 goals, joint highest along with Andrey as Brazil went on to win the competition.  So what makes Roque so highly rated? Why is the title of this article is "The Next Aguero"? Let's dive into a breakdown of the highly-talented youngster. 
Profile
Vitor Roque is a striker. He sits at just 172 cm which is why he's garnering comparisons mostly to Sergio Aguero and Carlos Tevez. His stature allows him to be shifty and move all around the pitch, dropping into the half-spaces and wider areas rather than just pin defenders and beat them with his physique.
That being said, him being slightly undersized for the position does not mean he's not physically gifted. There is room to grow in that department, undoubtedly but he doesn't get bullied by opposing defenders at all. To apply some context into words we can use his Heatmap and His Ball Touches map.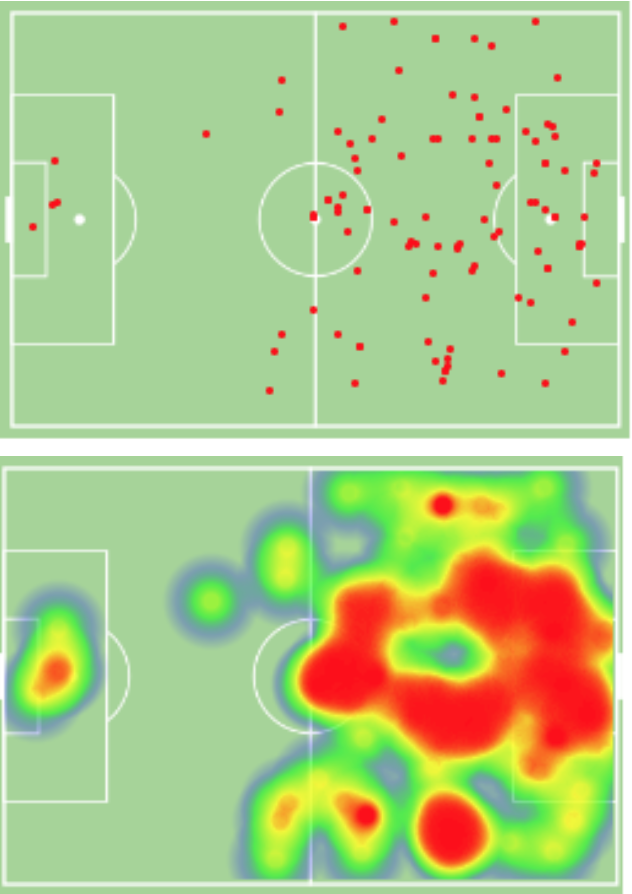 As evident below, the player likes to drift and be granted a more free role rather than just occupy the central area. [Source: InStat]
Finishing 
Obviously, when looking at a striker the first thing we need to look at is his finishing. I'd say there is room to develop when it comes to that but you can tell the ability is there. By ability, I mean that the player has an array of finishes that he applies. As he's incredibly two-footed, the advantage is there for him to use his inside, the laces or the outside of his boot in order to try and score.
Obviously, that sounds pretty self-explanatory but where Roque has to improve is his placement. He often tends to just use power behind his shot without putting much into his accuracy and as such he tends to scuff some relatively easy one v ones.
It's evident with 8 big chances missed being a standout in an otherwise decent offensive statistical output. Still, as stated, the power and finesse combination, coupled with him still being 17, meaning room and time for development makes for a very promising and deadly weapon going forward.
Heading
What is most surprising to me, is that despite his short size Roque has a fantastic leap. He tends to attack the ball phenomenally well and his approach is very good, meaning that if the right conditions are met, he can deliver very dangerous headed shots towards the opposing goal. Said "right conditions" obviously are with regards to said size and stature.
Vasco: The Brazilian Giant Set for Another Season in the Second Tier
Obviously, the need for Roque to manage such headers is largely down to him mainly being lost by his marker. As stated, he doesn't get bullied by defenders but he isn't someone that can beat his man with ease when it comes to an aerial duel and that can easily be noted by 0.7 aerial duels won, which is just about 26 %. He can be an outlet in certain crossing situations but it has to be one that benefits him, rather than the club and the tactical plan in execution. 
Passing
One of the traits that you can't really see on a stat sheet but is what I'd say is one of his best attributes is his passing. That, coupled with his link-up play. Stats-wise Roque racks up about 0.4 key passes per game but it's quite evident from when watching that the player's very intelligent when it comes to looking for a pass and making the correct decision for it.
He creates roughly 2 big chances per game and one of the most notable things that can be noticed is that when he's given the opportunity to dribble he tends to look up and play the correct pass that would advance the attack. 
Dribbling
As stated, Vitor is incredibly technical. Couple that with the fact he can use both his feet and that's a massive advantage already in a majority of the duels he engages in. Despite that, I feel this is where he needs a lot of work.
Obviously, as he's a forward it's expected that he loses a significant amount of such "duels" but he doesn't cover himself in glory sometimes not beating his man or struggling with it. He only manages a successful 0.5 of his dribbles which amounts to roughly 32 %.  As stated, he isn't expected to be as direct as a winger and you can tell there's definitely an ability to dribble past his opponent but it tends to be rather inconsistent in his success rate.
Weak Foot
I alluded to it a couple of times already with the player's ability to use his left almost as good as his predominant right foot being a fantastic asset to possess. Roque mainly uses his left foot to aid his dribbling and pick up ground at a quicker rate rather than to finish but that's stil something not many can do with the ease that he does. 
Pressing
In this modern day and age, pressing is key to any side's plans whether it be aggressive or passive. Roque's tenacity and work rate is something perfect for the former as he often engages in the first line of pressing moving into the highlighted pressing trigger be it a CB or the FB.
Unfortunately, there are no stats to back this up with Serie A being a little worse when it comes to pressure stats but Vitor's ability to generate a very high volume of press and initiate it whenever need is something definitely worth mentioning and highlighting.
Player Comparison
From the title of the article, I guess you can tell where this is going. The player that I mostly look at when I see Vitor Roque is Sergio Aguero. The ability to finish in various different ways, the frame, the physique. The only thing that could arguably even make him a little better is the fact that Vitor is faster and has much more work rate but then again it has to be noted Aguero had a couple of knee injuries when at Atletico and then at City that definitely affected him.
Having just turned 18 on February 28, he has lots of room and years to grow and develop as a player and carve out his own pathway to stardom and it'll be only a matter of time before we see him on the biggest stages of European football.
By: Peter Pankovski / @23Pankovski
Featured Image: @GabFoligno / Marcelo Endelli / Getty Images