Martin Ødegaard: How Arsenal's New Creative Engine Will Make an Impact at the Emirates
Last Friday Arsenal announced the signing of Norwegian international Martin Ødegaard from Real Madrid on a permanent deal reportedly worth 35 million euros. The highly touted 22-year-old spent half of last season on loan at the North London outfit and was one of The Gunners' top chance creators.
Manager Mikel Arteta spoke about Ødegaard's impact on the team last season in his Friday press conference saying, "He made us better, we needed more options, alternatives, creativity and players that can be morals for this football club."
This quote sums up Ødegaard very well, a player with both a wealth of experience and a player who fills a gap in creativity that Arsenal have clearly lacked, even with the emergence of attacking midfielder Emile Smith Rowe last December. Below are four different evaluations of Martin Ødegaard from four different perspectives: The Eye Test, Underlying Statistics, Heat Maps, and Intangibles to Consider. 
The Eye Test
*Note: This is based on my personal evaluation of the player. I will be only drawing on his 14 matches played with Arsenal in order to contextualize this analysis within Mikel Arteta's system. 
Firstly, Ødegaard is very versatile positionally. He appears most comfortable operating primarily in 3 locations on the pitch: Just past the midfield line on the right side where he can feed through balls into the right half-space (RHS), on the touchline as a winger or wide midfielder where he can attack opposing wingers or wide mids, freeing the Winger or Fullback ahead of him to make a run, and right on the edge of the area in the RHS where he does most of his work and is most dangerous. 
Can Martin Ødegaard Finally Cure Arsenal's Creative Troubles?
He uses the right half-space to combine centrally with a Center-Forward, to dribble into the box, to whip in-swinging crosses to the far post (à la Kevin De Bruyne), to switch play, and to combine with a wider winger or fullback in order to progress the ball into the box. Ødegaard is also incredibly comfortable in tight spaces.
This might have something to do with his upbringing in Spain, a league that prides itself with the complexity and beauty of its passing play and a league that has produced tight-space technicians well suited to the English Premier League (EPL) such as David Silva, and Santi Cazorla. He plays with the same awareness and guile as the young generation of "cage ballers" coming through the EPL who seem capable of playing "through" defenders at times. 
A big plus in his game is his hunger and willingness to press and tackle. He seems, upon close inspection, to be one of the best non-physically imposing tacklers around. Whereas players like Bukayo Saka and Gabriel Martinelli are great attacking tacklers due to their physical superiorities, Ødegaard uses tenacity and ingenuity to win balls. He has a really good feel for a tackle, he knows how to press and win the ball, Arsenal haven't had a non-physical "creative" midfielder like this in the squad since Santi Cazorla. 
Now let's look at some of his weaknesses, Ødegaard looks significantly less comfortable operating directly through the middle or anywhere on the left compared to the 3 locations mentioned above. He seems to always be drifting too wide in these areas, due to a heavy reliance on his stronger left foot.
When he's on the right, his tendency to drift to his left works because he is drifting toward "positive," or occupied, moving space whereas centrally and on the left he tends to be drifting toward "static" or "negative," space, such as the touchline or into a wider area away from goal.
There is a small exception to this, which is his ability to create from a deeper, "Number 8" position in the central areas just past or even just below the halfway line. When he isn't pressed here, Ødegaard is a real danger because of his incredible precision and striking technique when attempting through balls into the left, and middle channels. Expect him to do this most often this season when Pierre-Emerick Aubameyang and Gabriel Martinelli are in the starting eleven alongside him. 
Ødegaard's ability to receive the ball on the half-turn or in stride is not a massive strong suit, he often relies too much on natural reflex and creativity when receiving these kinds of balls or balls pinged to his right foot. He either attempts off a fancy flick or slows play down, often passing backwards in these situations. He is very much a player who is best when receiving the ball under little or no pressure or when he is allowed to build a head of steam and struggles when receiving the ball to his right foot, as it makes him uncomfortable. 
Arsenal apostó todo por #Odegaard, pagando 40M y dandole la oportunidad de que se encargue de mejorar la faceta creativa del equipo.

Hoy, en @BTLvid junto a @Bryantmt_ analizamos todo lo que puede aportar el noruego en esta nueva etapa en los "Gunners".https://t.co/4xHiTI7lpi

— Santiago De Ciancio (@santideciancio) August 28, 2021
There are a few moments from his loan spell at Arsenal where a ball with pace is begging to be redirected to a runner or controlled with the right that and he just doesn't pull it off, often shifting his body weight or trying to turn his body in order to receive on his left which usually results in a flick that doesn't aid progression or sloppy ball control that leaves him in an unfavorable body position relative to where he is on the pitch.
Sometimes, when he isn't under pressure he will let a ball drop or roll past him in order to get a first touch with his left instead of his right. This shows an overreliance in his game which always translates to a weakness when facing well-drilled and intelligent opposition. 
The final note on Martin Ødegaard and the Eye Test concerns his dynamic with Bukayo Saka. This has been a consistent critique of our signing him since before he even arrived on loan, and one that has persisted and will persist until we see him play more with Saka. This critique is not so much a critique on Ødegaard's ability, as it is on how his play-style aligns with our system and relates to Saka as a player. 
Both players want to dominate the RHS; they both do their most effective work there and it can cause issues. Oftentimes we will see them both attack the same ball because, as two initiators and technicians, they both want the chance to create. This inevitably can clog progression and limit angles which, at first will be an issue.
However, after watching them both play together on the same pitch it becomes evident that their potential to succeed together outweighs this perceived clash of styles. Saka possesses incredible pace and power (PnP) and  Ødegaard has one of the most consistent through ball techniques in the world, this is a natural complement to each other's game. 
Saka also has the potential to be an amazing goalscorer in the EPL due to his incredible ball-striking, whereas Ødegaard is not a high-volume shooter, another compliment. If Saka can tweak his game to include more channel running and combination play (things he's already absurdly good at), then this partnership will thrive without Ødegaard (the much less well-rounded player of the two) having to change or adapt his game too dramatically. 
Underlying Stats
*All stats from FBref.com and compared to other Attacking Midfielders and Wingers in the EPL. Unless otherwise noted, all stats are based on per 90 minutes played* 
The most important stat of note is Ødegaard's incredibly high pass completion percentage for a player of his position and skill set. This shows highly developed decision-making ability and instinct for the game. He ranks in the 99th percentile for short passes completed which solidifies him as a pretty pure technician, a player with incredible fundamentals and feels for the flow of a passing action.
Ødegaard combines very organically with teammates, can play 1-2s and likes to play short passes with a winger, central midfielder or fullback to break a defensive line or an aggressive press. Ball security is a key part of every top midfielder's game in the PL. Ødegaard ranks in the 90th percentile in terms of being dispossessed, giving the ball away just 1.14 times per 90 minutes played.
He also ranks in the 88th percentile in terms of dribbles completed, another key element of any strong creative midfielder's game is their ability to beat the first man, a lot of teams clog the middle areas vs. Arsenal, trying to force the team to play wide (not a strong suit with no dominant aerial center forward in the team), which means they need confident and secure creators who are able to turn their first touch into a completed dribble or turn to evade the press and progress the ball through the central areas and half-spaces.
A small piece on his xA (Expected Assists) which sits in the 81st percentile in the PL with about 8 full 90s under his belt. It's a great number that puts him comfortably in the "elite creator" category of creators without anywhere near a full season of action, but realistically, this stat is almost useless with such a small sample size. 
One final stat worth mentioning is Ødegaard's successful pressures and fouls committed per90. He ranks in the 87th percentile in terms of pressures per90 in the attacking third. This shows, above anything, that he is capable of playing in Mikel Arteta's system. It shows his willingness to contribute to the press which is required of all of Arsenal's forward players.
He also ranks in the 96th percentile in terms of fouls committed, this alludes to his amazing cerebral ability to read his pressing trigger or tackle target and control his movement and body shape when jockeying for a ball or attempting a tackle. These stats need context (as all stats do) and a lack of real game time combined with a hunger to impress as a new signing will sober some fans when considering them. Regardless, they still offer a good barometer of how successful he can be in the system. 
Overall, his underlying stats support his notoriety as one of the top attacking midfield prospects in Europe. His immense amount of experience at his age also makes me believe these numbers will probably stay steady or improve from here, however, the PL is the most physically demanding league in Europe and that must be considered when looking at such a small sample size.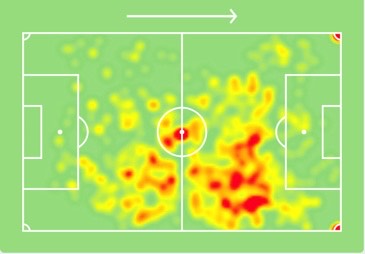 His SofaScore heat map supports all of the analysis given above. These might undersell my analysis on his willingness to drop into central areas a bit but overall I think the 3 positional preferences spoken about hold true when looking at his most occupied spaces. 
Intangibles
**These are based on what the player offers as far as things such as mentality, leadership, as well as life and career experience**
By far Ødegaard's biggest intangible is his playing experience at his age. To date he has logged more than 11k minutes at just 22 years of age. He is the captain of the Norwegian National Team, and has played in 4 different 1st division leagues. His varied experiences also give him the natural ability to adapt faster to new surroundings and make it easier for him to find common ground with players and coaches who might not speak the same language as him or come from the same background.
This is important, and shouldn't be understated. He's also still looking to improve (see his first ever interview for Arsenal), which shows that he doesn't have a sense of entitlement or privilege despite having been playing first team football since he was just 16.
Conclusion
Martin Ødegaard's permanent signing will provide Arsenal with a key piece to their rebuilding puzzle, a central, right-side dominant creator who can help shoulder the creative burden being placed upon the young shoulders of Bukayo Saka, and Emile Smith Rowe. Ødegaard is a strong-willed and incredibly creative playmaker with immense upside and lots of room to grow and be moulded. Expect him to thrive in Mikel Arteta's fluid, well-drilled final third. 
By: Aden Ravi / @eyetestfb
Featured Image: @GabFoligno / Shaun Botterill – Getty Images