Mateo Kovačić: Chelsea's Quintessential Midfield General
A dynamic and flexible pivot for the Blues, the Croatian powerhouse displays mastery and expertise on all fronts.
Mateo Kovačić has had a meteoric rise to the pinnacle of club football, emerging from Dinamo Zagreb before representing European giants like Inter Milan, Real Madrid and Chelsea. The 28-year-old midfielder's decorated trophy cabinet contains an excess of Champions League medals, amassing over 300 career appearances in spite of his young age.
His current stint at Chelsea, however, is where he has truly come into his own. On January 2, 2022, an off-balance volley into the top corner against Liverpool sparked a courageous comeback to salvage a point at Stamford Bridge. The Premier League was put on red alert as manager Thomas Tuchel seemed to be mounting a spectacular title charge with the European champions.
Unfortunately, the fairy tale would screech to a halt when longtime owner Roman Abramovich was forced to sell the club due to conflicts between Russia and Ukraine. Followed by consecutive losses to Liverpool on penalties in the Carabao Cup and FA Cup finals, Chelsea's chaotic season ultimately ended in resounding disappointment.
As for Kovačić, nagging injuries plagued a potentially exceptional campaign, but the midfielder still notched a career-high tally of 2 goals and 5 assists despite featuring in only 25 league matches. Although Kovačić has more or less solidified his place in the starting lineup, the upcoming season will be full of uncertainties for the Blues, undergoing a dubious transitional phase under new chairman Todd Boehly.
From Prodigy to Prestige
"You knew he must have been really good in order to get into the Dinamo Zagreb squad at only 16 years of age. Everyone at the club already knew he was something special, and after his debut, the whole country knew it as well."
Those were the words of former teammate Jakub Sylvestr on Dinamo Zagreb's teenage sensation. In his tenure at the club, Kovačić regularly featured in the first team, registering 43 league appearances and 12 Champions League appearances for the Croatian champions. Eventually, the rising star's stellar performances resulted in a £12 million transfer to Inter Milan. 
In a sharp twist of fate, the 18-year-old's streamlined progression slowly faltered. For much of his early career in Italy, Kovačić failed to consistently cement a starting midfield spot; even after another move to Real Madrid for £27 million in 2015, the fading talent could only watch from the reserves as the Spanish behemoths lifted the Champions League trophy for three consecutive years.
In search of regular football, Kovačić signed for Chelsea on loan in the summer of 2018 before completing a permanent transfer to the Blues from Real Madrid the following year. With club legend Frank Lampard at the reins, Kovačić could finally demonstrate his skillful technique and exceptional intelligence to the world, earning himself the award of Chelsea's Player of the Year in 2020. 
Currently under Tuchel, Kovačić has been struggling with injury setbacks, starting only 16 matches in the Premier League this season. Still, Tuchel has highlighted the midfielder's importance in the German manager's plans, moving past a rough year filled with turbulence and turmoil.
"Kovačić is crucial to us both on and off the pitch," Tuchel declared. "Even at Real Madrid, I was aware of his talent, and I felt that there was a next step coming. He's a humble player who always wants to train and deliver for the team."
Tactical Framework
In Tuchel's favored 3–5–2 or 3–4–3 formations, Kovačić is deployed in a double pivot with either Jorginho or N'Golo Kanté as a deep-lying playmaker or box-to-box midfielder.
With superb work-rate off the ball, Kovačić and Kanté form a relentless combination of pressing and tackling to recycle possession; on the contrary, Kovačić and Jorginho provide less mobility but more control in the midfield, offering Tuchel extra flexibility against different opponents.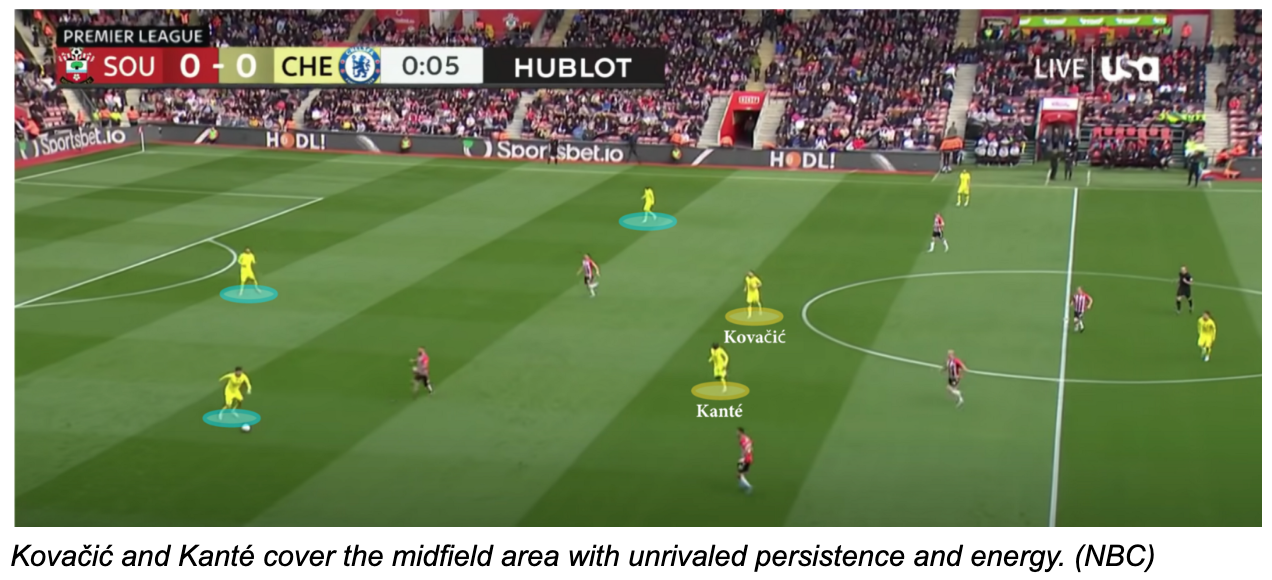 In possession, Kovačić employs a progressive mindset, eager to drive the ball forward in search of advanced passes into the final third. Compared to other midfielders, Kovačić boasts excellent progressive statistics per 90 minutes: 1.86 dribbles completed, 8.31 progressive carries, 3.77 carries into the final third, 7.03 progressive passes, and 7.99 passes into the final third, all of which rank above the 95th percentile. 
Especially in transition, the Croatian's ability to burst past defenders in the middle of the park provides a lethal edge in Chelsea's counter-attacks. With wing-backs Marcos Alonso and Reece James hovering on the touchline, Kovačić often scans the field for a central line-breaking pass through the opposition defense.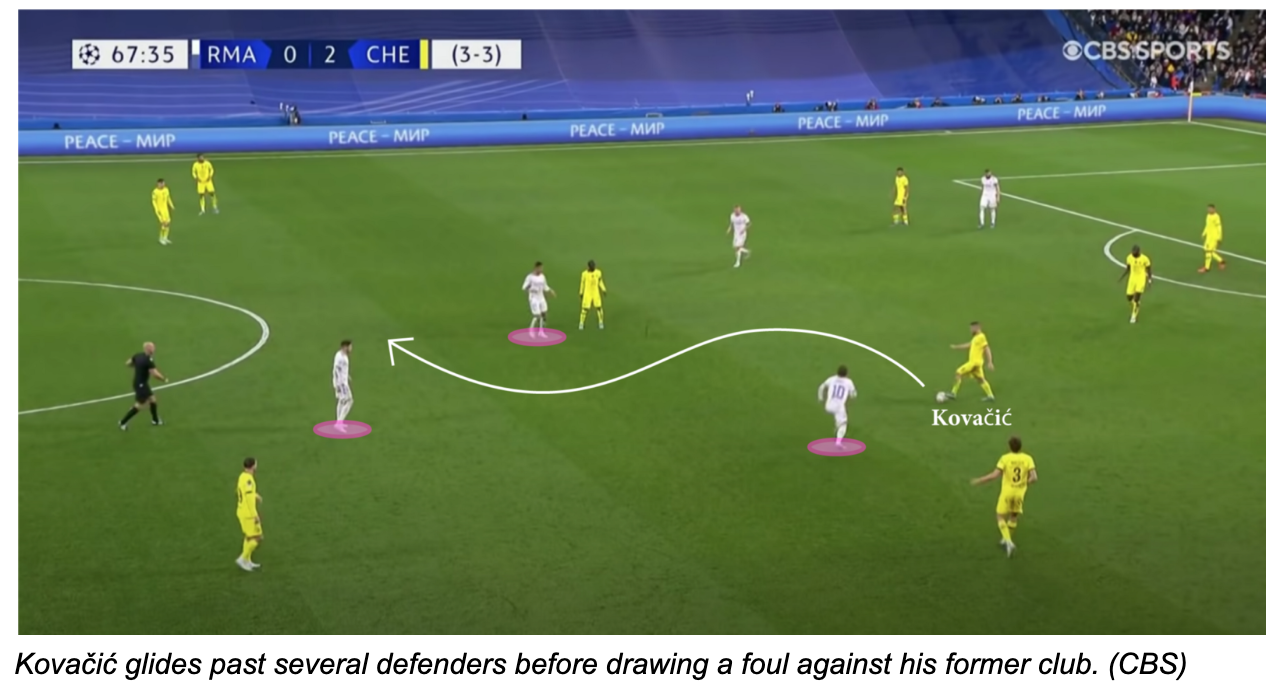 In this season's Champions League tie against Real Madrid, Kovačić swiftly evaded the press from Luka Modrić before Federico Valverde was forced to intervene, leading to a booking for the Uruguayan international. Just moments later, a slicing through ball to forward Timo Werner led to Chelsea's third goal at the Santiago Bernabéu. 
Pairing powerful brute force with nifty changes of pace, Kovačić is able to expertly maneuver through tight spaces. The midfielder lies in the 97th percentile for players dribbled past per 90 minutes, preferring to charge beyond defenders in order to create chances from advanced positions.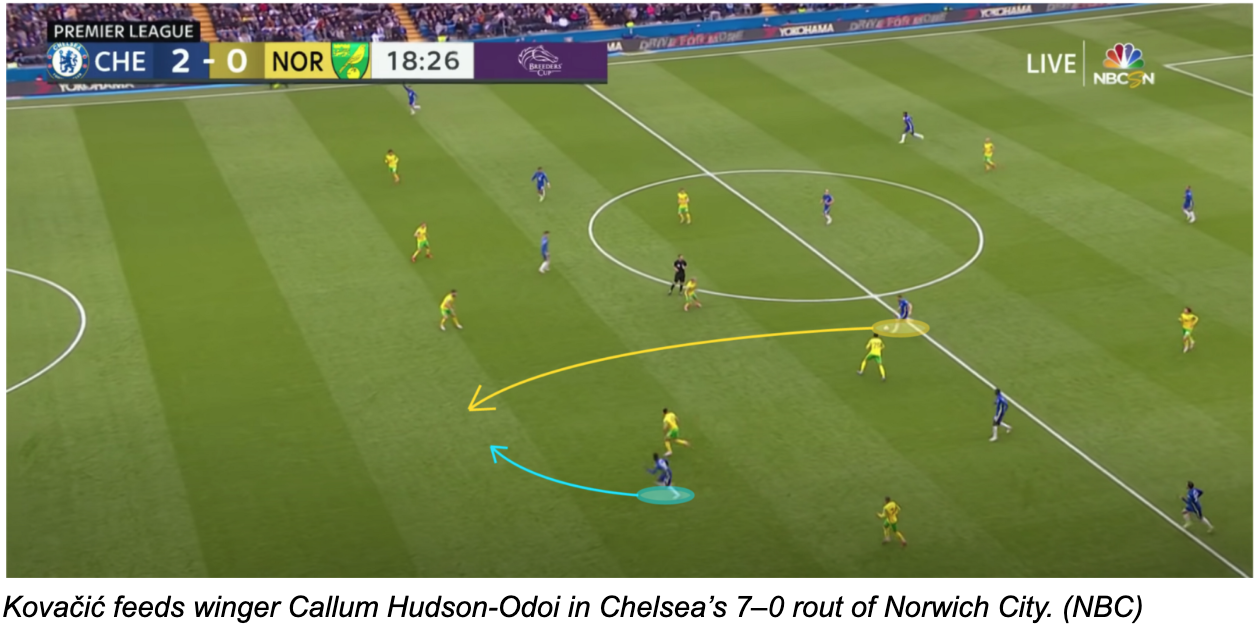 With Chelsea's dominance on the ball, Kovačić plays a crucial role in the midfield, connecting the defense to the attack with his dynamic progressivism. His partnerships with Kanté and Jorginho offer mobility and control, respectively, granting Kovačić further appeal on Tuchel's weekly team sheet due to his overwhelming versatility throughout the pitch.
Protective Measures
Operating in the left position of Tuchel's double pivot, Kovačić is not only the primary link in Chelsea's build-up play but also a key defensive shield for the vital back-three. When out of possession, Kovačić and Kanté both track back vigorously to formulate elite tackles that ignite quick counter-attacks.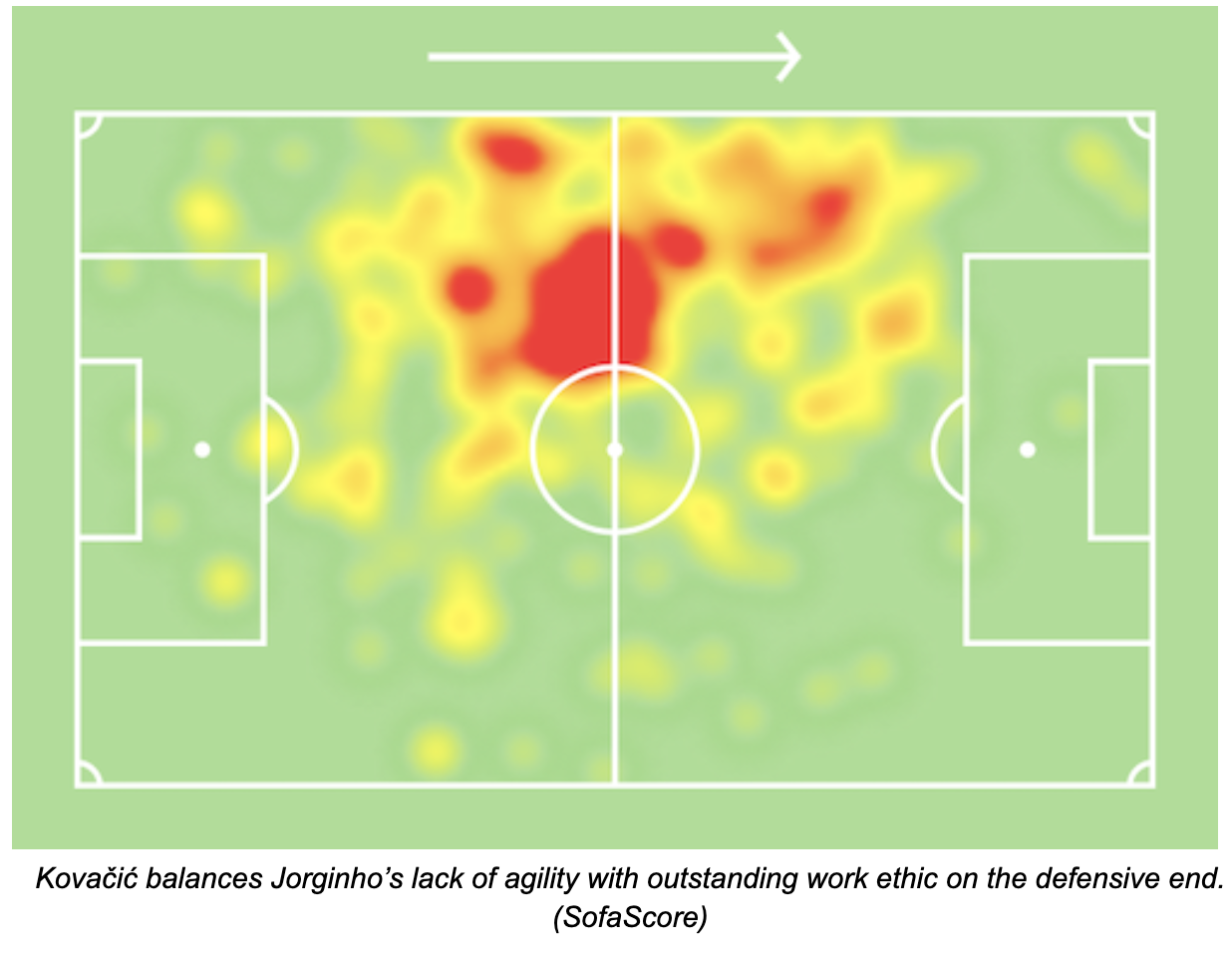 Per 90 minutes, Kovačić commits 2.90 tackles and 22.38 pressures, both of which rank around the 80th percentile of midfielders. Despite his convincing tackling ability, Kovačić only records 1.04 blocks, 1.13 interceptions, and 0.59 clearances per 90 minutes, unlike Kanté, who registers 2.01 blocks, 2.09 interceptions, and 0.61 clearances per 90 minutes.
The duo's major weakness, however, is found in aerial duels, as both Kovačić and Kanté are relatively undersized. While the pair loses out on a majority of aerial duels, their productivity on the ground more than makes up for their lack of dominance in the air.
As such, from set-piece situations, Kovačić often returns loose clearances from the edge of the box, settling for long-range efforts such as his outstanding volley against Liverpool while protecting against consequent counter-attacks. His advantageous blend of physicality and velocity allows for midfield security when coupled with either Kanté or Jorginho. 
Overall, Mateo Kovačić is a spirited, adept midfield general who constantly strives to advance the ball with his progressive mentality while simultaneously guarding the defense from opposition breaks. With boatloads of talent and intelligence, an injury-free season for Kovačić could be a potential breakthrough in achieving Premier League stardom. 
"[Kovačić] truly loves football from his heart," Tuchel noted. "He's always angry when you tell him to do a bit less because he played the day before or he needs to play the day after. He's only happy when he's working hard during training, and it's a pleasure to coach such a driven player."
By: Jason Cheng / @jcheng025
Featured Image: @GabFoligno / James Gill – Danehouse / Getty Images