Rebuilding Tottenham Hotspur Under Fabio Paratici
Following Spurs' fruitless golden era last decade, sporting director Fabio Paratici has taken the helm in hopes of launching the London-based club to newfound heights.
"Our target is to be focused on the team, to choose the right players, and to build the best style of football we can. Spurs have the best infrastructure in the world with amazing fans in the biggest city in Europe. We are just at the beginning of our project, but we have everything to build something big."
Newly appointed sporting director Fabio Paratici's words echoed throughout the Tottenham Hotspur fanbase.
Longtime manager Mauricio Pochettino's flourishing framework, utilizing the likes of Dele Alli, Christian Eriksen, and Mousa Dembélé to their maximum potential, had dwindled into mediocrity, highlighting a dreaded but inevitable rebuild for an incompetent Spurs side.
Near the beginning of the 2021–22 Premier League season, spirits were low under Portuguese manager Nuno Espírito Santo: Spurs' lack of creativity and shambolic defensive structure were evident in crushing derby defeats against Crystal Palace, Chelsea, Arsenal, and West Ham.
Sensing a downward spiral, Paratici swiftly announced Antonio Conte as Spurs' new manager on November 2, 2021. Fast forward several months to April, and Spurs now sit 4th in the table, battling against bitter rivals Arsenal for Champions League qualification.
In 2022, Spurs have scored a staggering 34 goals in 14 games, with star duo Harry Kane and Heung-min Son returning to their peak form under Conte's guidance.
Much of the improvement can be attributed to several standout signings under Paratici, all of whom were formerly signed by the Italian sporting director at Juventus: Cristian Romero, Rodrigo Bentancur, and Dejan Kulusevski.
As a result, underperforming players such as Matt Doherty, Ben Davies, and Pierre-Emile Højbjerg have drastically revamped their technique, providing a stable foundation for a last-ditch charge up the rankings.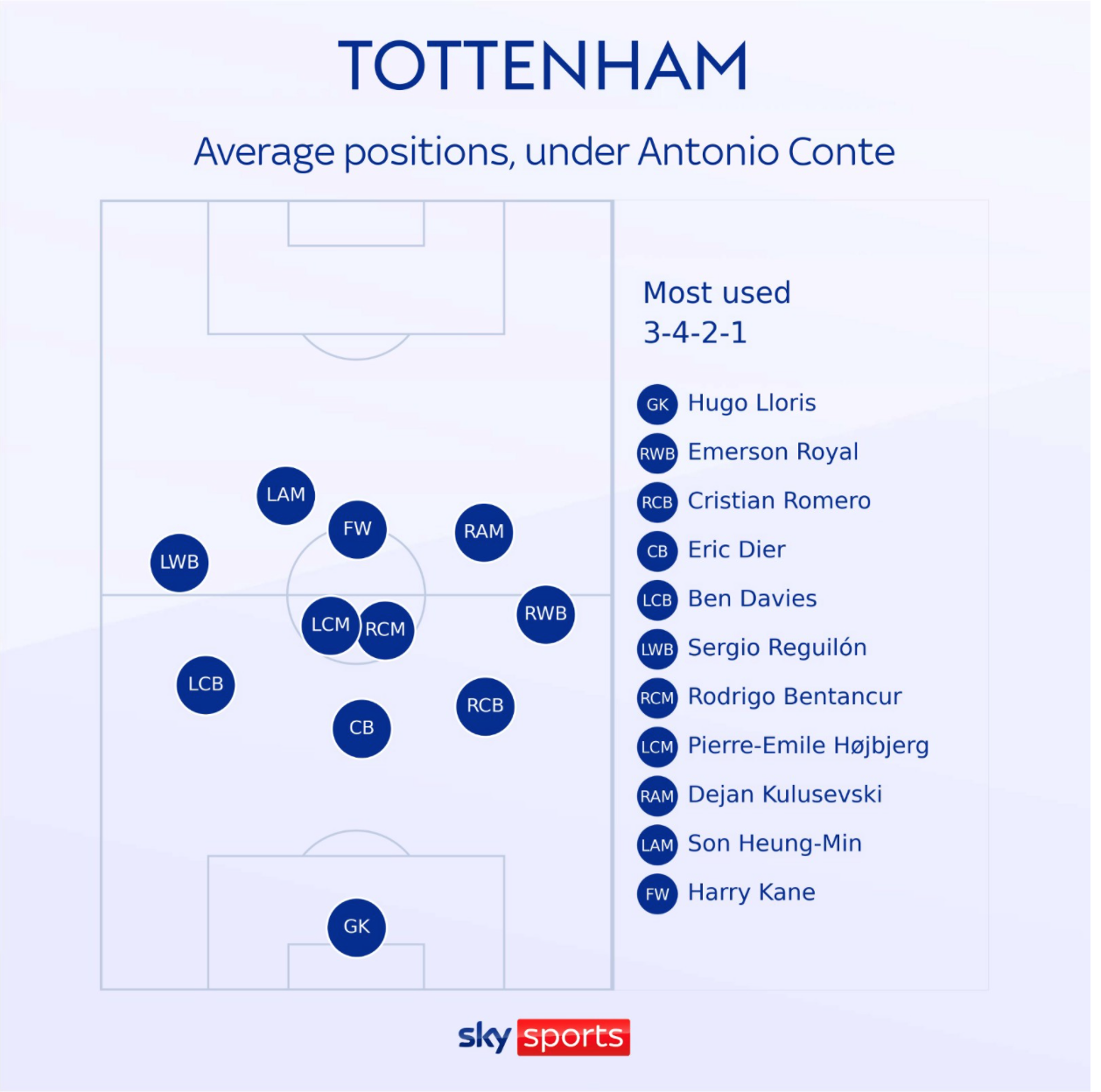 Conte's preferred 3–4–2–1 formation utilizes Romero, Bentancur, and Kulusevski. (Sky Sports)
"I have great confidence because I'm seeing improvement both on the pitch and with the team's mentality," Conte noted. "We're preparing to take another step up and it will be very important to finish the season in the best way possible."
Cristian Romero: Defensive Dynamite
Following the sale of Belgian staples Jan Vertonghen and Toby Alderweireld, the Argentinian center-back was signed from Atalanta for £47 million as the centerpiece of Spurs' future defense.
As the reigning Serie A Defender of the Year, Romero's raw defensive prowess, combined with tactical aggression and precise tackling, has solidified him as one of the Premier League's top talents at only 23 years of age.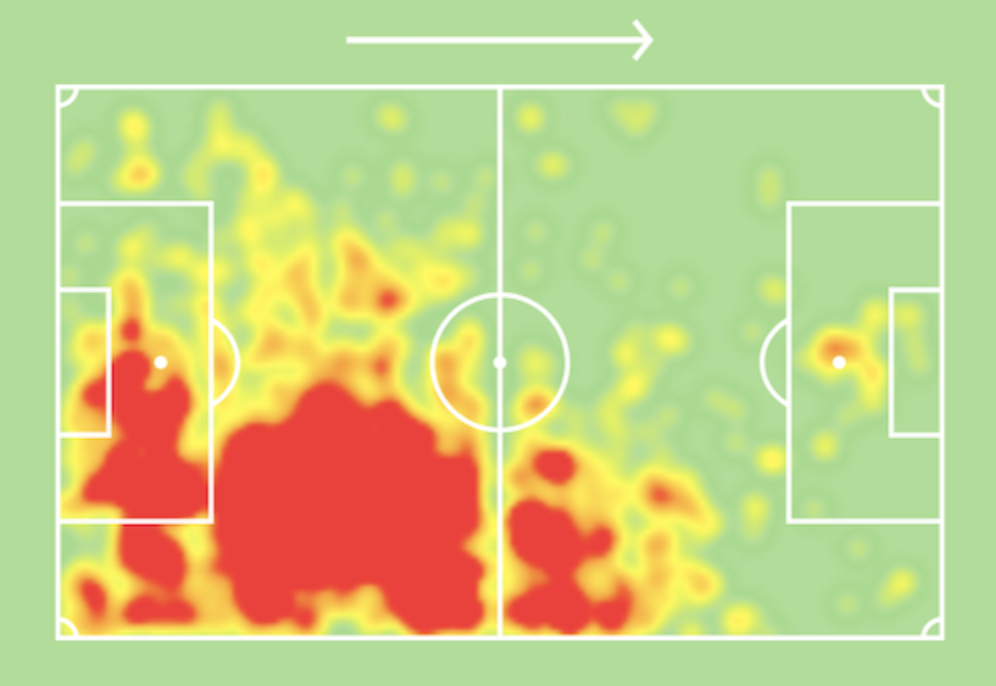 As Conte's right-sided center-back, Romero is given license to drift forward. (SofaScore)
Ranking in the 99th percentile among center-backs for tackles per 90 minutes with 3.02, the right-footed center-back is an elite tackler of the ball.
Oftentimes, after winning back possession, Cristian Romero will look to drive forward and feed the ball centrally to Harry Kane, Rodrigo Bentancur, or Pierre-Emile Højbjerg, springing counter-attacks from his own penalty box.
With 0.89 shot-creating actions, 0.34 progressive passes received, and 3.45 progressive carries per 90 minutes, Romero's heavy involvement in attack is complemented by Eric Dier's calmness in possession when Romero pushes up the pitch.
Despite Romero's rapid recovery pace that allows him to track back when necessary, Dier is left isolated at times due to Romero's over-aggressiveness in one-on-one situations, where opponents can exploit the extra space to maneuver through Spurs' back-line.
As such, in only 17 starts this season, Romero has already committed 29 fouls and racked up 8 yellow cards, a testament to his audacious yet risky behavior at the back.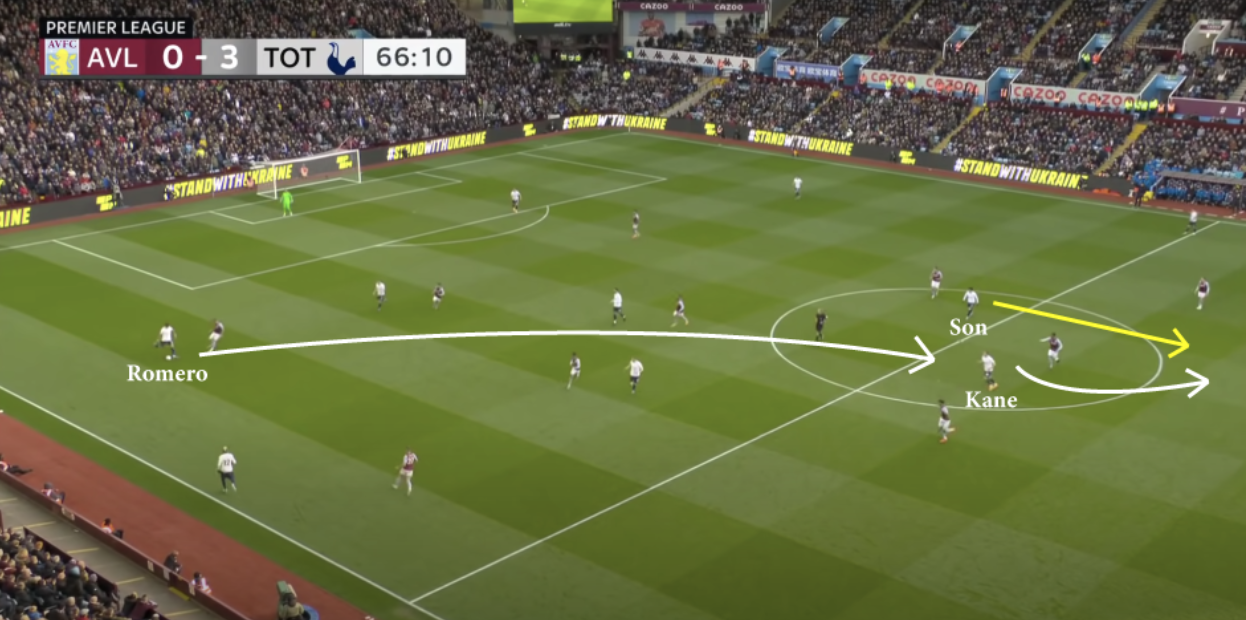 Romero lofts the ball up towards Kane to set up Spurs' third goal against Aston Villa. (NBC)
Still, Romero's composed passing ability allows him to produce slicing through balls from deep positions, quickly transitioning from defense to attack. In Spurs' 4–0 win over Aston Villa, Romero's diagonal ball towards the middle of the park was flicked on by Kane and eventually slotted home by Son with a swift finish into the bottom corner.
While Romero is a dominant force in ground duels and one-on-one situations, Spurs are most vulnerable from set-pieces due to Romero's subpar aerial presence.
The center-back has only won 61.5% of his aerial duels, failing to mark opponents in the box from pinpoint corners or free kicks; in a devastating 3–2 loss to Manchester United, talisman Cristiano Ronaldo completed his hat-trick after bursting past Romero and leaping over Doherty for the winning goal.
Nonetheless, Spurs' highly improved defense can be accredited to Romero's consistency alongside Dier and Davies, although Conte will look to upgrade the back-line with a new left-sided center-back.
The club has already been linked with Inter Milan's Alessandro Bastoni and Croatia international Joško Gvardiol, both of whom would contrast Romero's energetic pressing with stability in possession.
"Romero is perfect for the Premier League," Conte explained. "Despite being a young player, he has good experience, but he has a lot of space for improvement. He has to be focused at every moment of the game; sometimes, he receives a yellow card that he can avoid."
Rodrigo Bentancur: Midfield Mastery
On the deadline day of the January transfer window, Paratici desperately secured the signing of the Uruguayan midfielder Rodrigo Bentancur for a bargain £16 million from Juventus.
Failing to impress under manager Massimiliano Allegri, Bentancur has consequently developed an unbreakable partnership with Højbjerg in the absence of youngster Oliver Skipp, providing creativity, solidity, and vitality for Spurs from midfield.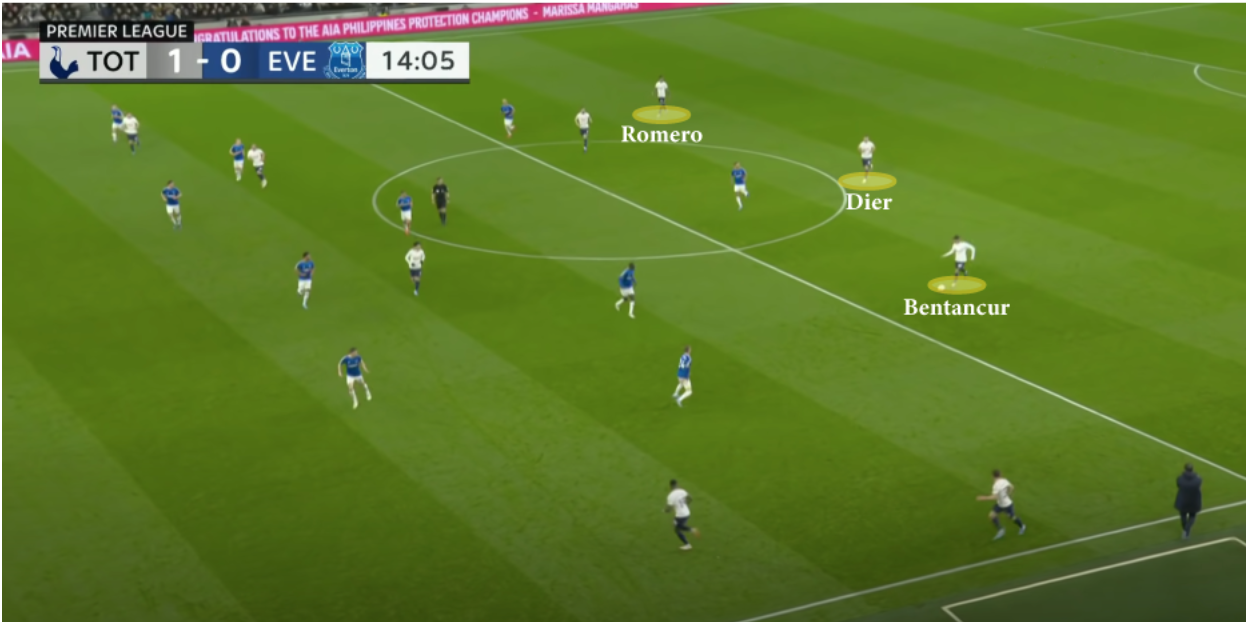 Bentancur drops into the defense as Davies provides extra width as an auxiliary full-back. (NBC)
Unlike Spurs' other midfielders, Bentancur is relatively reliable in possession, and his versatility on both ends of the pitch suits his position in the double pivot.
When Spurs are in possession, the midfielder drops into the back-three as either Romero or Davies pushes forward with the ball, looking to receive a pass when no other options are available.
In spite of uncertainties about his consistency, Bentancur has thus far registered a solid 87.7% pass completion percentage without any errors leading to shots, shielding the defense from counter-attacks.
The Uruguay international has notched 23.99 pressures, 2.79 tackles, 2.18 interceptions, and 1.93 blocks per 90 minutes, all of which rank higher than the 75th percentile among midfielders.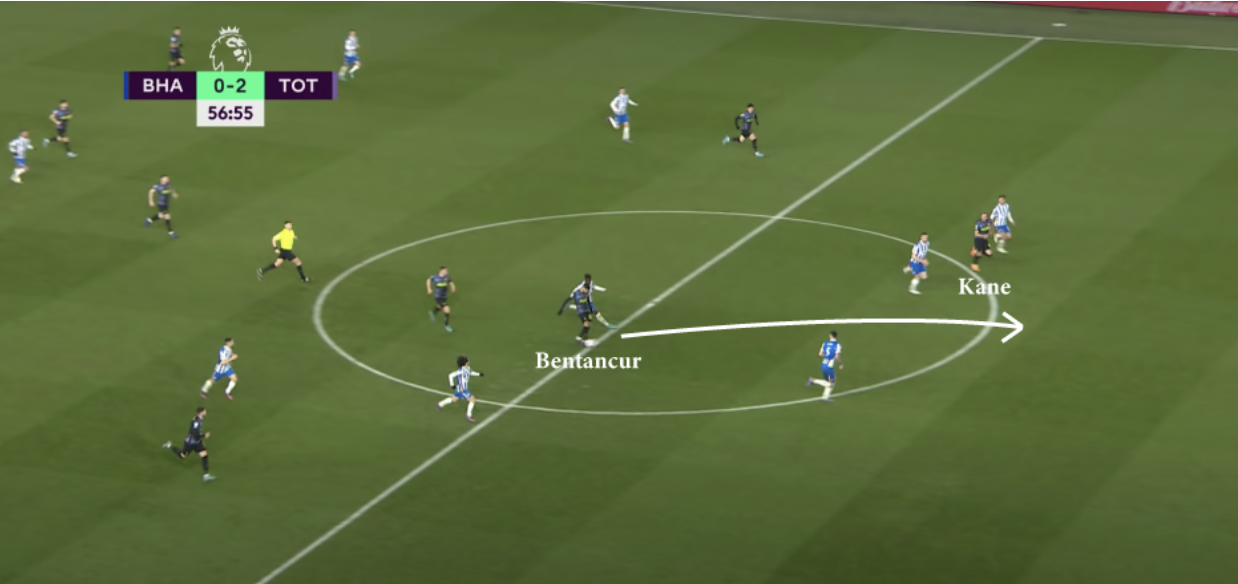 Bentancur drives forward and assists Kane with a through ball in a 2–0 win over Brighton. (NBC)
In Spurs' 3–4–3 system, Bentancur and Højbjerg are the links between defense and attack, creating space for Kane to feed the ball to either Son or Kulusevski on the break.
As the trio advances into the final third, wing-backs Sergio Reguilón and Emerson Royal provide the necessary width to isolate opposing full-backs and create overloads on the wing.
As a result, when Spurs are playing out from the back, Bentancur and Højbjerg operate as deep-lying playmakers, dissecting defensive lines with switches and through balls.
At only 24 years of age, Bentancur could be the missing piece in a stale Spurs midfield after Mousa Dembélé's departure in 2019.
Harry Kane Back in Business for Antonio Conte's Renascent Tottenham
Rather than resorting to sideways and backward passes, Bentancur provides a new dimension in Spurs' lethal transition play, complementing Højbjerg with his balance and composure on the ball.
Dejan Kulusevski: Attacking Aptitude
Perhaps the most groundbreaking transfer in Paratici's reign, the Swedish sensation was signed alongside Bentancur on an initial loan deal from Juventus, which Spurs are set to make permanent in the upcoming transfer window.
In only 9 Premier League starts since his debut, Dejan Kulusevski has recorded 3 goals and 6 assists, completing Conte's ideal front-three with Kane and Son.
Most Premier League goals + assists in 2022:

◉ 15 – Harry Kane
◉ 13 – Son Heung-min
◉ 9 – Dejan Kulusevski

Spursy™️ pic.twitter.com/UJptPU73N6

— Squawka (@Squawka) April 9, 2022
Similar to Son, Kulusevski excels at running in behind defenders, exploiting the space between opposing center-backs and full-backs.
When Kane receives the ball at the halfway line, Son and Kulusevski have already burst into uncontested positions, and a simple flick or through ball is enough to send the Spurs attackers clear on goal.
In every 90-minute interval, the winger receives 7.73 progressive passes, accumulating 6.03 touches in the attacking penalty area in the process.
Upon receiving the ball, Kulusevski can either cut in and shoot or lay it off to Doherty, who accompanies the winger in attack through overlapping runs down the line.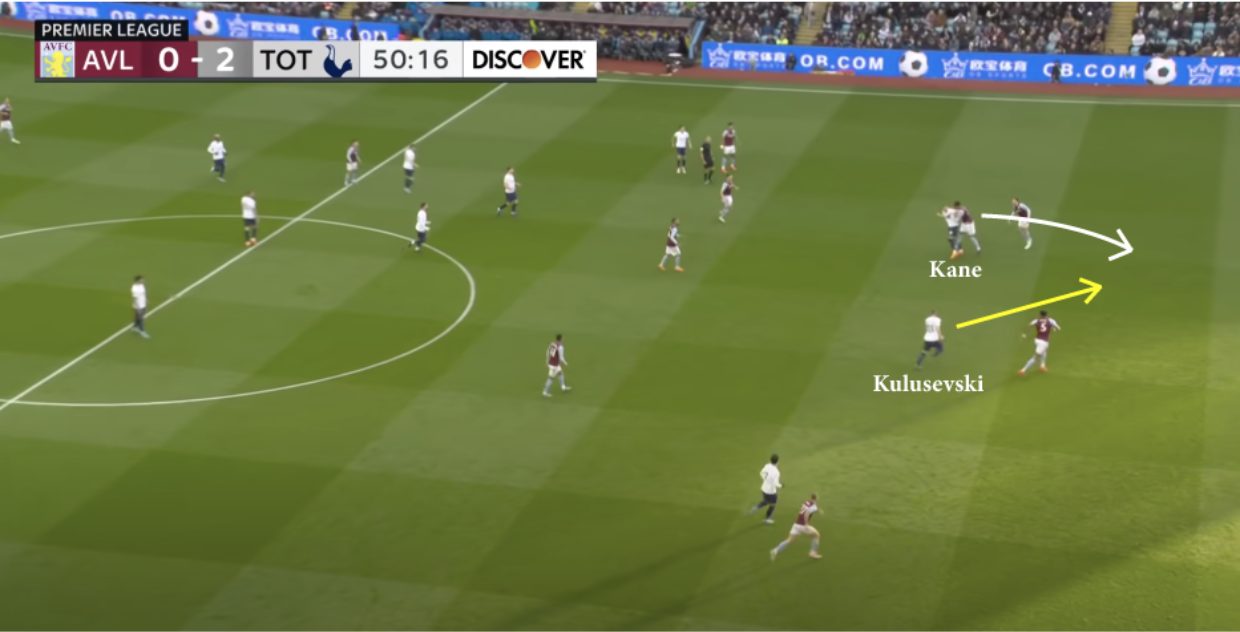 Kane flicks the ball past Aston Villa defenders for the approaching Kulusevski. (NBC)
Regardless of Kulusevski's lack of spectacular pace, his clever movement both on and off the ball allows him to maneuver through tight areas with adept interplay and nifty footwork.
When Kulusevski has wriggled past his defender, he is capable of either delivering a cross with his weak foot or cutting the ball back for arriving teammates on the edge of the box.
Furthermore, with his superb work-rate, Kulusevski sits in the 99th percentile for pressures and 94th percentile for interceptions compared to attacking midfielders and wingers per 90 minutes.
As a primarily counter-attacking team, Spurs will reap the benefits of Kulusevski's high press, especially when opposing defenders are constrained to fruitless long balls.
The 21-year-old right-winger has emerged as the perfect partner for Kane and Son, with Spurs becoming the most fearsome attacking team in the Premier League this calendar year.
Ben Davies Is Antonio Conte's New Successful Experiment in Tottenham's Defense
As opposed to Lucas Moura and Steven Bergwijn, Kulusevski has finally given Spurs another facet in attack with consistent goal contributions at sustainable output levels.
As such, the impending summer transfer window will be decisive for Spurs' silverware hopes, as the prospect of Champions League football may prompt Paratici to pursue more ambitious targets, including longtime target Paulo Dybala whose contract expires in June.
Ultimately, Spurs' future framework relies on monetary backing, determining whether or not Conte will remain at the club.
"I am committed to this club for another year," Conte declared. "I would like to fight for something important for this club. There are many teams with the same ambition [to qualify for the Champions League], but a top-four finish would be [the equivalent of] Spurs' Premier League title."
By: Jason Cheng / @jcheng025
Featured Image: @GabFoligno / Marc Atkins – Getty Images / Chris Brunskill / Fantasista / Getty Images / Robbie Jay Barratt – AMA – Getty Images