Maxime Lopez: Sassuolo's French Midfield Maestro
After Italy won Euro 2020, it became increasingly unlikely that Manuel Locatelli was going to remain at Sassuolo thanks to his performances at the tournament, and it was Juventus who acquired him before the 2021/22 campaign commenced.
However, his departure from the Emilian club gave his former Neroverdi teammate Maxime López more opportunity and responsibility to control the play from deep in midfield.
Born in Marseille, France to a father with partial Spanish origins and an Algerian mother, López has become an integral part of the Sassuolo midfield since he joined from Olympique Marseille in October 2020.
After being signed initially on a loan deal, the Neroverdi decided to purchase the Frenchman for €2 million in July 2021.
He managed 29 Serie A appearances in his first season the Italian club, scoring twice, and prior to the 6-1 defeat to Napoli in Week 35, he had played 31 times in the league, scoring once and assisting twice.
López operates as part of the midfield pivot in the 4-2-3-1 formation under new coach Alessio Dionisi. Under Dionisi's predecessor Roberto De Zerbi, the French midfielder played alongside Locatelli whereas his partner in midfield now is Davide Frattesi.
While Locatelli was capable of operating as a ball-winner and a playmaker in midfield, Frattesi is more of a box-to-box player. Meanwhile, López is best suited to being a ball-carrier in midfielder, but this season, he has demonstrated that he can be the type of player than can direct the play as well.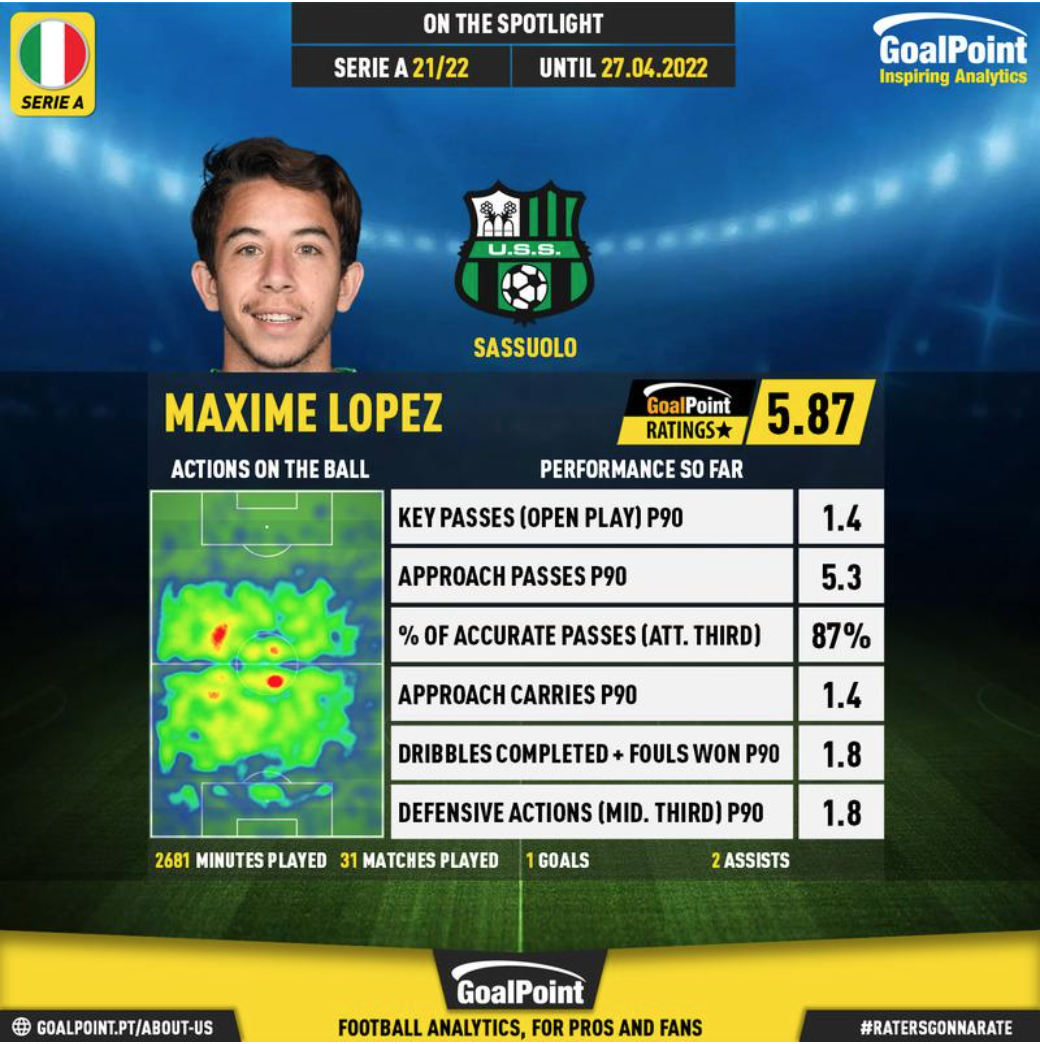 Photo: Goalpoint / @_Goalpoint
The heat map from GoalPoint illustrates that the diminutive midfielder is most present right in the middle of the park. Despite that, he still covers a lot of space, especially in both the defensive and middle third.
His ability to advance into the opposition half is one of the things that makes him important to the Sassuolo squad under Dionisi. He averages 1.4 approach carries, 1.8 dribbles completed, and 1.8 fouls won per 90. 
López's passing is also of importance to the Emilian club, completing 87 percent of passes in the attacking third, and averaging 1.4 key passes in open play, and 5.3 approach passes per 90. He still makes a contribution defensively, averaging 1.8 defensive actions in the middle third per 90.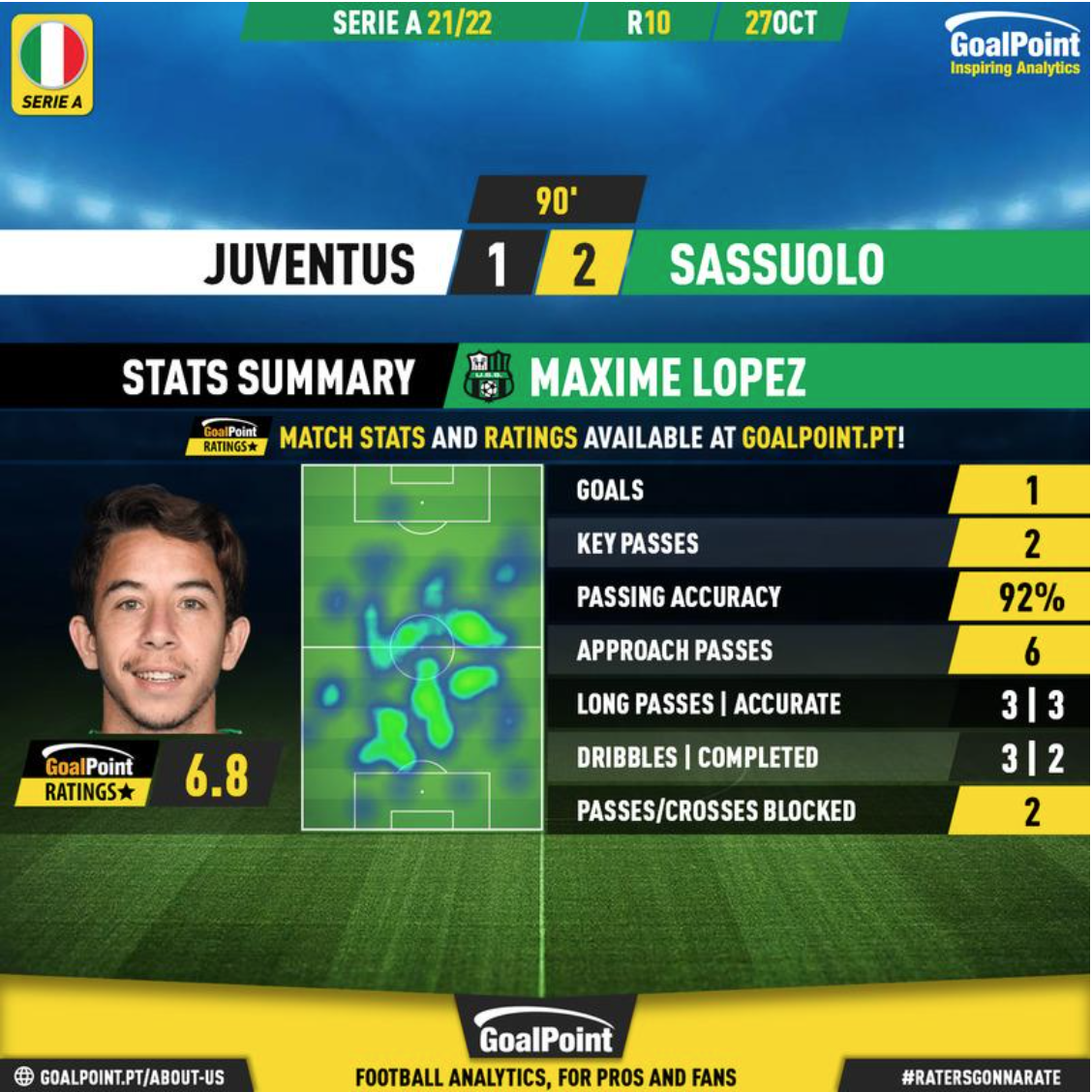 Photo: Goalpoint / @_Goalpoint
Sassuolo has produced some good performances against Juventus in the 2021/22 season, and when the two teams faced each other in Week 10 of Serie A action, the Neroverdi earned their first-ever win against the Bianconeri in Turin.
López played a crucial role in the 2-1 win for Sassuolo, scoring the winning goal in injury time after he ran onto Domenico Berardi's sublime pass, then surged forward, and chipped the ball over Bianconeri goalkeeper Wojciech Szczęsny.
Prior to his moment of the glory, the central midfielder was predominantly present in his own half and around the midfield, and he barely drifted to the wings based on the heat map. The goal was one of the rare moments in which he broke into the attacking third.
López also played two key passes, six approach passes, completed three out of three long passes, completed two out of three dribbles, made two blocks, and had a passing success rate of 92 percent against Juventus. 
The Frenchman showed throughout the game that he was not overwhelmed by a more illustrious opponent and he was able to play to his strengths.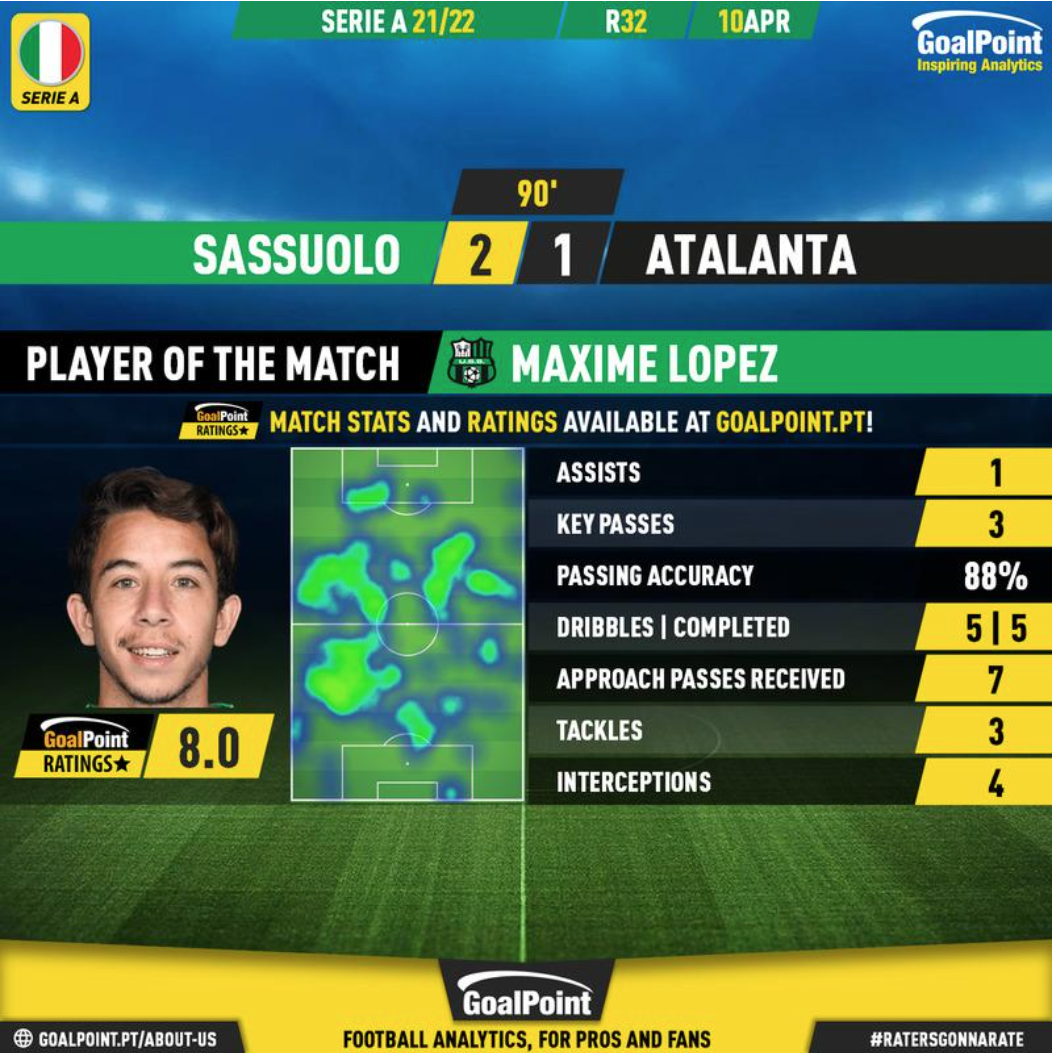 Photo: Goalpoint / @_Goalpoint
López also played a starring role in midfield in Sassuolo's 2-1 victory against Atalanta in Week 32 of the 2021/22 Serie A season and his most significant contribution was his assist for Hamed Traorè's second goal of the match.
The 24-year-old also impressed statistically in both the defensive and attacking aspects of the game. He made three key passes, had a successful passing rate of 88 percent, completed a game-high five out of five dribbles, and received seven approach passes. He also made three tackles and four interceptions.
Although his strengths are in creating goalscoring chances, López demonstrated against Atalanta that he was also capable of performing defensive tasks when necessary. The heat map also indicates that he was not always hovering in parts of the pitch where he would usually play but he showed comfort on the ball even if he was out of position.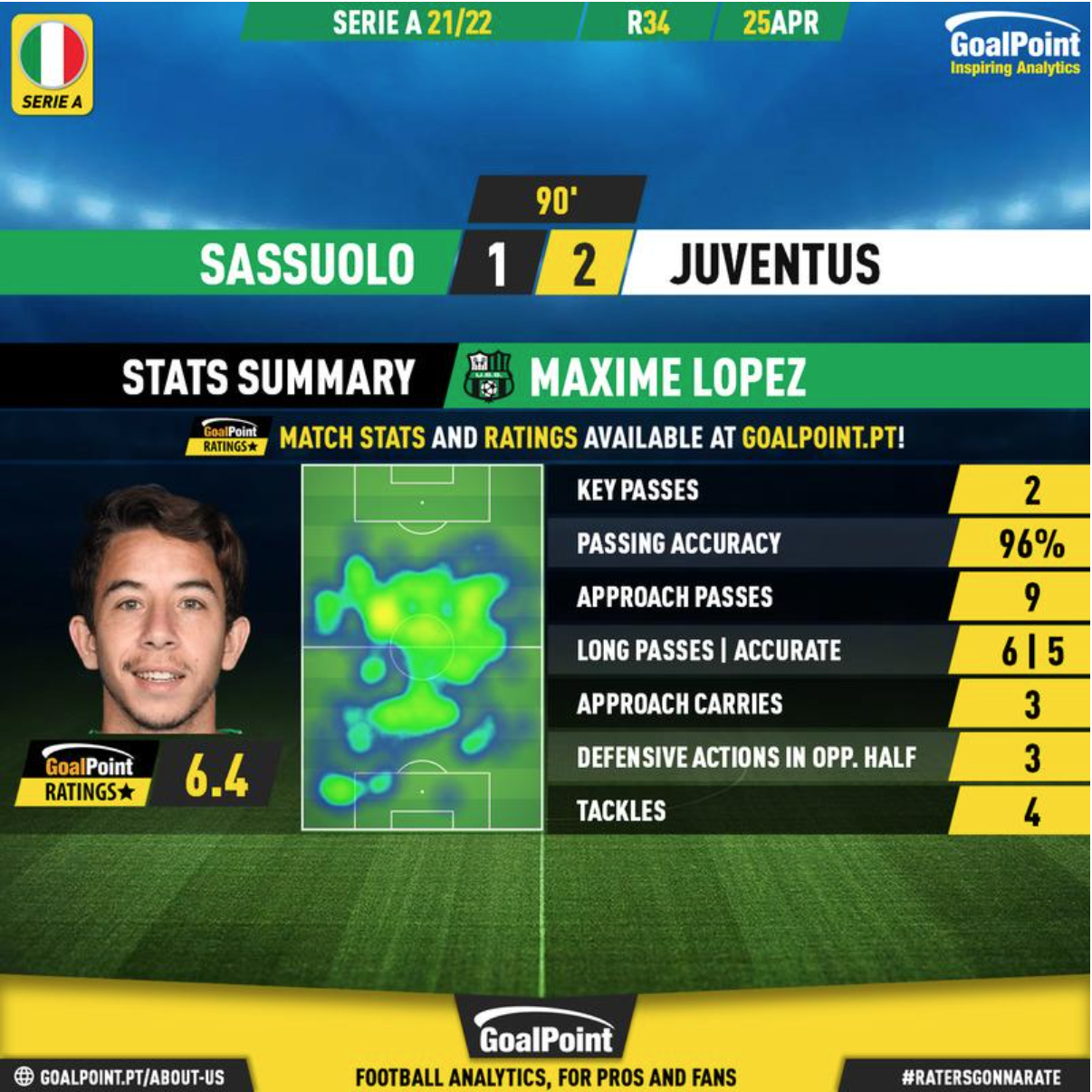 Photo: Goalpoint / @_Goalpoint
Sassuolo had the opportunity to spring another shock on Juventus in Reggio Emilia when the two teams played in Week 34 but the Bianconeri were able to come back and win 2-1. López still produced a fine performance in midfield despite ending up on the losing side against La Vecchia Signora.
He made two key passes, nine approach passes, three approach carries, three defensive actions in the opposition half, four tackles, and a game-high 115 passes. Five out of six long passes were successful and he had a passing accuracy of 96 percent.
This game also represented another anomaly in López's heat map. Although the Frenchman is known to control the play as a deep-lying playmaker, his position against Juventus is more advanced than usual. 
However, this is largely due to the cautious approach of the Bianconeri under coach Massimiliano Allegri and allowing Sassuolo to have the possession.
Playing further forward did not impact López too much though, and because of his technical ability, coaches have occasionally tried him as an attacking midfielder at both Marseille and Sassuolo.
The Neroverdi are 11th in Serie A with 46 points after 35 matches and they will probably once again finish in midtable. Their midtable finishes are largely down to their vulnerability in defense but they often have the attacking quality of a team battling for a spot in Europe.
It is because of Sassuolo's attacking philosophy that creative players thrive so much and the environment at the Italian club is ideal for a player like Maxime López. 
By: Vito Doria / @VitoCDoria
Featured Image: @GabFoligno / DeFodi Images