Player Analysis: Domenico Berardi
Domenico Berardi has arguably been one of the most exciting players Italy has produced in the last decade or so. Despite a period in his career when he was struggling with injuries, the 27-year-old has become a talisman for provincial club Sassuolo since it first played in Serie A back in 2013/14.
Although Juventus had a 50 percent share in the right-winger until 2015 and the likes of AC Milan, Inter, Liverpool, and Barcelona have been linked with Berardi in the past, he has remained loyal to the club from the Emilia-Romagna region in northern Italy.
The 2021/22 Serie A campaign has been another impressive one for Berardi from an individual perspective. In 24 league matches so far, he has scored 10 goals and provided 11 assists. 
These statistics put him alongside the likes of Paris Saint-Germain forward Kylian Mbappe and Liverpool winger Mohamed Salah as the only players in Europe's Top Five leagues to have scored at least 10 goals and supplied 10 assists this season.
Only Thomas Müller has provided more league assists than Berardi, supplying 16 for Bayern Munich in the German Bundesliga.
Born in Cariati, in the region of Calabria in southern Italy on August 1, 1994, he was discovered by Sassuolo as a teenager. He had been visiting his older brother Francesco in Modena and he was spotting while playing a game with Francesco and his friends.
After scoring five goals in 18 Campionato Primavera appearances in 2011/12, he became a key player for the Neroverdi at senior level in the following season, finding the back of the net 11 times in Serie B as they went on to earn promotion to Serie A for the first time in their history.
However, his Serie A debut was delayed after he grabbed an opposition defender's face in Sassuolo's 1-0 win against Livorno in the final round of the 2012/13 Serie B season. He served a four-match suspension, but he displayed his ability to inspire his team and perform in key matches once he was allowed to play in Serie A. 
Berardi scored 16 goals in 29 matches as the Neroverdi went on to secure safety in their first season in Italy's top flight.
He had scored hat-tricks against Sampdoria and Fiorentina, but nothing could top his performance against AC Milan, when he scored all four of Sassuolo's four goals in a 4-3 victory and this prompted the Rossoneri to sack their coach Massimiliano Allegri.
Sassuolo relied on Berardi's goals again in 2014/15, scoring 15 times and also supplying 10 assists as the Neroverdi ended the Serie A campaign in 12th place. Although 2015/16 wasn't the best for the Calabrian statistically, it was a great season for Sassuolo as it registered its best finish in Italy's top flight to date.
Coach Eusebio Di Francesco had been in charge since 2012 bar a few rounds in 2013/14 when Alberto Malesani was brought in for a few rounds.
He had integrated Berardi into the senior squad and brought the club up from Serie B. In the club's third season in Serie A, the Neroverdi finished sixth and earned a place in the qualifying rounds of the Europa League.
Berardi scored seven goals and provided six assists in 2015/16 but he was still considered to be an important part of the Sassuolo squad despite his numbers being lower than in previous years.
He was in sensational form in the qualifying rounds of the Europa League, scoring five goals in just four games, but a knee injury ruled him out of the group stage and the Neroverdi failed to qualify out of Group F.
The Italian winger played just 21 times in Serie A in 2016/17 and scored five goals, but he was still able to supply nine assists. However, his mentor Di Francesco left at the end of the season and was appointed coach of Roma.
The 2017/18 season was one to forget for Sassuolo and Berardi. The Neroverdi struggled for results under new coach Cristian Bucchi and they needed to appoint Giuseppe Iachini to steer them to safety. Iachini's conservative approach in particular stifled Berardi and he ended the season with just four goals and two assists.
Di Francesco's proactive approach suited Berardi but the winger was lost under Bucchi and Iachini. However, the Calabrian found another mentor who would keep him in track. Roberto De Zerbi had coached Benevento in 2017/18 and his attacking approach still caught the eyes of the Sassuolo hierarchy despite the lack of results from the Campanian club.
De Zerbi led Sassuolo to 11th place in Serie A in 2018/19 and he was able to make Berardi a key player again as the right-winger scored eight goals and supply four assists in 35 league games.
For the first time since 2014/15, Berardi was able to reach double digits in Serie A for goals and assists in 2019/20. He scored 14 goals and provided 10 assists in 31 games as Sassuolo went on to finish eighth.
The Neroverdi were often considered to be dark horses for a Europa League spot under De Zerbi but inconsistency and lapses in defense would be detrimental to their chances of European qualification.
In De Zerbi's last season, Sassuolo finished eighth again in Serie A and Berardi registered his best tally in a season to date, finding the back of the net 17 times. After the 2020/21 season had concluded, De Zerbi left for Ukrainian giants Shakhtar Donetsk and he was replaced by Alessio Dionisi, who had brought Empoli back into Serie A.
Dionisi has maintained the attacking principles of his predecessor and Berardi has remained a focal point of the attack.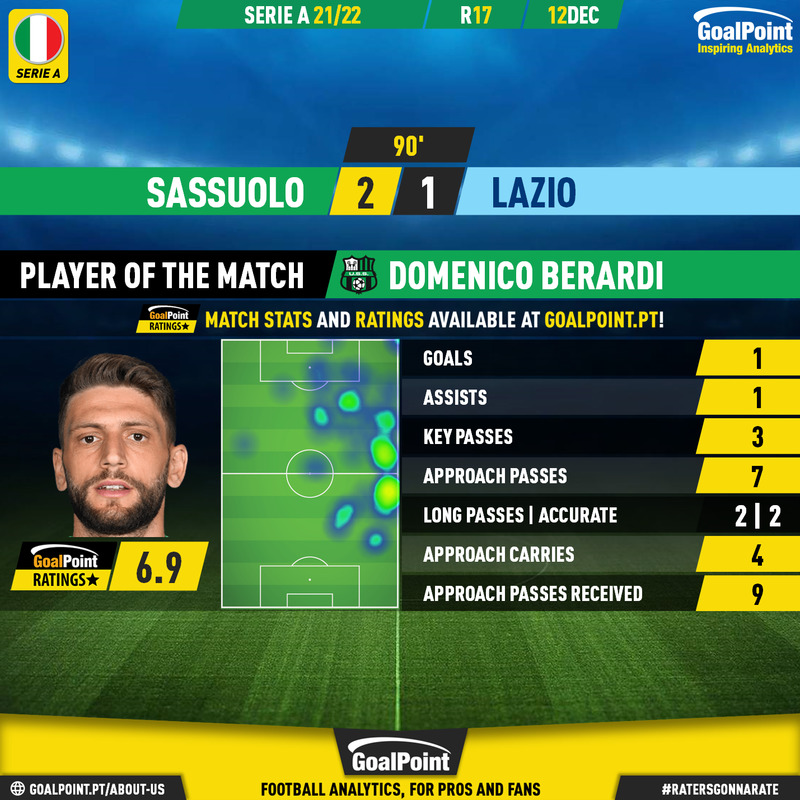 Photo: @_Goalpoint
One of his most decisive performances in 2021/22 so far was in Sassuolo's 2-1 victory against Lazio in Week 17. The heat map indicates that he is often present on the right flank and does not drift in too often. It also indicates that he appears in certain pockets of space instead of constantly patrolling the touchline.
Nonetheless, his teammates looked to him as an attacking outlet as he received nine approach passes according to GoalPoint.
He made four approach carries, seven approach passes, and three key passes. Most importantly, he scored the equalizer after receiving a pass from Giacomo Raspadori and then the Calabrian returned the favor by assisting the winning goal for the youngster.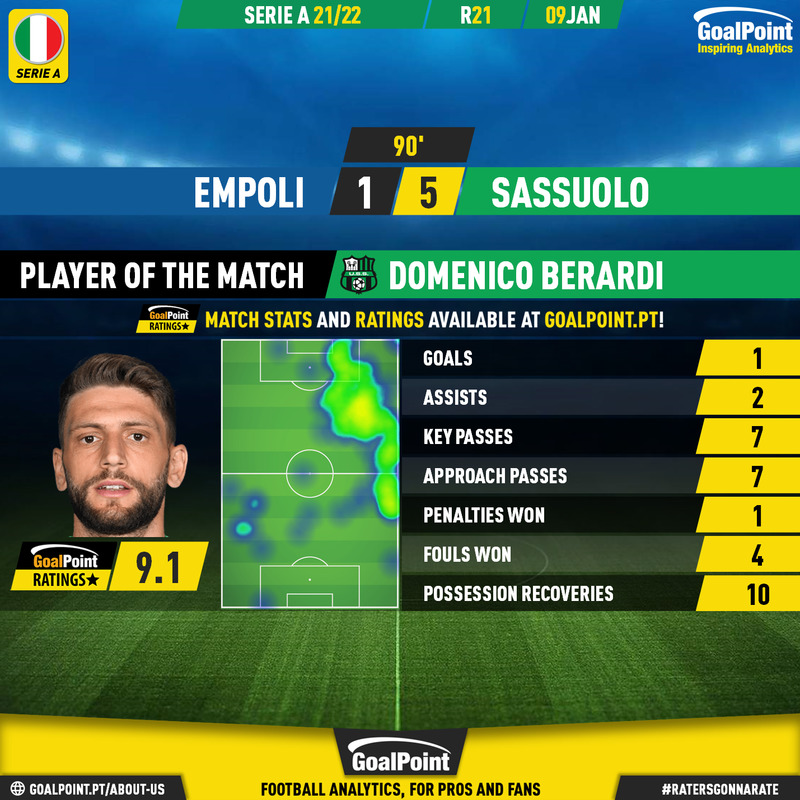 Photo: @_Goalpoint
Dionisi returned to face his former club in Week 21 and the Sassuolo tactician witnessed his new side demolish Empoli 5-1. Based on the heat map, Berardi had a great presence on the pitch, dropping back to help his team one minute, then he would be cutting in from the right-wing in the next.
According to GoalPoint, the 27-year-old was able to recover possession 10 times, was fouled four times, earned a penalty, made seven approach passes, and another seven key passes. Crucially, he dispatched the penalty he earned after 13 minutes, and then provided assists for Raspadori and Gianluca Scamacca.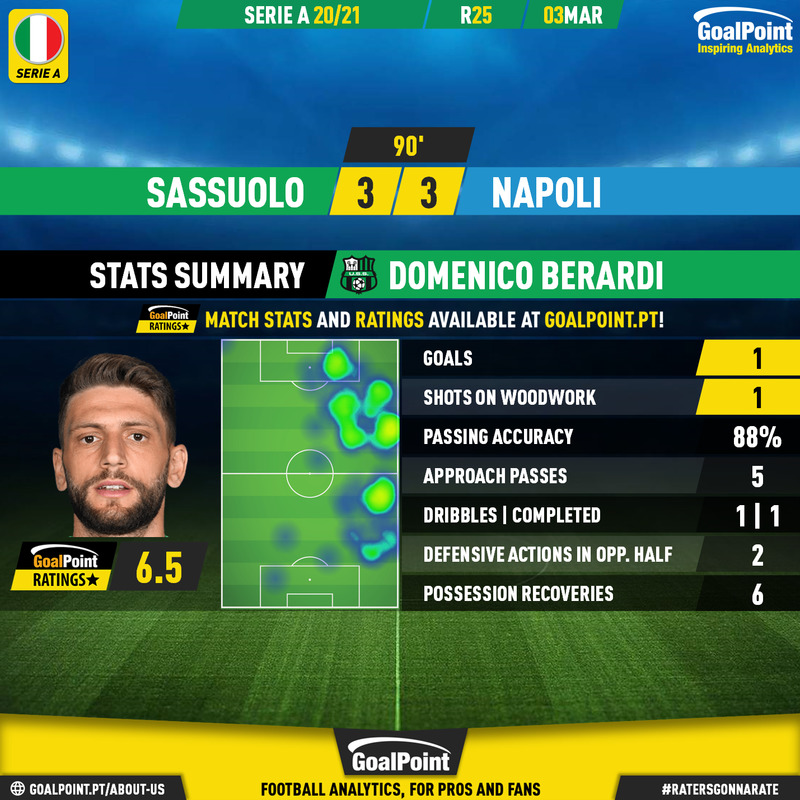 Photo: @_Goalpoint
Another impressive performance from Berardi was in the 2020/21 season when Sassuolo was involved in a thrilling 3-3 draw with Napoli. The Calabrian played a starring role for his team on the right flank while Italy teammate Lorenzo Insigne also produced an excellent performance on the left-wing for the Neapolitans.
Insigne scored from a penalty and also provided an assist for Giovanni Di Lorenzo while Berardi's free-kick was deflected into the net by Nikola Maksimović and then the Sassuolo winger scored from a penalty just before half-time.
According to the heat map provided by GoalPoint, Berardi was mostly on the right side of the pitch, appearing in various areas instead of running up and down the wing.
He was able to recover possession six times, made five approach passes, and had a passing accuracy of 88 percent. In addition to his goal, he also hit the crossbar once with a long-range shot.
Berardi is a player that knows how to get into dangerous positions and his abilities will be required when Italy face North Macedonia in the 2022 World Cup qualification play-offs, especially in the absence of injured Juventus winger Federico Chiesa.
The 27-year-old has scored six times in 23 caps for the senior squad and he is currently Italy's leading goalscorer in the UEFA Nations League with three goals in the competition.
Although he represented Italy at Under-19 and Under-21 levels, Berardi had to wait until 2018 to be capped by current Azzurri coach Roberto Mancini.
Mancini included the right-winger in the Euro 2020 squad and had a decent start to the tournament, but the emergence of Chiesa in the knockout stages meant that the Sassuolo attacker had to be limited to an impact substitute's role.
Nevertheless, Berardi still played his part in the final, converting one of the spot-kicks in the shoot-out as Italy won 3-2 on penalties and the Azzurri secured their first European title since 1968.
Berardi perhaps does not receive the plaudits of the Italian greats of the past, largely because he does play for a small club and he had set the bar very high in his youth. Despite that, he has demonstrated that he is an influential player. 
While he is at Sassuolo, the Neroverdi should be able to keep their Serie A status, and after his heroics for Italy at the Euros, his mercurial talents will be needed as the Azzurri try to qualify for Qatar 2022.
By: Vito Doria / @VitoCDoria
Featured Image: @GabFoligno / Giuseppe Bellini / Getty Images