Michail Antonio: Matching Europe's Best
West Ham United are having an excellent campaign. Currently in March and still challenging for European places, David Moyes has taken a side that finished 16th last season, to a season that surely no one could've seen coming.
They've done this through hard work, defensive resilience, tactical flexibility and outstanding recruitment. It's these new recruits, notably the outstanding Tomáš Souček and Vladimír Coufal, that will be given the most praise come the end of the season. There is however, one man who in my opinion has stepped up more than the rest. Michail Antonio.
After the misfiring Sébastien Haller completed his move to Ajax in January, Antonio went from stand-in centre forward to first-choice striker. No replacement was signed as Antonio, who had already shown his goal-getting ability, took on the responsibility.
Seen as something of a utility man by most, he has featured up front, out wide and even as a right back for West Ham in recent years. Having worked his way up from non-league Tooting and Mitcham, through the EFL and eventually to the Premier League (even working as a part-time lifeguard at one point), there are perhaps few players more deserving of a "moment in the sun."
He currently ranks 20th for goals in the Premier League, scoring 7 in just 17 league appearances. He's been injured for 9/26 matchdays, which makes his performance this term even more impressive.
(A quick explainer for those who are not familiar. By looking at expected goals (xG), we can determine the likelihood of a shot resulting in a goal (the quality of the chance), depending on shot location, angle, distance from goal and the type of ball that's played to them. 0 means it was a terrible chance, 1 means a certain tap-in goal. By adding these shot values up, we can predict how many goals a team or player should have scored during a game or season, as well as if they have under or over-performed.)
Antonio ranks an admirable 11th in the league for non-penalty expected goals (npxG) with 8.1. Having scored only 7, he has actually underperformed this by one. He's mixing it with the big boys (see below), out-performing established PL attackers such as Heung-Min Son, Marcus Rashford and Pierre-Emerick Aubameyang, deemed some of Europe's best.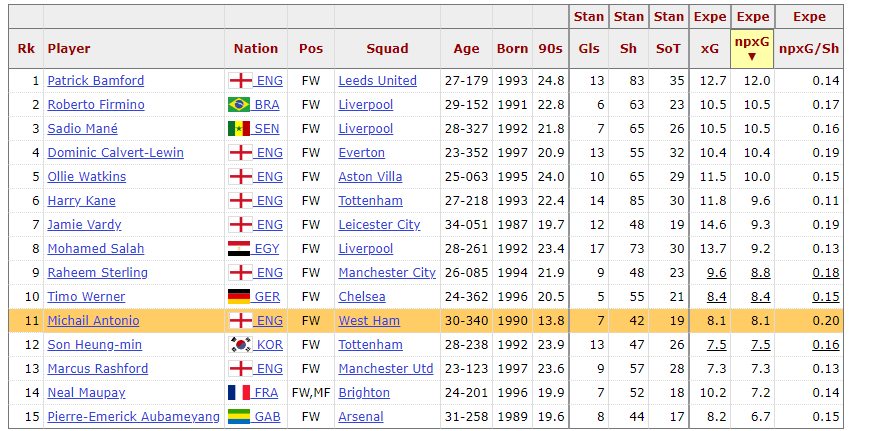 This also puts him in the 98th percentile when compared with all other forwards in Europe's top five leagues, as shown below. Antonio is generating some of the highest npxG in European football, a long way from filling in as a makeshift right back.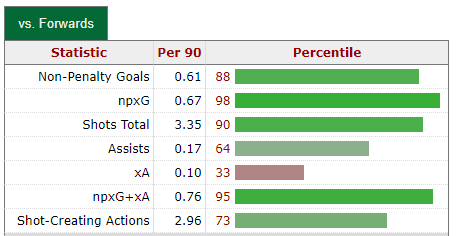 He takes a good amount of shots, averaging 3.05 per 90 minutes (9th in the league), putting him in the 90th percentile across Europe. So he's responsible for a pretty high volume of chances too. This makes the next stat even more impressive. His npxG per shot, 0.20, the BEST in the Premier League (shown below). This is telling of how dangerous Antonio has been, lots of shots, and lots of high-quality ones too.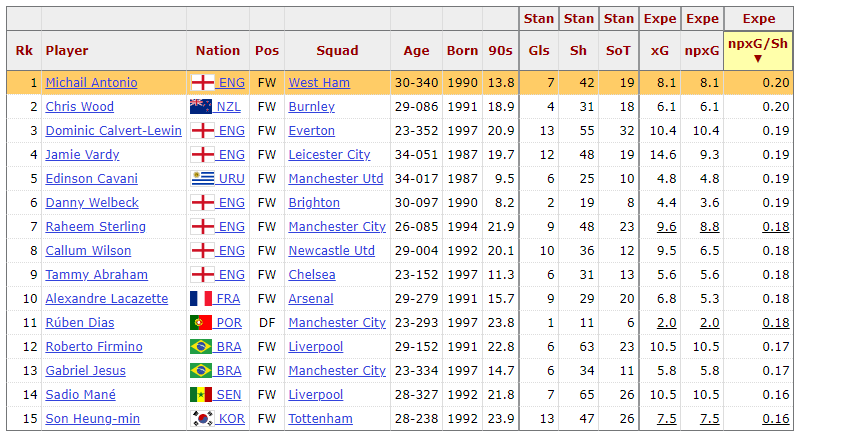 So how does this play out on the pitch? What do these chances actually look like? Let's have a quick look. Antonio has turned up in the big moments for West Ham. 4 goals in 6 appearances against the traditional "top 6", as well as 1 against a very good Leicester side; the Hammers only lost 3 of these games. A testament to Moyes' defensive set-up this season, but also to Antonio's ability to show up when it matters.
As shown in the below example in the 2-1 loss against Manchester City, Antonio possesses good penalty box intelligence. The ball is about to be crossed in from the right, causing Jesse Lingard to make a run into the centre. He anticipates that Lingard might not finish the chance, or that the ball might come loose, so he continues his run to the far post.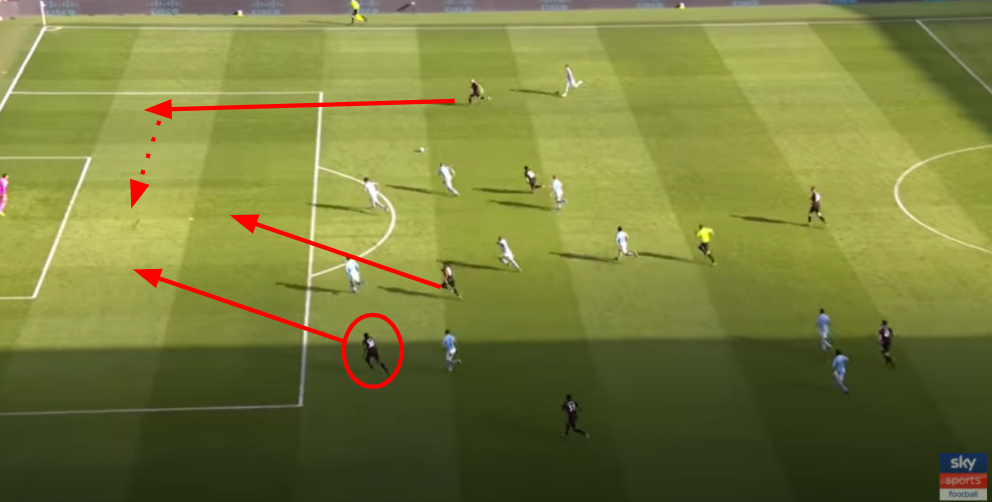 Lingard gets good contact, knocking the ball across goal, giving Antonio an easy finish. A lesser player might have stopped his run, not expecting the ball to get through the crowd, but Antonio takes that gamble and follows in, creating the overload.
This example is from West Ham's 3-0 win away at Leicester earlier in the year. Once again, Antonio demonstrates intelligent movement. The ball is about to come in from West Ham left back Aaron Cresswell. Antonio anticipates the flight of the ball well, as other players might have rushed to the centre of the box, for a "clearer" shot at goal.
Antonio hangs back, isolating Leicester center back Çağlar Söyüncü, allowing for a nice cushioned header into the bottom left corner. He finishes this with great composure, making the most of the good position he puts himself in.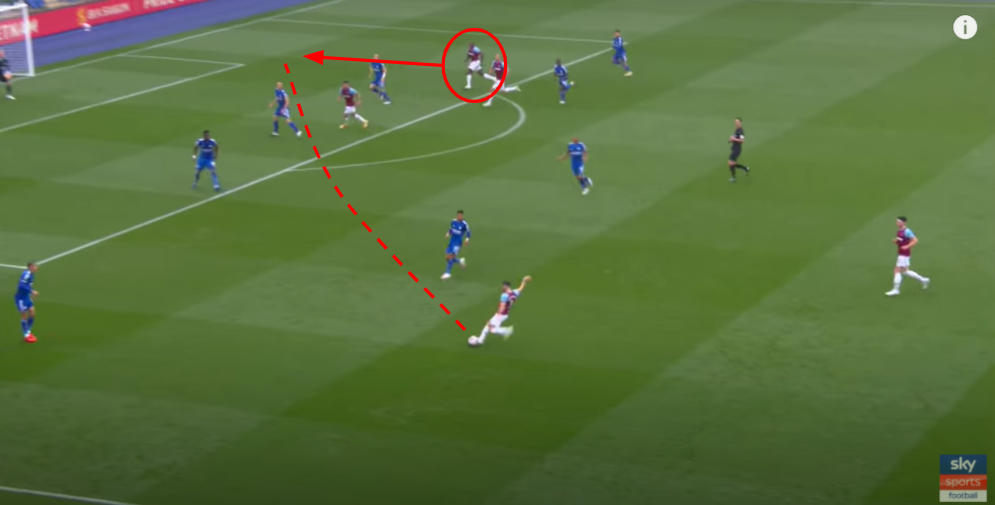 This movement is perhaps Antonio's best attribute. It's the intelligence of a seasoned number nine. If defenders switch off even for a moment, Antonio can capitalise and punish them. A number of his goals this season have come from scenarios just like that.
But Antonio can also get goals from more unlikely positions. He's not afraid to shoot when others might choose to pass, which is reflected in the stats from earlier on (high shot volume). His goal in the reverse fixture against City and his goal against West Brom were both acrobatic finishes. Both on the turn, against three or four defenders, where other players might not have even considered shooting, let alone have had the strength, agility, and composure to actually pull it off. 
Antonio has the physical and technical ability to turn poor chances into good ones. This is a trait of a top striker, and so it's no wonder that the stats all point to Antonio being an extremely dangerous player, as well as one which functions almost exclusively inside the penalty box. 
With 7 goals in 17 games so far, not only is Michail Antonio reaping the rewards of a career built on years of hard work, but importantly for West Ham, they have a player that they can rely on. A player not just able to hold his own in the Premier League, but who is producing to a level on par with some of Europe's best. If they keep this up, then next season Antonio and his teammates may be able to face up against European opposition on the pitch, as well as on the xG tables. It's no less than they deserve, either.
By Oliver Haines / @OTG_UK
Featured Image: @GabFoligno / Pool – Getty Images
Images and data courtesy of Transfermarkt.co.uk, FBRef.com, whufc.com, Sky Sports.