Mohamed Bamba: The Ivorian Phenom Shining in Austria
In July 2023 Austrian Bundesliga club Wolfsberger AC announced the signing of 21-year-old Ivorian striker Mohamed Bamba for an undisclosed fee (estimated €300,000) from Israeli second division outlet Hapoel Ironi Rishon LeZion. The signing was met by very little fanfare domestically, or internationally, with Sky Sports Austria one of few digital outlets to cover the signing in any real detail.
However, just 12 games into the Admiral Bundesliga season and Bamba already looks to be a very astute signing for Manfred Schmid's side. In just 10 appearances for WAC Bamba has put up an impressive 6 goal contributions, with 5 goals and an assist to his name. Bamba's goal-scoring record won't come as a surprise to Schmid and the WAC scouting team as the 21-year-old put up an incredible record in his final Liga Leumit season finishing the campaign as the league's top scorer with 20 goals in 36 league games and average of a goal every 0.54 games.
Since 2013 only Pedro Joaquín Galván (Bnei Yehuda Tel Aviv), Jordan Faucher (Maccabi Herzliya), Idan Shemesh (Hapoel Jerusalén) and Yaniv Mizrahi (Beitar Tel Aviv Bat Yam) put up better goal scoring seasons with 22, 24, 21 and 21 goals respectively. But what makes Mohamed Bamba such an exciting young prospect? Well, let's take a look at his underlying numbers and find out!
Player Profile – Mohamed Bamba
Nationality: Cote d'Ivoire
Age: 21
Date of birth: 10/12/2001
Club: Wolfsberger AC
Position: Striker
Preferred foot: Right
Main Position
Wolfsberger AC have utilised both a 3-4-1-2 and a more conventional 4-3-3 this season under Manfred Schmid since bringing Bamba into the starting XI. Prior to Bamba breaking into the first eleven, Schmid had utilised a 4-1-4-1 with Bernhard Zimmermann as the lone striker as well as implementing a 4-3-3 and a 5-3-2 in draws against SC Austria Lustenau and Austria Vienna respectively.
Schmid would then stick with the 4-3-3 for the next run of three fixtures playing Bamba as the lone striker with Florian Reider and Thierno Ballo providing support from the wings. During this run of fixtures from August 26th to September 17th, Wolfsberger took just one point from a potential nine, losing to TSV Hartberg and RB Salzburg at home (3:0 and 2:1 respectively). However, in this run of three games, Bamba would put up three goals helping to cement his slot in the starting eleven.
Wolfsberg's form has started to switch, however, following the club's 3-3 draw to Rapid Vienna away at the Allianz Stadion, Schmid would switch from a 4-3-3 to the previously mentioned 3-4-1-2 with either Florian Reider or Thomas Sabitzer slotting into the advanced midfielder role and 22-year-old Augustine Boakye filling as the right-sided striker with Bamba moving over to the left side of the front two.
In the two games since implementing the more defensively solid 3-4-1-2, Wolsfberger took 6 points from a potential 6 with a 3-2 win over WSG Tirol away at the Tivoli Stadion and a 2-1 home victory over LASK. In those two games, Bamba would put up two goals, continuing his impressive domestic scoring record. However, they would proceed to lose 2-1 to Sturm Graz, draw 0-0 at SCR Altach, and lose 2-0 to BW Linz, and they'll be looking to close out October with a trip to second-tier side DSV Leoben in the cup.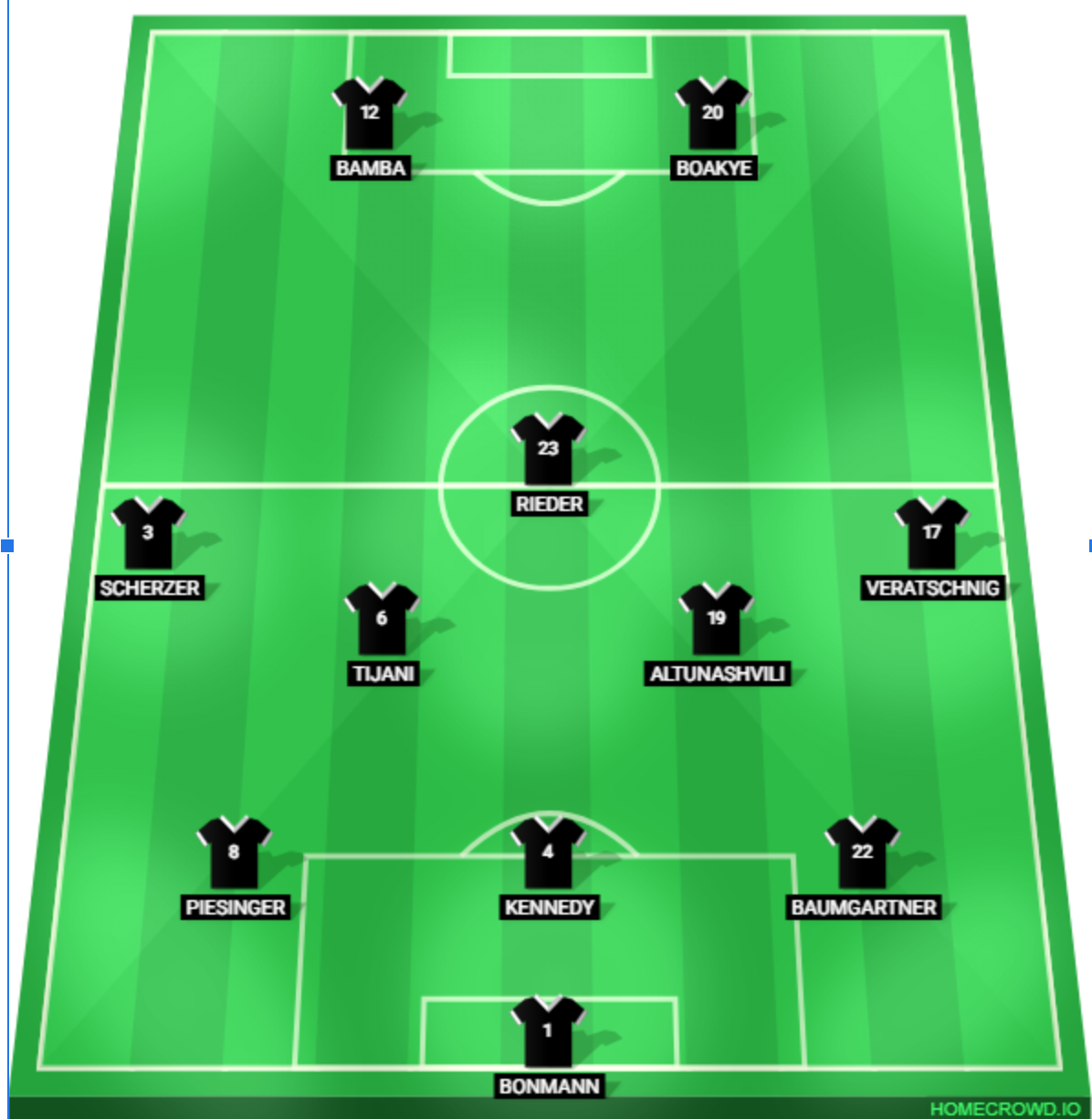 The 3-4-1-2 utilised by Manfred Schmid in Wolfsberg's 2-1 over LASK on September 30, 2023.
Mohamed Bamba – Underlying Numbers
We have taken a look at how Bamba is being utilised at Wolfsberger, but how is he performing? Let's take a look at the numbers; In his final season in Israel, Bamba put up 20 league goals from an xG of 17.34, an overperformance of 2.66 goals, during this season the Ivorian averaged 2.9 shots/90 with 1.4 SOT/90 and also put up an impressive 4.61 dribbles/90 with a 53.5% success rate equating to 2.30 successful dribbles per 90.
So far in just 793 minutes for Wolfsberger, Bamba's numbers do not appear to have dropped despite the step up in league quality (Austrian Bundesliga being the 26th ranked league in the world compared with the Liga Leumit being 96th ranked.) Bamba has put up 7 goals from an xG of 3.8 and completed 5.27 dribbles/90 with a 46.4% success rate equating to 2.45 successful dribbles per 90 (+0.15 on 22/23.)
The Austrian Wunderteam: The Greatest Team You Don't Know About
His shot output has not slipped either with the 21-year-old producing 3.2 shots/90 and 1.5 SOT/90 in his opening fixtures. To put this data into the context of the Austrian Bundesliga this season:
Bamba is producing 4.01 successful attacking actions per 90 – this is 9th in the league and makes Bamba just 1 of 3 players u23 in the top 10 alongside fellow Wolfsberg player Thierno Ballo (21) with 4.14 and Salzburg's Karim Konate (19) with 5.05.

In the league, Bamba is averaging 2.67 shots per 90 the 6th most in the league (Rapid Wien's Grull top with 3.52) but Bamba has the second best shots on target percentage of that top 5 with (50%) behind only Sinan Karweina of Austria Klagenfurt with 55.56%.

Bamba is currently the league's joint second top scorer with 4 goals in 404 minutes (6 games).

Bamba ranks second for Goal Conversion (%) for players with over 10 total shots with 33.33% behind only Maximilian Entrup (26) of Hartberg with 38.46% – 5 goals from 14 shots.

Bamba ranks 8th for dribbles/90 with 5.57/90 but lacks in the creative department with just 0.02 xA per 90 – an output only worsened by Aleksander Buksa (20) of WSG Swarovski Tirol and Szymon Włodarczyk (20) of Sturm Graz with 0.01/90 (for strikers with over 50% available minutes played.)
Drawing on further data from Bamba's 22/23 season in the Liga Leumit, we can note:
Bamba averaged just 0.08 Assists/90 & 0.1 xA/90 during his 22/23 season for Hapoel Rishon LeZion and put up just 3 assists.

25% (5) of Bamba's 20 league goals came via headers the second best in the league in 22/23 behind just Julio Cesar of Ironi Tiberias (33) with 8.

No player in Israel's Liga Leumit took more shots in 22/23 than Bamba with 107, however, Bamba's 2.9 shots per 90 ranked just 12th in the league with Noaf Bazea of Hapoel Jerusalem (22) leading the league for shots per 90 (for players with over 1000 minutes) with 4.47 from 1148 minutes (15 games).

For players with over 50 shots, Bamba ranked fourth for goal conversion (%) at 18.69%, however, for players with over 65 shots – Bamba (with 107 shots) ranks top with Julio Cesar (102 shots) sitting at 15.68%.
Mo Bamba – Final Assessment
Strengths
Finishing

– Bamba's 3.2 shots per 90 would rank 2nd in the Premier League this season (behind only Darwin Nunez) and his 1.5 SOT/90 would rank 14th just behind Julian Alvarez (1.51/90).

Bamba has already converted with his left foot, right foot and head in his first few fixtures, and with 5 goals from around 22 shots. Bamba is currently putting up a Bundesliga conversion rate of 22% which although a decrease from the 33.33% he put up in the 22/23 Liga Leumit season would still see him rank just below Erling Haaland in the Premier League who is currently (as of October 1st 2023) sitting on a 26.66% conversion rate during the 22/23 season.
Hold-up play – Bamba's physical qualities allow him to play perfectly as part of a front two, something that has contributed to Wolfberger's marked performances since switching to the 3-4-1-2.
Aerially, Bamba possesses the required qualities to bring long balls down and has adequate short and mid-ranged passing capabilities to play a 1-2 with right-sided striker Augustine Boakye enabling Boakye to pull off the shot or play Bamba in for a 1-on-1 with the defender.

In a similar vein, Bamba is a very aggressive and astute presser, something that has been crucial under Schmid's 3-4-1-2, with Bamba & Boakye constantly pressing the goalkeeper or back four in order to control the tempo of the game and prevent teams from playing a slower build-up that doesn't suit the deep block of Wolsfberger.
Splitting the line

– As illustrated in the image below (courtesy of Wyscout) one of Bamba's premium qualities is his ability to find space in between two tight defenders and then split the line to burst into open space.




Several of Bamba's key chances this season, and during his time in Israel, have come from sitting between the last defenders and breaking onto a long ball from defence or midfield, he can sometimes be let down by his 1-on-1 attacking (more on that shortly) however if he is allowed to run onto the ball in space his previously discussed clinical finishing almost guarantees that he will beat the goalkeeper 1-on-1.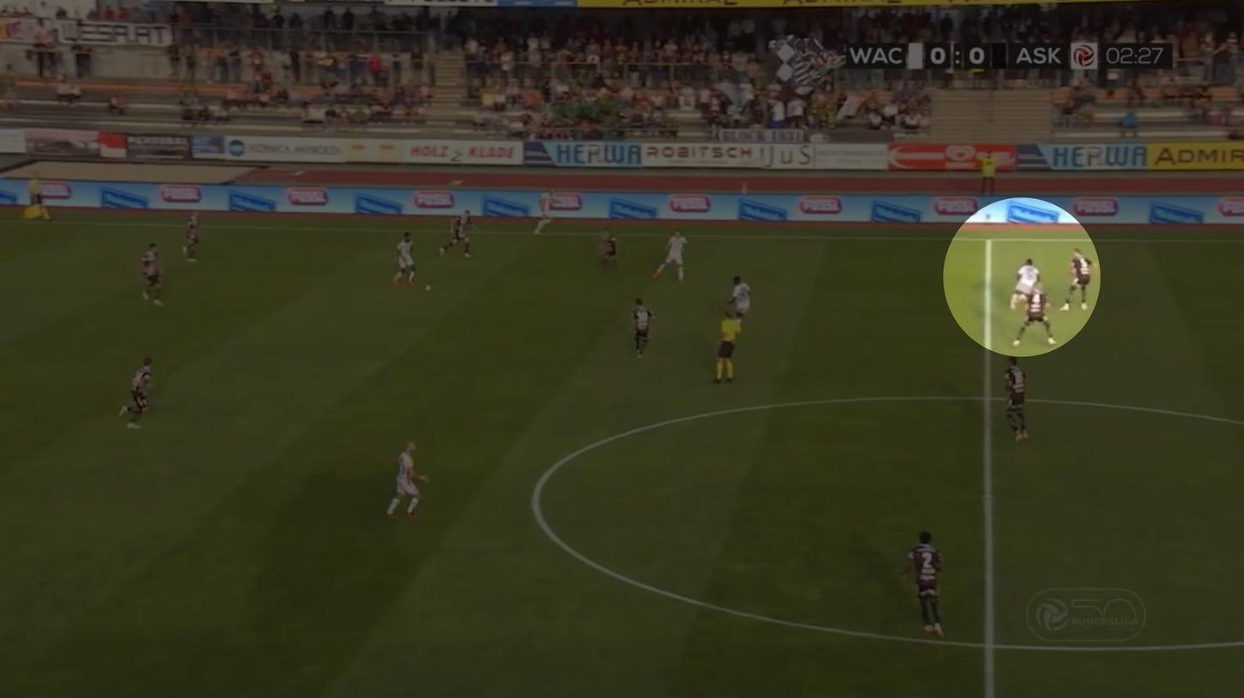 (Mo Bamba splits two defenders to burst through into space during Wolfsberg's 2-1 win over LASK on September 30th 2023.)
Weaknesses
1-on-1 dribbling

– As alluded to during the strengths section, one of the more frustrating sides of Bamba's game can be his ability to be jockeyed out of strong chances by confident defenders.

When defenders attempt to play the ball and open their bodies up, Bamba is more than capable of knocking the ball past the last man and running into a clear goal-scoring opportunity. However, if the defender simply jockeys Bamba and stands his ground, Bamba will often fail to take the ball past his man instead attempting to go around the outside of the defender and ending up dispossessed, on the ground and allowing the opposition to start a quick counter-attack.

This issue has been highlighted more as Schmid has switched to the 3-4-1-2 as Bamba and Boakye are often quite isolated, particularly on the counter if Sabitzer/Rieder has been forced to drop deep, in a system with a higher line/more creative support further up the pitch, Bamba may be able to play on his capable passing output to play a 1-2 and move into space, however, for now this is clearly an area Bamba could do with improving.
Decision making

– Again this is part of what makes Bamba such an exciting player, but also something that will hopefully improve with age and experience.

Bamba often struggles with 1-2-1 defence situations, however, this is not helped by his often naïve confidence to take on the defender in these situations.
On many occasions this season Bamba has latched onto a loose ball only to take it into a tight section of the pitch and go 1-2-1 with a defender something, as established, he does not perform particularly well at.




Bamba's dribbling is most successful in tight pockets of open space, such as in the penalty box, however, even then Bamba often has easier and safer plays available but will instead choose to attempt to take on 4/5 players individually only to have a shot blocked or lose possession of the ball.
Grade
Before I advance with this final section, it is only fair that I credit Target Scouting for this scouting report grading system. Please check them out and support the awesome work they do at targetscouting.com. At the end of each player review, I will be giving a final grade on a scale of A1 to D – in order to give a consistent and clear final review of how I see Bamba as a player now and where he could potentially end up.
The scale is as follows:
A1 – Very good, could play higher

A2 – Strong potential to play higher

B1 – Good, strong player at this level

B2 – Potential to be a strong player at this level

C – Average for the level

D – Below average for the level
Mohamed Bamba Final Grade – A2
Mohamed Bamba is, at least early on in his Bundesliga career, clearly very comfortable at this level. It has taken him no time to adapt from the Israeli Liga Leumit and I could see his particular skill set translating very well for a number of leagues. He reminds me in some ways of players along the lines of Jamie Vardy or Sardar Azmoun particularly in his comfortably splitting the back line.
He has the physical qualities to translate to a number of leagues and is young enough at 21 (turning 22 in December) to spend two to three years in Austria and still break through into a top-five league. Given the Austrian Bundesliga's links with German football, I think a safe, yet ambitious, prediction would be that Bamba could lead the line for a German Bundesliga side in the next 18-24 months.
By: Liam Stewart / @LiamAStewart
Featured Image: @GabFoligno / Wolfsberger AC