Oleksandr Zinchenko: More Than Just a Utility Left Back
Manchester City have been quite exceptional of late – at the time of writing, they are on an English top-flight record winning streak spanning 18 games and don't seem to be in the mood of stopping anytime soon. One key difference between this run and their previous exploits under Pep Guardiola is that they have a very functional defence this time.
Their 18-straight victories include 12 clean sheets. A lot of factors have contributed to this – the impact of summer signing Rúben Dias and subsequent resurgence of John Stones to form a formidable defensive duo, João Cancelo's exceptional possession-play, and Pep Guardiola's new build-up patterns.
However, one easily overlooked yet extremely important figure in City's new-found defensive stability is Oleksandr Zinchenko.
The Ukrainian international joined the club from FC Ufa in 2016 for a relatively nominal fee, initially being signed as a CFG player as opposed to a future first-teamer. After spending a season on loan at PSV Eindhoven, he returned to City as a squad player. In the 2017/18 season, he had a shot at consistently starting in the first team (albeit out of position) as the first and second-choice left backs were both injured.
He was certainly not bad, however, his performances did not give the defensive assurance that Guardiola perhaps would have wanted. This is perhaps why he was offered a chance to leave for Wolves at the end of the season, with the deal all but done. He chose to stay and fight for his place.
The Shakhtar Donetsk academy graduate impressed thoroughly in 2018/19, even earning himself a contract extension. But, the following season did not go to plan, with City prepared to let him go on loan or otherwise in the 2020 summer transfer window. Again, he chose to stay put, and although his decision looked to be a poor one initially, he was soon reaping his rewards.
The position of left back has always been the major pain-area for Pep Guardiola's Manchester City. Benjamin Mendy's two ACL injuries have limited his playing time and undoubtedly hindered his performances, and City never really had a proper backup – the likes of Fabian Delph, Aymeric Laporte and even Zinchenko himself (who grew up as a midfielder – a position he still operates in for Ukraine) have been used as stop-gaps for varying periods of time, but in truth, none of them provided true stability up till 2020.
João Cancelo was used as a makeshift left back for long periods at the start of this season, but there was no point in playing him out of position when he was doing so very well – not even a choice after Kyle Walker tested positive for COVID-19. Around this point in time, Guardiola changed his system, ditching inverted wingers for ones that held their width and using inverted fullbacks to help with the build-up in midfield. If the last word rings a bell, that is because Zinchenko is, as aforementioned, a midfielder by trade.
He was still used as a fullback, but the stars had aligned for him to prove his true worth in the City squad. Zinchenko took that chance in some style, and in this analysis, we will attempt to break down his very important yet easily-overlooked role in this star-studded City squad.
Build-ups and Progression in a Back Three
Although Manchester City have used a back-four throughout this season, it morphs into a back three in Pep Guardiola's new system. More often than not, Zinchenko finds himself on the left of the backline as Cancelo (with who he has partnered in seven of his nine Premier League starts) moves into midfield.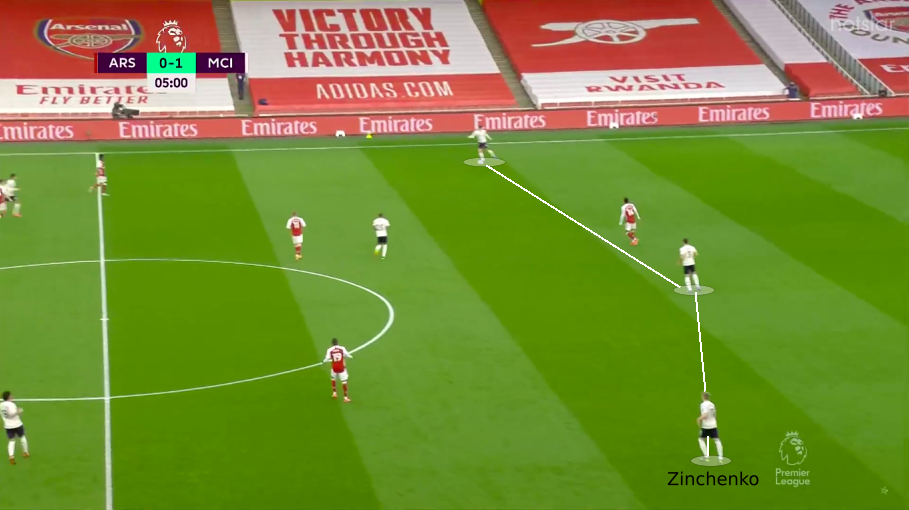 You can see the aforementioned back three in action from Manchester City's 1-0 victory over Arsenal on Sunday, with Zinchenko on its left.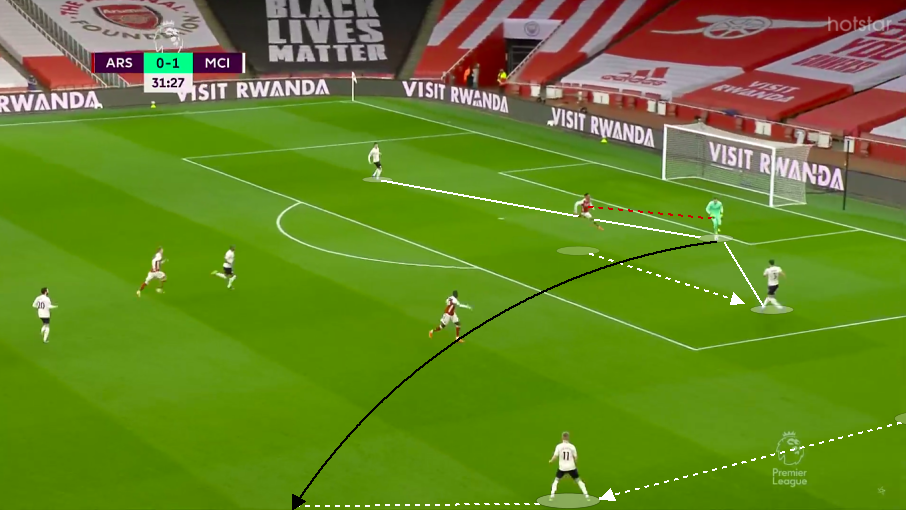 Since the man on the right of the three is usually a centre back, Zinchenko is the preferred outlet on the left when the goalkeeper is being pressed. This is why he often moves ahead of the back three when the keeper is in possession, with Ederson replacing the central defender (who moves to the left) in the middle.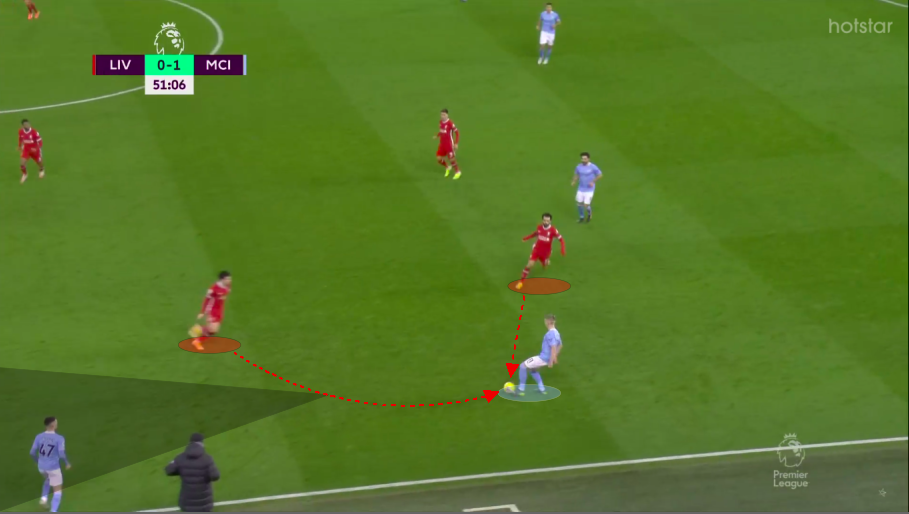 Zinchenko can be used to break the press more directly too. In this instance, he is being closed down by two opponents, with the touchline preventing him from going in the other direction.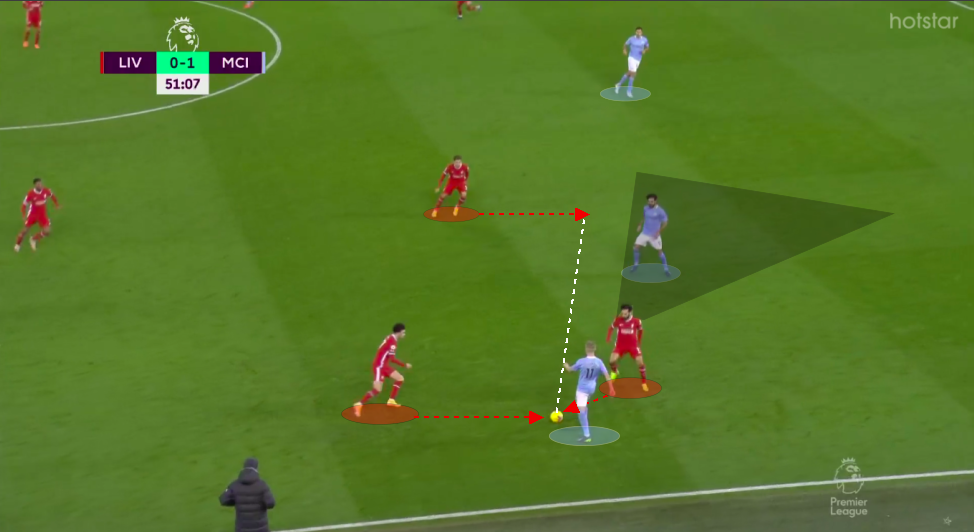 The Ukraine international seems trapped here as he seemingly attempts to play a pass through the gap between the two Liverpool players closing him down, but that is rapidly fading and there are no risk-free options there either.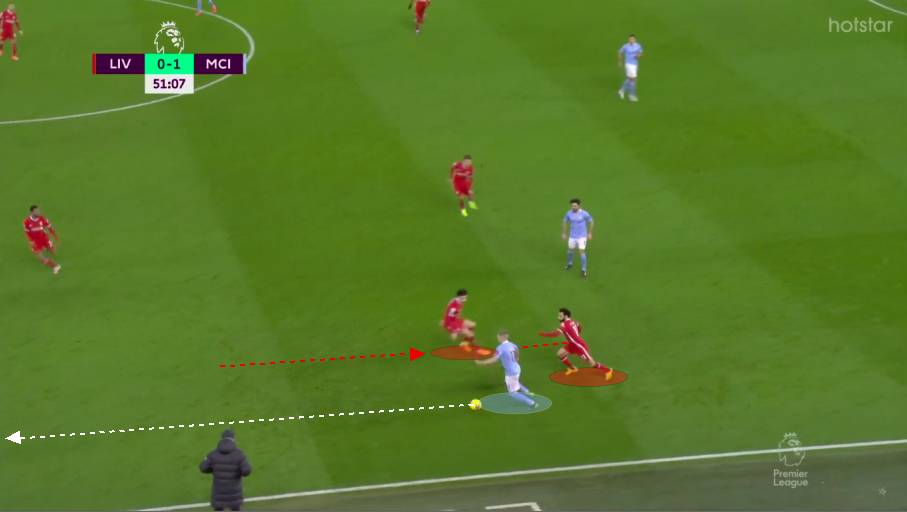 As it turns out, this was just a decoy that Mohamed Salah and Curtis Jones bought readily. Zinchenko quickly shuffled the ball forward into open space, and the Liverpool press was not spotted again for a few minutes.
His midfield background undoubtedly helps him lead City's press-breaking squad in the defence, as he rarely gives the ball away (with only 2 dispossessions so far this season), and is very tidy with his passing, with his average of 76 successful passes per 90 is at least 13 clear of any other left back in the league with 10 or more appearances.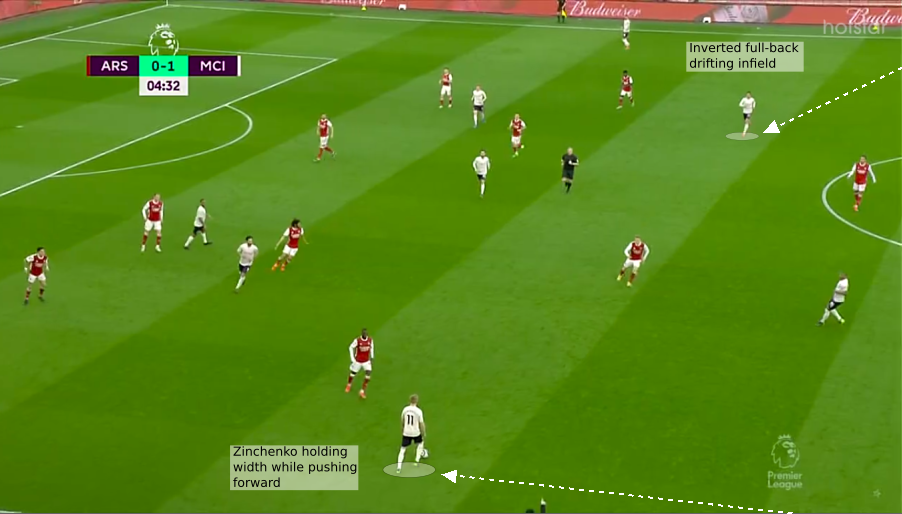 Zinchenko does have the license to push into the opposition half in possession from his position on the left of the back three, but unlike an inverted fullback, he holds his width. There has been only one match this season where he has strictly played on the left of the back three in possession and managed to accumulate more than 15 touches in the attacking third, so it is clear that he does not foray forward too often in this role.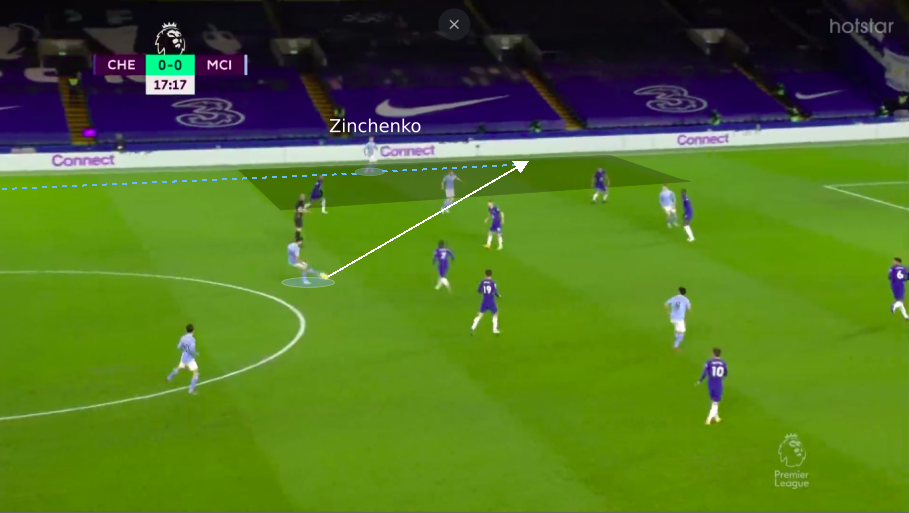 That is not to say, however, that he absolutely never pushes ahead. If there is open space on the left wing, the Ukrainian international is allowed to go forward and access it.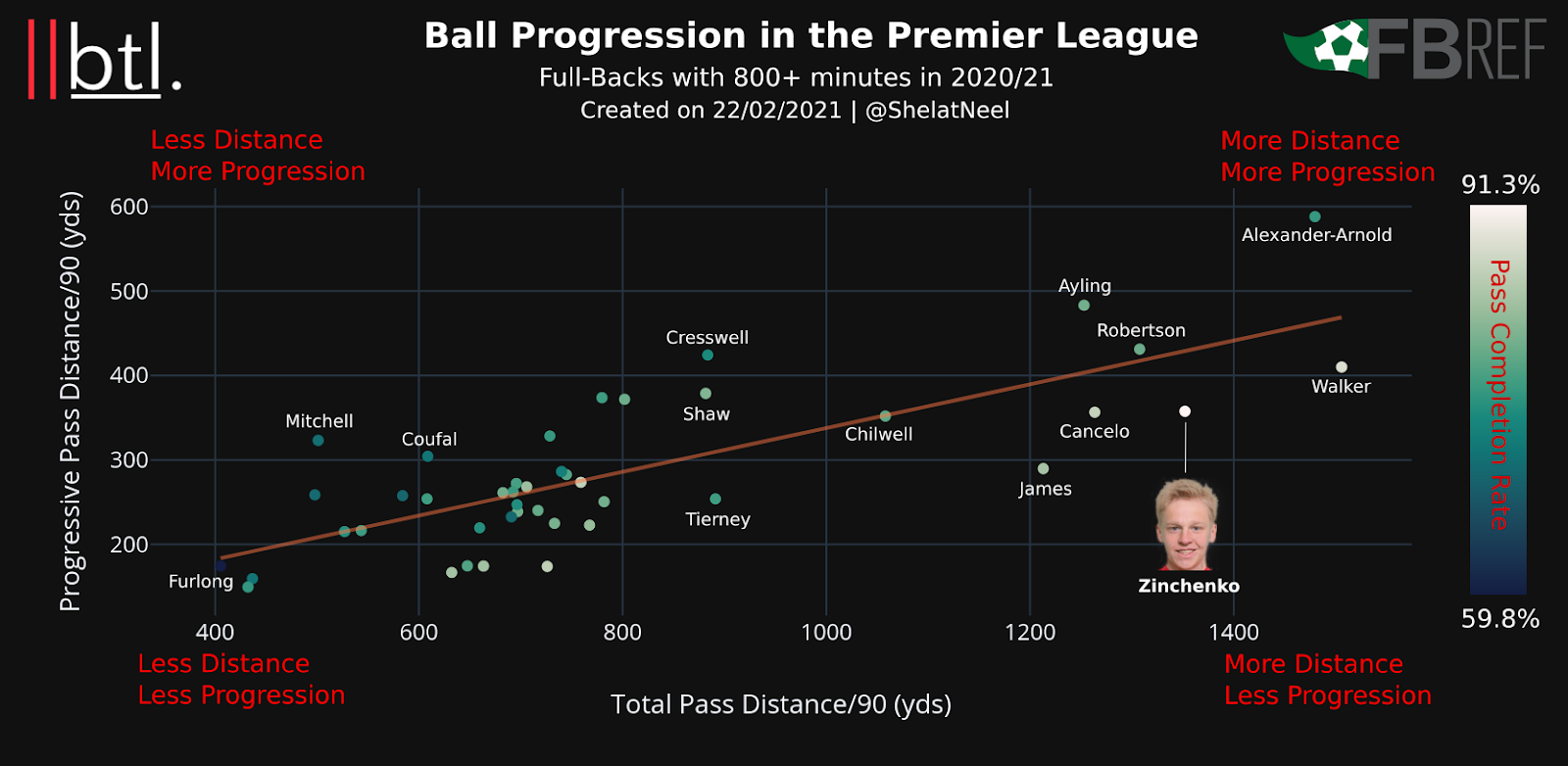 This graph does a good job of depicting just how good Zinchenko's ball progression is. He is the third-best fullback in the league in this regard, and the very best as far as left backs are concerned. To add to that, his passing accuracy of 91.3% surpasses everyone else in this category.
Progression and Attacking as an Inverted Fullback
Given the fact that he is a midfielder by trade, it is quite easy to imagine Zinchenko playing the inverted fullback role, and he has done so on a fair few occasions.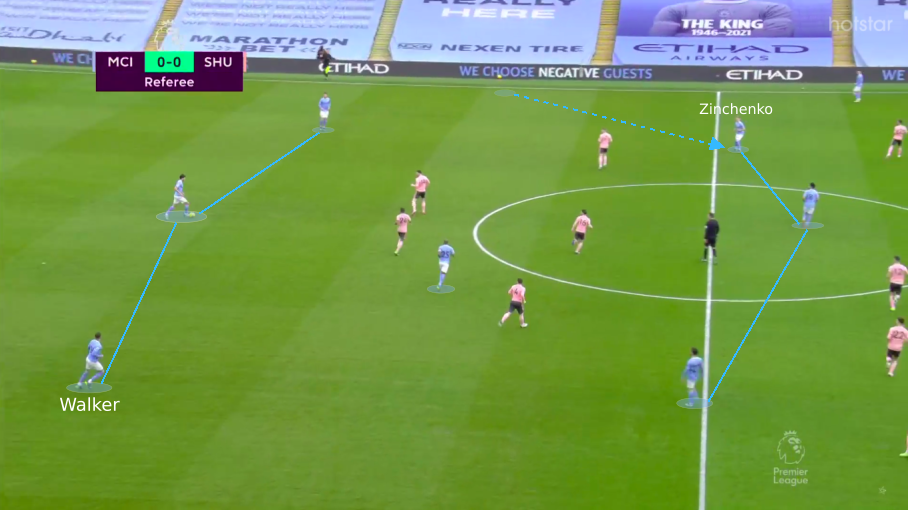 In two matches this season, he has started together with Kyle Walker. In both, Walker has stayed behind in the back three, while Zinchenko did the 'Cancelo role' (albeit on the opposite side) of moving into midfield from the build-up phase.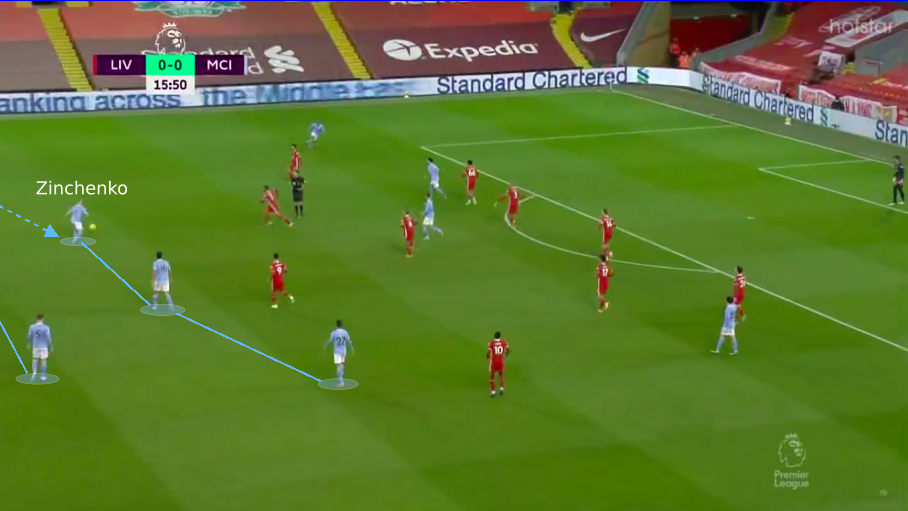 At times (depending on the opponents and game plan), he moves into an inverted role in the progression phase to create a trio in holding midfield after building up on the left of the back three, as seen above.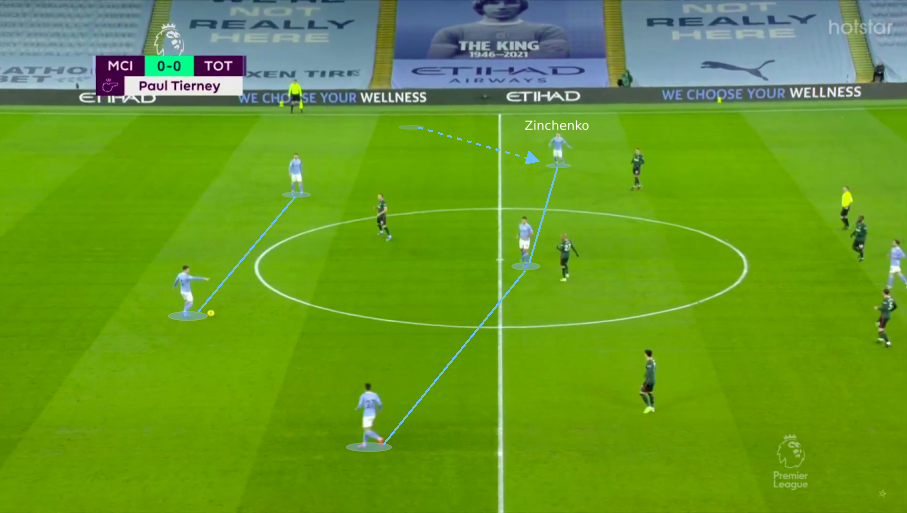 In other cases, Zinchenko immediately moves into midfield in possession, so Manchester City have a 2-3 in the build-up in such cases with twin inverted fullbacks.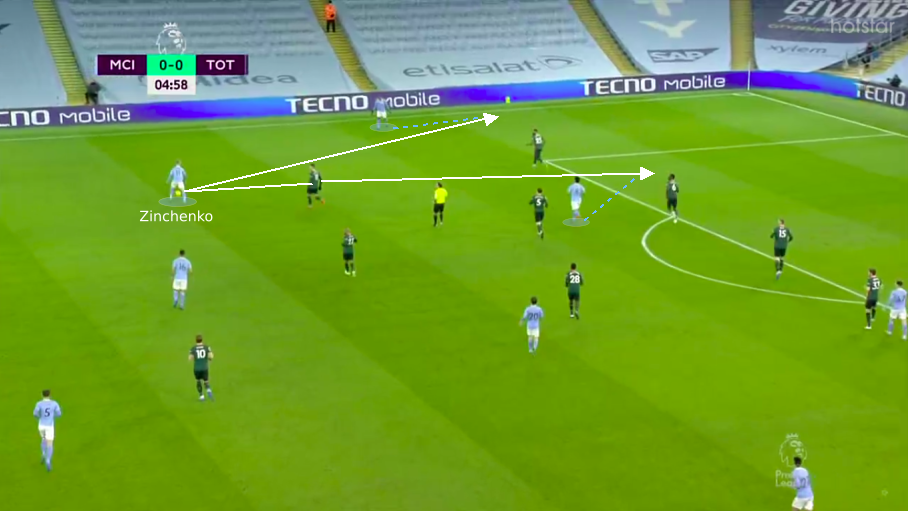 From such positions, he can pick dangerous progressive passes into the opposition attacking third, where City's typical five-man front line provides him with a healthy number of options.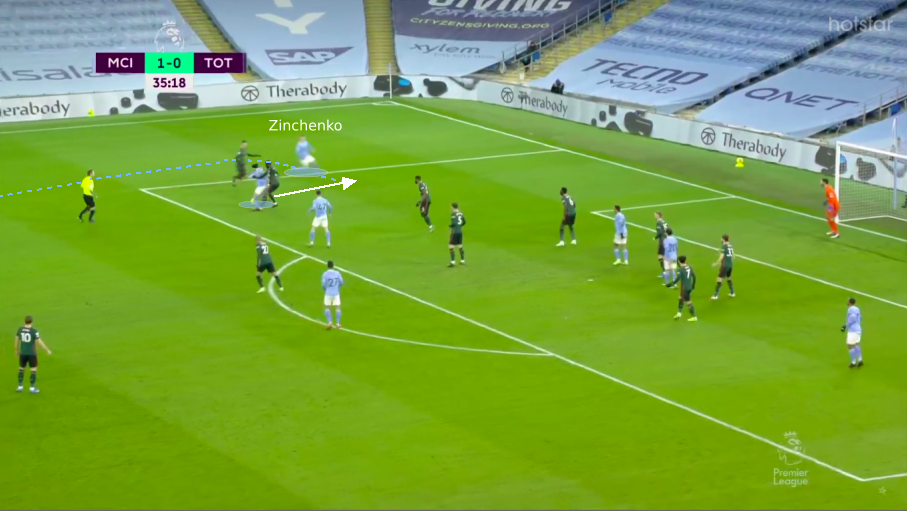 After providing the pass, the 24-year-old defender can also make overlapping runs like a traditional left back would.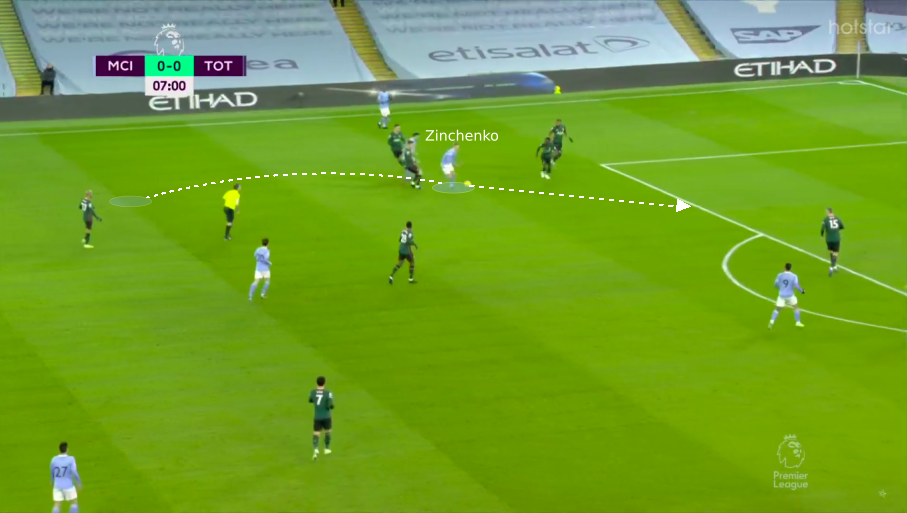 He can also dribble at the opposition defence from these positions, which should explain why he has completed at least 10 progressive carries per match when operating as an inverted fullback.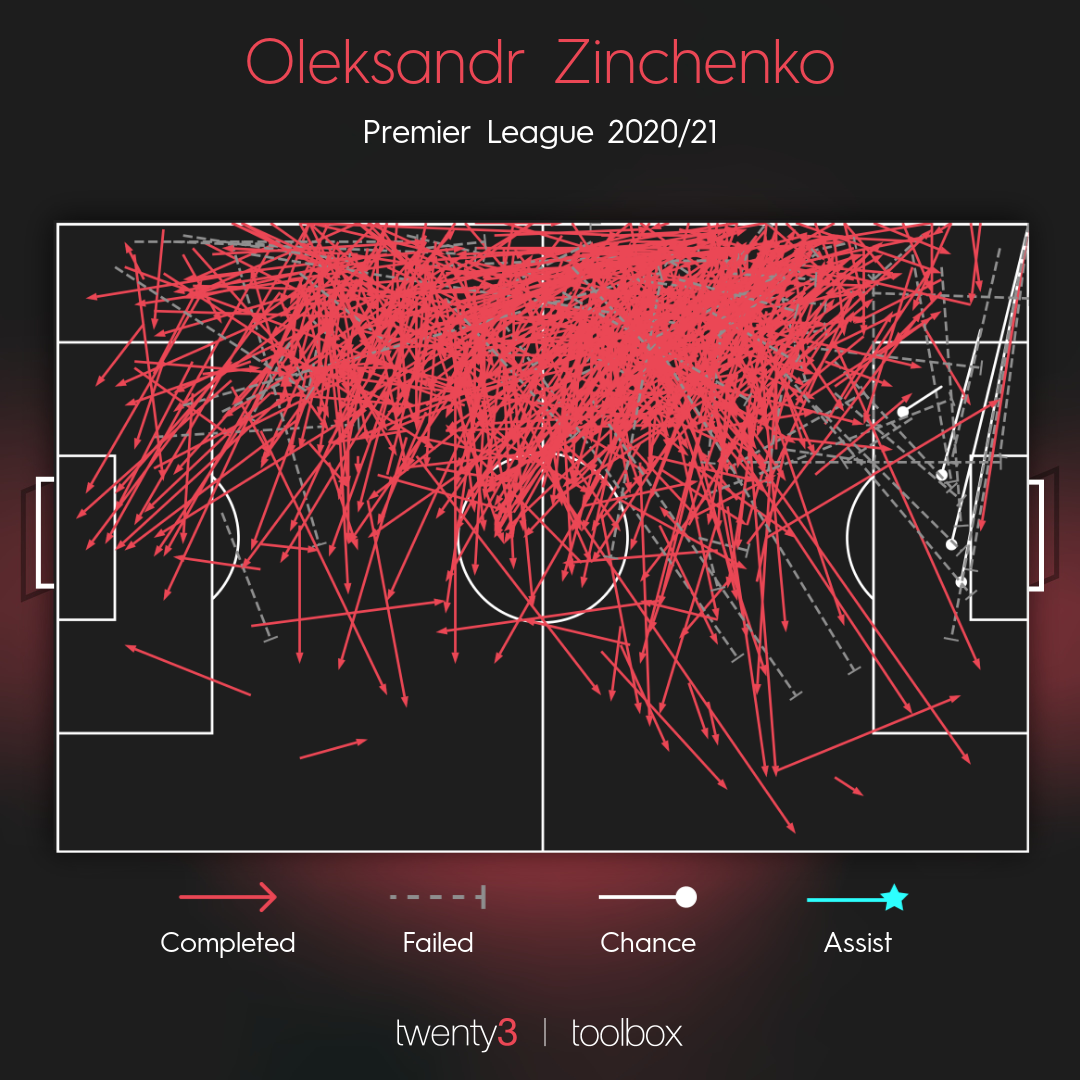 Photo: Photo:  Twenty3/Wyscout
The pass map above shows all of Zinchenko's passes in the Premier League this season. You can clearly see that the majority of these have come from the left half-space around the halfway line from the inverted fullback role.
Defending
One of the reasons why fans and even Pep Guardiola was a bit reluctant to see Zinchenko as the first-choice left back in seasons gone by is his relative defensive vulnerability.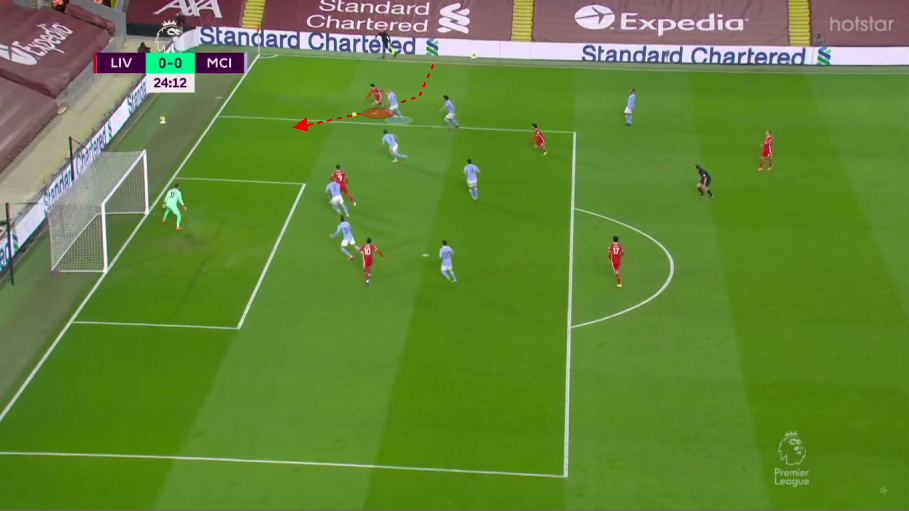 Here is a clear depiction of Zinchenko's poor one-on-one defending ability. Trent Alexander-Arnold took him to the cleaners by quite simply feinting to go inside and then quickly turning to the outside, leaving the Ukrainian fullback in a mess. Zinchenko's positioning and awareness are not the best in the business either, with his relative lack of pace often exaggerating the issue.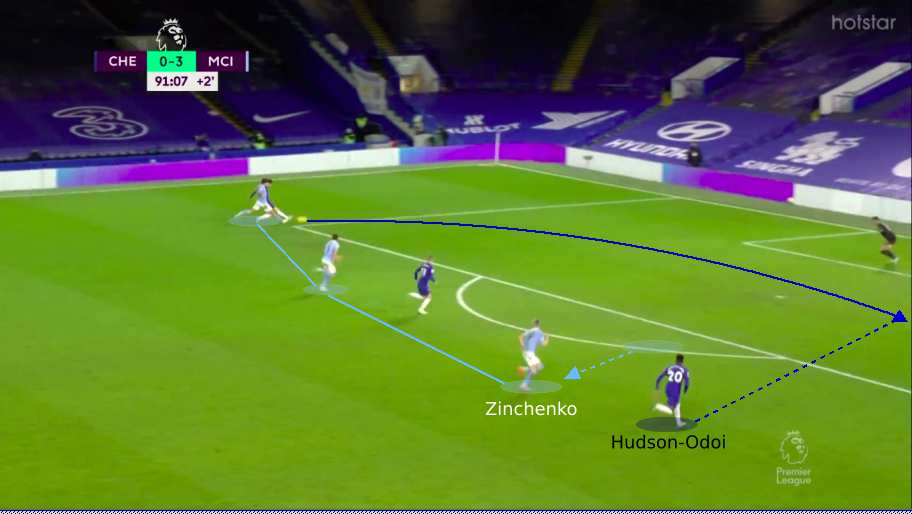 However, it must be said that he has vastly improved in this region of late, and bar this late lapse against Chelsea, it is hard to recall any occasions where Zinchenko has been caught napping this season.
One of the areas where Zinchenko is surprisingly strong, though, is aerial duels. For a man shorter than 5′ 9″, his success rate of 65.63% is very high with an average of 3.5 duels contested per 90, which puts him fourth among left backs in the Premier League with 10 or more appearances. We can get a glimpse of his aerial ability in the below example, as he beats Salah in the aerial duel.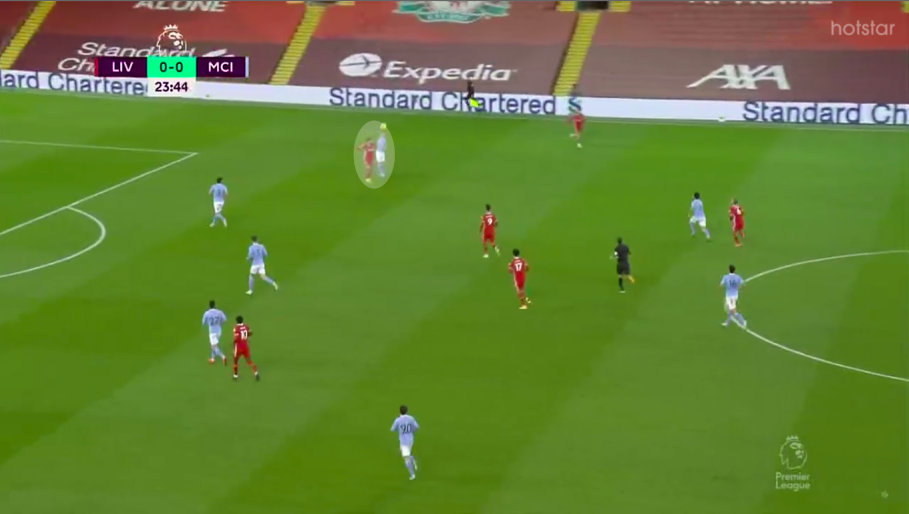 Crucially, it is important to keep in mind that given the way that they have been playing recently, City have not had too much defending to do. Therefore, it is quite difficult for opponents to try and exploit a player's defensive weakness when they barely get a sight of the ball.
Conclusion
A lot of credit must be given to Oleksandr Zinchenko for his current position in the City team. As aforementioned, he was only signed as a CFG player, yet made it into the first-team. Even then, he found breaking into the starting line-up quite difficult, so he was given multiple opportunities to leave. However, he chose to stay put and up his game to establish himself as a first-choice starter under Pep Guardiola, and he is finally reaping the rewards of his hard work.
While his slight defensive weakness will never be fully masked no matter what he and his teammates do, Zinchenko's ball progression, importance in the build-up and overall possession-play make the trade-off comfortably worth it. For all the millions that Manchester City have spent on defenders – left backs in particular – the fact that a €1.75 million squad player proved to be the eventual answer to their problems tells you all you need to know about both their recruitment and Zinchenko's attitude.
By: Neel Shelat / @ShelatNeel
Featured Image: @GabFoligno / Marc Atkins / Getty Images