Pitbull de Raça – Why Joao Gomes Could be a Revelation in Wolves' Midfield
On the 12th of February, 2001 in Ramos, a suburb of Rio de Janeiro is where the footballing journey of João Victor Gomes da Silva or João Gomes, in short, began. The young player took his first steps in football at the age of seven enrolling in a school "project" in Piscinao de Ramos in the North side of Rio de Janeiro. A year later he went in for an "audition" for Flamengo and was approved on the very same day to join the youth category of the emblematic Rio club.
In order for him to be closer to the training ground [CT Ninho do Urubu] he moved to Vargem Grande [a neighborhood in the West Zone of Rio] and his ascension to stardom began. The youngster was always highly rated by the coaches at Mengão progressing through the youth ranks at the club. At one point, João was going through a difficult period at the club but he refused to leave stating he'd make it showing his determination and will to succeed. And that persistence paid off eventually.
In 2019, Flamengo formed a phenomenal U20 squad that managed to win all five competitions it participated in, including the Campeonato Brasileiro, the Campeonato Carioca and the Supercopa do Brasil. The defensive midfielder's performances were so impressive that he got a call-up to the Brazil U-20 squad but he ended up not going with Flamengo being in the final stretch of said season.
It was then when the COVID pandemic struck but that turned out to be somewhat of a blessing for a plethora of Brazilian youngsters. Flamengo promoted João Gomes and a couple of other youngsters such as Natan[currently at RB Bragantino], Rodrigo Muniz [at Fulham/on loan at Boro] among others. With CONMEBOL raising the limit to players that can be used in the Libertadores to 50 that year, all of these youths were registered for the competition with João Gomes being the only one to actually be listed in one of the games in that competition[a 5-0 loss to Independiente del Valle].
A month later, on the 21st of October, he was given his official debut by then manager Domenec Torrent in the game against Junior Barranquilla in the Libertadores. João was introduced in the game as a halftime sub for Willian Arão. A little below two weeks after that he started his first game in the senior side in a 1-4 loss to São Paulo on the 1st of November.
Eventually Torrent left the club with Rogerio Ceni stepping in and introducing the player to even more opportunities over time especially when Arão and Thiago Maia picked up injuries. Instead of trusting someone else, the emblematic former goalkeeper gave the youngster the nod to carry the defensive duties of the side. And the player didn't really look back.
Although slowly introduced, João Gomes got another 10 starts under the command of Ceni and resigned with the club until the end of 2025 with potential being evident. He scored his first professional goal under the tutelage of Ceni, as well in a 3-1 victory against Fluminense in the Campeonato Carioca. Unfortunately, Ceni left the club in July of that year and various different managers coming in saw João Gomes' game time diminish a little bit.
He was in and out of the side under Renato Gaucho and there was even talk of the player leaving but the arrival of Paulo Sousa in 2022 saw the midfielder absolutely take off. After a phenomenal regional Championship, he became an absolute starter in the side, forming a solid partnership with Thiago Maia. What helped especially was the departure of Arão who left the club for Fenerbahçe, along with Gerson's move to Olympique Marseille. But this isn't a knock on Gomes.
He quickly became a fan favorite with his work rate and tenacity coupled with his technique. He was even given the nickname Pitbull de Raça by the Mengão faithful and despite the arrival of a notable name such as Arturo Vidal, Gomes didn't move out of the XI for a consistent period of games.
Flamengo went on to finish the season with a double as João Gomes missed the second Copa do Brasil final game after starting the first one. Flamengo won on Penalties on the 20th of October. A little over a week later he started the Libertadores final which Mengão won 1-0 v Athletico Paranaense and capped off his rise to the top of Brazilian football in a phenomenal way.
Despite finishing off what at that point would be a largely irrelevant season in the Brasileirão, João proved to be one of the most consistent and key players for the side and he eventually earned a move to Wolverhampton Wanderers in 2023, without featuring at all for Mengão as the side protected him from any unnecessary injuries.
But what made the youngster stand out? What makes him so good? What are the qualities, be they positive or negative, that made one of the best scouting pools for South American and especially the Portuguese/Brazilian market opt to acquire him for the fee they did? Let's dig right into it. 
Player Profile 
João Gomes usually occupies the central midfield area. At 176 cm, he stands out with a lot of tenacity and work rate within "the heart of the field". His determination and bravery, on top of the absolutely enormous levels of stamina that the player has is the main reason Mengão fans fell in love with him. Largely, I'd say he's more of a box-to-box midfielder with more defensive capabilities rather than a pure defensive midfielder.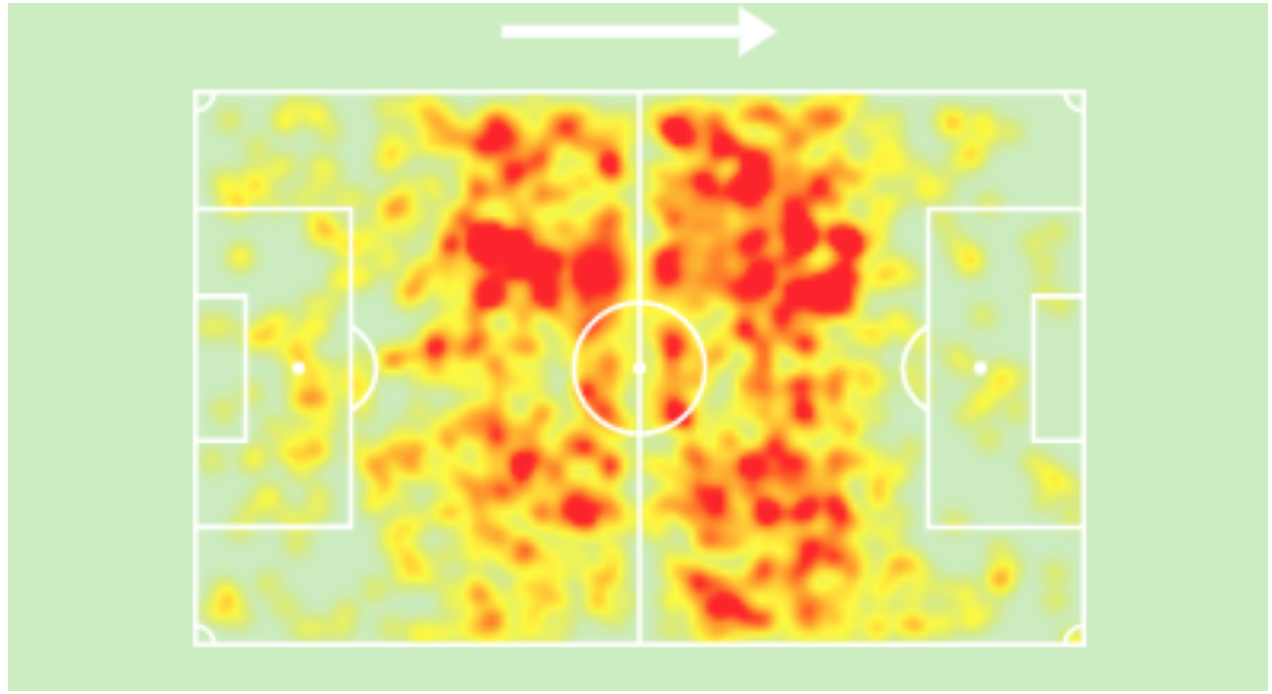 Photo: SofaScore
As evident via the heatmap above João was given the "freedom" to roam around and play a little bit higher up the pitch depending on the tactical scheme of the side and his partner. Obviously, when he had to play next to someone similar in terms [to an extent] of style of play like Vidal, he had to sit back a little bit more, whilst when next to a pure defensive midfielder like Maia, he was allowed to push up higher up the pitch.
Tackling/Defending
Undoubtedly one of his best attributes, hence his nickname, João combines his purely physical attributes which have already been mentioned with his ability to win the ball in various different ways. Despite not having a big stature, Gomes manages to tackle the ball off his opponent largely without having to go to ground which is a phenomenal quality to possess because it often gives the ability to kickstart an attacking transition very quickly.
Statistically, it racks up as 5.7 ground duels which is more than 50 % of the total ground duels the player attempts. His tackles per game also sits at an impressive number at 3.2 although sometimes he does look relatively rash. Whilst going to ground, sometimes his challenges are not well thought of and although largely successful in certain ways, they look dangerous and risky and a more fast-paced opponent could knock the ball quicker past him, resulting in a dangerous tackle and a booking which is never a good thing. 
Dribbling/Ball Carrying
As Flamengo often played a 4-2-4, João was often tasked with carrying the ball from midfield forward. He averages roughly 48.6 touches per game and given that he's gifted with fantastic on-ball ability, Gomes often takes on opponents in order to progress the ball further up the pitch. It goes to show just how well he manages to carry the ball as he completes 2.2 dribbles per game of which 71% are successful.
Vasco: The Brazilian Giant Set for Another Season in the Second Tier
Largely he does prefer to go right with his dribble/movement because of his preference to use his right foot but that is never a bad thing when you are able to glide past people the way he can. To add to that, said speed and tenacity that has already been mentioned aids the player when he beats his man and creates separation from his opponent, as he manages to "overtake" more open space in quick succession.
Passing
With the task of carrying the ball, it's obvious that his passing ability will have to go hand-in-hand and to be honest, I feel that's a little bit of a negative when it comes to him. He's not a bad passer of the ball but for the technical ability he has he's not as astute or as well-developed as one would expect. If you have to gauge his passing you'd call it above average to good.
In terms of short passes, things are fine and he can handle the ball being required to be played quickly without much hesitation but despite that he does struggle when pressed in tight spaces and with one-touch passes. It's not awful, meaning he won't misplace the pass horribly, surrendering possession in a silly way but rather he may force a move backwards and not in front of his receiver or make him struggle a tad more than needed when coming to controlling the ball.
It's visible in his statistics as well as he averages 30.5 short passes per game with 88 % of those being accurate. Of those, 19.4 are in the opposition half and the rest [11.1] in Flamengo's own half showing just how much he's required to play the ball forward or in zones 10 to 18. In terms of long balls is where I'm not sure he's absolutely great and as such rarely "risks" attempting them. He often over/under hits the ball and as such he only attempts 2.2 long balls and/or lofted passes, of which roughly half are successful. While that isn't as bad on paper, it is definitely an asset he can work on. 
Finishing
João isn't really known for his goal-scoring prowess. If anything his finishing ability rarely gets tested as he doesn't often get placed in a position for it to BE tested. It's evident as despite his over 100 appearances for Flamengo he only managed four goals, one of which was a header and the other two were against a wide open net, rather than anything.
It's not the idea to knock him down, obviously his role isn't/and hasn't been to supply the team with goals AS WELL, considering just how much firepower Flamengo have. That being said, it's definitely a trait which could be worked at as his long shots have the desired placement when you look into it, albeit they do lack accuracy. As stated, his shots aren't frequent with him only attempting roughly 0.6 to 0.8 with only 0.2 being on target. 
Heading / Aerial Duels
In terms of heading the ball, I feel João is a bit of a work in progress and requires coaching. Despite standing at 1,76 cm he does have a good leap on him meaning he can be a physical presence when it comes to winning the ball in the air or at the very least making life difficult for his opponent but at the same time he often struggles to time his jumps and is either too early or too late.
It's evident, as he does win only about 0.4 of his aerial duels which sum up to about 40 %.  When it comes to heading the ball in order to finish, purely, his technique is top notch however. He manages to place the ball well if in the right body position, which makes him a threat in a certain way. 
Crossing
Undoubtedly, one of the things that you wouldn't look into given his role on the pitch and it's quite evident with him very rarely crossing the ball, if at all during the game. In the Brasileirão, as well as the Libertadores he managed…0 % accurate crosses.
Granted, he didn't attempt much, as stated but even when the player got into such a position there is a feeling that he isn't used to it and attempts something off the top of his head. It looks aesthetically pleasing usually because the technique that the player himself has aided it but that's about it. Not something to knock him for but can definitely be coached on. 
Weak Foot
When it comes to his weak foot, Gomes does prefer to predominantly opt to use/move on his right foot which is his preferred choice. That being said, he can use his weaker foot to a good enough level that it shouldn't be an issue when setting foot on "English soil". He often even tends to attempt shots via said weaker foot because of his good level of dribbling putting him in a position to attempt the shot by creating openings which he tries to take an opportunity of. It's a trait that not many use and one to definitely encourage. 
How Would He Fit at Wolves? 
Usually, Julian Lopetegui's arrival signaled a switch to a different type of tactical approach but a similar 4-3-3 to that of Bruno Lage. The Spaniard's usual plan has been to use Ruben Neves as the deep-lying playmaker along with two more dynamic 8's such as Matheus Nunes and Mario Lemina. Usually, João Moutinho albeit slightly slower is also pushed further up the pitch along with Nunes but overall that is the plan and scheme that Lopetegui has preferred to use when setting up his side.
As such, someone like João Gomes should be used in one of said box-to-box/number 8 roles given his profile. Although not absolutely perfect, it will all come down to how he adjusts and settles to the Premier League. Obviously, he can be utilized in the lone DM role[as a 6] but I feel that with his tendency to charge forward, carry the ball and etc. he'll need a bit of tutelage tactically in order to avoid giving up large portions of space for the opponents to exploit if the ball is lost. 
To summarize, I feel that João Gomes is a fantastic pickup for Wolves. Profile-wise he fits the exact mold that the side can use when rotating and he's still very young and raw. In a sense, I feel Wolves have a gem on their hands because João sits in that middle-tier of talent where you really can't lose much with him. With the right amount of coaching he can be developed into something of a lesser version of N'Golo Kante and I'm not trying to exaggerate that comparison.
Obviously, I'm not saying he's the rightful heir to the Frenchman, what I'm saying is that his qualities and way of play resemble him in a way and if coached correctly he may look like him when featuring for Wolves [or someone else eventually].
Even if his development doesn't go as planned he's still a capable player and a good enough profile that he'll do the job required of him without "lessening" squad strength which is something every manager hopes for. That being said, throughout the years he's shown the determination and will to never give up, so I feel that it's highly unlikely he doesn't give it his all to become the best version of himself. Good luck, Pitbul! 
By: Peter Pankovski / @23Pankovski
Featured Image: @GabFoligno / Jack Thomas – WWFC / Wolverhampton Wanderers FC