Player Analysis: Andrea Pinamonti
Andrea Pinamonti was considered to be one of the brightest young prospects in Italian football when he was scoring prolifically in the youth teams of Inter. He had also captained Italy at the 2019 FIFA Under-20 World Cup, scoring four goals as the Azzurrini went on to finish fourth at the tournament.
Like many Italian youngsters, he was sent out on a number of loan spells, but he struggled to integrate into teams and find consistency. However, his stint on loan at Empoli in the 2021/22 campaign proved to be the career breakthrough the 23-year-old needed, scoring 13 goals in 36 matches as the club from Tuscany secured its safety on its return to Serie A.
Pinamonti's performances have attracted the interest of a few Italian clubs such as Monza, Atalanta, Fiorentina, and Torino, with the first two the most likely to sign the forward from Inter and he is likely to be sold for around the €20 million mark.
Empoli coach Aurelio Andreazzoli often implemented the 4-3-1-2 formation with Pinamonti up front and either the lower league veteran Leonardo Mancuso or former AC Milan prodigy Patrick Cutrone alongside him. Eventually, Mancuso went on loan to Monza in Serie B in January while Cutrone was often disappointing, further increasing the importance of Pinamonti in the Azzurri attack.
2021/22 Season at a Glance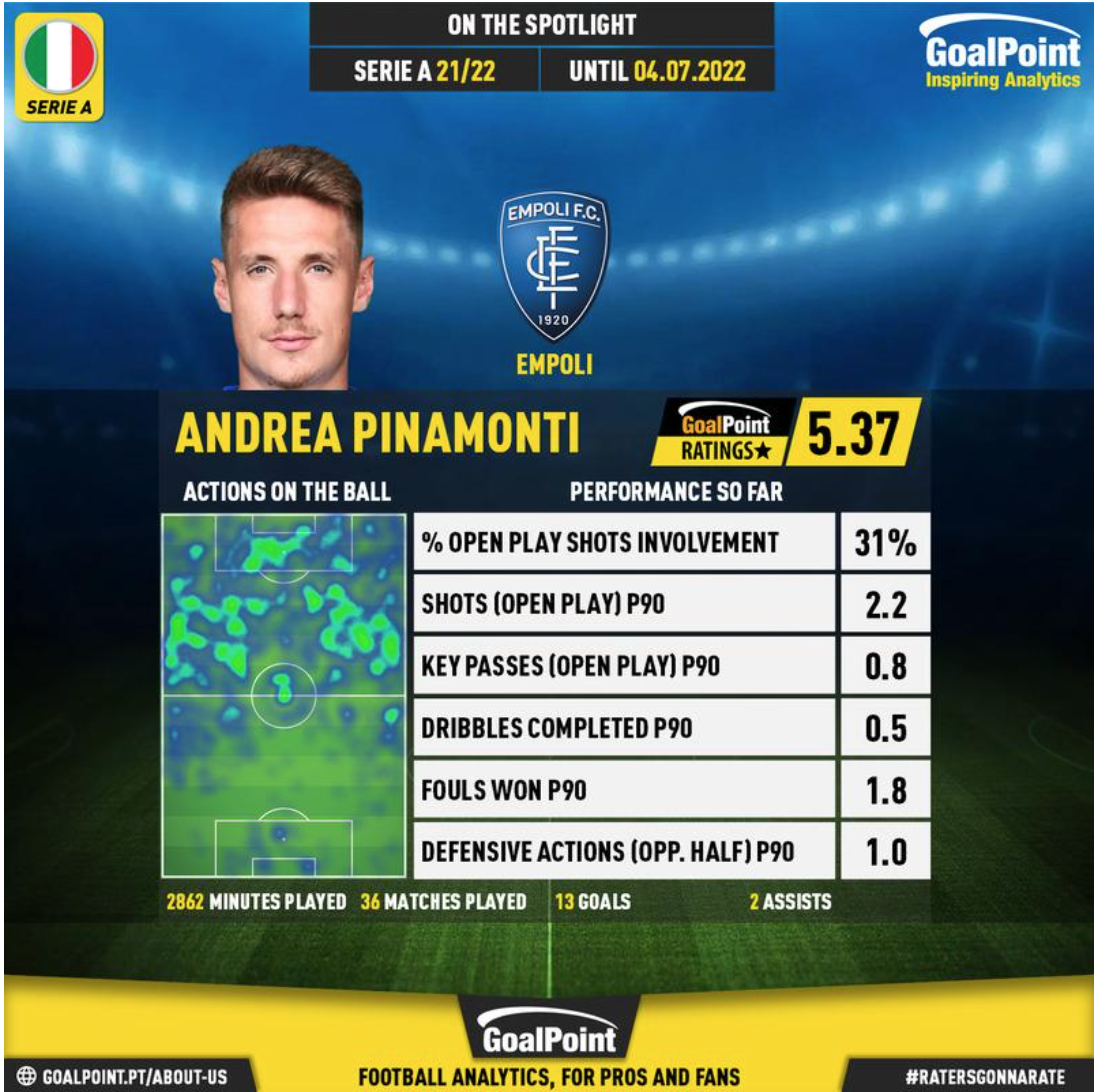 Photo: Goalpoint / @_Goalpoint
Empoli under Andreazzoli was a team that often played on the attack and obtained a few shock results throughout the 2021/22 such as defeating Juventus 1-0 away, Atalanta by the same score and also on the road, and winning twice against Napoli. 
The Azzurri finished 14th in Serie A with 41 points, but they were positioned as high as eighth and could have fought for a spot in Europe for 2022/23, given how well they played in the first half of the season.
Empoli played in a way that allowed Pinamonti to focus on his offensive game and remain present in the opposition half. According to the heat map generated by GoalPoint, the 23-year-old rarely ventured into his own half, but he covered a decent amount of ground in the opposition half, making his presence felt in the penalty area or the wings.
In addition to his 13 goals, he averaged 2.2 shots in open play, 0.8 key passes in open play, and 0.5 dribbles per 90 while also having a shots involvement in open play of 31 percent. He was fouled 1.8 times and completed one defensive action in the opposition half per 90. 
It is evident that Pinamonti was not much of a dribbler nor someone who would do a lot to shut the opposition down defensively. However, Andreazzoli was able to utilize the striker's attacking strengths. The 23-year-old could make some important passes but he was essentially there to be a finisher and he was given that trust to act as a reference point in attack.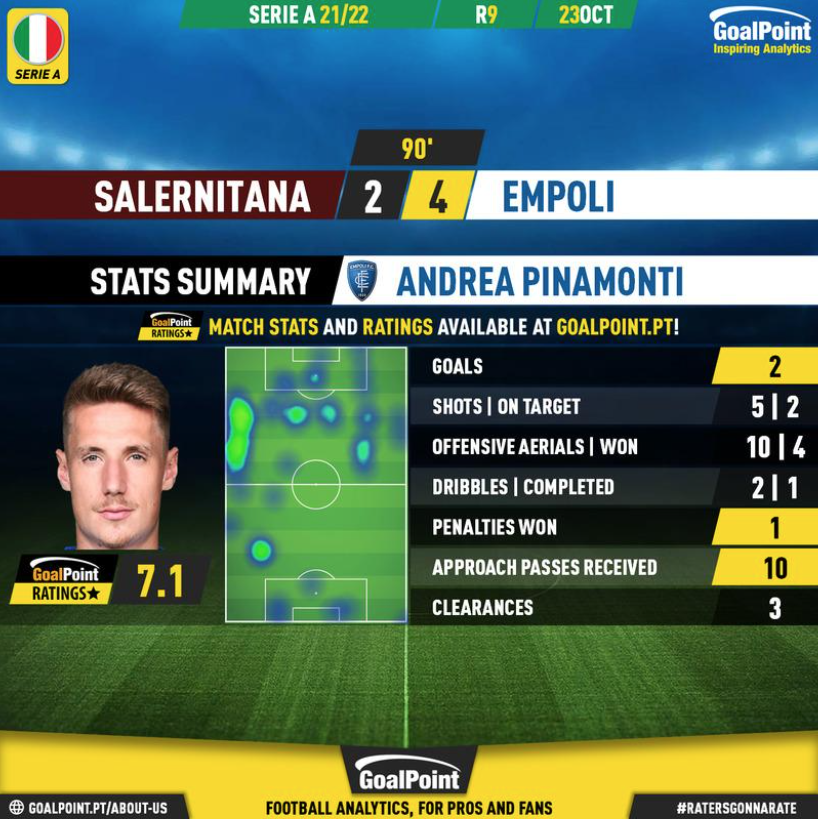 Photo: Goalpoint / @_Goalpoint
One of Pinamonti's best performances of the season was in Empoli's 4-2 victory away to Salernitana in Week 9, where he scored twice in the first half.
His first goal came after he ran onto a through-ball from Filippo Bandinelli and beat Granata goalkeeper Vid Belec with an angled drive while the second one was a chipped penalty after a VAR review spotted that he had been fouled just before half-time.
According to GoalPoint, he was able to score from five shots, won four out of 10 offensive aerial duels, completed one out of two dribbles, and had a game-high 10 approach passes received, further illustrating his importance as a reference in attack.
Surprisingly, he also made three clearances and the heat map illustrates that he made his greatest presence on the left-wing. Perhaps those goals gave him greater confidence to perform addition tasks, but it could be argued that after Empoli had gained a 4-0 lead by half-time, they did not attack with the same vigor in the second half.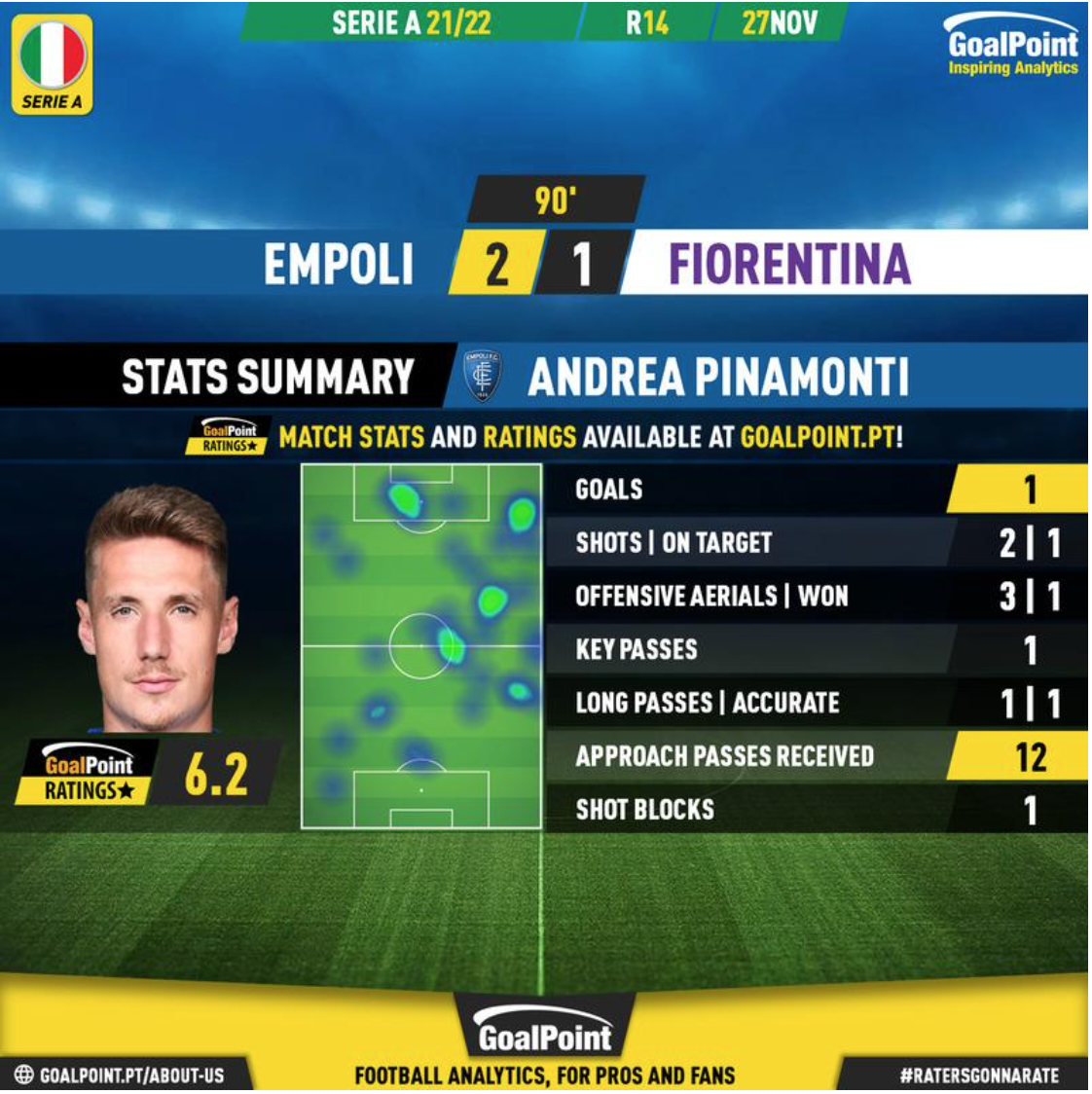 Photo: Goalpoint / @_Goalpoint
Although this was not a vintage performance from Pinamonti, his contribution in the Tuscan derby against Fiorentina in Week 14 was nevertheless decisive. He won one aerial duel, made one key pass, one accurate long-ball, and he had a shot blocked.
However, he received 12 approach passes, more than he accumulated in the emphatic win against Salernitana, and he scored the winner after Empoli made a late comeback.
Nedim Bajrami played a delightful through-ball to Pinamonti, who had two defenders close to him. The striker on loan from Inter kept his composure to take one touch forward and then beat Fiorentina goalkeeper Pietro Terracciano with a low drive.
The heat map from this particular game differs from the game against Salernitana. In the regional derby against Fiorentina, Pinamonti is present in certain parts of the pitch.
Naturally, he was present in the penalty area, but he was also spotted in central midfield and some sections of the right flank. Even if he did not have a lot of touches on the ball, he would still move elsewhere to receive those passes from teammates.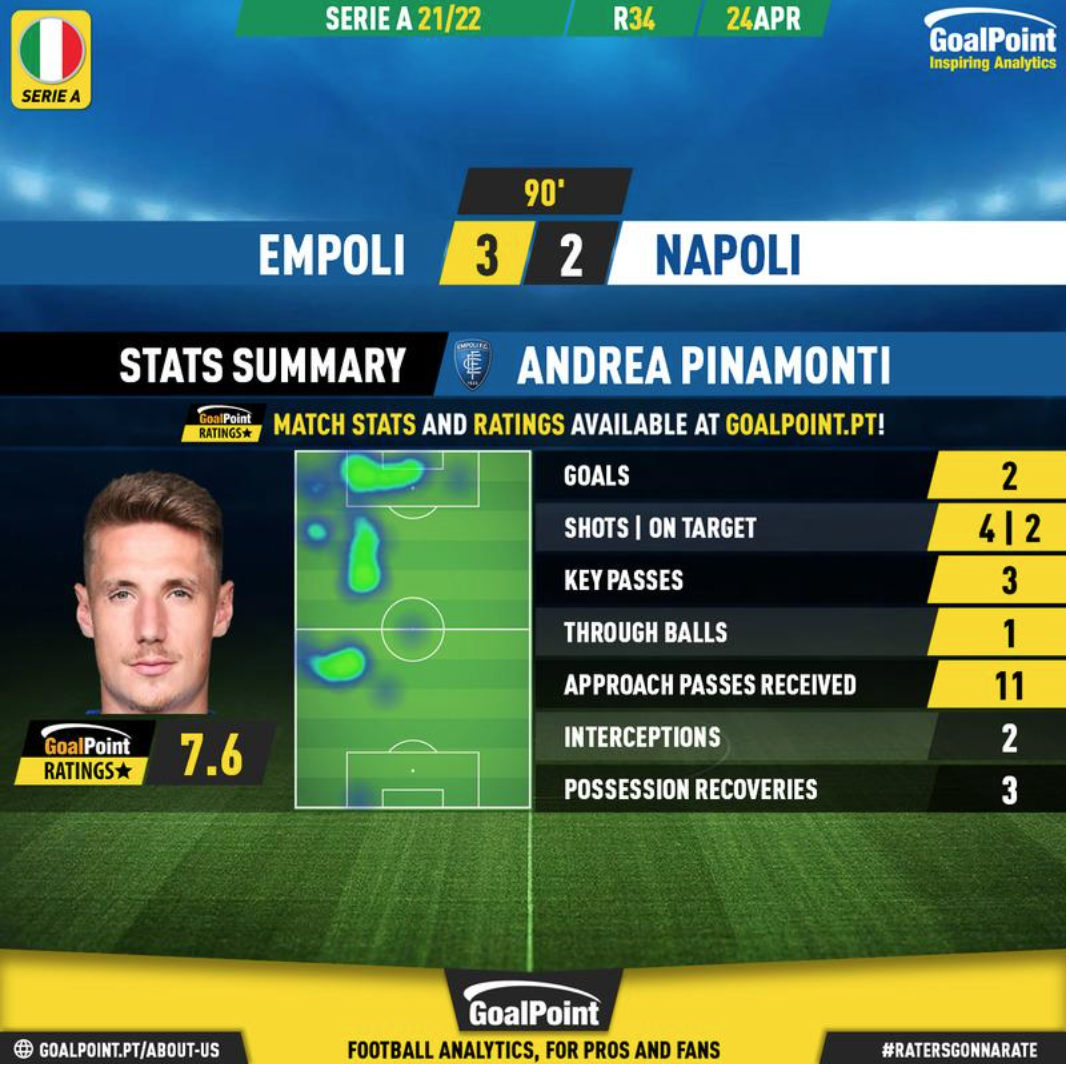 Photo: Goalpoint / @_Goalpoint
One of the greatest shocks and most remarkable comebacks of the 2021/22 Serie A season was Empoli's 3-2 win against Napoli in Week 34, which effectively crushed any hopes that the Neapolitans had of winning the title. 
Pinamonti had arguably his best performance of the campaign, scoring twice in a four-minute spell late in the second half. Napoli had been leading by two goals before Liam Henderson pulled a goal back in the 80th minute, and then a calamitous error from Partenopei goalkeeper Alex Meret allowed Pinamonti to equalize.
The young striker scored the winner after 87 minutes, when Bajrami crossed from the right and the former Italian youth international slid in at the far post to beat Meret from close range. Aside from the goals, he was first for shots in the game with four including two on target, three key passes, one through-ball, and 11 approach passes received.
Not only did Pinamonti display his scoring instincts, he was also more involved in Empoli's build-up play. He also had two interceptions and three ball recoveries with the equalizer coming from one of those interceptions.
Ismäel Bennacer: Milan's Algerian Regista at the Heart of their Scudetto Triumph
The heat map for this match shows that he was more active in the play compared to the other two games analyzed. He would appear on the left flank at times, in the channel where the left central midfielder would operate, and of course, in the penalty area. The goals were the main factor in this game but it showed that he does not need to limit himself to the opposition box.
Conclusion
After failing the hit double figures in previous seasons, Pinamonti finally did so at Empoli and he showed that he can be a leading figure in attack. The big test for the striker owned by Inter though is if he can do it at a club with greater ambition or higher expectations than a perennial battler like Empoli.
At 23 years of age, there is plenty of room for improvement, but if the 2021/22 season was anything to go by, Andrea Pinamonti is capable of becoming a regular feature in Serie A.
By: Vito Doria / @VitoCDoria
Featured Image: @GabFoligno / NurPhoto