Player Analysis: Nedim Bajrami
After winning the Coppa Italia in 2019/20, Napoli failed to defend its title in the following season as Atalanta had eliminated the Partenopei in the semi-finals. It must be said though, that title defense could have ended as early as the Round of 16 if it wasn't for a lucky escape against Empoli.
The Tuscan club would eventually be crowned the Serie B champions at the end of the 2020/21 season but Empoli nearly gave Napoli a fright in its 3-2 defeat to the Serie A side in the Coppa Italia.
Both goals for the Tuscans came from a Swiss-born Albanian midfielder named Nedim Bajrami. Operating behind strikers Ryder Matos and Marco Olivieri, Bajrami scored two goals of exceptional quality, and it seemed that his strikes could have been the foundations for a shock victory but Andrea Petagna eventually won it for the Neapolitans.
Bajrami played a crucial part in Empoli earning promotion from Serie B, and he has been a key player for the Empolesi in Serie A, scoring six goals and supplying three assists in 27 matches so far in 2021/22.
His form since joining the Italian club has also prompted him to switch allegiances from his birth nation of Switzerland and represent his ancestral homeland of Albania.
Born in Zürich, Switzerland on February 28, 1999, Bajrami had come through the youth ranks at Swiss giants Grasshoppers and played for the second team before making his senior debut in February 2017. After spending two-and-a-half seasons in the Grasshoppers senior squad, he was acquired by Italian club Empoli.
Bajrami joined the club from the Tuscany region in central Italy in August 2019 for an initial loan fee of €300,000 with an option to be bought outright. The Swiss-born midfielder was coached under three different tacticians in 2019/20 and it was under the third when his and the team's performances improved.
Empoli had been relegated from Serie A at the end of the 2018/19 season and it was at risk of getting dragged into the relegation zone. Cristian Bucchi was appointed at the start of the season and then he was replaced by Roberto Muzzi. 
Bajrami was tested in a variety of roles, but when Pasquale Marino replaced Muzzi after Week 21 of the 2019/20 Serie B campaign, the Swiss-Albanian starlet was used as a wide forward in the 4-3-3 formation. 
The Tuscans eventually finished seventh at the end of the season and were eliminated by Chievo in the play-offs despite a 1-1 draw in extra-time due to an inferior position in the league table. 
It was a decent season for Bajrami by the end of it, who scored five goals and supplied four assists, and Empoli bought him outright by paying Grasshoppers €500,000.
His form improved in 2020/21 under new coach Alessio Dionisi, who was hired from Venezia. The tactician implemented the 4-3-1-2 formation and placed the midfielder behind the strikers.
Empoli dominated Serie B and finished on top of the table, four points ahead of Salernitana. Bajrami had an impressive league campaign as well, playing 36 times, finding the back of the net five times, and providing eight assists.
However, it was his performances in Coppa Italia that stood out more than his Serie B performances and that was because he showed that he was not overawed by Serie A opponents.
Empoli started its 2020/21 Coppa Italia campaign in the second round and defeated Serie C side Renate 2-1. In the third round, the Tuscans had to face Benevento away.
Surprisingly, it was the Serie B side that triumphed against the Serie A club in Campania, winning 4-2, and Bajrami played an important role, supplying two assists in the second half.
Empoli then had a 3-0 walkover win in the fourth round against Brescia but the Empolesi were drawn against Napoli for the Round of 16. 
Things seemed to be going to plan when Giovanni Di Lorenzo gave the Serie A club the lead with a header after 18 minutes but Bajrami leveled the scores 15 minutes later with a splendid strike that curled around a couple of defenders and beat Napoli goalkeeper at the far post.
Hirving Lozano regained Napoli's lead in the 38th minute but the Partenopei could not rest easy. After 68 minutes, Bajrami made it 2-2 when he received the ball, had two defenders charging at him, and he managed to get a low, curling, and powerful shot way.
Andrea Petagna scored the winner for Napoli after a scramble in the box but nobody could take anything away from Bajrami and his stellar individual performance.
It was around this time that Bajrami decided to switch allegiances on the international stage. He had represented Switzerland as a youth international at every level from the Under-15 team to the Under-21s.
Switzerland under-21 coach Mauro Lustrinelli did not select the attacking midfielder for the 2021 European U-21 Championship and had to explain that the Empoli player wanted to represent the country of his heritage instead of his nation of birth.
"We tried hard to convince Nedim to continue playing for Switzerland," Lustrinelli said on March 9. "But then he told us that his heart beats stronger for Albania. 

"For us, identification is one of the fundamental values ​​for a Swiss national player. So, we had no choice but to let him go."
The sage did not end there. A ruling in May 2021 from FIFA had initially barred Bajrami from representing Albania despite obtaining an Albanian passport.
Their justification was that the player was not a dual citizen when he had represented Switzerland as a youth international.
However, the case went to The Court of Arbitration for Sport and a fast-tracked video hearing in August ruled in favor of the Federata Shqiptare e Futbollit (FSHF) and Bajrami, allowing him to play in Albania's World Cup qualifiers in September.
"The panel considered that Nedim Bajrami never played with the Swiss (senior) national team and already held Albanian nationality," the court said.
Bajrami has gone on to play six matches for Albania so far under Italian coach Edoardo "Edy" Reja. He has not scored a goal or provided an assist yet but a player with his talents should be able to break that drought in the near future.
Meanwhile, he has impressed in Serie A and Empoli has produced some shock results, none more so than defeating Juventus in Turin in the second round of the 2021/22 Italian league campaign.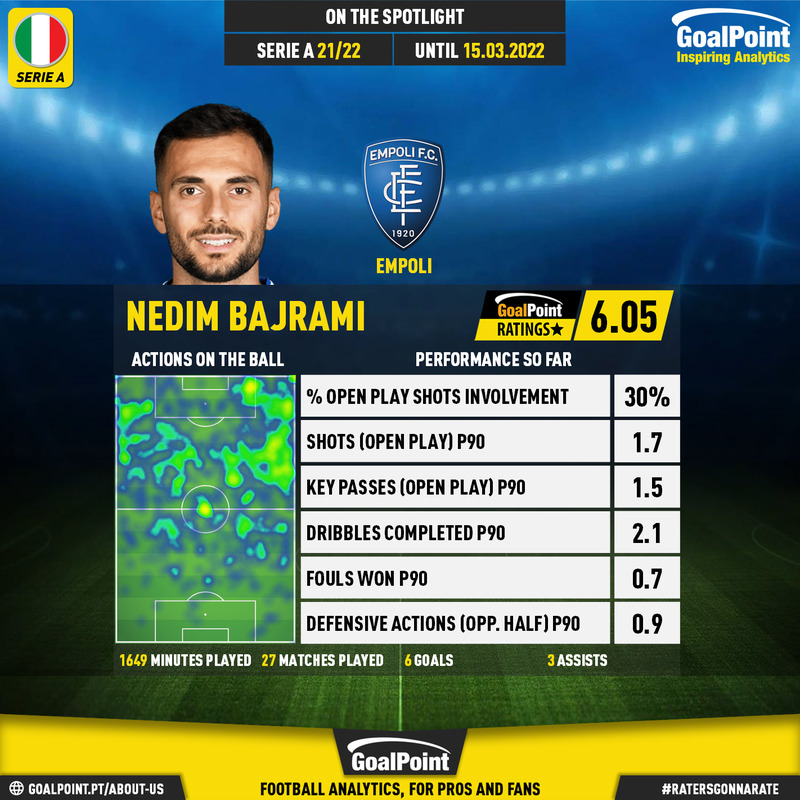 Photo: @_Goalpoint
According to GoalPoint, Bajrami has been involved in 30 percent of Empoli's shots in open play, and averages 1.7 shots in open play, 1.5 key passes in open play, 2.1 completed dribbles, draws 0.7 fouls, and makes 0.9 defensive actions in the opposition half per 90 minutes.
The 23-year-old has been a key part of Empoli's attacking and it also shows that opponents have been targeting him a fair bit based on his fouls won per 90.
The heat map indicates that he does drift often to the wings to collect the ball and influence the play, and he does not operate a lot in central channels.
It also indicates that Bajrami does not track back a lot. He does commit most of his defensive actions in the opposition half though and under Aurelio Andreazzoli, the coach has relied on the Albanian international more for his creative attributes above anything else.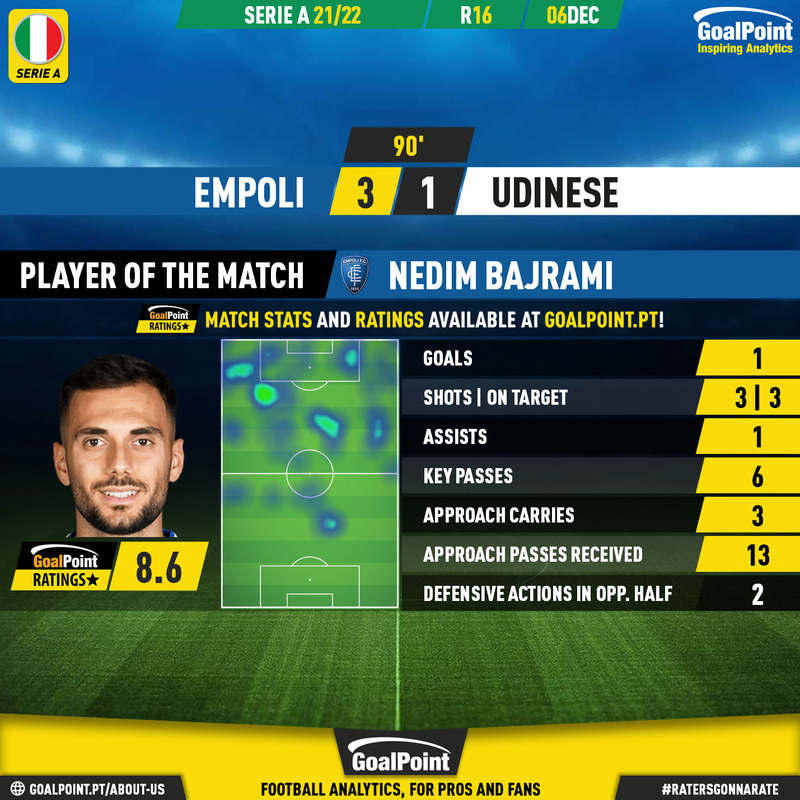 Photo: @_Goalpoint
One of Bajrami's best performances this season has been in the 3-1 victory against Udinese, where he scored his team's second goal to give it the lead, and he assisted in Andrea Pinamonti's goal to seal the win.
The attacking midfielder did not cover a lot of area but he was dangerous whenever he had the ball.
He had three shots which were all on target, made six key passes, three approach carries, he received 13 approach passes, and committed two defensive actions in the opposition half.
It was a match in which his creative talents were trusted and his teammates used him as a reference point. Most importantly, he used the ball to best effect and had a direct involvement in the goals in a victory.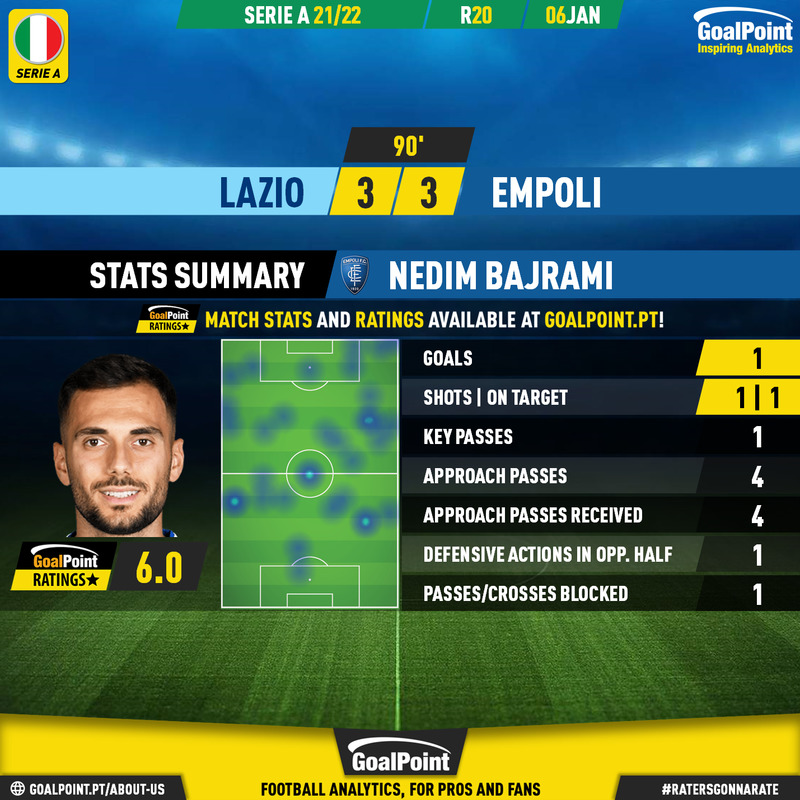 Photo: @_Goalpoint
Another game in which he was involved in the goals was in the crazy 3-3 draw away to Lazio in Week 20. He did not have much involvement in open play, providing one key pass, received four approach passes, and made four approach passes. However, he did score the open goal after Federico Di Francesco was fouled and he converted the penalty. 
Empoli had gone 2-0 up after just eight minutes, Lazio came back to draw 2-2 in the second half, and the Tuscans managed to regain the lead before Sergej Milinković-Savić equalized in stoppage time.
The Tuscans are 13th in Serie A after 29 rounds with 32 points but they were placed as high as eighth. However, they should be able to accumulate enough points to avoid relegation back to Serie B.
Regardless if they stay up or not, Bajrami will probably leave at the end of the season. The likes of Napoli and Atalanta have been linked with the Albanian international and he will probably be displaying his talents away from the Stadio Carlo Castellani in the near future.
The purchase of Bajrami from Grasshoppers looks like a bargain in hindsight and Empoli certainly made a shrewd decision to bring him to Italy in the first place.
By: Vito Doria / @VitoCDoria
Featured Image: @GabFoligno / Jonathan Moscrop / Getty Images