Player Analysis: Anthony Martial
Since Sir Alex Ferguson's retirement, Manchester United have struggled to find a center forward with the ability and consistency to lead the line for an extended period of time. Robin Van Persie and Wayne Rooney played leading roles in United's 2012/13 Premier League title conquest, but both players found themselves on the physical decline after 2013. Zlatan Ibrahimović and Romelu Lukaku have shown glimpses of their world-class ability, but they too were ousted after a short spell at Old Trafford.
The Red Devils have endured a managerial merry-go-round since Ferguson's departure, with David Moyes, Louis van Gaal and José Mourinho all desiring different types of strikers to suit their different systems. Current manager Ole Gunnar Solskjær has settled on starting Anthony Martial up front in his preferred 4-2-3-1 formation.
The Frenchman was signed by van Gaal as a 19-year-old from AS Monaco for an initial £36 million on deadline day in 2015, which made him the most expensive teenager at the time. The high price tag came with good reason as he was dubbed the 'next Thierry Henry' – a moniker that he has yet to live up to. However in the 2019/20 season, the now 24-year-old demonstrated real versatility and has improved to a level such that he is now an integral member of the starting line-up.
Strengths
Finishing
The French international is is able to do many of the tasks required by a modern day striker, the most important of which is his finishing ability. Martial is a deadly finisher with his ball striking technique similar to that of Lionel Messi, which helps him convert more difficult shots that many players are incapable of scoring.
Since arriving at United, Martial has outperformed his expected goals (xG) every season with the 2019/20 season seeing the biggest overperformance to date. I will touch on whether this is actually a positive later on but for now, we will look at the variety of Martial's finishes.
This first GIF is an example of Martial's toughest finishes with some long range misses included as well. He has the ability to strike the ball from distance with impressive accuracy on either foot. Most of his shots from range come from the left hand side as he loves to cut in from that side before shooting – a trademark finish for Martial.
The GIF also highlights some of his finishes from inside the box, where he can either strike the ball powerfully or place it into the far corner. The quality of finishing on display and the diverse range of shots is what makes his finishing his strongest attribute.
Not only is Martial very good at scoring difficult shots, he is great at converting 1v1 opportunities His speed and movement combined with United's attacking interplay gives him plenty of opportunities to face the goalkeeper alone and more often than not, he puts these chances away.
When looking at this GIF, a clear pattern shows up in how well Martial is able to convert these 1vs1 situations. He has two ways of scoring and those are to either shoot low into the bottom right corner or to chip it over the keeper. Both of these are very effective with the first being much simpler.
Shooting to the right is a much more effective strategy than shooting to the left as the ball curls away from the keeper and back in to the goal, which makes it harder for the keeper and also limits the risk of missing the target. Going left would mean the shot is likely to go through the keeper and is also harder to keep on target as it curls away from goal.
Martial electing to chip the ball is also a smart option even if it is harder to execute. Goalkeepers tend to go to the ground early to swoop the ball, which gives the attacker much more space to aim at. The Frenchman has mastered the chip finish in these situations because he waits for the keeper to go to ground before lifting the ball over. This requires great timing, which is why you see him attempt little chips as the window is so small to get the ball over the goalkeeper.
Ideally, you would like to see him include finishes to the bottom left, providing the angle is right, or aim higher on either side of the goal so that he has a little bit more versatility in his 1vs1 finishing. While he is already a strong finisher, he can and should make these adjustments in his game to give him a better repertoire in terms of his shooting.
Dribbling
Another important attribute that Martial possesses at a high level is his quality in dribbling. Having excelled on the wing, he is usually required to beat an opposition defender to either progress the play, create or score. This also helps him get out of opposition traps and double teams, which will help United since it can give the team an added dimension in their attack.
The underlying dribbling numbers from Martial's 2019/20 Premier League campaign are fantastic, especially for a striker. Per fbref.com and Football Slices, he averaged 2.2 successful dribbles per game which is in the 90th percentile compared to strikers across Europe's top five leagues. He completed 61.5% of his total dribbles, with the common threshold of being an elite dribbler being over 60%.
Martial showcases excellent footwork and has a great ability to quickly shift his feet and his body in a horizontal direction to beat his man. He favours going to his right given that it is his stronger foot and that he likes to cut inside, but he is just as comfortable going to his left. His tight ball control helps him use skill moves to get past players or get through small gaps between a couple of defenders.
However, his preferred way of beating his opposition is by faking a direction with his foot before gliding either direction to beat his man, as seen against Watford in the GIF above. This style is incredibly effective since the fake baits the defender into making the first move, which gives Martial the opportunity to counter and get past his man. Defenders don't always get baited but they do tend to anticipate to where the Frenchman will go, which opens up the same option.
Martial's close control makes him difficult to tackle and a nuisance in the penalty box, and his size and sneaky strength compounds this issue for defenders. He uses his 5'11 frame very well when defenders try to tackle him, guarding the ball against physical defenders and keeping it glued to his feet.
In addition, Martial has a strong base which helps him back into a defender without getting outmuscled often, especially considering that he more often than not manages to beat his fullback.
Link-up and combination play
An attribute that Martial has added to his overall game in recent years is his link-up and combination play. His ability to create chances for his teammates via his link-up play is demonstrated by his 2.91 shot-creating actions per game, although this is a notable drop-off from the season prior where he averaged 3.3 per game, albeit as a winger rather than a center forward.
With Solskjær starting Marcus Rashford, Martial and Mason Greenwood as his front three and Bruno Fernandes coming into the fray from January, United have enjoyed a flexible and fluid attack that is dependent on good combination play and movement. Below we can see some examples of the good work Martial does, whether that's playing one-twos with his teammates or holding the ball up before playing short passes to onrushing attackers.
Martial likes to combine with teammates all over the pitch but mostly in the final third and on the left side, since he picks up that position more frequently. The example against Aston Villa is a great example of this, as he combines with Fernandes and Luke Shaw before the latter finds the former for a scoring opportunity. While this move would not have resulted in a goal or assist for Martial if United had scored, these creative manoeuvres are important for United's attack to function.
One trait that Martial can and should add to his game in order to elevate his link up play is a consistent first touch pass. Thomas Müller has mastered this move and has helped transform Bayern's attack in the final third, although it's true that he enjoys more willing runners in attack such as Serge Gnabry and Robert Lewandowski.
There have been glimpses of this in Martial's game with little flicks to find teammates, but given his great ball control, there is definitely an opportunity for him to diversify his skillset and become a more potent creator.
Defensive contribution
Following the lockdown, Martial has improved his defensive work rate, a part of his game that has been heavily criticised in the past. There can still be some improvements to be made in this department, but under Solskjær, we have seen a more dedicated and persistent Martial when it comes to pressing the opponent's build-up and winning the ball back.
His pressing has gone up another level since the Premier League's restart, with the below example against Aston Villa showcasing a mixture of his strength and pressing in once action.
It should be noted that he only averages 3.7 successful pressures per game, which is quite poor and in fact, ranks in the 30th percentile against strikers in the top five leagues. However, this is mostly down to United's pressing structure wherein which Martial is usually outnumbered by opposition players as they don't look to counter press when losing the ball and tend to retreat into a compact defensive mid-block.
This is further demonstrated by their PPDA, or passes allowed per defensive action in the opposition half, ranking 6th best in the Premier League in the 2019/20 season behind rivals Leicester City, Liverpool and Manchester City.
It should be also noted that his successful pressures per game is an improvement from the year before, where he only managed 2.9 per game, although this is also due to his positional shift from a left winger to a center forward. Rashford's successful pressures dropped when he moved to the left wing after playing the majority of minutes as a striker in the 2018/19 season, whereas the Frenchman's tally went up when he moved to the center forward position.
Weaknesses
Positioning
One of the main areas that Martial must improve upon is his positioning in the pitch. When looking at his heat map from last season, there are a few warning signs.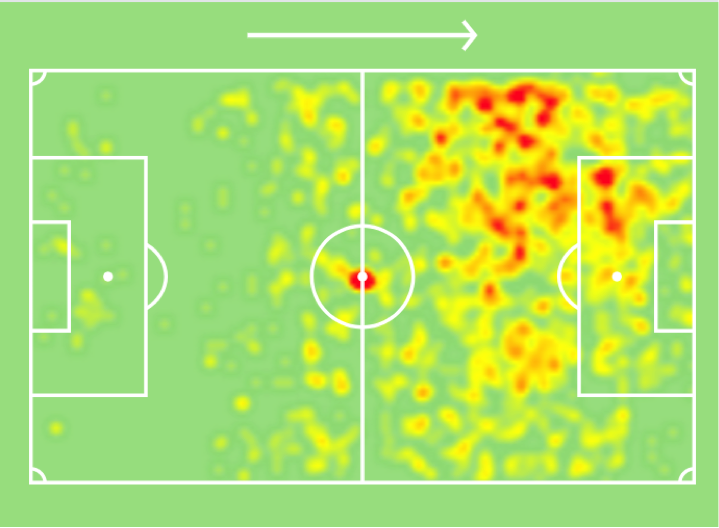 Martial tends to pick up areas in and around the left half space and drift inwards, which can be seen in the heat map with the more red marks on the left hand side. This creates an issue for United given that Rashford also occupies a similar position, but he has done a great job of playing on the left touchline as an inverted winger.
Whilst Martial has found a sweet spot in the left half spaces dating back to his time in Lyon's academy as a winger, he needs to become more of a presence in the box in order to excel as the focal point of attack. If he doesn't improve in this area, him and Rashford will continue to clog each other's zones.
Perhaps the biggest issue is that his positioning affects his shot quality and location. The strongest scoring chances come in central locations closer to the goal, but when you look at Martial's shot map, the majority of his shots come from the left half space and aren't close enough on goal.
This leads to Martial having a xG per shot of 0.129, only enough to be in the 43rd percentile against strikers in Europe's top five leagues, and an overall 0.35 non-penalty xG per game, only enough to be in the 60th percentile.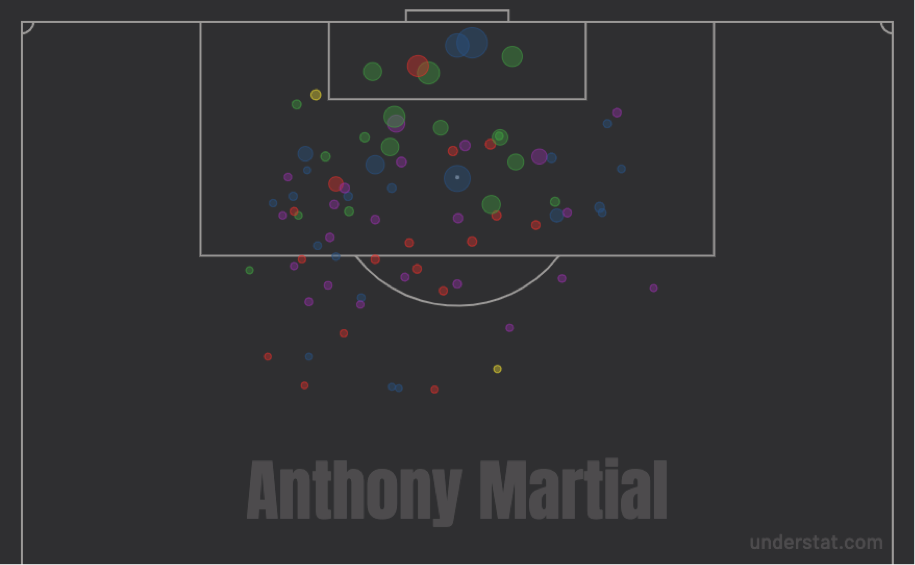 Not only that, sometimes he can find himself unable to lose markers in the box and then ends up ball watching, which ultimately takes him out of the play. Instead, he should position himself on the last line of defenders and come back onside whenever the ball is played into a wide area. These two goals he scored against Sheffield United are a great example of how it is done.
Off-the-ball Movement
Another area in which Martial can improve in is his running off the ball. It's certainly not an area of concern as he shows enough effective movement, but he needs to be a little smarter so that United can maximise their opportunities on attacks.
There are times where he runs in behind or stretches the pitch and doesn't get found with a pass, with either teammates not opting to play the ball in behind, or the pass doesn't reach him.
However, he doesn't nearly make these runs enough, which can be seen by the fact that he averages only 0.48 offsides per game. While offsides are obviously a negative, they do indicate whether a player prefers to play on the shoulder of defenders or prefers to receive the ball to feet.
Players such as Jamie Vardy, Gabriel Jesus and Tammy Abraham all have higher offsides per 90 and are players who have better quality shots at better locations. This proves that Martial needs to try and run off the shoulders of defenders in order to get higher quality of chances.
He also needs to improve when it comes to using his movement to create better opportunities for himself or his teammates. Below we'll take a look at two examples from United's win over Aston Villa.
United are attacking in transition with Fernandes and Martial, and the latter does a great dummy to create separation with the defender marking him. However, he opts to run on the outside, which was the wrong decision.
Firstly, the pass over a defender and into the path of Martial is extremely tough for Fernandes, especially with a Villa defender in front of him. Secondly, had Martial chose to run in the inside, he would have allowed Fernandes to make a darting underlapping run to provide a passing option.
As the play develops, Fernandes plays a short pass into the inside, expecting Martial to be there because that was the correct run to make.
We see the same mistake later in the first half but Rashford is involved in this move as well. Again in transition, Fernandes is running with the ball and Martial makes the same dummy before running on the outside. Had he made the inside run, going downwards in this case, Martial would have been in his favourite position and would have also had Rashford making a third man run with Fernandes also an extra passing option.
Instead, both Rashford and Martial are running in the same direction and Fernandes is forced to play the ball backwards. If Martial is able to make the better decision on these runs in behind, it will help United massively in transition.
Should Martial move back to LW?
Manchester United are blessed with two great young forwards in Martial and Rashford but it has been a big topic of discussion as to who should play in which position. Both players enjoyed their most productive seasons yet in terms of his goals in a Premier League campaign as they both hit 15+ goals for the first time in their careers under Solskjær.
Martial's skillset lends itself to being a striker, with his link-up and combination play being a key part of that. However, his excellent finishing does bring up some questions. Earlier in this article, I had mentioned whether Martial's finishing is actually a positive thing and how he had overperformed his xG. For the most part, it is a positive, but the underlying numbers are a cause for concern.
Last season, Martial scored 16 non-penalty goals with his non-penalty xG being at 12.48 in total. He outperformed his xG by 1.28 times, an unsustainably high deviation from the mean. Only players like Lionel Messi can consistently outperform their xG at this rate, but his goalscoring numbers should merely take a small hit given that Martial is still an excellent finisher and a consistent xG overperformer.
Another issue is the lack of shots Martial that attempts per game. Both Rashford and Greenwood attempt more shots, as Martial is unable to muster over three shots per game, a lower tally than the likes of Abraham and Jesus. Given that the Frenchman's non-penalty xG is also low, this is quite a worry.
Combining Martial's lack of good quality shots at poor shot locations and overperformance in finishing with a lack of an aerial presence and persisting issues surrounding his movement and positioning, there is credence to the idea of moving him back to the LW position. Furthermore, the 24-year-old loves to play in the left half-space and drift inside, so a move back to his old position makes sense.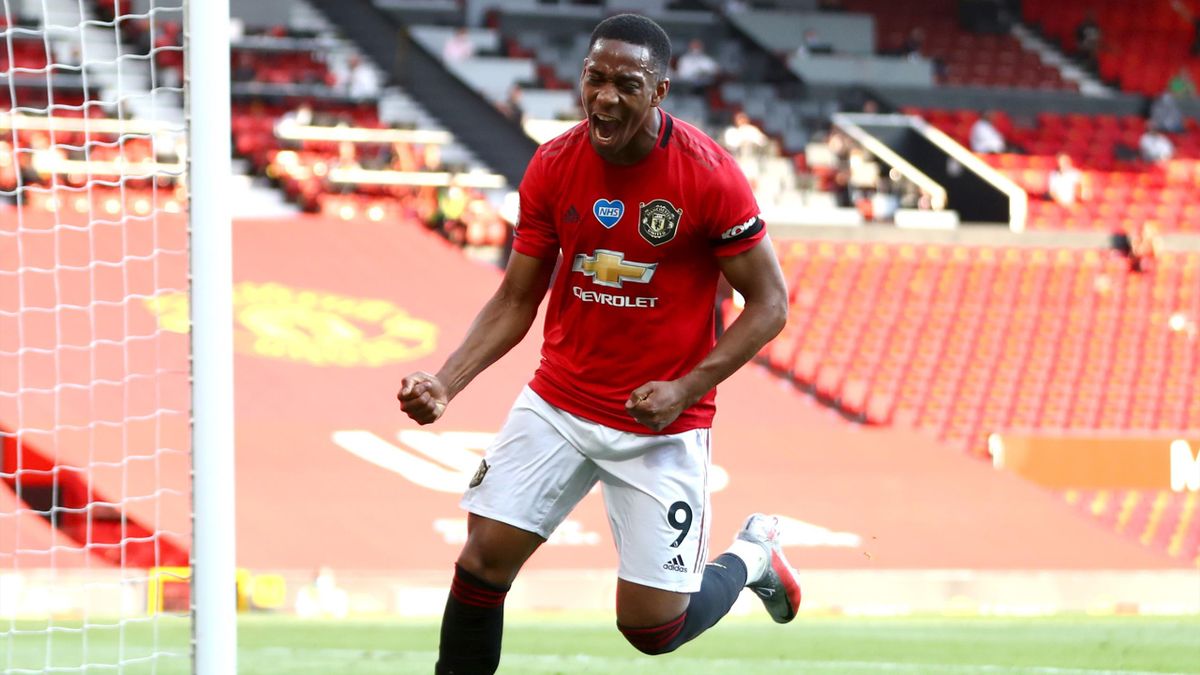 Photo: Getty Images
With Alex Telles coming in and likely overlapping on the left hand side, the left wing position will now likely become an inside forward as opposed to an inverted winger, where Rashford played last season. This is a role that Martial would be extremely suited for, but the best option for now is to keep things as it is.
Martial's hold-up and link-up play is an asset that United require at the striker position, and his efficient finishing helped them achieve a Champions League spot. Meanwhile, Rashford has shown improvement in his playmaking, and with Telles arriving, this is a partnership that could boost his output even more.
If Martial can continue to score at a similar rate as he did last year despite the lack of great underlying statistics, the likelihood is that he will continue to play up front and excel at it.
Conclusion
During his time in Manchester, Anthony Martial has been an enigmatic talent, with plenty of staunch supporters and vocal critics. The French international still has tendencies to dip in and out of form like many players, but United also need to provide him with more chances in order for his goalscoring tally to improve.
Martial's excellent finishing, tricky dribbling and an overall impressive skillset has made him a dangerous player in the Premier League and one that Solskær heavily relies on. The Frenchman is still a few years away from reaching his prime, and having reached his best goalscoring numbers under his Norwegian manager, he is well on his way to becoming the center forward that United have desperately needed since Sir Alex Ferguson's retirement.
By: Thano Thayalan
Featured Image: @GabFoligno / Sebastian Frej / MB Media / Getty Images