Player Analysis: Diogo Dalot
Diogo Dalot has endured a turbulent career at Manchester United. There have been up and downs in the four seasons he has been at the club after being bought under then manager and fellow countrymen José Mourinho.
But in the 2021/2022 campaign, Dalot seems to have found his feet at Old Trafford and now sees himself as the first-choice right-back and the backing of Rangnick has given him the chance to prove his worth at Manchester United.
In this player analysis, we will delve into what makes Diogo Dalot a huge favorite of a large section of fans and the current interim. 
Dalot's United Career
The Portuguese international was bought for 18 million pounds from FC Porto, a club that Mourinho has very good relations with after winning a famous, unprecedented Champions League – which helped United close the deal for a player who was attracting serious interest from the likes of Borussia Dortmund and Atlético Madrid at the time and have shown similar interest in recent times. 
Dalot came in as an understudy for the old guards Antonio Valencia and Ashley Young and stayed in this role for his first 2 seasons. Mourinho was subsequently sacked and in came club legend Ole Gunnar Solskjær, who was quick to restructure his backline.
In his first summer in charge, Aaron Wan-Bissaka arrived from Crystal Palace for an eye-watering, contentious fee of £50 million pounds – Dalot quickly realized his game time would be limited and therefore left on loan to AC Milan in the summer of 2020. 
Dalot found himself relishing in Italian football with the Rossoneri, making himself an instant fan favorite with an immensely exciting full-back pairing with Theo Hernández – combining for 8 goals and 6 assists between them (0.16 and 0.27 npxG+xA per ninety, respectively). 
This season he came back to once again take his place on the bench as the aforementioned Aaron Wan-Bissaka continued to start but the under-pressure Solskjær was sacked after a brief caretaker spell with Michael Carrick – again was sparingly used in the 3 game spam and in came Ralf Rangnick. 
Once Rangnick came in, the trust was put in the Portuguese to make the right-back position his own, and the recent months Dalot has repaid that trust in his performances – Rangnick has acted as a catalyst to kick start his United career.
Position, Role, and Tendencies 
Dalot is a naturally skilled footballer, with the ball at his feet, and he loves a step-over! Something he seemed to develop well at Milan was the ability to invert – come inside and be comfortable in playing in midfield.
He's become a competent ball-carrier, constantly pushing United up the pitch with powerful, driving runs from deep performing the modern role of an inverted full-back, as well as being able to hold the width.
It is similar to his club teammate in Luke Shaw who performs an identical role on the other flank and his national teammate João Cancelo at City who is renowned for executing this role at an elite level.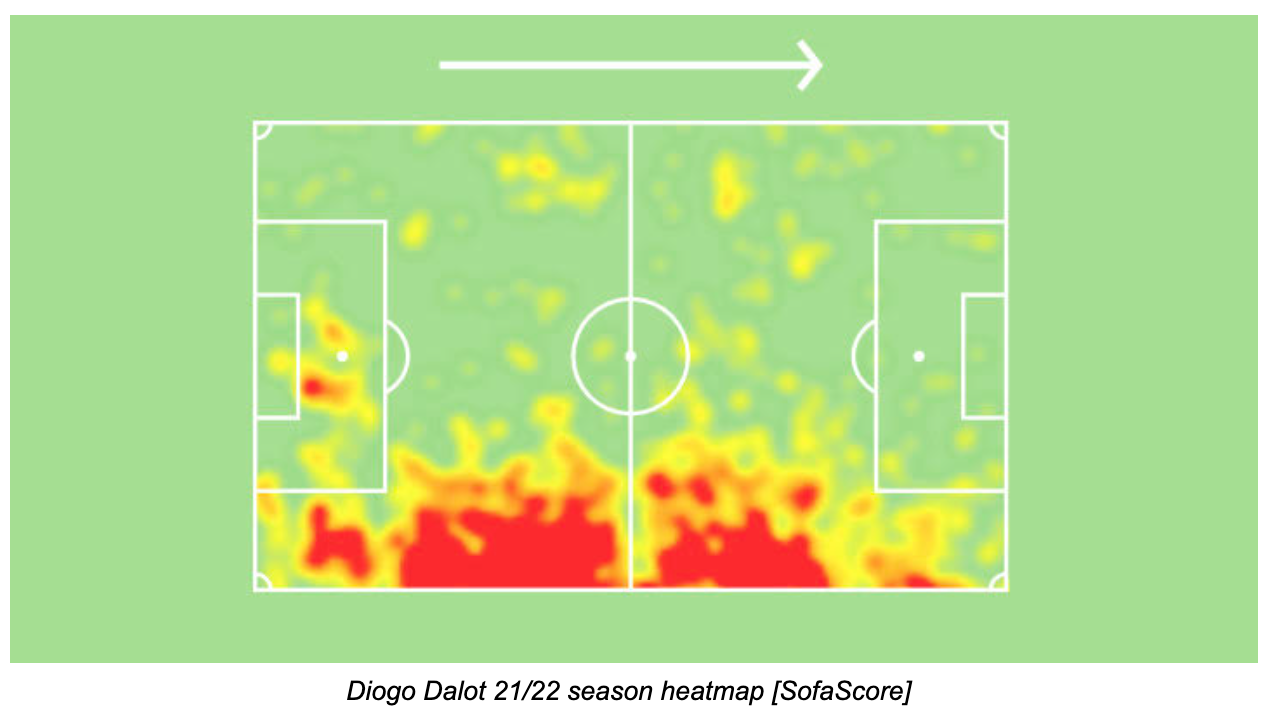 Another aspect of this game we have seen from his time in the north of Italy was his versatility – adding depth to the left-hand side occasionally coming into the left-back position if Theo Hernández is unavailable – 6 appearances in the position.
Passing Hub 
Dalot has shown that he can execute an array of passes in many different sanctions – the capability to use his left foot and open up passing angles and opportunities – averaging 5.15 passes with his weaker left foot per ninety, especially compared to his teammate Wan-Bissaka, who is hesitant or even lacks the ability to execute more technically demanding passes – who averages an inferior 2.85 passes on his weaker left. 
A common tendency in Dalot's passing is his special ability to have the awareness to switch the play specifically at the right times, very similar to Liverpool's Trent Alexander-Arnold.
He's able to make long diagonal passes into the open space usually making these passes a lot deeper to assist with ball progression –  ranking in the 96th percentile for switches amongst full-backs (2.99 per ninety) and this is combined with his long passing, ranking in the 94th percentile for long passes completed – which emphasizes his range and his ability to find his man from deeper areas.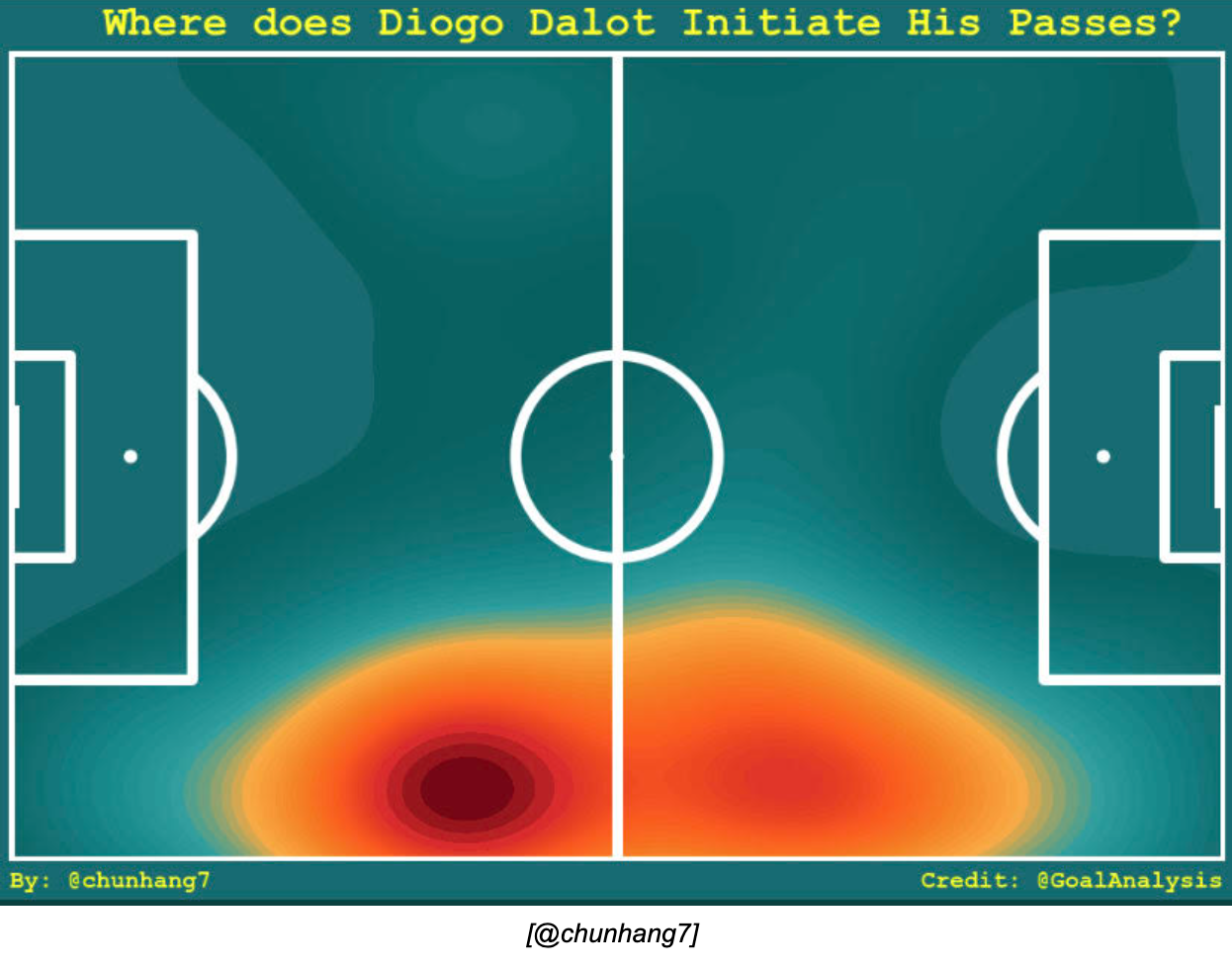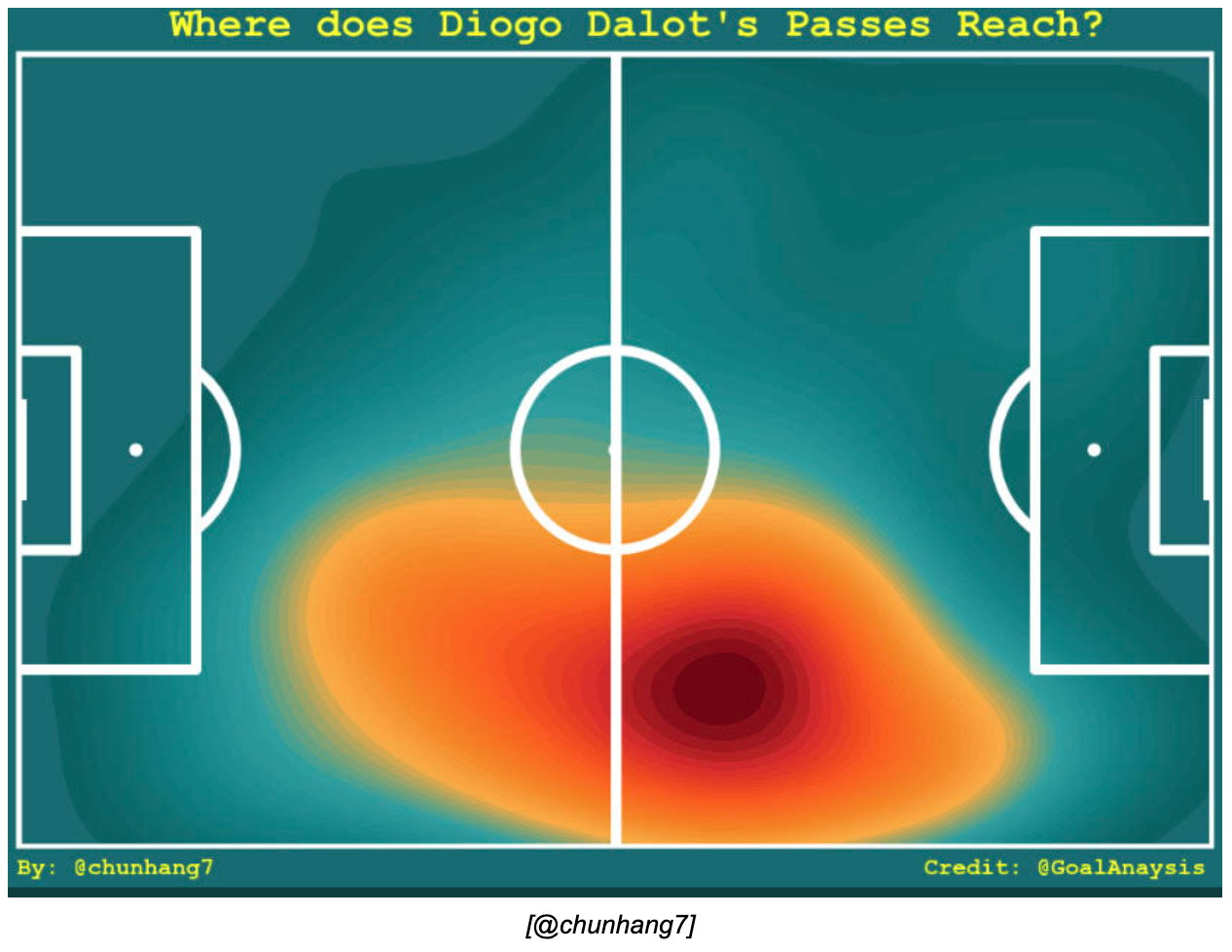 The growing expectation for full-backs to be excellent creators and this pressure has been intensified with the likes of Reece James, Trent Alexander-Arnold, and João Cancelo setting the standard week in and week out in the Premier League. Very few meet these standards consistently but Dalot's skillset definitely meets the requirements.
A Refined Defensive Game
Dalot is not renowned for his defensive game unlike his teammate Aaron Wan-Bissaka, who is arguably regarded as the best defensive full-back in Europe.
In fact, Dalot's ability to defend has been up for question in recent seasons but in the last year Dalot has stepped up his capability on the defensive end and has shown are positive willingness to defend.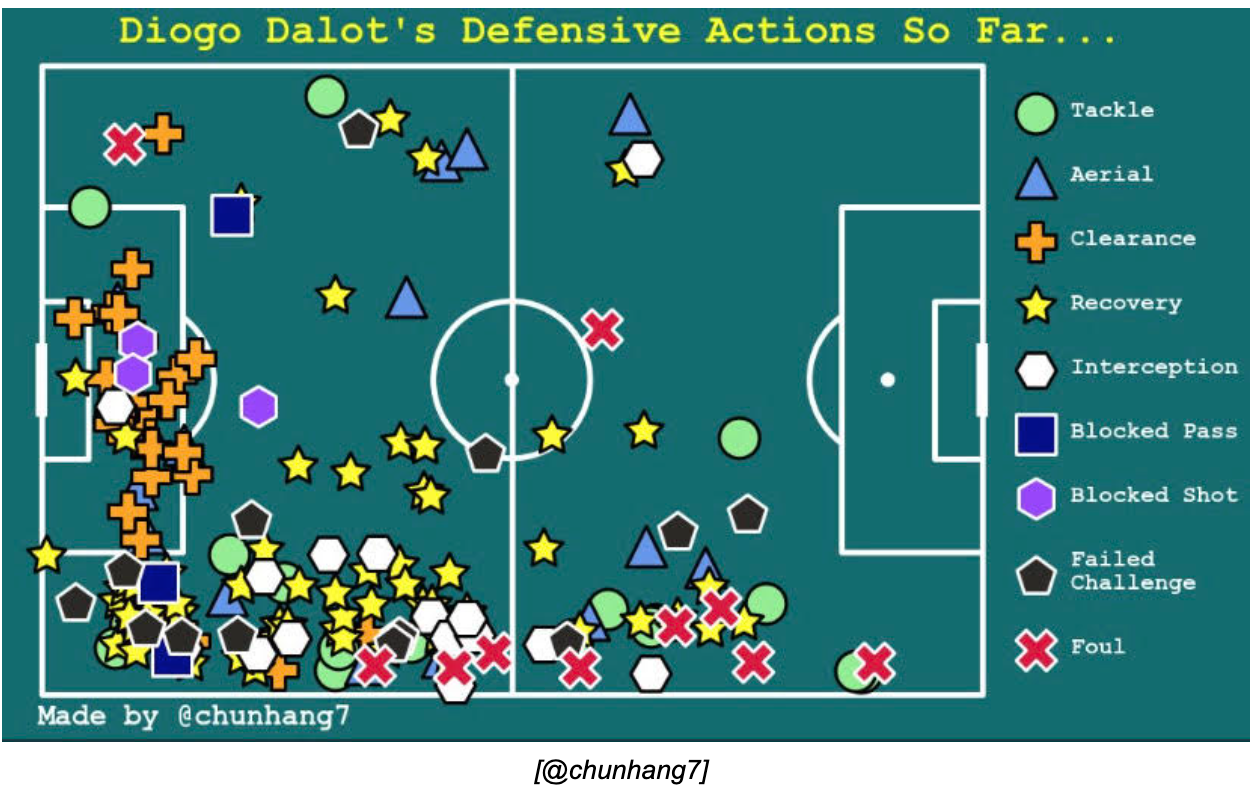 One of the defensive aspects the Portuguese excels in is his quality in the air – despite standing at a comparable height as Wan-Bissaka(6ft/1.83m), Dalot (6ft/1.84m) has proven to be more impressive in the air than the Englishman.
The former Porto man has a 63.5% aerial win rate (1.84 aerials won per ninety) which ranks him in the 85th percentile amongst full-backs. 
He also shells out an impressive 5.06 (tackles and interceptions) defensive actions per ninety and an even more impressive 3.45 – which his the best numbers in his career so far. He is also an elite tackler when going to the ground against dribblers ranking in the 97th percentile for dribblers tackled. 
Manchester United haven't been a great defensive side this season, conceding 34 goals in the league which is considerably more than the teams around them apart from West Ham who have also conceded 34. But Dalot's individual defensive performances should not be shirked out and should be applauded in the defensive structure he is in. 
Good Carrier, Weak dribbler 
Even though Dalot doesn't strike the normal football fan as an unorthodox dribbler, he lacks a progressive carrying to his game, especially from deep. Although he is quite progressive in his passing as mentioned before but this does not translate to his carrying.
His tendency to take on a player and try to use a stepover has become predictable and has led to opponents knowing where to position themselves and when to intercept. 
However, there are evident deficiencies when he looks to take players on in a 1v1.
Despite taking up the role as an attacking full-back for the bulk of his career, Dalot has never been an elite dribbler throughout his career neither an effective, ranking in the bottom 45th percentile for successful dribbles and the bottom 49 percentile for dribbles completed and attempted.
Conclusion 
Dalot is a talented player whether that is good enough to take Manchester United where they want to be is the question and the answer will come in time, especially in an era where the 3 best teams in the Premier League right now arguably have the 3 most talented gifted full-backs in the world. 
With the consistent game time he's been given under Ralf Rangnick he will have a chance to show whether he is the long-term solution to United's attacking identity.
By: Raphael Adelugba / @RaphaelAdelugb0
Featured Image: @GabFoligno / Ash Donelon / Man United