Manchester United's Midfield: Problems and Solutions
Editor's note: since this article's publication, Bruno Guimarães, mentioned as a potential midfield signing for Manchester United, has joined Newcastle.
It would probably be fair to describe Ralf Rangnick's start to life at Manchester United as 'mixed'.
While his tenure began with a promising performance against Crystal Palace, followed by a less impressive but equally important 1-0 versus Norwich, cohesive and consistent displays have been hard to come by for his United team since.
There have been some positives, including a gradual increase in the number of clean sheets and the introduction of Anthony Elanga into the regular starting eleven. United fans have also been pleased to see Rangnick's willingness to give more game time to players previously on the outskirts (not Donny van de Beek though, it must be said).
However, some of the major issues Rangnick has faced during his short time in charge are the same issues faced by his predecessor Ole Gunnar Solskjaer.
It seems like every football fan on the planet is aware that Manchester United's midfield options haven't been up to scratch for some time now, and those in charge of transfers at the club have seemingly been unwilling to bolster this area of the squad, or worse, unaware of why it needs to be bolstered.
Here, we'll take a look at why Manchester United's midfield is in such desperate need of attention, and propose some solutions to solving this problem.
Using data we can look at three key areas of midfield play where the Red Devils are simply not competing with the best teams in the Premier League, these three areas being:
Reliability in possession/press resistance

Ability to progress play and create chances

Effectiveness out of possession
When comparing United's midfielders to the rest of the Premier League, it's clear to see that improvement is needed.
As a note, in order to be considered in this data, players needed to have played the majority of their 2021-22 minutes as a central midfielder, and had to have played at least 450 minutes in the Premier League so far this season.
Reliability in Possession/Press Resistance
To look at this area I used two key metrics; Passes Under Pressure per 90 (passes made while under pressure by an opponent) and Pass Completion Percentage.
Looking at the chart below you can see that Scott McTominay, Fred, and Nemanja Matic all come out looking pretty good.
McTominay completes slightly more passes than Fred, while Fred makes more while under pressure. Comparably, Matic looks like an extremely effective outlet for his team, with high numbers for both metrics compared to other midfielders across the league.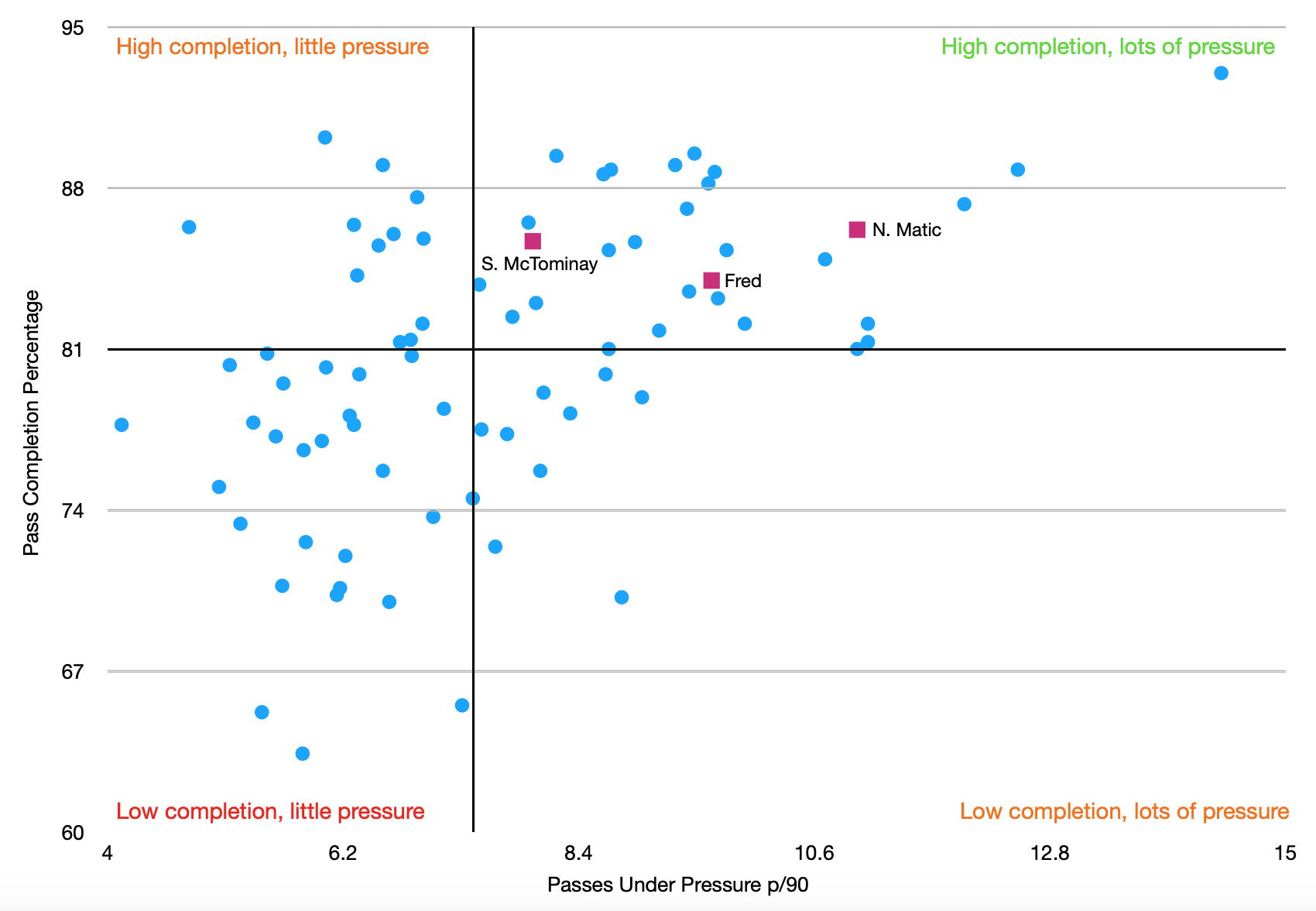 Here comes the problem though – Manchester United's standard for midfield quality needs to be higher than simply 'better than most of the Premier League'.
With respect to these teams, it's no good if United are comparing their midfield to the likes of Norwich, Burnley and Watford. To get to the level that the Red Devils want to be at, which is of course competing for the Premier League title, they need to be in a place where their midfielders are the cream of the crop.
Let's look at the same key metrics again, but only compared with midfielders from the 'big six', and selected top-tier midfielders (the Youri Tielemans and Ruben Neves of the world).
As you can see below, this makes for much harder viewing.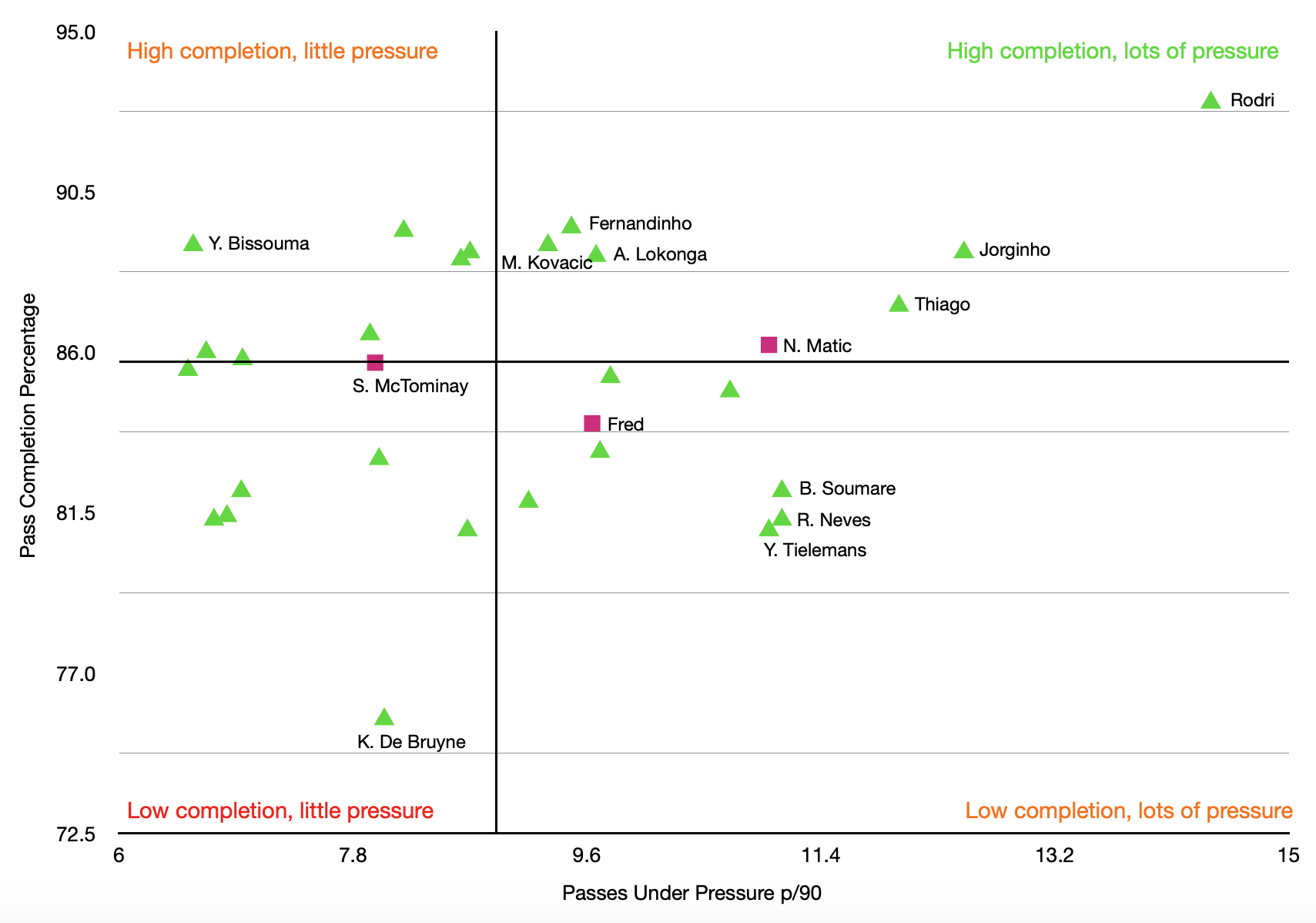 When compared with the best midfielders around, McTominay is clearly below average in this area, and while Fred looks slightly better than his Scottish counter-part, he's still basically about average.
Once again Matic comes out of it looking like a capable candidate, but the Serbian international brings about a different set of issues.
As was demonstrated in United's recent 2-2 draw with Aston Villa, the 33-year-old can barely last over an hour in a high-intensity fixture before his legs begin to tire. You also can't rely on him being able to play more than once a week.
You can see how far ahead the likes of Liverpool, Chelsea, and Manchester City are in this area, and United won't realistically be able to compete with these sides until they address this issue.
If your midfield can't reliably keep the ball and effectively distribute possession while under pressure, you're probably not going to get very far.
Ability to Progress Play and Create Chances
Same process again, but this time the two metrics we're going to use are Shot Creating Actions per 90 (the two offensive actions directly leading to a shot, such as passes, dribbles and drawing fouls) and Progressive Passes per 90 (completed passes that move the ball towards the opponent's goal at least 10 yards from its furthest point in the last six passes, or any completed pass into the penalty area).
This is where it starts to get really ugly.
As you can see below, even when compared to all other Premier League midfielders, United's just don't cut the mustard.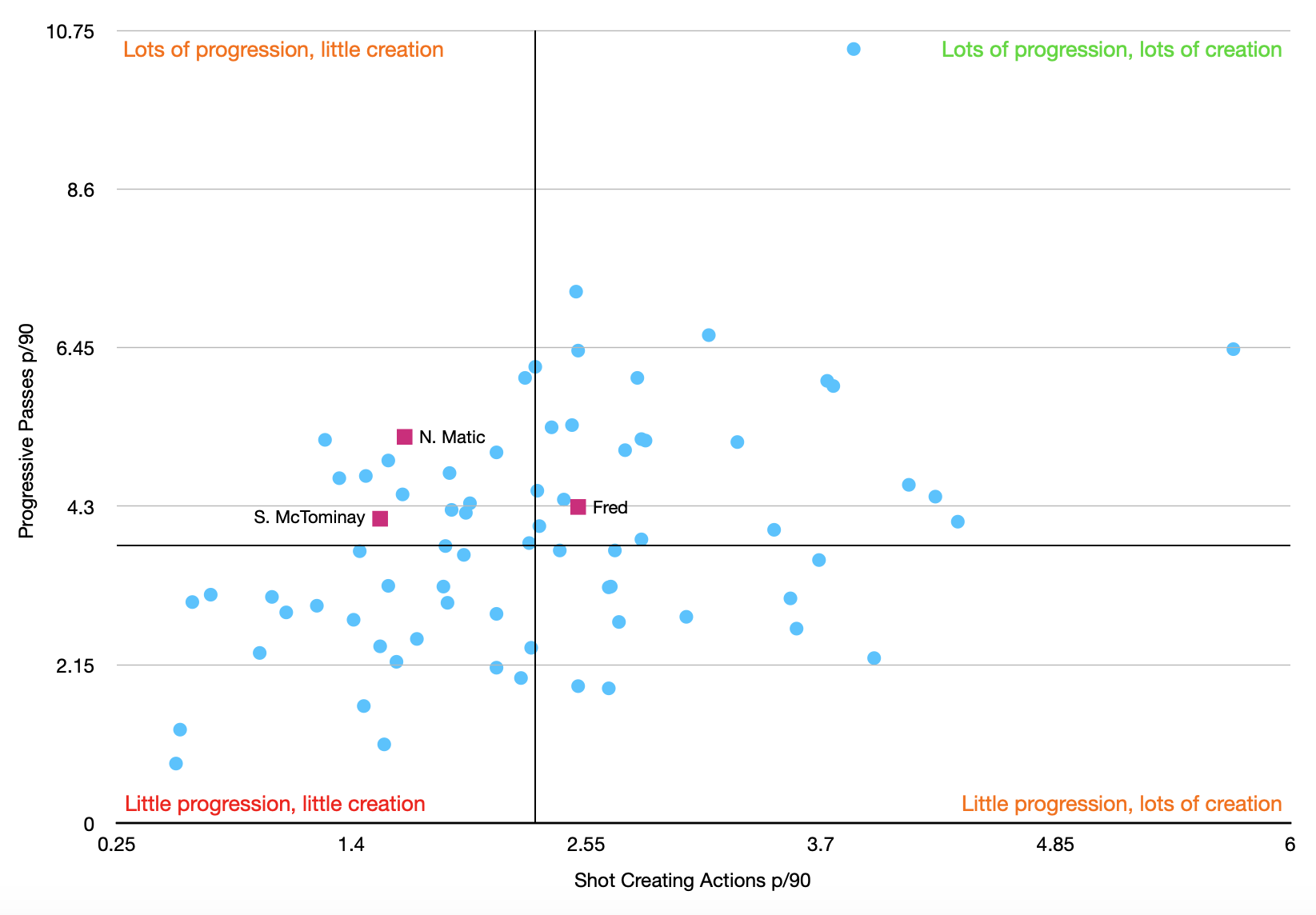 Fred, again, is circling around the average, but McTominay and Matic are far below the standard required for a club of Manchester United's size.
Naturally, it looks even worse when we only compare them with the 'elite' midfielders in the league.
All three of Matic, Fred and McTominay are lurking around towards the bottom left corner, the 'red' quadrant if you like, with McTominay particularly low.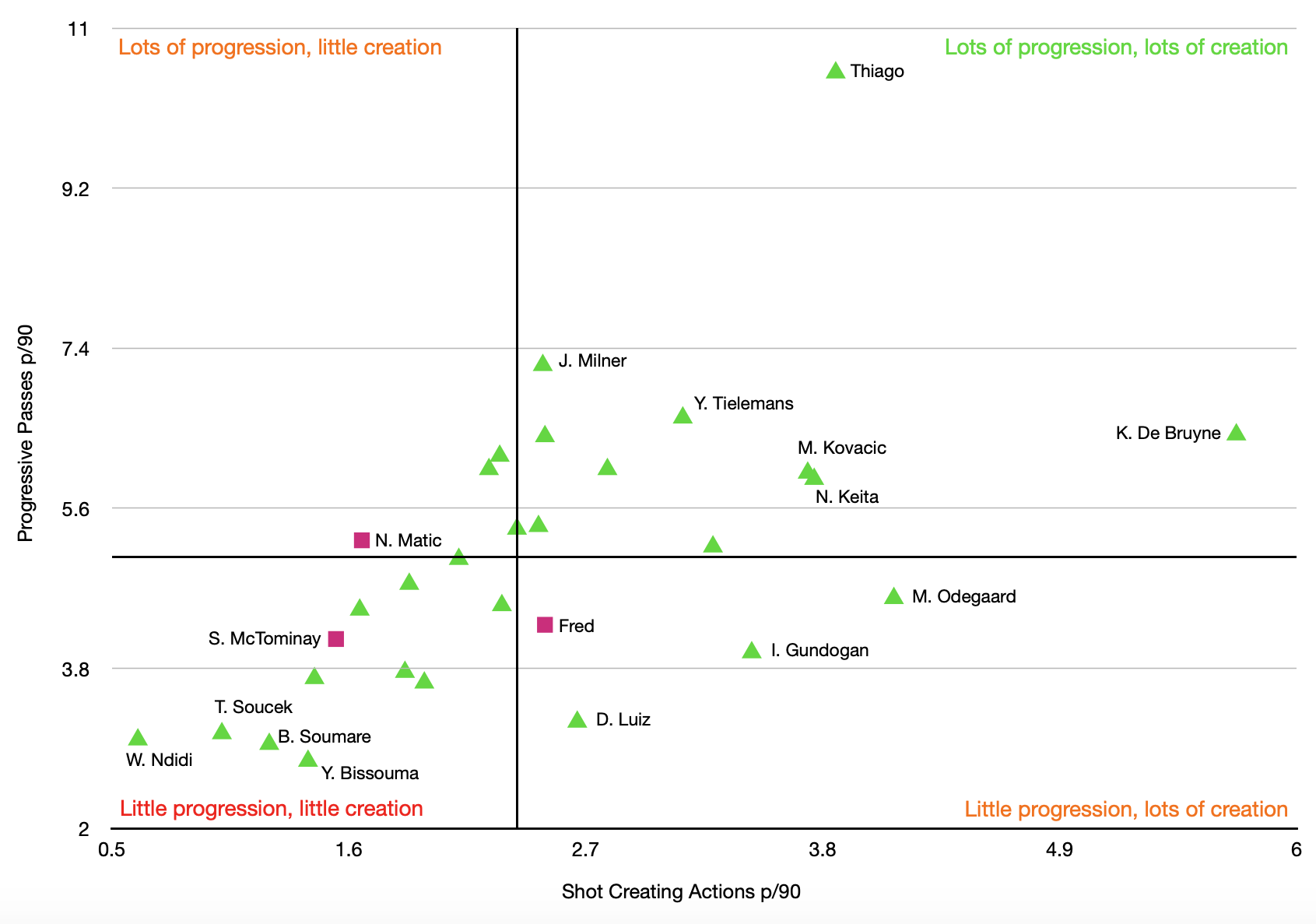 I will take this moment to say that I have a level of sympathy for Scott McTominay.
As a Manchester United fan myself, I know very well how protective a lot of fans are over the Scotsman, and I too like the player, and importantly the person, a lot.
It might not be the most fashionable thing to say but attitude, desire and willingness to work are all attributes that do matter in football, and McTominay is one of the club's best assets in these areas. This is particularly important in a squad that has been rightly criticised for a lack of attitude throughout this season.
However, as a player, he has spent the majority of his senior club career being played out of position.
Those who keep a close eye on United's academy will know that while he was coming through the ranks he was mostly played as a striker, sometimes as a number 10.
I'm not saying that is where he should be playing now, but to expect him to transition from an 'attack the box' player to a holding midfielder responsible for controlling the tempo of a match and protecting the back four is quite the leap.
I do think that he would have more success if deployed as a 'box-to-box' player, able to use his more attacking instincts and natural fitness and energy more effectively.
Regardless, this is clearly an area where Manchester United have to strengthen and urgently, as it is here where they are furthest from the top sides, and not really even good enough to compete with an average Premier League side.
Effectiveness Out of Possession
The final area to look at is related to contributions when United's opponents have the ball.
As a precursor to this, defensive metrics have always caused a little bit of a problem in football analytics because football stats are almost entirely concerned with what players do with the ball. Not ideal for analysing defensive contribution.
Where Did It All Go Wrong for Anthony Martial at Manchester United?
As a result, the two metrics I used here were Successful Pressures per 90 and Tackles + Interceptions per 90, but I have 'possession adjusted' (PAdj) the data.
This essentially means that the number of defensive actions made by each player has been scaled based on how much possession that player's team has.
If Rodri and Jonjo Shelvey both make 3 interceptions in a game, does that mean they were equally as effective at intercepting the ball in that game? Not really, if Manchester City have 70% possession in that game then Rodri has less than half the time to make interceptions.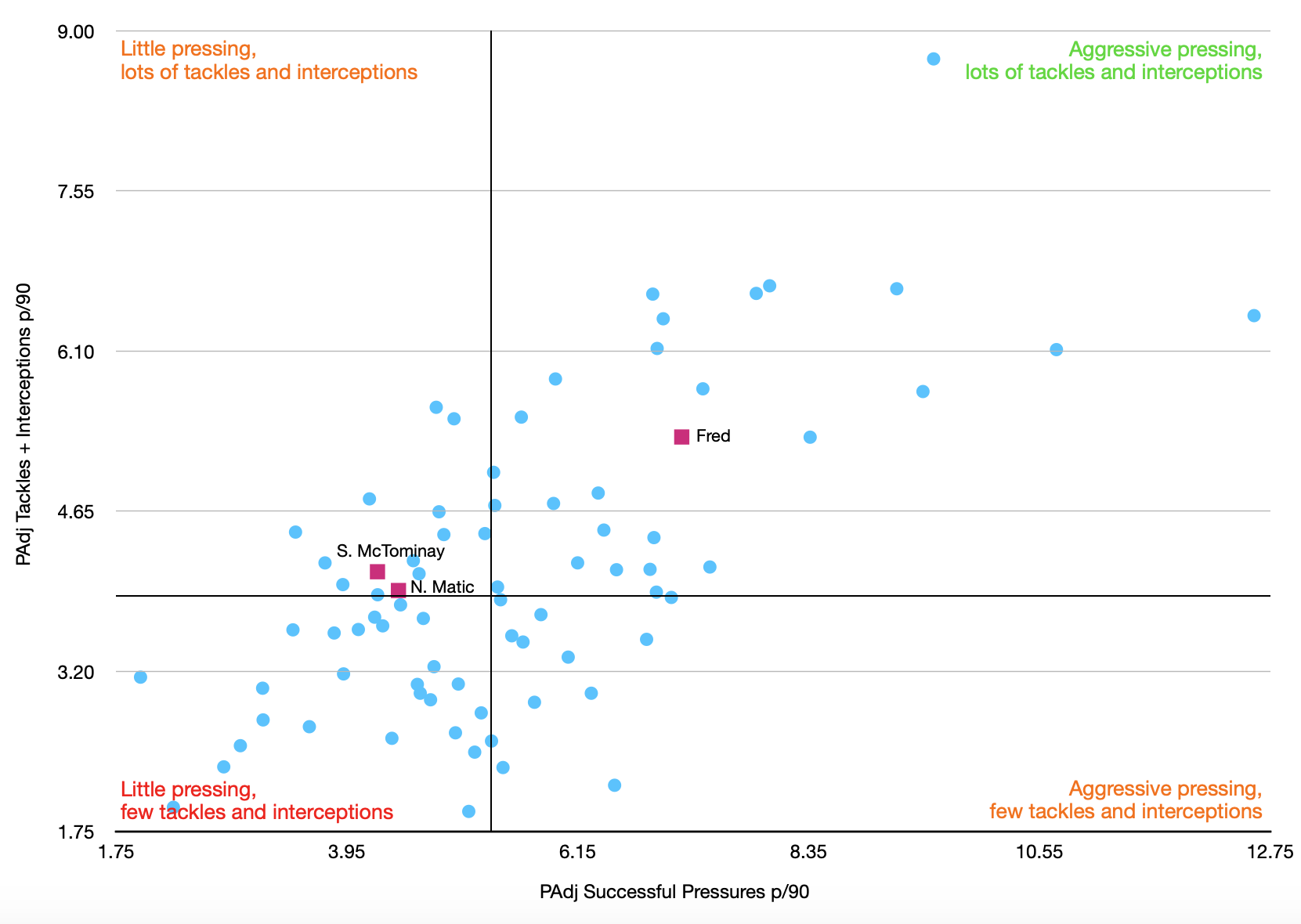 Once again, even when compared to the Premier League midfielder average, it is simply not good enough from the Manchester United midfielders.
Credit where credit is due, Fred shows up pretty decently here, and that is something to keep in mind for the future, but McTominay and Matic just don't offer enough.
Neither are even close to the average for successful pressures, and they are only slightly over the average for tackles + interceptions.
Of course, as you've probably come to expect by this point, when compared to the 'elite' it looks even worse.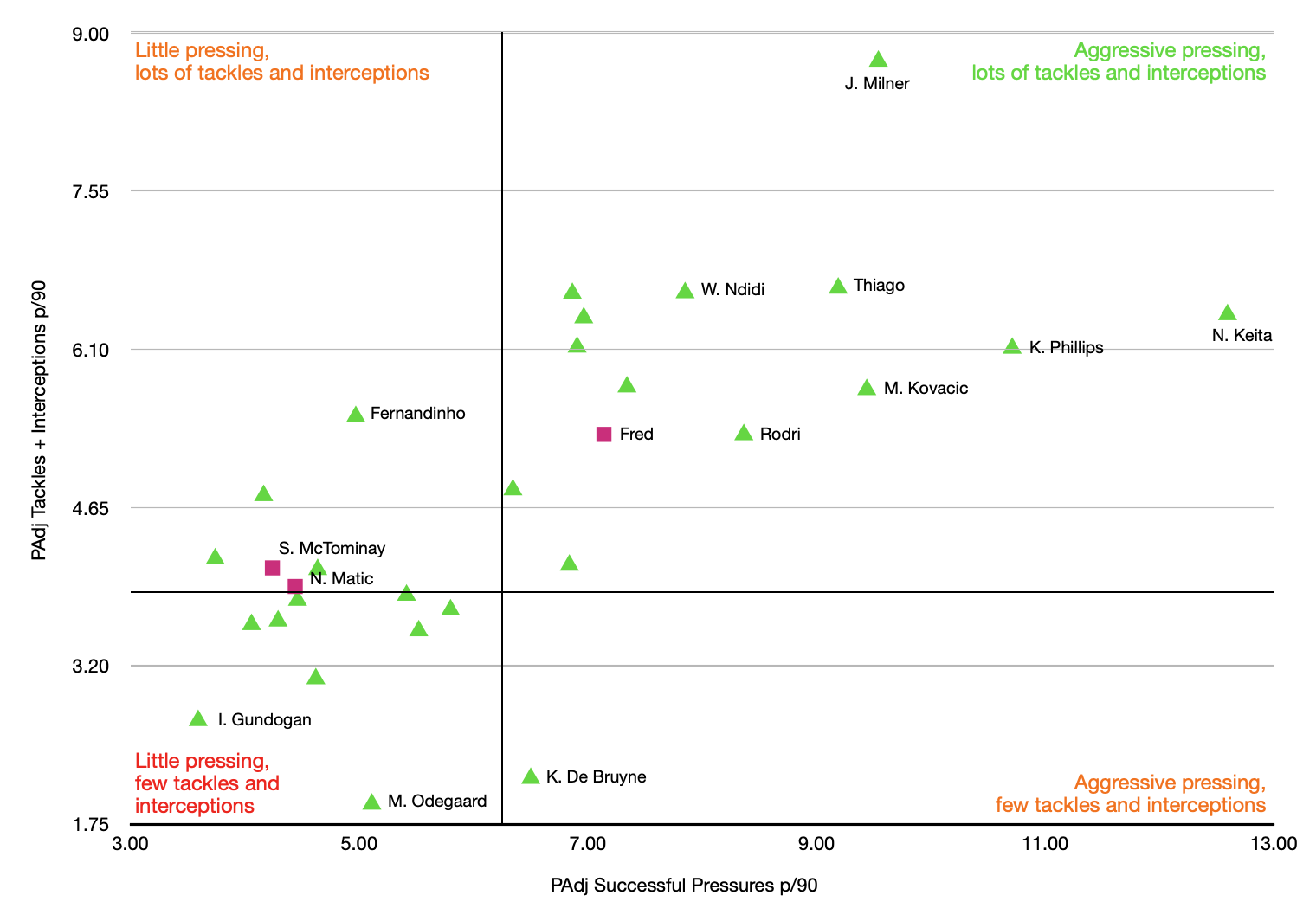 McTominay and Matic are in about the same place for tackles + interceptions, but get even further away from the average for successful pressures.
Fred does pull closer to the average in this area, but it's important to note that this data has been taken from the whole season, and the Brazilian has shown improvements in his game since Rangnick took over from Solskjaer.
If he can keep this development up I don't see any reason why Fred shouldn't be considered a pretty good option for defensive involvements.
Unsurprisingly, Liverpool players really catch the eye here, with good contributions coming from Leeds' Kalvin Phillips, Chelsea's Mateo Kovacic, Man City's Rodri and Leicester's Wilfred Ndidi.
If United are going to put forward a good challenge for the title any time soon, they'll either need Fred to hit those heights or bring in a fresh face.
Moving Forward
So in summary, what have we learned so far?
Nemanja Matic is United's only reliable presence in build-up phases, but isn't realistically going to give you more than an hour a week.

Fred is United's only midfielder that shows promise in his defensive actions and could keep his place.

United have no midfielders capable of progressing the ball from deep.

United have no midfielders capable of creating chances from deep.
With that in mind, I wanted to think about who the club could target in the next couple of transfer windows to try and solve these issues.
In order to identify targets, I decided on this criteria; players from the 'top five' European leagues that scored higher than the Premier League average in all six key metrics, players with the majority of 21-22 minutes played at central midfield, players with minimum 450 minutes played this season, and players 28 or younger.
In total, 11 players fitted this criteria, and I have selected the three that I think make the most sense as potential transfer targets.
Fabian Ruiz
Current club: Napoli
Age: 25
Transfermarkt estimated value: £49.5 million
Fabian Ruiz is probably the most glamorous and exciting of my three picks, which works well for Manchester United considering marketability seems to be such an important part of the club's transfer strategy.
Ruiz would take a little bit of compromise, but I think this would be worth it.
His numbers for passes under pressure and pass completion percentage are genuinely outstanding and his addition would give United one of Europe's best midfielders for reliability in possession and press resistance.
In terms of his ability to progress play and create chances, he doesn't rank quite as high as others, but is still well above average and would represent an enormous step up in quality.
The compromise would be in his defensive work. As he fit the criteria he still scores above the Premier League average for tackles + interceptions and successful pressures, but isn't anywhere near as impressive as the Liverpool, Chelsea or City superstars. 
Like I said before though, I do think Fred is improving his game in this area and if he can keep developing positively, he would likely be able to supplement Ruiz and a partnership between the two could end up being very mutually beneficial.
Bruno Guimaraes
Current club: Lyon
Age: 24
Transfermarkt estimated value: £27 million
I'm not exaggerating when I say Bruno Guimaraes is an absolute machine.
He would offer United about the same sort of qualities as Nemanja Matic in build-up phases, except he's almost a decade younger and would actually be able to last a full match.
Why Atletico Madrid Should've Finally Signed Bruno Guimaraes This Summer
When compared to the Premier League's 'elite' midfielders, he is only beaten on progressive passes by Thiago, and only beaten on shot-creating actions by Kevin De Bruyne.
This level of reliability and creativity is also matched by his defensive output. His 9.7 successful pressures and 5.72 tackles + interceptions put him in the same conversation as the best in the Premier League.
This guy really is something else and whoever ends up securing his signature is going to be getting a defensive midfielder that will become one of the world's best.
Ismael Bennacer
Current club: AC Milan
Age: 24
Transfermarkt estimated value: £27 million
Bennacer would probably be the least impressive of these three choices because United would likely have to supplement him with another signing if he were to come in.
He's still posting very good numbers, especially when compared to the Premier League average and current standard of Manchester United's midfield, but he feels like the player you would get if you can't get Guimaraes.
Bruno Guimarães: A Cheaper Alternative to Eduardo Camavinga?
His numbers for progressive passes and shot-creating actions are almost identical to Lyon's midfield maestro, and in terms of defensive output, you're getting almost the same as you get from Rodri.
Where he would need supplementing, though, is in build-up phases. He's almost dead on the average for passes under pressure and pass completion percentage.
He would still undoubtedly be an upgrade for United, but unlike with the Fabian Ruiz and Fred situation, the Red Devils don't already have someone in the squad that can cover that side of Bennacer's game, so they would likely need to bring in another name as well if they were to go for the Algerian international.
As I said before those are just three of the 11 players who fit the criteria I laid out, so if you would like to see how all 11 scored on the charts, you can see those below.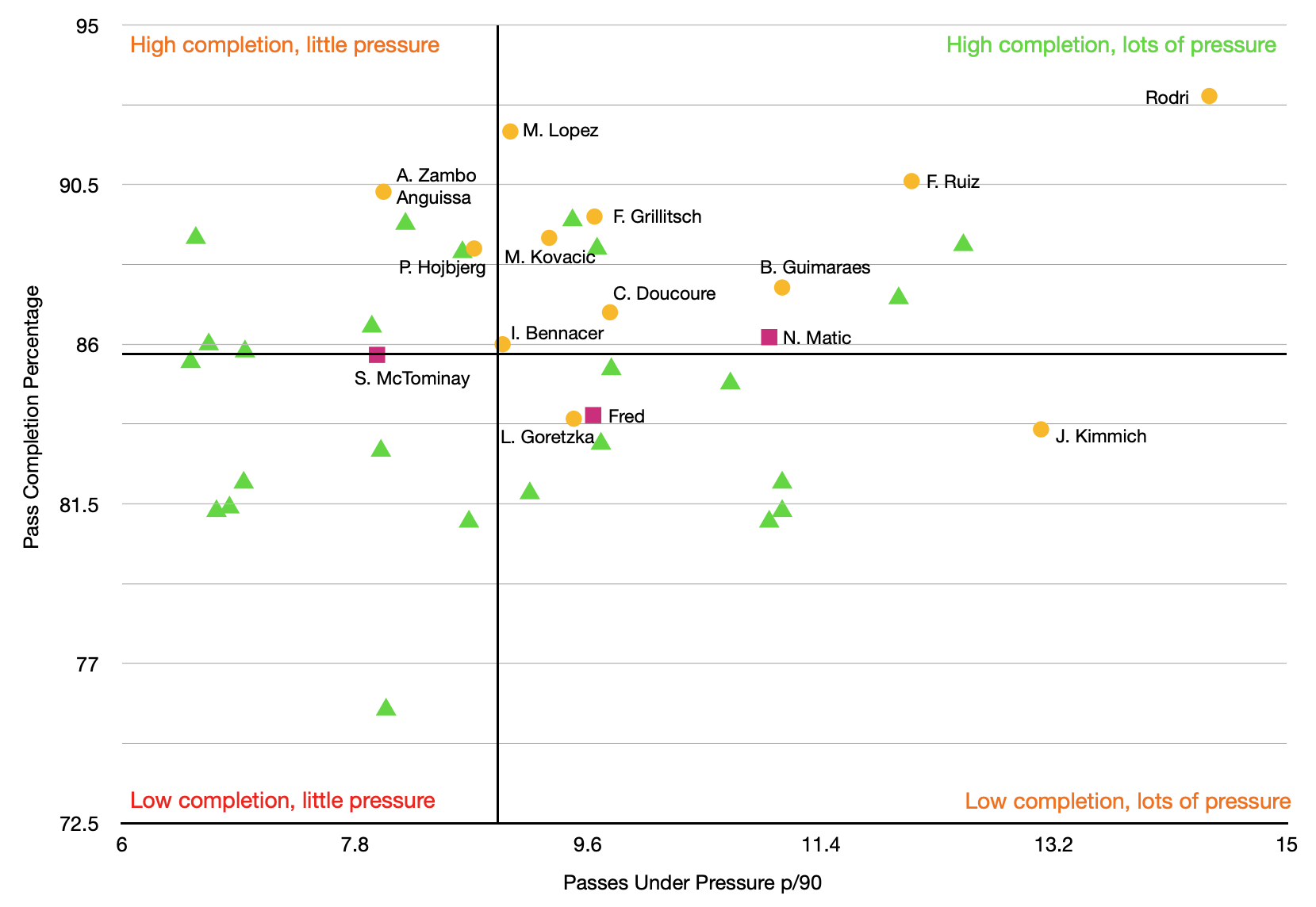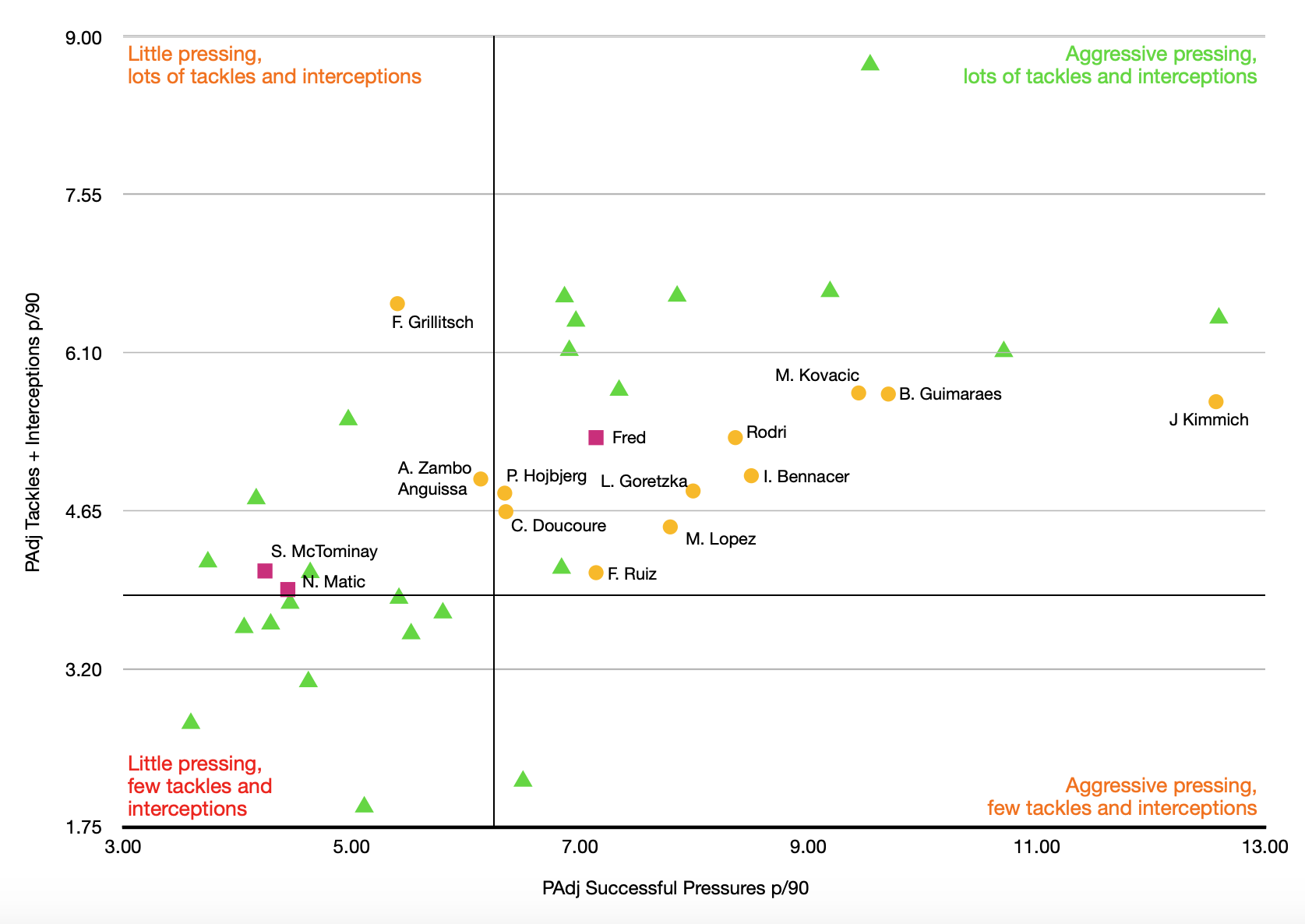 By: Jake Lane / @jakerslane
Featured Image: @GabFoligno / Tom Purslow – Man United / NurPhoto
All data used for this article is from Statsbomb via FBRef and is accurate as of 19/01/22