Player Analysis: Diogo Jota at Liverpool
After an incredible two-year spell that saw Liverpool win the Champions League and lift the first Premier League trophy in club history, Sporting Director Michael Edwards was tasked with a new challenge: purchase a young forward with enough versatility to play across the front three, who was comfortable coming off the bench and fighting for a starting spot, and who wouldn't demand too high of salary that would throw Liverpool's wage bill into disarray.
Timo Werner, Ousmane Dembélé and Ismaïla Sarr were all linked as potential signings, but on September 19, Liverpool completed the signing of Diogo Jota from Wolves for £41 million, potentially rising to £45 million with add-ons. Having joined on a five-year deal, the Portuguese forward hasn't taken long to make a name for himself at Anfield.
Since taking charge of Liverpool in October 2015, Jürgen Klopp has often eased in new signings, gradually putting the likes of Fabinho and Sadio Mané through the paces before bringing them into the starting line-up. Instead, with Roberto Firmino struggling for form and Xherdan Shaqiri and Divock Origi falling down Klopp's pecking order, Jota is staking a claim for a starting spot less than two months after landing in Merseyside.
After making his debut in an EFL Cup match against Lincoln City, Jota opened his Premier League account against Arsenal, finding the back of the net in a 3-1 victory just eight minutes after coming on as a substitute. One month later, Jota started on the right side of attack against Sheffield United, with Klopp tweaking his usual 4-3-3 formation and opting for a 4-2-3-1. With the score level in the 64th minute, Jota squeezed into a tight pocket of space between Ben Osborn and Enda Stevens and headed Mané's cross into the right corner.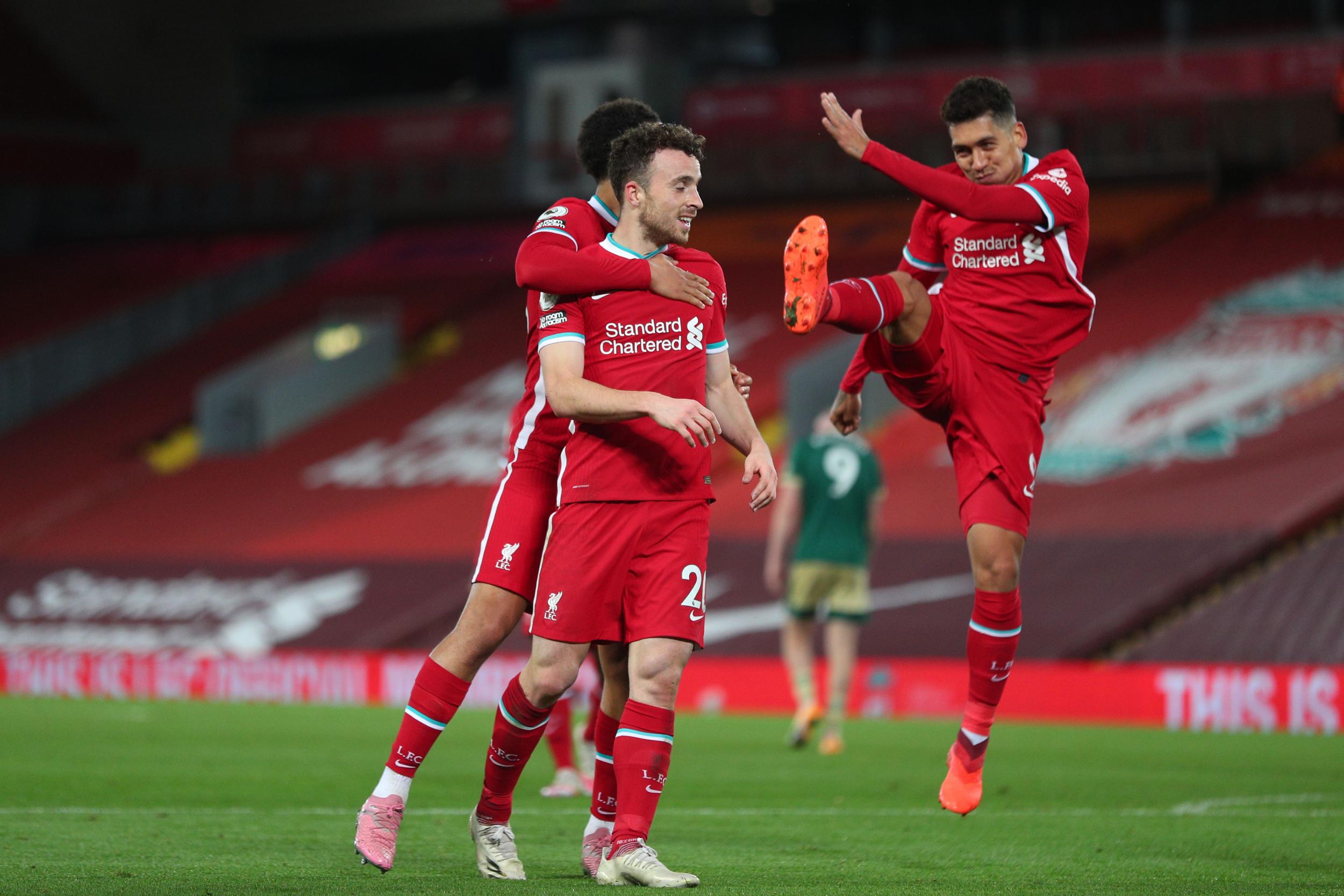 Photo: Pool/AFP via Getty Images
Despite losing star defender Virgil van Dijk to a knee ligament injury in a 2-2 draw against Everton, Liverpool have bounced back with five consecutive victories, conceding just two goals in the process. Jota has played a leading role in their excellent form; he opened the scoring against FC Midtjylland, broke the deadlock with a late winner against West Ham, and netted a hat-trick against Atalanta.
Whilst the 23-year-old has mainly played on either flank since joining Liverpool, he netted his hat-trick (his third in European competition since the start of last season) whilst playing as a central forward, and having played as a second striker in Wolves's 3-5-2, he has experience playing in a central position. There is plenty of fluidity in attacking rotations so as to balance out the heavy focus on the flanks from Liverpool's fullbacks, and Jota is taking full advantage of the opportunities that Klopp's heavy metal football provides.
Jota has struck an impressive chemistry with both Trent Alexander-Arnold and Andrew Robertson, providing excellent movement and intelligent positioning both on and off the ball to keep his side balanced. In the 4-2-3-1, he plays on the right flank, with Mohammed Salah typically playing in a more central position. With the Egyptian playing as an out-and-out central forward, Firmino drops deep to play alongside either Georginio Wijnaldum or Jordan Henderson in the double pivot, with the other midfielder dropping in between the center backs.
We can see an example of this below, with Henderson dropping to the right of Fabinho and Firmino playing in the double pivot. Alexander-Arnold provides width on the right flank, creating an overload on this side as Jota operates in the half-space. This allows Liverpool to stretch apart the opposition defense and create space for attackers to exploit.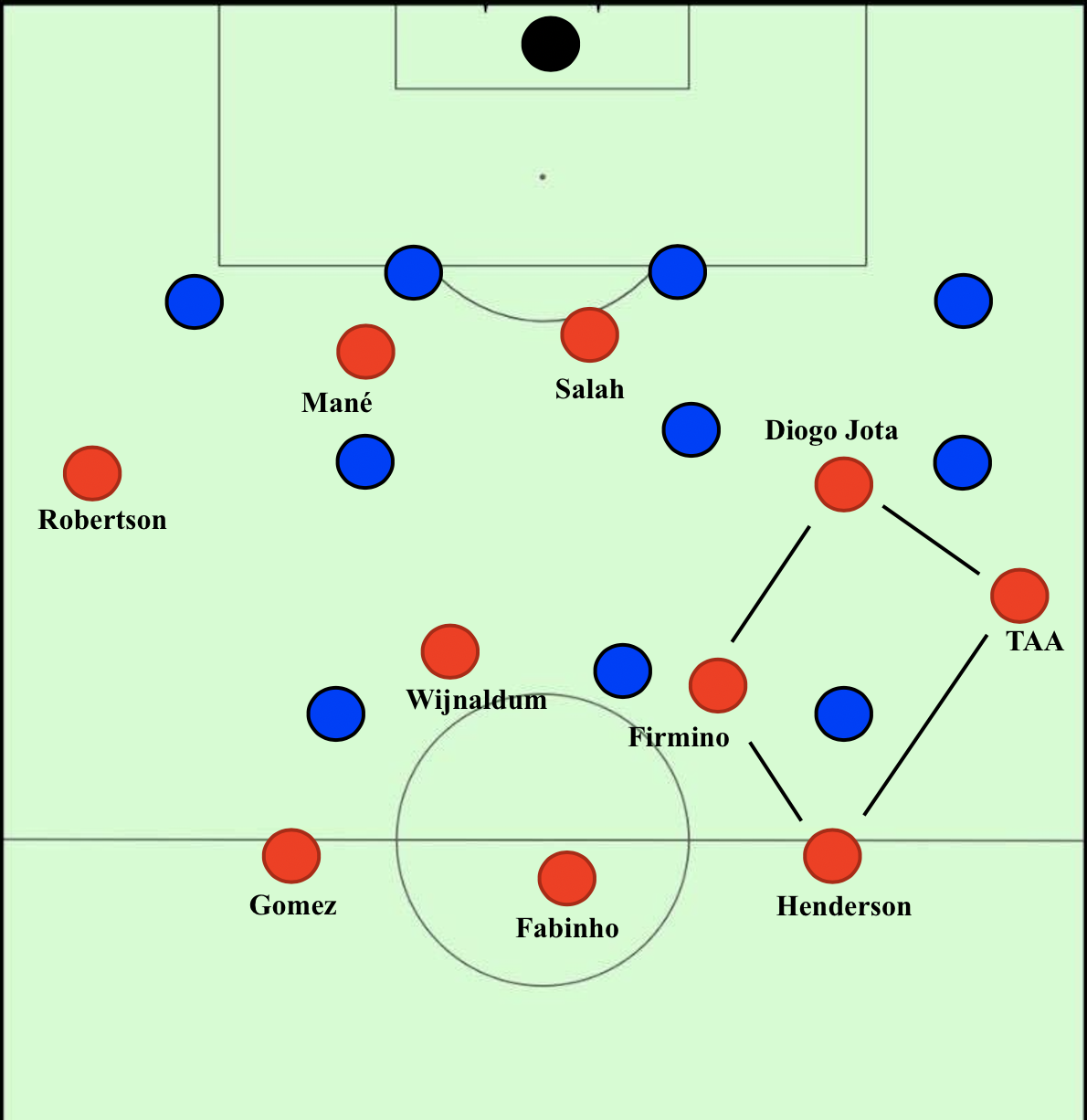 In this example against Sheffield United, Jota initially drops deep to combine with the backline, receiving a pass from Alexander-Arnold and recycling it back to Fabinho. However, after seeing Firmino drop to the center circle to provide a quick passing option, Jota shifts infield and further forward to receive between the lines. After a quick combination between Fabinho, Alexander-Arnold and Henderson, Jota can now receive between the lines, cut inside, and find Robertson on the left wing.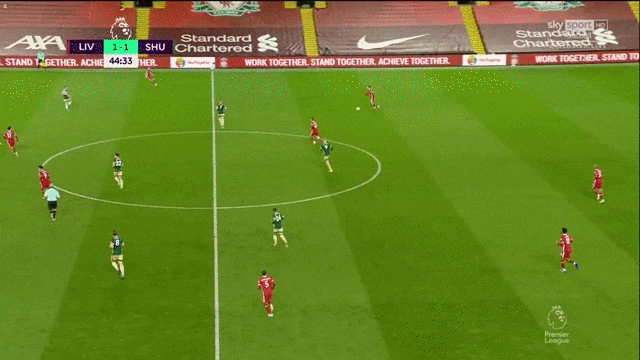 The Portuguese winger can provide width as well, hugging the touchline while Alexander-Arnold remains deeper, as shown in the image below. However, as a right-footed winger playing on the right flank, Jota tends to drift inside into the box for crosses and cutbacks whenever Alexander-Arnold or Henderson provide width with overlapping runs.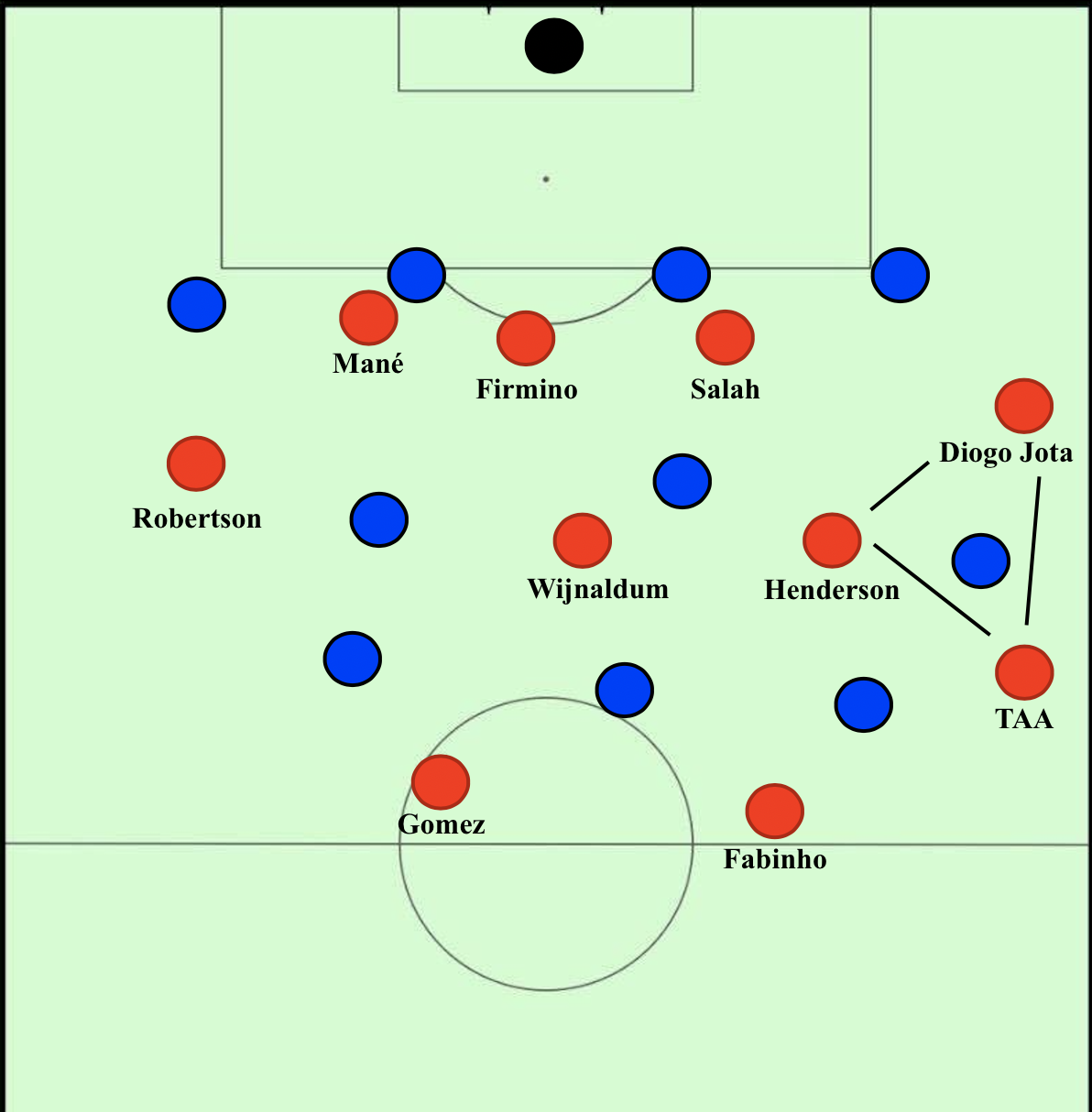 Jota's versatility and positional awareness allows Liverpool to create numerical overloads, with the Portuguese capable of moving into space and arriving into passing lanes at the right moment. In this example against Sheffield United, Jota gets past Ethan Ampadu by playing a quick one-two with Firmino, before playing a short pass to Salah on the right wing.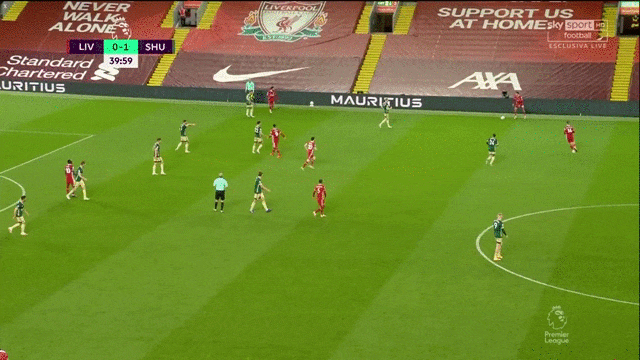 Combined with his speed and ability to shield the ball from his opponent, Jota is a menacing player in transition, with the ability to change direction in traffic, keep his balance, and exploit open space.
As seen in this example against Sheffield United, the Portuguese forward receives a pass from Alexander-Arnold, before playing a quick one-two with Firmino. Now that he's evaded both Osborn and Ampadu, John Egan and Sander Berge are forced to foul Jota to prevent him from advancing further forward, although he still manages to play a pass behind the defense.
It's no surprise that Jota has thrived at both Wolves and Liverpool, two teams whose offensive game plans are largely predicated upon attacking transitions. He has a tendency to drive through midfield with and without the ball, only releasing the ball once an opponent commits to tackling him. As a result of these quick combinations, he can create space for his teammates in the final third and force opponents to resort to fouling him in order to stop the counter.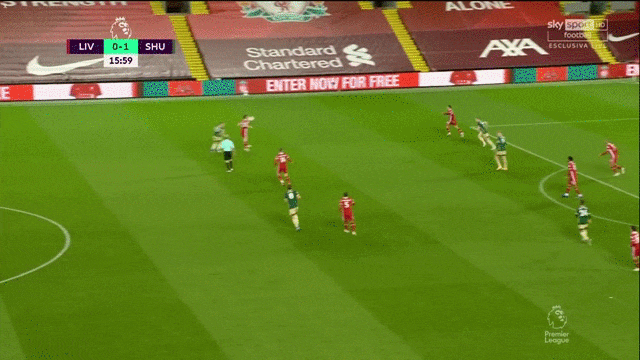 Throughout his young career, Jota has gained recognition for his consistently improving efficiency in front of goal. As a teenager, he netted 14 goals and 10 assists in 35 appearances for Paços de Ferreira, earning a €7.2 million move to Atlético Madrid. Jota immediately headed to Porto on loan, where he would provide 9 goals and 7 assists in 38 appearances. He finally departed Portugal in 2017, reuniting with former Porto manager Nuno Espírito Santo at Molineux Stadium.
He continued his impressive form in the top flight, playing both on the left flank of a 3-4-3 whilst also impressing as a second striker in a 3-5-2, playing off the shoulder of Raúl Jiménez. After providing 10 goals and 7 assists in 37 appearances during the 2018/19 season, he mustered 16 goals and 6 assists in 48 appearances the following campaign, although the majority of those goals came in the Europa League.
At 23 years of age, Jota is currently on course for the best goalscoring season of his entire career, with 7 goals in his first 10 appearances, averaging a goal every 71 minutes. Whilst he is nominally a right-footed player, Jota is comfortably using either foot to finish, which provides him with more angles to shoot from and makes him an unpredictable finisher that can threaten from every angle. The vast majority of his shots come from inside the box, as he tends to pick efficient scoring positions before attempting a shot.
By analyzing a few of Jota's goals for Wolves, Portugal, and Liverpool, we can extrapolate a few patterns behind what makes him such a dangerous threat in front of goal, the most important one being his blind-side movement to run into space, predict the trajectory of the pass before it is even played, and arrive into a prime goalscoring position.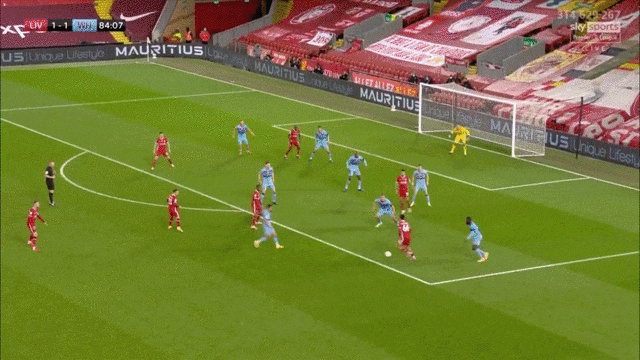 All in all, this transfer will likely go down as a win-win for all parties. Diogo Jota enjoyed a fruitful three-year spell at the West Midlands club, but with the emergence of Pedro Neto and Daniel Podence, he descended Nuno's pecking order in his final months at Molineux, starting just three of Wolves's final eight matches. Indeed, he did not play a single minute in Wolves's opening match of the 2020/21 season, and with the arrivals of Fábio Silva and Vitinha from Porto, it's likely that his playing time would have suffered even more had he stayed.
Whilst the Wolves leadership will be certainly happy to have received a fee of £41 million for a player who was clearly lacking in form during the time of his departure, Liverpool will be pleased to stretch the payment across the length of his contract — Wolves will receive less than £4.5 million of the fee over the next 12 months, per The Athletic.
Jota has enjoyed a near perfect start to his Liverpool career, and whether he ends up breaking into the starting line-up or continuing to be a reliable performer off the bench, he is well on his way to earning a spot in Fernando Santos's Portugal squad for next summer's Euros. Despite Van Dijk's season-ending injury, Liverpool find themselves atop the Premier League, and if they are to repeat their domestic triumph from last season, Jota will have a leading role to play behind their success.
By: Artyom Osipov
Featured Image: @GabFoligno