Player Analysis: Fran Navarro
Gil Vicente's Fran Navarro has emerged as one of the most clinical centre-forwards in Portuguese football this season. The Spaniard has been an indispensable part of a Gil Vicente side sitting a rather comfortable 13 points clear of the relegation zone, and his impressive form has garnered interest from clubs higher up the Primeira Liga table.
At just 25 years old, he's entering his prime years as a striker and can provide a reliable option up-front for a number of sides in Portugal's top division or perhaps he can even make a return to his homeland and join a Spanish side in need of goals. Regardless, it does appear as though Navarro won't be in Barcelos for much longer.
Gil Vicente have been incredibly reliant on Fran Navarro's goals this season. He has scored 13 of the team's 26 league goals – an exact 50% contribution as a goalscorer. Only Benfica's Gonçalo Ramos and João Mário have scored more Primeira Liga goals than Navarro in the current campaign.
In addition to this, he's provided an additional 3 assists, bringing his overall goal contribution to 16. It's difficult to imagine where Gil Vicente would be without their Spanish marksman, but one can be confident in saying they would be far worse off than they are at the moment.
Navarro doesn't receive many chances in a game, so it's crucial that he's clinical with the chances he does receive, which is very much the case.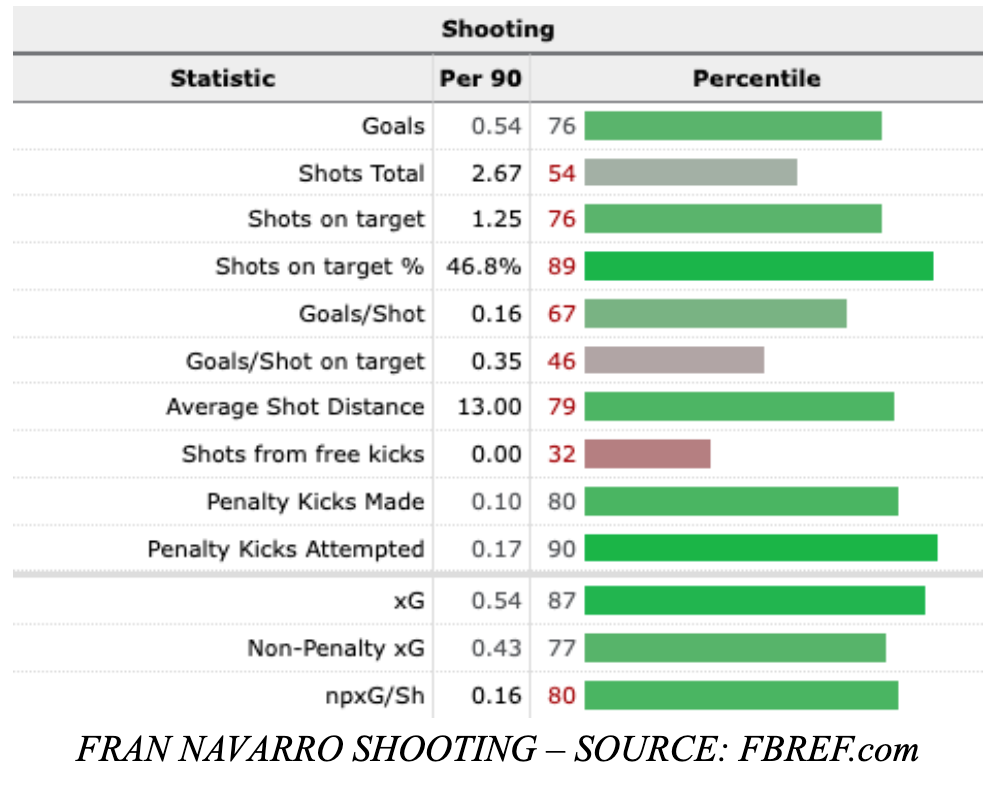 As shown by the data, Navarro's shot volume is only average due to his fairly limited chances, but his shots on target, expected goals (xG) and actual goals rank him highly amongst centre-forwards in the next 8 men's competitions over the past 365 days. He's a proficient centre-forward and makes the most of the chances he does receive, often hitting the target to force the goalkeeper to make a save.
Despite his fairly small frame – standing at just 1.79m – as well as his lack of outstanding physical traits, the Valencia-born forward often finds himself in excellent goalscoring positions. This is due to his intelligent movement and spatial awareness.
He's capable of playing with his back to goal, which diversifies the manner in which he's able to find space for chances. It goes without saying that he's an excellent finisher, often placing the ball just past the goalkeeper in the only spot he can put it to prevent a save.
Alex Grimaldo: The Spanish Left Back Making an Impact in Benfica
"Poacher" is probably a fair description for the type of striker Navarro is, as he can often go long periods of a game without having an impact before making his presence felt in the final third, regardless of how rarely he may receive the ball. That constant preparedness is the hallmark of a reliable centre-forward and Navarro truly epitomizes that.
The Spaniard's next move is uncertain, but based on his performances for Gil Vicente, he'll doubtless have a number of suitors vying for his signature in the summer, and he may have an even greater opportunity to show his talents in a system that provides him with even more chances in front of goal.
By: Lebohang Mwamuka / @lebzygold
Featured Image: @GabFoligno / Gualter Fatia / Getty Images