Player Analysis: Ibrahima Diallo
At just 22 years of age, Ibrahima Diallo has had a long and intricate journey to the English top flight. Diallo is another product of the famous AS Monaco youth academy which has produced some of the world's most well-known players in the likes of Kylian Mbappé and Yannick Carrasco.
Despite being a fairly-rated player in the academy and on the B side, he never made an appearance for the first team. This lead to Diallo being loaned out to Brest in northwestern France.
After a brief time in the side's B team, he slotted into the first team and performed admirably and this was spiked the interest in Southampton manager Ralph Hasenhüttl who at the time was looking for a replacement for Pierre-Emile Højbjerg who left for Tottenham.
Eventually, Southampton had a £13.6million bid accepted – which is the biggest sale in Brest history. After a season to settle into the south coast, this season appears to be the breakthrough season of Ibrahima Diallo, making 13 appearances this season and operating in the Southampton midfield. 
Position, Tendencies, and Skills
Ibrahima Diallo has a small frame but is a wiry player in the same mould as Italian midfield maestro Marco Verratti, despite being 0.4 feet taller than the Italian. Midfielders are now held to incredible standards due to the elite – they must have elite athleticism, dominate every aerial and ground duel, pick out a pass like Kevin De Bruyne and never miss a beat.
Not many, if any can meet these ridiculous expectations, but to the credit of Ibrahima Diallo is a player who tries to come close with these expectations. Diallo has played in multiple positions for Southampton this season, playing as the right-sided CM in a flat 4 in midfield as well as wide right in that formation.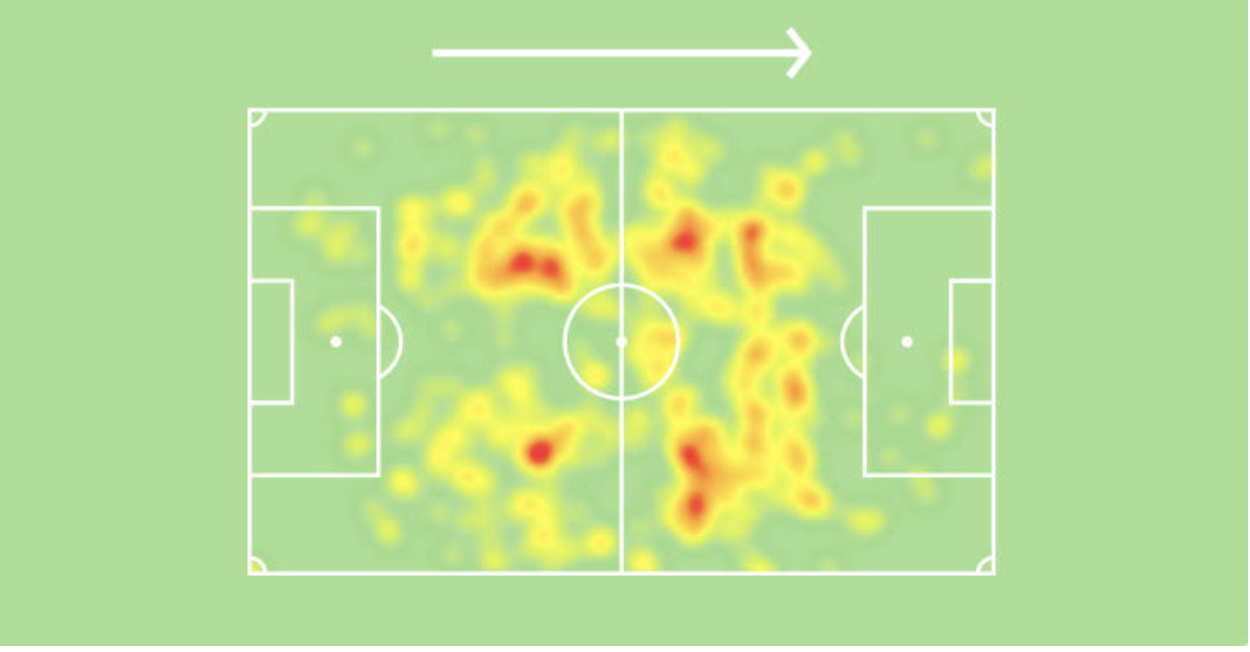 Ibrahima Diallo 21/22 season heatmap [SofaScore]
As seen in the heatmap above, Diallo operates in the half-spaces – in a relentless ball-winning and pressing role, covering the wide spaces left by the wide midfielders – who push inside to support the two strikers in a narrow Southampton system with Saints captain James Ward-Prowse occupying a deep-lying role. 
A Great Presser in a Great Pressing System 
As stated previously, Diallo is a high-intensity player within a team coached by a renowned aggressive pressing manager Ralph Hasenhüttl. The two strikers are instructed with cutting out the passing lanes into the central midfield rather than aggressively pressuring the opposition center-backs. The wide midfielders stay somewhat narrow, usually occupying the half-spaces.
Therefore, preventing central progression through the middle and in doing so naturally, inviting the opponent to move the ball out wide and this is where Diallo role comes to importance – looking to quickly pull out wide and retrieve the ball without leaving too much space in the middle of this space is left the inverted full-back will look to cover his position. 
His numbers are evidence of this successfully completing 7.04 pressures per 90, ranking in the top 12 percentile for pressures made in the middle third and in the 18 percentile for pressures per 90. 
He's guilty for being a bit rash and clumsy in his challenges ranking in the top 12 percentile for yellow cards amongst midfielders Europe's top 5 leagues – receiving 19 yellow cards in 115 club games to be exact.
But this shouldn't overlook the tidiness of Diallo's play and a unique but telling stat is that he ranks in the top 10 percentile for nutmegs (which may not be useful or important to most but highlights the silkiness in his game that usually gets overlooked with his type fo profile). 
Proficient Carrier 
Diallo's role is to pick up areas where he can get on the ball and carry it through opponents' defensive lines and into Southampton attackers.
This carries an increased risk of dribbles being intercepted or a poor touch, given most of Diallo's dribble actions involve playing in transition. Once he receives the ball, the young midfielder would do a quick scan of the pitch before carrying up the field. 
Diallo is comfortable playing one or two touch football and is capable of dribbling his way out of trouble, while he also can burst past players with the ball.
At 22 years old, he tends to keep things simple in the center of the park but when he has to he can control the situation he's in, and playing next to a composed player like James Ward-Prowse also helps.
He adds an increased level of progression with his dribbling too, as skill predicated on a smooth glide through the pitch, and once again he's numbers show this ranking in the top 13 percentile for players dribbled past, top 17 percentile for shot-creating actions through his dribbles and completing 1.22 dribbles and 1.54 carries into the final third per 90.
Conclusion 
Given he continues his growth by maintaining his direct style of play in combination with improving his understanding of the game, Ibrahima Diallo will be an important first-team player for Southampton in gaining experience and confidence game after game and he is expected to do even better in the coming matches.
Diallo has a prolonged career ahead of him but looking at his performances and potential, he will only get better with time. His intelligence to evolve and show various aspects of his game are all ensuring Diallo is on track to have the abilities to become a complete midfielder.
By: Raphael Adelugba / @RaphaelAdelugb0
Featured Image: @GabFoligno / Robin Jones / Getty Images