Player Analysis: Jude Bellingham
The trouble with Jude Bellingham, is he's absolutely brilliant. 
Born in the year 2003 – that's the year Thierry Henry was robbed of the Ballon D'Or and Ruud van Nistelrooy won the Premier League's golden boot, for those who'd like to be slapped in the face by Father Time – Jude Bellingham rose to prominence at boyhood club Birmingham City, and is currently garnering worldwide acclaim in Borussia Dortmund's midfield. 
The young, bombastic star-in-waiting has been likened to every era-defining midfielder under the sun, as the traditional desire to define young footballers via comparison rather than letting them blossom into individuals has, as usual, taken hold. 
There is, however, one comparison that works. 
Jude Bellingham can quite easily be likened to Steven Gerrard. 
Yes, he's got the drive to take the ball and put it in the goal without even considering that there might be blockages in his way. And yes, he's got technique and a kind of mystical frenzy in his game. But a lot of midfielders have that these days.
What really strikes you isn't any real comparison to Gerrard of Bellingham's own volition, but what Bellingham, at a disturbingly young age, has become. 
See, Steven Gerrard became Liverpool's superhero. When the institutions of society failed to combat a threat, Liverpool's manager – whether it be Houllier (briefly), Benitez (regularly), Hodgson (desperately), or Rodgers (flagrantly), Steven Gerrard wasn't allowed to just be Steven Gerrard, the thoroughly brilliant midfielder.
Instead, Steven Gerrard became Liverpool's saviour, often their entire midfield, and the impetus with which Liverpool could achieve something. 
Jude Bellingham has been laboured with exactly the same curse. 
Demarai Gray: The Resurgence of a Wonderkid at Goodison Park
At Birmingham, perhaps it made sense. Pep Clotet's Birmingham was uninspired most of the time, Aitor Karanka's Birmingham were more focused on being rigidly solid in front of their own goal than putting the ball in the opposition's goal. Bellingham, at seventeen years of age, shouldered the entire burden of Birmingham's attacking verve. 
At Borussia Dortmund, where Jude Bellingham has currently been lighting up the Bundesliga – a league familiar with blistering young talent – it's perhaps more incongruous to think that a now-eighteen-year-old is still shouldering the burden of an entire team's verve, but here we are. Bellingham is, jarringly often, Dortmund's entire midfield. 
So, why? Well, much like the generational Liverpool talisman that once had a claim to be the world's best midfielder, Jude Bellingham is outrageously good. 
The Difference-maker
The most impressive thing about young Jude Bellingham is his maturity and his utter disregard for his own age.
Sure, he may have cast aspersions about a referee's chequered past after said referee made a dubious decision in a knife-edge Der Klassiker, but on the pitch he is one of Dortmund's most mature decision-makers. All this at just age eighteen. 
At sixteen, he scored in his second ever appearance for his boyhood club. The winner, in fact, against Stoke, in the Championship. On his first full start, he scored again – this time a late-run into the box against Charlton Athletic.
He had his first Bundesliga goal at Stuttgart at age seventeen, and started nineteen games last season (coming off the bench in a further ten). 
This season, under the tutelage of Marco Rose, he's started almost as many games (eighteen) at the outset of the Rückrunde as he started in the entirety of last season.
He's scored three times in the Bundesliga, once in the Champions League, and if he's not starting in midfield (next to Mo Dahoud or Axel Witsel), he's starting on the left of attack in a 4-2-3-1. 
So what makes him a tactical difference maker? What makes his a crucial first-team player at age eighteen? 
Primarily, there's a superb ball-carrying ability, that rarely becomes superfluous. Beating a man is almost always done with the mind of progressing the ball – in the efficient, calculating style that pleases students of German 'packing' metrics – and his drive and desire to move the ball is plainly visible.
Birmingham's Glorious Gunners: How Seb Larsson, Nicklas Bendtner and Fabrice Muamba Made Their Name
Dortmund often look to both sides of their midfield – often wide to stretch teams out in the middle third – to progress the ball, and in Julian Brandt and Jude Bellingham, they have the silky and the spirited, always looking to drive the team forwards. 
Bellingham's first season was emblematic of the youthful drive that Bellingham epitomised coming out of Birmingham – plenty of determination without too much refinement, artfully bulldozing his way through midfields. His link-up with Dortmund's front-players was there, but it hadn't quite materialised into anything. 
This season, that has changed. Where once Bellingham's dribbling output far outweighed his creativity with the ball, the young Englishman now looks to play one-two's regularly in and around the box, ensuring he's there to play the second or third bounce pass where once he would've taken the ball himself.
Rather than simply making late runs, he's positioning himself tactically to receive the ball and push his team forward. It's no wonder that, per FBref, Bellingham in the top 5% for midfielders in receiving dangerous progressive passes in and around the box.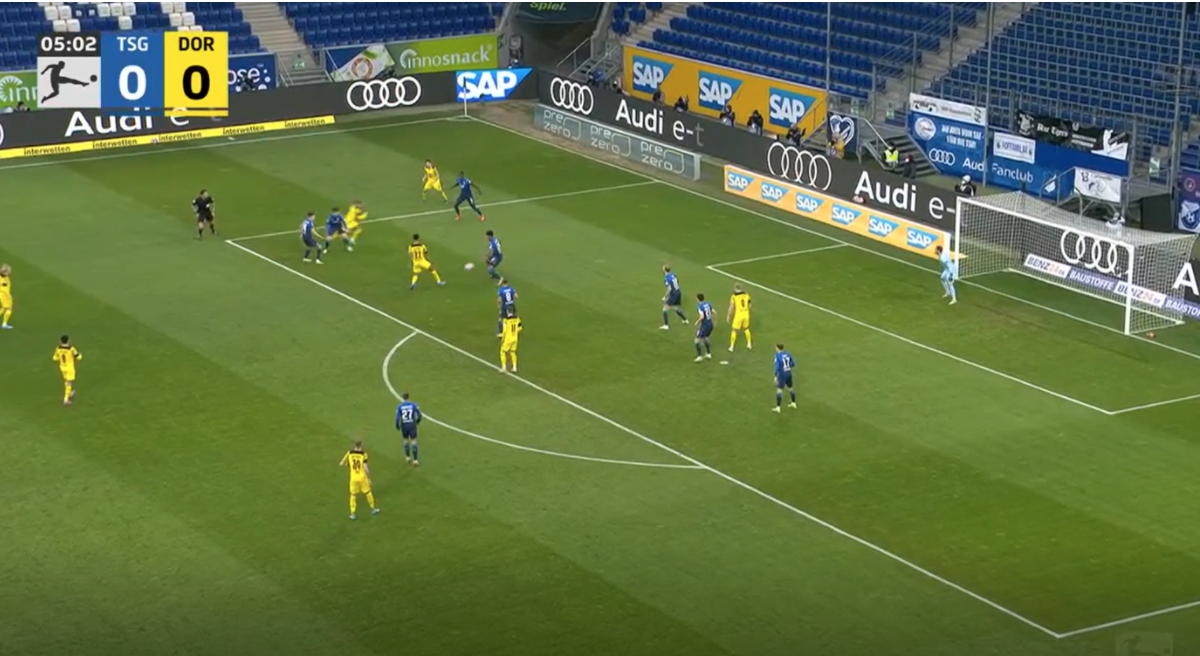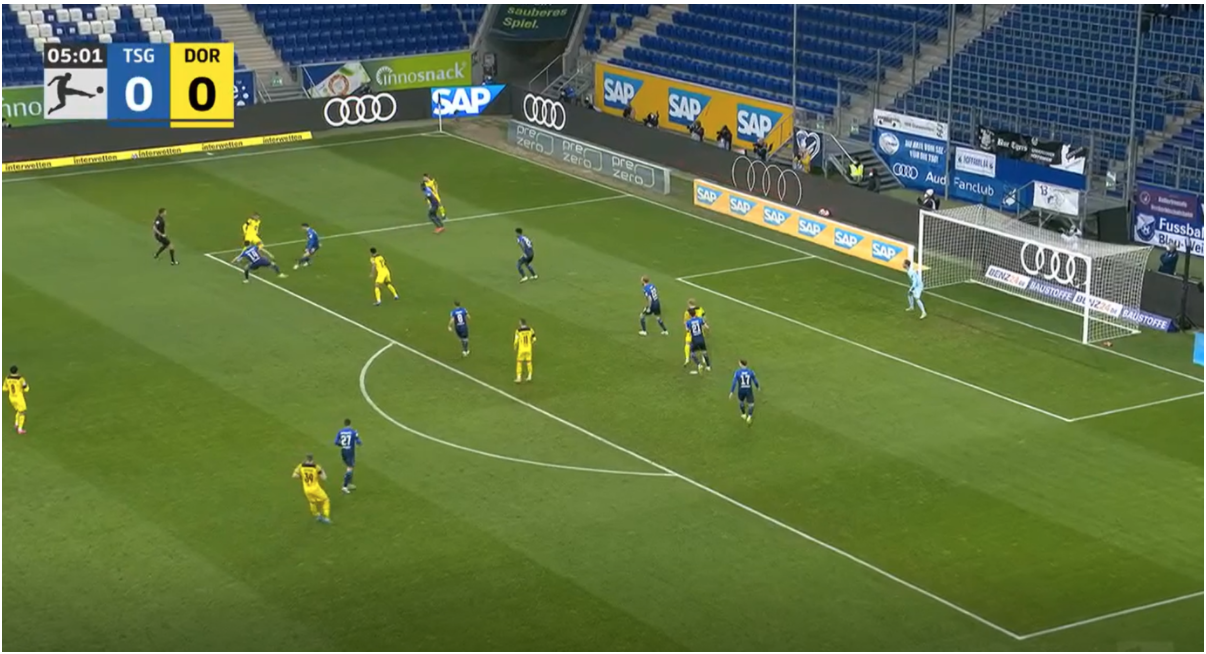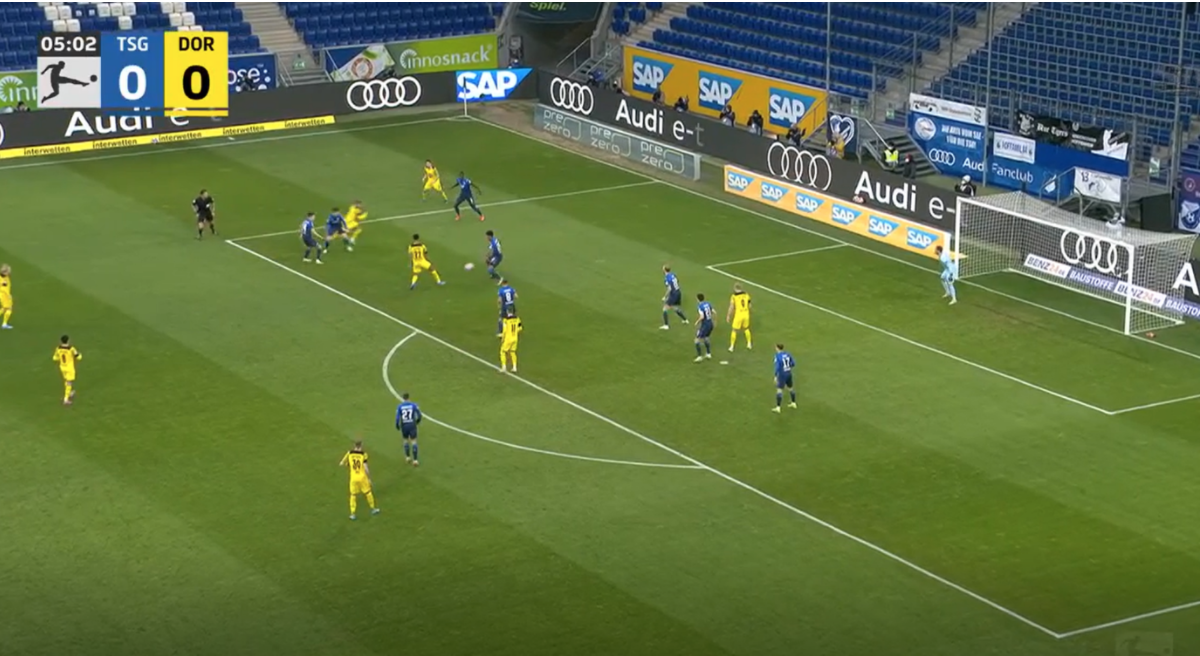 Bellingham places himself at the perfect angle, playing a first-time lay-off for Donyell Malen to run onto, who then crosses for Erling Haaland to score. 
This season, too, Bellingham has matured into a more well-rounded midfielder in possession: he's now comfortable at anchoring a midfield, as he did against Bayer Leverkusen.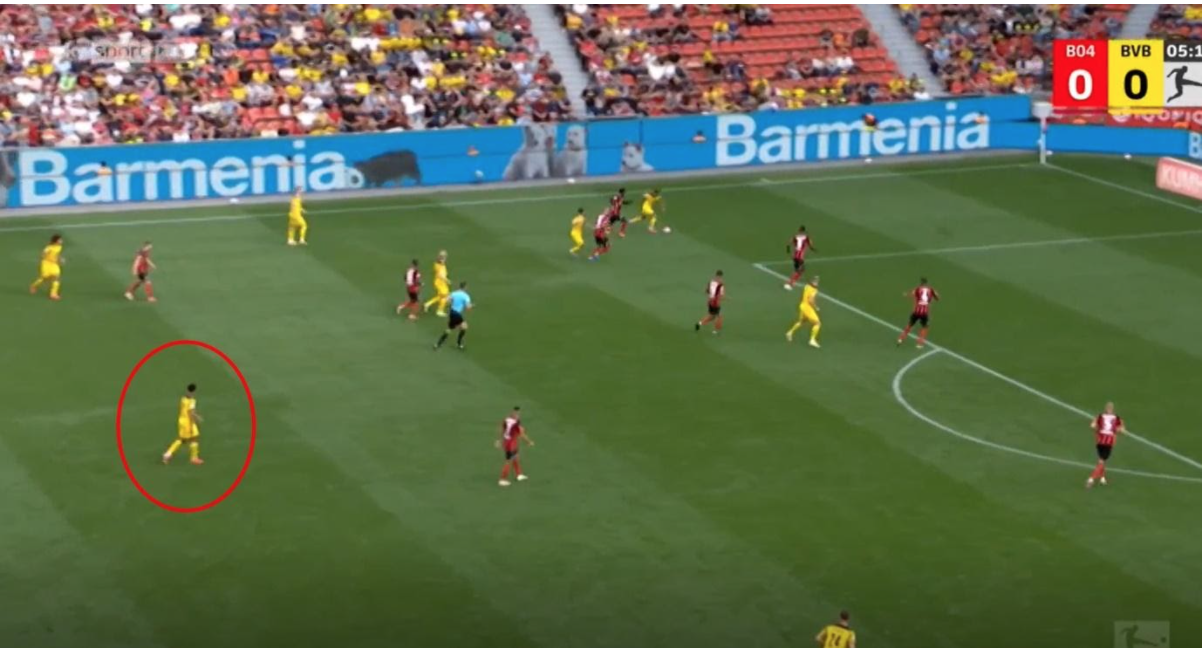 Bellingham anchors the base of the midfield in case possession needs to be recycled or Leverkusen counter.
But lots of midfielders excel in that respect, especially when surrounded by the likes of Erling Haaland, Thorgan Hazard and Julian Brandt. What makes Bellingham special is that drive to progress the ball at his feet by any means necessary. 
He makes 2.88 shot-creating actions per game – again per FBref – and completes 1.85 successful dribbles per game. He also gets himself into the box constantly; he takes 3.28 touches in the attacking penalty area per game – that's the top 3% of midfielders. 
Get the ball to Bellingham in space, and he'll turn, and look to drive. In modern football, where attacking angles are constantly being sought, having a midfielder that can drive the entire team forward is a commodity among top clubs (and, if you'll remember, he's still only 18). 
Outstanding Ability – But That's the Issue, He Tries to Do Everything
So, that's the attacking output, but Bellingham isn't just an attacking midfielder (even if he sometimes plays on the left side of an attacking midfield three.) As his heat map (courtesy of Sofascore) below demonstrates, Bellingham is everywhere – literally.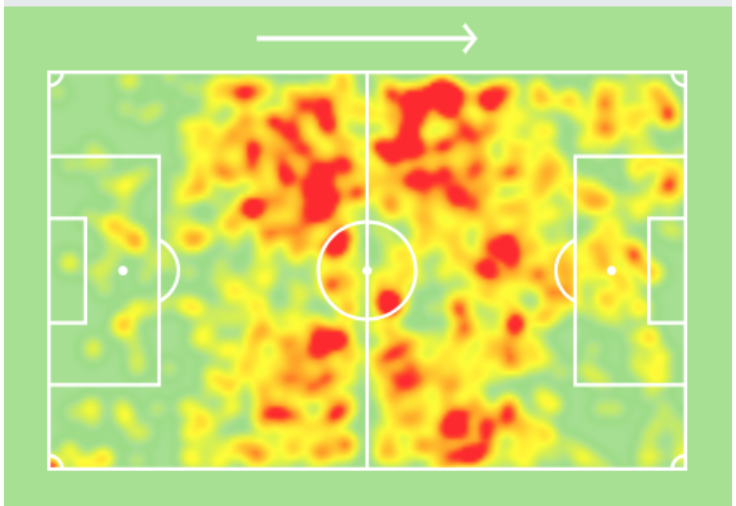 He presses like he's an adolescent kid trying to win the ball from his big brothers, and he's often the most energetic presser for Dortmund (alongside a chap/footballing cyborg named Erling Haaland).
Being a noticeable presser in Germany is quite something, but it's not just in the front half where he's trying to win the ball: he makes 2.5 defensive blocks per game. 
That, however, is the problem. The aforementioned Steven Gerrard comparison is flattering, certainly, and (most impressively) isn't ridiculous hyperbole. 
The trouble with Gerrard, however, is that when the rest of the team stumbled, and the tactical plan was failing, he became their tactical plan. 
It's not quite at that level yet, but the amount of times Marco Rose's side has relented creativity and given the ball to Bellingham in midfield as they waited desperately for something to happen is astonishing. Bellingham doesn't help his cause, either, by trying to do everything, literally. Below is a sequence of events in the first twenty minutes of Dortmund's recent game against Hoffenheim.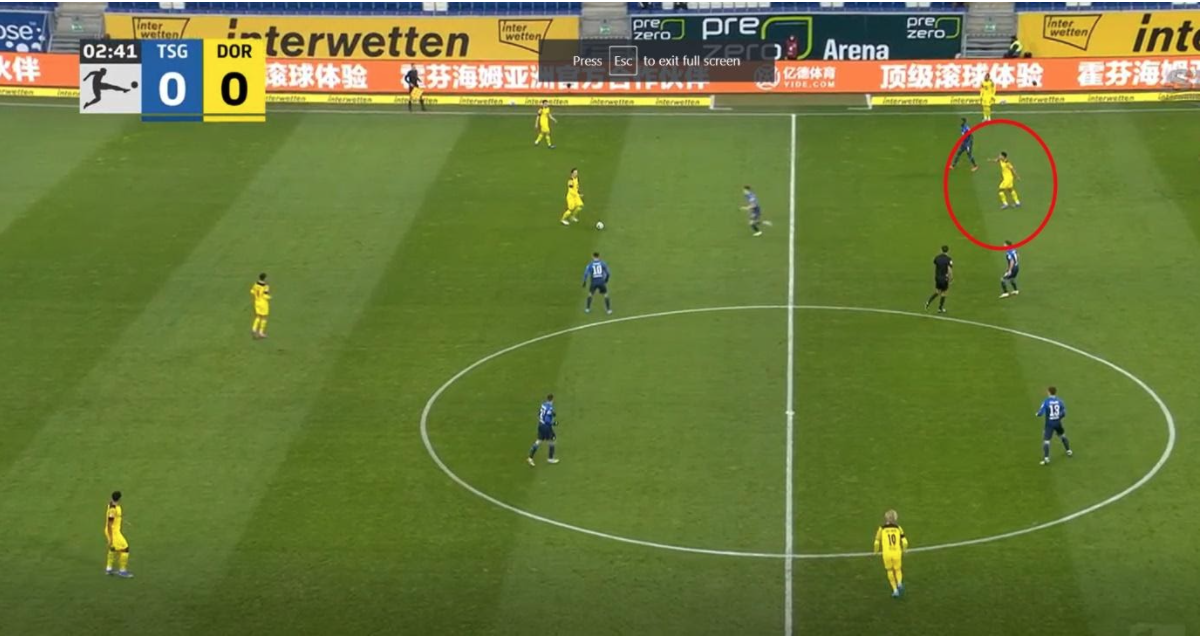 Bellingham positions himself to receive the ball, in a space where he can turn and drive with it.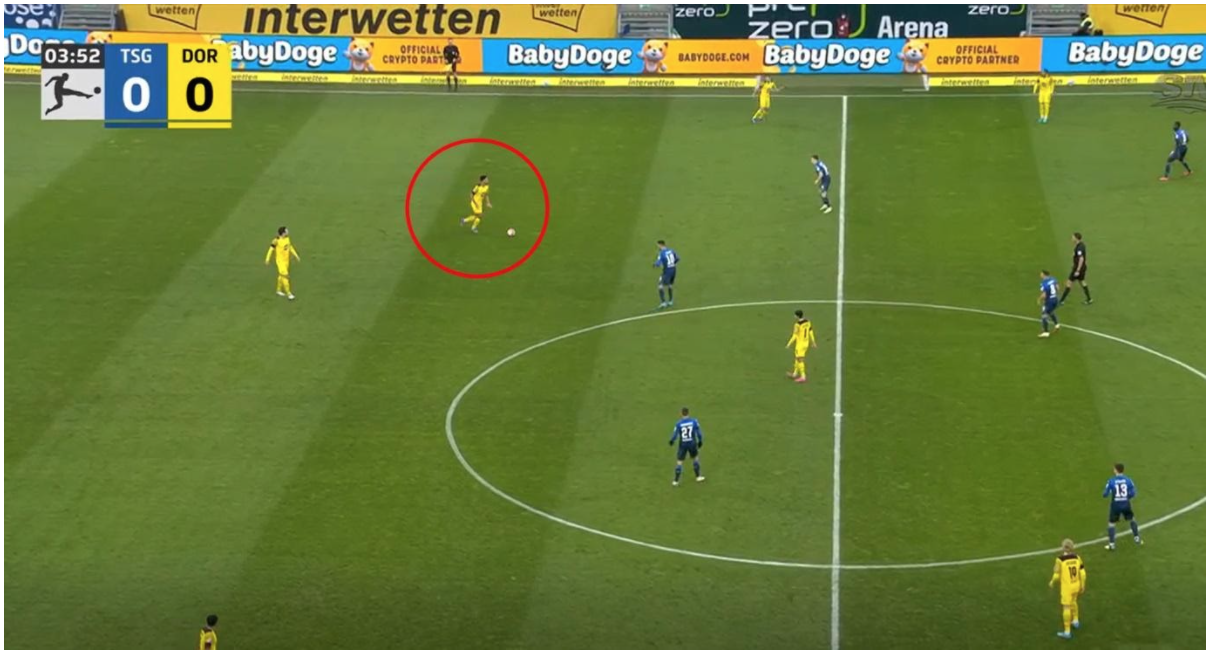 A minute later, he's at the back, bringing the ball out from defence himself.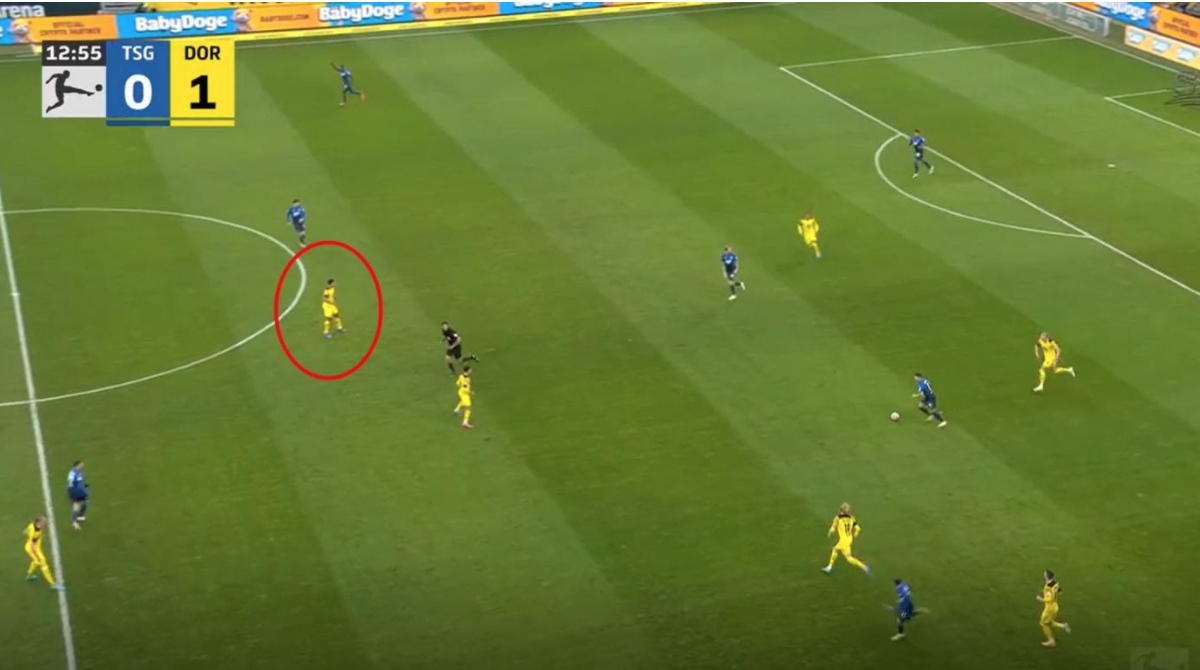 When Hoffenheim try to bring the ball out, Bellingham is sitting in the second line of the press, as a midfielder.
Then, later, he's in the first line of the press, next to Haaland, trying to be aggressive and win the ball back.
Dortmund have come to rely on an eighteen-year-old midfielder to be everywhere. 
The Blueprint for the Modern Midfielder
All this makes Jude Bellingham the blueprint for the modern box-to-box midfielder. With football ever-more emphasising the importance on athleticism in the centre of the park, and with pressing ever more in vogue, Bellingham would be a prized capture for a big team who wants a midfield commander. 
The trouble is, if that team begins to rely on Bellingham to do everything, he will undoubtedly be unable to do the things that make him amazing. 
Bellingham is an incredible talent. Perhaps he'll be the next evolution of the English midfielder, seizing the mantle from Steven Gerrard. However, unlike Gerrard, he shouldn't be tasked with carrying an entire team on his back. He's simply too good to be allowed to do that. 
By: Alex Barilaro / @Alex_Barra12
Featured Image: @GabFoligno / Joosep Martinson / Getty Images