Player Analysis: Jules Koundé
From Aymeric Laporte to Raphaël Varane, from Presnel Kimpembe to Dayot Upamecano, there isn't a single nation in the world that can hold a candle to France's center back depth, and the next name in France's laundry list of elite center backs is 21-year-old Jules Koundé.
After rising up Bordeaux's academy and breaking into manager Gus Poyet's starting eleven, Koundé earned a €25 million move to Sevilla in the summer of 2019, where he would link up with Diego Carlos, who arrived from Nantes in the same window for €15 million. The two would go on to form a rock-solid duo in the heart of Julen Lopetegui's defense, as Sevilla finished fourth and won the UEFA Europa League.
While Carlos, 27, may have scared off suitors due to his erratic defending and cringeworthy mistakes, as he conceded three penalties in the final three rounds of Europa, Koundé's reputation and price tag has only grown in the final months of the season. Let's take a deeper look at France's next top center back.
Statistical Profile
Before moving on to the eye test, let's look at some statistics to get a decent idea on Koundé's playing profile.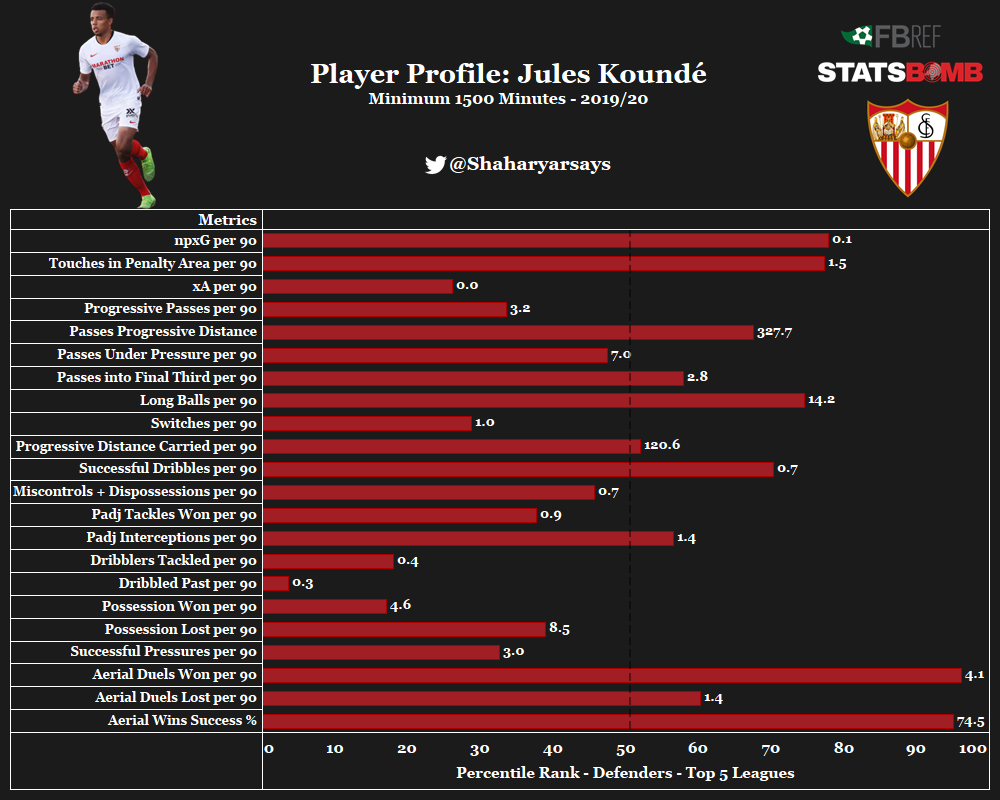 As opposed to the aggressive, gung-ho style of his Brazilian partner in defense, Koundé's defending style is a touch more conservative, as he prefers to delay his actions and force his opponents into making mistakes by closing down the angles; as a result, he ranks low in terms of tackles and interceptions.
Koundé is a risk-averse player on the ball as well, preferring to play it safe instead of attempting high-risk, high-reward passes. As demonstrated by his low percentiles in tackles, interceptions, possession won and dribblers tackled, followed by low numbers in dribbled past statistics, he is a low volume defender who doesn't lunge into tackles very often and prefers to let the play come at him.
To paint a better picture for these claims, let's see how his numbers fare against (arguably) the best defender in the world: Virgil Van Dijk.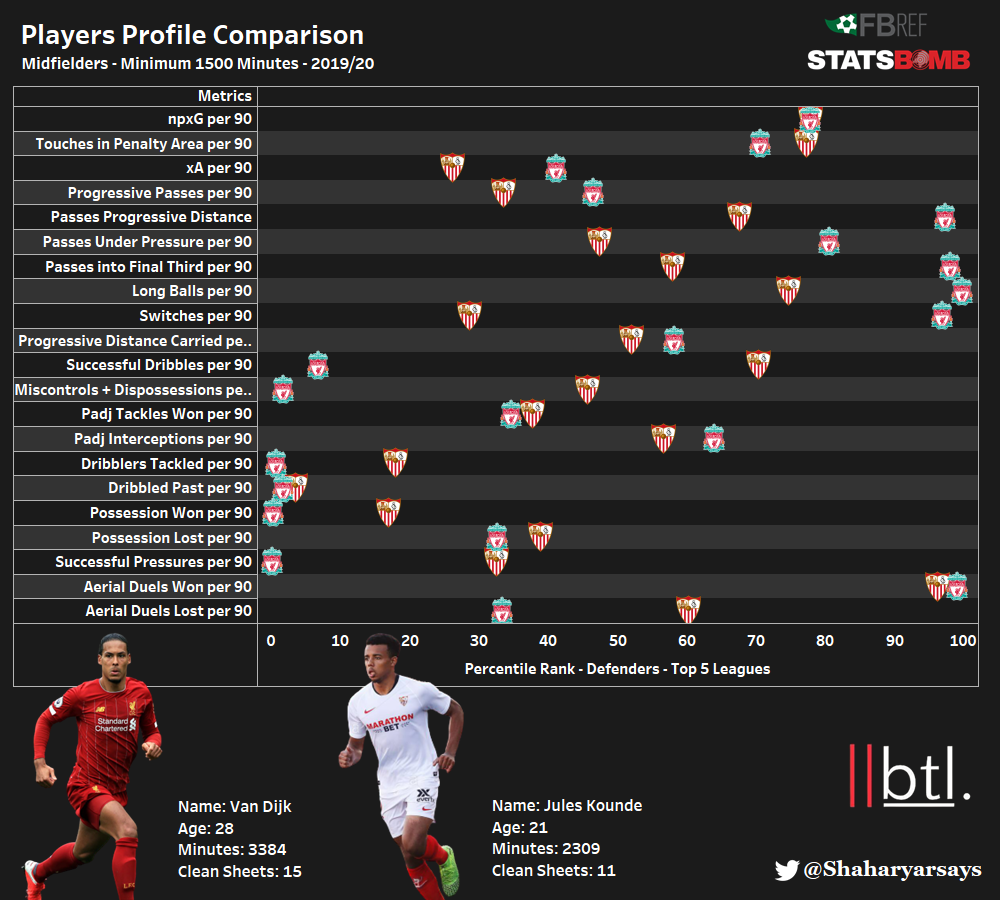 Van Dijk is clearly a few levels ahead of Koundé's ball-playing ability, but similarly to his Dutch counterpart, Koundé prefers not to lunge into challenges. You'd be hard-pressed to find a U-23 center back who comes as close to Van Dijk in terms of style and quality as Koundé.
Positional Awareness
In Lopetegui's system, the defensive midfielder (usually Fernando) drops deep to form a back three with the other two central defenders when defending in a block. By doing this, he can act as the aggressive centre back waiting to pounce on the opposition attackers at every given opportunity. As a result, Koundé usually has to act as the more passive defender and pick and choose his moments to come off his line.
Although he still needs to improve his decision making in terms of when to come out of his line in order to avoid getting stranded in no man's land, Koundé's positional awareness is top-notch already. In this example, Arturo Vidal is on the ball while Koundé is marking Luis Suárez. Vidal plays a pass into the path of Ivan Rakitić.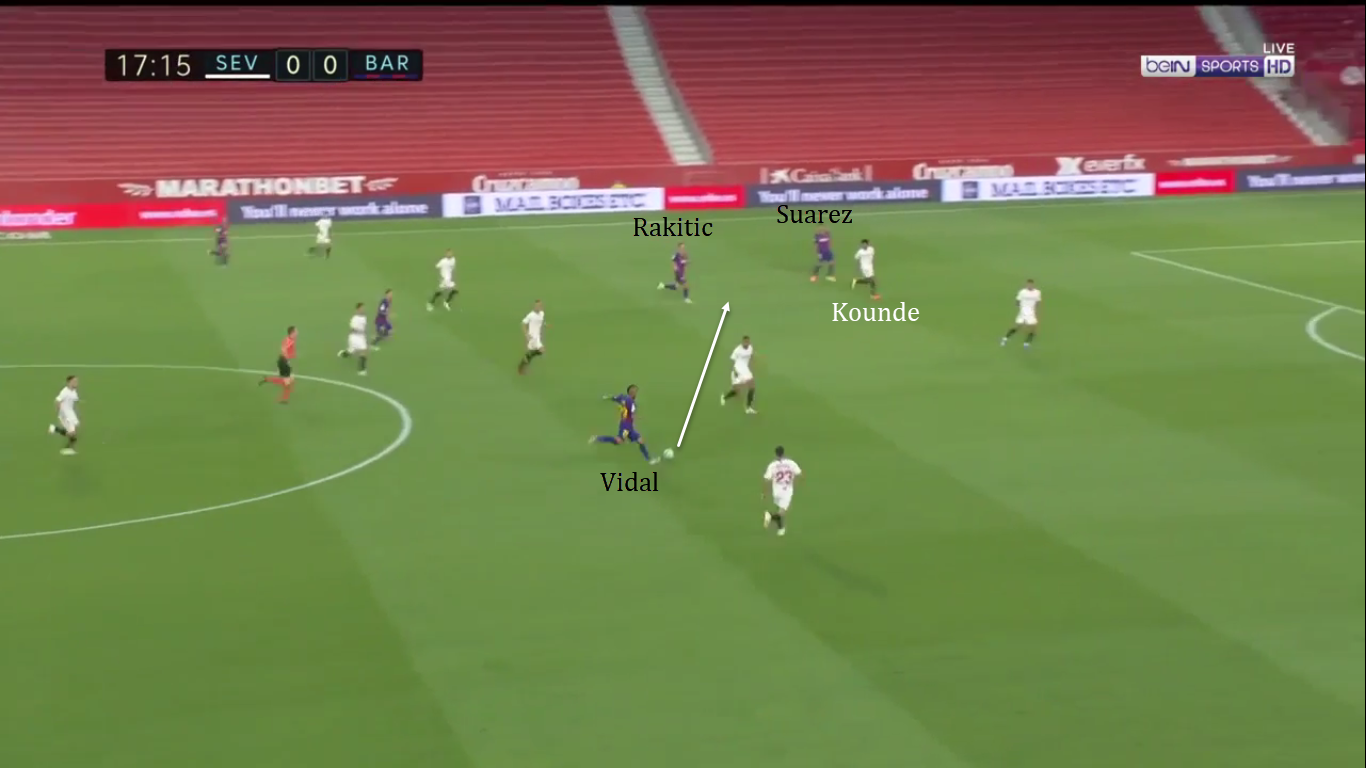 Rakitić leaves the ball for Suárez to receive but Koundé shows brilliant awareness and intercepts the pass, pushing the ball into the direction of his teammate Joan Jordán.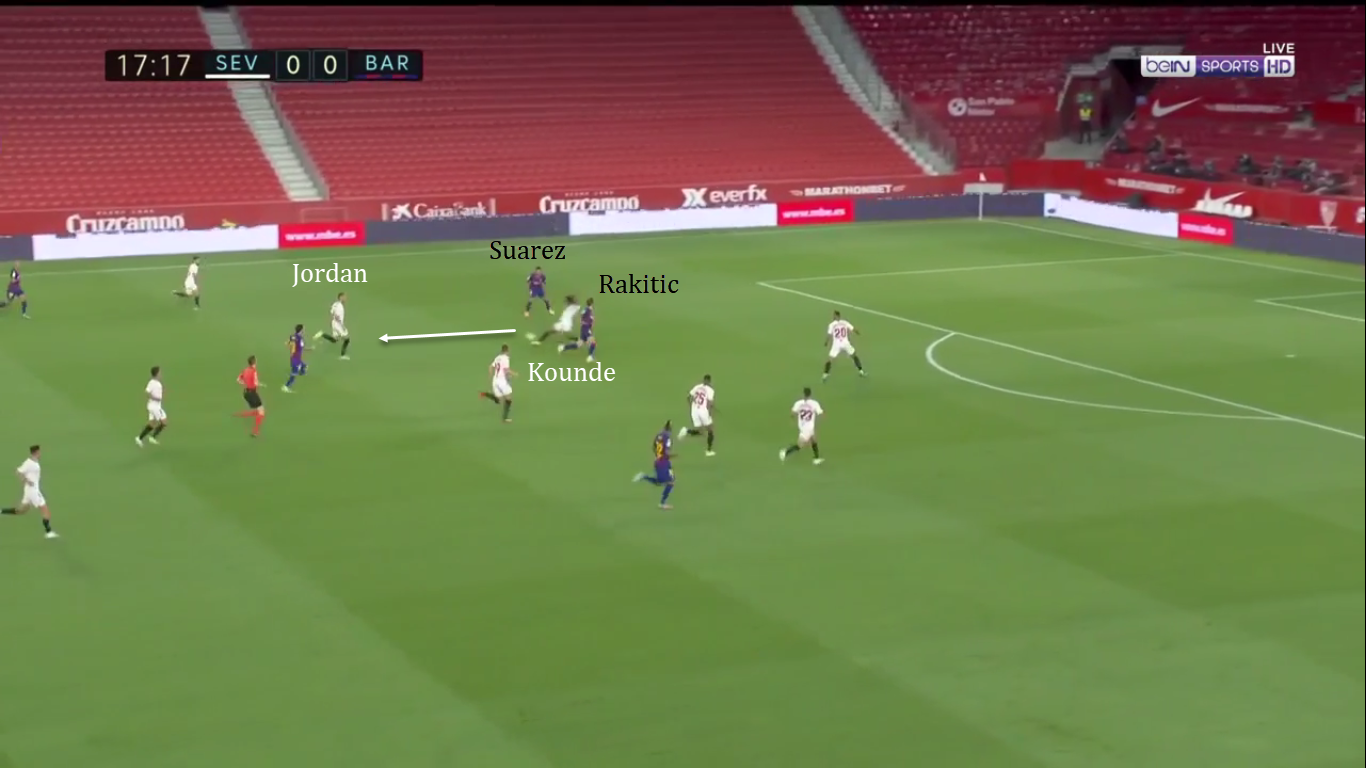 In the next sequence, Joaquín Correa attempts to play a through ball into Álvaro Morata's path as the Spaniard makes a run to peel off Koundé's shoulder. However, the Frenchman shows great awareness of Morata's position matches him stride for stride in the foot race. Correa's pass ended up being intercepted by Carlos, but Koundé was always a step ahead of Morata.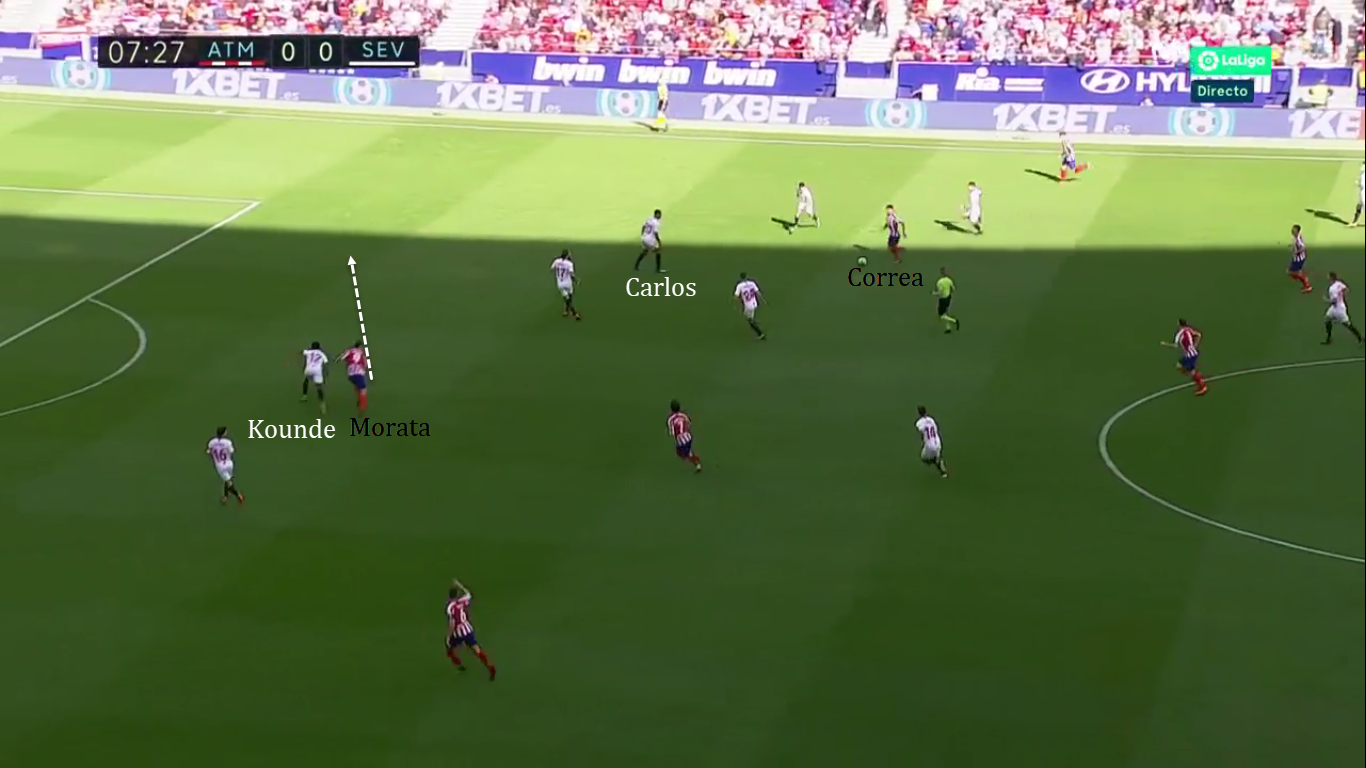 Sevilla defend in a zonal man-marking system is which each player has to closely mark an opponent in his zone, and once that opponent leaves the zone, the responsibility is transferred over to the next defender. Hence, when an attacker who is occupying Koundé's defensive zone decides to drop deeper, Koundé puts immediate pressure to force an error and block the passing lanes. 
Even if Koundé steps off his line, Sevilla are still left with a capable back four due to the defensive midfielder dropping between the center halves. Koundé uses this additional security to a great effect when he decides to step out of his defensive line.
In this example below, Clément Lenglet looks to play a pass to Suárez as Koundé is lurking just behind the Uruguayan.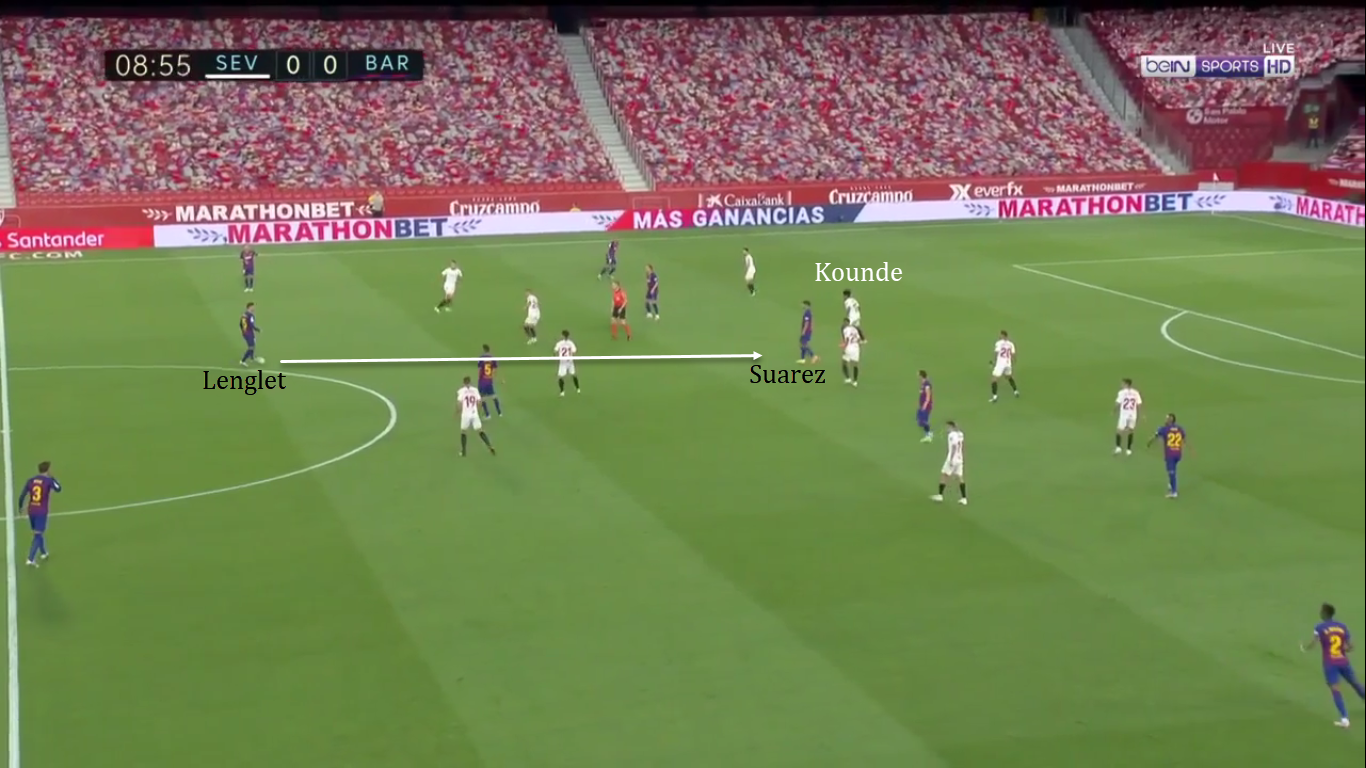 As soon as the ball leaves Lenglet's foot, Koundé shows great awareness to step off his line and intercept the pass. He then carries the ball further forward before playing it to Lucas Ocampos.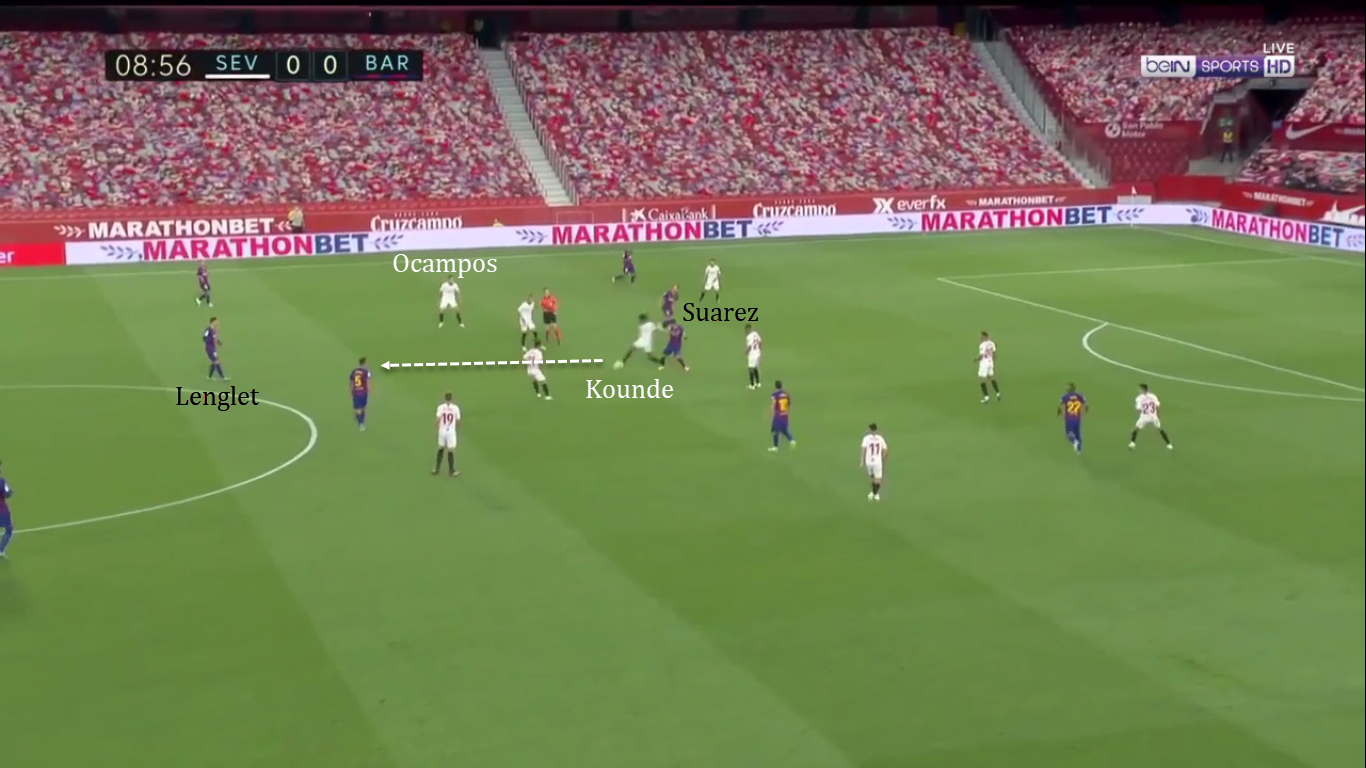 In the next run of play, Lionel Messi plays a pass into Vidal, who looks to receive the ball with his back towards the goal. Koundé sees this as an invitation to press and quickly leaves his defensive line. He puts pressure on Vidal, forcing him to cough up the ball, and Jordán safely regains possession.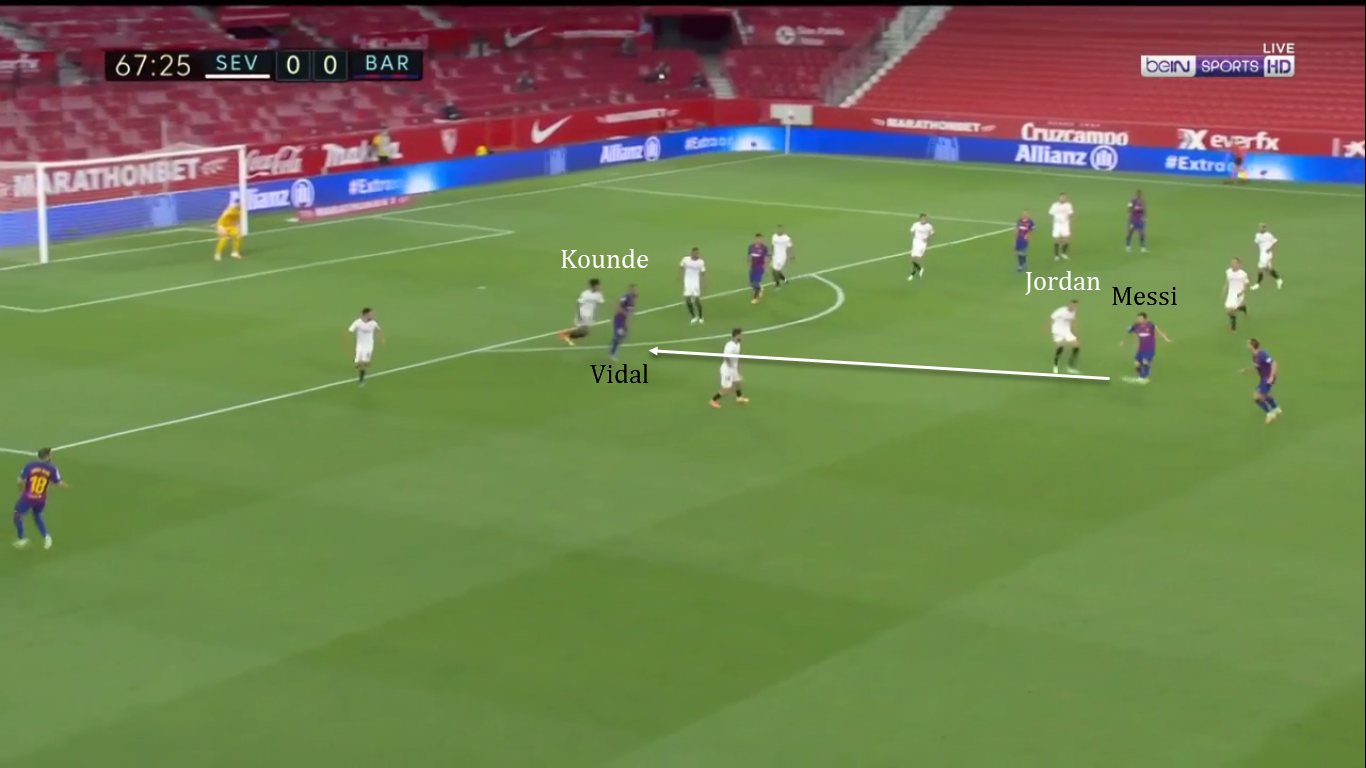 Aerial Prowess
Despite standing just 5'11," Koundé boasts an incredible leap and heading ability. Not only is he able to sniff out opponents and come out on top in aerial duels, he has a knack of winning them even against the tallest of forwards.
One of Atlético Madrid's main attacking strategies when going direct is playing long balls into Morata. who can then lay the ball off to his teammates on the counter. As Morata attempts to nod the ball into the path of João Félix, who is getting set to exploit the ample space between Jesús Navas and Nemanja Gudelj, Koundé rises and beats Morata in the air, securing possession for Sevilla.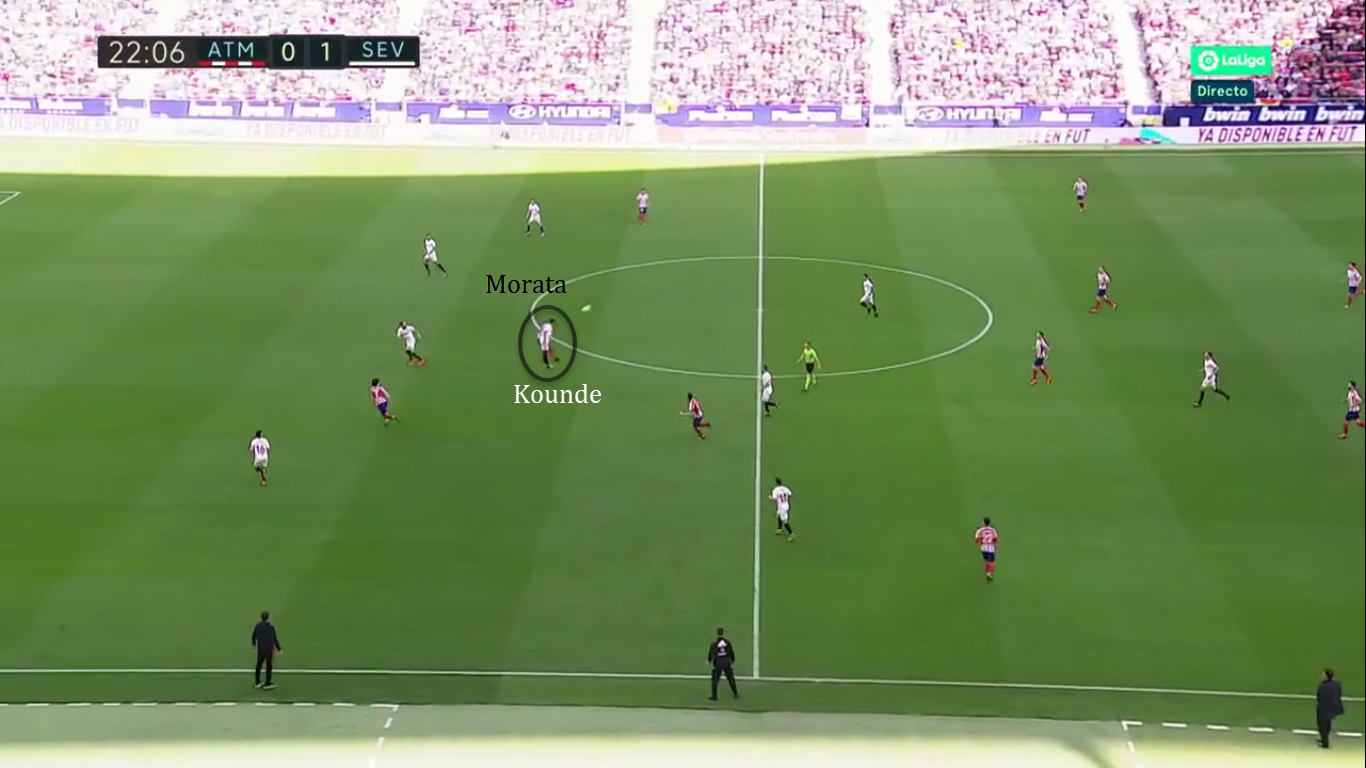 Koundé is equally adept at winning these duels when dealing with deliveries from the flanks. Here, Nélson Semedo delivers a cross into the box towards Arturo Vidal, but Koundé is quick to anticipate it and wins the header. Another positive attribute to his aerial ability is that most of the loose balls fall towards a teammate, as it does for Suso here.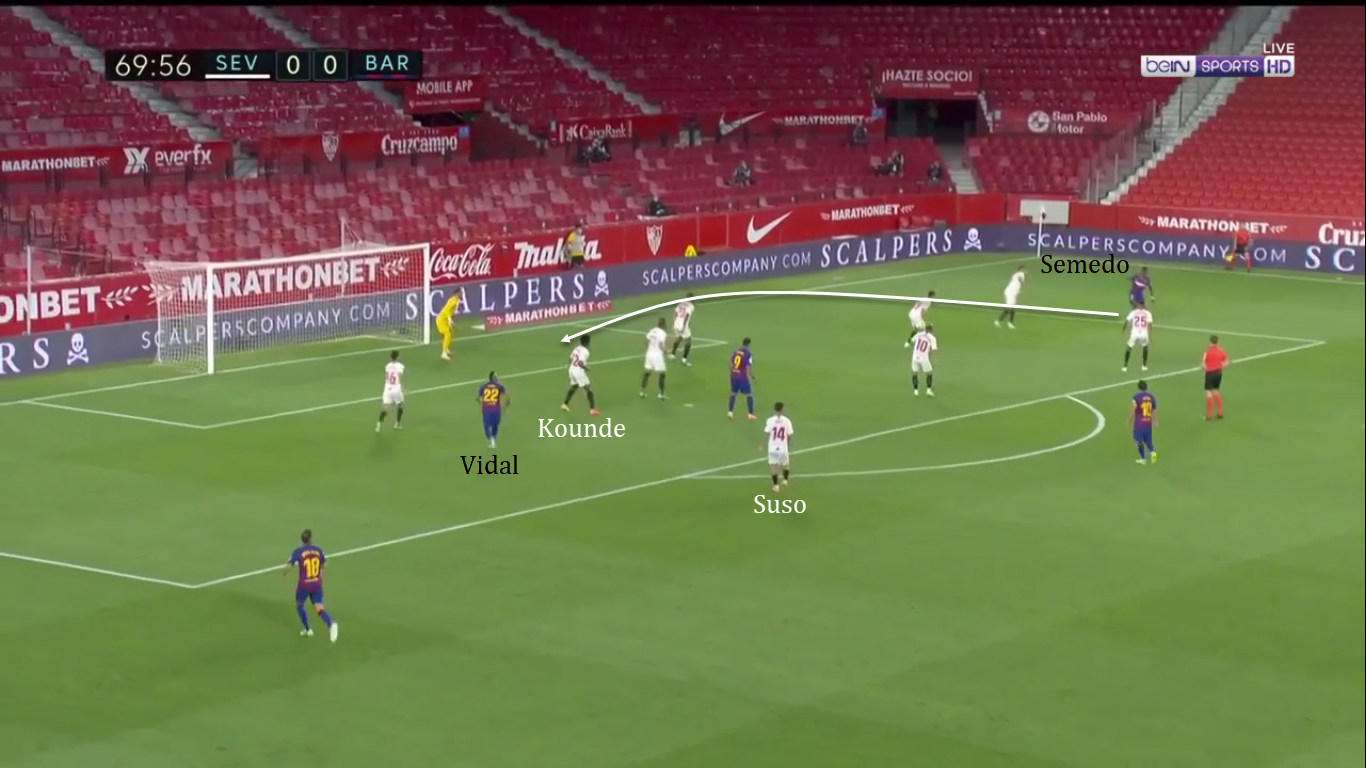 Surprisingly, Koundé is not able to replicate his brilliant aerial skills in the opponent's penalty area. The Frenchman still gets on the end of most aerial deliveries, but he isn't able to convert them into goals. Koundé has had an xG of 1.17 from headed chances this season, but failed to convert a single chance. For the sake of comparison, Van Dijk had a headed chance expected goals (xG) of 1.29 last season and the Dutch defender converted five of those into goals.
This may not be a huge concern since Koundé is still just 21, but it could point to a potential issue regarding his control in such situations. In this example, Koundé manages to leap above the Atlético Madrid defenders but he failed direct his header, and his shot soars above the crossbar.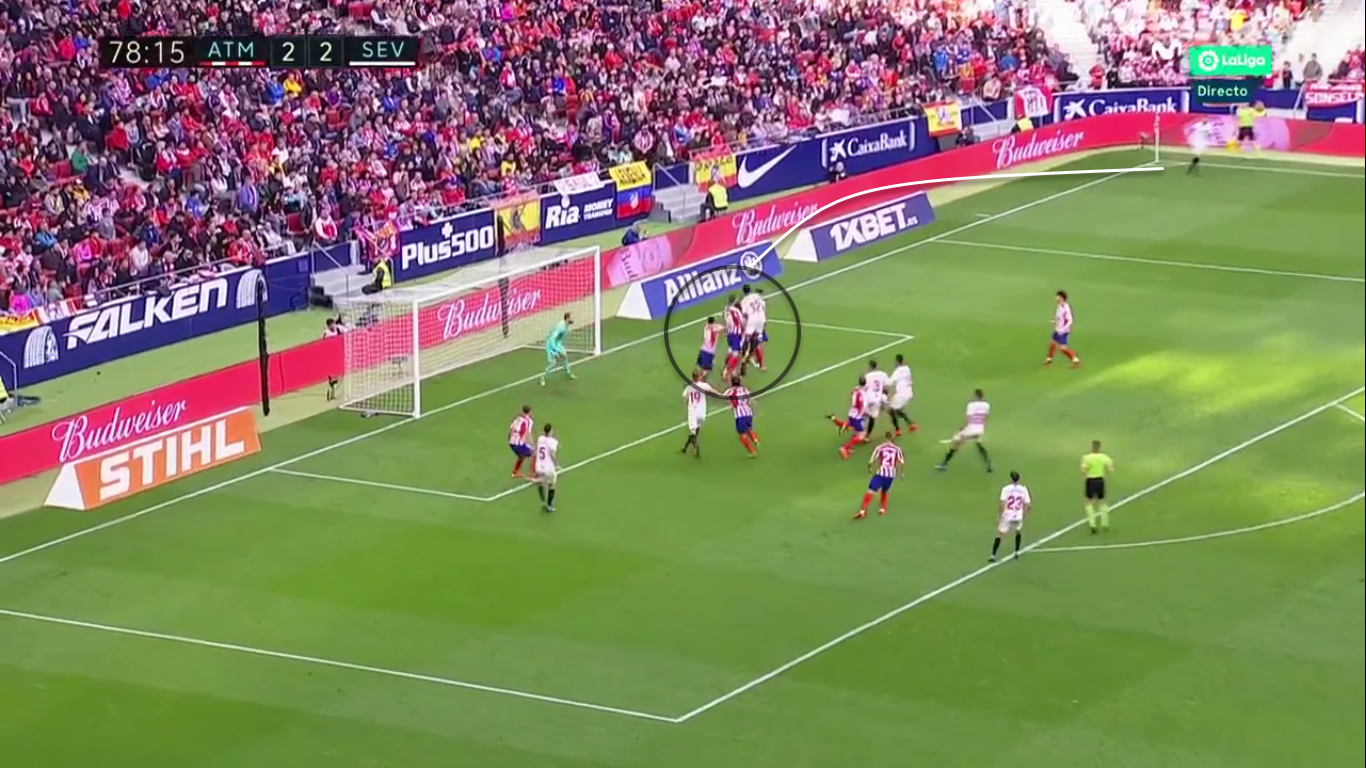 In the below example from the Europa League Round of 16 tie against Roma, Koundé manages to get a brilliant score opportunity as Ibañez doesn't time his jump well, but the Frenchman could only manage to hit the crossbar. Although Koundé was extremely unlucky here, this has been a consistent pattern in Sevilla's dead ball situations throughout the season.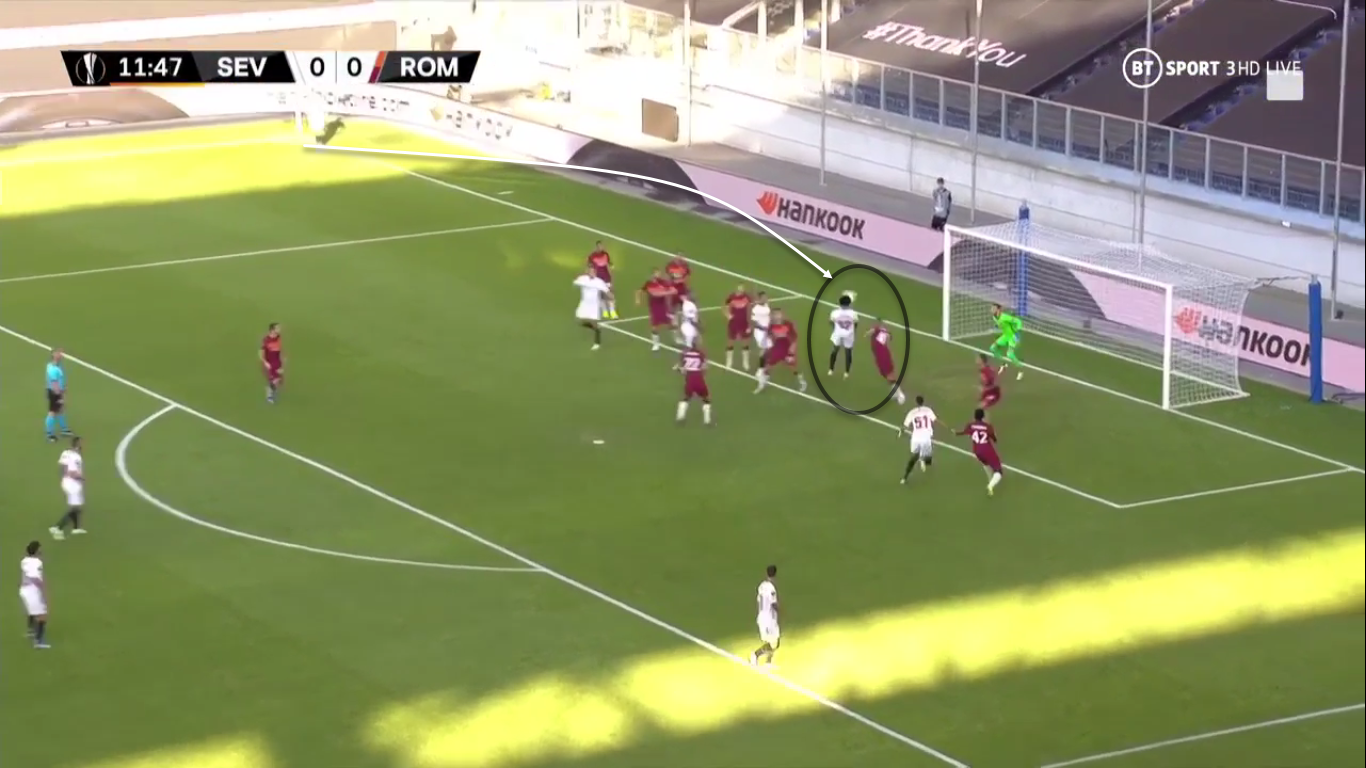 1v1 Ability
Koundé is incredibly poised and level-headed for his age and this can be seen in his decision making when dealing with 1v1 situations, using his physical strength to guard the ball in these scenarios.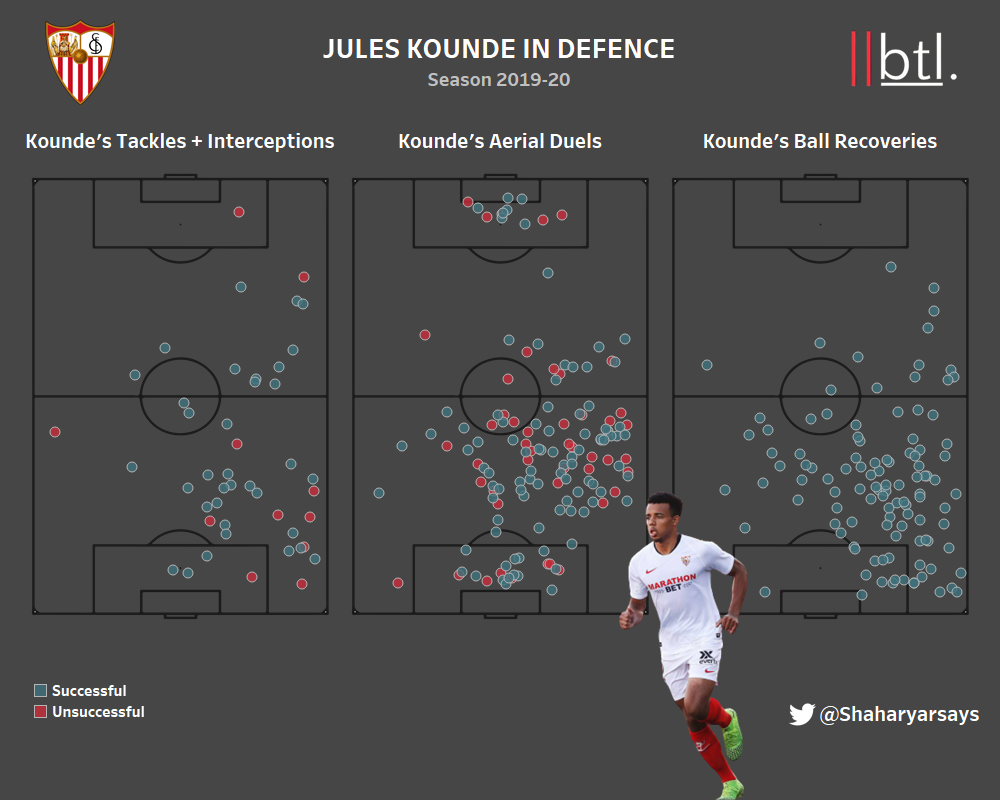 Looking at Koundé's defensive action map, it is clear how he prefers accuracy over volume. Furthermore, his actions are skewed towards the right side since he defends in a makeshift back three with a defensive midfielder dropping between the center backs.
Although Koundé does not have to face plenty of 1v1 situations due to his conservative style, he can be relied upon to come out on top, as seen in the below example against Athletic Club's Iker Muniain.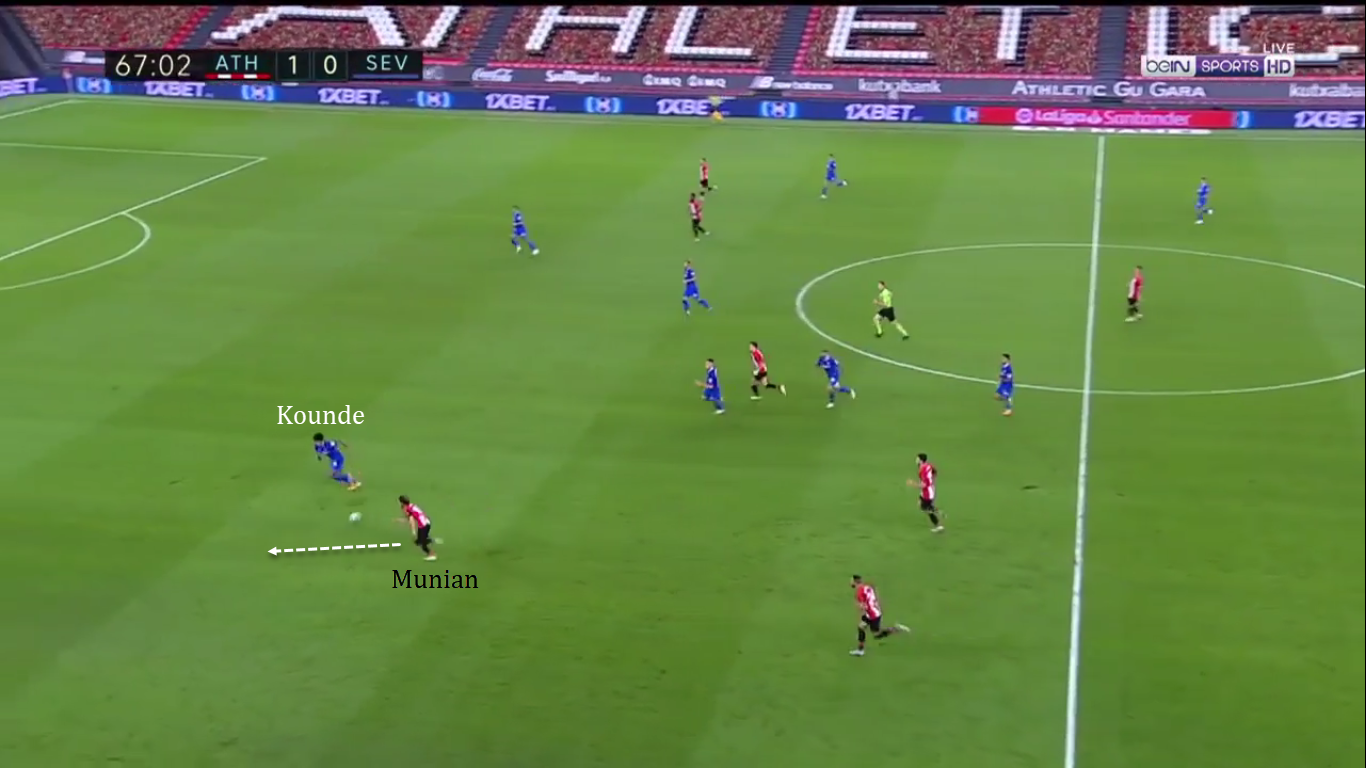 Koundé closes down the angle and forces the Basque winger to dribble infield, before timing his tackle perfectly to win a throw-in.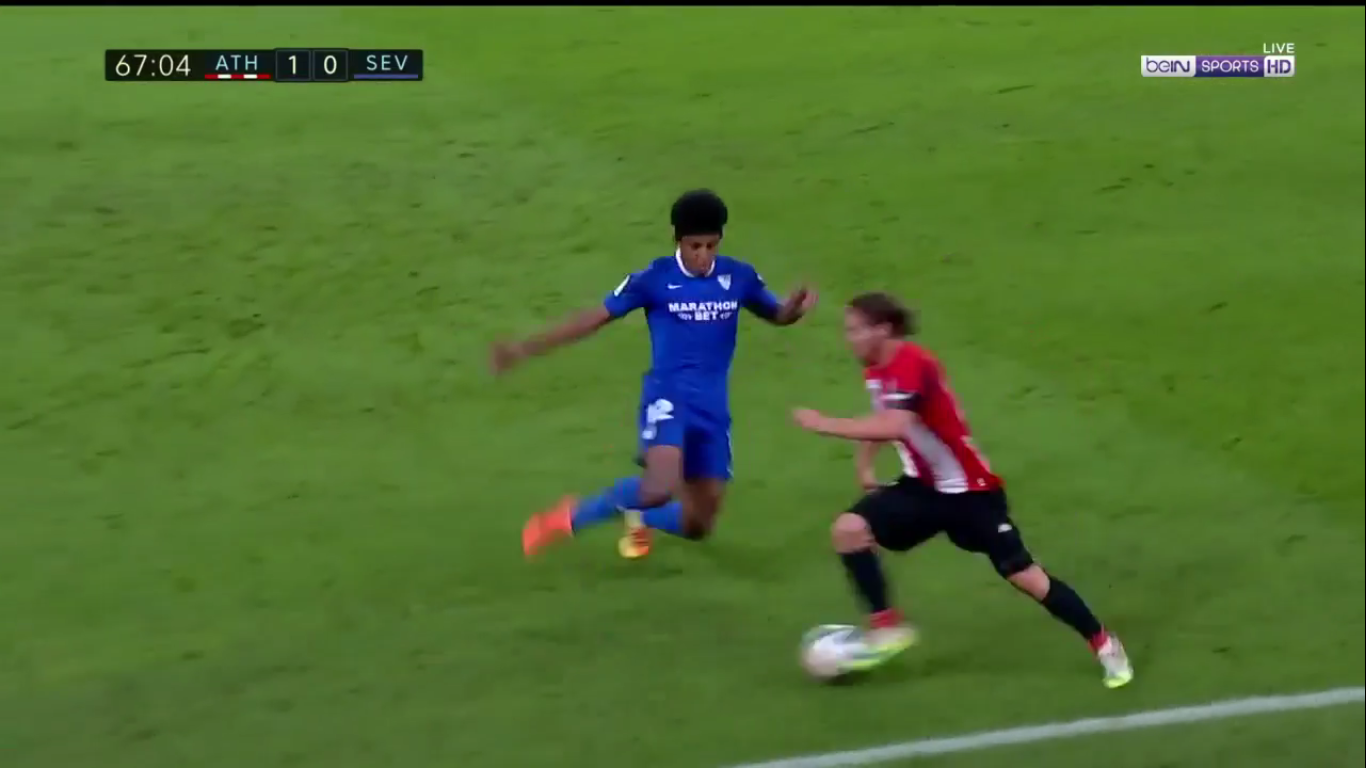 Koundé's strengths revolve around his anticipation and calm personality but he does not shy away from a battle every now and then. In fact, he shows great strength for his size when he is forced into physical duels.
In the example below, Roma's Gianluca Mancini lobs the ball in the air in an attempt to get past Koundé. However, the Frenchman held his ground and showed great strength in holding Mancini off, allowing the ball to escape for a goal kick.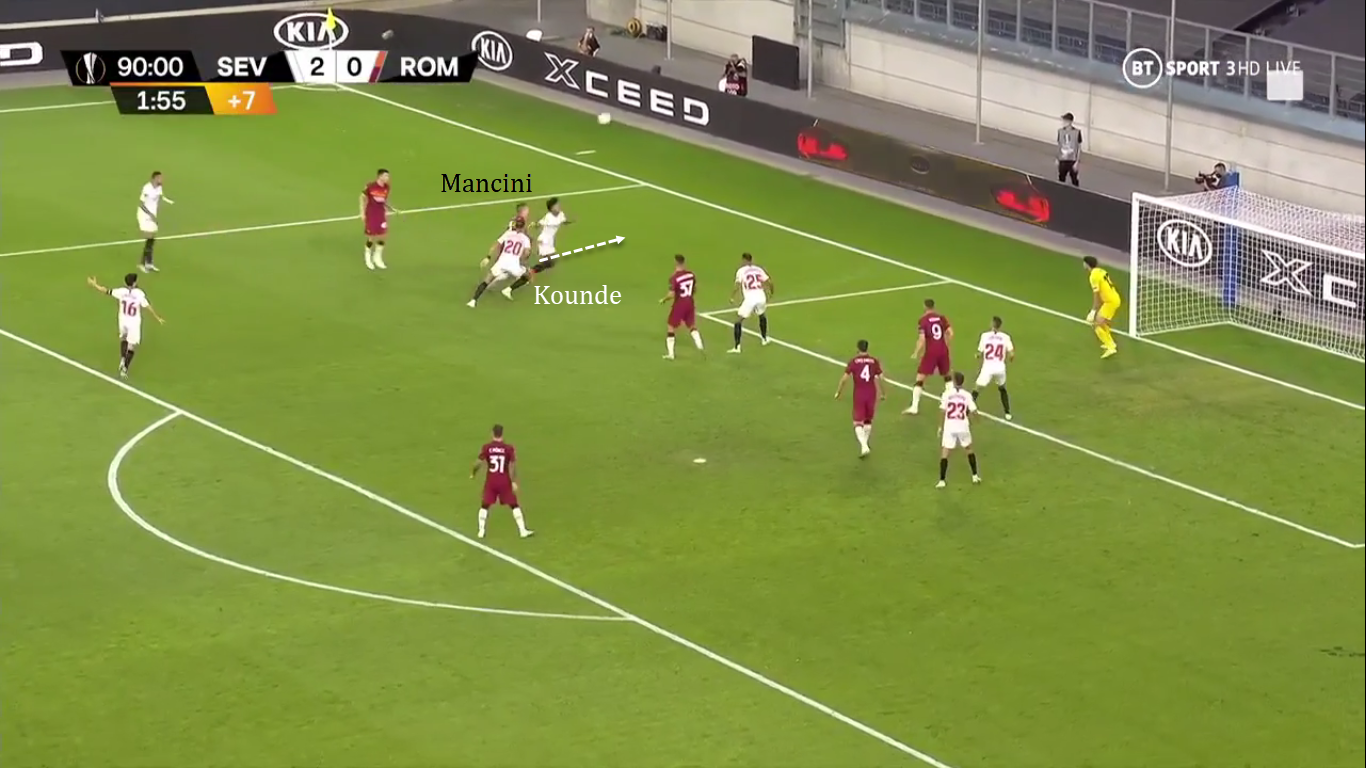 Another important aspect of being a good 1v1 defender is recovery pace. Since Koundé is very rarely caught out of position, he does not have to make up a lot of ground with his pace. Still, he performs considerably well in this department.
In this example, Sevilla's defenders try to push high in an attempt to play an offside trap as Athletic Club goalkeeper Unai Simón plays a long ball, although Jesús Navas's lax positioning plays the opposition onside. Muniain runs between Carlos and Koundé and ends up getting a shot away due to a lucky deflection, but it should be noted that Koundé did well to keep pace in monitoring Muniain's run.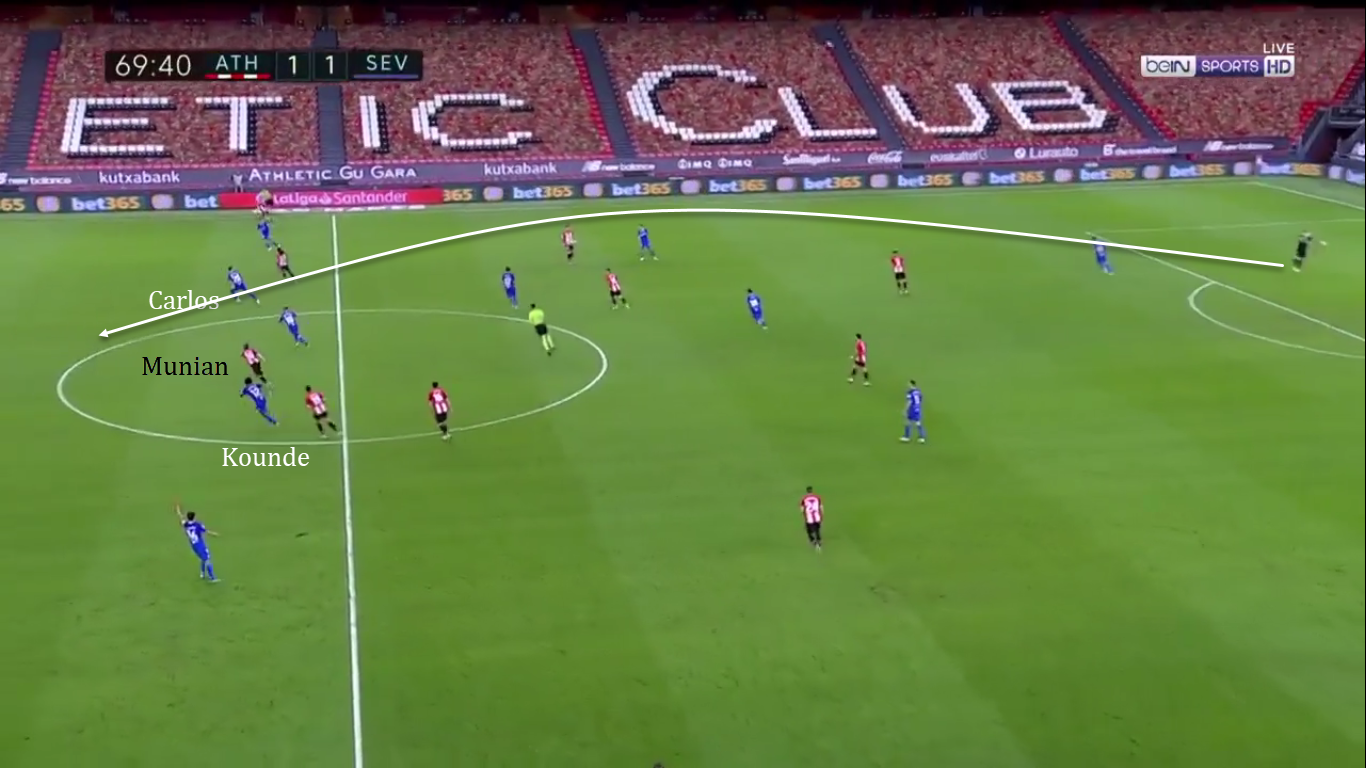 One particular area where Koundé holds his own is his patience in tense 1v1 situations where he is forced to make a split decision. The example below demonstrates Koundé's supreme confidence and clear thinking in high-pressure scenarios, when Roma center forward Edin Džeko quickly presses Koundé, as the Frenchman looks to control a bouncing ball.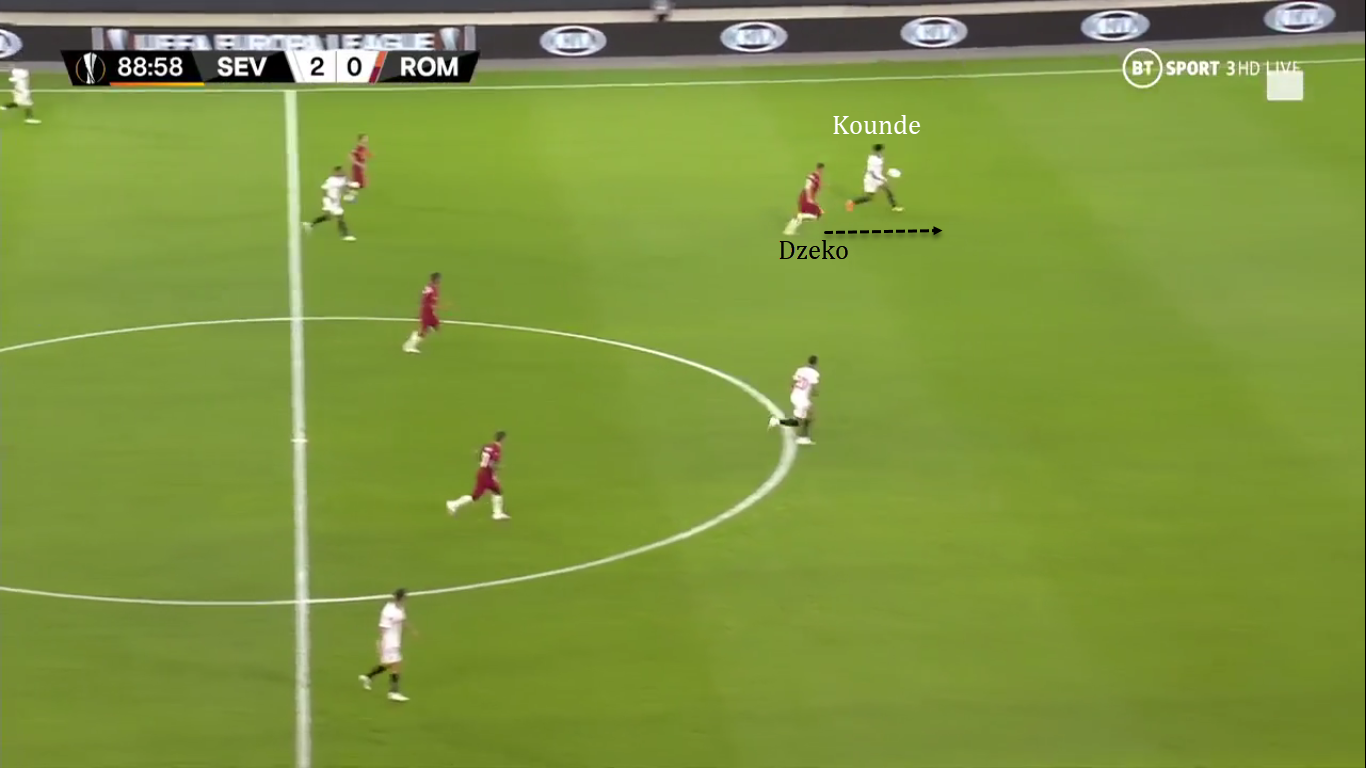 Instead of panicking or trying to control the ball with his first touch, Koundé stays calm and lobs the ball over the Bosnian forward to quickly turn defence into attack as he plays Éver Banega in with a superb pass.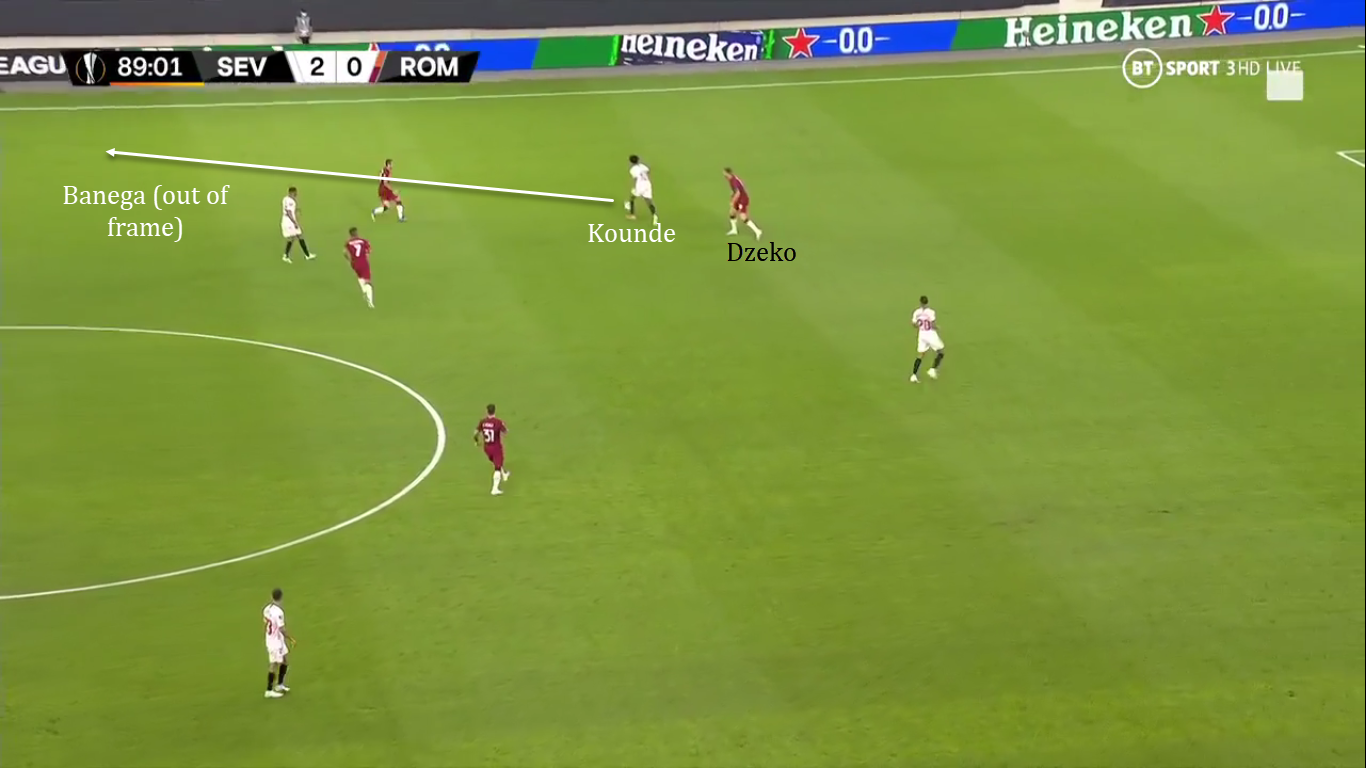 In Possession
Although Koundé does not particularly stand out when it comes to his ball-playing ability, the 21-year-old defender is far from a liability in this regard. The Frenchman tries to play it safe on the ball rather than going for Hollywood passes, as seen from his pass map of progressive passes last season.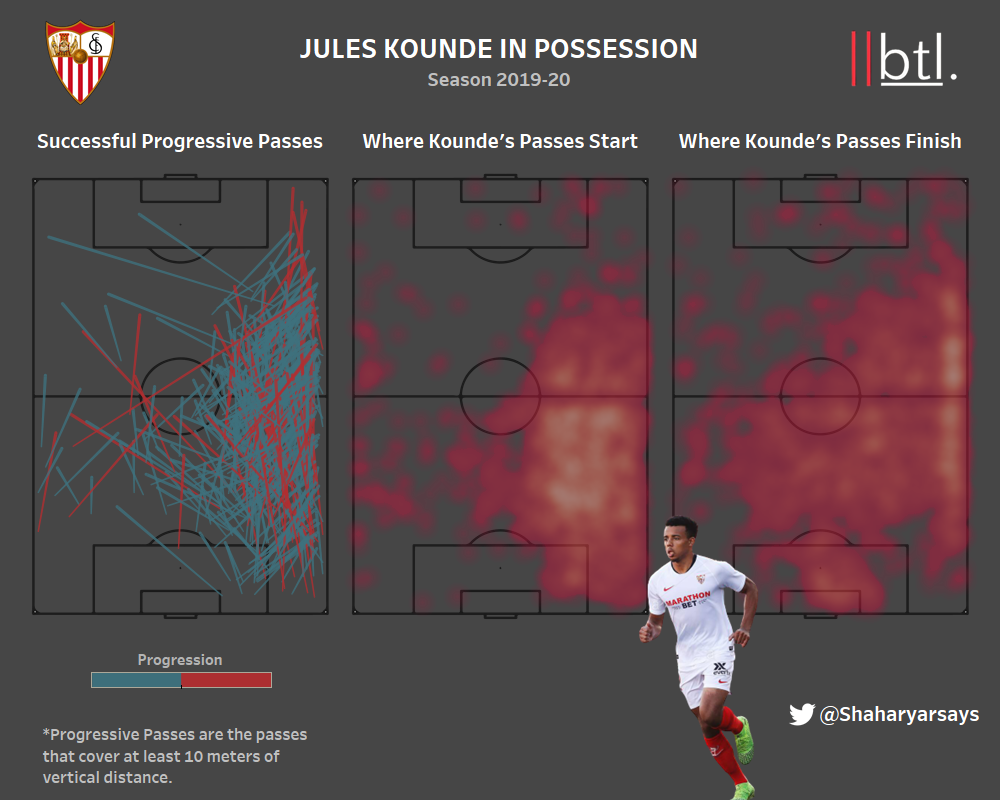 The only scenario where Koundé tends to attempt a moderately audacious pass is when the right winger comes infield and drops between the line. In these instances, Koundé can comfortably pick out the forward with a through ball, which opens up the right flank for Navas to make an overlapping run.
Here, Suso drops deep and attracts the attention of Athletic Club left back Yuri Berchiche. Koundé plays a pass towards Suso, who can then play Navas into acres of space on the wing.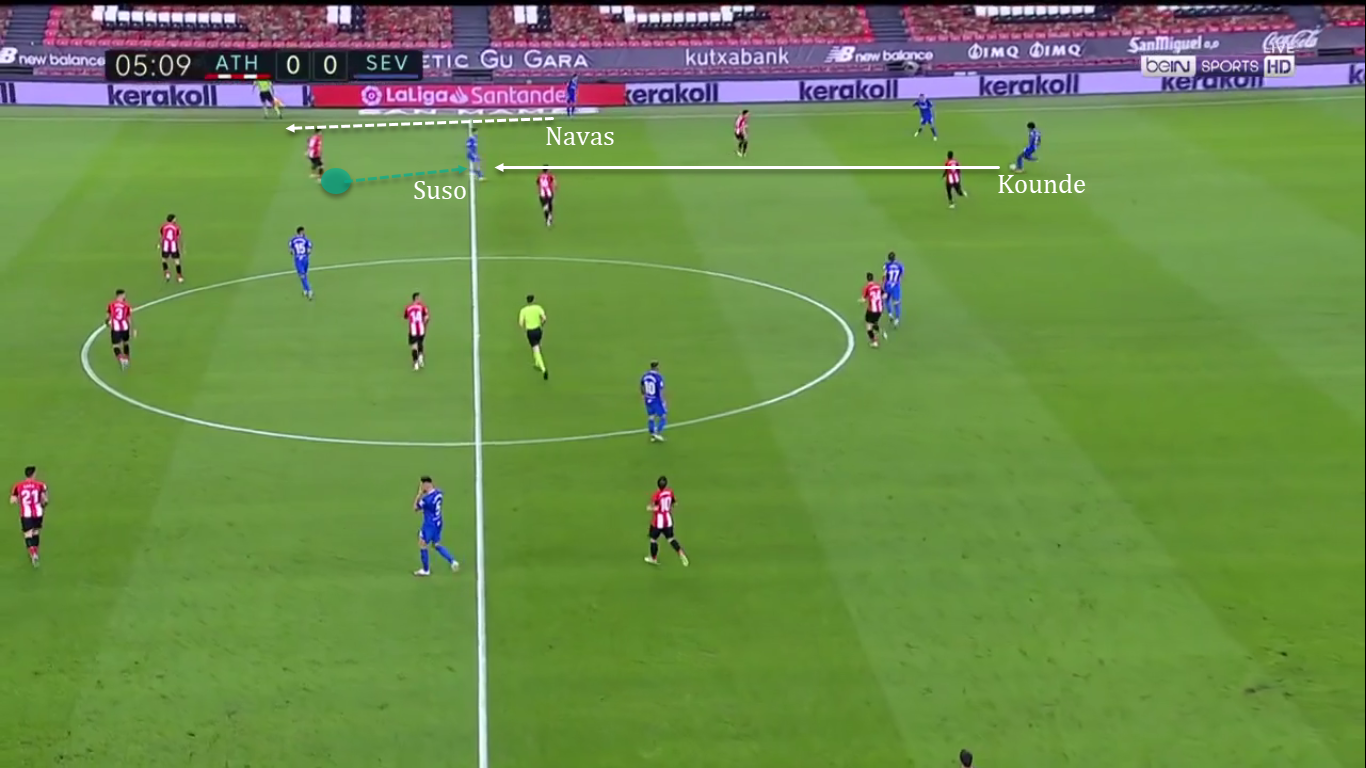 In the build-up phase, Sevilla's defensive midfielder typically drops between the two centre backs as they split apart, allowing them to progress through the first line of pressure. In these scenarios, Koundé is often tasked with carrying the ball into midfield, forcing an opponent to step off his line and vacating space in behind him.
Here, Koundé carries the ball from deep, attracting the attention of João Félix, who was previously occupied with marking Joan Jordán. This leaves Jordán free in midfield and Sevilla find him in space via a shrewd passing combination between Koundé and Suso. Having drawn the majority of Atlético players over to the right, Jordán then has time and space to switch the ball and find Sergio Reguilón in space.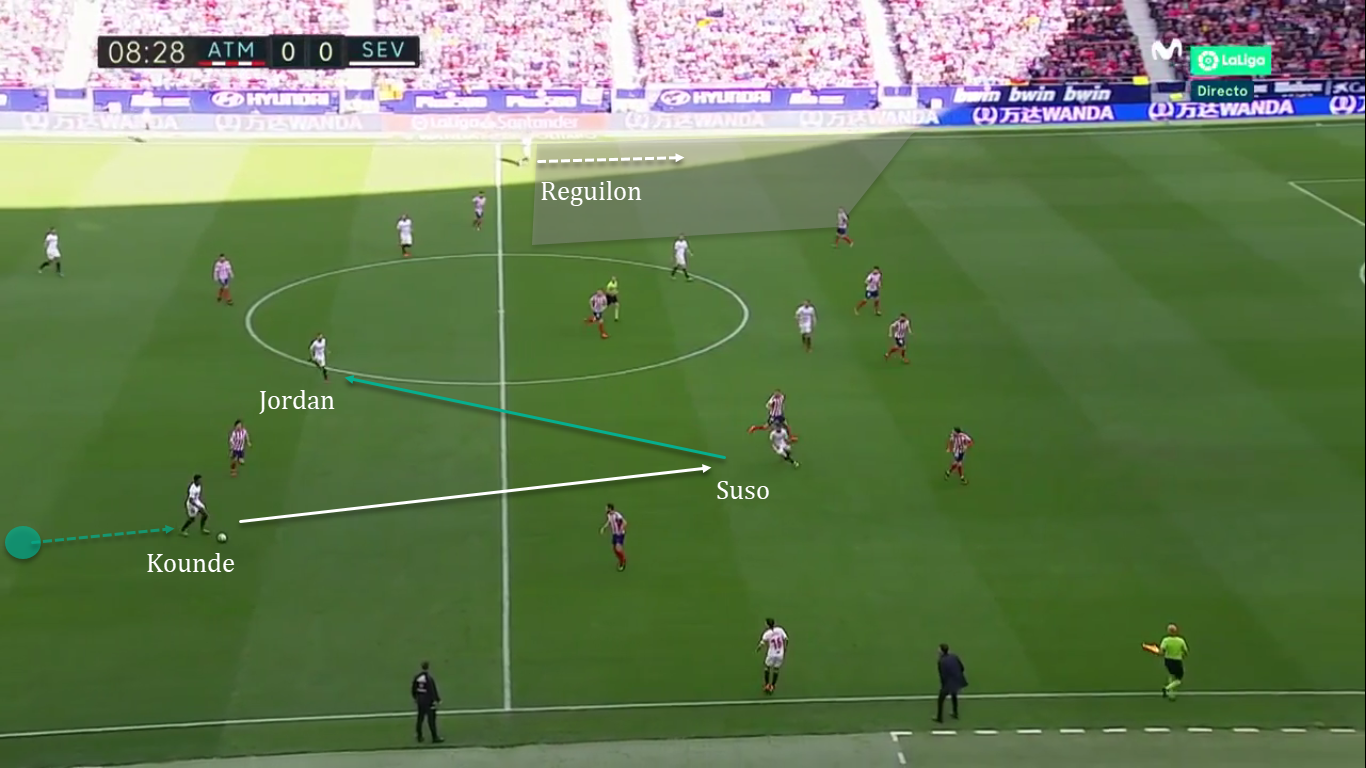 Areas of Improvement
Ball-Playing Ability
Although Koundé is comfortable and safe on the ball, he lags in comparison to other French center backs in his age range such as William Saliba and Dayot Upamecano. One just needs to take a cursory glance at his progressive pass map to see that he feels more content playing passes to the right flank or the right half spaces than making riskier passes.
In this example, Koundé carries the ball into midfield and Suso drops deep to drag Berchiche out of position, whilst Navas makes an overlapping run down the right wing. Koundé could've easily played a long ball into his captain's path to send him through for a quick breakaway, but his pass is too close to Iñigo Martínez, who intercepts the ball.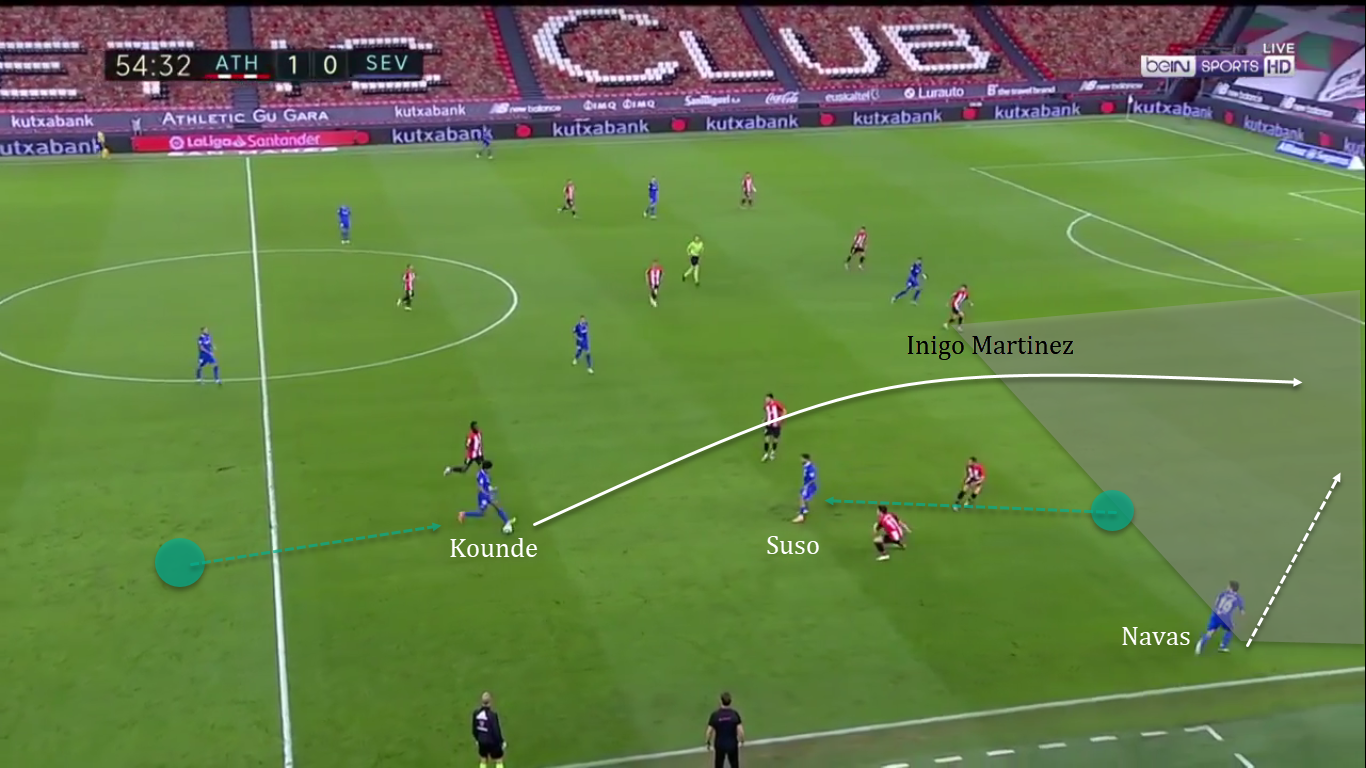 If Koundé is to make the jump from a world-class prospect to a world-class center back, he'll need to improve both in terms of his vision as well as his precision on the ball.
Decision Making
One of the toughest in-game decisions a defender has to make is to decide when he should step out to mark a dropping forward or retreat. On many occasions, Koundé ends up making a wrong choice in this regard.
Here, Félix drops deep and Koundé comes off his line to mark him. However, Koundé could neither get too close to Félix to close his passing angle, nor was he in any position to retreat; he was in no man's land. The Portuguese forward plays a ball into Correa and Morata ends up winning the second ball.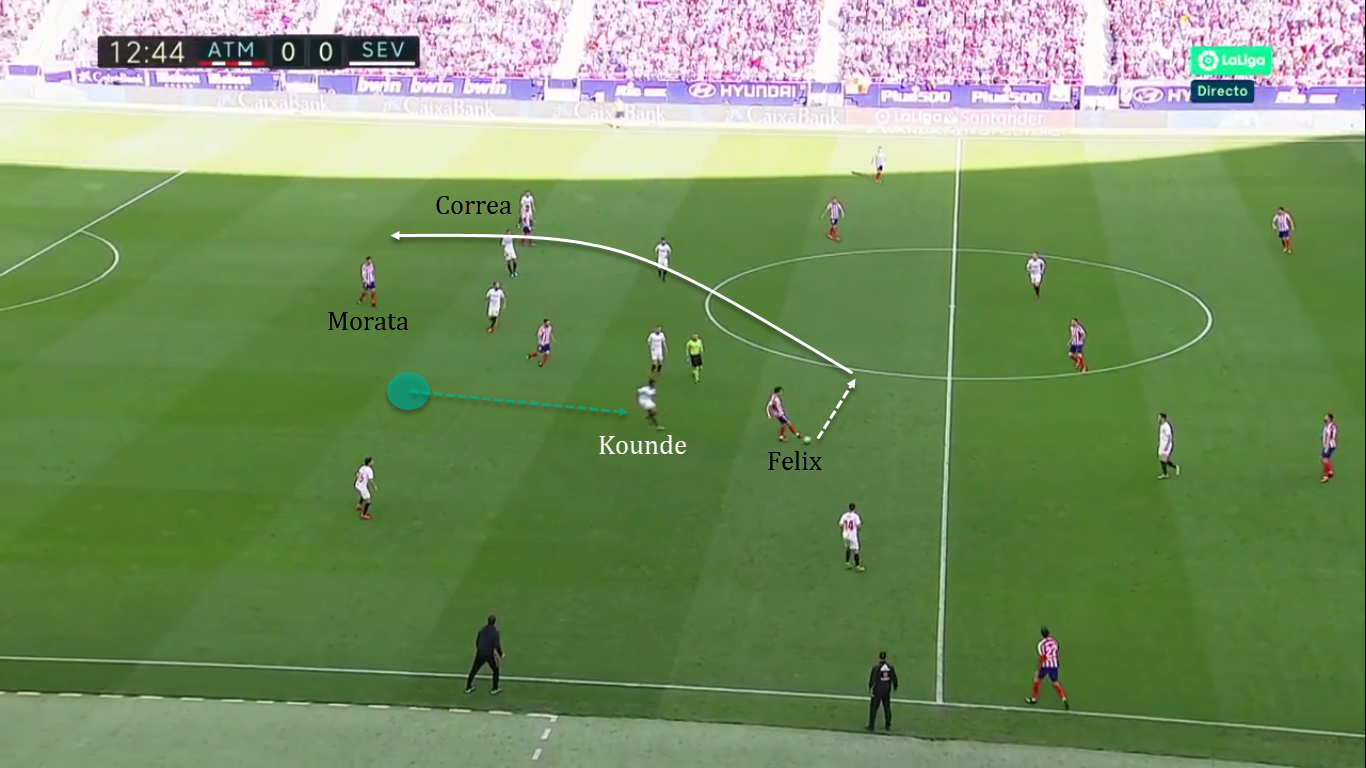 Sevilla's system requires the defenders to man-mark opponents in their zones before transferring their duties over to a teammate when the opposing player leaves their respective zone. This requires a great deal of communication and organization between the teammates so that they don't end up leaving an opponent free. There were quite a few occasions in the first half of the season where Koundé has not been able to communicate well with his teammates and in turn leaves them exposed.
Here, Gudelj was marking Morata and Koke was free between the lines. Gudelj told Koundé to mark Morata so that he could push forward and mark Koke. However, Koundé asked Gudelj to mark Morata instead. Both ended up settling deep to cut off space for Morata, and as a result, they ended up leaving Koke free to receive.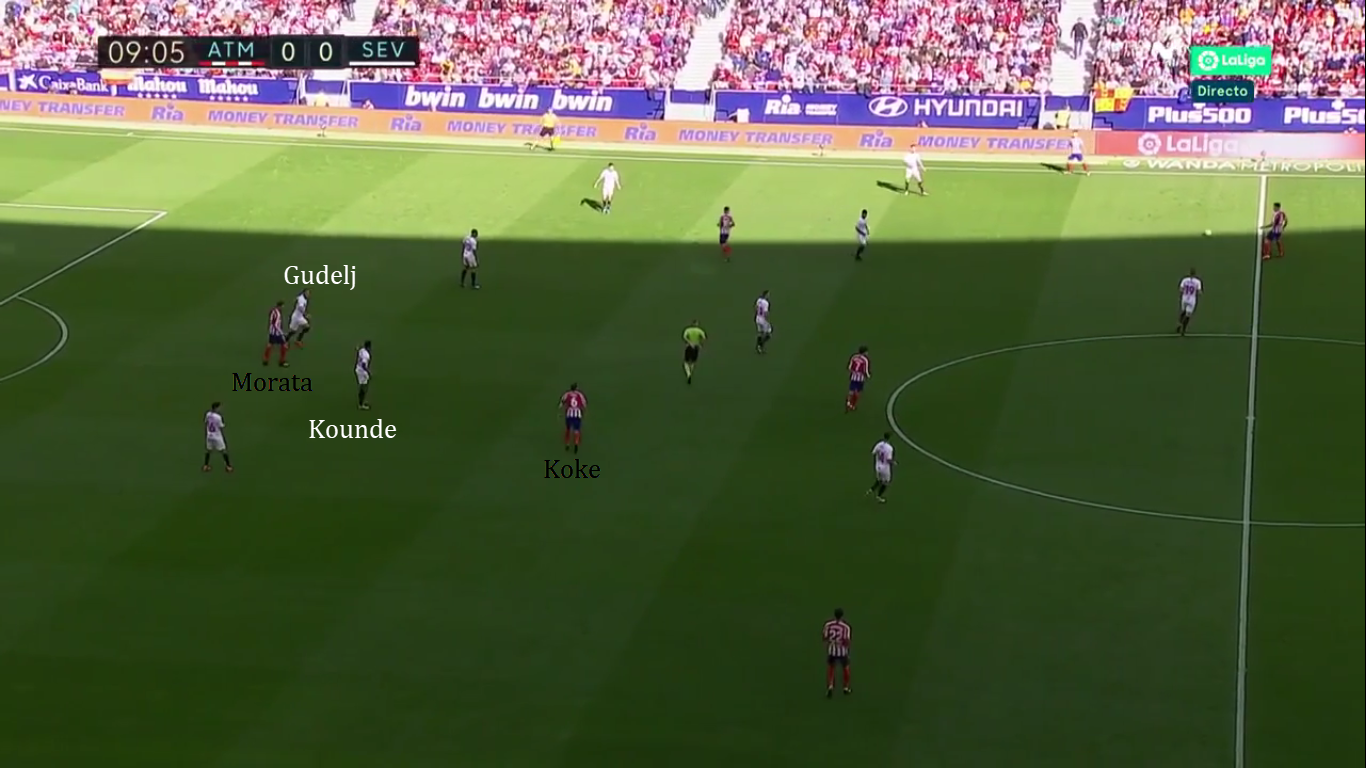 Gudelj then comes out to mark Koke, but Koundé is not close enough to Morata, as he failed to scan and check his positioning and shift towards his opponent. Mario Hermoso tries to find Morata between the lines but his pass falls short.
Deliveries from Wide Areas
While Koundé usually excels in terms of being aware of his surroundings, whenever the ball goes out wide, he can sometimes be seen ball-watching and lose sight of his man. In such situations, Koundé is often seen dropping too deep towards the near post without marking any opponent. As a result, he can be caught out of position if a cutback is played at the right place and the right time. 
In this example, Jordi Alba is on the ball and he plays a cutback into Messi. Koundé drops too deep and allows Messi a clear shot on goal. Luckily for Sevilla, the pass from Alba fails to meet Messi and they get a chance to clear the ball.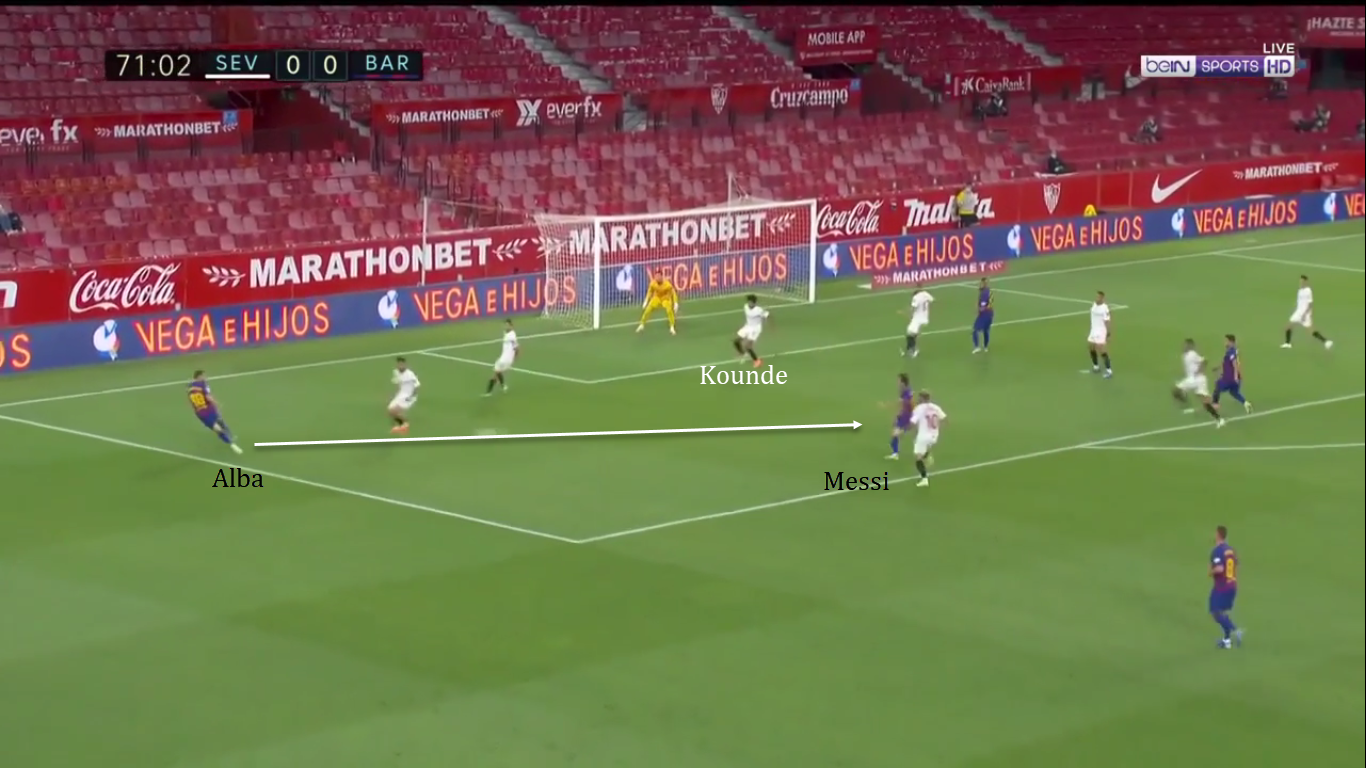 In this example, Henrikh Mkhitaryan plays a cutback into Bryan Cristante and Koundé can be see dropping too deep, allowing both Cristante and Nicolò Zaniolo with plenty of space to shoot. The first touch from Cristante is poor, causing him to delay his shoot, which ends up being blocked.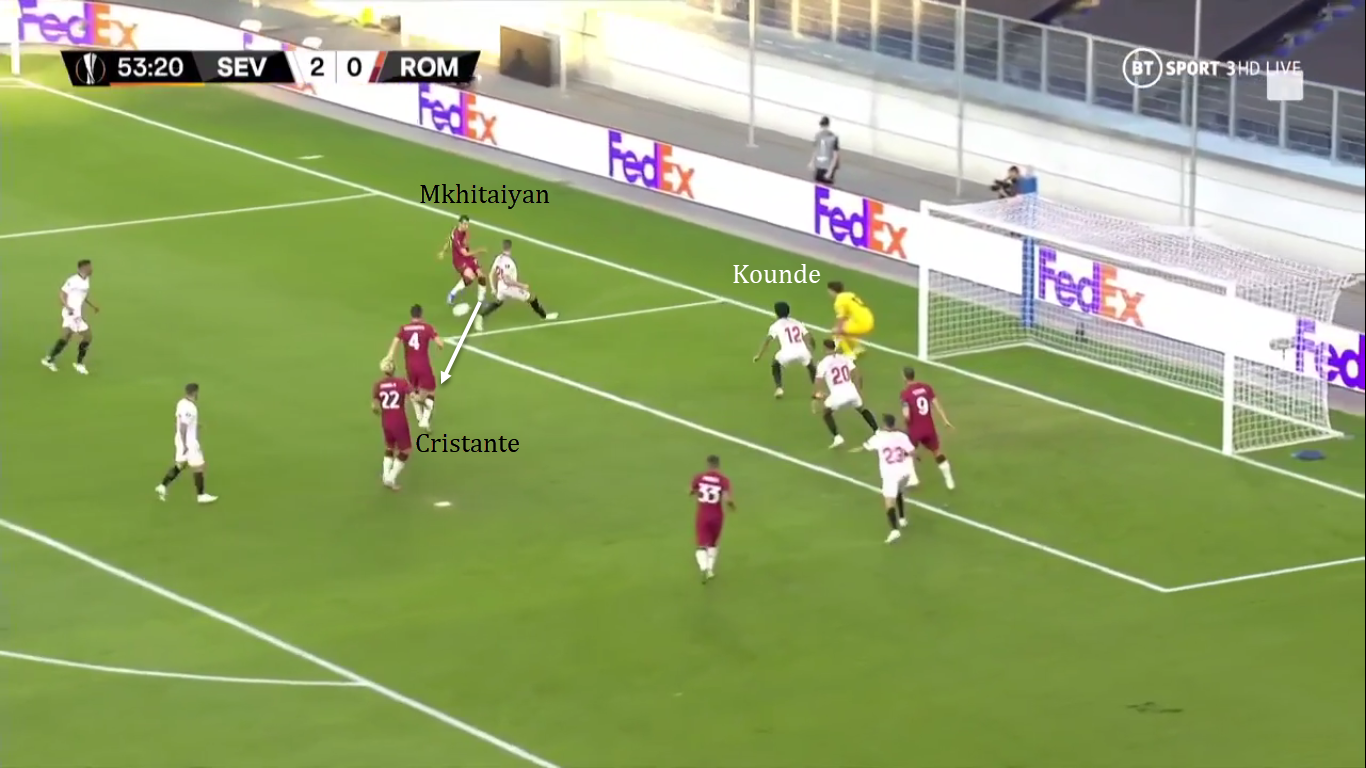 Conclusion
Jules Koundé has enjoyed a breakthrough season at the Estadio Ramón Sánchez Pizjuán, leading Sevilla to their first trophy since 2016 and earning interest from the likes of Real Madrid and Barcelona. However, with a release clause that reportedly supersedes his defensive partner Diego Carlos's buyout clause of €75 million, don't expect him to be departing Andalusia anytime soon.
Despite his height, he is impeccable in the air, and despite his age, he is cool and collected against the toughest of his opposition. Koundé is a rare talent, and at 21 years of age, he has everything it takes to become one of the best center backs in the world.
By: Shaharyar Atique
Featured Image: @GabFoligno / Fran Santiago