Player Analysis: Sergio Reguilón
Since joining Real Madrid's academy at the age of 8 years old, Sergio Reguilón has risen up the ranks of La Fábrica to become one of the top left backs in Spain. The Madrileño joined third division side UD Logroñés on loan for two seasons, before returning to Real Madrid Castilla in 2018. From there, he became a starter for Santiago Solari's Castilla side, scoring seven goals and wearing the captain's armband, before being promoted to the first team side by Julen Lopetegui on August 25, 2018.
In a season where most Real Madrid players failed to deliver, Reguilón impressed for the first team under both Solari and Lopetegui, relegating Marcelo to the bench. Furthermore, despite not playing for Spain's youth teams earlier on in his career, he earned a call-up for Spain's U-21 side in March's Euro qualifiers against Austria and Romania.
However, his first team opportunities waned after Zinedine Zidane returned as manager. With Marcelo ahead in the pecking order and Ferland Mendy arriving from Lyon, Reguilón needed a loan move to continue his development. He reunited with the man who launched his professional career — joining Lopetegui at Sevilla.
It's the freedom that Lopetegui's 4-3-3 offers to its fullbacks that has helped Reguilón grow into his potential, but more than that, it's the sheer class and attacking verve of the youngster that has seen him linked with a laundry list of clubs this summer, ranging from Napoli, Chelsea, Arsenal and Everton.
Positioning
This season, Reguilón has started in 29 league games and made a substitute appearance in two of them, establishing himself as the primary left back for the Andalusian club ahead of veteran Sergio Escudero. While he has mainly played on the left side of a back four, he has also been used as a left wing-back on occasions.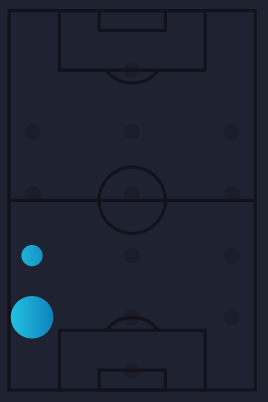 Reguilón's Positioning [Soccerment]
Statistical Profile
Before moving to the eye test, let's take a look at how Reguilón does on the number test. Below is a chart of Reguilón's performance in various metrics compared to other defenders in the top 5 European leagues.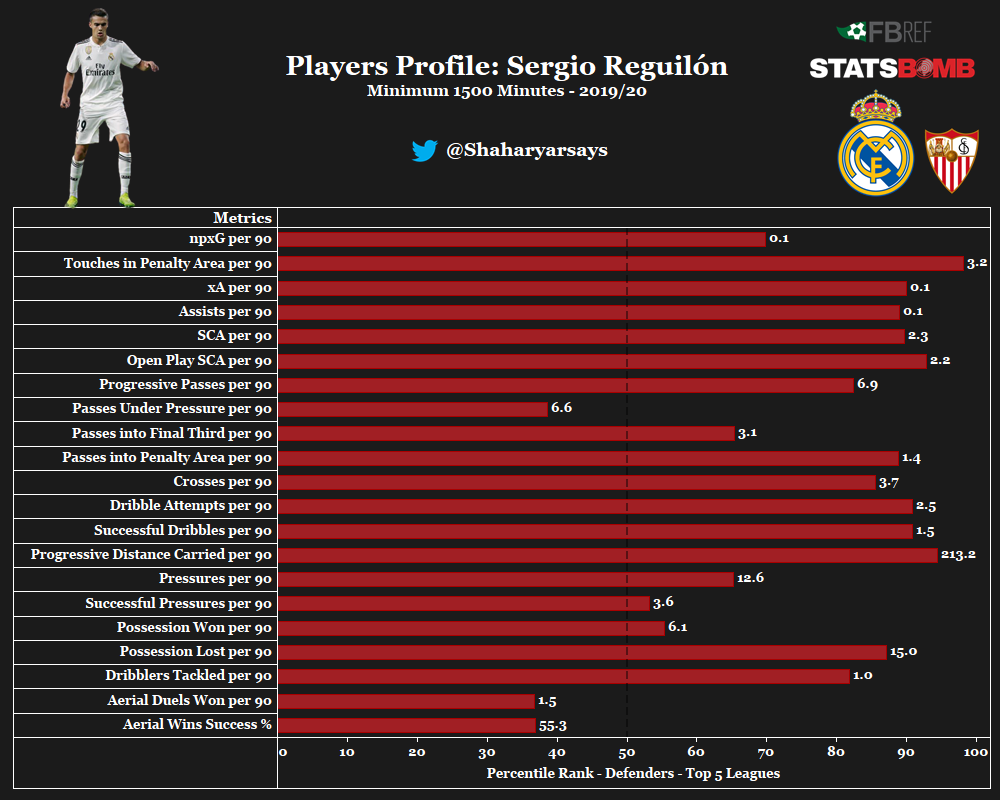 Reguilón performs exceedingly well in the creative metrics like Expected Assists, Assists, Shot Creating Actions, Crosses and Progressive Passes. He also excels in and around the penalty area, taking a large number of touches in the opposition's box and delivering a large volume of passes into the penalty area. Furthermore, he also fairs very well in dribbling and ball-carrying abilities, as he is above the 92nd percentile in both.
This graph also tells us that Reguilón lags behind in Passes Under Pressure and Passes into the Final Third; we'll inquire the reasons why for that later. As an attack-minded fullback, Reguilón is expected to lose a lot of possession. Aerial duels is another area where Reguilón doesn't fare well, which is to be expected from someone who isn't the tallest at 5′ 10."
How Reguilón Compares to LaLiga Defenders
Reguilón has gained plaudits for being one of the best left backs in Spain's top flight this season along with Renan Lodi, Pervis Estupiñan, Ferland Mendy and Yuri Berchiche. But how does Reguilón rank when compared against other defenders in LaLiga?
Goalscoring Output
Reguilón fairs very well in terms of goalscoring output as only Real Madrid's Dani Carvajal and Eibar's Pablo de Blasis have registered a higher Expected Goal contribution than the 23-year-old.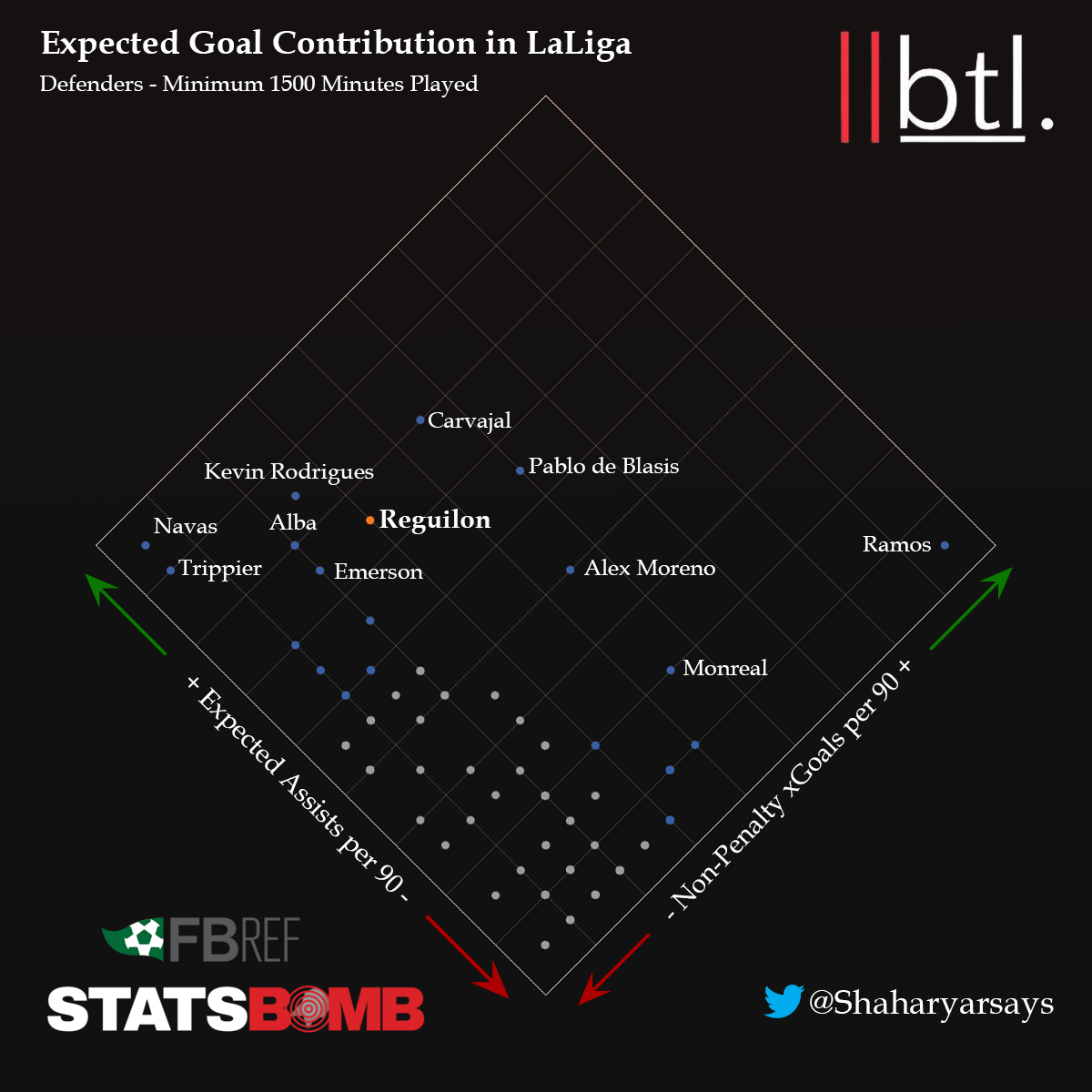 Creativity
Again, Reguilón performs exceedingly well in terms of creativity as he produces a number of shot-creating actions and delivers a large volume of high-quality crosses into the penalty area.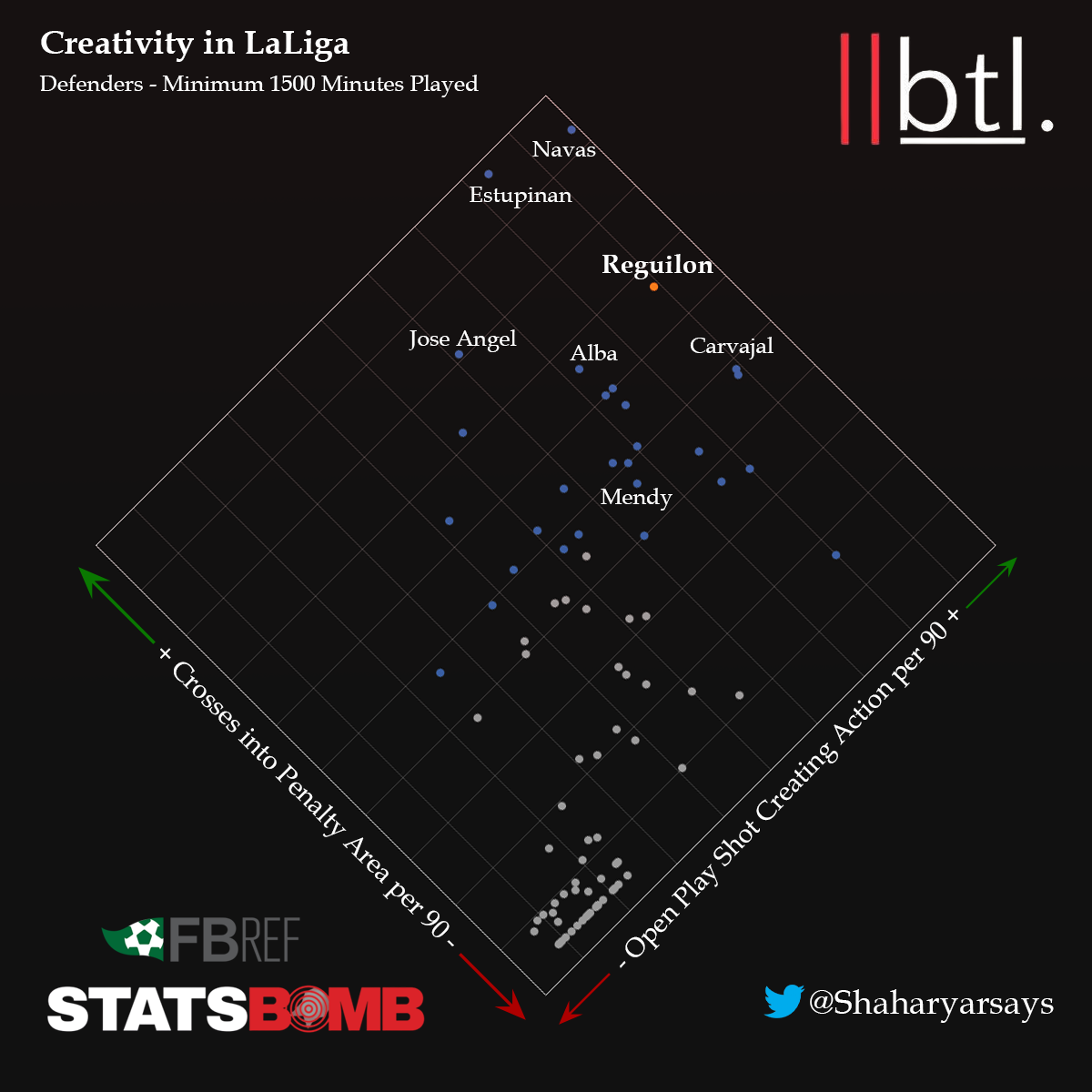 Attacking Threat
Reguilón's attacking threat cannot be taken lightly as he is an ever-present force in and around the penalty area, coming up with a large number of key passes in dangerous positions.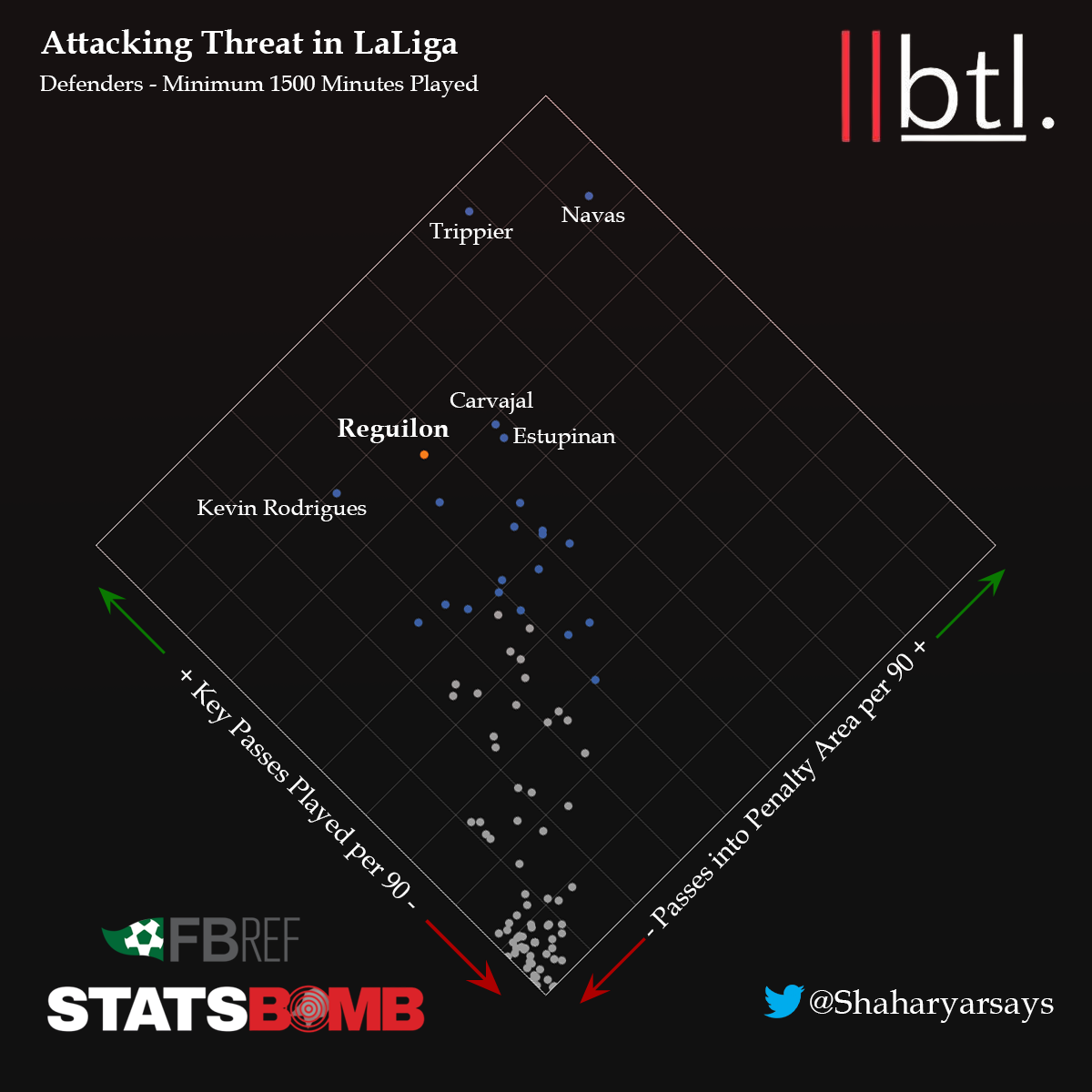 Ball Progression
Let's take a look at how Reguilón progresses the ball compared to his colleagues in Spain's top flight. Centre backs such as Gerard Piqué and Pau Torres naturally rank ahead in progressive passes, but as far as full-backs go, Reguilón holds his own and performs exceedingly well.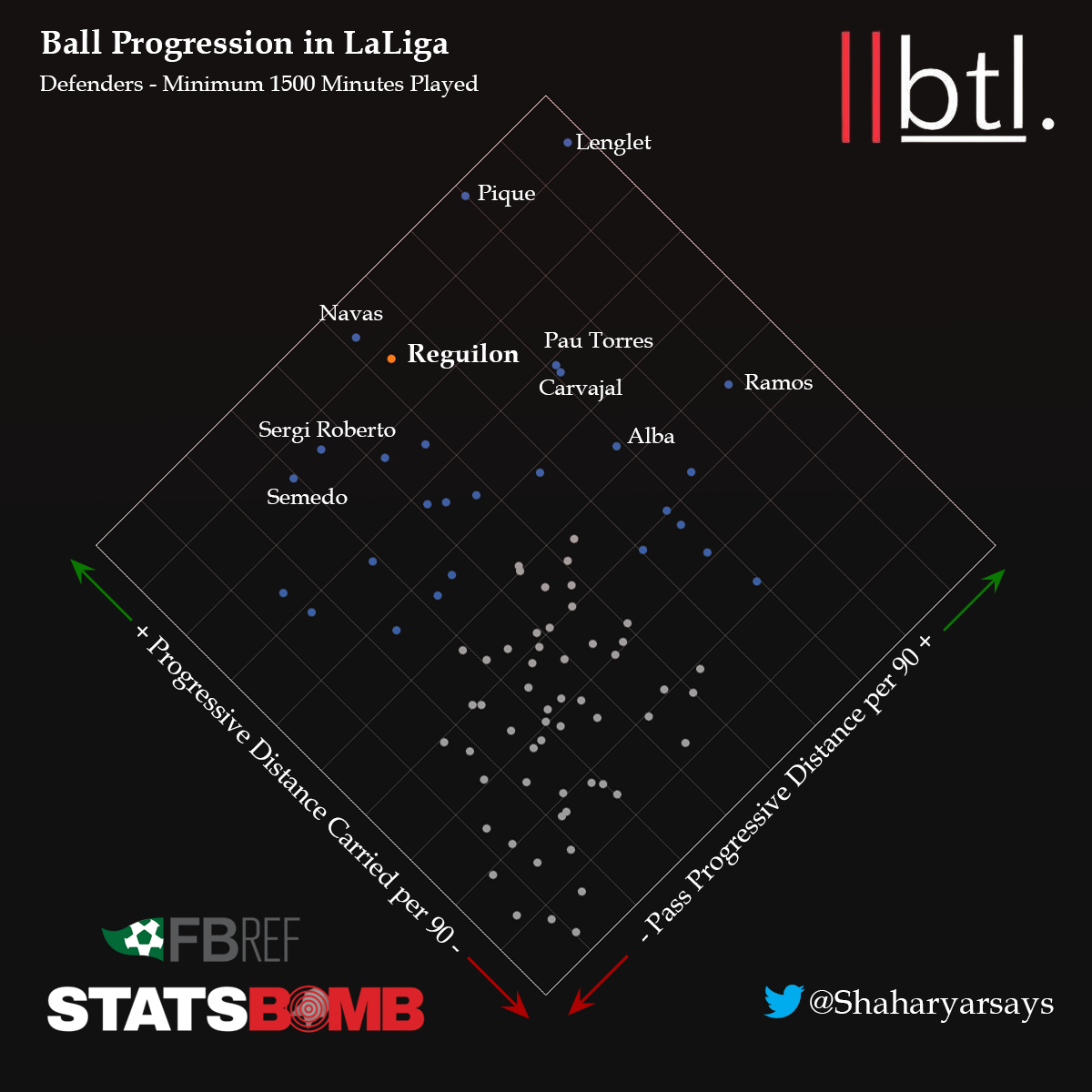 Evading Pressure
While Reguilón doesn't make a lot of passes under pressure, he is also averaging a high amount of successful dribbles for Sevilla. We will further investigate Reguilón's performance under pressure in detail in the eye test.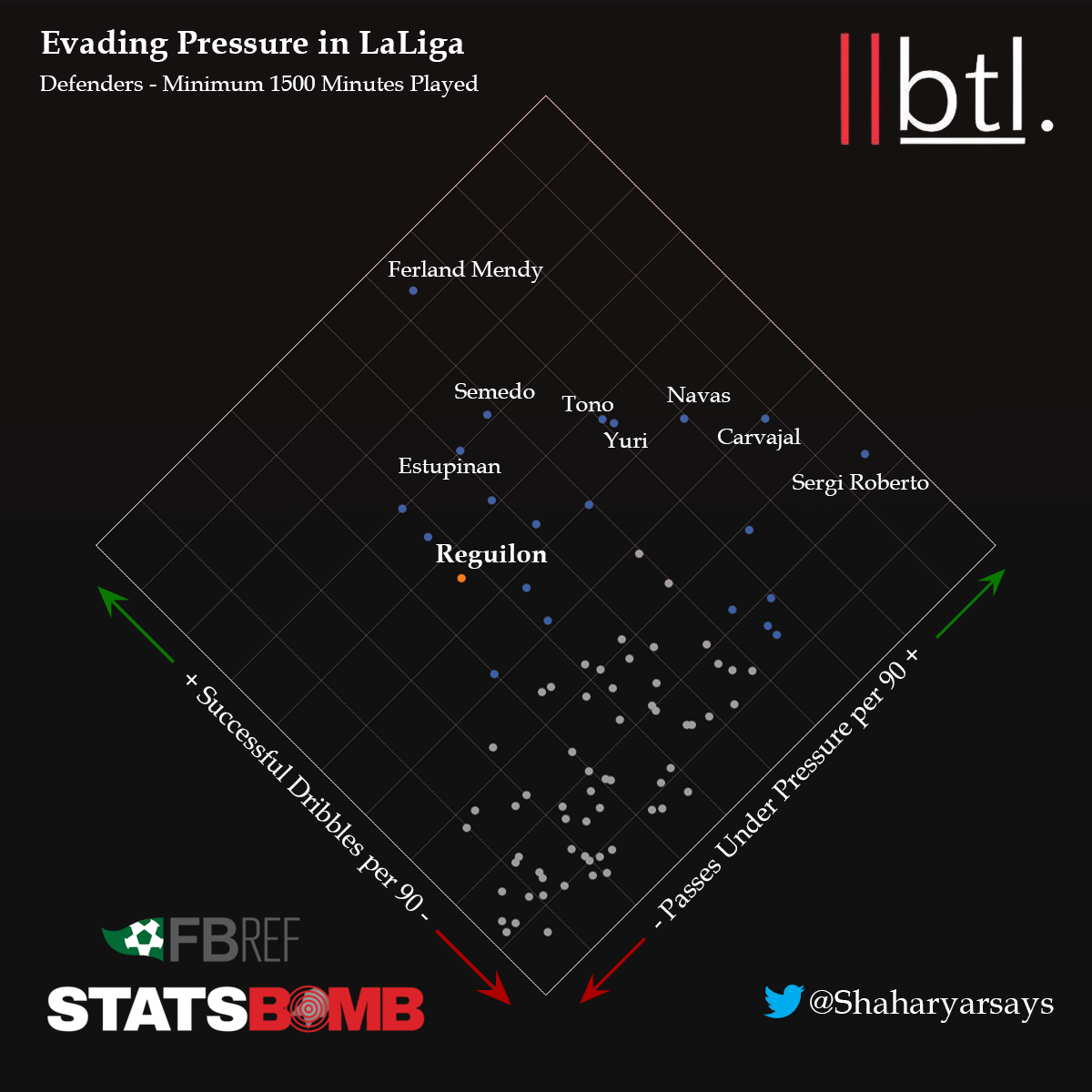 Net Possession
However, all this creativity comes at a cost. Reguilón is a player that takes a lot of high-risk, high-reward chances, and in doing so, he ends up losing the ball on many occasions.  This is a gamble that prospective buyers will need to take into account, but considering that Sevilla have finished fourth in LaLiga this season, it has definitely worked well for Lopetegui's side.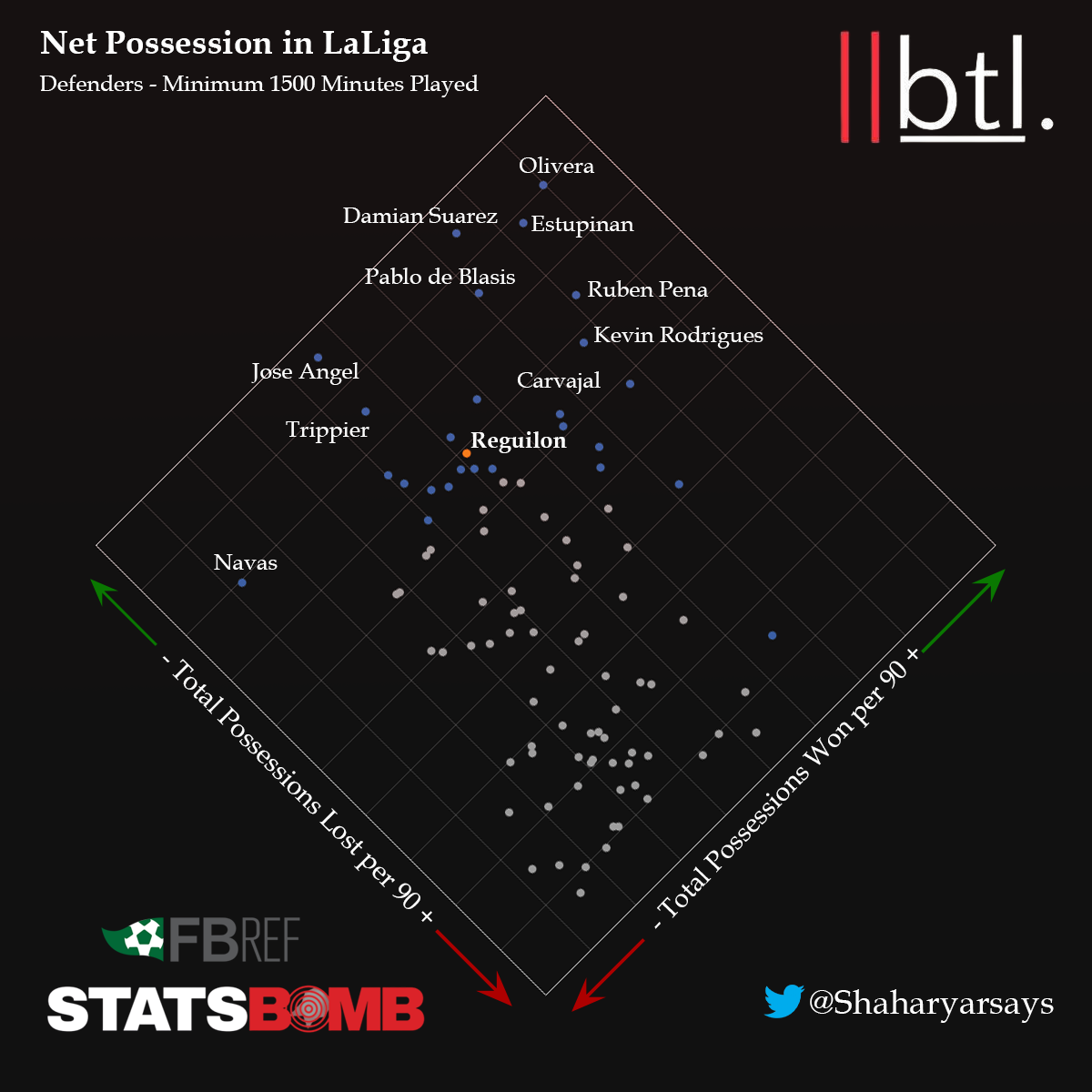 Now that we have a decent idea of areas where Reguilón excels at and needs improvement, let's contrast it with the eye test to get a better idea of Reguilón's abilities.
Off-the-ball Involvement
During goal kicks, Sevilla often use a 3-2 build-up structure with their fullbacks positioned deep. As such, Reguilón is involved in helping Sevilla progress out of the first line of pressure. In order to do so, Reguilón is often positioned wide on the touchline as the center backs look for central progression as their preferred option.
In LaLiga, Sevilla's opponents usually look to block out the options for central progression to isolate the wide players. If there are no passing options available through the middle, fullbacks are accessed for progression, a common occurrence under Lopetegui.
When pressured by an opposing player in this example, Reguilón looks to make a direct pass into the ball-sided winger/midfielder along the touchline before making a forward run in order to lose his marker and provide a passing option to the winger. 
As seen in this example, Reguilón hugs the touchline and when he is pressured by Iker Muniain, he looks to access the default path: along the touchline to a winger. Lucas Ocampos comes deep and drags the fullback out of position with him.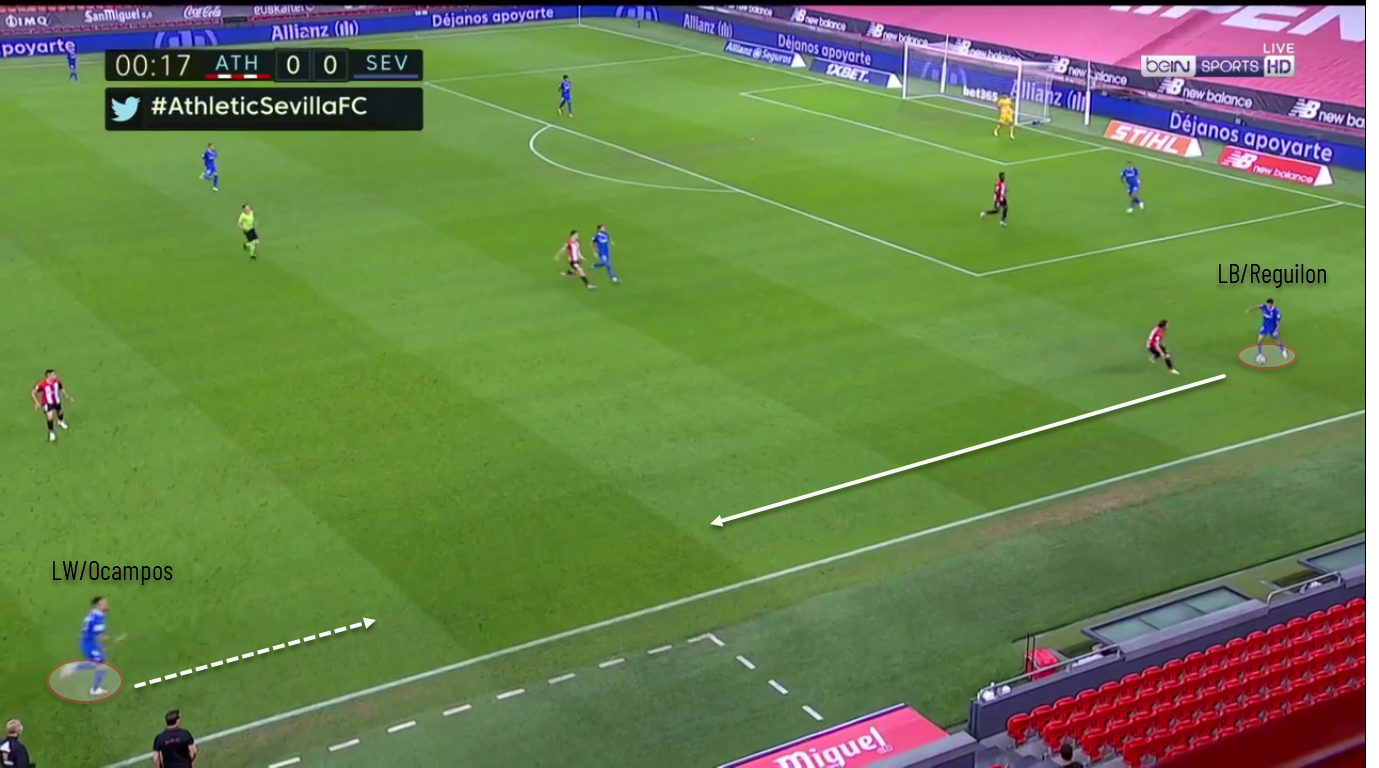 This is a normal occurrence throughout Sevilla's play. Since the options to the centre are usually marked tightly and are consequently harder to access, Reguilón implements the basics of combination play to get beyond a press.
Another advantage of passing down the wings is that in case of a turnover, the opposing wide player can find himself isolated on the counter as he has less space to move into, due to being restricted by the touchline.
In the below example against Espanyol, Reguilón bypasses the initial press by playing a pass down the touchline to Nolito down the wing.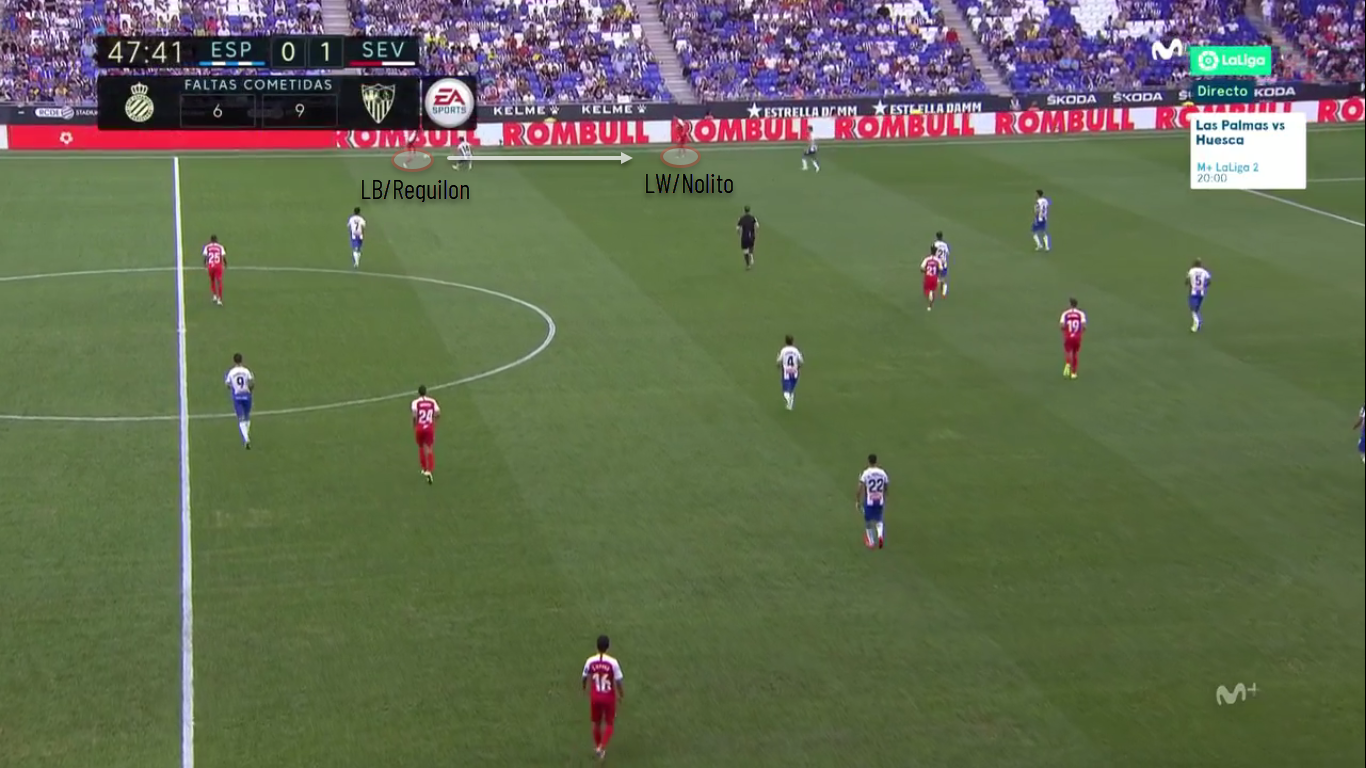 Immediately after he delivers the pass, Reguilón makes a run infield to provide an option for Nolito. Nolito is followed by Espanyol right back Javi López, which leaves a gap in the defensive line.
As soon as Reguilón receives the ball back from Nolito, he attracts the attention of opposing midfielder Marc Roca, leaving Óliver Torres unmarked in space as Reguilón continues to make an underlapping run.
Hence, by using the principles of combination play and numerical overloads on the flanks, Sevilla try to disorganize the opposition.
One of the reasons why Reguilón chooses to make this pass is because he is not a great dribbler of the ball from a standing position. He tries to use his agility and pace to get beyond defences when he is continuing his run, but since he doesn't possess the close control of Alphonso Davies or Marcelo, for example, he compensates for it with his positioning and movement.
What this means is that Reguilón can be left stranded if the opponent cuts down his close passing options. In this example against Athletic Club, Ocampos is tightly marked by Ander Capa and central passing routes are also blocked. Reguilón tries to play a pass into Éver Banega but it is intercepted by Mikel Vesga.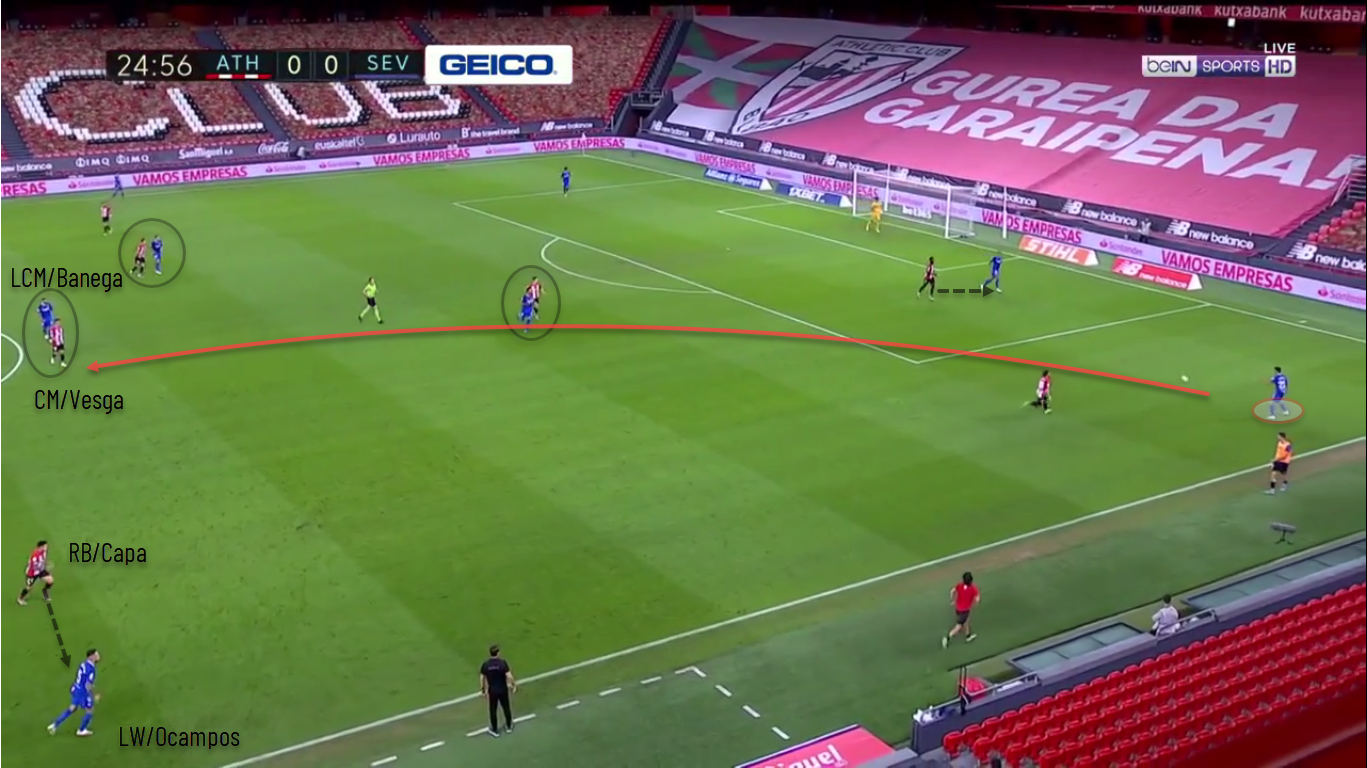 If Reguilón possessed the ability to dribble past his opponent from a standing position, he could've easily created space for himself which would have then allowed him to find a nearby passing option.
As discussed before, what Reguilón lacks in flair, he makes up in terms of his movement. Here, Reguilón's immediate passing options are closed down by Espanyol players as soon as he receives the possession on the touchline. Reguilón then comes infield to make an easy pass into Nolito, who is out of the frame.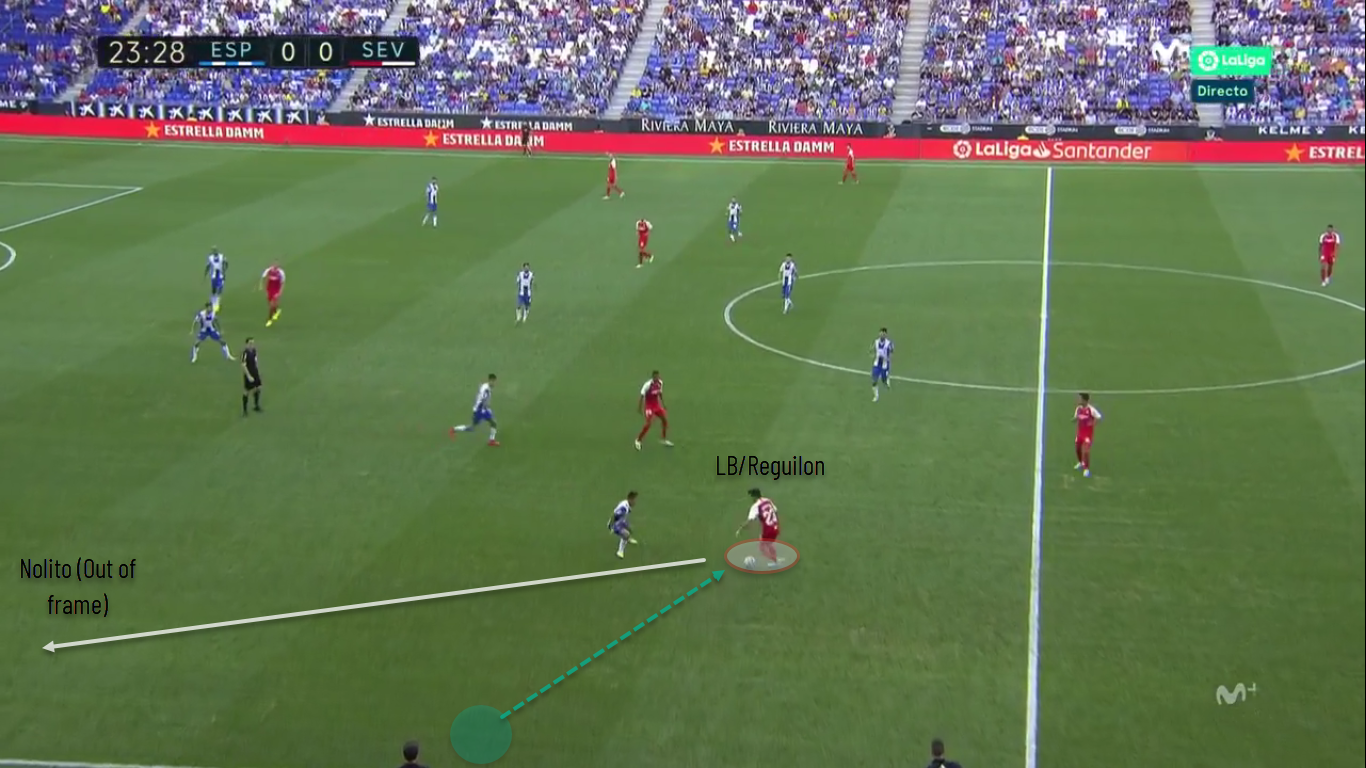 As he delivers the pass, Reguilón makes a run into space to drag the defender and it opens up the space for Nolito and Óliver Torres to progress the ball easily.
When he is not in possession and the ball is on the far side of the field, Reguilón often comes infield to provide extra cover in case of turnovers. This is a common theme as it helps in making the pitch more compact in case of a turnover.
This is usually the case in the second phase of play, where he is usually tasked with providing the width for the switch of play in the final third of the pitch.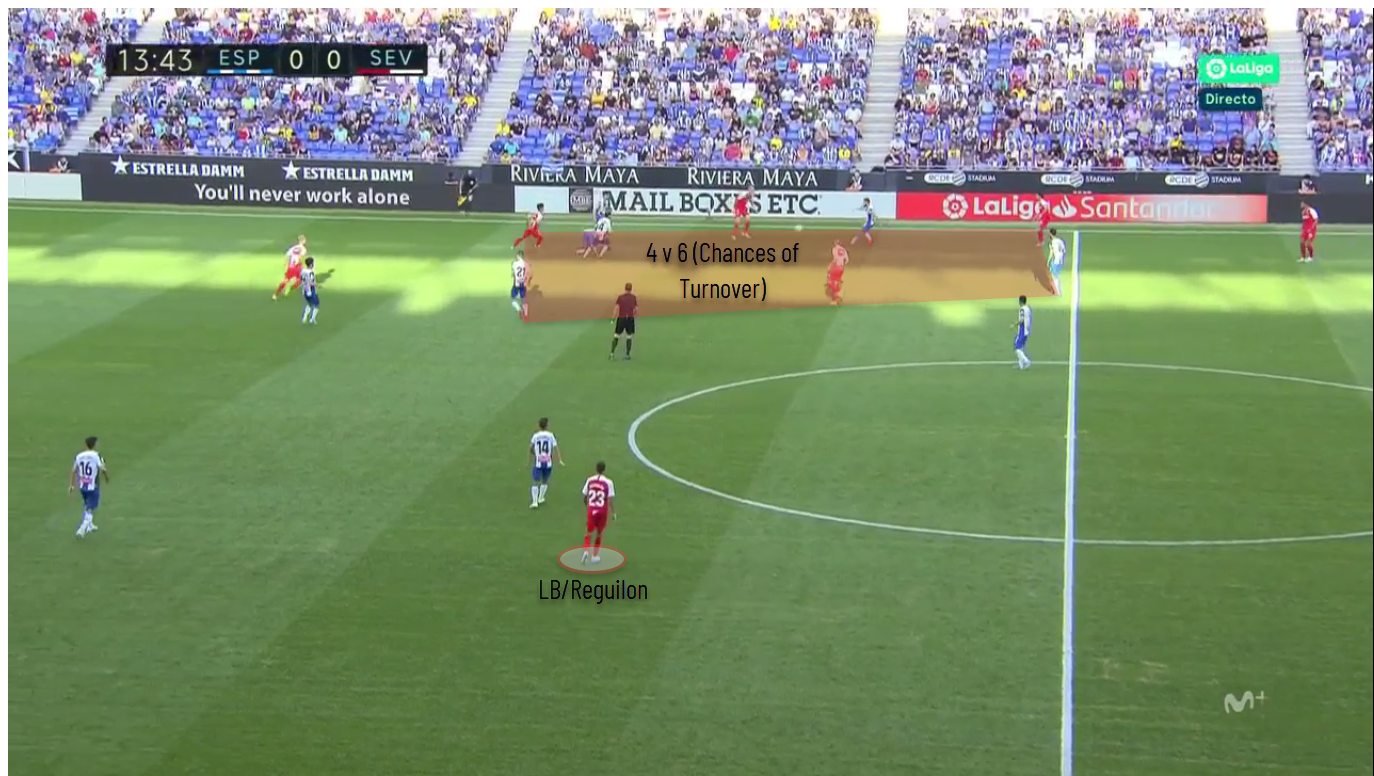 Considering the play was in the second phase on the opposite flank and Sevilla were outnumbered by Espanyol 4 v 6, Reguilón came infield to provide protection in an instance of turnover. 
Runs Into Space
In the final phase of the play, his positioning is dependent on the position of the corresponding winger. Reguilón is adept at penetrating the defense with overlapping and underlapping runs. Reguilón tries not to be on the same horizontal and vertical lines as his winger in order to open up easy passing lanes and stretch the opposition's defence. But to achieve this, there needs to be a great deal of understanding between the two players.
When the winger is hugging the touchline, Reguilón comes infield to offer a passing option and make penetrative runs beyond the opposition's defence. On other occasions when the winger occupies the more inverted positions, Reguilón's role is to hug the touchline to provide more width and make overlapping runs.
Not only does Reguilón have a great understanding of his positioning and movement, but he is also equipped with a great stamina and brilliant dribbling skills on the move. As mentioned before, Reguilón is not great at dribbling from a standing position, but he is brilliant at it when he is carrying the ball. These qualities make him a brilliant ball-carrier, which is arguably the strongest element of his game.
In the first example, Reguilón sets himself in the half space between the wide winger and the striker. Espanyol right winger Óscar Melendo moves wide to press Nolito while right back Javi López presses Reguilón. As Óliver Torres passes the ball, Reguilón receives it on the half turn, but after López over-commits on Reguilón, he is left stranded.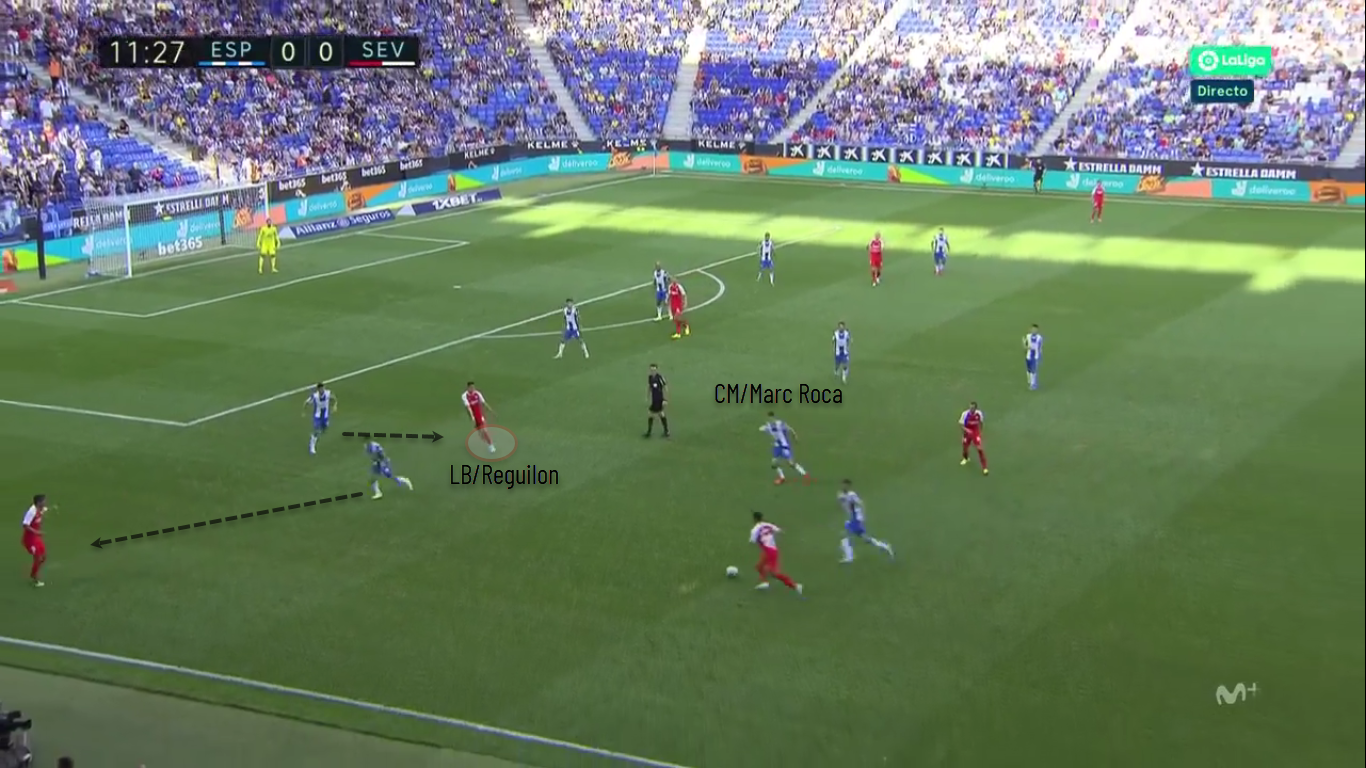 Reguilón then continues to make an underlapping run into the box, where is closely followed by Marc Roca. Reguilón turns him inside out, but he goes down in the box after a rough challenge from Roca; the referee rejected Sevilla's penalty appeals.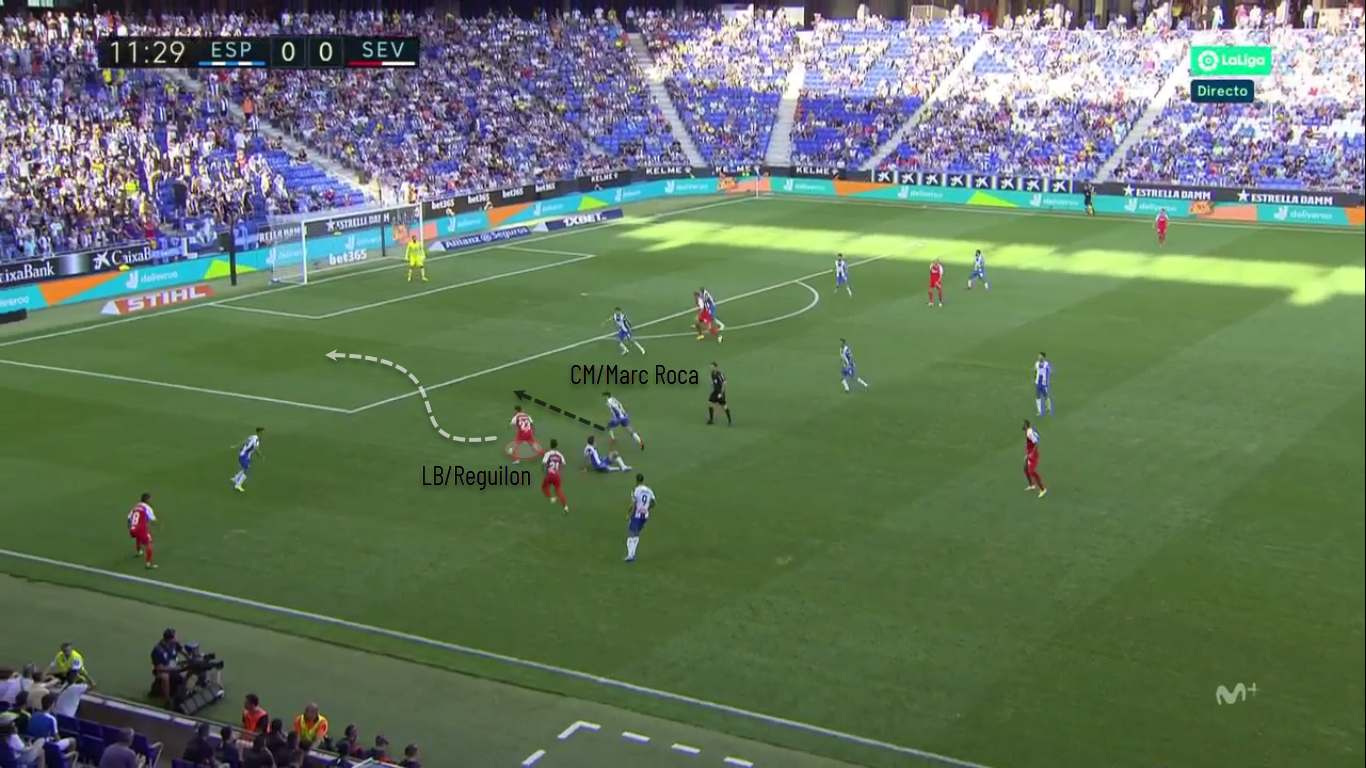 In this next example, Reguilón is isolated on the left flank but he uses his shoulder drop to perfection to get away from Villarreal's Samuel Chukwueze and then escapes the grasp of Mario Gaspar with ease.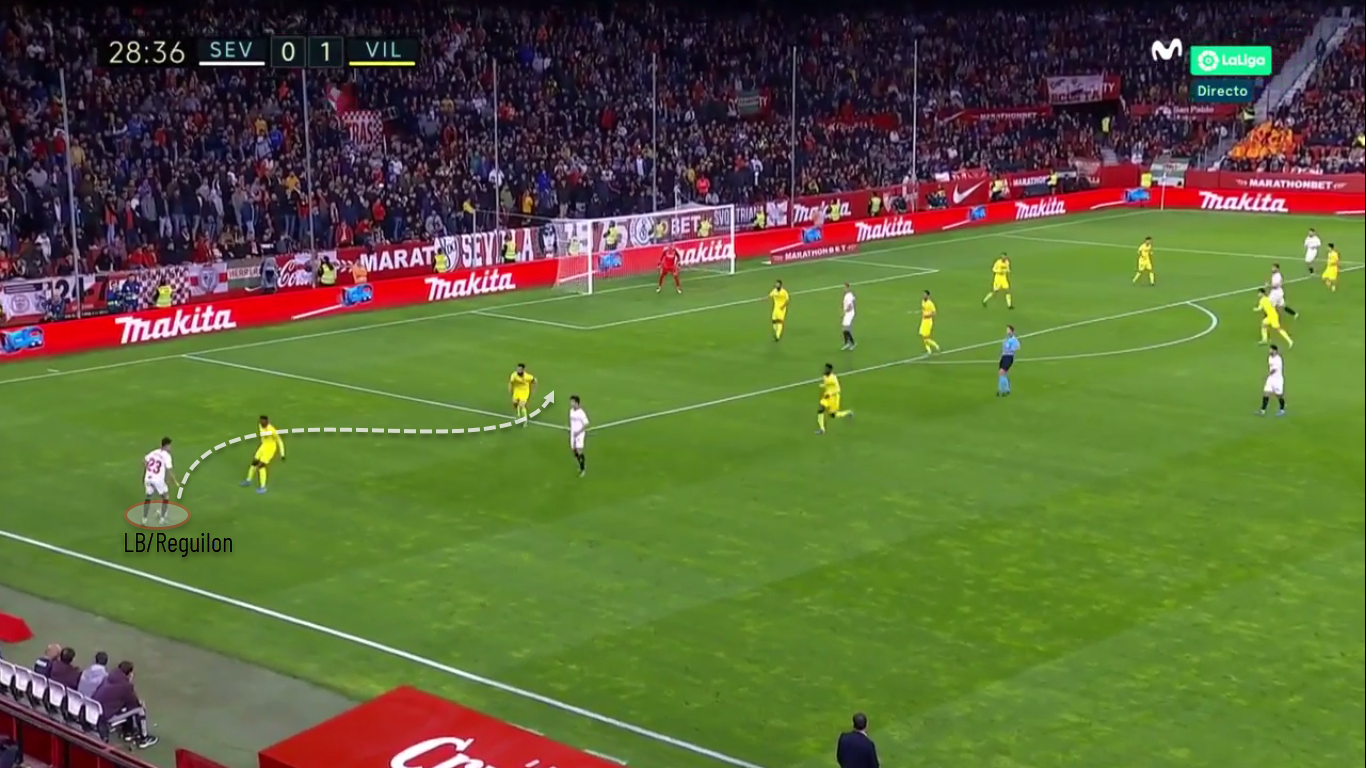 Once Reguilón reaches the box, he stays calm and plays a simple pass to the edge of the box for Banega to latch onto, who then switches the play to set up a dangerous cross into the box.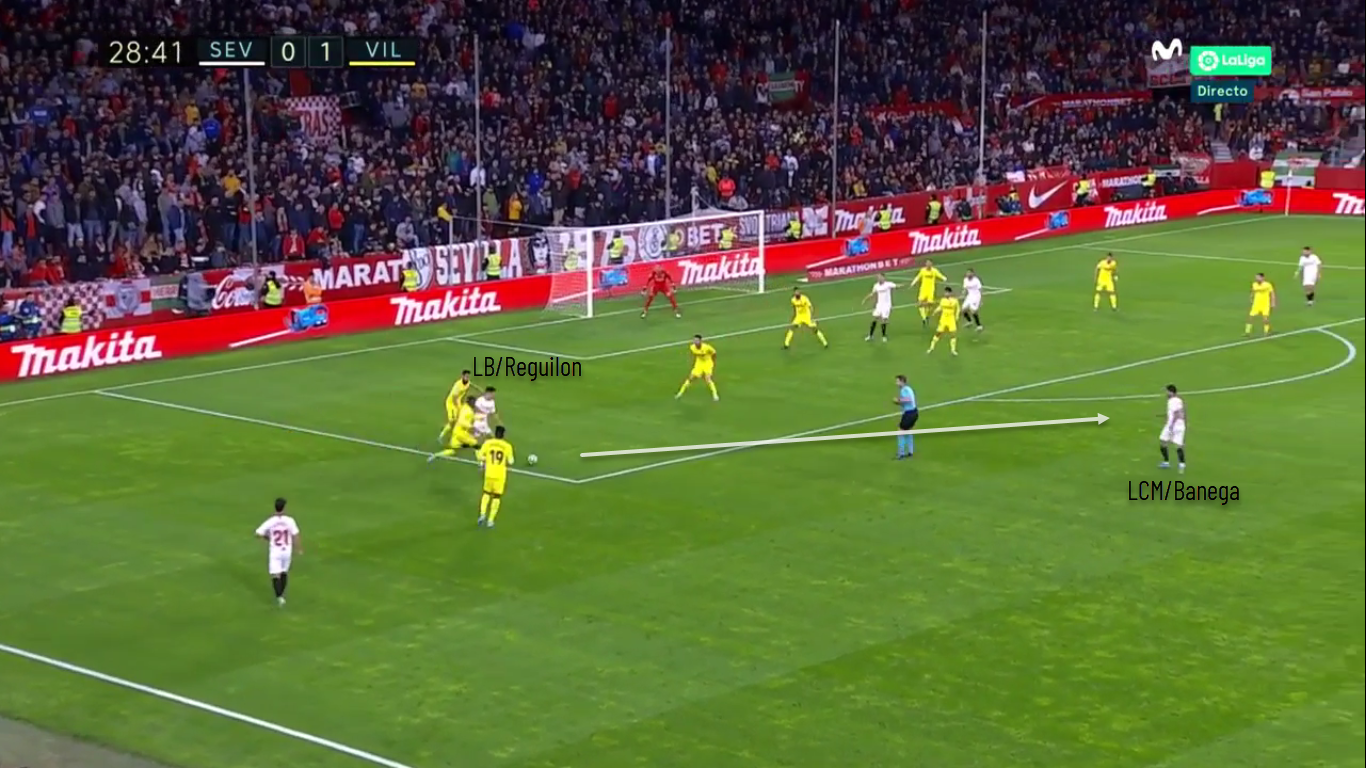 Reguilón's dribbling ability is highlighted by the fact that he ranks above the 92nd percentile in terms of dribbles attempted and completed per 90 against all defenders in top 5 leagues.
Reguilón is just as effective at making underlapping runs as he is with overlapping. In this example, Reguilón evades Munian's press with his first touch and then dribbles past Vesga as he looks to underlap Ocampos here, forcing Capa to come out of his position.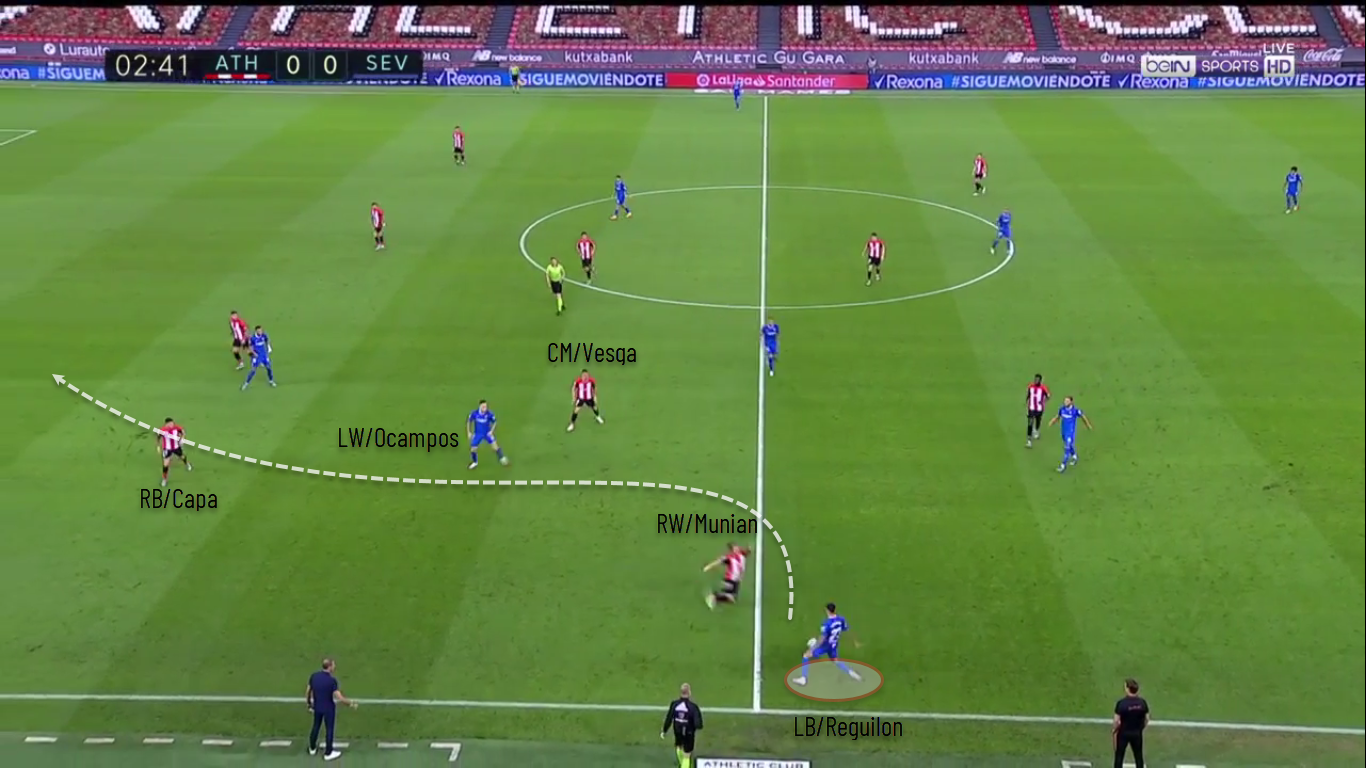 Reguilón then evades Capa and plays Ocampos into ample space on the left flank, as Sevilla striker Youssef En-Nesyri pins back the centre backs.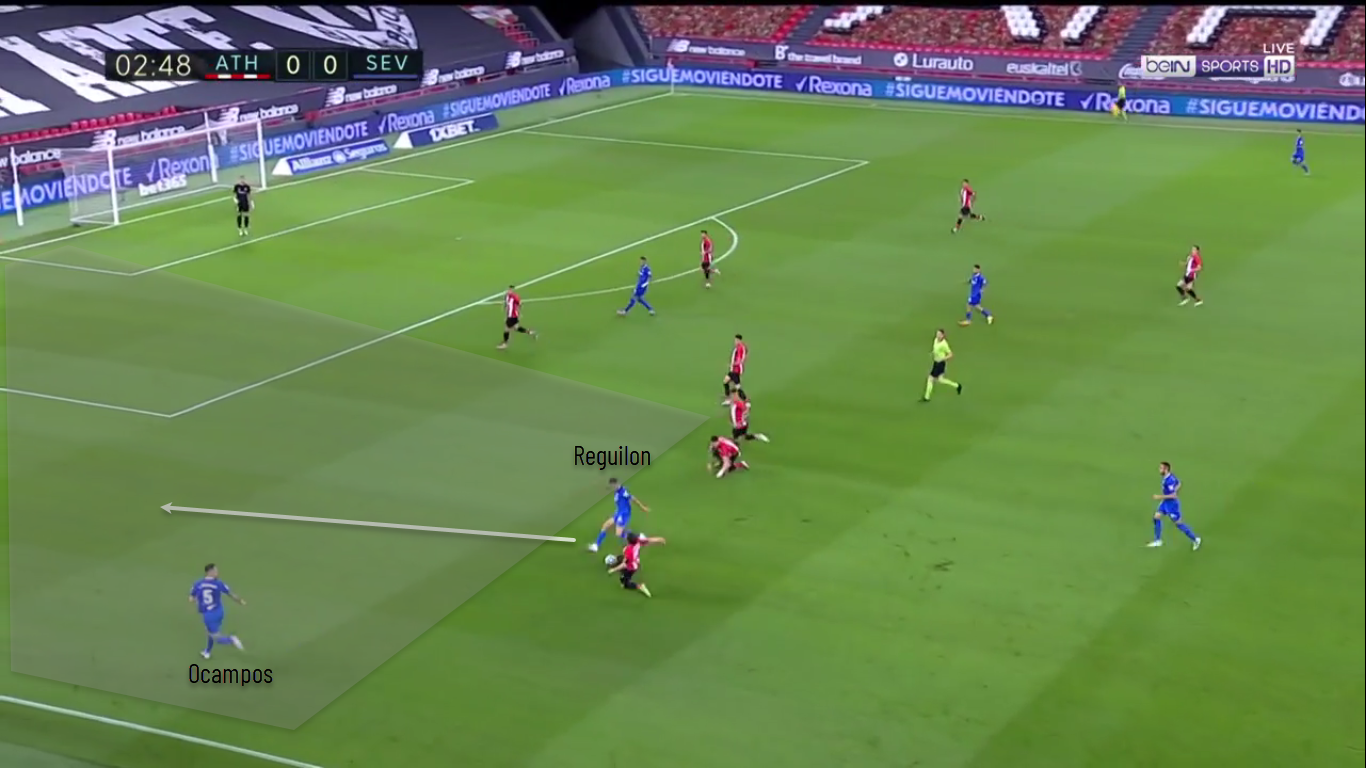 He has brilliant stamina and is always willing to sprint, constantly attacking space with speed and force. Notice Reguilón's positioning when this move starts as Nemanja Gudelj wins possession of the ball in midfield.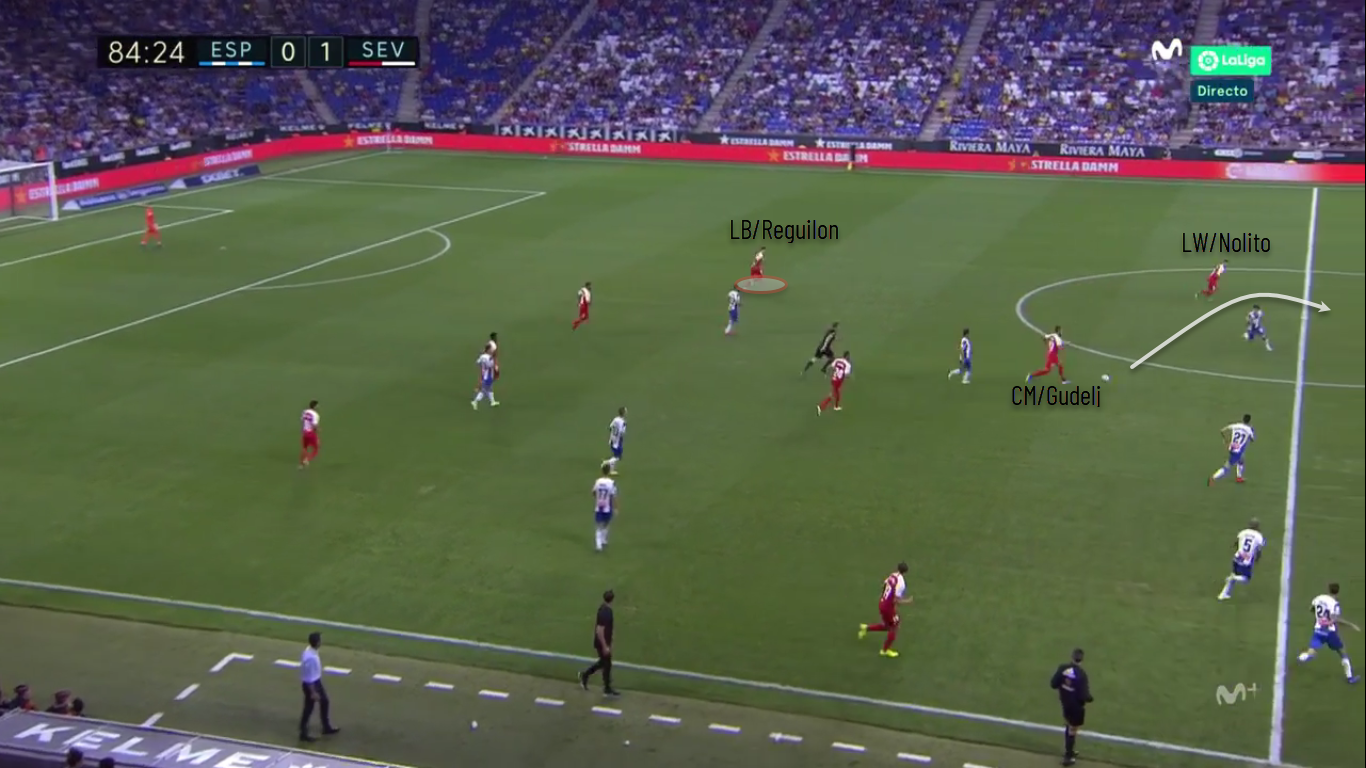 As soon as Sevilla go on the front foot, Reguilón makes a blistering overlapping run off the ball. He is then found by Nolito and Reguilón takes a left-footed shot that goes barely wide of the goal.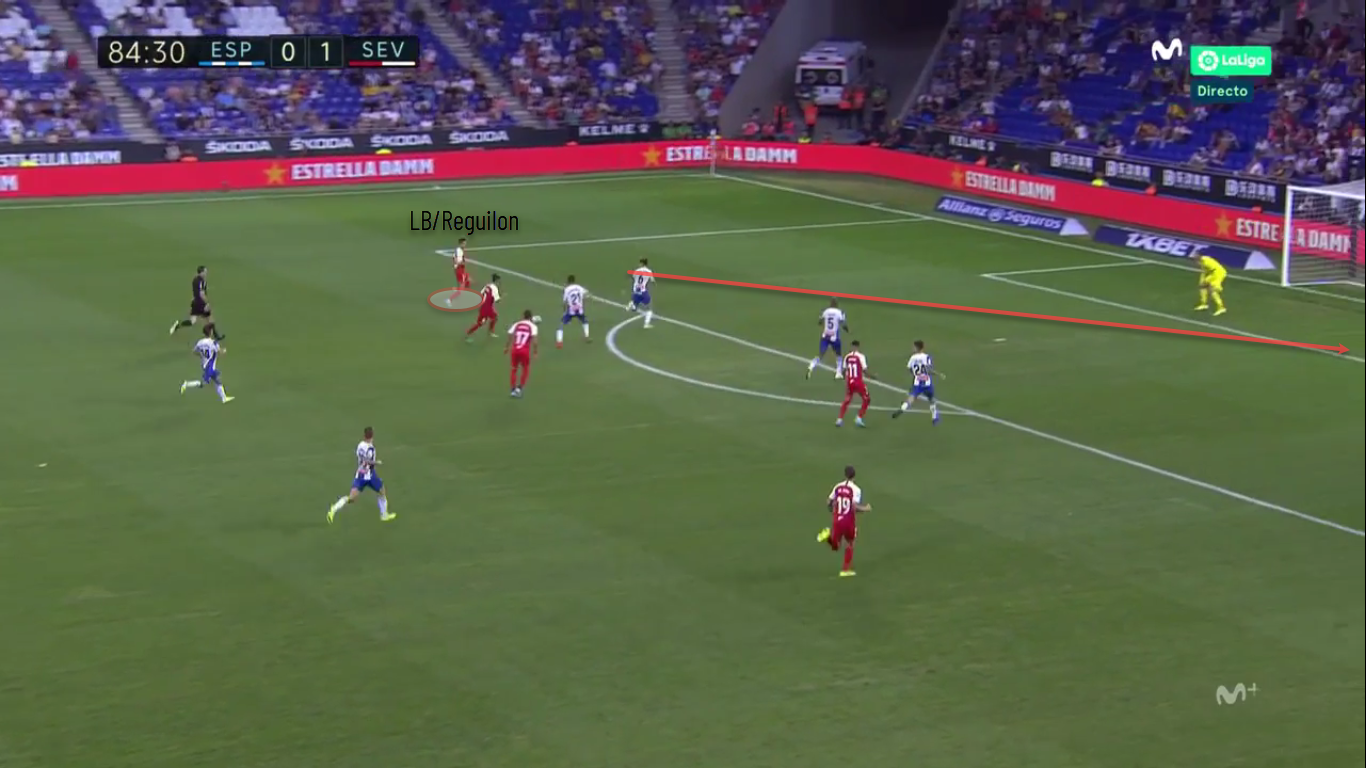 Final Ball Versatility
Upon reaching the final third, Reguilón has a number of tricks up his arsenal. Depending upon the number and the positioning of his teammates in the opposition's box, Reguilón can pick out a wide variety of final balls. Reguilón's crosses are not the vicious curling crosses that you often see from the likes of Jesús Navas or Trent Alexander-Arnold. Instead, Reguilón prefers accuracy over ferocity when it comes to his crossing.
As his numbers demonstrate, Reguilón is more than capable of delivering crosses from deep. Here, Reguilón receives the ball deep when he spots Luuk de Jong making a run towards the far post. He delivers an accurate cross into the box for the Dutchman, but he heads wide.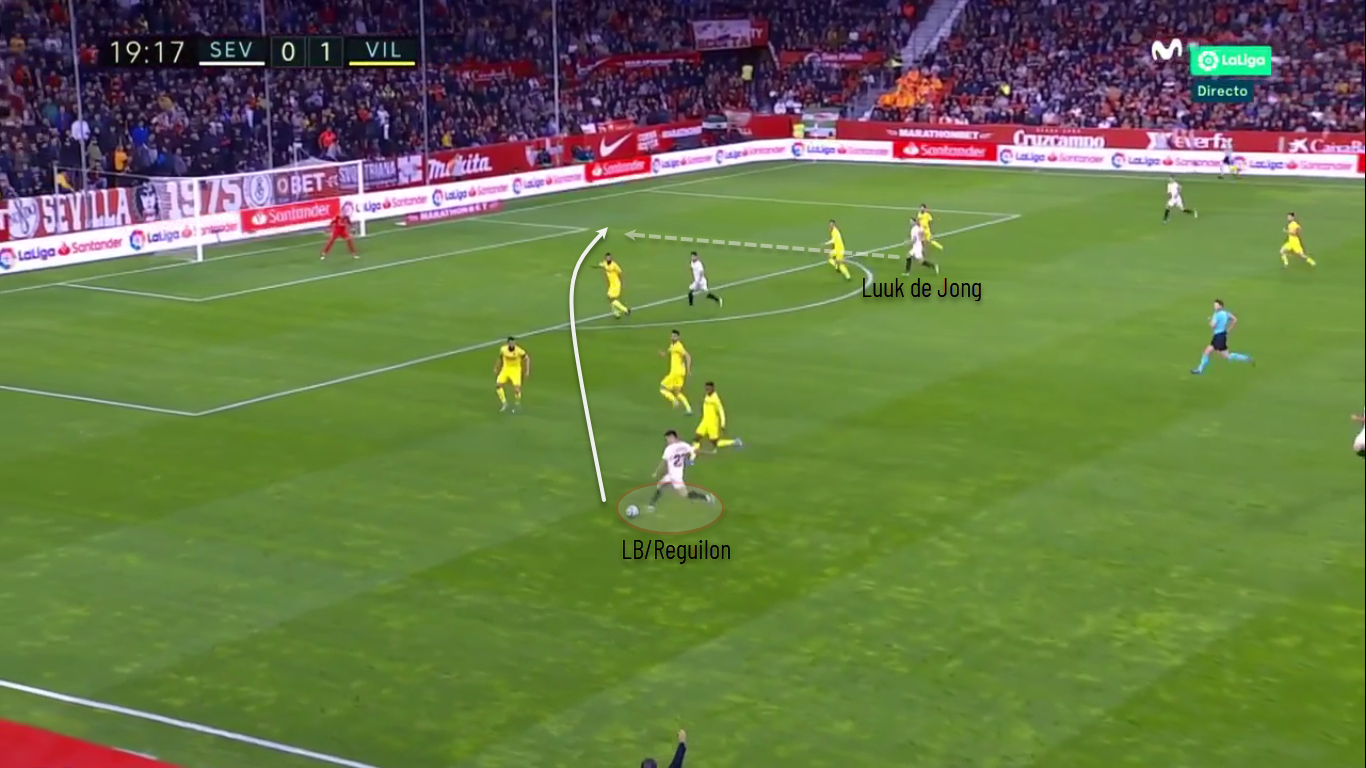 Although Reguilón does not attempt a lot of passes from his right foot, he has the potential to split defenses from his weaker foot.
Here, De Jong is pinning Espanyol's Naldo and Dídac Vilà when Reguilón spots the opportunity to deliver a quick cross into space for Munir El Haddadi. Munir meets the cross well and guides it into the path of De Jong, who cannot control the pass.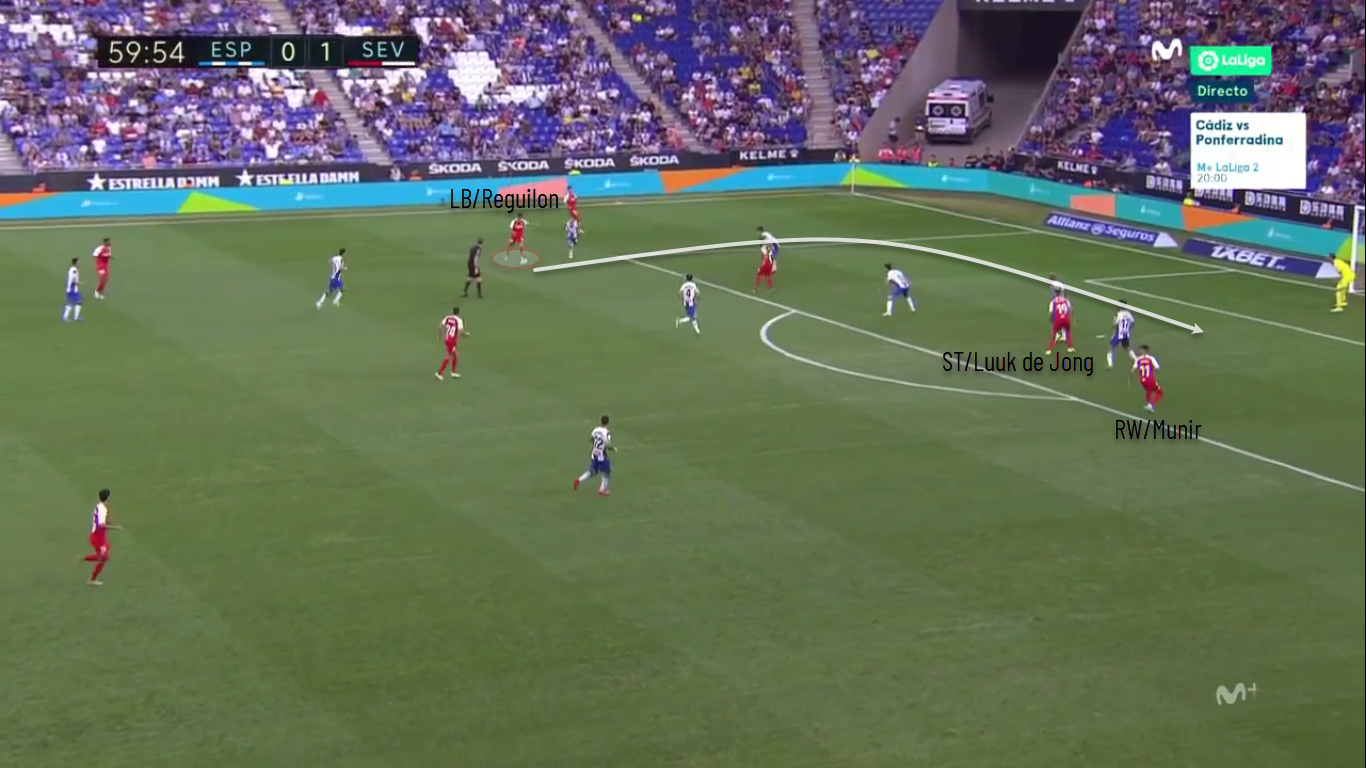 Reguilón also has a very effective low cross that he often employs. As seen in this example, Reguilón is offered time on the ball in the wide area and he finds Munir making an unmarked run towards the near post. Reguilón delivers a perfectly weighted ball into his feet, and Munir hits it into the top net first time.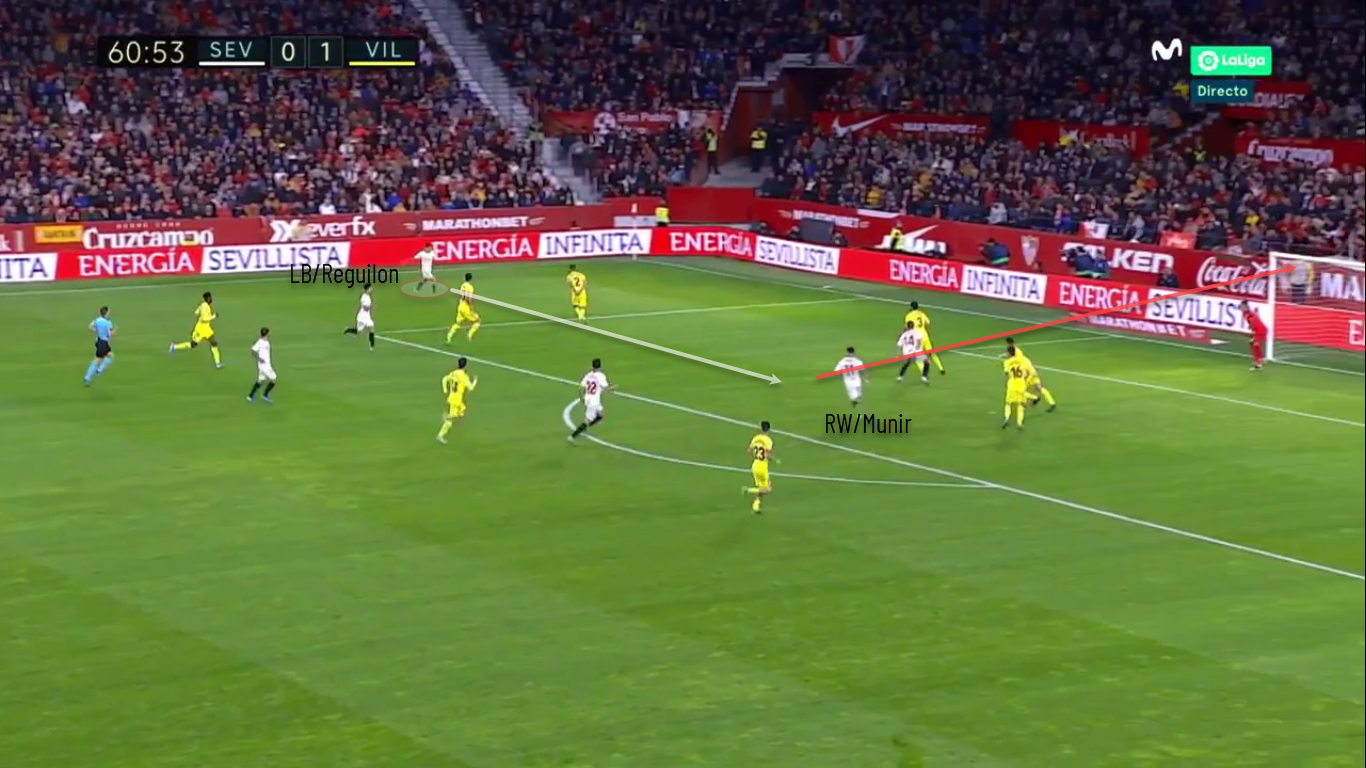 An interesting point to note here is that De Jong had just been replaced by Chicharito in the 59th minute (a minute before this goal), and by choosing to deliver a low cross instead of a looping ball straight away, Reguilón proves to be adapt accordingly to the strengths of his teammates. Reguilón delivered another low cross from a similar position a few minutes later, but Munir's shot was blocked on that occasion.
Attacking the Box
In Lopetegui's system, fullbacks are given additional attacking freedom, and it's no surprise that Reguilón's attacking game has grown immensely in Andalusia – as has his desire to make runs into the opposition's box and latch onto the end of deliveries. Reguilón ranks above 98th percentile for touches in the opposition's box for defenders across the top 5 European Leagues.
In this first example, as Reguilón receives the ball, Ocampos makes a run towards the touchline to drag Roma's right-sided center back Gianluca Mancini with him. The right wing-back Bruno Peres goes high to press Reguilón, but he is beaten by Reguilón's first touch, who controls the ball with his chest.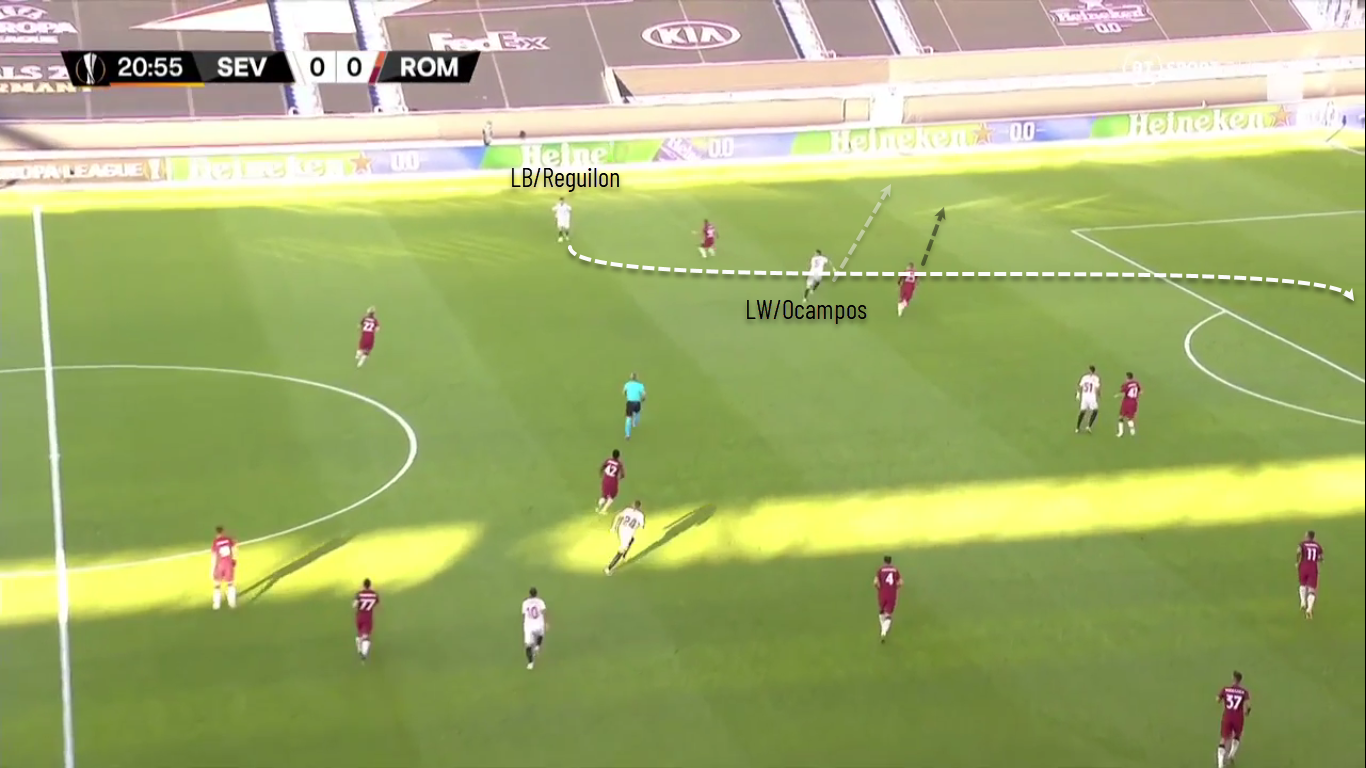 Reguilón continued his run and went beyond Roger Ibañez with ease, before taking a shot that went through Roma goalkeeper Pau López's legs for a goal.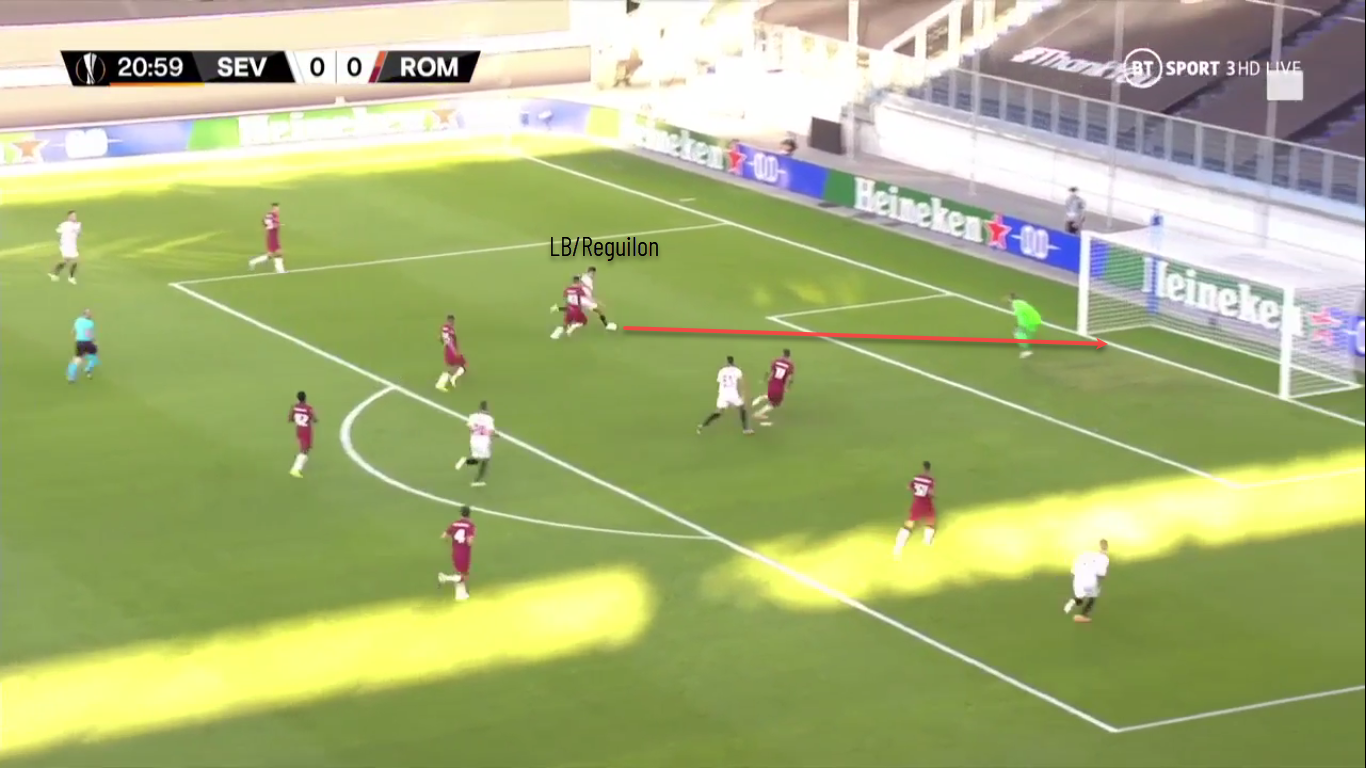 This is a common tendency in Reguilón's game. He drives forward with the ball, gets beyond challenges and shoots from a close range.
In this example, Reguilón picks up the loose ball in the final third after forcing a turnover on Marc Roca. Reguilón then runs at the defence before firing a shot from close range, which takes a deflection off Javi López.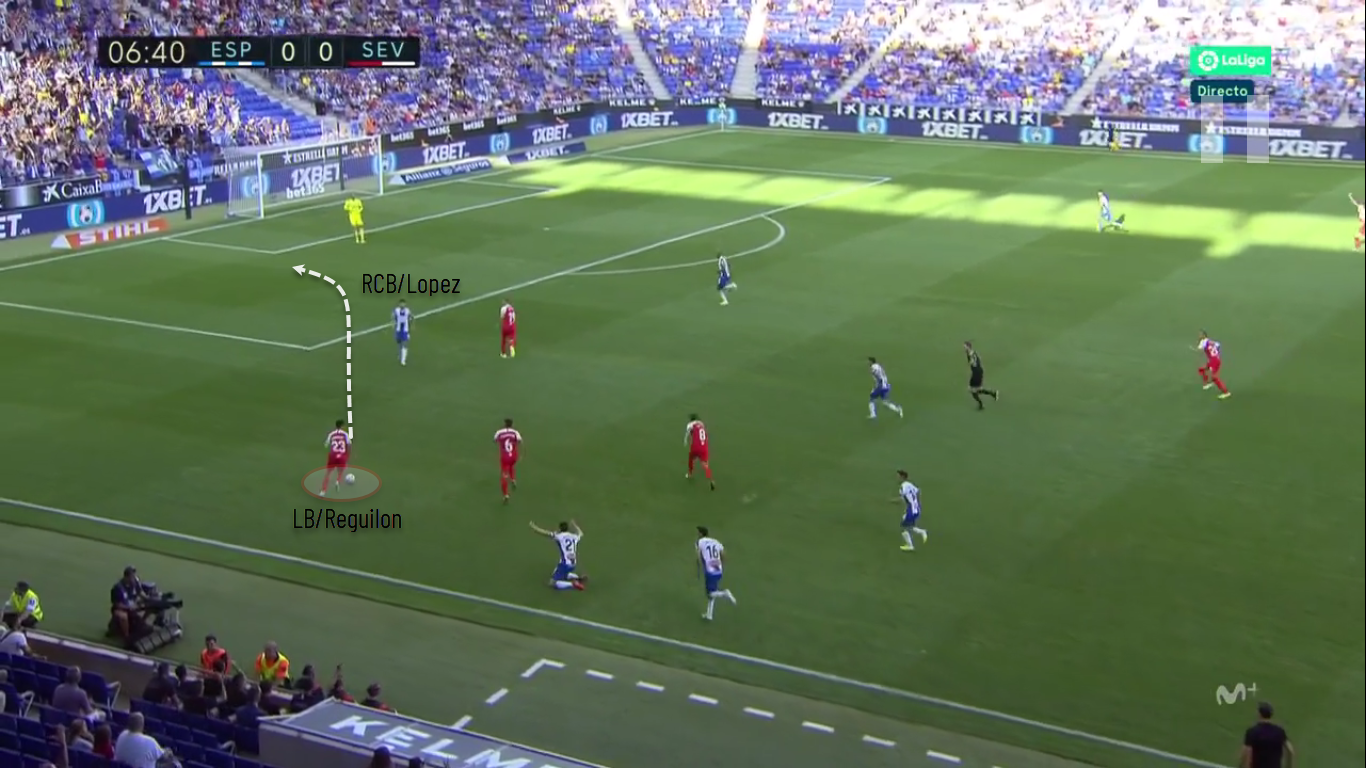 This final example against Valencia sums up Reguilón's energy and attacking intent. Reguilón positions himself in the left half space and demands the pass to be played in his path.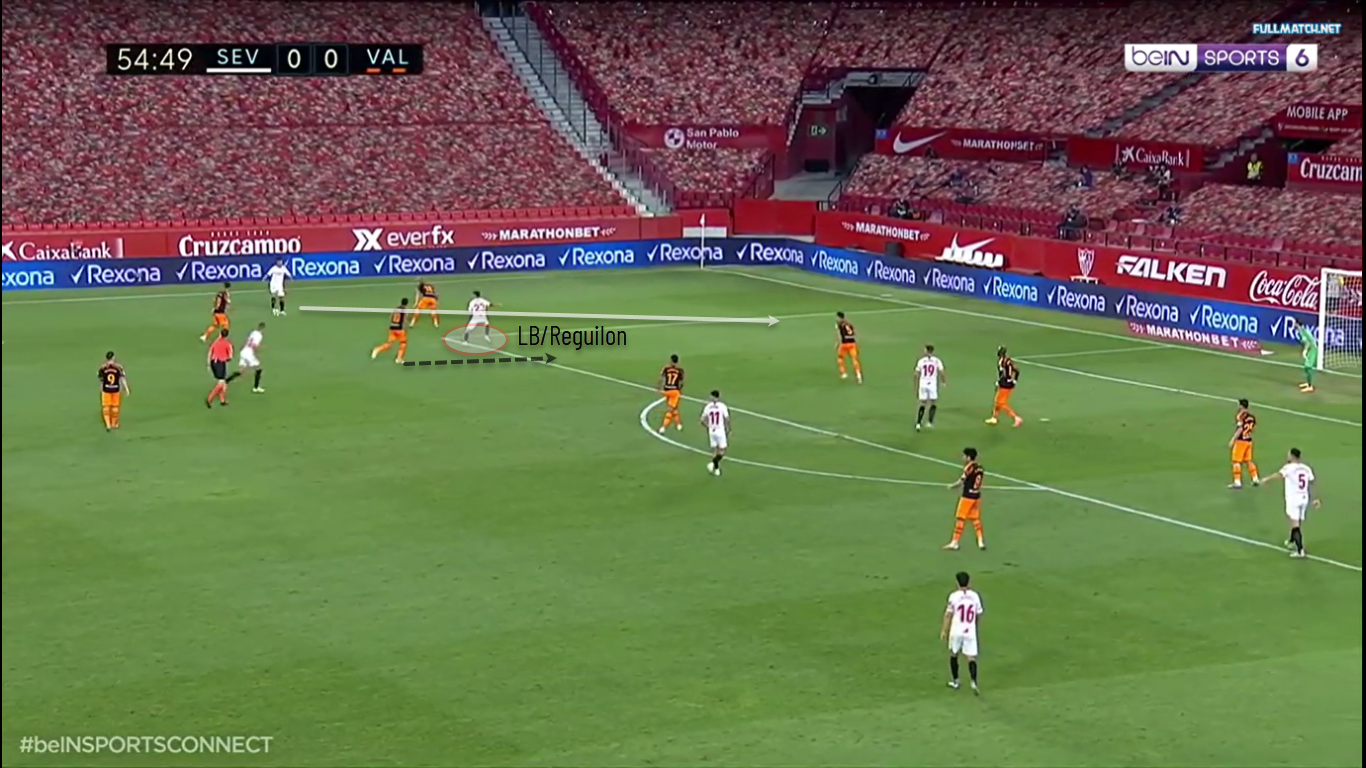 The weight on the pass is slightly more than ideal, but he instead slides in to win the ball before it reaches Dani Parejo.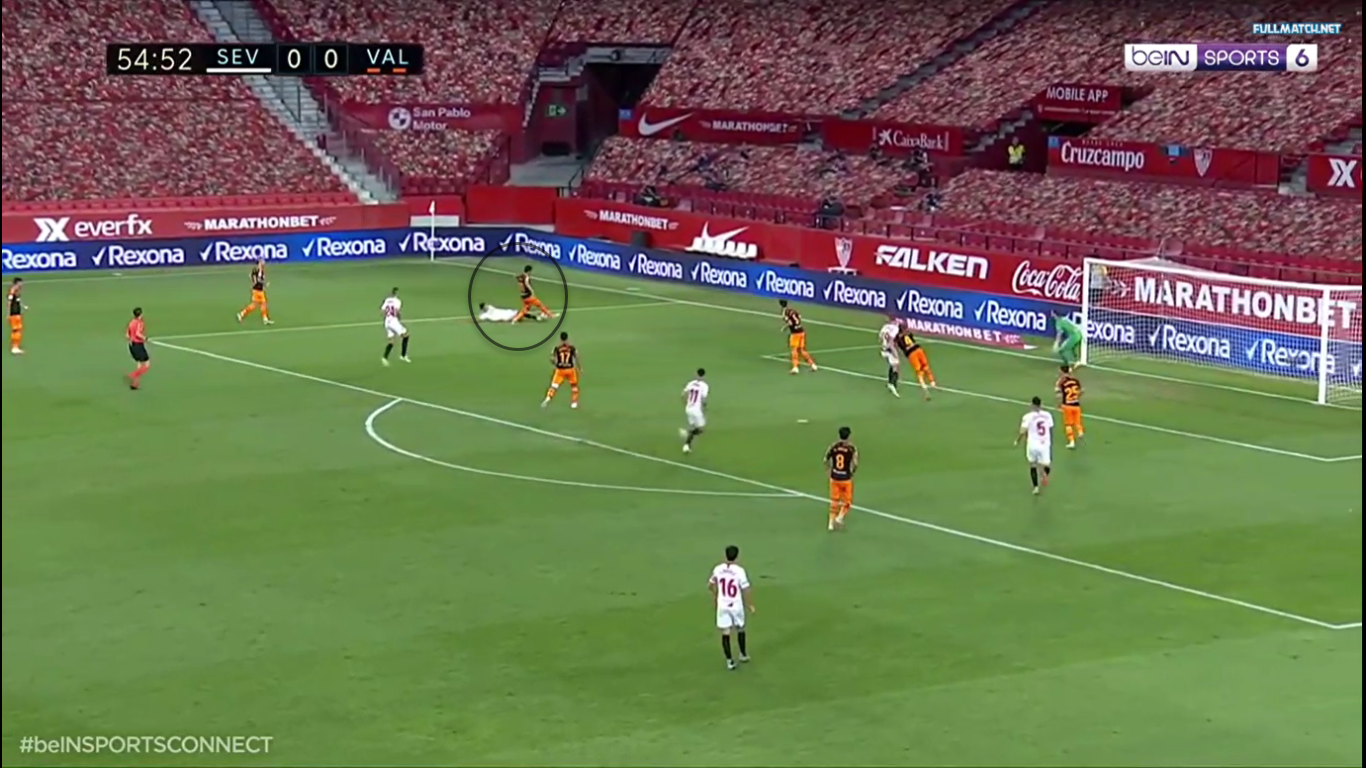 After doing so, Reguilón dribbles past right back Daniel Wass and takes the shot off his right foot to score the opening goal.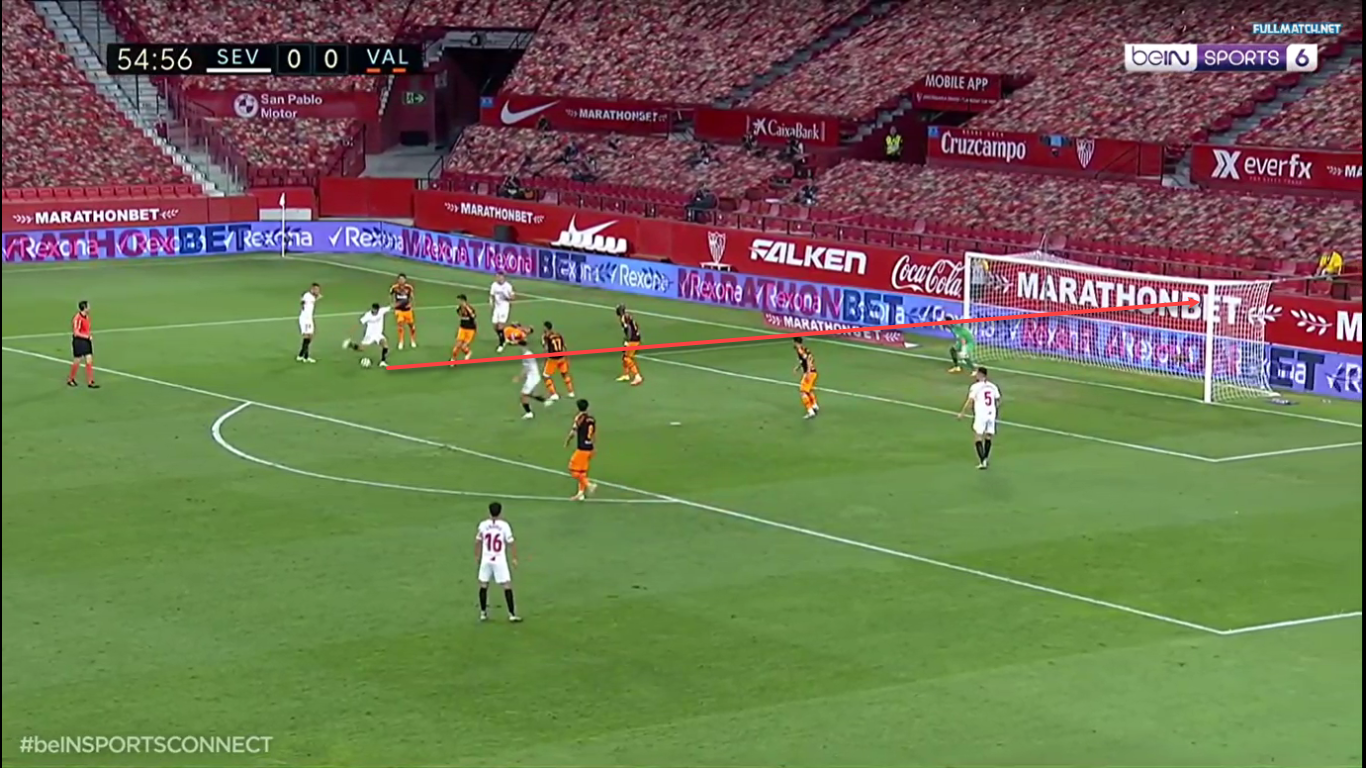 Defensive Involvement
Since Sevilla's system heavily relies on its the fullbacks to provide an attacking threat, it is quite natural that they tend to struggle in counter-attacking scenarios upon turnovers. However, Reguilón's stamina and pace give him an advantage when it comes to dealing with these situations. 
In this example, Sevilla lose the ball in their own half. Reguilón recovers quickly in order to close down the immediate passing options while Joan Jordán tries to limit the space that Espanyol forward Wu Lei has at his disposal. In the end, Sevilla end up recovering possession and launching a counter-attack.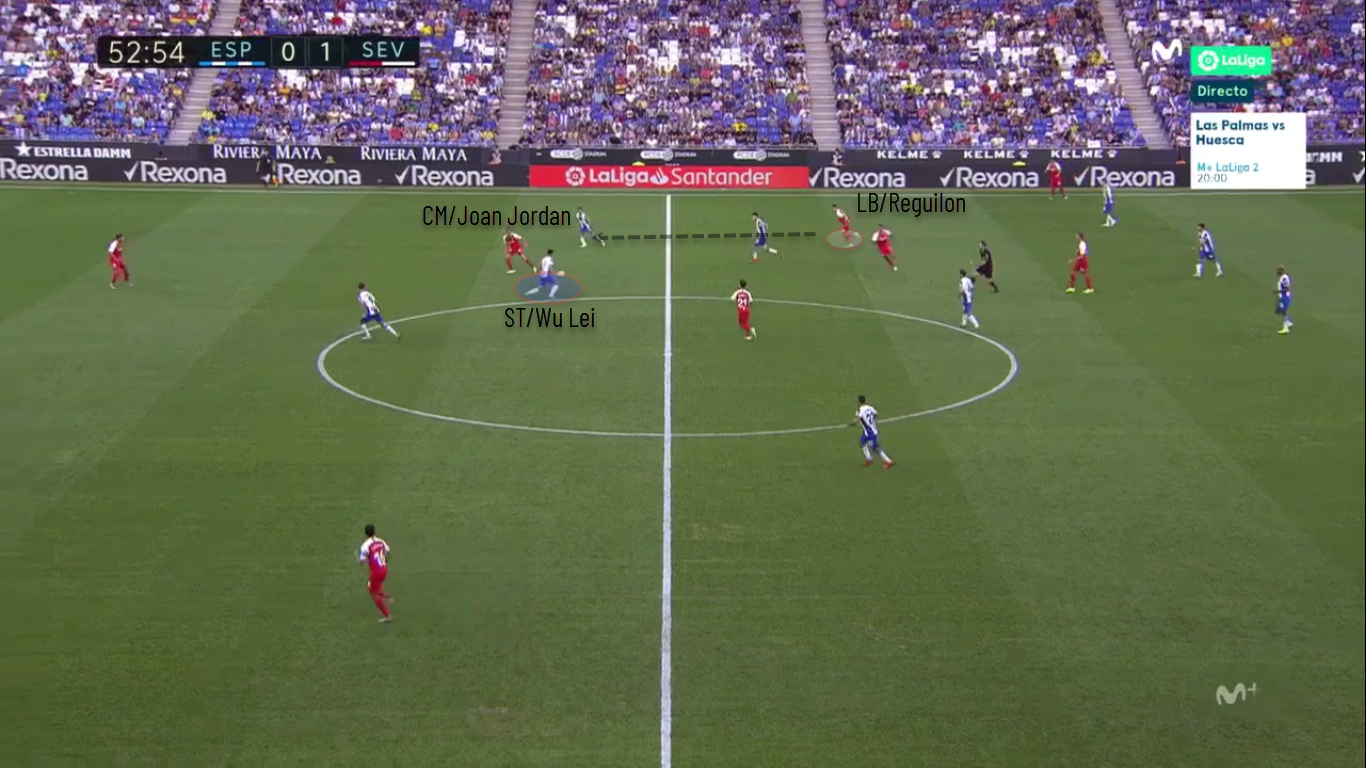 When the opposition try to build out of the back, Sevilla tend to press them high in order to win turnovers and take complete advantage of such situations. In order to do so, they often push their fullbacks high. Reguilón is effective in these scenarios since he can assess the pressing triggers really well and block the passing lanes quickly. 
Here, Reguilón is pressing the right winger, but as soon as the ball is played into the right back (a pressing trigger), Reguilón leaves his man for Sevilla center back Daniel Carriço to take care of and pushes high to press the right back in an instant.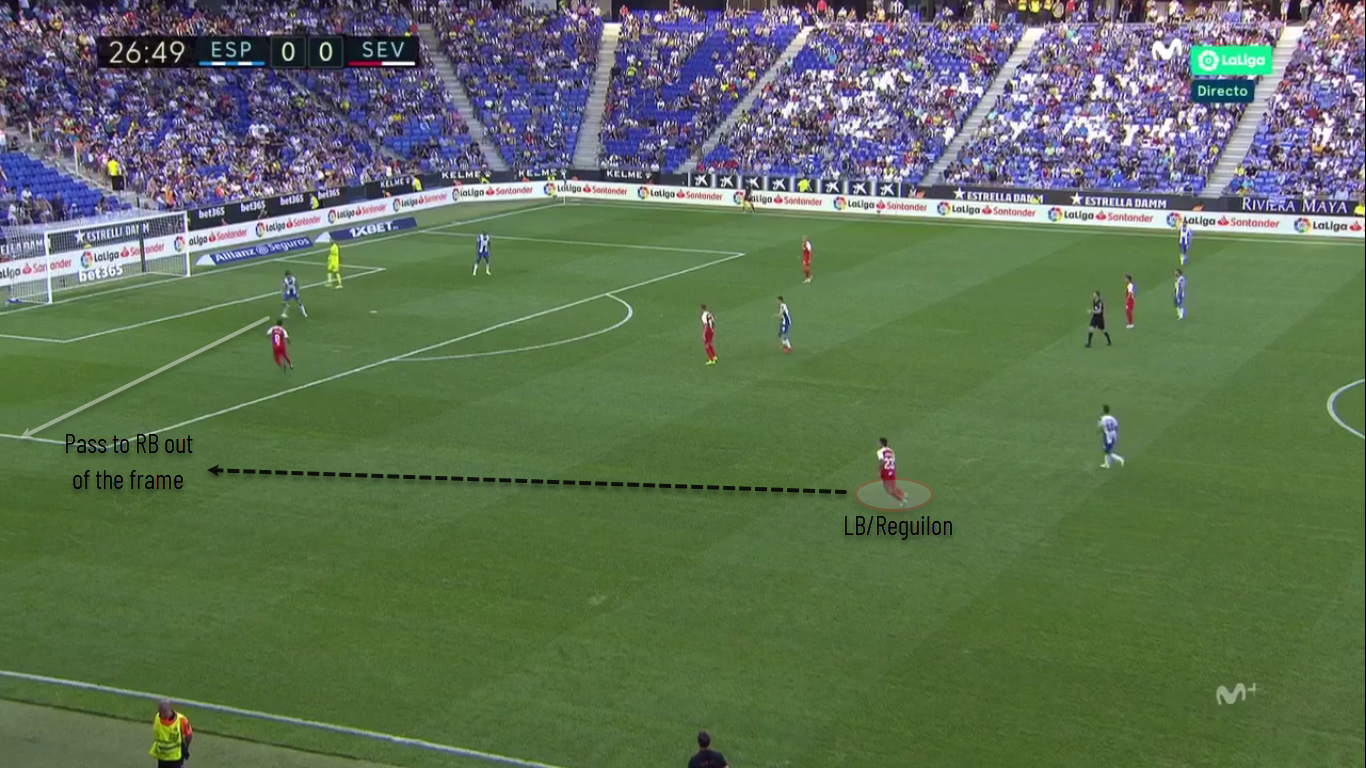 The press is successful as all of Espanyol center back Lluís López's immediate passing options have been blocked, and the right back Javi López looks to play a long ball which is intercepted by Reguilón, allowing Sevilla to win possession in a dangerous area.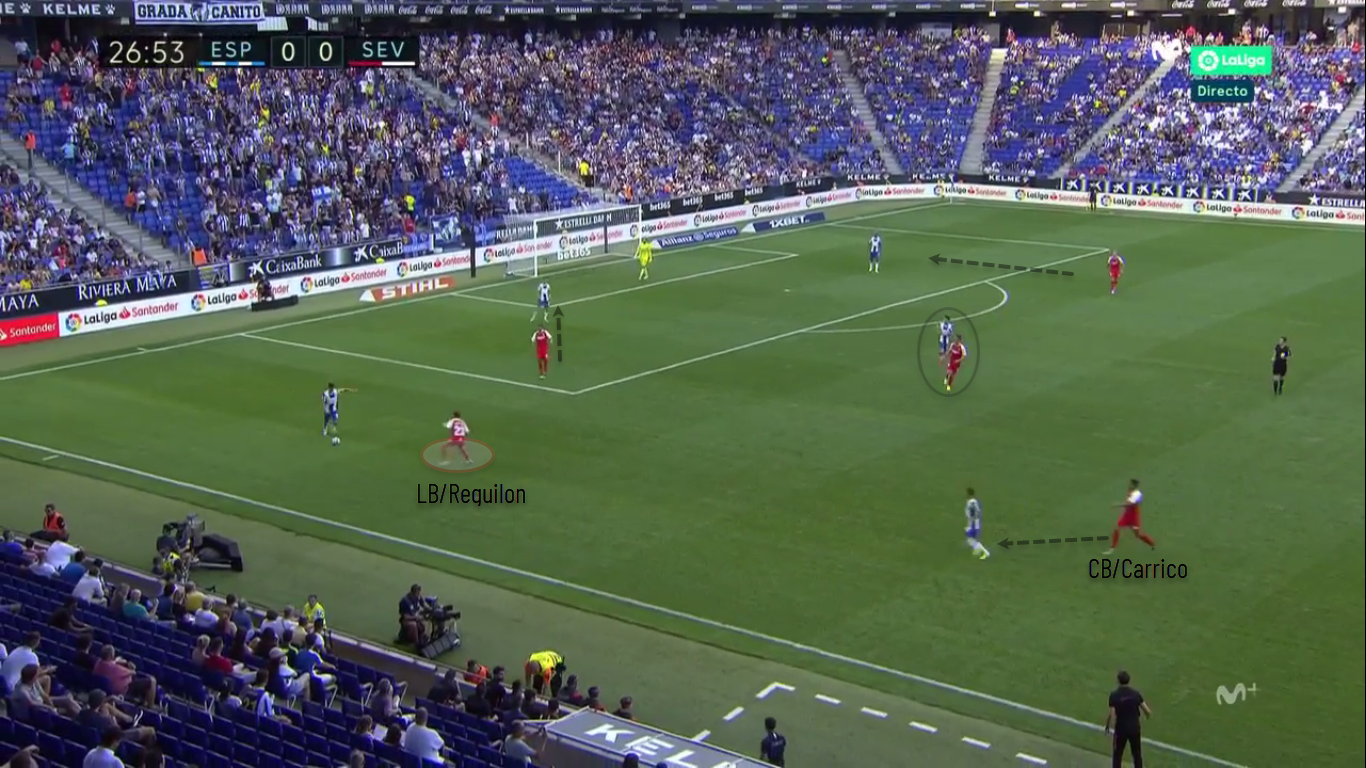 The Spaniard is also quick in closing down spaces. He keeps scanning his surroundings to ascertain the positioning of his opponents and tends to cut down the time and space they have on the ball in order to force them into making mistakes.
Reguilón is a proactive defender which is why he prefers to step up the field and close down attacks before they initiate instead of waiting for the final balls to take place and getting involved in 1v1 duels in the defensive third.
In this example, Roma's Nicolò Zaniolo receives the ball with his back to the goal, but Reguilón is quick to get up the field and harry him. As Zaniolo tries to turn towards the goal, Reguilón picks his pocket and Zaniolo ends up fouling him.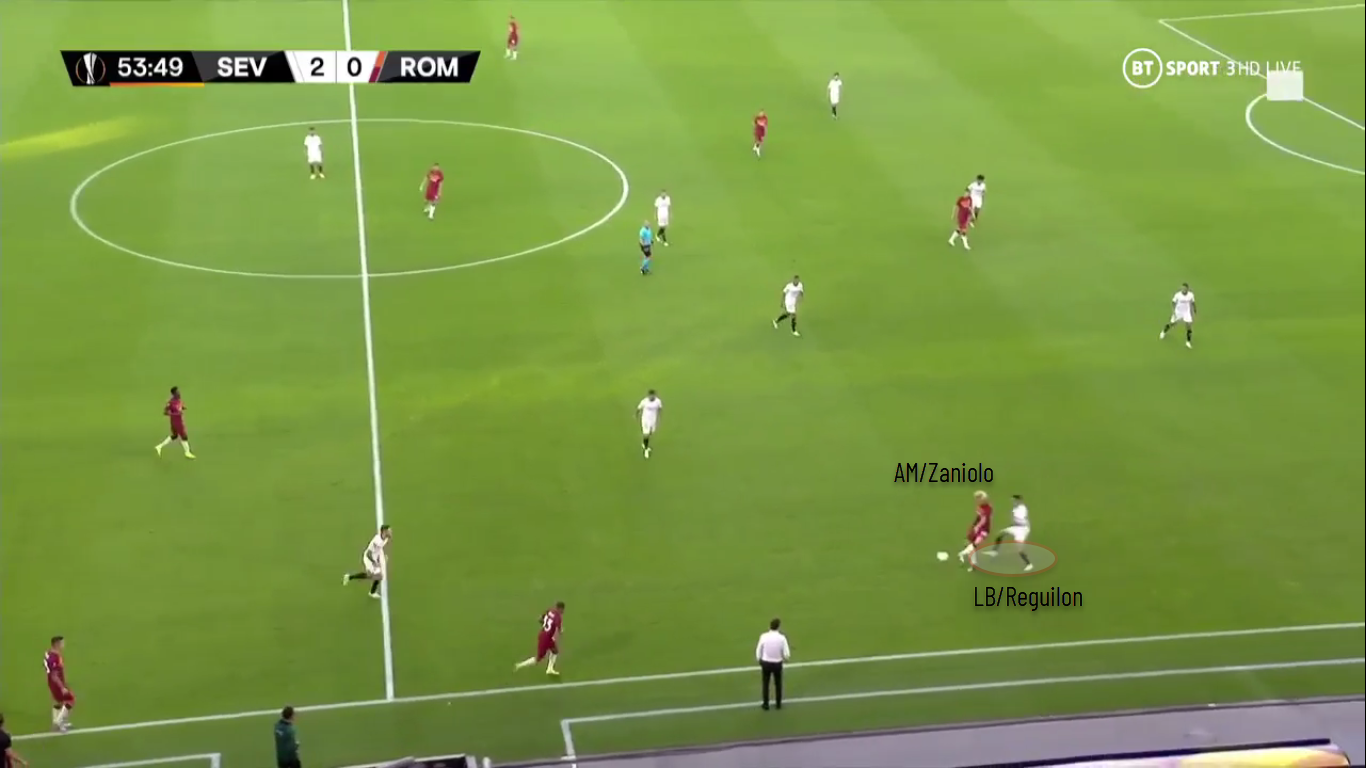 Reguilón usually drifts infield when Sevilla are in possession on the opposite flank, especially in the second phase of play. This doesn't only help in providing extra cover in counter-attacking situations, but he also to mark his opponent as they move closer to the area of play.
In this example, Reguilón comes infield to deal with a potential turnover. Sevilla ends up losing the ball and Henrikh Mkhitaryan tries to launch a counterattack by playing a direct vertical pass into Edin Džeko's feet (out of the frame).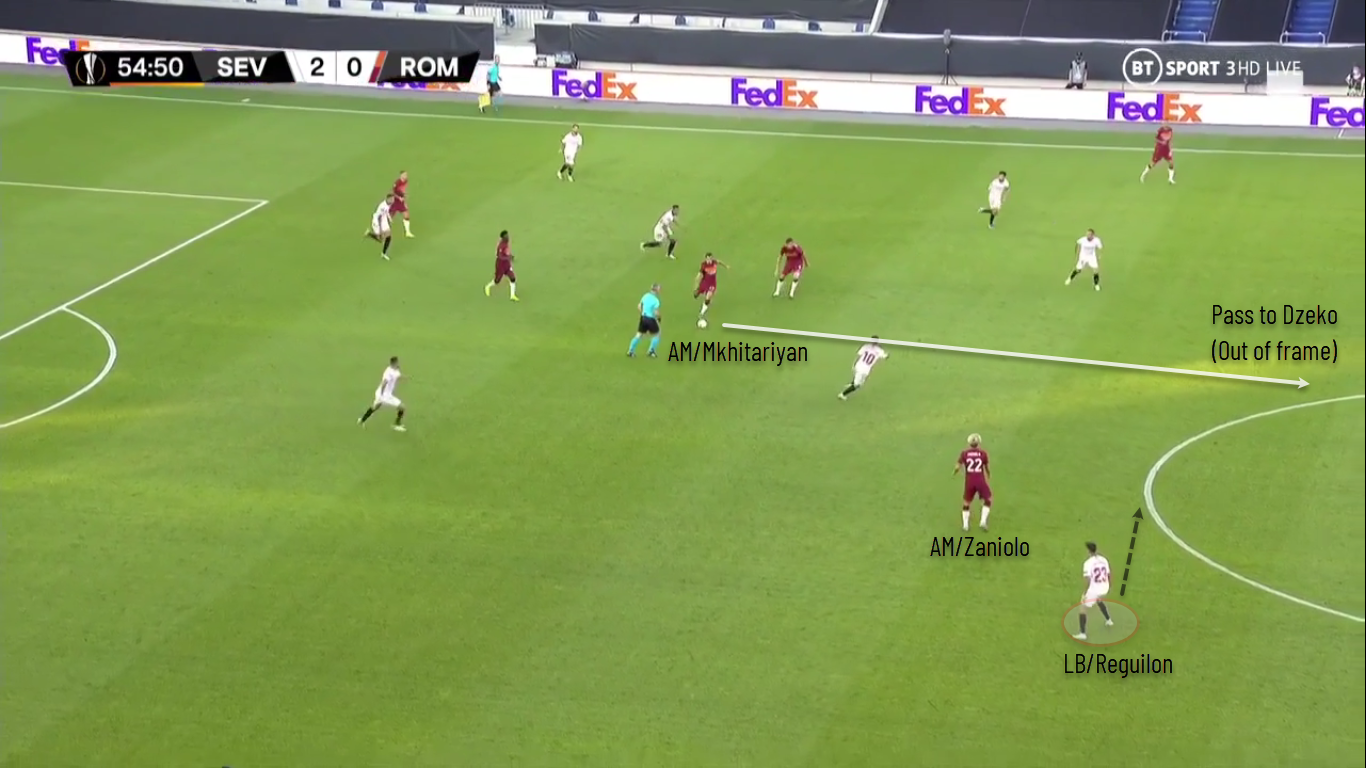 Džeko tries to play a third-man pass into Zaniolo but he ends up misplacing the pass by the slightest and Reguilón pounces onto it to regain possession. Zaniolo ends up fouling him in the process.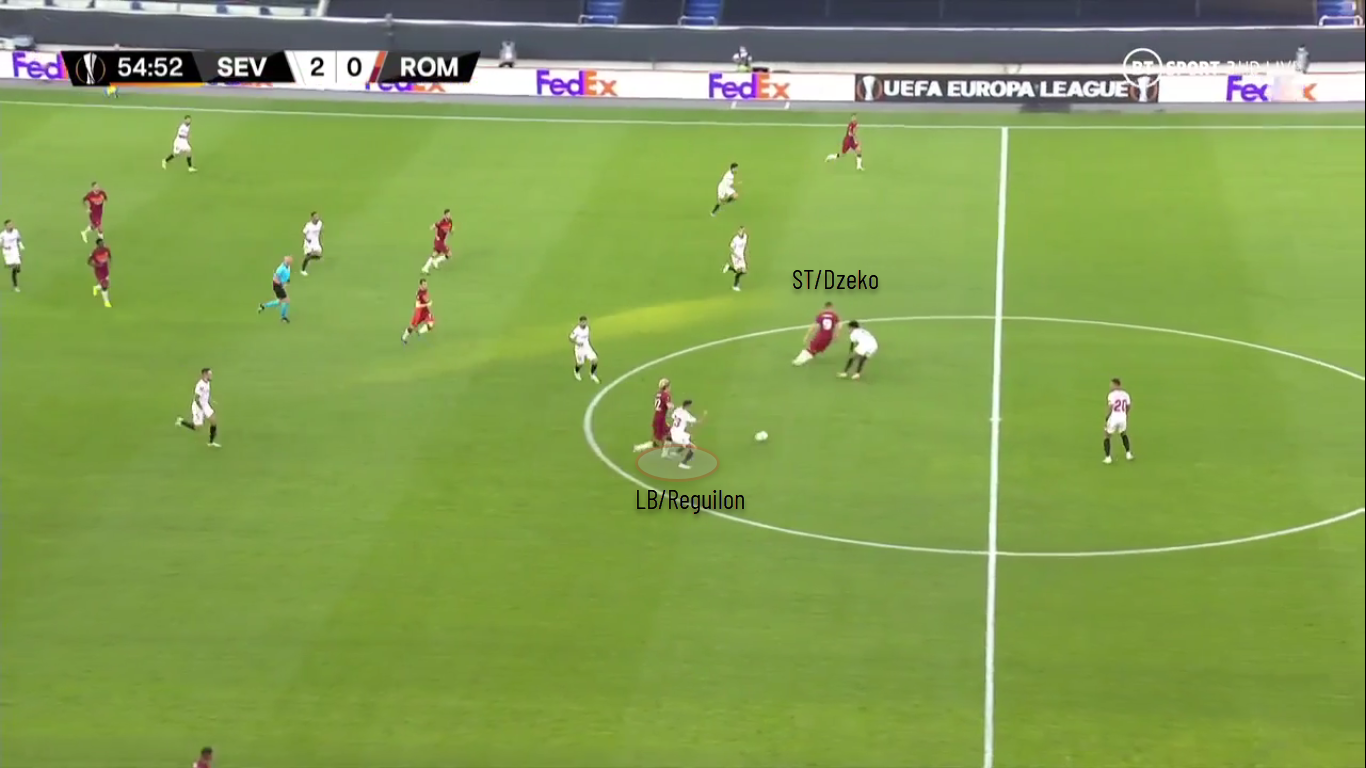 Areas for Improvement
Proactive Defending
Although Reguilón is a competent defender when he is defending on his own box, sometimes he can tend to be overly eager to win the ball. Such instances mean that he is easily played out by the opponents when he over-commits at the wrong moment.
This is a high-risk, high-reward strategy as you can win possession to launch counter-attacks, but if you get bypassed, you expose your defence to a lot more danger by being out of position. In this first example, Reguilón clings tight to Chukwueze, but instead of blocking his progression, Reguilón tries too hard to win the ball and ends up lunging in.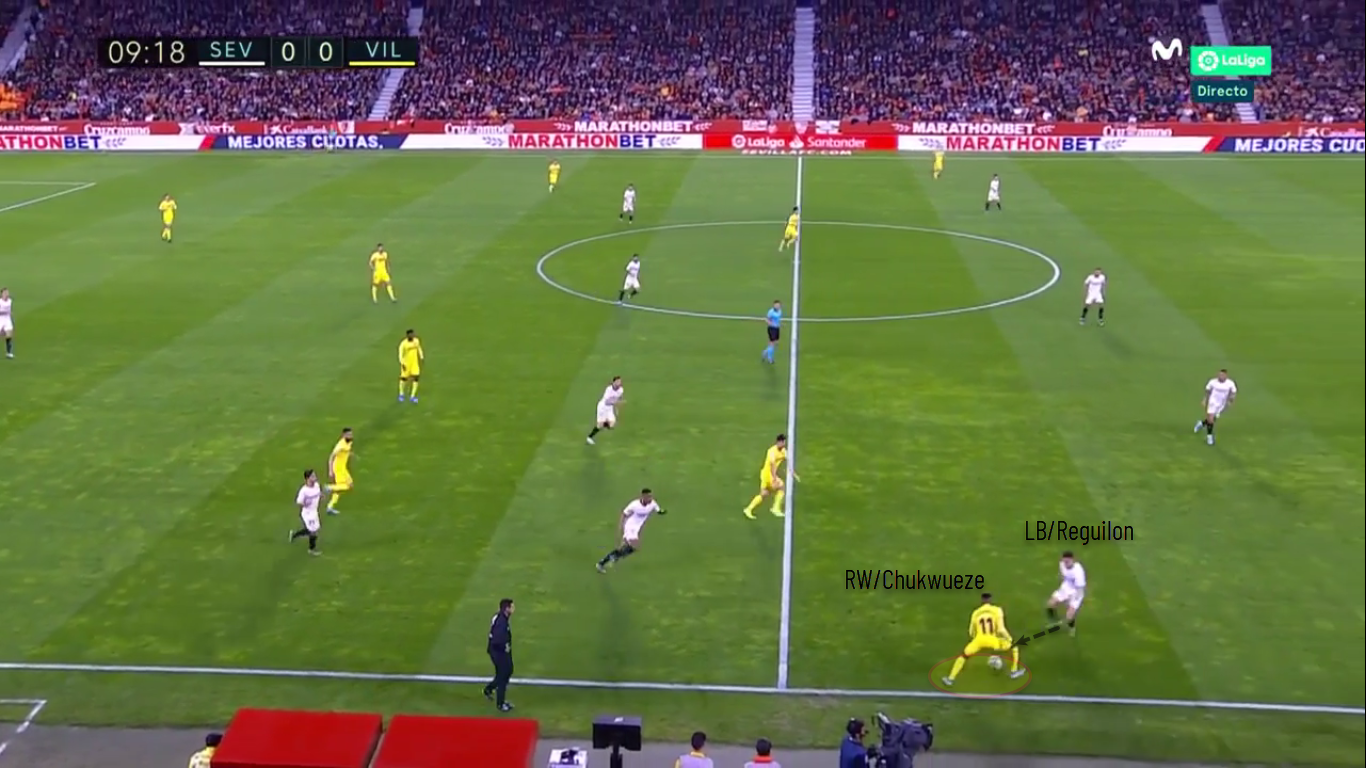 Chukwueze uses his quick feet and brutal acceleration from a standing start to leave Reguilón behind, attacking the space behind the Real Madrid loanee.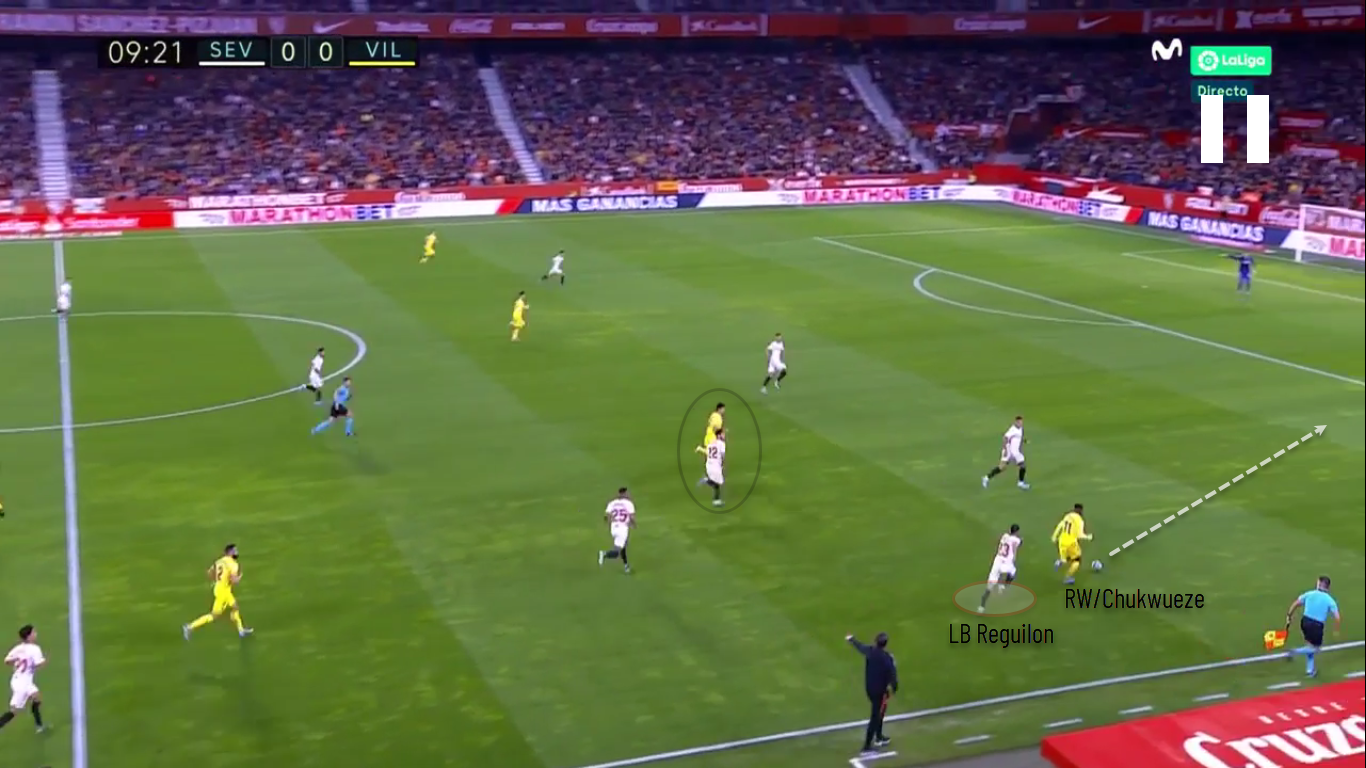 This excessive eagerness has gotten the better of him on a few occasions this season. In this example, Reguilón is so focused on Vesga who is currently on the ball that he loses Capa in his blindsight. Vesga delivers a cross into the box while Capa manages to maintain distance from Reguilón.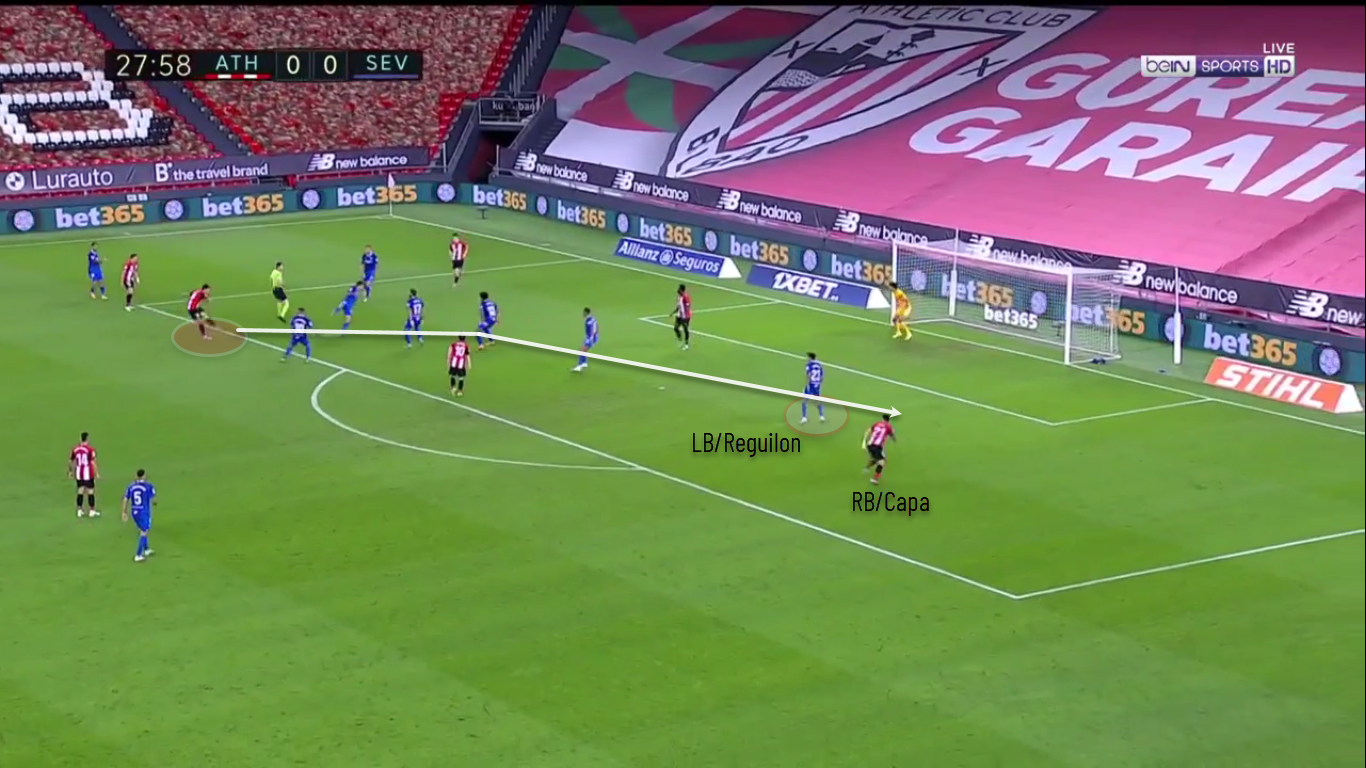 The ball ends up falling for Capa and he buries the chance into the top corner past Yassine Bounou in goal. Sevilla would go on to come from behind to seize all three points via two late goals from Banega and Munir, however.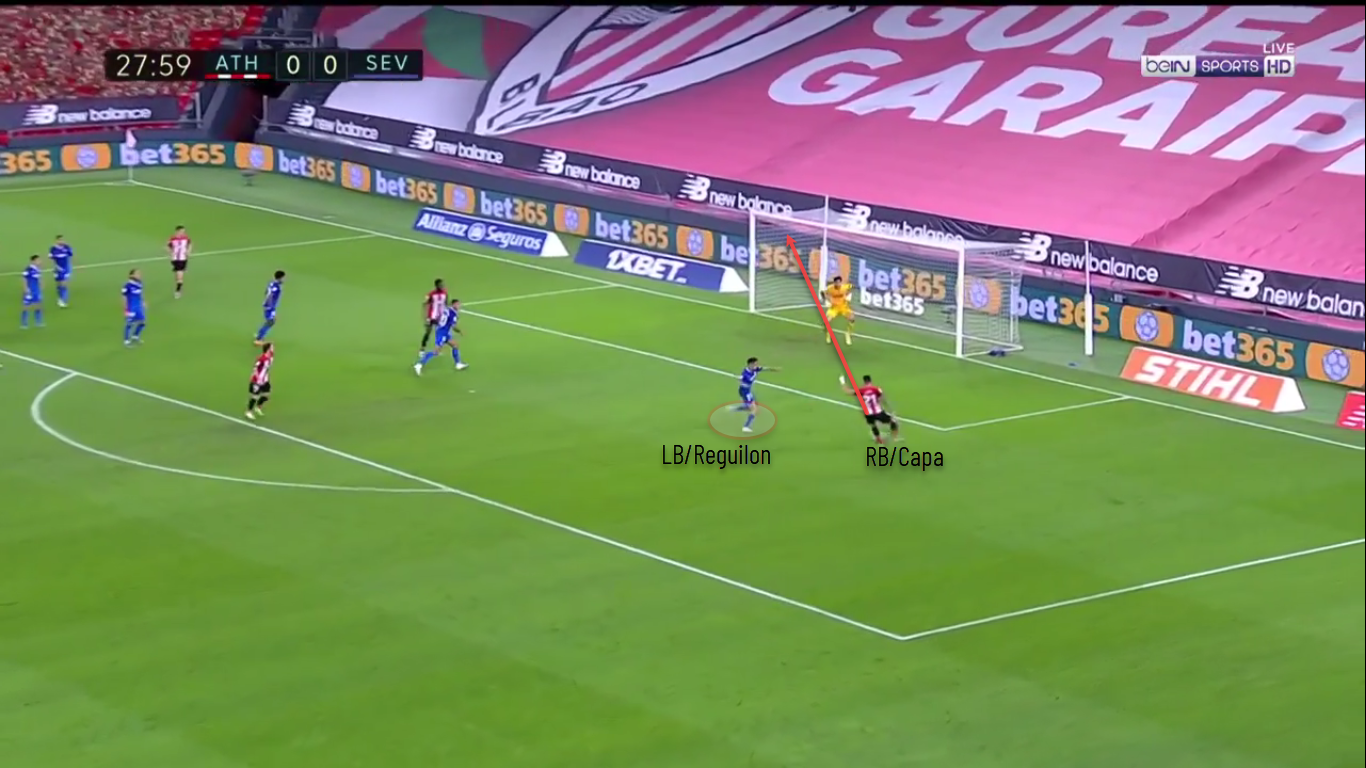 To be fair to Reguilón, the cross had taken a deflection which made it difficult to react to the trajectory. But it is important to rate the actions, not the results. Hence, Reguilón made a mistake to lose sight of his man and his team ended up paying for it.
Aerial Ability
Standing 180 cm (5'10"), Reguilón often struggles to win aerial duels, and this could be exploited even more in a physically imposing league like the Premier League. In this example below, Džeko pairs himself against the Spanish left back in order to exploit this weakness. The Bosnian striker wins the header easily but was unable to get the power on it that he would've liked.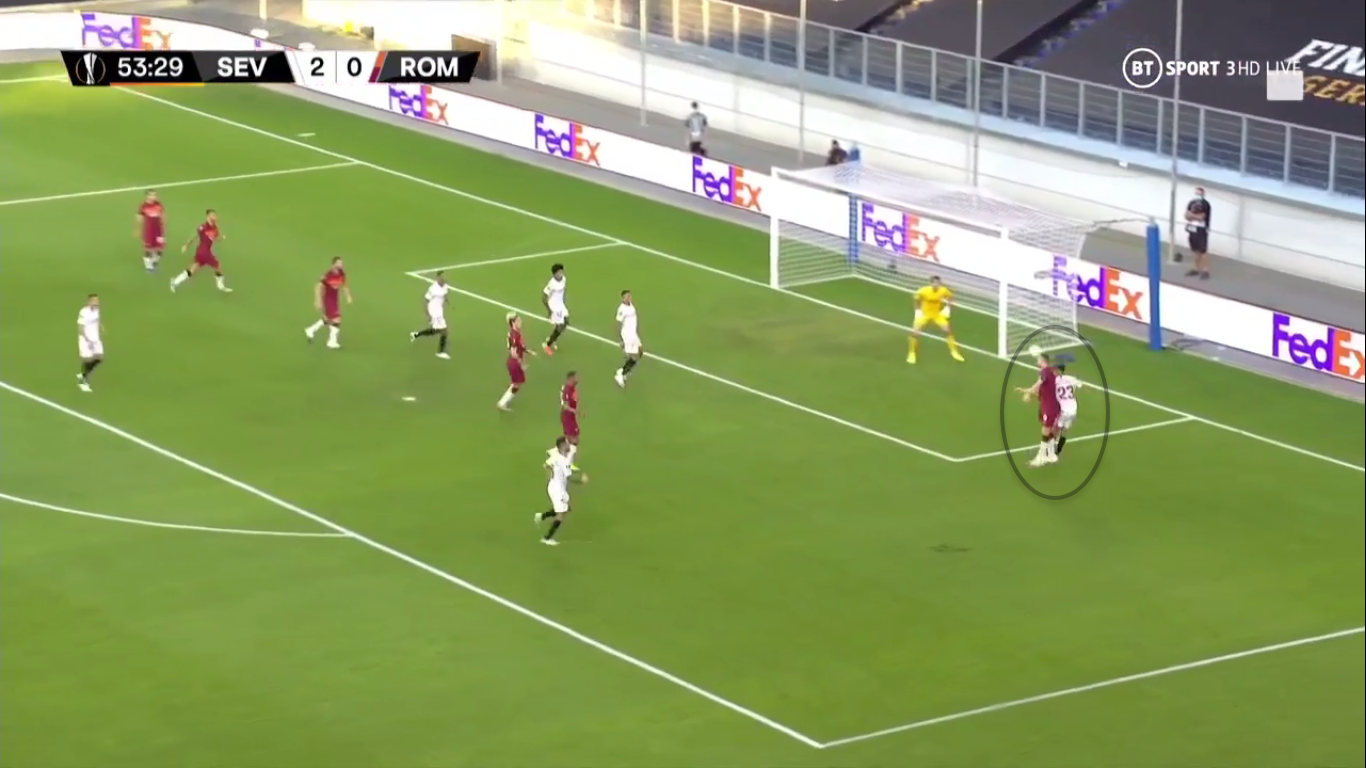 Džeko could've alternatively played a lay-off header into the box for Peres or Zaniolo, which could have just as easily resulted in a goal. This is a lagging part of Reguilón's game that potential buyers must take into account when considering a transfer.
What's Next for Reguilón?
With Ferland Mendy locking down a starting spot at the Santiago Bernabéu, Reguilón, who turns 24 in four months, will have to consider his options carefully in order to continue his career development. Marcelo's level has taken a sharp decline this summer, and at 32, his best years are behind him. However, it is unclear if Zidane will cut ties with one of the main veteran leaders of the squad, at least not before his current contract expires in 2022.
Reguilón made just three appearances under Zidane before departing on loan in the summer, and it isn't likely that he'll be given a chance to impress in the first team this season. There is the possibility that Madrid will loan him back to Sevilla for one more season, where he will have the opportunity to start both in domestic fixtures as well as Champions League matches. However, he could lead the footsteps of fellow Castilla product Achraf Hakimi and depart Madrid on a permanent transfer this summer.
Real Madrid are reportedly keen to receive €25 million for Reguilón, whose contract expires in 2023, and there's a good chance that they can cash in on him this summer. Chelsea have been linked, but with The Times reporting today that the West London side are close to a £65 million deal for Leicester City's Ben Chilwell, it appears they've dropped their interest for a different target.
Arsenal have also been mentioned as a potential buyer, although with new arrival Kieran Tierney impressing under Mikel Arteta, and Bukayo Saka, Sead Kolašinac and Ainsley Maitland-Niles all ready to deputize at the left back position in case of injury or suspension to Tierney, it seems far-fetched that they would spend a fee within the region of €25 million for a player that doesn't address a gaping hole in the squad.
One team that should not be written off from the Reguilón chase is Napoli. The Partenopei are eager to offload 29-year-old left back Faouzi Ghoulam, with Aston Villa, Newcastle and Wolves linked as possible destinations, and they're looking to replace him with someone who can challenge Mário Rui for the starting spot. After missing out on Konstantinos Tsimikas to Liverpool, Napoli could certainly slide in at the last moment to snatch up Reguilón on a permanent deal.
Finally, perhaps the likeliest suitor of them all is Sevilla. Over the past three years, Sevilla have spent at least €20 million on six different players, and they could do worse than splurging a similar fee for a player who has already had two successful spells under Lopetegui and has played a vital role in Sevilla qualifying for Champions League football for the first time since 2017.
By: Shaharyar Atique
Featured Image: @GabFoligno